Walt Disney World Trip Report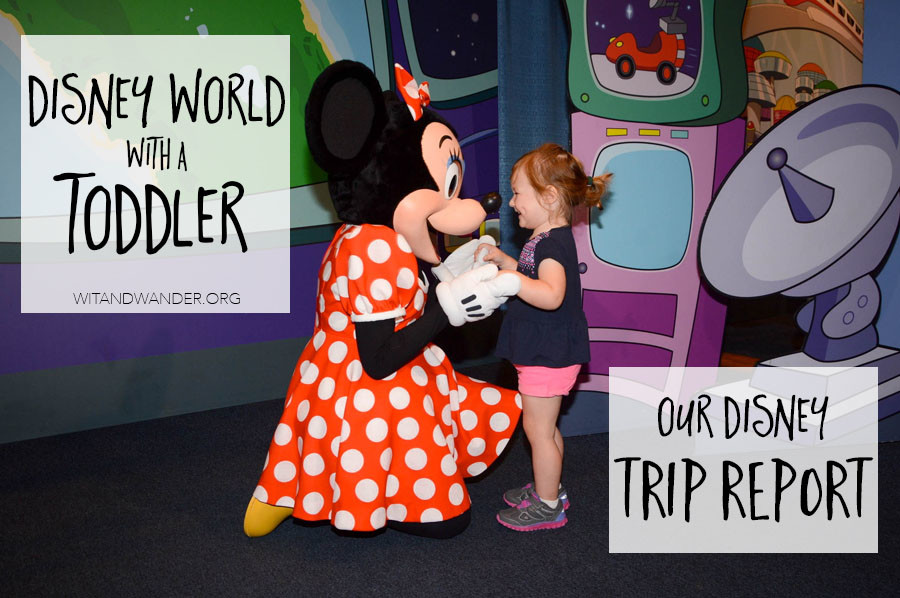 If you've been following along with my Countdown to Walt Disney World series, you know that we just got back from our big family vacation a few weeks ago. I think I'm finally caught up on my laundry and I just unpacked the last souvenir, so there's nothing left to do except share our fabulous trip with all of you! I thought I'd break our Walt Disney World Trip Report down into bite-sized pieces to be a little easier to digest – if you'd like to skip to your favorite part, just click on the link below:
Our Walt Disney World Trip Report
About Our Trip
We arrived at Walt Disney World the Wednesday before Memorial Day weekend. Before you ask, yes we are crazy and yes it was hot!
We go to Disney World with our whole big family about every 5 years, so this trip was multi-generational including my parents and a few of my aunts, uncles, and cousins. This is the time that worked out best for our whole group.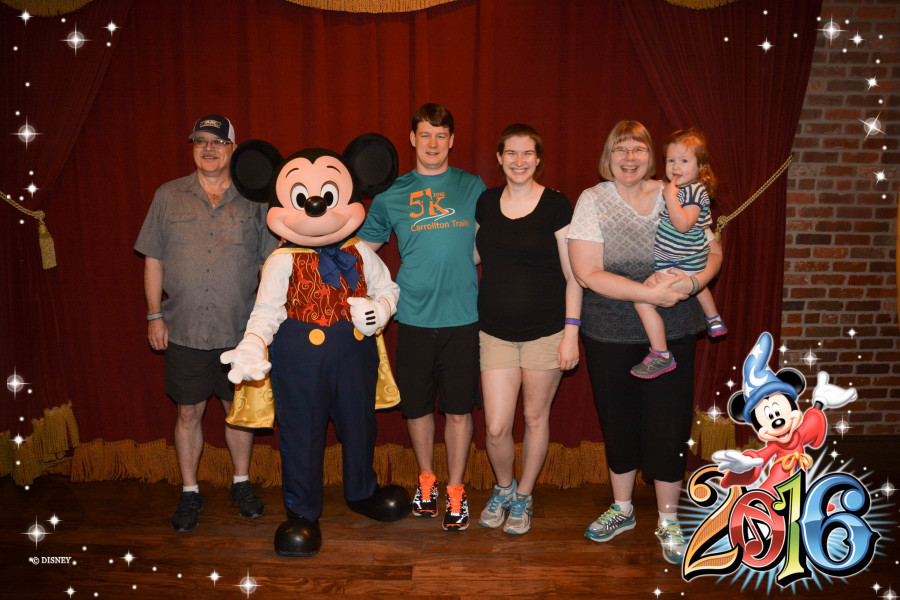 We stayed for 10 days/9 nights. After reading my favorite Disney Planning books, we decided on this length mainly because we had a toddler and I knew we would mainly be touring half days to allow for naps and some 'down time' in the evenings. Also, I was 5 1/2 months pregnant, so I knew my feet and back wouldn't allow me to be in the parks from open to close.
How We Got There
The combination of being 5 1/2 months pregnant, having a toddler, and living in Texas meant driving to Florida was OUT for me! (Although I know tons of warrior mamas who would prefer to drive). We used all of our saved airline miles, packed our bags, and flew with Southwest.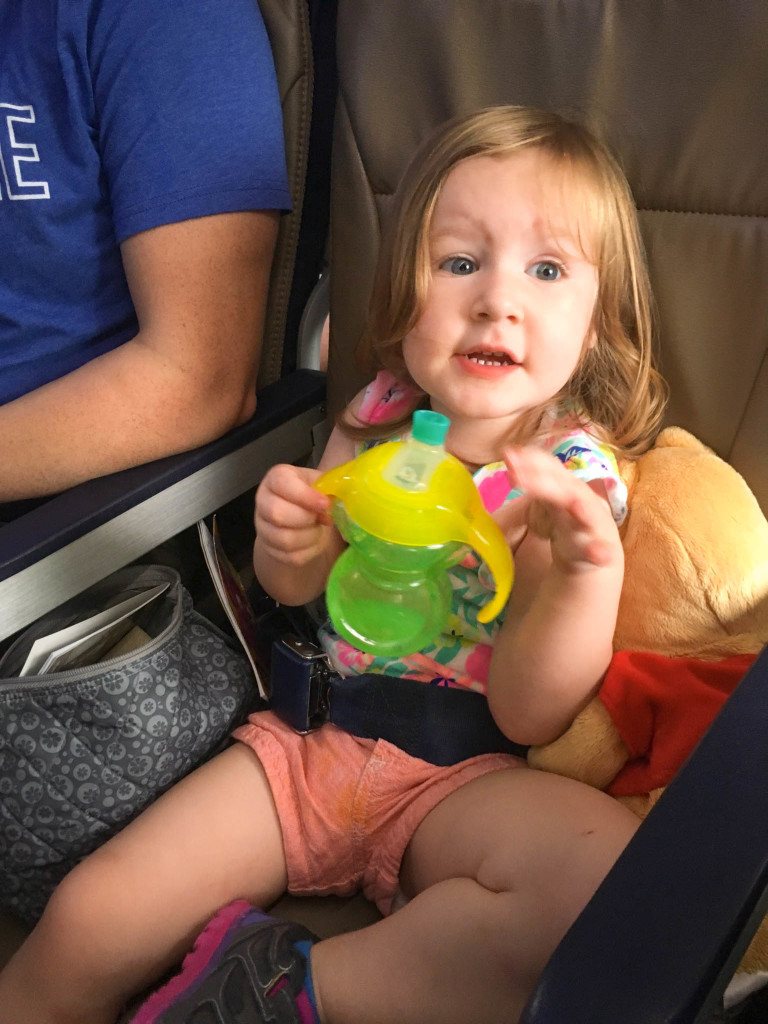 It was a dream – all of our flights were on time, flight attendants were courteous, and the flights were easy. Since our toddler is over two, we had to pay for her to fly this time. The cost of her ticket was a tough pill to swallow, but it was so nice for her to have her own seat. I even read for part of the flight while she watched an episode of Barney – talk about vacation!
Where We Stayed
We stayed at the Animal Kingdom Lodge and we LOVE it. It is the perfect resort for a toddler. We ate breakfast on our balcony every morning watching the giraffes and ankole cattle. (When we first arrived at the resort we had a parking lot view, but we called down to the front desk to see if a Savanah view was available and they switched us to a new room the next morning!)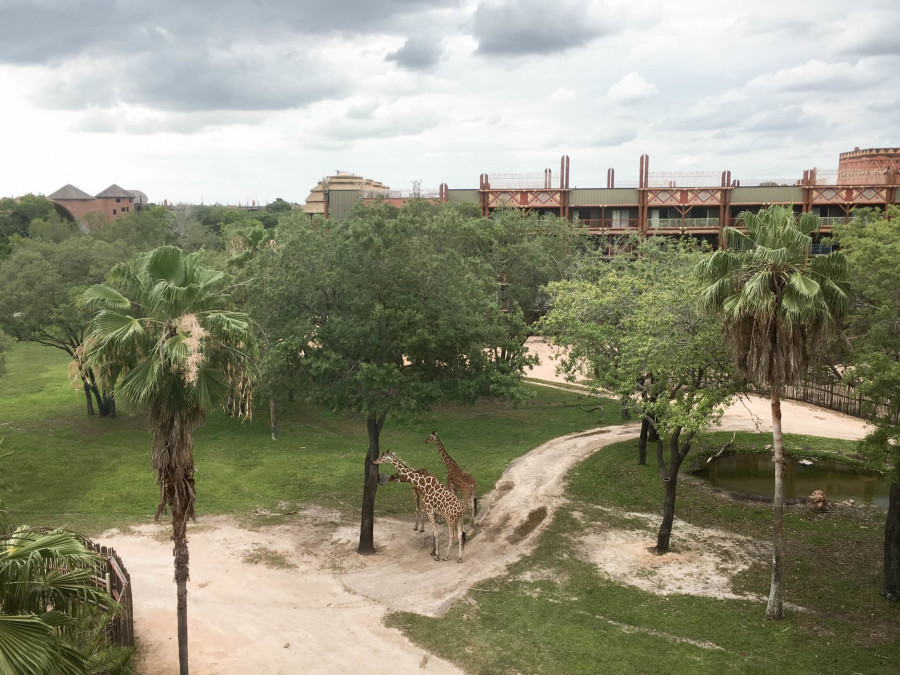 The amenities at the Animal Kingdom Lodge are perfect for parents of little ones. There are two giant pools that are both zero entry. The main lodge, Jambo House features a waterslide for older kids and a playground right next to the pool. We also went over to the Disney Vacation Club side of the resort, Kidani Village because they have a splash park and a play ground right next to their pool. They even have a waterslide perfect for preschoolers that my daughter could not get enough of!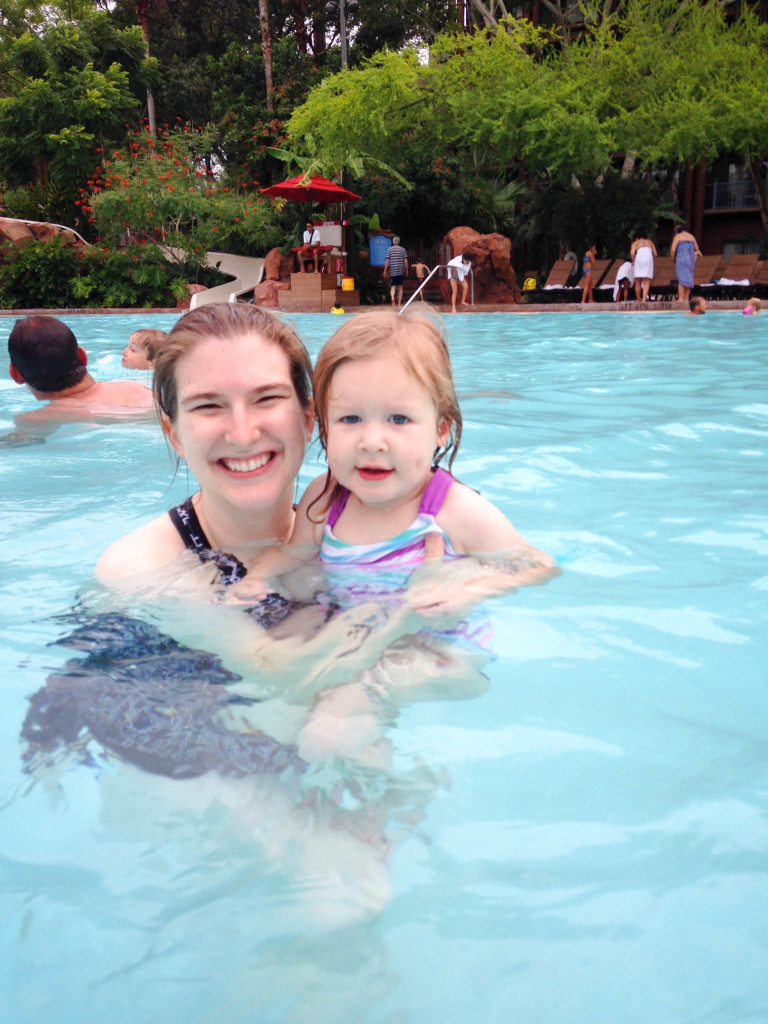 When you come back from a day at the parks, there's a good chance something will be going on in the lobby. At different times, we found African drummers, craft projects, and parades of kiddos through the lobby.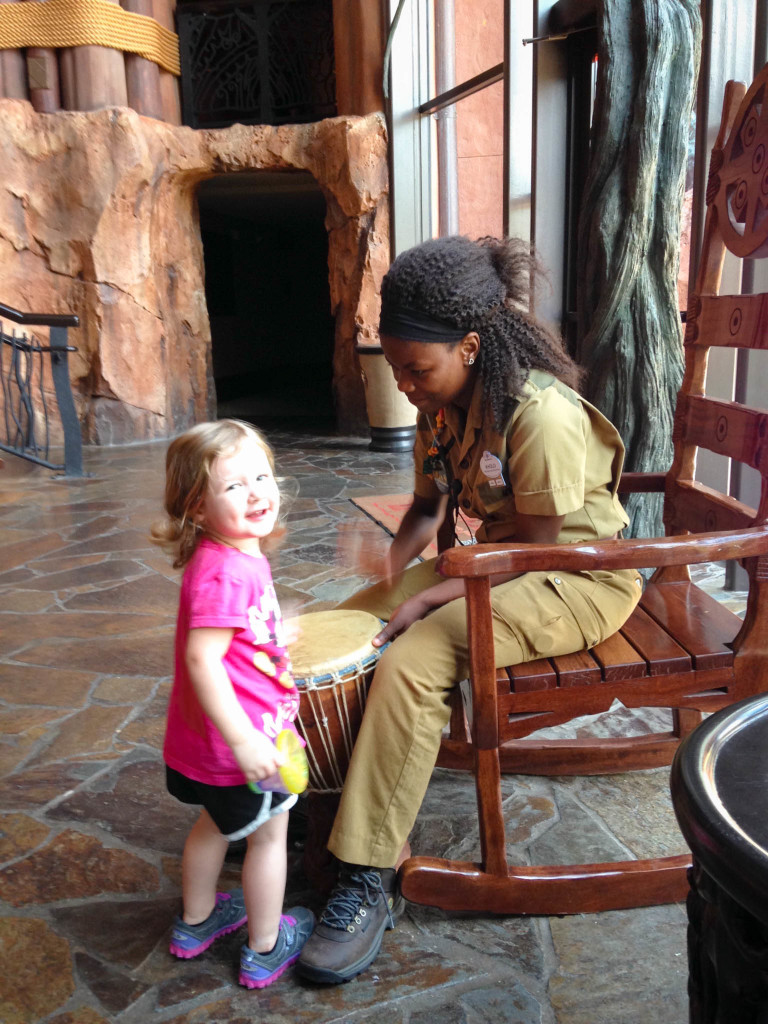 What We Ate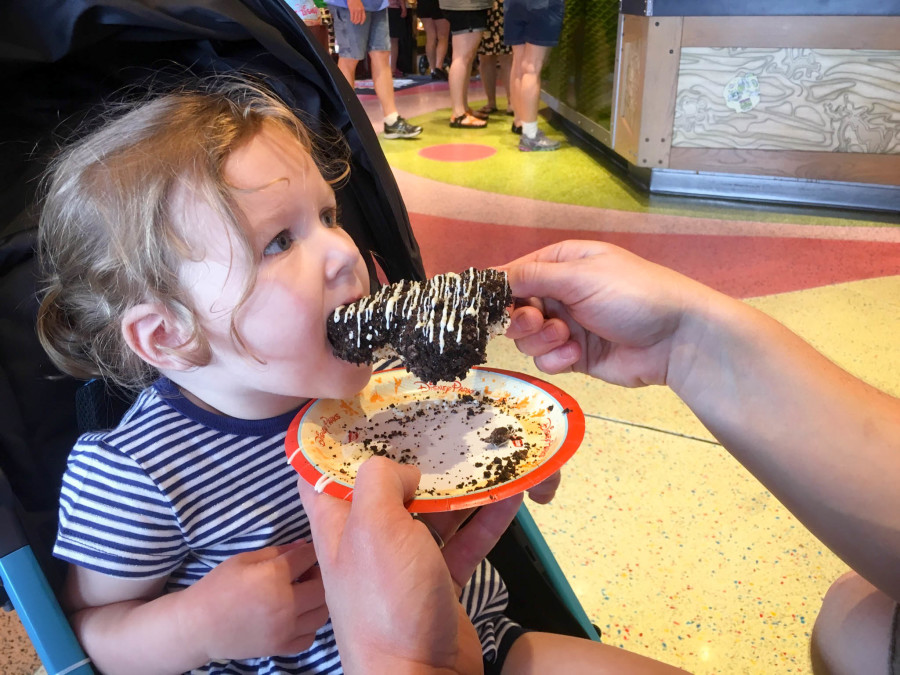 Because we chose not to purchase the Disney Dining Plan, we ate at mainly quick service restaurants (comparable to fast casual restaurants like Panera or Chipotle), but a few restaurants really stood out above the rest. Here are some of our favorites:
Be Our Guest (Magic Kingdom) – Be Our Guest is immaculately themed to the inside of the Beast's Castle, making it a must-see experience. We ate in the Rose Gallery, which features Belle and the Beast dancing in the center of the room surrounded by tapestries. It was the perfect spot for a toddler because it is a little quieter than the Ballroom and a little less frightening than the West Wing. This trip I got to try the Grey Stuff (spoiler: it was delicious!).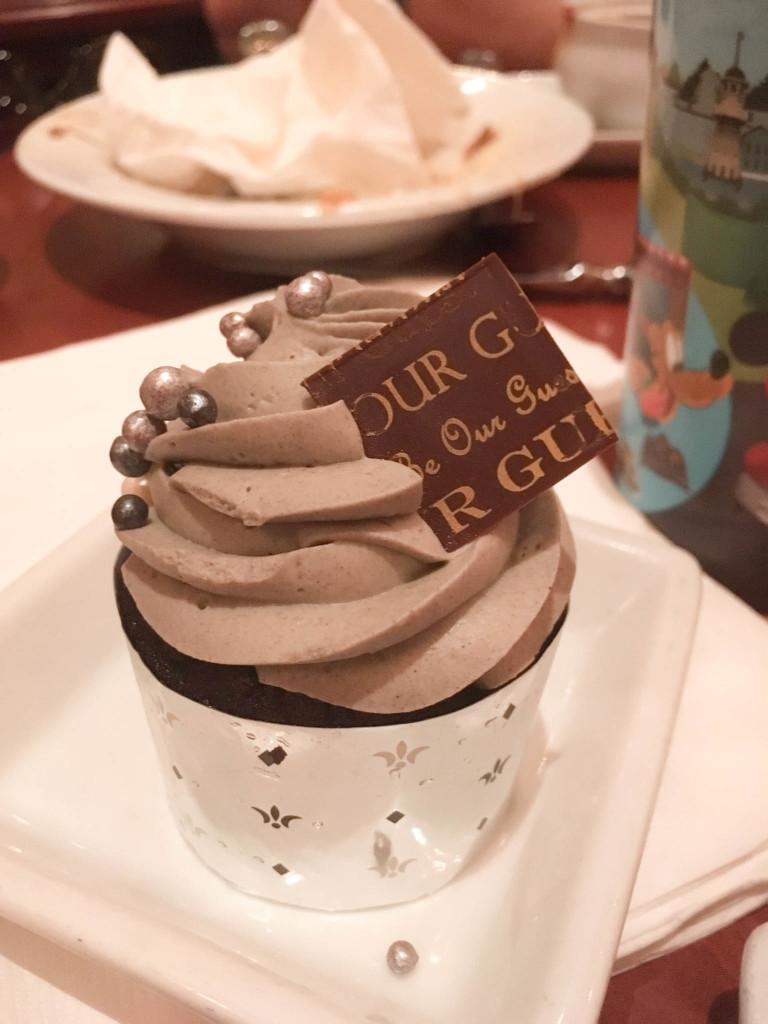 Aloha Isle (Magic Kingdom) – We didn't go to Aloha Isle for a meal, but for a Dole Whip! I had never had a Dole Whip before and I think it was my favorite snack of this entire trip! The hubby and I have been trying to figure out how to replicate it ever since we got home!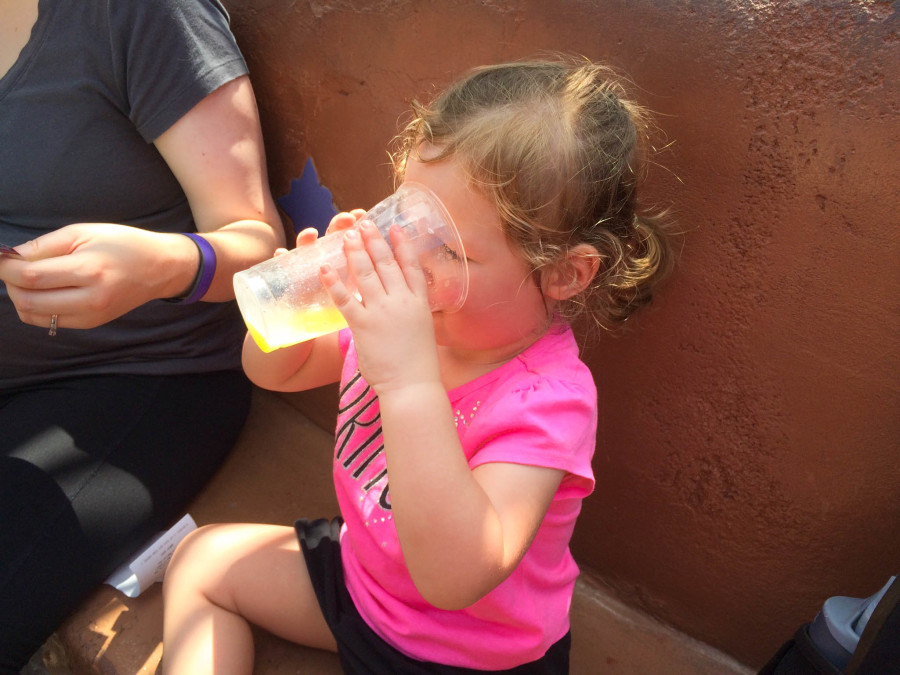 Tangierine Cafe (Epcot) – Arguably the best counter service in Epcot, Tangierine Cafe is in the Moroccan Pavilion and features schwarma platters (similar to gyros, if you're not familiar). We split a Lamb Shawarma Platter and a Mediterranean Sliders Combo so that we got to try a bit of everything. It was delicious and SO MUCH FOOD. Caution – some things on the plate may not be familiar, so if you have an extremely picky eater you might want to have a backup plan.
Backlot Express (Hollywood Studios) – While the food here isn't necessarily spectacular (mainly burgers and chicken), we loved the Darth Vader and BB8 Cupcakes! We are self-proclaimed Star Wars geeks, so this is no surprise.
Flame Tree BBQ (Animal Kingdom) – This summer Flame Tree BBQ rolled out a new menu and we were anxious to give it a try. We split a Ribs, Chicken and Pulled Pork Sampler that was delicious. I especially loved the Jalapeño cornbread, but that might just be a pregnancy thing. 😉
Wolfgang Puck Express (Disney Springs) – If you have a day planned at Disney Springs (especially if you are on the Dining Plan), I would definitely plan to eat at Wolfgang Puck Express. Their salmon was one of the best things I ate all week.
Earl of Sandwich (Disney Springs) – Two words: Holiday Turkey. It's a Thanksgiving Meal wrapped into a sandwich and this pregnant lady is not ashamed to say she had to go back for a second one (a different day, of course!)
Le Cellier (Epcot) – The one exception to eating at Counter Service restaurants was Le Cellier. This elegant Table Service steakhouse is in the Canada pavilion at Epcot. We ate here during our last Disney vacation and it was the highlight of our trip. It was definitely a splurge, but this was planned months in advance and we had plenty of time to save up for it. My husband had the Ribeye and I had the New York Strip. Honestly, one of our favorite parts of the meal was the pretzel bread they serve before the meal. I'm telling you…I have dreams about this stuff!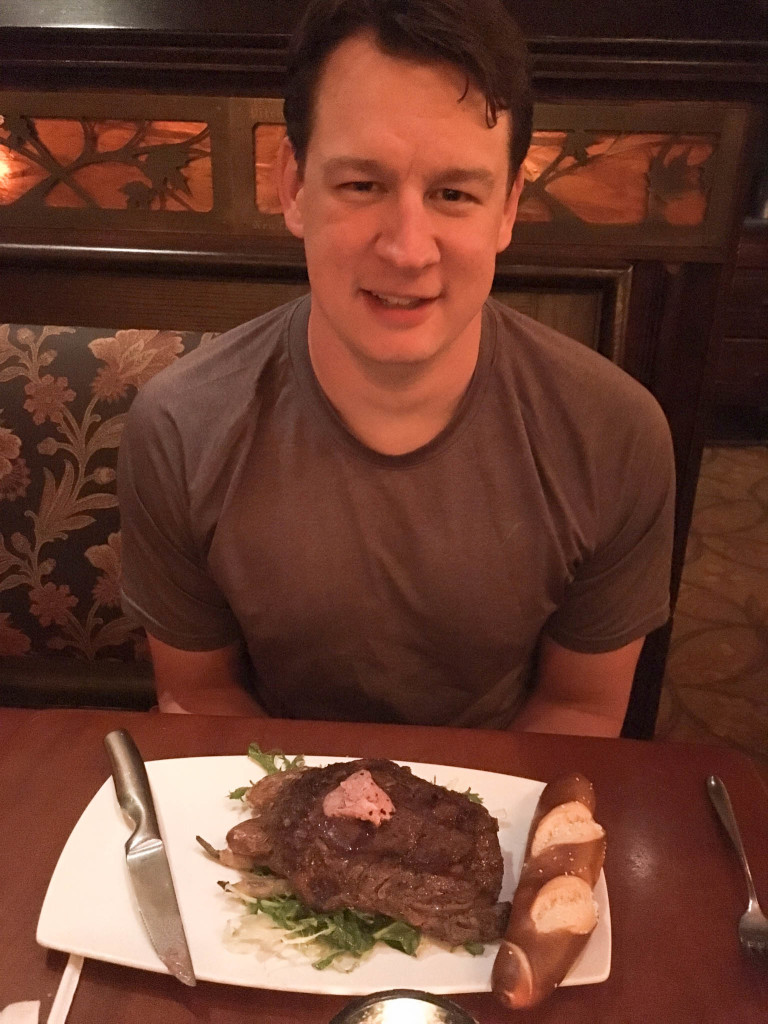 Our Favorite Attractions
There is a misconception that if you bring a toddler to Disney, they won't be able to ride anything because they will be too short. While our toddler didn't ride the coasters, we couldn't even fit everything she could have ridden into this trip. There is so much for little ones to see and do (including rides).
People also looked at me like I was crazy when I said I would be going while pregnant – and while I missed going on Star Tours, Space Mountain, and Rock n' Roller Coaster, there was more than enough to fill my days. I loved having our rides planned out before we arrived with FastPass+, so we didn't wait in many lines and we didn't waste time asking "What do you want to do?" because I already knew everyone's favorite attractions. Here are some of our favorite rides from the trip.
Magic Kingdom
We spent most of our time in the Magic Kingdom because there is just so much to do with little ones. Our first ride of the trip was on it's a small world. My heart soared when she bounced up and down in delight during the whole ride pointing out all the animatronic animals. I think all my Disney dreams came true in that moment.
MY favorite ride of the trip was Buzz Lightyear's Space Ranger Spin – but that's probably in large part because I got a little thing called GALACTIC HERO! It's no big deal I'm just a defender of the galaxy…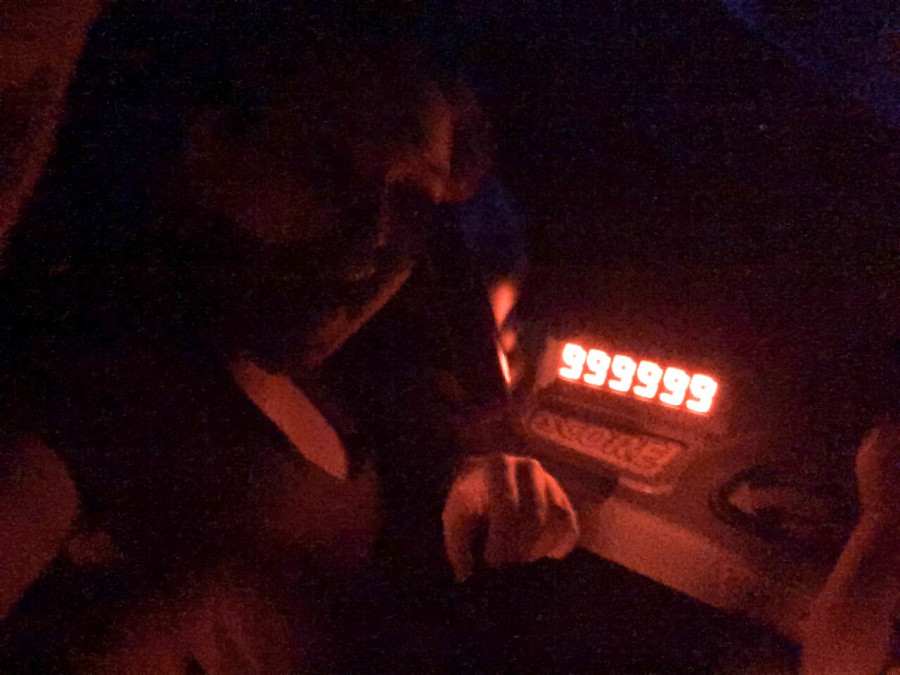 (It totally is a big deal and I definitely talked about it for the next hour and a half.)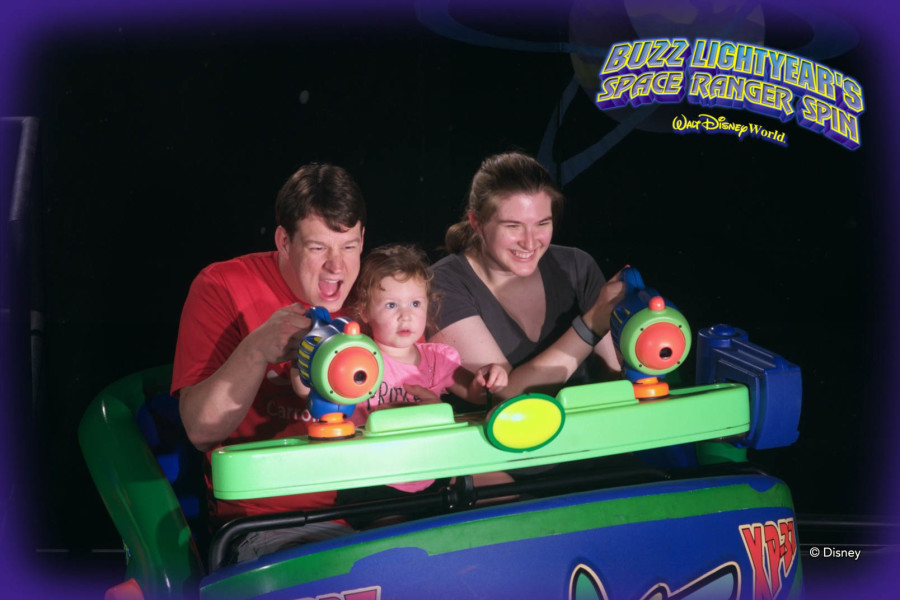 Our daughter's favorite rides at the Magic Kingdom would have to be The Many Adventures of Winnie the Pooh and Dumbo the Flying Elephant.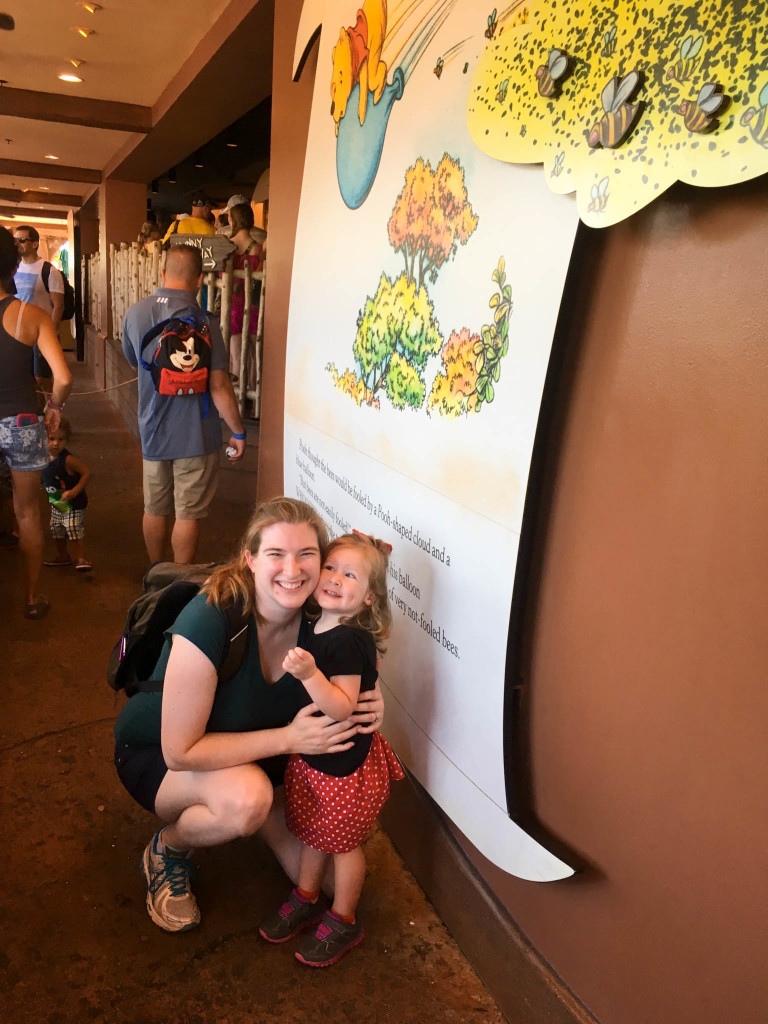 I loved the fact that they both had interactive lines perfect for running, jumping, and playing!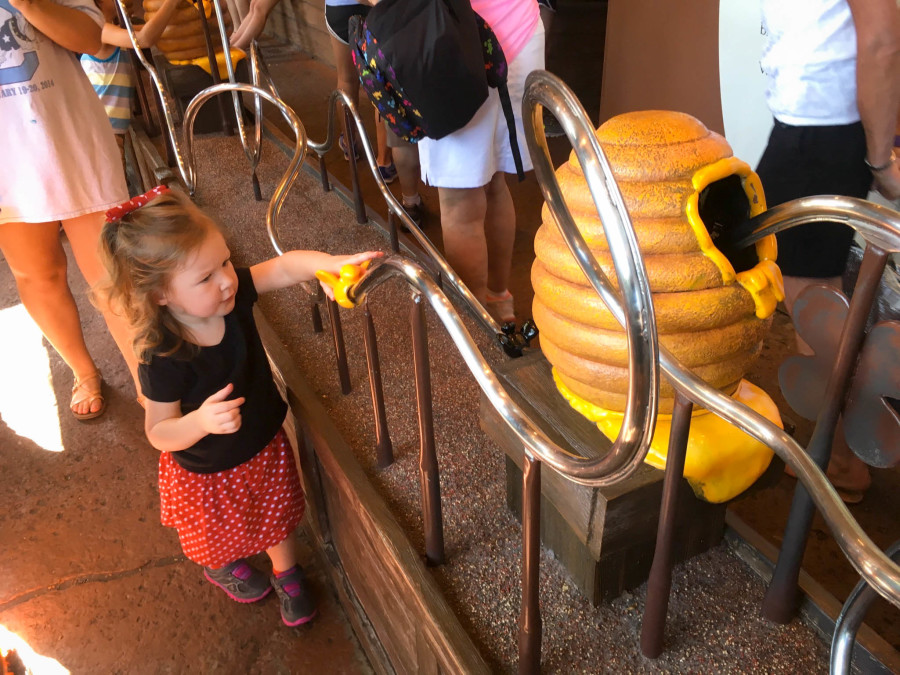 If you don't include my Galactic Hero status, Enchanted Tales with Belle would have to be my favorite attraction at the Magic Kingdom, especially for preschoolers. I love looking through Belle's father's cabin and watching the kids reenact the night Belle and the Beast fell in love. Each child also gets their picture with Belle at the end and she is so sweet to talk to each of them.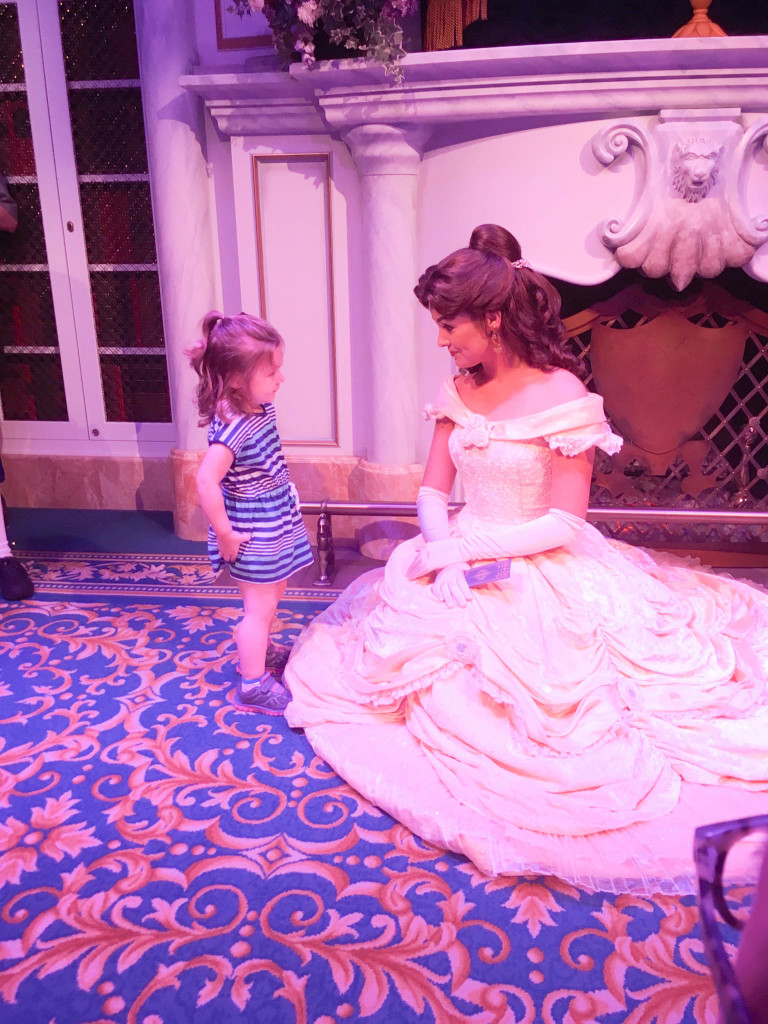 Peter Pan's Flight is the only ride we waited in line for during our trip, but it is a classic. The queue winds through the Darling's house where you get to catch a glimpse of Tinker Bell. Before you board your flying ship, you're sprinkled with a little bit of Pixie Dust.
Epcot
Epcot is my favorite park – between Future World and the World Showcase, I could easily spend a whole vacation just in this park! While I had to skip Test Track this trip (baby boy – already cramping my style!), I still got to experience two of my favorite rides: Living with the Land and Soarin'.
Of course Soarin' is everyone's favorite – while I'm excited to see what Soarin' Over the World will look like on our next visit, I was so thrilled to smell the oranges one last time on Soarin' Over California. I love the educational side of Living with the Land – it's always so interesting to see how the imagineers come up with creative ways to grow in small spaces. The hubby and I agree the Behind the Seeds Tour is high on our priority list once our kids are old enough to appreciate it.
My daughter's favorite attraction at Epcot was the SeaBase, which is the giant aquarium at the end of The Seas with Nemo and Friends. We watched a manatee feeding, saw divers in the giant tank, and watched dolphins and sea turtles (I forgot to ask how old he was!).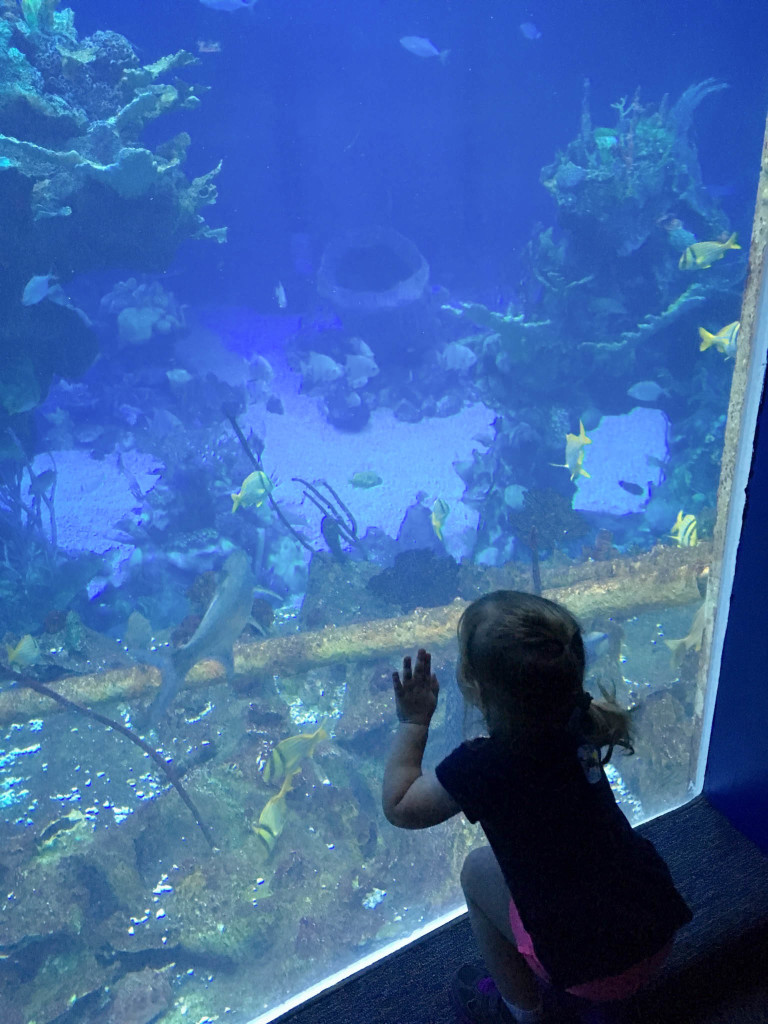 Somehow in all my visits to Walt Disney World, I had never been on Spaceship Earth. We fixed that this trip and it became an instant classic in my book.
Hollywood Studios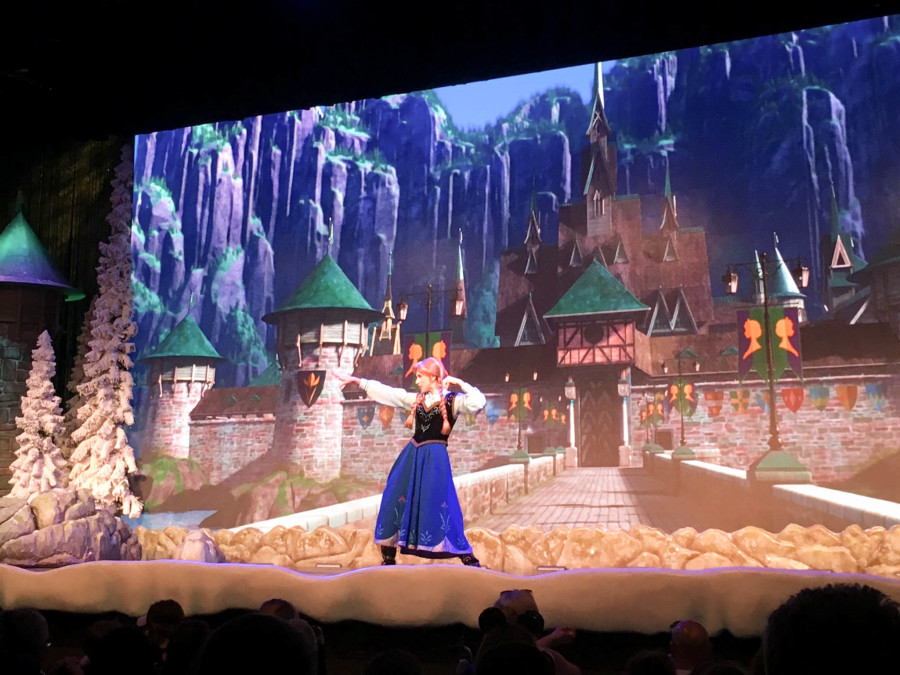 Definitely a highlight of my trip was the Frozen Sing-Along Celebration. The storytellers were hilarious (even the hubby had a few belly laughs) and guys…when Elsa made it snow at the end of the show – I wish you could have been there. The look of pure elation on my daughter's face was too much for me to handle. It made the million times I've sung 'Let It Go' in our kitchen totally worth it.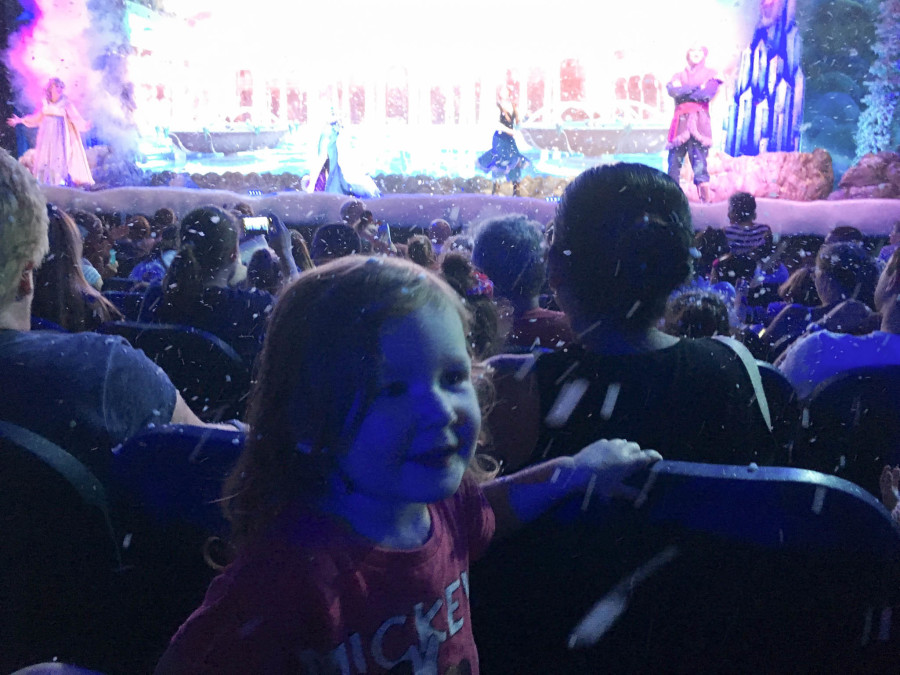 I may be the Galactic Hero, but my husband destroyed me in Toy Story Midway Mania, making it a clear winner in his book!
Our toddler sang, danced, and jumped up and down during Disney Jr. Live on Stage. I don't want to spoil it, but there are bubbles, snow, AND gold doubloons. Basically it was the most amazing thing she had ever seen.
Animal Kingdom
The only ride I broke the rules for was Kilimanjaro Safaris…twice. It is not recommended for pregnant women, but I couldn't resist. It's my favorite ride at Animal Kingdom and my daughter is going through an animal phase right now. She loved seeing the giraffes, lions, elephants, and hippos, and that just wasn't something I could miss!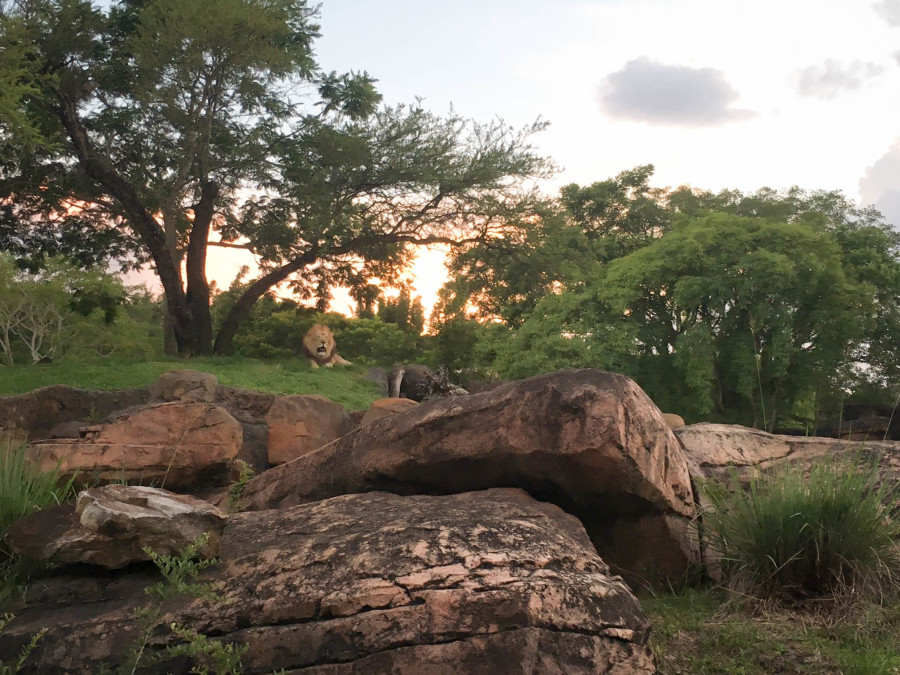 If you had been to The Boneyard playground before February, you might be surprised to know that it's no longer a giant sandbox. They have transformed it into a huge playground that reminds me of the Honey I Shrunk the Kids playground that used to be in Hollywood Studios. It was a bit too old for our toddler, but it would be a haven for older kids who need to burn off a little energy.
Of course, one of the highlights of the Animal Kingdom is the live shows. Festival of the Lion King and Finding Nemo the Musical were both incredible. They rival broadway shows in my opinion. Since Finding Nemo is one of my daughter's favorite characters, it was fun to see her amazement as she watched them come to life. It was quite the introduction to live theater.
Who We Met
Of course, when you have a toddler, meeting characters becomes a top priority. Honestly, it might have been my favorite part of the whole trip just to see my daughter interact with her favorite "friends".
Our first character interaction was with the main mouse, himself, Mickey! We met Mickey at Town Square in the Magic Kingdom and he is actually the only masked character that talks. I don't think our toddler was quite prepared for talking Mickey Mouse, so she was a little hesitant.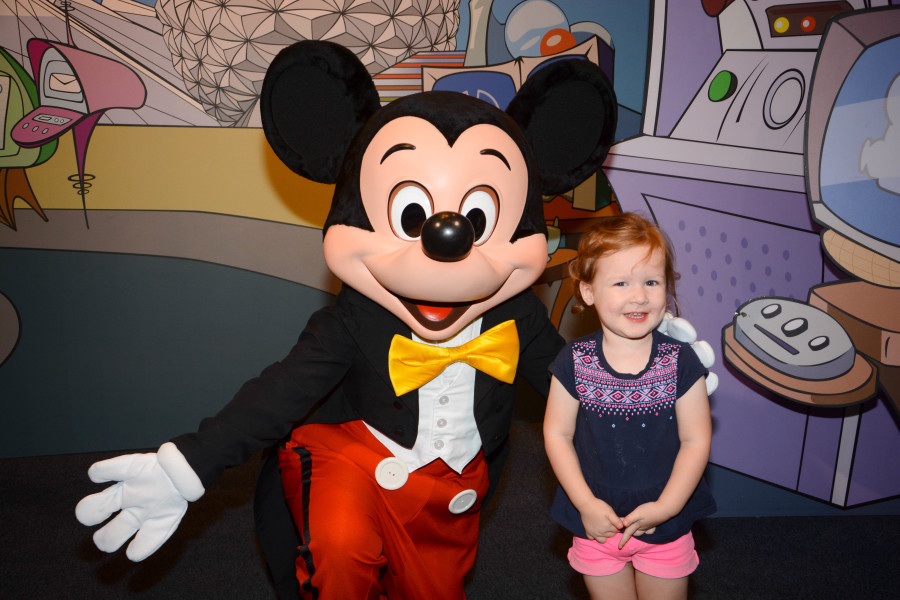 As we walked outside, we stumbled into a line to meet Snow White. I loved this chance encounter and Snow was just the sweetest.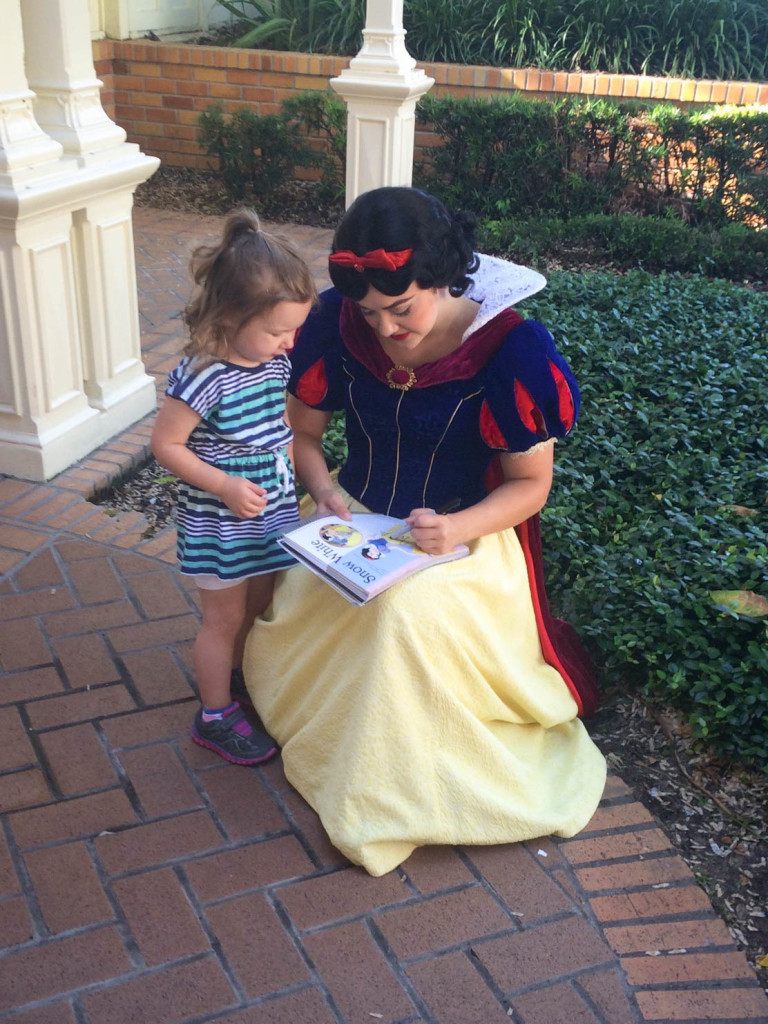 Side note: one of the funniest moments with our toddler was when the characters started signing her autograph book. We have a strict 'no-coloring-in-books' policy and she was appalled that they would draw in her book! She kept looking at me like, "MOM! Do you see what they're doing!? Are you going to stop them!" I was dying.
We got to meet Cinderella and Rapunzel at Princess Fairytale Hall. Cinderella asked what her favorite story was (she said "Brown Bear, Brown Bear") then told her they would have to read that story with Jaq and Gus-Gus because they love stories. It was precious.
Anna & Elsa are all our toddler can talk about these days! I knew I had to have a FastPass+ to meet these sisters, and it was well worth it. My daughter had to show Elsa that they had matching dresses and Anna even called her 'snowflake' (yep, my heart melted right then and there).
Since our Disney Movie Countdown, Winnie the Pooh is another favorite in our house, in fact she sleeps with a stuffed Pooh Bear every night. She was so excited to dance with Pooh and kiss Tigger on the nose.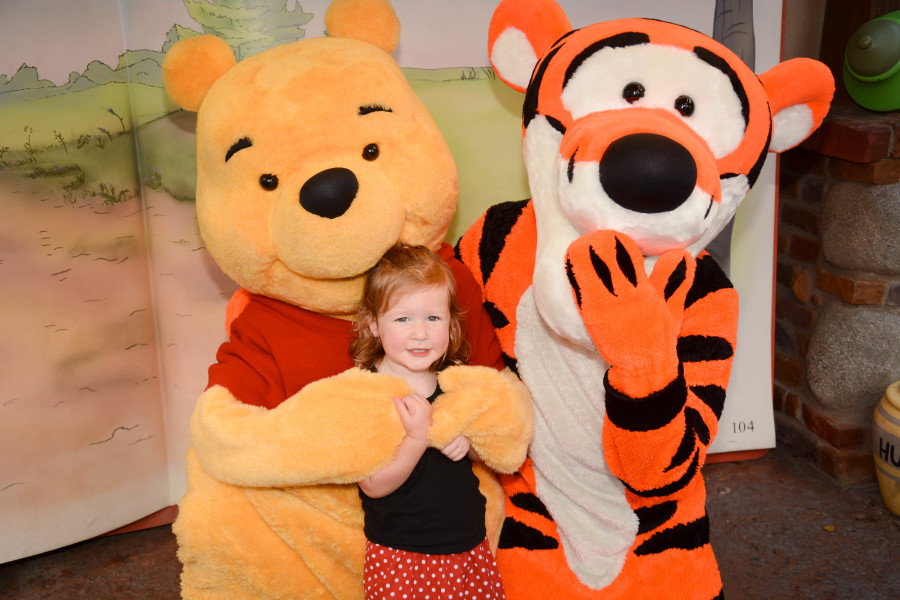 By far my favorite character interactions were at the Character Spot in Epcot, but that is just because of our daughter's reaction to Minnie Mouse. I have never seen her smile that much for a picture in my life. She really couldn't believe she was getting to meet Minnie. This interaction is the definition of the magic of Disney. There's just nothing like it in the world.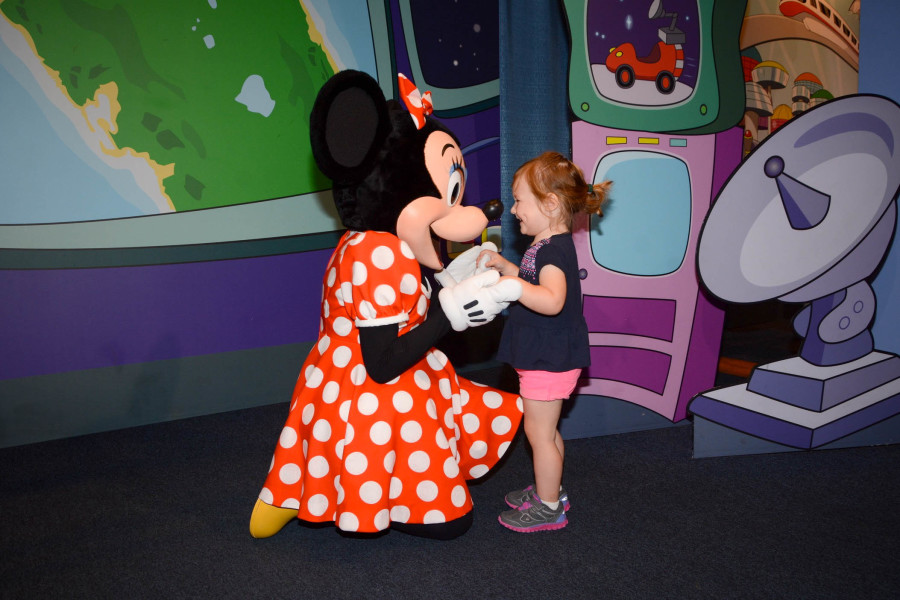 Our Disney World Vacation
I hope you enjoyed our Walt Disney World Trip Report! We had a fabulous trip and loved every moment of our time at Disney World. Even though our toddler won't remember everything about the trip, I have incredible memories and she still asks me to go back to "Dizzy Word" several times a week. It was precious to get away with my family in a place so surrounded by magic. If you have magical memories at Walt Disney World, be sure to share them in the comments below or share your own Walt Disney World Trip Report!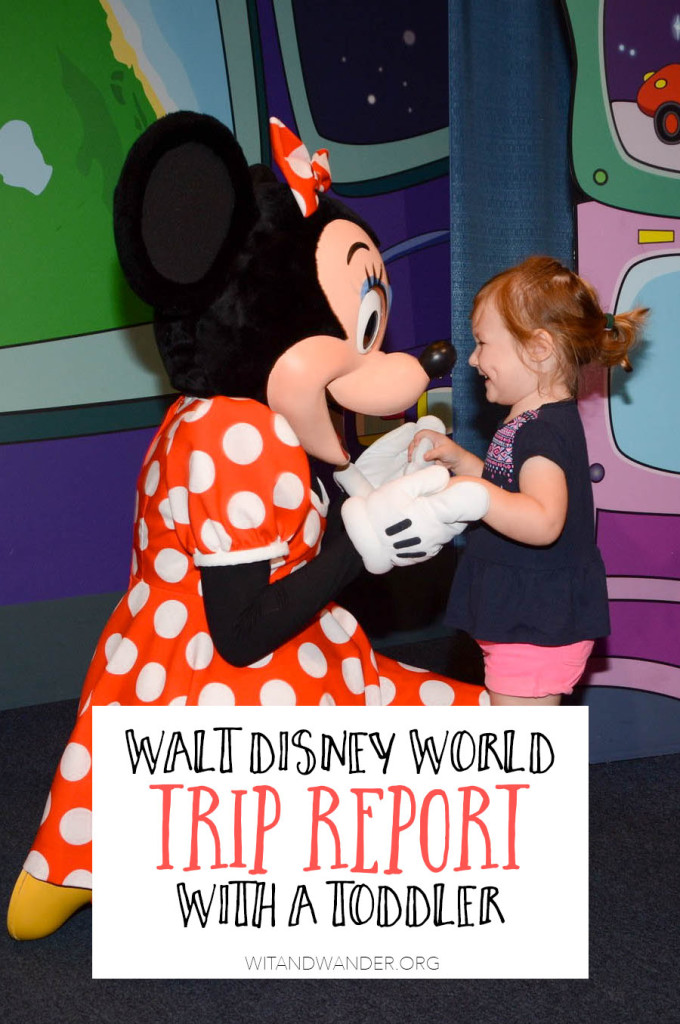 Don't miss the rest of the Countdown to Walt Disney World Series:

—
Like what you see on our blog? Join our mailing list to receive emails with freebies, projects, coupons and decor ideas to help you live a creative and joy-filled life. You can also follow us on Facebook, Twitter and Pinterest.
SaveSave