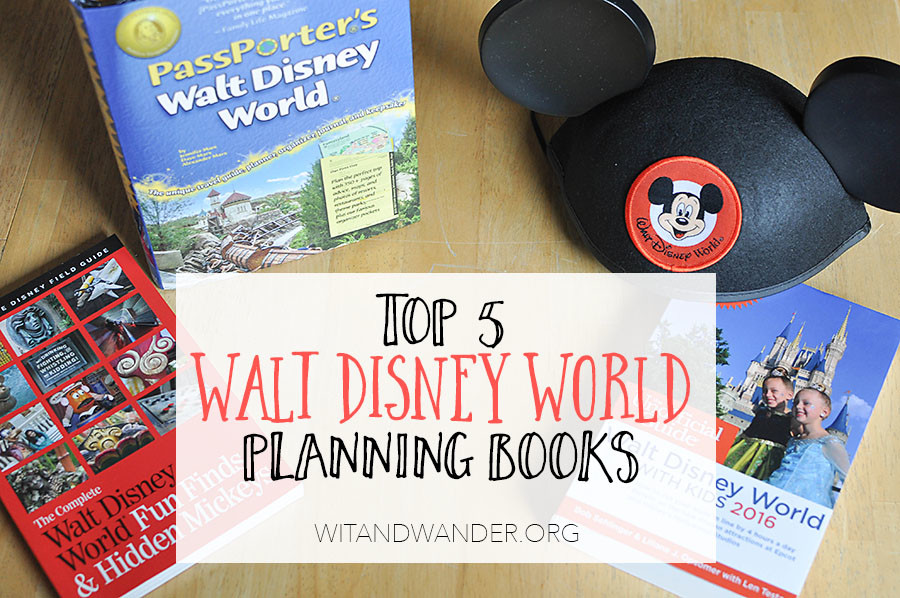 With 4 theme parks and over 150 attractions, Walt Disney World can seem daunting, especially if you have kiddos running around your feet while you're trying to plan your vacation!
Thankfully, there are dozens of books from experts who know everything there is to know about Walt Disney World. They release new books every year, updated with the newest information and carefully outlining the parks.
Since most moms don't have time to read through dozens of books, I am sharing my Top 5 Walt Disney World Planning Books. If you only read one book about Walt Disney World, one of these five books is a great place to start.
1. Unofficial Guide to Walt Disney World with Kids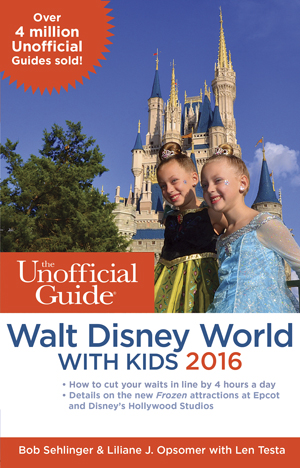 The Unofficial Guide to Walt Disney World with Kids is easily one of my favorite travel guides. They have detailed ride descriptions, complete with ratings from several different age groups like preschool, grade school, and teens based on a survey of over 40,000 families. Of course, every child is different (some toddlers are scared of dark rides, but mine thinks they are hilarious!) and this planner will help you decide what will be age-appropriate for your kiddos. It is full of useful tips and great advice, with specific information on how to enjoy the parks with children. The other invaluable aspect of this book is their Clip-Out Touring Plans. Following one
of these plans can help you save an average of 4 hours waiting in line…that's definitely worth a look!
If you think you've seen everything at Walt Disney World, you need to check out another book produced by the same publishing company: The Complete Walt Disney World Fun Finds & Hidden Mickeys. The focus of this book isn't planning per se, instead it's all the little details you might miss. At Walt Disney World, the magic is in the details and if you read through this book, you will appreciate each of the attractions more because of the little touches Disney's amazing Imagineers have included. (Plus you can impress your family with your Disney knowledge by randomly pulling out fun facts!)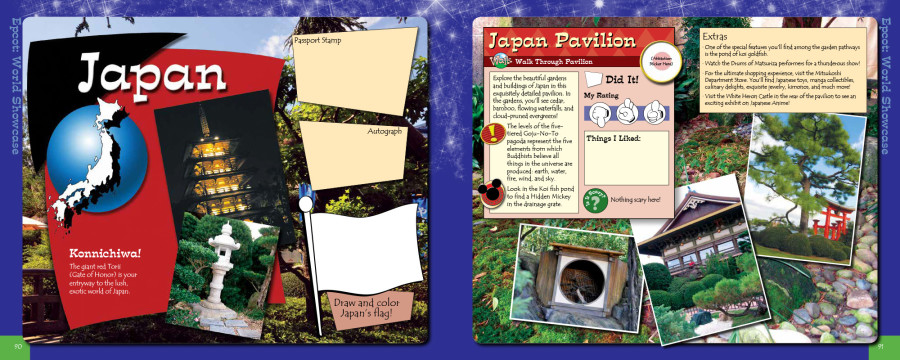 This might be the most unique book on this list, partially because it is completely designed to be used by kids. It is packed full of photos, stickers, activities, space for autographs or photos, and even a trip journal. It includes a full page spread for each attraction and a few pages for each different world or land complete with a scavenger hunt. There is a trip journal where kids can record what they did on each day, the weather, and more.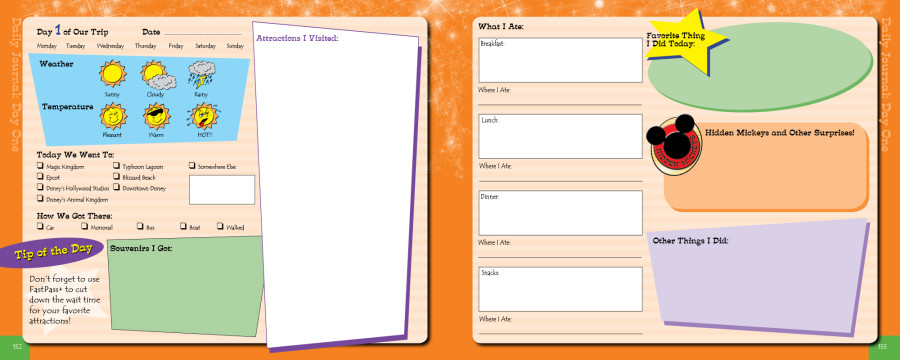 This would be the perfect book to keep a grade school student entertained while you wait for a parade, finish dinner, or stand in line for a ride.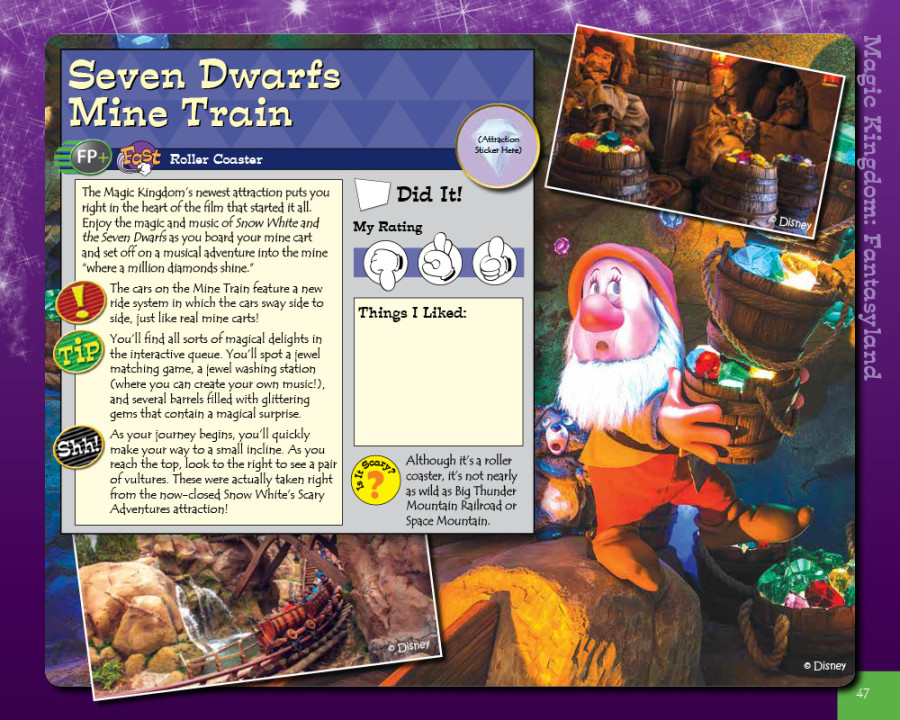 Plus, at the end of your trip, your kids will have created a one-of-a-kind souvenir that will make the magic last even longer.
PassPorter's Walt Disney World is a planner's planner…which means it is right up my alley! The authors excel at guiding you through the details like hotel selection, budget, reservations, dining and more. This is not a planner to just read – it is spiral bound specifically so that you can easily write, earmark, and highlight the pages. This planner encourages you to dive right in! They expertly cover each of the four parks (including fold-out park maps), 22 hotels, and 300+ dining options. My favorite feature of PassPorter must be the pockets in the back designed to keep all your important documents (tickets, stubs, confirmations, etc.) together. Their newest edition includes information about FastPass+, MagicBands, MyDisneyExperience, and MyMagic+.
The first thing you will notice when you open The Complete Walt Disney World is the stunning photos. The photos are absolutely gorgeous and really capture the magic of the parks. This is the book that I check out from the library every single year whether we are visiting Walt Disney World or not. I really appreciate their up-to-date information and unbiased opinions. If the authors don't think something is worth your time, they are not afraid to tell you!
5. Disney Food Blog: Complete Guide to Walt Disney World Dining
You may not realize it, but by visiting Walt Disney World you are actually going to one of the most amazing dining venues in the country. Of course you can find your average burger and chicken fingers, but Disney World has so much more to offer than your standard theme park fare. They have 5-star restaurants, unique quick service experiences from around the world, and snacks that you will crave when you return home. Disney Food Blog has long been an incredible resource for guests before they visit the parks, but now they have created a comprehensive guide to Walt Disney World dining in an e-book that can help you plan before you leave and you can take with you on your phone! From stunning photos to unbiased reviews, if you love great dining, you will not want to miss this book that can help you be 100% confident in your dining decisions.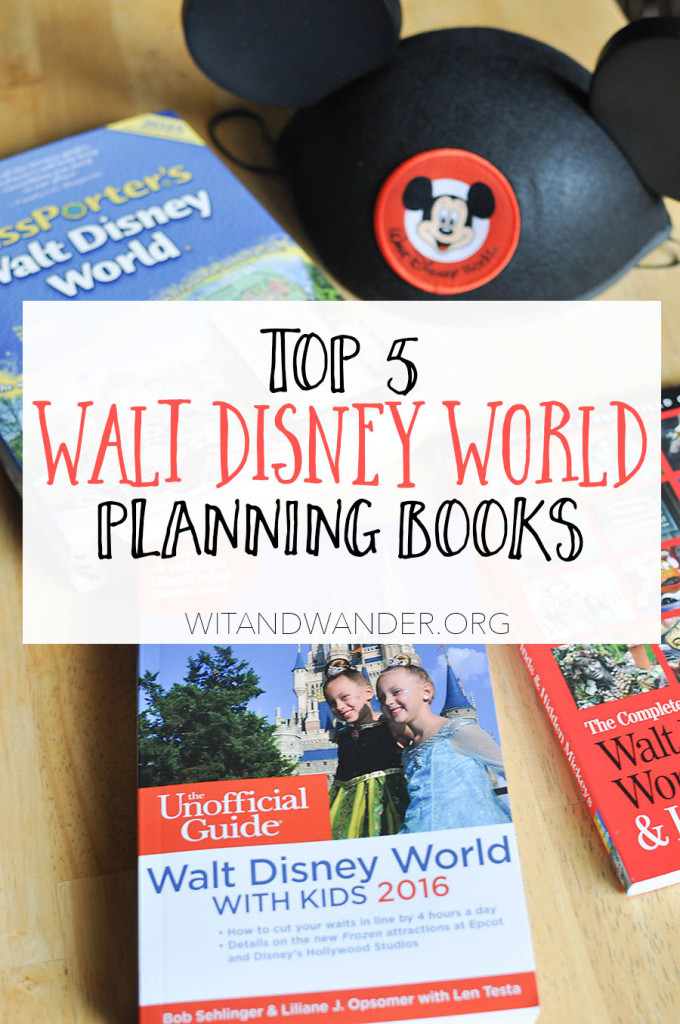 Those are absolutely my favorite books for planning a vacation to Walt Disney World! Did I miss your favorite? Share it in the comments below!
—
Like what you see on our blog? Join our mailing list to receive emails with freebies, projects, coupons and decor ideas to help you live a creative and joy-filled life. You can also follow us on Facebook, Twitter and Pinterest.
SaveSave