When we found a leak in the bathtub of our master bathroom, we decided to remove the bathtub and convert it into a tiled walk in shower. Here are the before and after pictures along with some tips for renovating your master bath and FAQs about installing a tiled walk in shower.
Converting a Bathtub into a Walk In Shower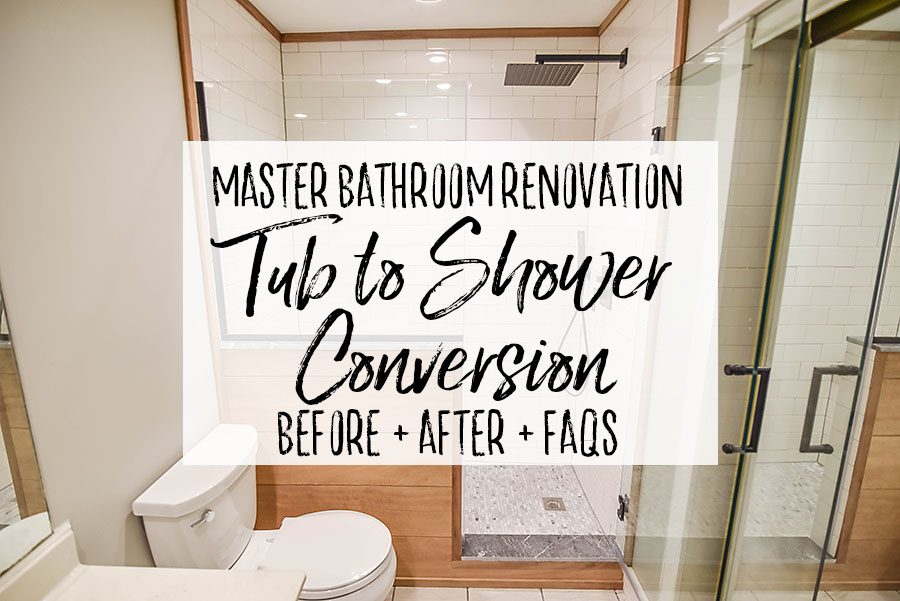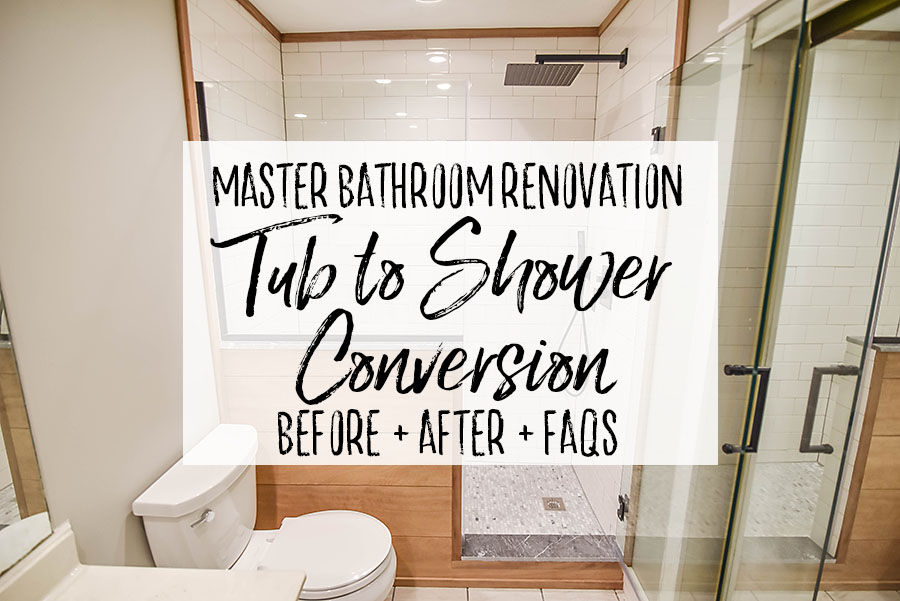 Renovating our master bathroom has been on the To Do list since we moved into our house 6 years ago. Of course, when you're really the only one who sees it, it gets pushed down on the priority list in favor of more visible projects (like our living room and dining room).
Well, when we discovered a leak that looked bad, it shot up the priority list pretty fast! We thought about completely renovating our master bathroom all together, but when you're doing everything yourself sometimes work has to be completed in stages. So, I'm calling this Master Bathroom Reno Phase One: Tub to Shower Conversion. But don't worry, I've got my eye on a vintage dresser to turn into a double sink, a DIY built-in linen closet, and several more projects that will be done eventually.
Before – Standard Builders Grade Tub
I thought I'd start by sharing a little of what we started with. Well…not quite started. We actually started 6 years ago with some bead board wallpaper and floral pink wallpaper, but those came out pretty quickly.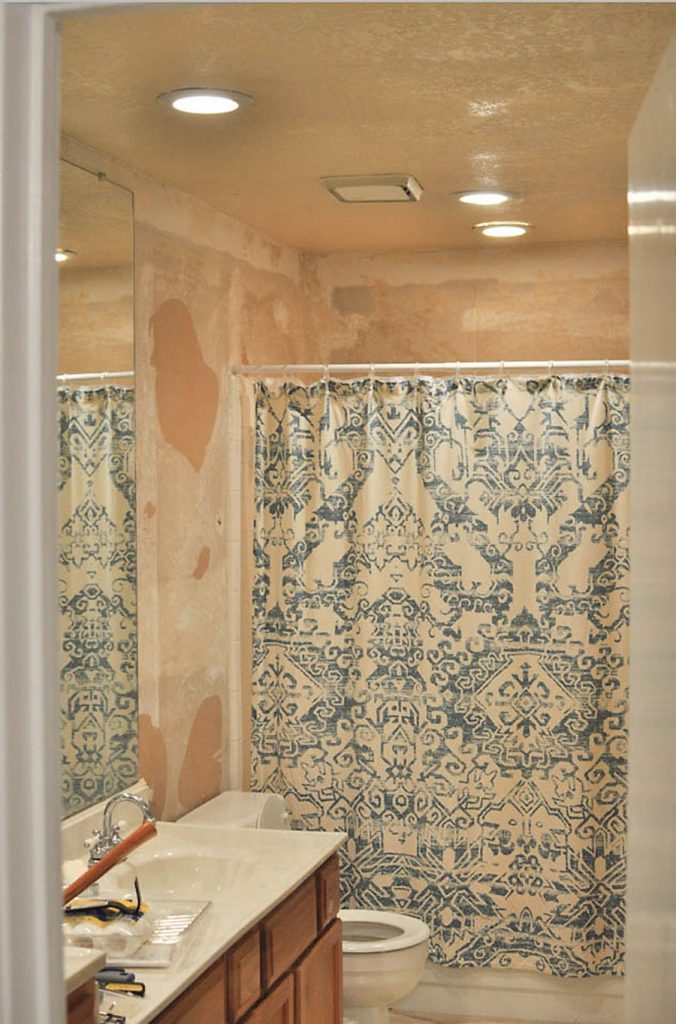 We had a standard builders grade bathtub – I assume it is original to the house, so probably from the 80s. There was also a faux tile surround that was stained pink/orange because our water heater was rusted out. (Hence the ombre effect on our shower curtain – we thought it was just the hard water…)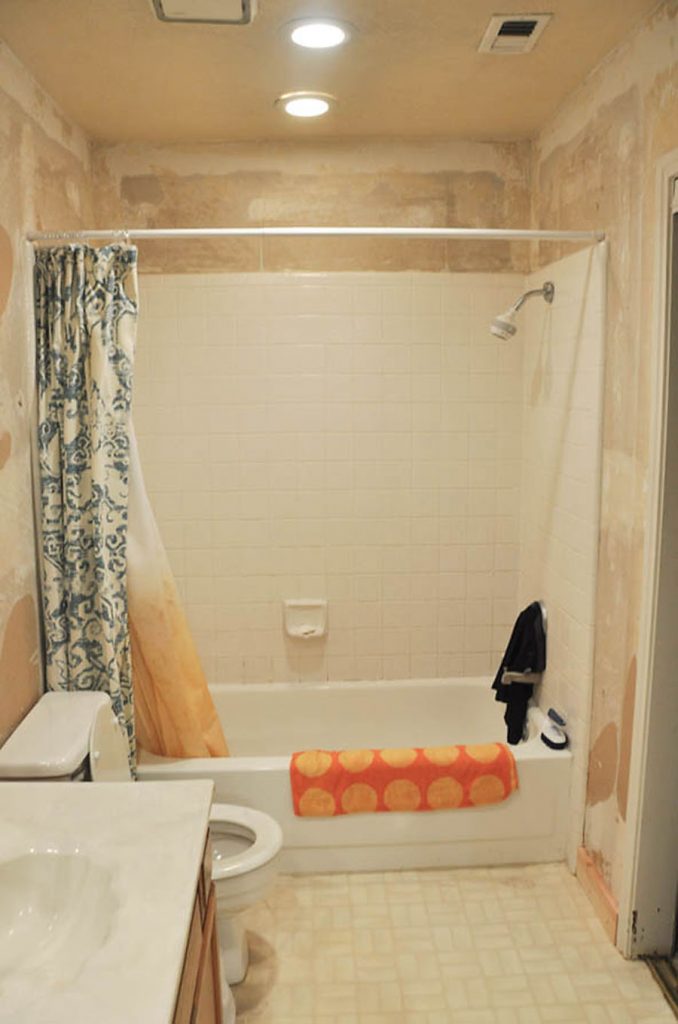 And don't let me forget the lovely linoleum and orange/brown cabinets (which still haven't been replaced, but we did paint them white).

Demo Day – Removing the Bathtub
Once we discovered the leak, Daniel had the bathtub out the next weekend. He doesn't mess around with leaks – they can so quickly turn into a huge problem. Also, he loves demo day, so that helps…
After – Tiled Walk In Shower with a Bench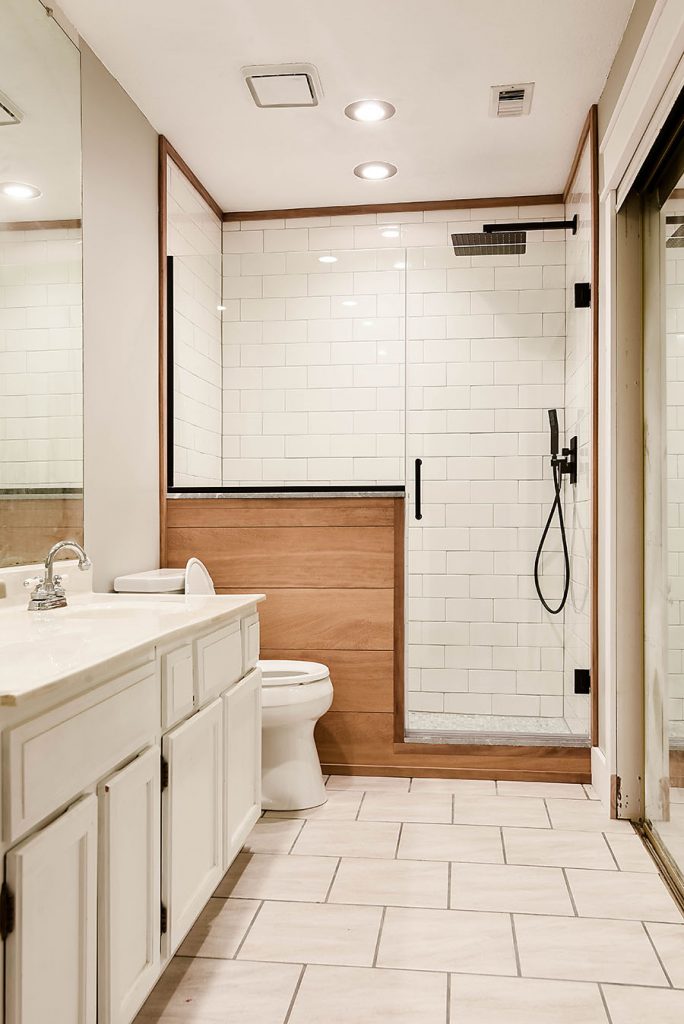 We had been planning to install a full custom glass shower door, but we found it was much cheaper if we used a glass door system that was already made to a standard size. This glass shower door with a half wall came in all different sizes and a satin black color I loved.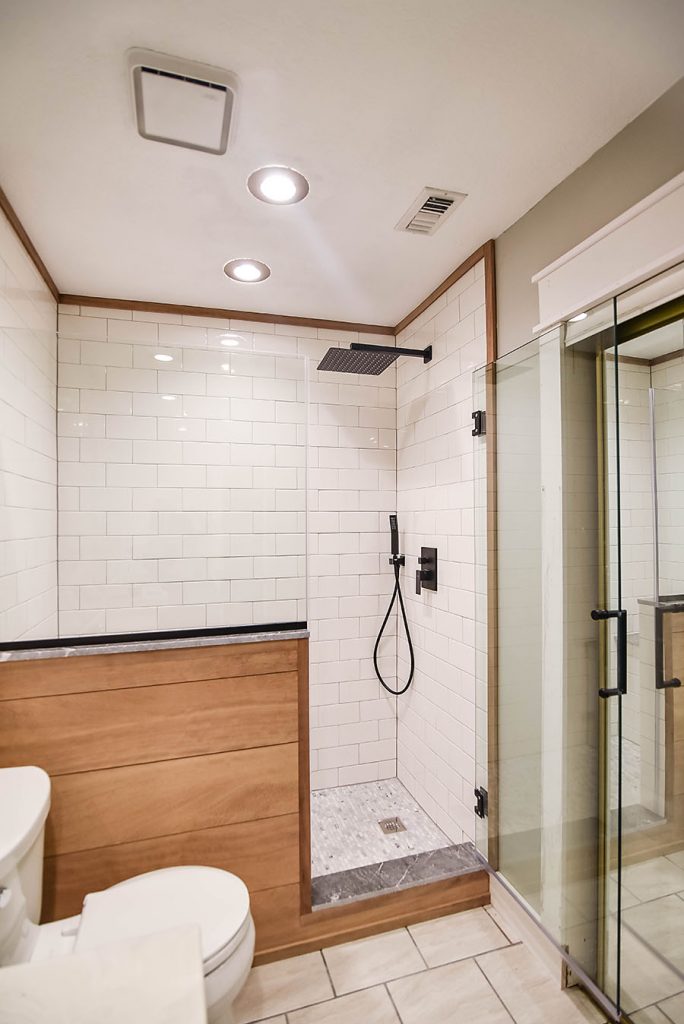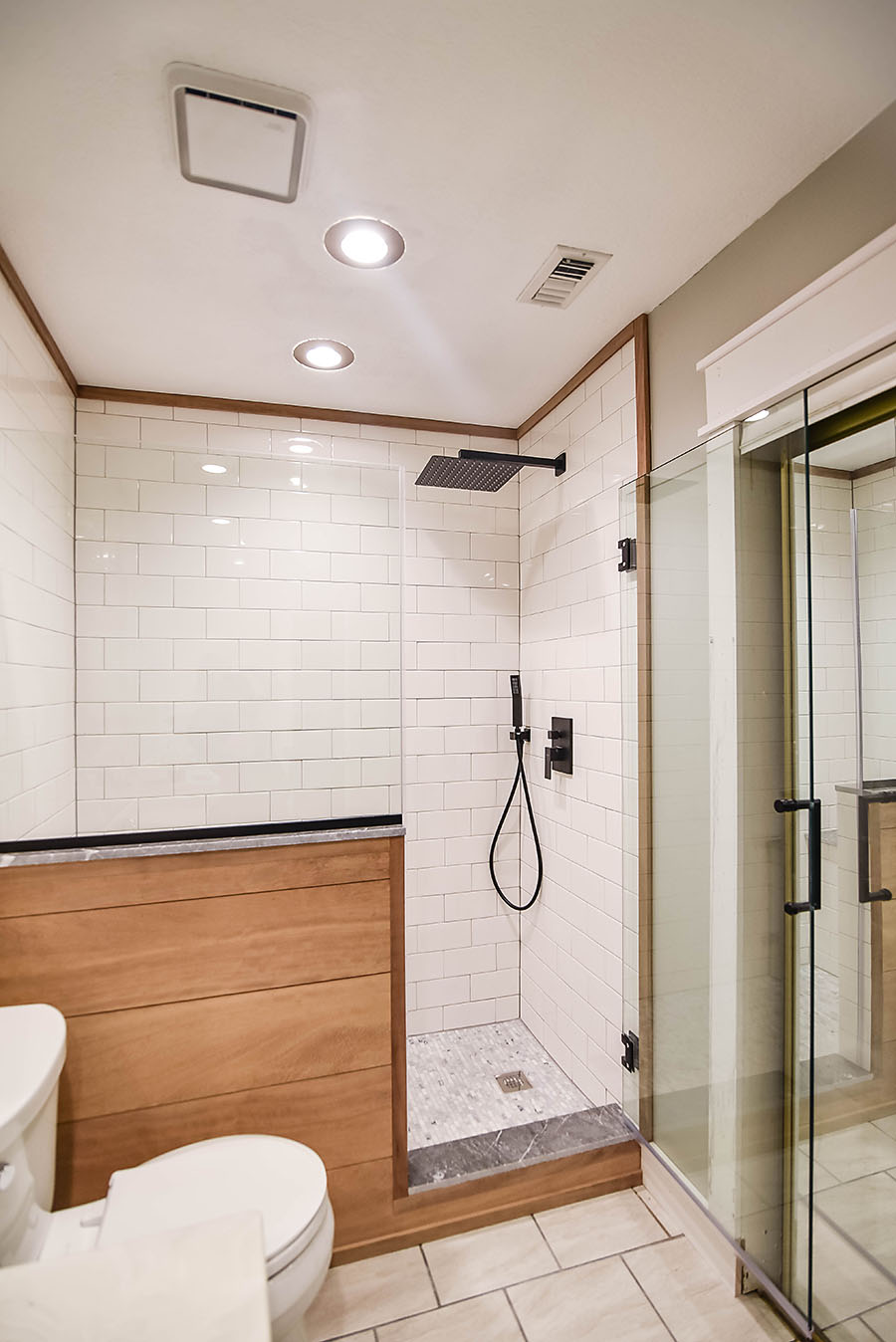 We decided the half wall would actually be better because of the placement of our commode, so we changed our design plans to accommodate a half wall.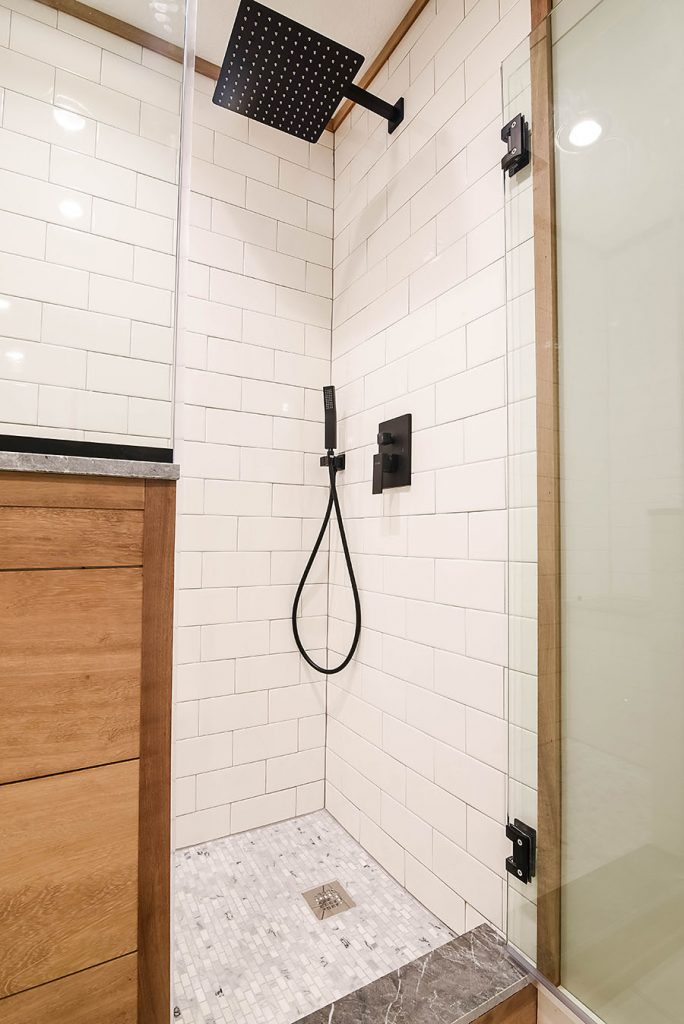 This also turned out to be a good move because when the tub was removed, Daniel discovered that the dryer exhaust vent had been routed under the tub, which meant we needed to install a bench to conceal it.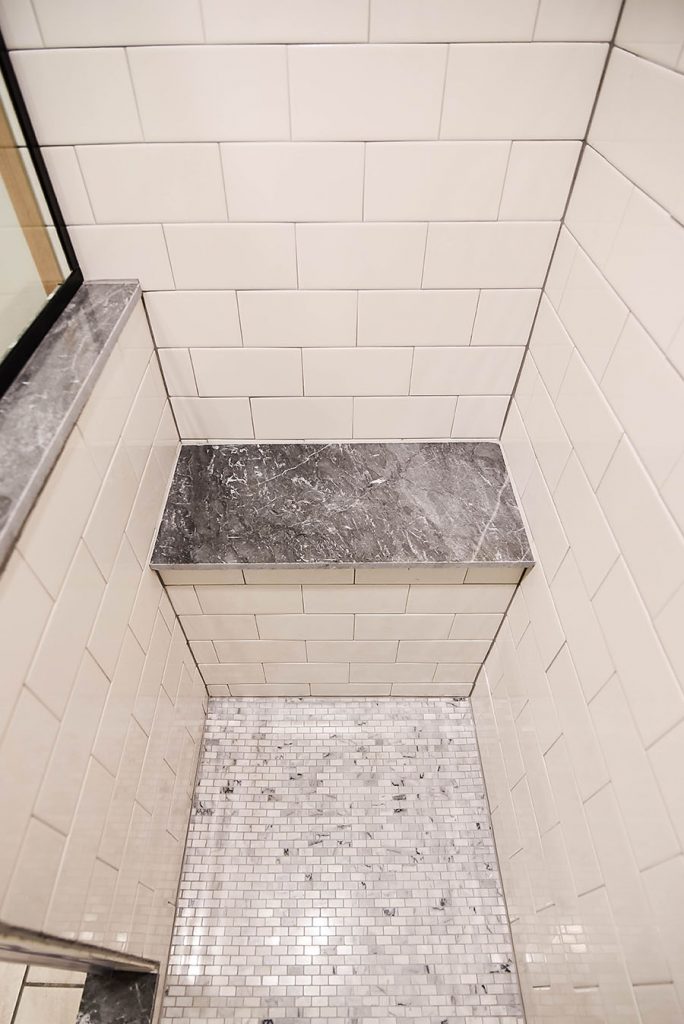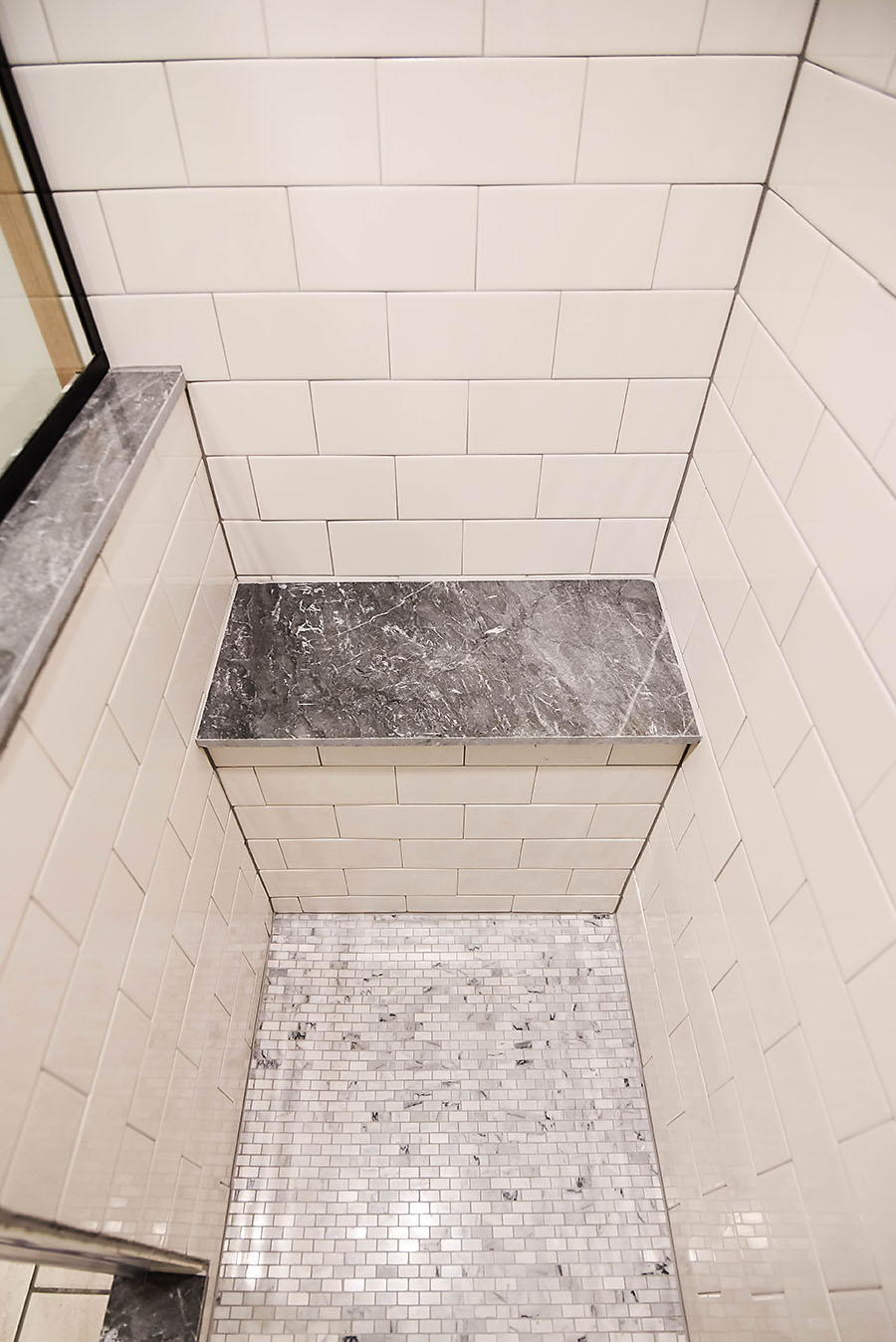 I love that the bathroom feels lighter and more airy. It feels fresh and clean instead of dingy and damp. I can't get over this before and after!
I'll be sharing more details from our project soon (including all the materials we used for building and designing this space), but for now I'm going to answer some FAQs I've gotten about this master bathroom renovation.
Frequently Asked Questions About Installing a Walk In Shower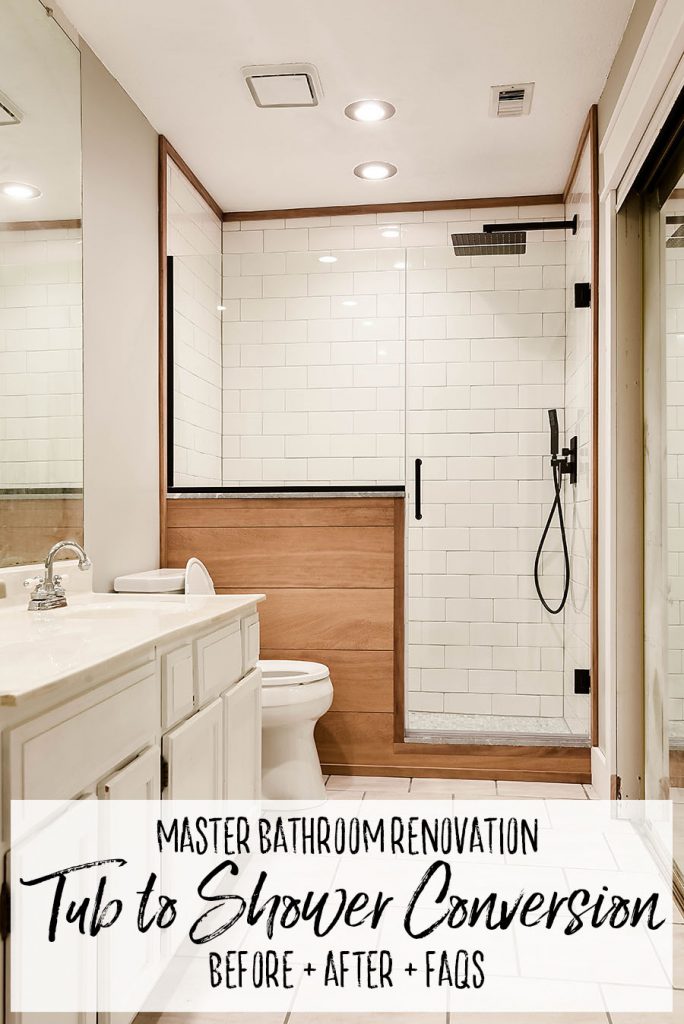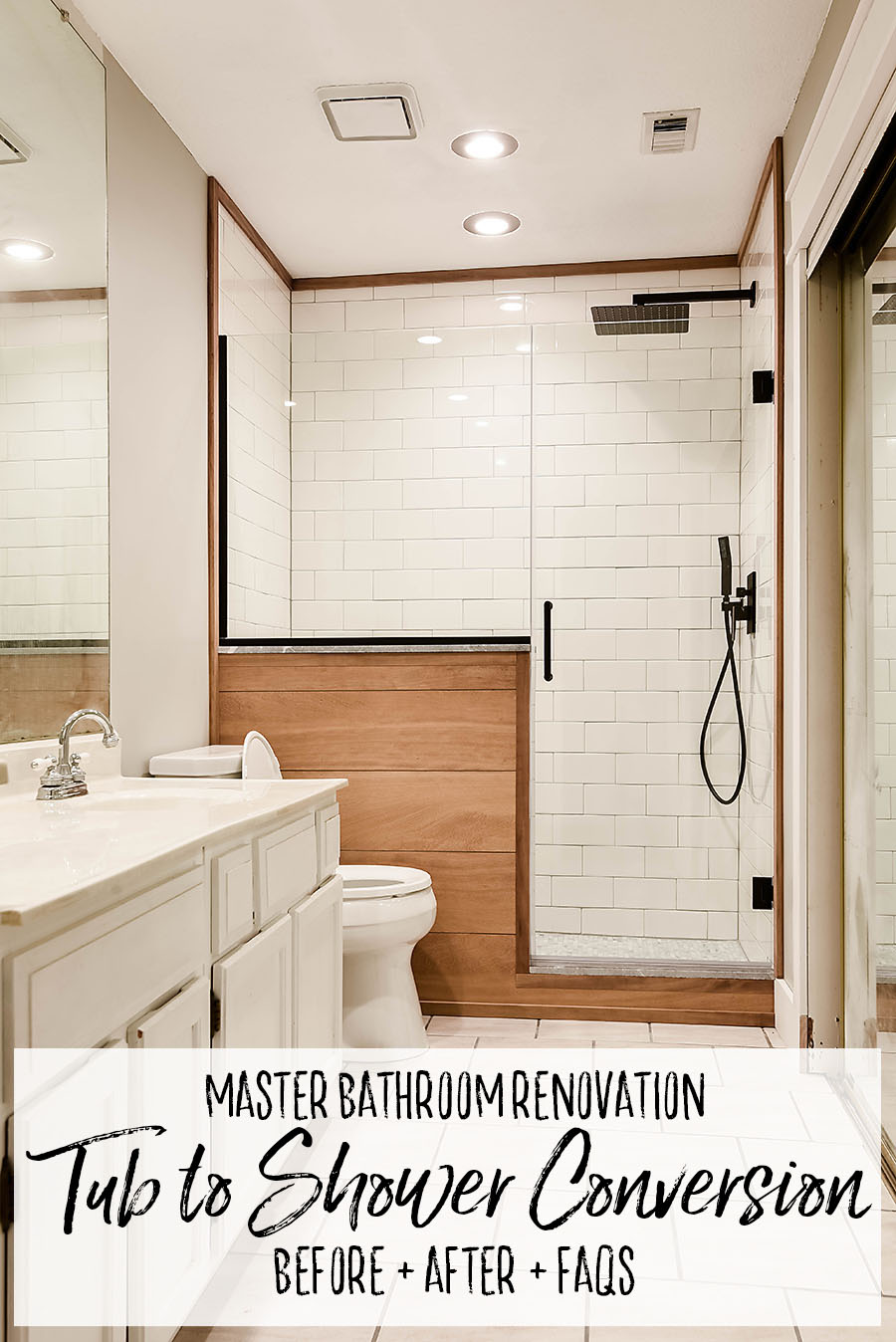 When you're dealing with home renovation, you never really know what you're dealing with until you take a room down to the studs. Each house is so unique, which is why I don't want to give too many specifics on this project – our shower will look different that anyone else's because of the unique structure of each home. However, I'm an open book when it comes to home renovations – so I'll answer some frequently asked questions just in case they help you in your home renovation.
How much does it cost to build a walk in shower?
When looking at the cost of replacing a tub with a walk in shower or remodeling a shower stall, most DIY walk in shower conversions will cost around $1000 – $3000. That number could go up based on the tile chosen, major plumbing renovations, or custom carpentry. If you hire out a contractor to oversee the build, it will cost a lot more.
Our remodel was completely DIY (meaning we hired no outside help) and it cost around $1500.
How long does it take to build a tiled walk in shower?
Count on taking several full weekends to build a tiled walk in shower. There is a drying time for each layer, as well as extensive manual labor for each step.
Even if you were able to dedicate all your time to the project (if you don't have a separate full time job), it would likely take you at least two full weeks because of drying times.
Can I remodel my own bathroom?
It is definitely possible. Have a detailed plan, research it a lot, and have more money available than was in your original budget.
If you're going to install it yourself, you're going to want to feel fairly comfortable with plumbing, framing, tiling, and masonry (for things like building up a mud bed at a specific angle, putting in backer board, and potentially cutting marble or some other stone).
If you feel uncomfortable with any of these skills, plan to pay a bit more to get some professional help.
What is the best tile for a walk in shower?
You can use just about any type of tile in a walk in shower, but take care in choosing tile for the floor. Because the floor is slanted, you may want to choose smaller tiles that can be laid on a slope. It's not necessary, but it will make laying the tile easier.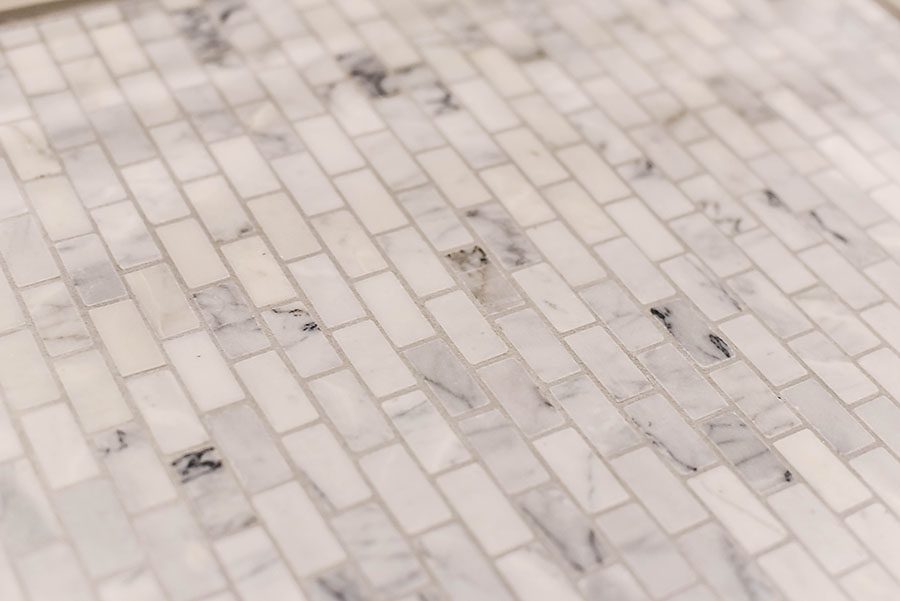 Choose a durable floor tile and follow the manufacturers guidelines (they will tell you what it's best suited for). If you chose a natural stone tile it will need to be sealed and re-sealed regularly. If you chose a porcelain tile, you won't need to seal it because it is already glazed.
Do you need a shower pan for a tile shower?
No – you don't have to. We made our own shower pan out of several layers of a mud bed, a PVC liner, and red guard. There are shower systems and kits that make it much easier without building it all from scratch, but you're looking at a cost of around $400-$600 depending on the size of your space.
What are the best materials to use for a shower stall?
The Best Walk In Shower Flooring Materials
The Best Walk In Shower Wall Materials
This is a broad overview. I'll have a post coming in the next couple of weeks with our specific processes for each of these materials.
What is a good size for a walk in shower?
A single stall can be as small as 32″ x 32″. If you're replacing a bath tub you're looking at approximately 60″ x 32″.
Does a walk in shower need a door?
No, you don't necessarily have to have a door on your walk in shower. You could use a shower curtain. If your space if big enough, your drainage is good enough, and you can point the shower head so that there won't be any over spray, you could get away with nothing at all.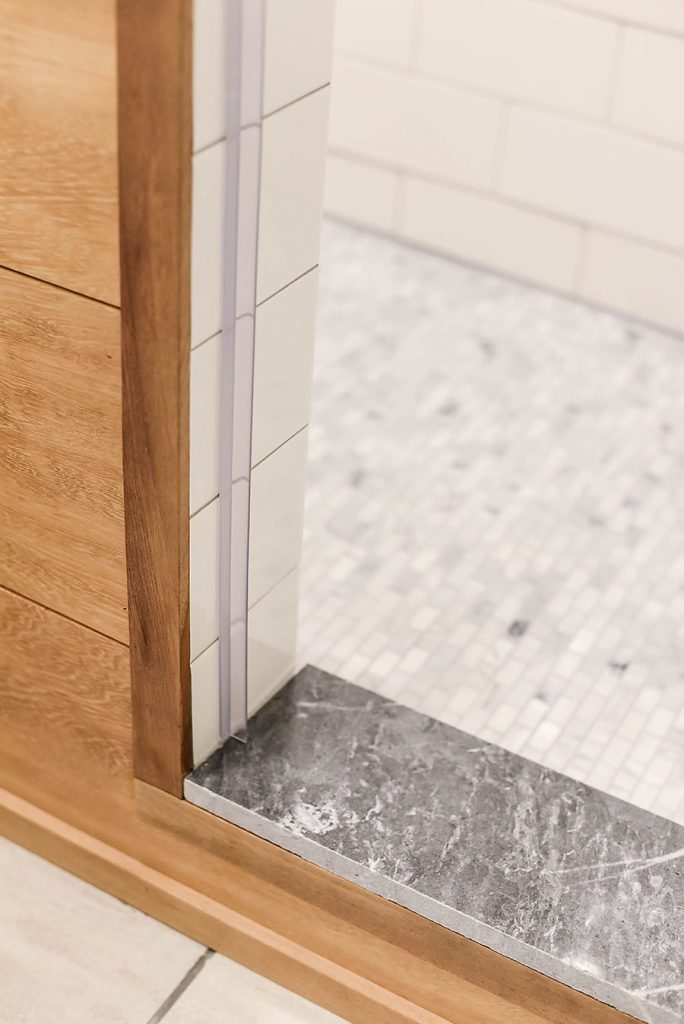 Alternately, you may find you like the look of modern glass shower doors and they are fairly simple to find in a variety of sizes.
Are walk in showers a good idea?
After 2 months of living with our walk in shower, I would say YES! I love the clean aesthetic and design of the shower.
They add value to your home as well as a feeling of luxury. They are also easier for people who may have difficulty stepping into a bathtub. They are probably more difficult to install than putting in a standard tub and tile surround, but it is worth it if you would appreciate the style and convenience.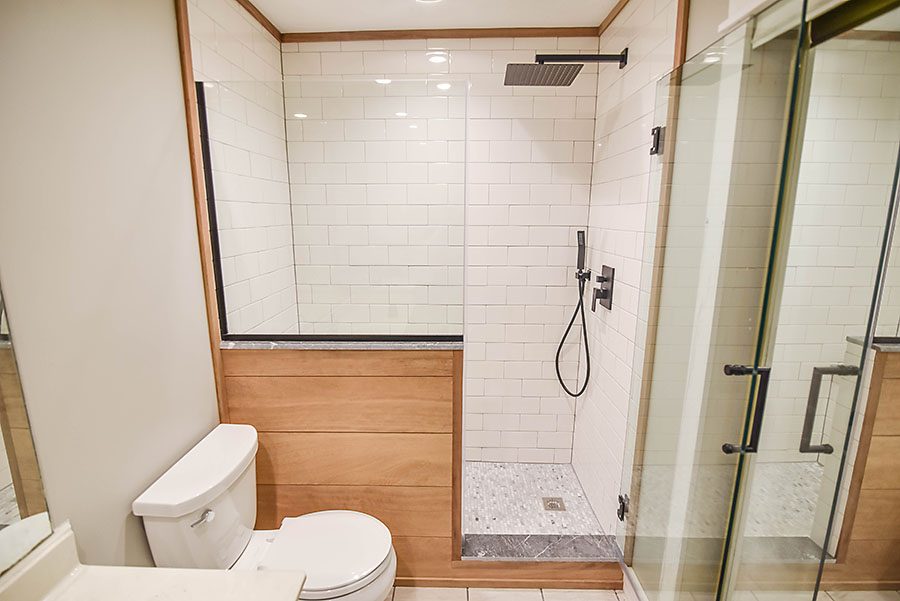 Do you have any questions about installing a walk in shower? I would be happy to add them to our FAQ list – just let me know in the comments below!