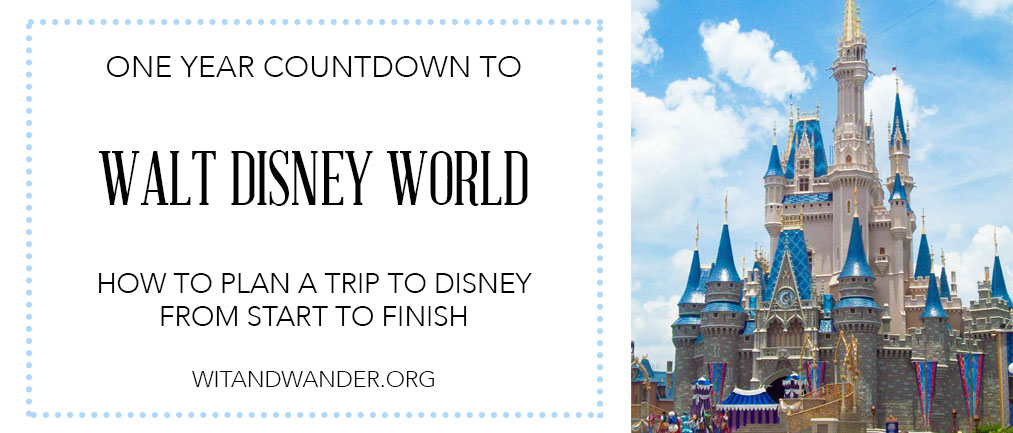 When you're a mom of little ones, Walt Disney World is the ultimate dream vacation. It can be overwhelming if it's your first time or you don't know where to start. I have been going to Walt Disney World since I was a little girl and now we are planning our first trip with a little girl of our own!
I have always loved planning vacations, especially to Walt Disney World, so I am sharing my best planning secrets and some great free Walt Disney World planning printables, every month leading up to our trip in a series: One Year Countdown to Walt Disney World
Walt Disney World Planning Timeline:
This Month's Disney World Vacation Freebie
Only one month left! Only one month left! Needless to say, I am beyond excited. Touring plans are coming together, dining reservations are made, FastPass+ has been selected – the only thing left to do is pack.
Of course, I also love packing for Disney – in fact, I have it down to a science. I start a packing list about 3 months before we are scheduled to leave. I scour blogs and Pinterest for the latest ideas and start collecting things like Tinkerbell Gifts and travel supplies. I take over our guest bedroom to start packing about 2 weeks in advance.
Don't worry – of course I have my (crazy, obsessive) packing list for all of you! All you have to do to use this click on the link below to download the print. (Stay tuned below the print for a few of my BEST packing tips!)
CLICK HERE TO DOWNLOAD THE Ultimate DISNEY Packing List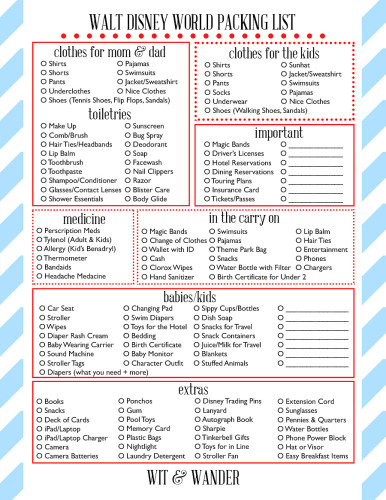 Onto the tips!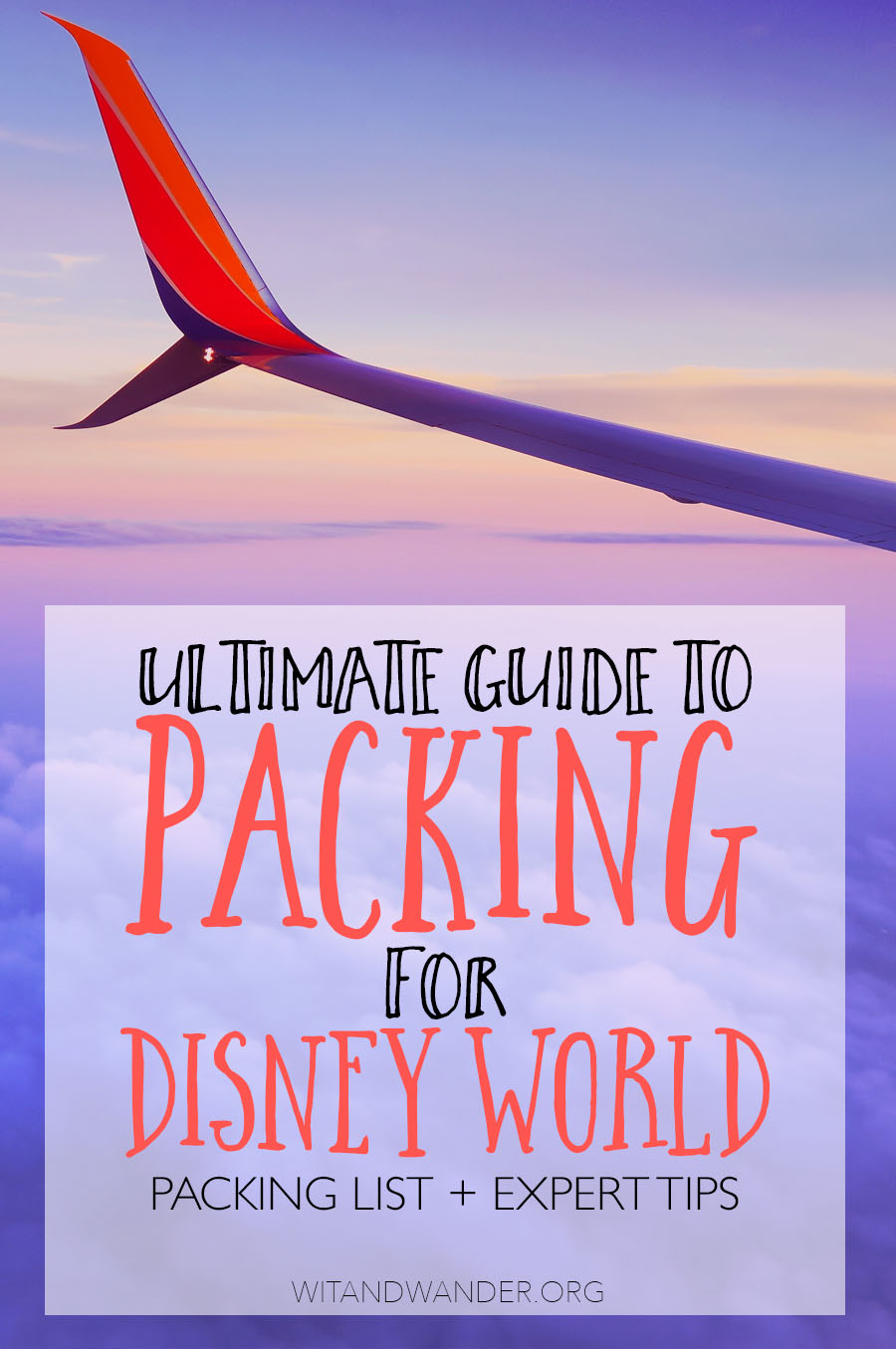 Packing Tips for Walt Disney World
Pack kids clothes separated in a gallon sized plastic bag for each day – include accessories like socks and bows so you don't have to go searching each morning.
Pack food (or purchase in Orlando) that can be easily made in the room or with a microwave. (peanut butter and jelly, oatmeal, popcorn, fruit cups, breakfast sandwiches, cereal boxes, water bottles)
Purchase ponchos before you leave home. It rains almost every day in Florida and you can get ponchos for about $1.50 at home or $15 inside the parks. (The same can be said for those misting bottle fans and glow-in-the-dark gear)
An external power block will keep your smart phone charged even if you aren't near an outlet. I love the convenience of the My Disney Experience app, but it can definitely drain your phone's batteries. (Especially when I'm also taking pictures all day and playing Heads Up in line!)
Buying Disney t-shirts, autograph books, Mickey ears, lanyards, and small souvenirs before you leave can save you lots of money in the parks.
Plan on using a stroller even for kids who are "too old". We love to bring our own because our toddler is comfortable sleeping in it, but they also have them available to rent inside the parks.
I hope you love this packing list! Let me know in the comments below if you plan to use it for your Disney vacation or if you have a packing tip to share!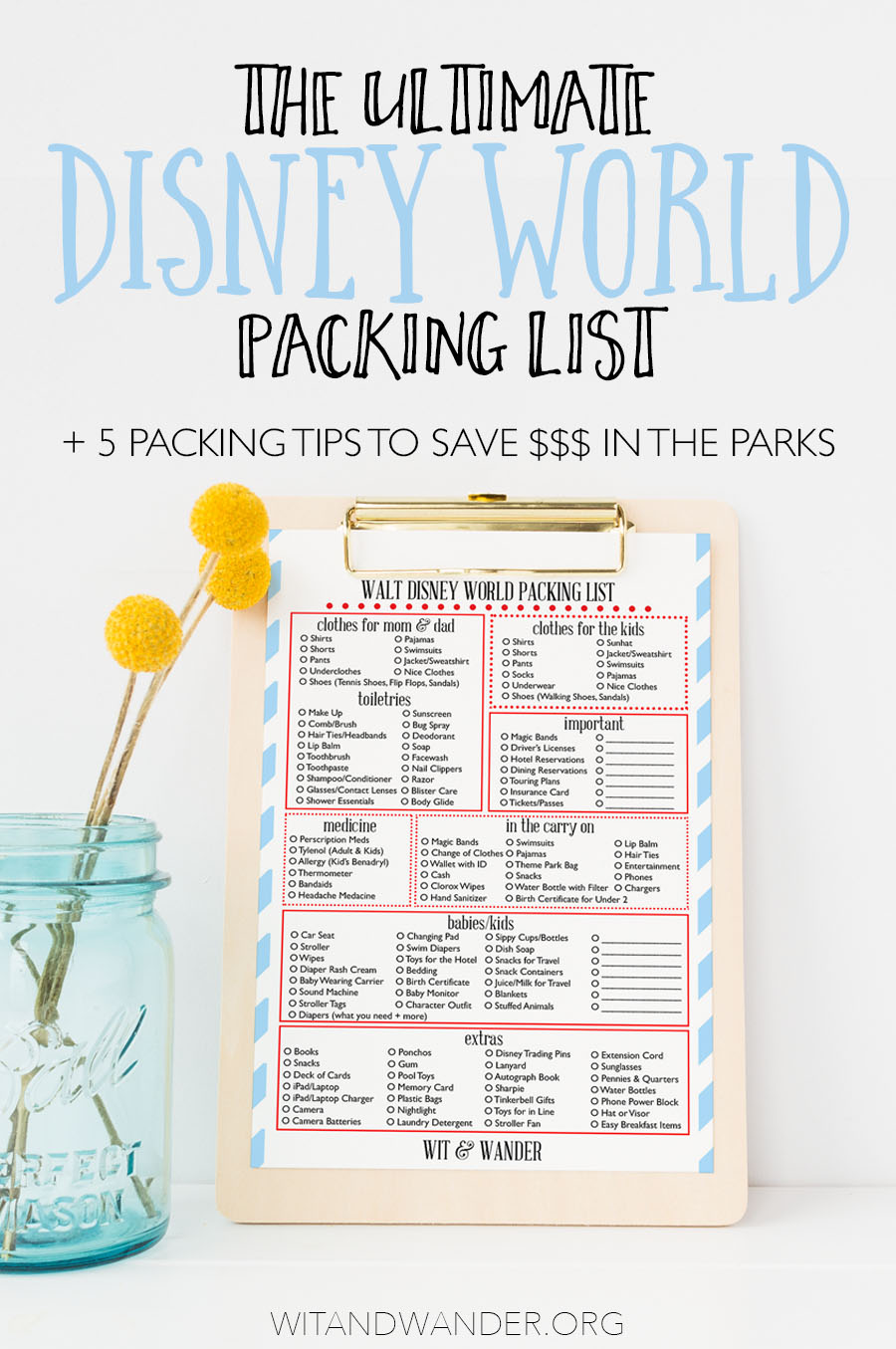 If you have anything to add to the conversation, don't be shy! I would love to answer any of your Disney planning questions and if you share a tip I love, I might just include you in next month's countdown. Leave a comment or connect with us on Facebook, Instagram, or Twitter!
Catch up on the whole series:
12 Months: Introduction // The 3 Big Questions // Free Printable Budget Planner
11 Months: 11 Month Update // Best Free Planning Resources // Printable Journal Cards
10 Months: 10 Month Update // Top Planning Websites // Free Printable Stroller Tags
9 Months: Disney Dining Plan Review // Free Printable Top 10 Attractions List
8 Months: 8 Month Update // Top 10 Tinker Bell Gifts // Printable Tinker Bell Gift Tags
7 Months: 7 Month Update // Best Disney World Planning Books // Travel Info Sheet
6 Months: 6 Month Update // Touring Plan Spreadsheet
5 Months: 5 Month Update // Pin Trading Guide
4 Months: Disney Movie Countdown // Free Printable Daily Disney Planner
3 Months: Best Gear for Traveling with Kids // Printable Guide to Rides by Height
2 Months: All About FastPass+ // Free Printable Character Autograph Print
1 Month: Disney World Packing List
Countdown to Walt Disney World: Disney World Trip Report
—
Like what you see on our blog? Join our mailing list to receive emails with freebies, projects, coupons and decor ideas to help you live a creative and joy-filled life. You can also follow us on Facebook, Twitter and Pinterest.
SaveSave