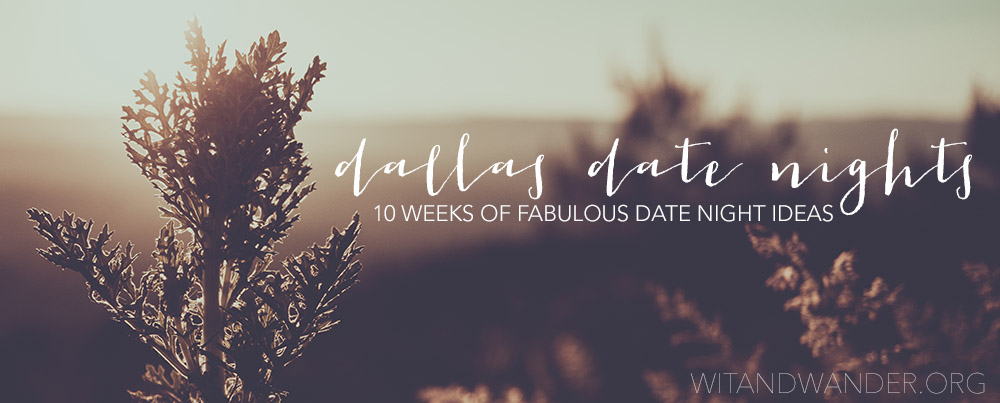 Dallas is an incredible city! Whether you're new to Dallas or you've lived here long enough to forget about some of its charm, everyone will love this list of Dallas Date Night spots that are a little fun, a little funky, and definitely unique. Just in case you missed the Introduction to Dallas Date Nights, I will be sharing 5 Unique Date Night Ideas in the DFW Metroplex each week for the next ten weeks. At the end of ten weeks, you will have 50 fresh ideas for dating in Dallas! Each week will have a theme, and this week's theme is Blast from the Past.
5 Dallas Date Nights that are a Blast from the Past
My husband and I love shops that are reminiscent of days past – from the nostalgic candy stores to the (not so) little popcorn shops, and we are never ones to turn down a milk shake! We seek out these amazing little nostalgic hole-in-the-wall shops that are equal parts charming and fun. We have found several spots like this in Dallas, so here are our top 5 picks for nostalgic date nights in Dallas:
Number one on our list has to be Blooms, not only because it's right in our back yard, but also because it is the best shop of its kind in the metroplex. They have two big coolers full of glass bottle sodas (sometimes they even have our very favorite Henry Weinhard's Cream Soda, which you must try if you are a cream soda fan!) and shelves full of nostalgic toys, candies, and goodies. Anytime we need to pick up a White Elephant gift or a gift for one of our brothers or sisters, this is our first stop! They have a few adirondack chairs out front, so you can relax and enjoy people watching as you enjoy your treats.
This 100 year old soda fountain serves milkshakes in frosted glasses, old fashioned house-made sodas, and ice cream floats that will remind you of simpler times. It is also an old time pharmacy and waitresses are called 'soda jerks', adding to the ambiance. It is situated right along the Katy trail, so you can take a gorgeous, shaded walk right after you finish your malt!
This sweet and salty shop is filled with more than 50 flavors of popcorn! From Cinnamon Bun to Chicago Style, you're bound to find a flavor that tempts you. If you're feeling adventurous, they have savory flavors like loaded baked potato and candied flavors like watermelon, but of course they also have the classics like buttered, cheddar cheese, and caramel corn. Their McKinney Mix is a blend of jalapeño and caramel corn that locals love. They also have candy by the pound and house made fudge, just in case you still have a sweet tooth after all that corn!
Do you miss Cherry Mash, Oh Henry! Bars, and Bazooka Bubble Gum? Atomic Candy will make you fondly remember sitting on the curb with a package of Pop Rocks and a Yahoo (probably trying to see if your stomach would explode!). They have a rotating selection of glass bottle sodas and tons of fun novelty gifts and toys. My favorite part of their store is a giant wall of Pez dispensers! It's such a fun place to bring a date and find something new to try!
Newly remodeled in 2014, Big State Fountain Grill in Irving is definitely a blast from the past. From their corner store vibe to their gigantic pancakes and delicious burgers, it feels like you're stepping into the 50's the moment you walk through the door. For a really unique date night, check out their "Cars and Shakes" Classic Car Night every Saturday!
Taking a trip down memory lane will certainly be a unique way to spend a DFW Date Night – did I miss your favorite? Share your favorite nostalgic date spot or leave a suggestion for next week's theme in the comments. Come back each week for 5 new Dallas Date Night Ideas!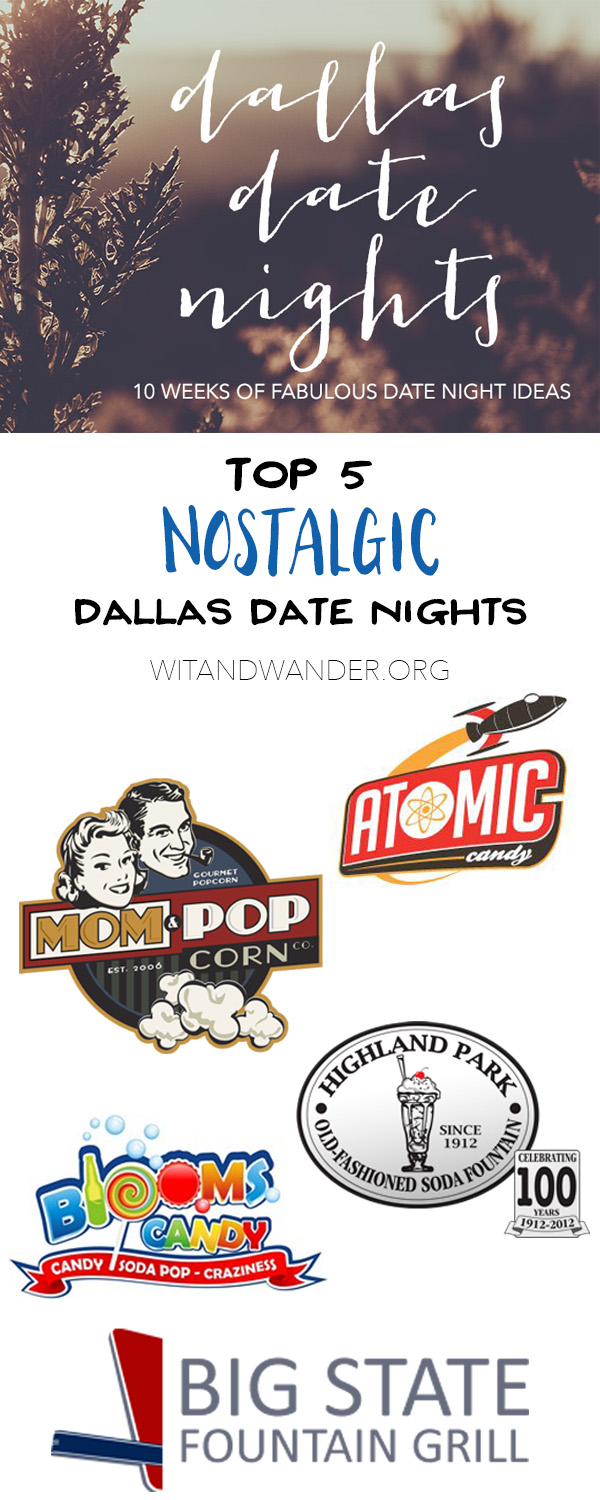 #DallasDateNights
Don't forget to share your date night photos on Facebook, Instagram, and Twitter with the hashtag #DallasDateNights. I will choose a few photos with that hashtag each week to highlight across social media. Make sure you join our party on Facebook, Instagram, and Twitter to get in on all the action. I am really looking forward to seeing your pictures!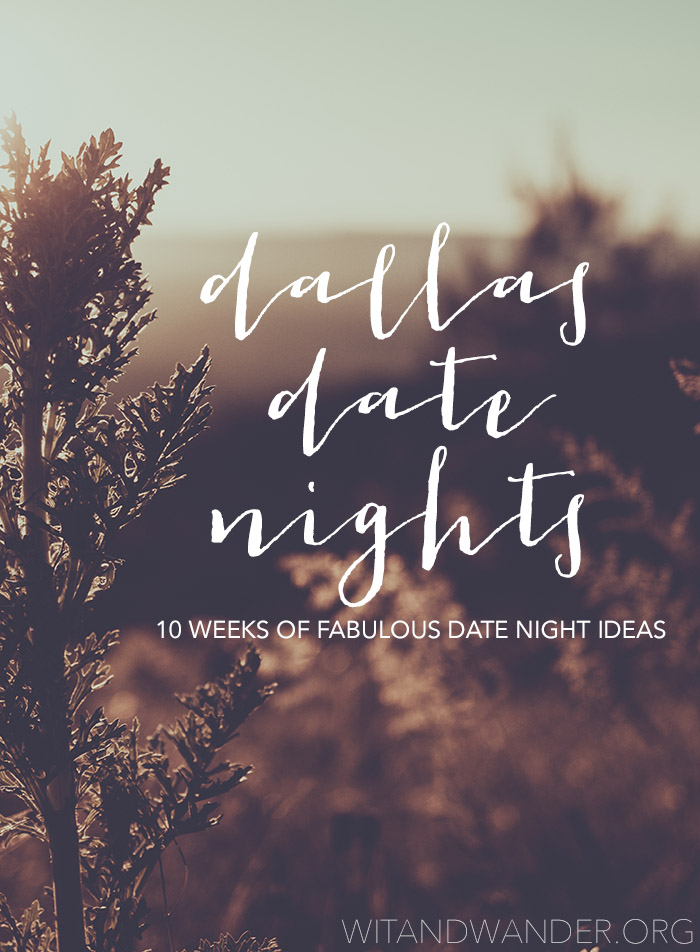 Click Here for your Free Printable Dallas Date Nights Guide
Catch Up on the Whole Series:
—
Like what you see on our blog? Join our mailing list to receive emails with freebies, projects, coupons and decor ideas to help you live a creative and joy-filled life. You can also follow us on Facebook, Twitter and Pinterest.