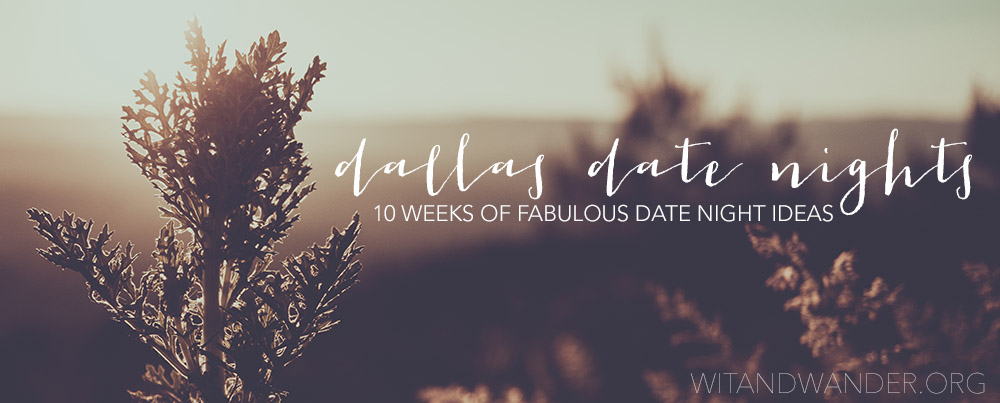 Dallas is an incredible city! Whether you're new to Dallas or you've lived here long enough to forget about some of its charm, everyone will love this list of Dallas Date Night spots that are a little fun, a little funky, and definitely unique. Just in case you missed the Introduction to Dallas Date Nights, I will be sharing 5 Unique Date Night Ideas in the DFW Metroplex each week for the next ten weeks. At the end of ten weeks, you will have 50 fresh ideas for dating in Dallas! Each week will have a theme, and this week's theme is Sporting Events.
5 Dallas Sporting Events Perfect for Date Night
Dallas Sports may not be the most unique option on the list, but there are so many sporting events in Dallas, there is bound to be one you haven't experienced! My husband and I love catching a game for date night. There is both something to do/watch (his favorite), but still opportunities to talk (my favorite), so it's a win for both of us! Here are my top 5 picks for sports date nights in Dallas:
1. High School Football
If you're looking for an easy date night in the fall, support your local high school under the Friday Night Lights. There is nothing in the world quite like Texas High School Football. These are nationally recognized players, so they are really impressive on the field and the half time shows are unlike anything I've ever seen. It's a whole lot of fun for less than $10! If you don't have a local team to support, check out the Allen Eagles, who have been state champs for 3 of the last 10 years (and their 60 million dollar stadium, which should open for the 2015 season after refurbishments).
2. Collegiate Sports
The fervor surrounding collegiate sports in Dallas nearly matches the frenzy about professional sports. Because there are so many great schools nearby, there are intense rivalries that make for incredibly fun date nights! You can watch the SMU Mustangs, the TCU Horned Frogs, or the UTA Mavericks. Outside of the standard football, basketball, and baseball, if you look hard enough you might even be able to find unique sports like cricket and rugby! While not in DFW, the Baylor Bears from Waco, Texas A&M Aggies from College Station, and the University of Texas Longhorns in Austin are also popular teams to watch. The Cotton Bowl is held annually at AT&T Stadium in Arlington.
3. Minor League & Semi-Professional
Semi-professional sports are the perfect date night for parents because they don't cost an arm and a leg, so you won't feel bad if you have to leave early to relieve a babysitter. There are dozens of teams near us, but be sure to check out the Frisco RoughRiders (baseball), Dallas Sidekicks (soccer), and Allen Americans (hockey). If you need to take the whole family on your date night, most of these teams have special deals for family nights.
4. Professional
Professional sports are definitely not new to anyone living in Dallas, but when we moved here three years ago I couldn't believe the amazing venues and teams we had right in our backyard. The Dallas Mavericks (basketball) are so much fun to watch. If you go to the right game, the American Airlines arena comes alive with energy. The Dallas Stars (hockey) also share the American Airlines Center. We have never gotten to go to a Cowboys game, but we have toured the stadium. Say what you will about Jerry Jones, the man knows how to build a stadium! A night at the Texas Rangers Ballpark may be our favorite summer date night – the price is right and the baseball games are always convenient. The only thing that might have the rangers beat is the NASCAR Sprint Cup. We went to our first race this Spring and it blew our minds! It was such an adrenaline rush and we will definitely be going on another date to the Texas Motor Speedway.
5. Only in Texas
If you're looking for a date night that you can only experience in Texas, you must visit the Fort Worth Stockyards Rodeo. It's an iconic piece of Texas history and entertaining to boot. They have a rodeo every Friday and Saturday night where you'll see real life cowboys and cowgirls competing for cash prizes. They have calf roping, bucking broncos, barrel racing, and everything else you'd expect at an authentic Texas rodeo.
Sporting Events are a great place for your DFW Date Night – did I miss your favorite? Share your favorite sports date spot or leave a suggestion for next week's theme in the comments. Come back each week for 5 new Dallas Date Night Ideas!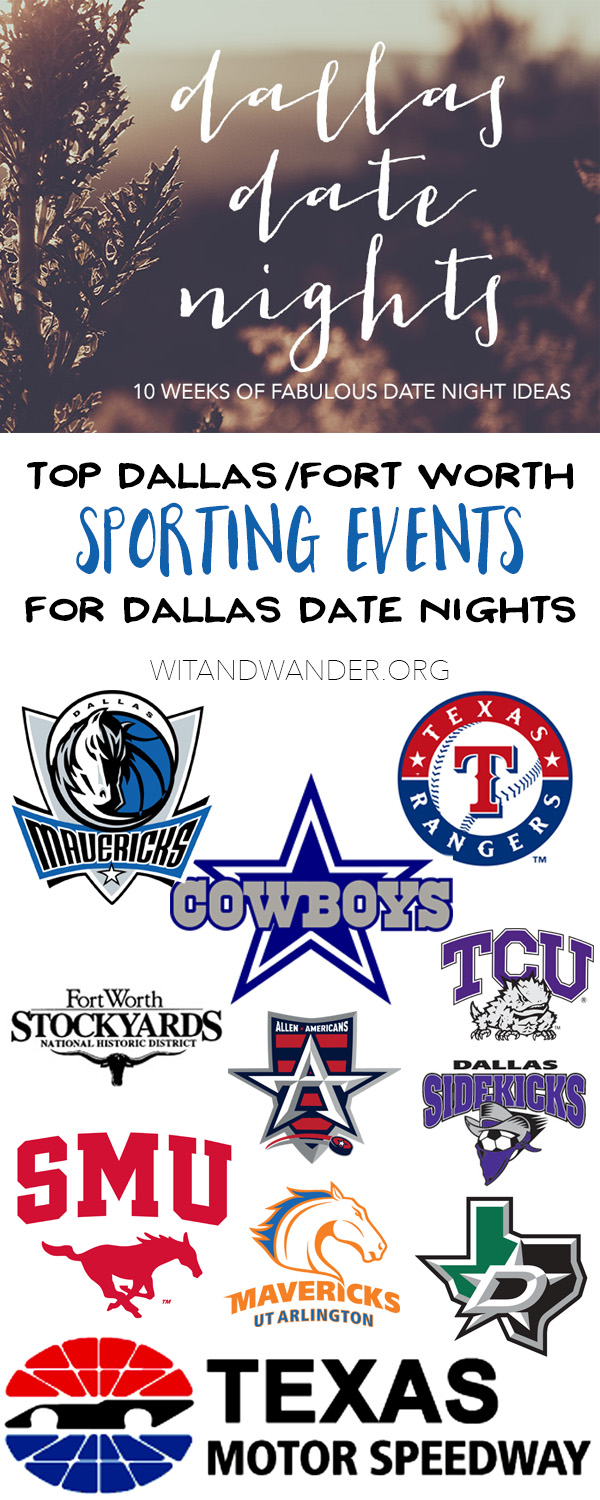 #DallasDateNights
Don't forget to share your date night photos on Facebook, Instagram, and Twitter with the hashtag #DallasDateNights. I will choose a few photos with that hashtag each week to highlight across social media. Make sure you join our party on Facebook, Instagram, and Twitter to get in on all the action. I am really looking forward to seeing your pictures!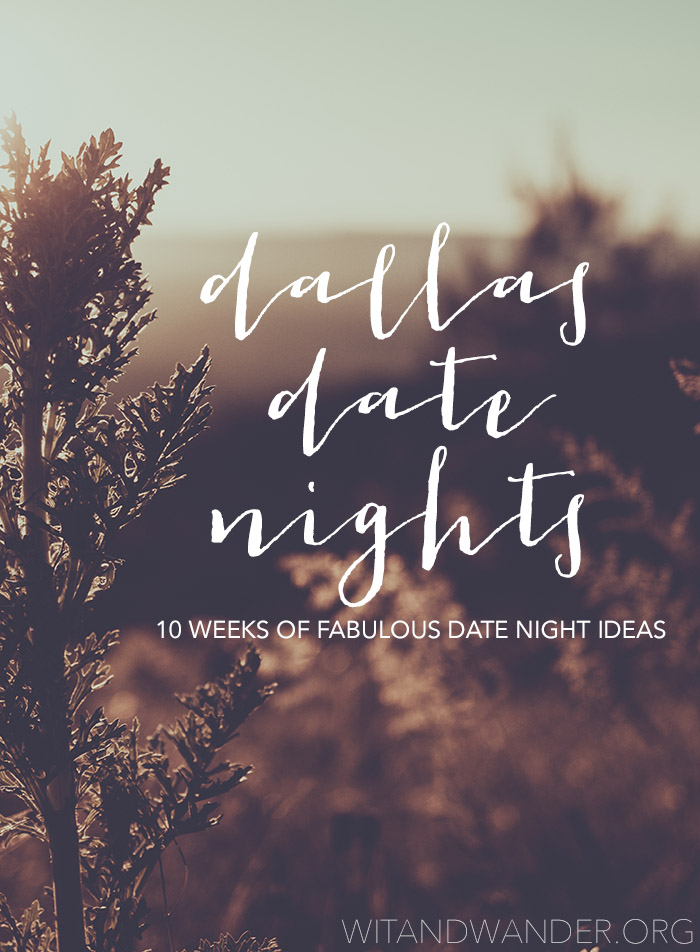 Click Here for your Free Printable Dallas Date Nights Guide
Catch Up on the Whole Series:
—
Like what you see on our blog? Join our mailing list to receive emails with freebies, projects, coupons and decor ideas to help you live a creative and joy-filled life. You can also follow us on Facebook, Twitter and Pinterest.