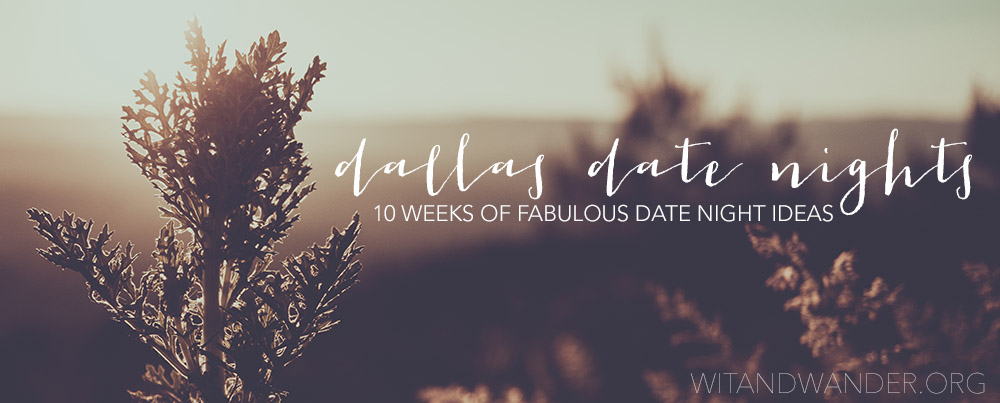 Dallas is an incredible city! Whether you're new to Dallas or you've lived here long enough to forget about some of its charm, everyone will love this list of Dallas Date Night spots that are a little fun, a little funky, and definitely unique. Just in case you missed the Introduction to Dallas Date Nights, I will be sharing 5 Unique Date Night Ideas in the DFW Metroplex each week for the next ten weeks. At the end of ten weeks, you will have 50 fresh ideas for dating in Dallas! Each week will have a theme, and this week's theme is Bishop Arts District.
5 Dallas Date Nights in the Bishop Arts District
The Bishop Arts District is one of our favorite date night spots – there are amazing restaurants, interesting shops, and pie! What could be better!? It's no more than two blocks, but those streets are packed full of things you won't find anywhere else in DFW. Here are our Top 5 Dallas Date Night Spots in the Bishop Arts District:
1. Lockhart Smokehouse
I have to start with the eatery that brought us to the Bishop Arts District in the first place. Lockhart Smokehouse is all about good Texas BBQ. When we first moved to Dallas, the one thing I wanted to find was great bar-b-que, but I was left disappointed with the chain restaurants we were finding near our house. After a lot of research, I stumbled on a review of Lockhart and immediately knew we would have to check it out. You order meat by the pound (but you can order 1/2 pound, 1/4 pound, or even by the slice) and their menu rotates daily. They have staples that never change, but the rotate things like burnt ends (meat candy!), salmon, and beef ribs. They always have a bread pudding, but some days it might be s'mores bread pudding and others it might be whisky bread pudding or cinnamon roll bread pudding. They update their Facebook page regularly with their daily offerings. If you need more convincing, this is the one place we take all of our out-of-town guests to experience a real taste of Texas!
2. DIRT
This is a little flower shop with an edge! DIRT has eclectic arrangements and gorgeous furnishings will inspire your creative side and you will walk out talking about refurbishing your house with vintage library catalogs and rehabbed pianos. These are not flower arrangements you will see at any old flower shop. Their pieces are all unique and some are even one-of-a-kind. Their website says, "You'll often see us driving around, rescuing discarded wood and raw materials we find on the streets of our neighborhoods with which to make our custom DIRT boxes and other containers. That's recycled glass chips you see topping off many of our plantings. Beautiful! It is our mission to use what's found, what can be saved, re-purposed, and re-imagined before anything else." And that's why I love it!
3. We are 1976
You may already know that I am a bit of a design nerd. I love finding stores that are very thoughtful about what they put on their shelves and We are 1976 is one of my favorite stores in Dallas. They are part curated gallery, part gift shop, and part working studio. They have lovely cards, prints, and well-designed gifts made by local artists that are thoughtful and intriguing. What makes them a perfect date night spot is their workshops. A few of the workshops they offer include modern calligraphy, typesetting poster letterpress, and print your own business card. Those may not appeal to you at all, but my husband and I both love design, so it would be an adventure for any creative couple.
4. Dude, Sweet Chocolate
Consistently named the 'Best Chocolate in Dallas', Dude, Sweet Chocolate has made quite a name for themselves! When you're in the Bishop Arts District, you must stop by their brick and mortar store to try a sample, and check out their Flower Child Truffles, Chocolate Salami, Fungus Amongus Toffee, and Love Potion Chocolate Sauce. It's not just a candy store – Dude, Sweet Chocolate is the brain child of a world renowned pastry chef who decided to act on her love for chocolate (and Dallas!) and we can all be grateful that she did!
5. M'Antiques
If you've always wanted your husband to enjoy antiquing as much as you do, DFW M'Antiques is a great place to start. This place feels like someplace Han Solo or Indiana Jones (or maybe even Harrison Ford, himself) would shop. The shop's contents are always changing, but I wouldn't be surprised to find bomber jackets, pocket knives, antique baseballs, stop lights, and vintage pinball machines. This place satisfies my love of vintage finds and my hubby's love of manly artifacts, making it the perfect stop for date night.
If you visit the Bishop Arts District for date night, you won't be disappointed. I already wrote about Emporium Pies and I didn't even have room to mention Pier 247, Oak Cliff Bicycle Company, Tillman's Roadhouse, Hunky's, and Eno's Pizza! Heading down to the Bishop Arts District will certainly be a unique way to spend a DFW Date Night – did I miss your favorite? Share your favorite Bishop Arts District date spot or leave a suggestion for next week's theme in the comments. Come back each week for 5 new Dallas Date Night Ideas!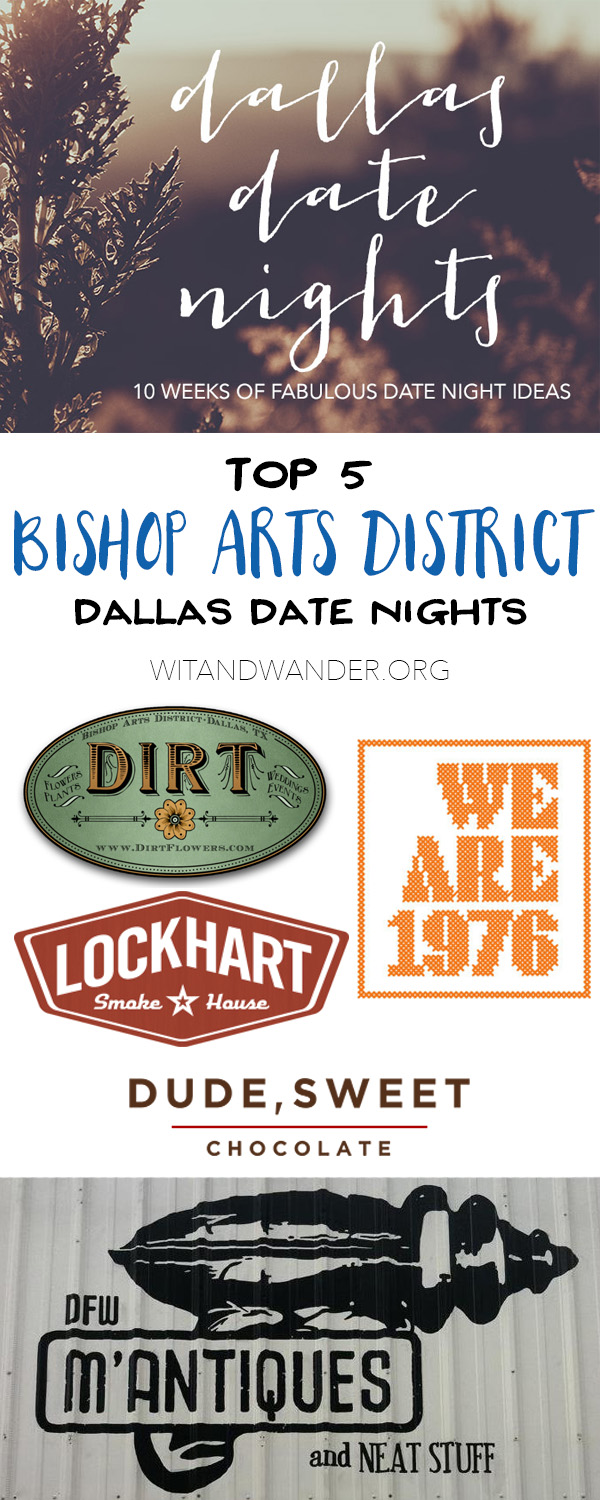 #DallasDateNights
Don't forget to share your date night photos on Facebook, Instagram, and Twitter with the hashtag #DallasDateNights. I will choose a few photos with that hashtag each week to highlight across social media. Make sure you join our party on Facebook, Instagram, and Twitter to get in on all the action. I am really looking forward to seeing your pictures!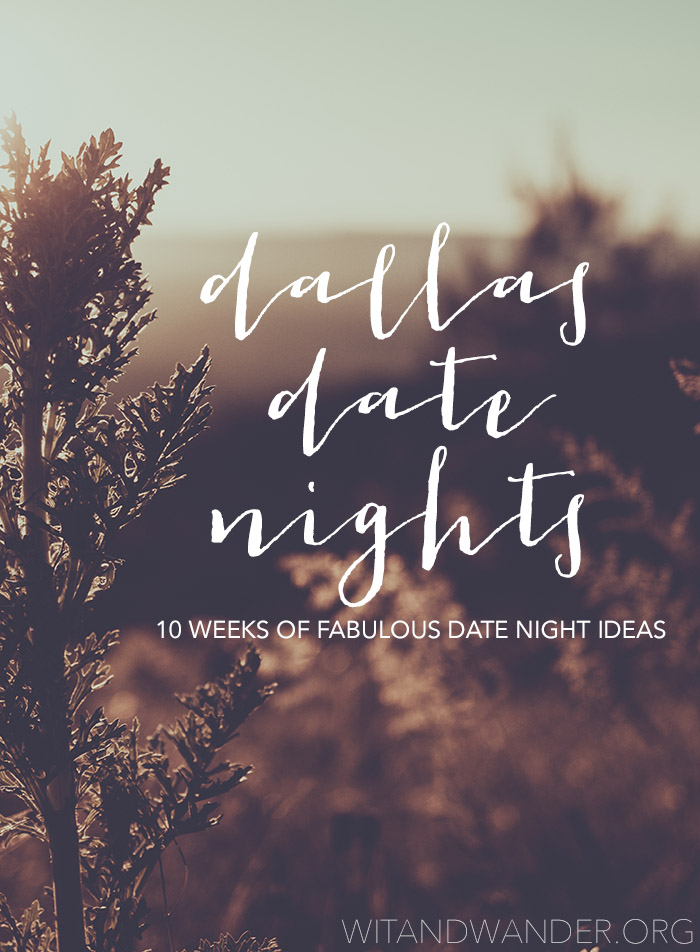 The free printable with over 100 Dallas Date Night Ideas will be coming soon – subscribe to our newsletter to be the first to know when it is released. This is a resource I have been working on for over three years for our own date nights and I can not wait to share it with you!
Catch Up on the Whole Series:
—
Like what you see on our blog? Join our mailing list to receive emails with freebies, projects, coupons and decor ideas to help you live a creative and joy-filled life. You can also follow us on Facebook, Twitter and Pinterest.