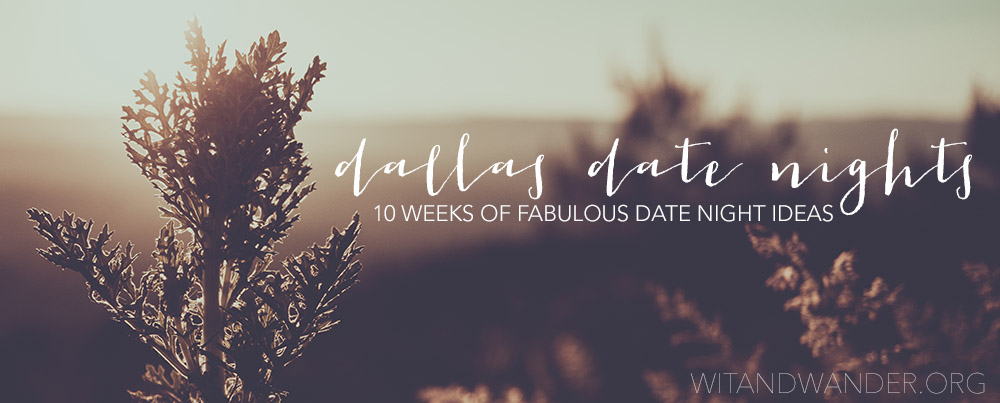 I have been bursting at the seams to share this series with you – some of my excitement may have spilled onto Facebook and Twitter, but you can't blame me! I think Dallas Date Nights might really be a game changer for couples all over the Dallas/Fort Worth Metroplex.
As you may have noticed (from posts like 20 Spring Date Ideas, Date Night Jar, and 20 Ways to Date Your Spouse in the Winter), I am passionate about intentionally dating my husband. We are always looking for new experiences that we can share to invest in our relationship and foster our sense of adventure and romance. But you may be asking yourself: Why does she care? Why should I make an effort to date my husband – I live with him for crying out loud!
Why Should I Date My Spouse?
I once heard a joke about a man who rarely said "I love you" to his wife. He said, "I told her I loved her when I married her and I'll let her know if I change my mind!" That may work for some couples (although I doubt it!), but it sounds like a pretty dry marriage to me. When I started dating my husband, I would hang on his every word and anxiously await the next time he would call. I would get so excited for dates and spend hours and sometimes even days planning what I would wear, crafting a perfectly worded and folded note (don't judge – it was before text messaging was a thing and we were high school sweethearts), and trying to get my pretty blue eyeshadow just right.
Ten years later, we have gotten married, had a baby, and just gotten comfortable in our relationship. With a one year old crawling underneath my feet, sometimes he's lucky if I've showered and combed my hair by the time he gets home from work. Today our text messages are more like, "Will you stop for bread on the way home?" and our sweet, romantic phone calls consist of a lot of talk about our daughter's playing and eating habits.
This is why it's so critical for the health of my marriage and my family to be intentional about spending quality time with the guy I married five years ago. We have found that when we go too long without a date, we fall into what we call the 'really great roommate' habit. Our lives still function just because we have been together so long, so the housework will get done and we will talk about his work or my day over lunch. We function as really great roommates instead of a husband and wife team.
Unless we are focused on finding time to date, we miss that emotional connection that can only be found in a husband or wife. We tend to pick at the little things and our petty grievances are much more likely to turn into an argument. Overall, I have noticed a dramatic difference in the quality of our relationship when we set time aside to go on dates.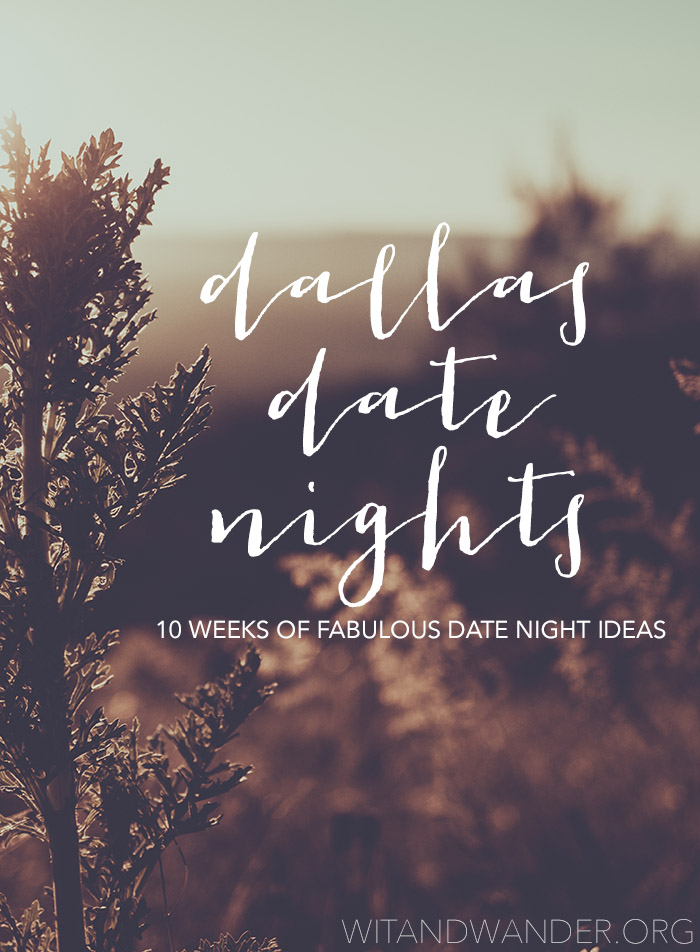 Dallas Date Nights
This is what I'm really excited to share! Starting this Thursday, I am going to share 5 unique date night ideas each week for the next ten weeks from all over the Dallas metroplex. It is my hope that these ideas will ignite a desire in your heart to start thinking more intentionally about dating your husband or wife. Each week will have a different theme, so some ideas may work better for you as a couple than others, but check back each week to get 5 fresh new ideas. Since I originally planned these date ideas for my husband and I, there are a few things you may want to know about us that will probably make our lists a little unique:
We are teetotalers (so I'm sure bars, clubs, and breweries are fun, but the appeal is pretty lost on us!)
We are total geeks.
We are on a budget (…thanks, Dave Ramsey!)
We have a kid (so sometimes our dates include a one year old or we may need to be home by 8:30pm)
In addition to the weekly date night ideas, I will be giving away a free printable with over 100 Dallas Date Night Ideas broken down into categories based on their cost (Free, Cheap, Moderate, Expensive, and Special Occasion) and including links to each venue's website. This is a resource I have been working on for over three years for our own date nights and I can not wait to be able to share it with you. Believe me, you don't want to miss this incredible resource!
The final part of the Dallas Date Nights series is all about you! I am not the only one dating my husband in Dallas, so I want you to share your date night photos on Facebook, Instagram, and Twitter with the hashtag #DallasDateNights. I will choose a few photos with that hashtag each week to highlight across social media. Make sure you join our party on Facebook, Instagram, and Twitter to get in on all the action. I can't wait to see your pictures and get even more ideas from my fabulous readers!
Here are links to every week of the Dallas Date Nights series:
So, what do you think!? Will you be tuning in to find some unique new ideas for your Dallas Date Nights? Share your favorite Dallas Date Night in the comments below!
—
Like what you see on our blog? Join our mailing list to receive emails with freebies, projects, coupons and decor ideas to help you live a creative and joy-filled life. You can also follow us on Facebook, Twitter and Pinterest.