My husband and I really like to do things outdoors for our date – like taking walks, visiting farmer's markets, and playing frisbee golf. Outside dates are generally cheaper and we can talk (the way I feel loved) while doing an activity (a way he feels loved). Once the temperatures drops, I just want to make some mint tea and curl up under a blanket. If I didn't go through my front door from November to February, that would probably be fine by me!
Unfortunately, I can always find a reason NOT to date my husband – it's too cold outside, we are too busy, it's too expensive, we don't have a babysitter. The list could go on for days; however, maintaining relational intimacy with your spouse is too important to ignore because it's inconvenient. Here are a few excuse-free date ideas to carry you through the cold dreary months!
Embrace the cold – play in the snow! Go out in your backyard, have a snowball fight, make snow angels, build a snowman. Then come back inside and make hot chocolate to warm up!
Build a fire in the fire place and make s'mores.
Grab a Starbucks and window shop around the mall.
Drive through neighborhoods decorated with Christmas lights.
Hire a sitter and go see a movie.
Eat a progressive dinner – start at one restaurant for appetizers, move to another for the main course, and a third for dessert. This can obviously be an expensive date, but it doesn't have to be! Get appetizers from Pei Wei, eat a burger at Five Guys, and get a Culver's ice cream for dessert.
Go ice skating! In Dallas, there are skating rinks in almost all of the malls. If you go during a week day, you'll miss the elementary school and teen age dates crowd.
Bundle up and go to the zoo – most zoos have discounted prices during the winter months.
Get a deck of cards or a board game that can be played by two people (we love Blokus, Battleship, and Pandemic for couples who really like a challenge!)
Find a recipe online and try cooking together. A couple of good recipes to try would be homemade pizza or lasagna!
Go see a show! Check out local theaters or concert venues for a unique date night.
Start a puzzle! My husband and I like to start a puzzle for our date night then I get to finish it throughout the season.
Volunteer together. Soup kitchens, food banks, and nursing homes are always looking for volunteers this time of the year and it's a great way to grow closer while you give back.
Make snowballs. This winter treat is an idea we got during a trip to Silver Dollar City in Branson, MO. You take hot chocolate and put in a scoop of vanilla ice cream. It's magical!
Channel your inner child – once the kids go to bed, build a fort in your living room, pop some popcorn, and put in a movie.
Catch a game. Whether it's football, basketball, or hockey, there's a sport for any fan! If you can't spring for a professional game, see if there's a semi-professional team in your area or even support your local high school teams.
Have a picnic in your living room.
Bake cookies together then invite your kids to help you deliver them to friends and family.
Start your holiday shopping early. Skip the crazy lines (and even crazier shoppers!), go early in the season while the deals and good and the stores are still empty!
Visit a Christmas tree farm. Grab some cider and take pictures of each other among the pines.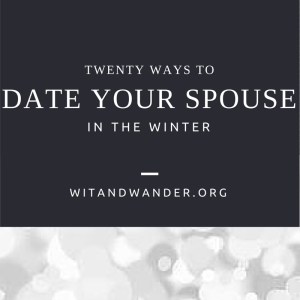 What's your favorite winter time way to date your spouse?
—
Like what you see on our blog? Join our mailing list to receive emails with freebies, projects, coupons and decor ideas to help you live a creative and joy-filled life. You can also follow us on Facebook, Twitter and Pinterest.