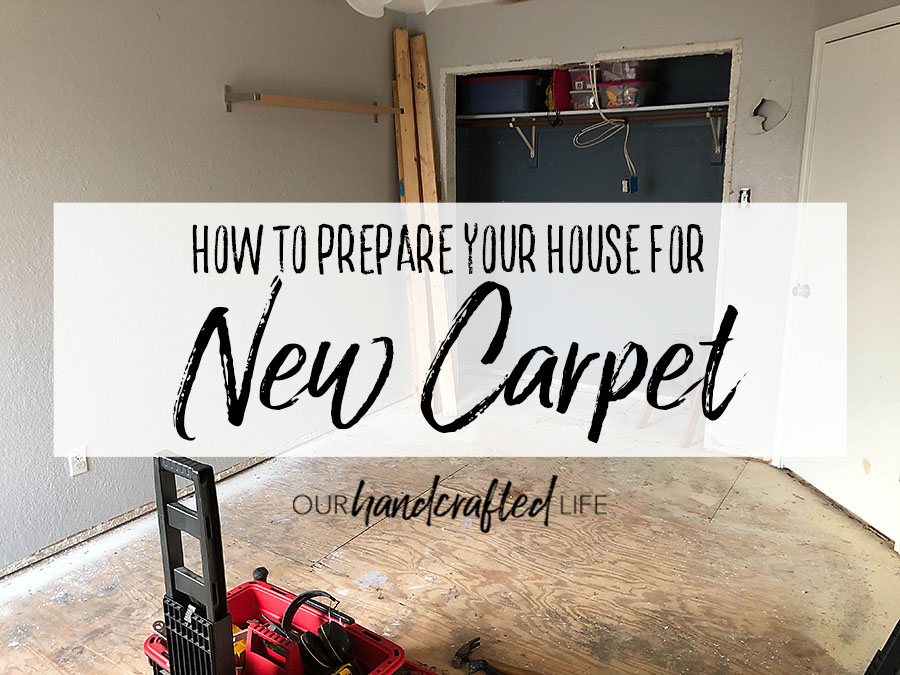 About one week before Christmas and two weeks before we had 15 family members come to our house, we decided the time was right to have our new carpet installed. After all, we're having a baby this Spring! And it would be "so nice" to have this project done before everyone arrives.
So, are we crazy? Well, yes. Of course!
It was hectic and stressful. Our Christmas tree wasn't put up until the night before Christmas Eve and we were cleaning up the mess until about 15 minutes before everyone arrived.
While I wouldn't recommend our timing, we did learn a TON about how to prepare your house for new carpet. I thought I'd pass along everything we learned just in case you're considering adding new carpet to a space in your home.
How to Prepare Your House for New Carpet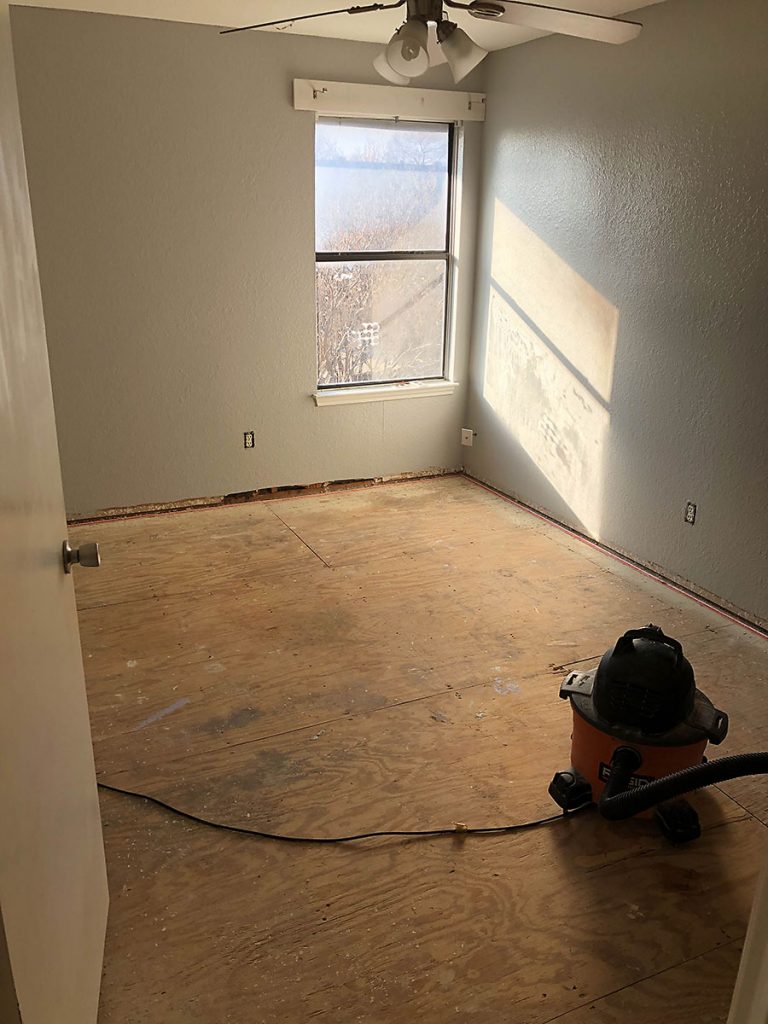 Plan
The first thing to plan when preparing to have carpet installed is exactly where you want to have the carpet. If you're putting carpet in your whole home, this isn't a problem. But if you're only installing carpet in part of your home, you'll want to plan exactly where the carpet will go. Will it go inside closets? Bathrooms? Hallways? Are there any nooks that can't be missed? Will you carpet your stairs?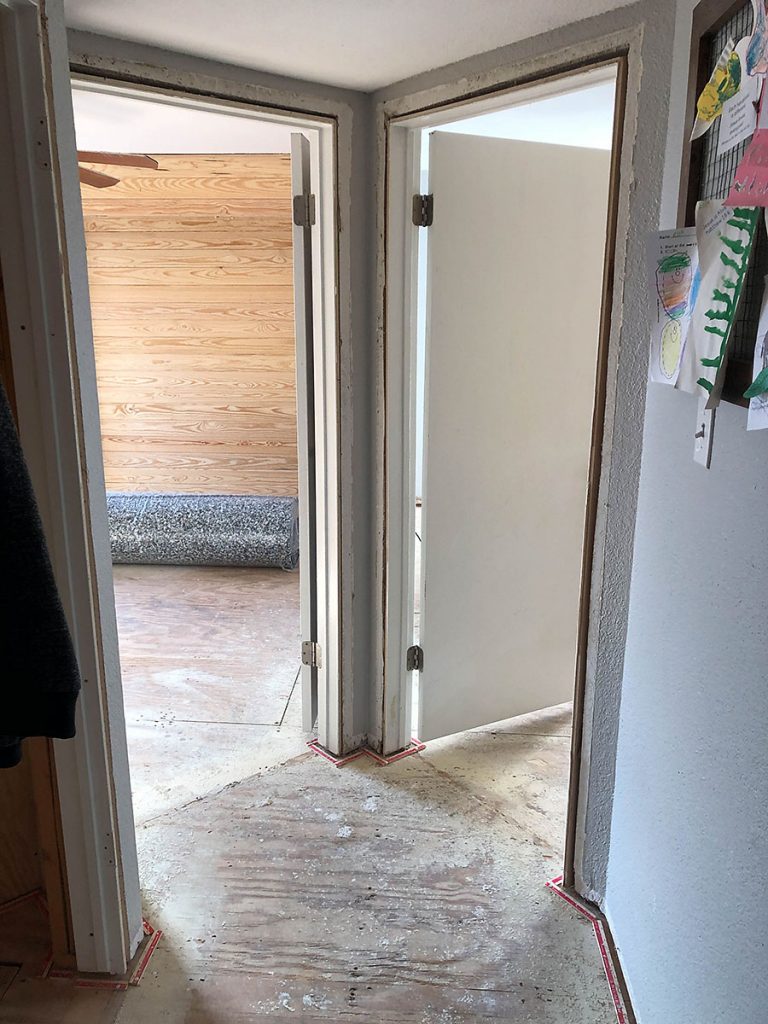 If you love to plan DIY projects, the next step is to determine if any DIY projects need to be completed before your new carpet is installed. In our case, we wanted to renovate the closets in the bedrooms and add a new closet in the hallway, created from dead space in the wall. We also wanted to add a fresh coat of paint to the bedrooms. Finally, we decided to completely remove the trim from the bedrooms to install new trim after carpet. If you're going to be making changes to the layout or floor plan of the space, make those before someone comes to measure.
You'll also want to think through whether this is a project you want to complete yourself. We love DIY projects and don't shy away from home renovation. (Just last year we renovated our kitchen and master bathroom.) We also know when a project may not be wise to DIY – like getting a new roof. Unless you have the right tools and experience with carpet installation, this may be a project better left to professionals.
Rough Measure
The carpet company should send someone to measure the space so they can give you accurate numbers for how much carpet will be needed and the overall cost of the project. Before that happens, you'll want to do some rough measurements so that you can walk into a store knowing the square footage of your space. Don't forget to include hallways and closets.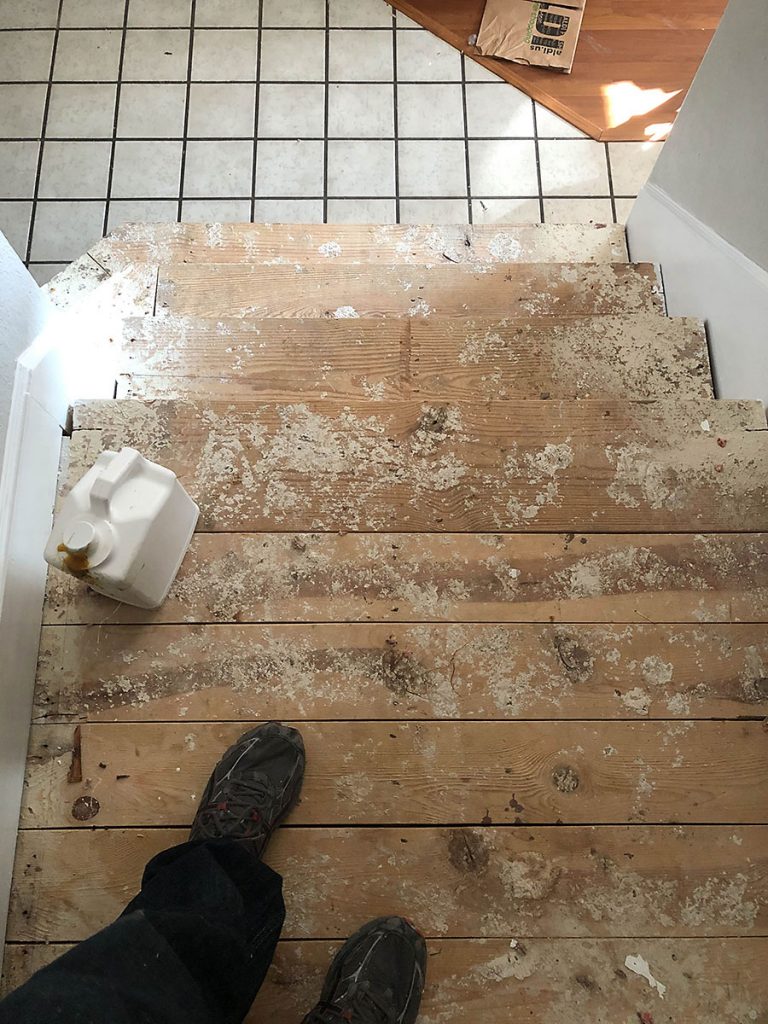 Budget
Before you get to the store, know what you'd like to spend on your project. Like any home renovation project, budget 15-25% more than you think you'll need. Carpet prices can vary from less than $1.00/square foot to almost $10.00/square foot. The cost of designer carpet can be substantially more. Some stores will offer promotions where the instillation of the carpet or furniture removal is included – this can be a huge benefit.
Choose Carpet
I won't go into details here because I have a whole post about Questions to Ask When Choosing Carpet, but this is when you go to a store and pick out exactly which carpet you would like to have installed and pay a down payment.
Measure (Again)
After you have ordered carpet, the store should send someone out to measure your home. (In fact, if they don't offer this service, I would choose a different store!) These precise measurements will allow the store to tell you the exact cost of your carpet instillation including the extra carpet they will need and labor for instillation.
Remove Furniture
This part will differ for everyone. Some stores will offer to remove furniture for free, but most will have stipulations based on the number of furniture pieces in the room. (For example – they will move 5 furniture pieces for free and they can't be overly heavy or awkward.) You can also pay to have your furniture removed. We decided to move the furniture ourselves to save money. You will have to have someplace to store your belongings, which can be especially tricky if you are getting carpet laid in your whole house.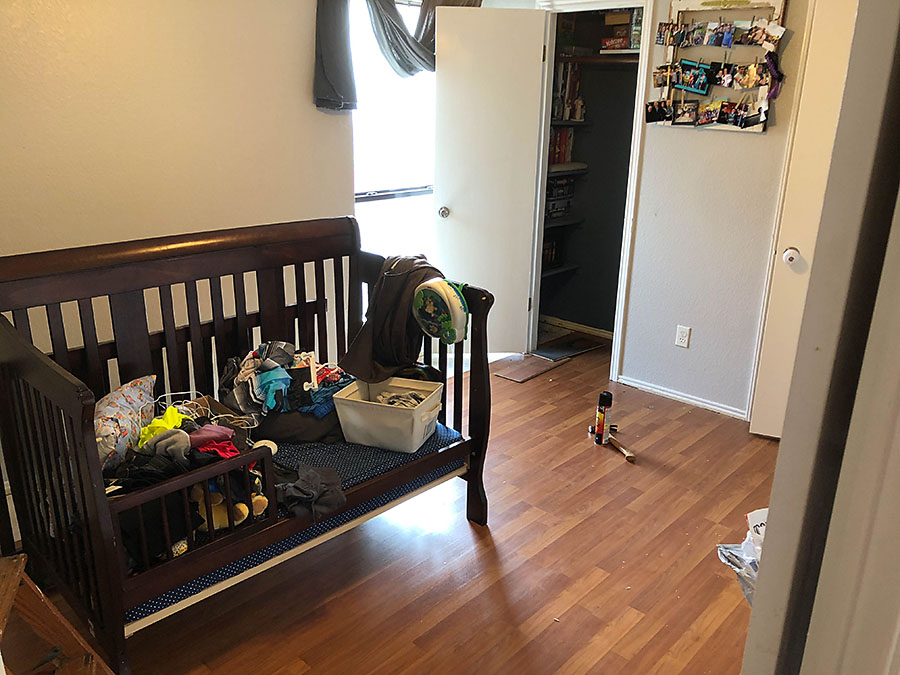 You will at least need to remove everything from the main areas being carpeted and up to waist height in the closets. Our dining room was packed with everything from both bedrooms, making it look like a very organized tornado went through our house.
Remove Old Flooring
Decide if you want the carpet to be installed up to your trim or if you want to lay new trim after the carpet has been installed all the way to the wall. That will help you determine if you should remove your trim.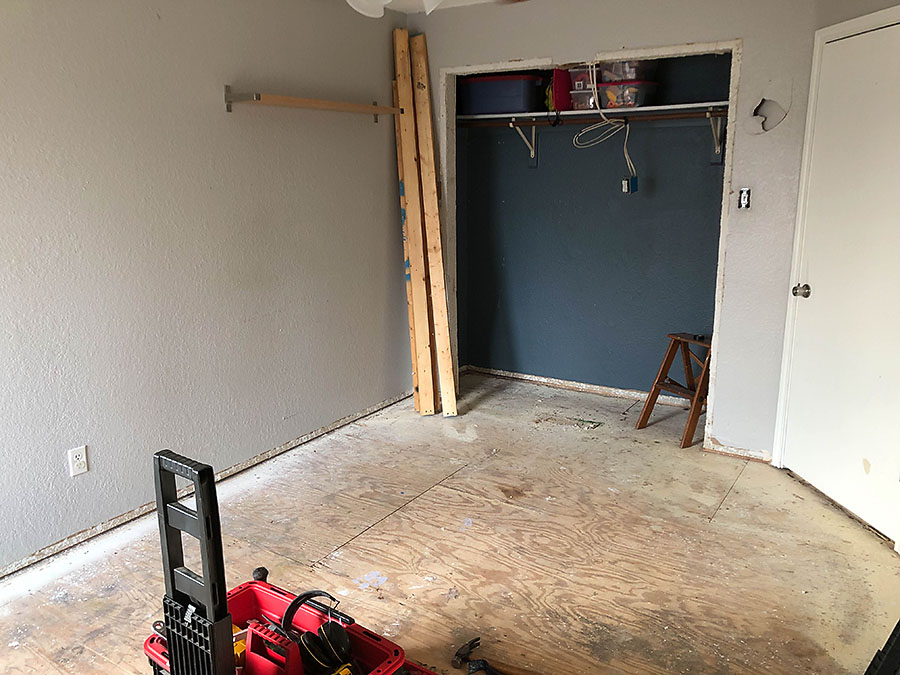 If you're removing existing carpet, ask the installers if they want you to leave your tack strip (it may come up as the carpet is removed, so be mindful!). If you're removing carpet from a large room, you might be tempted to take it up all at once in a large roll, but it might be easier to move if you cut it into smaller pieces with a utility knife or carpet knife before you take up the flooring.
Secure Floor Boards
The absolute best thing my husband did before we got our carpet installed was re-secure our existing plywood subfloor. Our house is over 30 years old, so the subfloor has shifted causing squeaking and popping as you walk across the floor. Typically plywood subfloors are just nailed into the floor joists. To secure the plywood, we walked around the floor looking for areas that squeaked. When we found a squeaky spot, we found where it had been nailed down and screwed the plywood into the floor joists.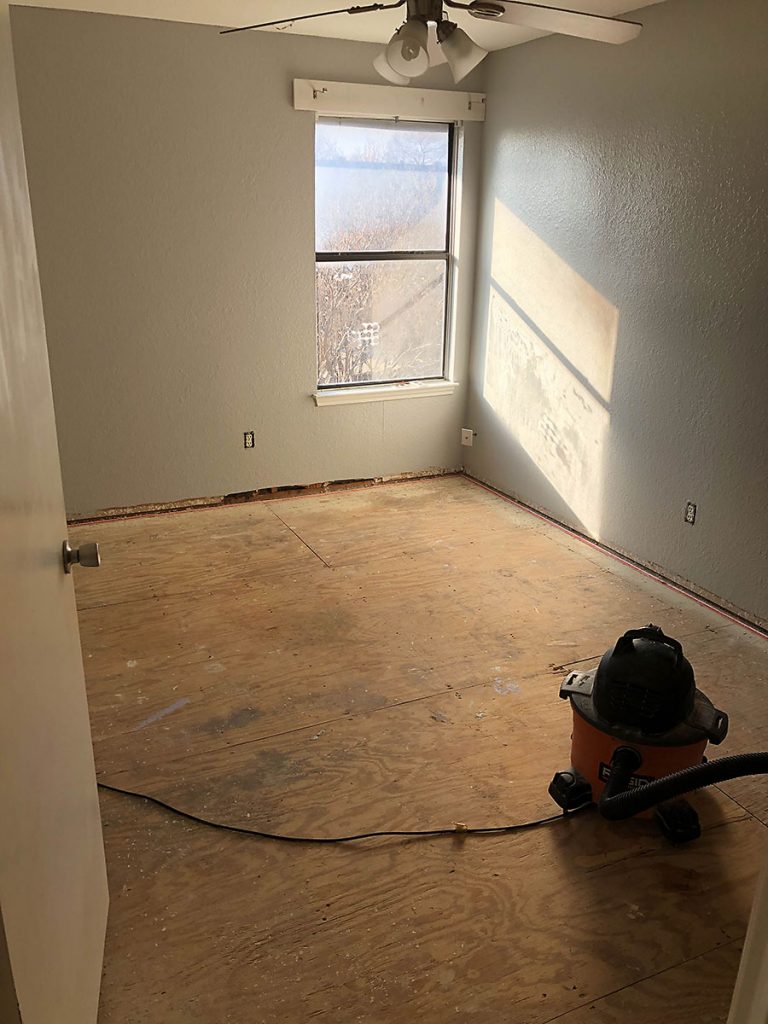 Clear Out
If you are having carpet installed by professionals and you have a family with young kids, I would highly recommend leaving the house during instillation. The installers will need to be able to contact someone by phone and may even require an adult to be present, but renovations like this are messy and loud. You wouldn't want to have the workers tripping over toys left throughout your house and it will be much easier to spend the day at a park or a friend's house. The good news is, most professionals are very efficient and it shouldn't take more than a day or two to install the carpet in your whole house.
---
If you follow these steps, your carpet instillation should be seamless. (Pardon the pun!) We have been loving our new carpet – I can't wait to share the finished product with you soon! If you have any questions about our carpet instillation, just ask! I would be more than happy to answer them and tell you more about our experience.