A simple farmhouse style grapevine and boxwood wreath is such a sweet addition to home decor in any season. This DIY wreath is so easy – it's inexpensive and it takes less than 5 minutes. Plus, I'm going to show you how to turn it into a piece of giant wall art.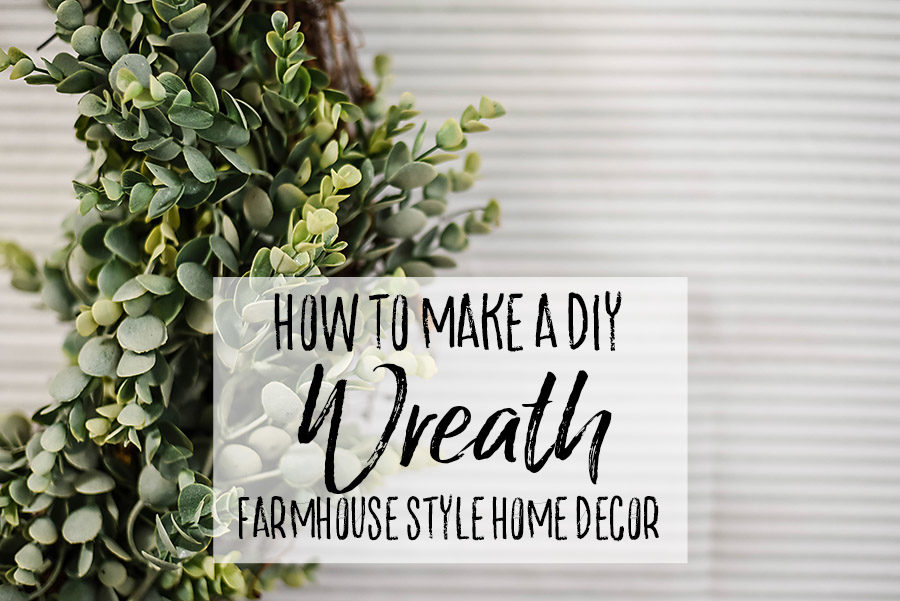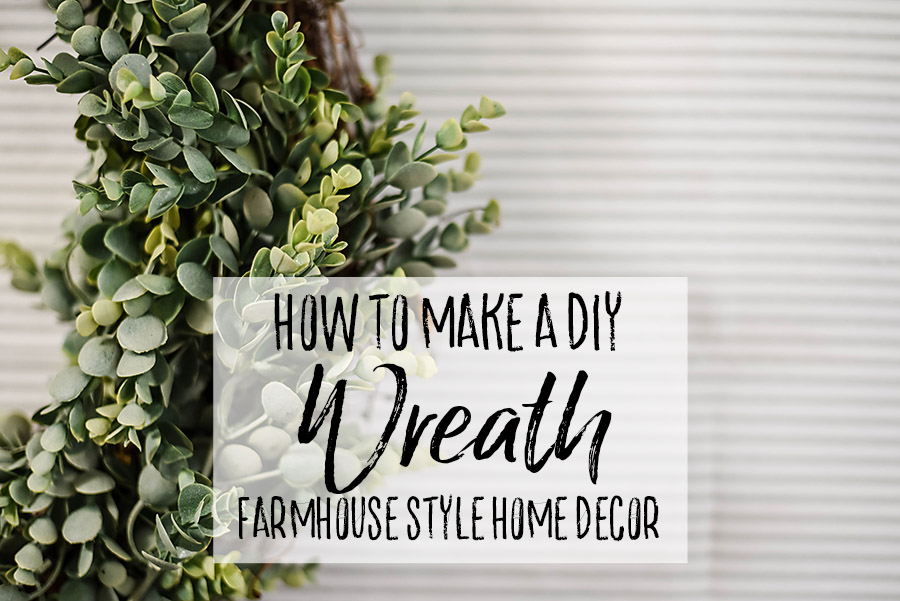 I love the look of farmhouse style wreaths, but I don't love the cost. The cheap ones are $60 and I've seen then go for $120 or more on Etsy! But beauty doesn't have to be complicated. I'm going to walk you through how to make a wreath step-by-step.
If you'd like to watch a video of the process, check out this video for How to Make a Farmhouse Wreath on YouTube:
How to Make a Wreath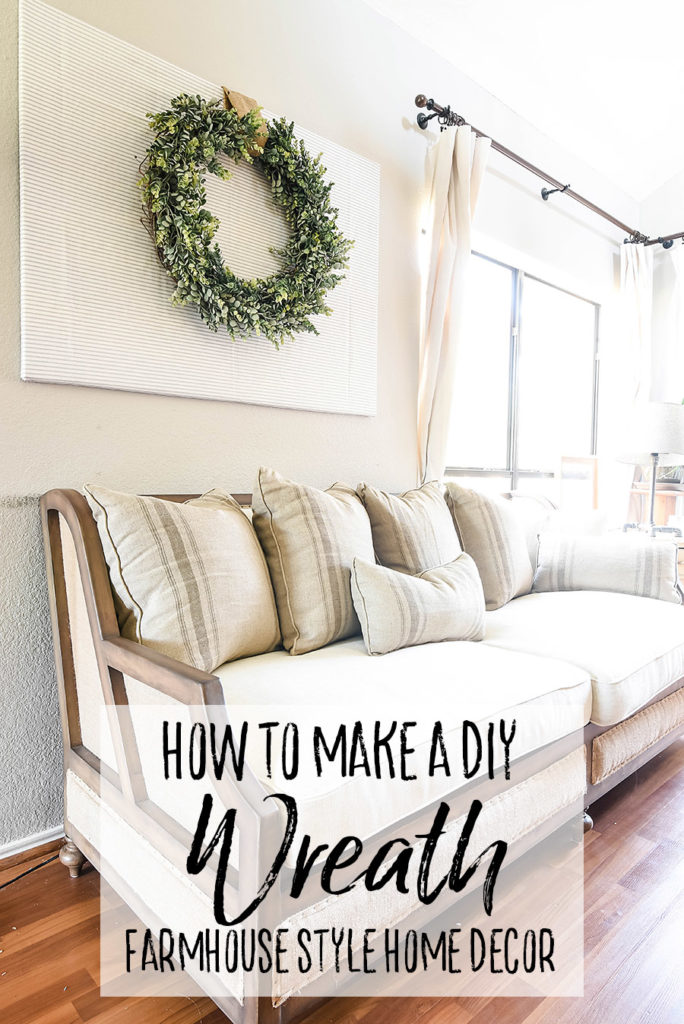 Step One: Gather Your Supplies
24″ Grapevine wreath
Two garlands
8″ and 4″ Zip Ties
To make this wreath, you'll need a grapevine wreath, which really shouldn't cost you more than about $10. I used a large, 24″ wreath, so I used two garlands from the greenery section at Hobby Lobby. They can be a little pricey, but don't be afraid to wait until they are 50% off, which happens every couple of weeks.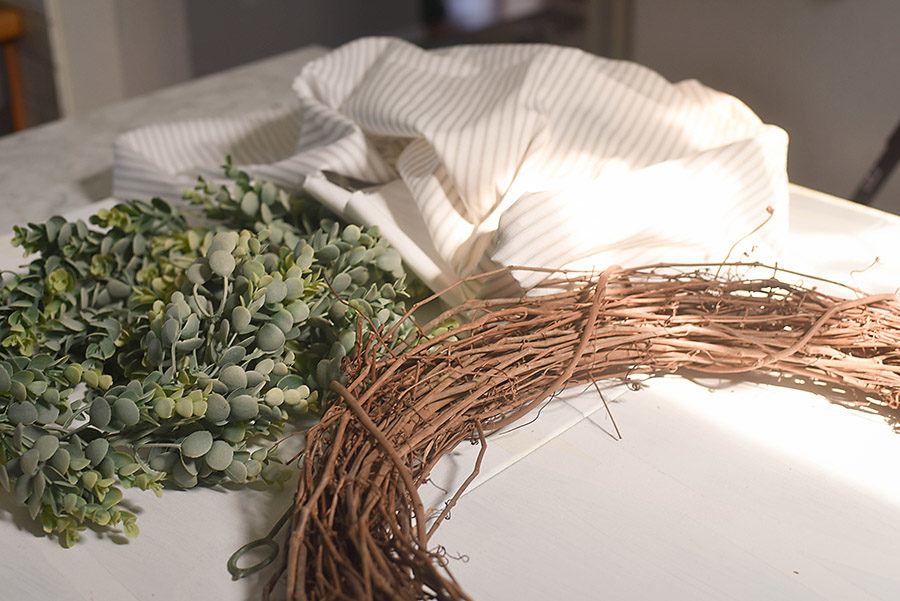 Step Two: Lay Out Your Greenery
I gently draped the garland over the grapevine wreath and arranged them until I liked the way they looked.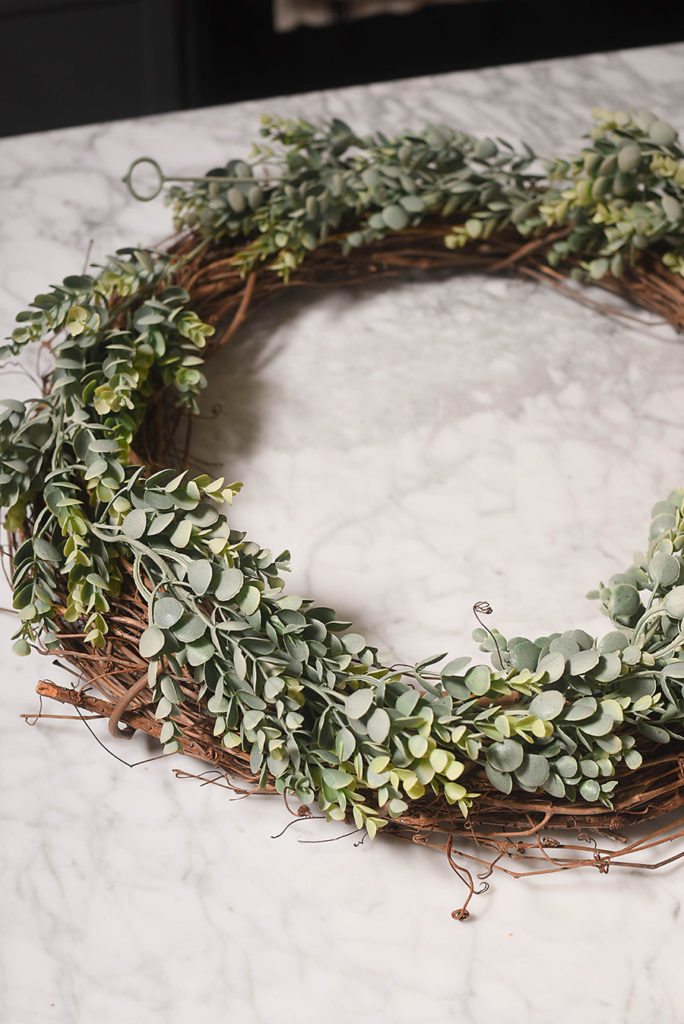 I made sure to start and end the garlands in different places to hide the bare spots.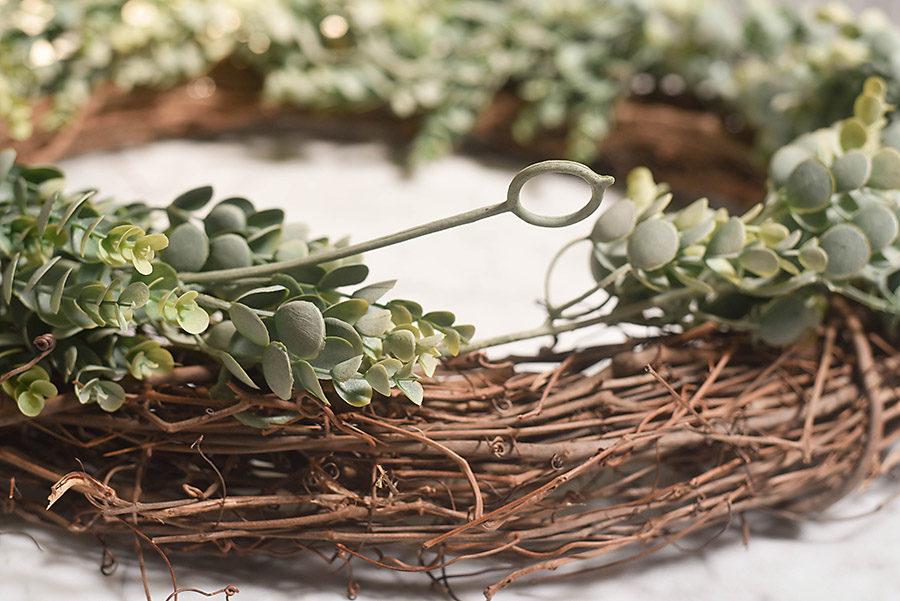 Step Three: Attach the Greenery to the Grapevine Wreath
Using 8″ zip ties, attach the main stem of the garland to a hearty stem of the wreath at a few main points of the wreath (at about 3-4 places).
Then use the 4″ zip ties to attach the wreath in between the main points.
Step Four: Cut the Tails
Cut the tails off of all the zip ties, making sure to avoid the leaves of the garland.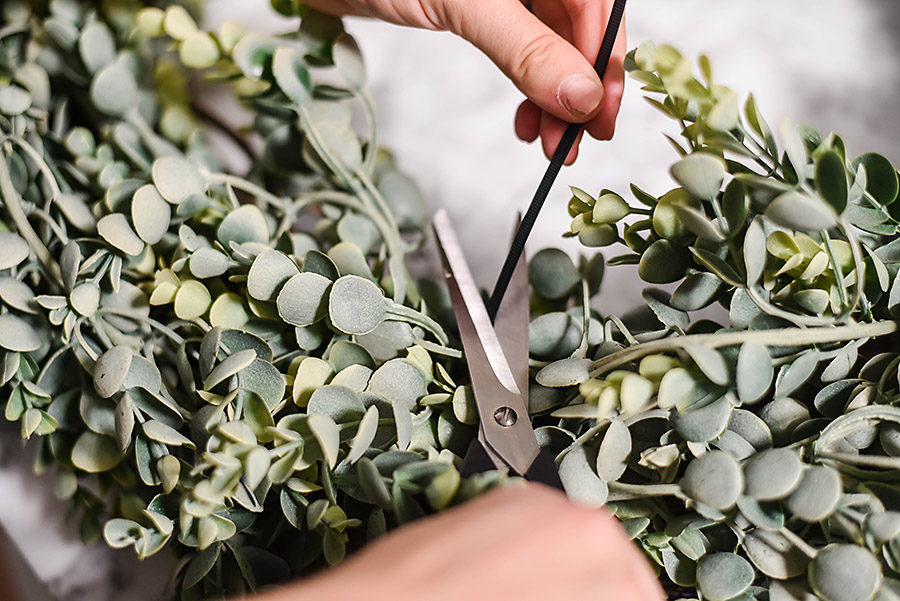 Step Five: Hang the Wreath
To hang the DIY wreath, you can either hang it on a wreath hook or wrap a burlap ribbon around it. Since ours had a bare spot in the greenery, I hid it with the burlap ribbon. You could also hide any imperfections with a bow, if you like that style of wreath.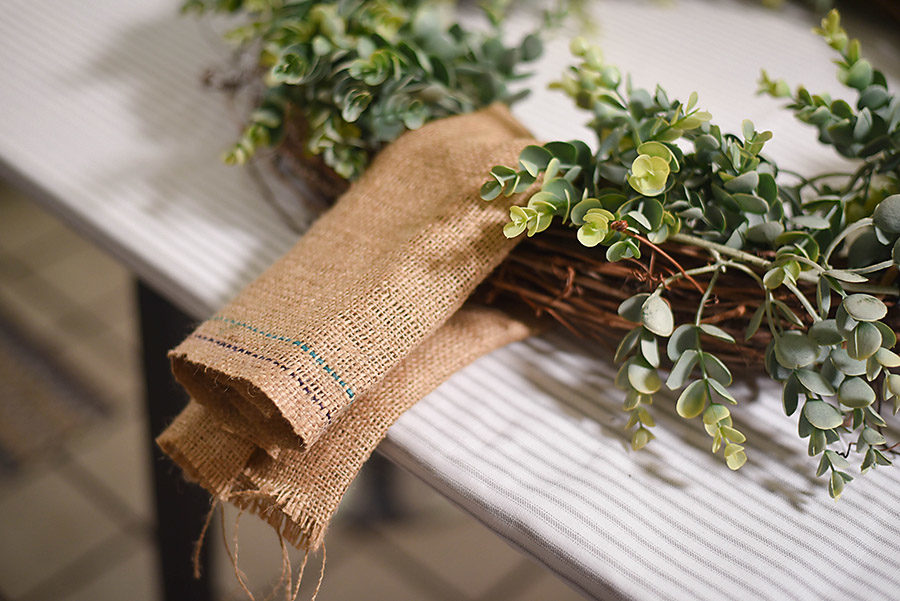 This faux boxwood wreath is so versatile because it can be dressed up with ribbon and berries for the Holidays or dressed down for summer. It is definitely a staple piece of home decor.
DIY Giant Wall Decor
This DIY farmhouse style wreath is so simple to make, but it looks lovely hanging on your front door or anywhere in your home. We took it one step further and added a backdrop to make this wreath giant wall decor.
To make the wall art, I used two 2'x3′ canvases from my local craft store. (You can create your own frame, but I've had these canvases forever and they needed a new life).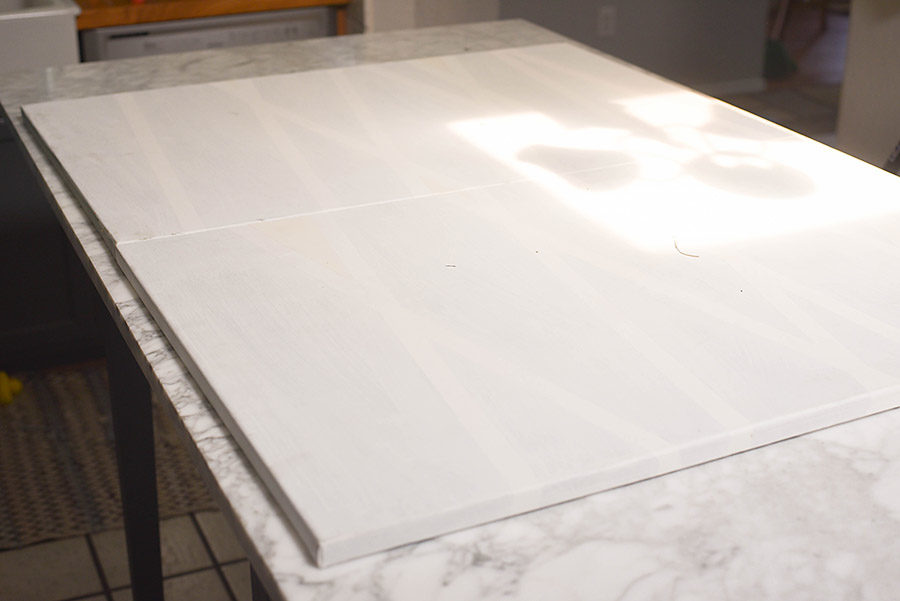 I screwed the frames together then I found some ticking stripe fabric. I just attached the fabric to the back using a staple gun. For the corners, I folded it like I would when wrapping a Christmas present.
Then I took stapled both ends of the burlap ribbon to the back of the canvas and hung it on the wall.
I love that it's understated, but it just has that touch of farmhouse charm.
I don't know that this piece will live in our living room forever (I love to change my mind when it comes to home decor), but it was a simple and cheap project, so I'm happy to have it up for awhile!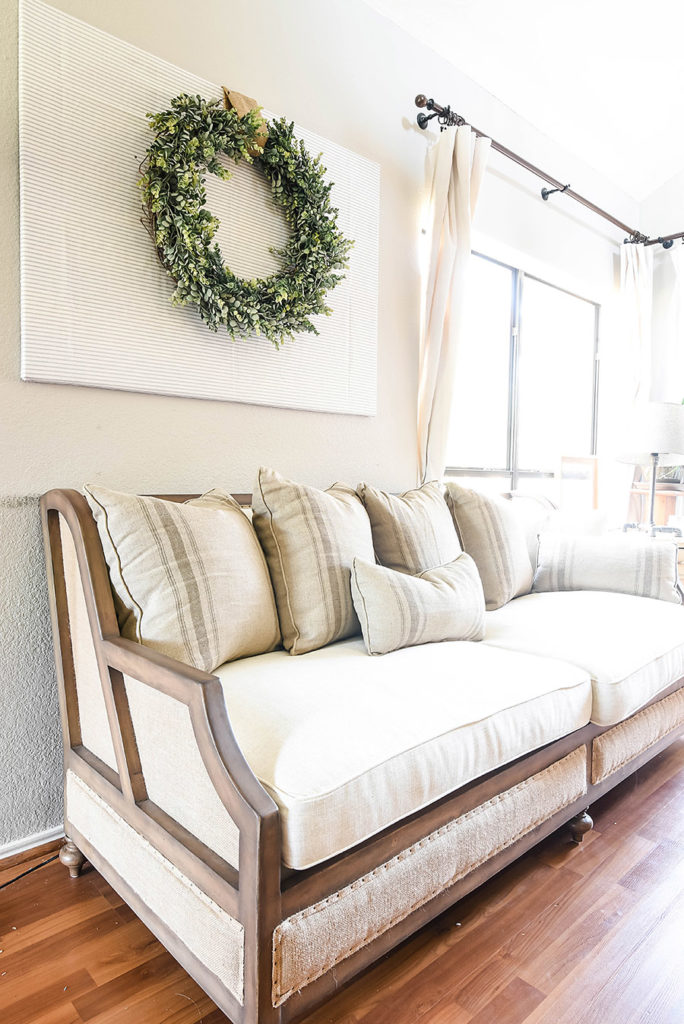 Have you ever made your own wreath? I would love to see a photo! Share it with us on Instagram or in our (free) home decor group on Facebook – The Handcrafted Collective.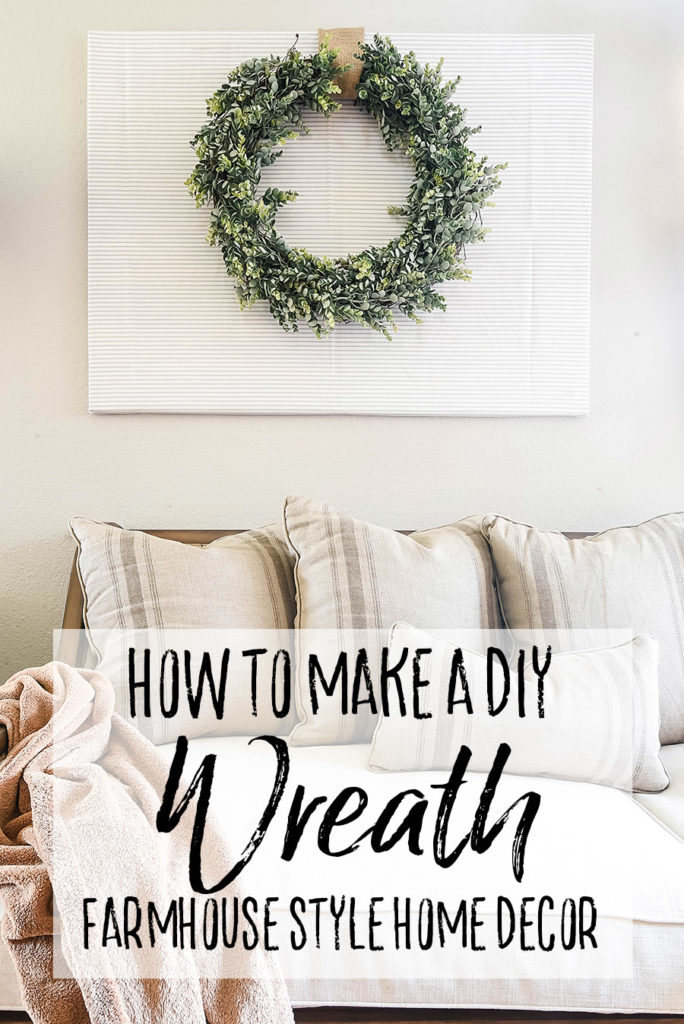 SaveSave
SaveSave