Find out how we declutter our family's wardrobe and how we keep it simple. Plus, discover why decluttering our closets and building a better wardrobe is allowing us to live a simple, easy life.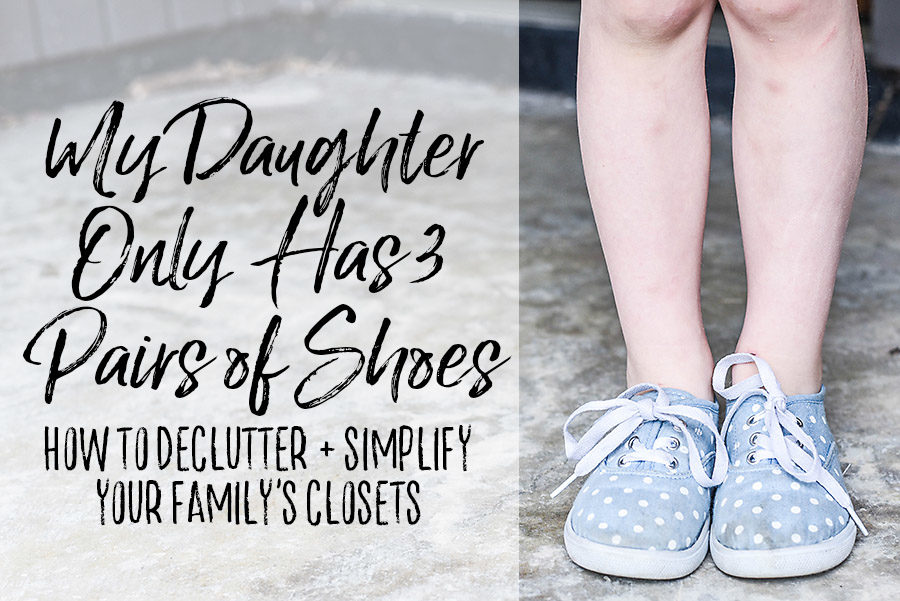 If I told you my daughter only has 3 pairs of shoes, would you think I was crazy? You wouldn't be alone!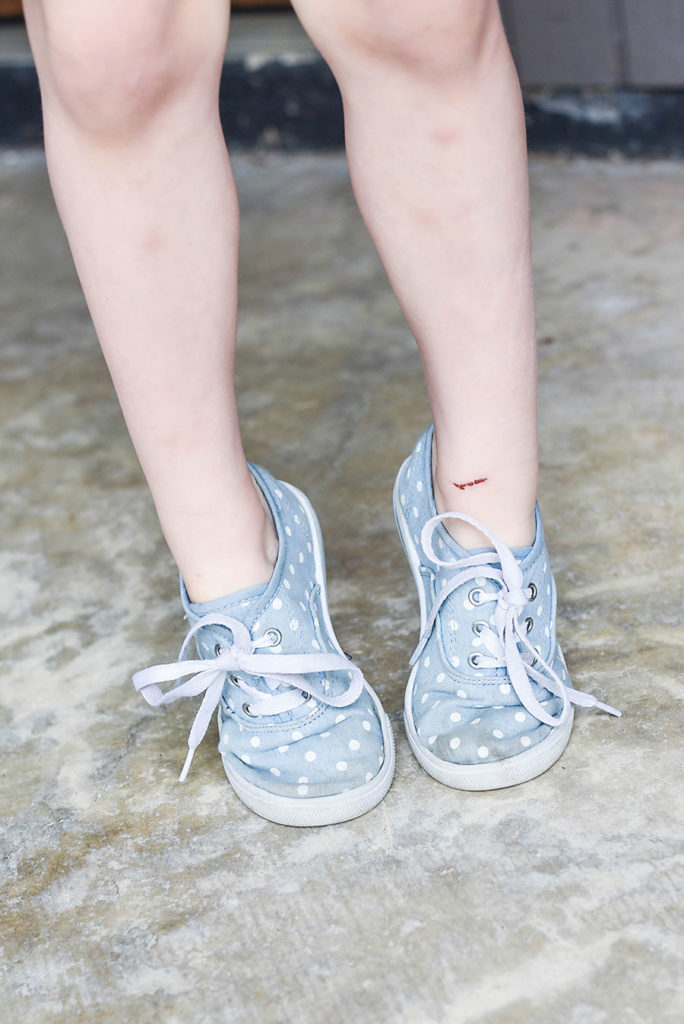 Now, to be honest the number of shoes my daughter owns tends to fluctuate because she has several aunts who like to keep her well-dressed (in only the finest Anna and Elsa flip flops, of course).
But in general, we don't have large wardrobes. We keep a small collection of quality clothes and we try to buy those clothes used as often as we can in an effort to declutter and save money.
So truly, when I go consignment sale shopping for my daughter, I'm looking for 3 pairs of shoes – one pair of tennis shoes, one pair of church shoes, and a pair of water-play shoes or boots (depending on the season).
Because we live on one income, we live simply to save money. Here are a few things we've done to declutter, cut down on our clothing budget, and cut down on stress in our lives.
1. I Built a Capsule Wardrobe
Several years ago, every time I opened my closet, I felt like I had nothing to wear. I hated everything I put on because it didn't fit right, the coloring was off, or I felt like it didn't go with anything else in my closet. I felt stuck. But my closet wasn't empty, in fact I could hardly shut it because it was packed full of clothes.
I started hearing about a concept referred to as a "Capsule Wardrobe". It basically means owning a few pieces that you love that you can mix and match to create an entire wardrobe. It gets rid of all the clutter so that when you pull something out of your closet, you know you will love it every time.
I was hooked. I have since spent years cleaning out my closet then cleaning it out again. I have sold or donated every item of clothing I don't love and I have kept only the pieces that really make me excited.
It's not perfect – there are still holes in my wardrobe I'm looking to fill, but I don't feel like I need to go shopping every weekend simply to fill my closet. (I can share more about my capsule later if you're interested, but if you're looking for great examples of capsule wardrobes, I love following Cotton Stem, Unfancy, and Project 333) I know exactly what I have to wear – in fact, I could tell you every skirt that is in my closet right now. When a piece goes out of style or my size changes, I sell or donate that piece and purchase only what I need to fill in the gaps.
I have actually been able to spend a little more to get some high quality pieces because I'm not spending a little money on clothes every month (which actually adds up to a lot of money).
2. I Buy Used vs. New
I don't buy new clothes. I can honestly count on one hand the number of times in the last year I have walked into a store and bought something off the rack in the last year. Unfortunately, new high quality clothes are extremely expensive and they tend to go out of style very quickly, making them a terrible investment. Or, if I find them on clearance, they're not high quality and they get shoved to the back of my closet, which is a terrible place to try to declutter.
I do however, LOVE to shop consignment sales. I have shopped at consignment sales for my kids for years. When you can find 5 onesies for $2 at a consignment sale, there is no way I'm paying $5 for ONE in a children's clothing store.
And have you looked at little girl's dresses? I completely forgot to purchase my daughter a dress for Christmas one year and wound up spending more than $30 on a dress…that she wore ONCE! I could have bought that exact same dress for $5 if I would have planned ahead. (Thankfully, I sold that dress at the next consignment sale and you can bet a Christmas dress has been number one on my fall consignment sale shopping list since then!)
Recently, I have found some pop up consignment sales for women's clothes as well. This past year I desperately needed to add some new dresses to my wardrobe (the dresses that I had been holding onto since college were well-worn and really needed to be tossed), but I knew I couldn't afford to buy them new. I found a consignment sale and found several name brand dresses that were about 30% of their original cost. And the money was going to fellow moms who were cleaning out their closets. It was a total win.
3. I Buy Higher Quality
Buying high quality clothes and shoes doesn't sound very intuitive when it comes to saving money. But it really helps! Here's what I mean:
If I buy my daughter a pair of cheap tennis shoes, they will wear out quickly and I will have to replace them before she grows out of that size. They are probably also not very comfortable (I don't know if you've ever tried to wear store-brand tennis shoes, but they aren't the best), which means she won't want to wear them so I'm more likely to buy another pair of shoes to make her stop whining more comfortable. Both shoes will get tossed in a pile that it's hard to declutter.
Instead, if I know Nike velcro tennis shoes are good quality and comfortable, I can watch for a sale or search a consignment sale. I know they will last until she grows out of them and chances are good I can sell them to someone else because they've held up well.
Now, this still doesn't mean I pay full price or a huge amount just because it's better quality. I have found a pair of sandals that I love. They are super comfortable and they last forever. But I still wait until I find a (really) good deal on them before purchasing a new pair. By spending just a bit more now, I won't have to buy a new pair of sandals each year.
Declutter and Save Money: Buy Less, Spend Less
Basically, if I buy fewer clothing and shoes items, spend less on those items by buying used, and buy higher quality so that they last, I am able to declutter our closets and buy clothes for our whole family on a tight budget.
If you want to read more about our journey as a one income family and how we make it work. Here are a few other posts from this simple living series: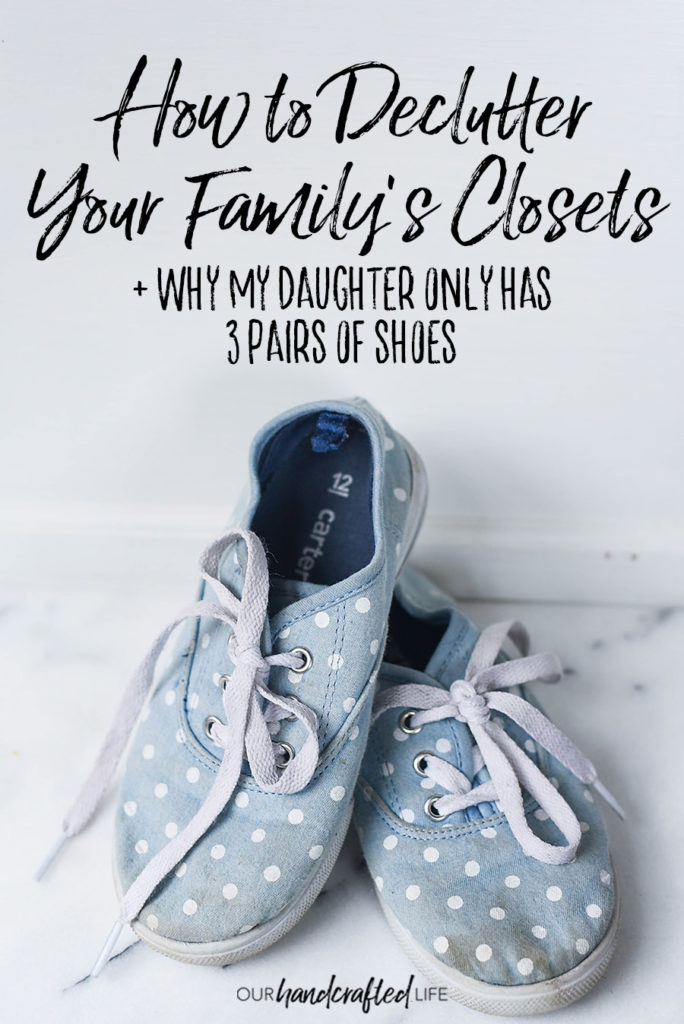 Please let me know in the comments below if there's anything else you'd like to know about how our family lives on one income! I'm more than willing to share because I think living simply makes such a big difference in our contentment and ability to live a handcrafted life.