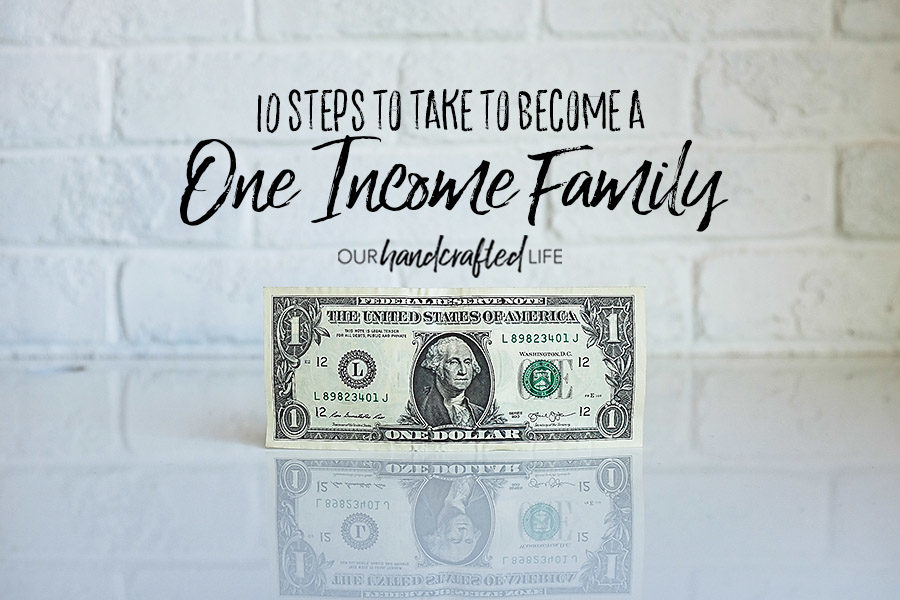 Staying at home is not for everyone. If, however, you're spending the majority of your life doing something you hate and you'd rather be at home with your kids, I want to give you some very practical steps that helped this to become a reality for us.
Make a Budget
This is the most obvious step, which is why it is first. When you're making your budget, start with the essentials – housing payments, electricity, water, etc. Then add in the extras at the end. You may have to work with your budget for a couple of months to see where you're spending your money and where you can save. We have used the EveryDollar App and found it to be very helpful.
Drop Cable
One of the "extras" people tend to spend a ton of money on is TV. A bill for cable can be $75 per month or more. Cutting that bill is one of the easiest ways to reduce your monthly spending. You could be like Chip and Joanna and go without TV completely, but we have chosen a middle ground – Hulu and Netflix give us tons to watch each month for less than $20/month.
Cook at Home
This is the step I actually struggle with the most because I love the convenience of eating out. We still eat out pretty frequently, but when we cook at home we are able to cut our food bill in half for the month. I have found that a Crock Pot or an Instant Pot (I have both) make it so much easier to cook from scratch.
Shop Smart
We do most of our grocery shopping at Aldi. My husband grew up shopping at Aldi, and when we first got married I was very skeptical. The truth is, if you shop for real food (meats, vegetables) instead of pre-packaged goods, you probably won't be able to tell the difference. We shop at Walmart about once a month so that I can stock up on diapers, cleaning supplies, personal products, and silly things like Kraft Macaroni and Cheese and our favorite name brand cereals.
This might be a little shocking, but our once-a-month Walmart trip is a splurge. It doubles our grocery bill for that week, but our typical weekly grocery bill is less than $100.
Fix Instead of Buy
My daughter is only three, but she already knows that if something breaks she doesn't throw it away, she puts it on the shelf for an adult to fix. We always try to fix things ourselves before calling a repair man or purchasing a replacement. It does help that my husband is handy, but it's not like he automatically knows how to fix a broken washing machine. He looks up blog posts and YouTube videos to help him problem solve.
Change Your Definition of Splurge
A "splurge" for us might be a trip to the drive in or to get ice cream. My kids get so excited about the park, library, splash park, and playgrounds at the mall. We can have a great date night at home with a movie on Netflix and kettle corn made after the kids go to bed. When it's cool outside, we go hiking or to the free art museum downtown. We have homemade waffles on Saturday mornings. Instead of Easter baskets filled with cheap toys and candy that will make them sick, we got our family a membership to the zoo which we have used a dozen times already this year.
Travel Smart
When we travel, we use websites like Kayak or Southwest to find great prices on flights. We book hotels through Priceline or AirBNB. We find discounts on things to do or we choose one to two activities that cost money then find free things like museums, hiking, or sightseeing. I do lots of research on the areas we travel to by searching for local blogs before we leave – moms love to share great tips for having fun while saving money in their hometowns.
Sell Your Things
If you're like most houses in America, you probably have way more than you need. Take an active step towards building a savings account by selling things you no longer need. You can sell kid's gear in Facebook groups or consignment sales. You can sell things on Craigslist or at a good, old fashioned garage sale. I'll just sneak this into this category because I know it's a touchy subject – also consider downsizing your home. This isn't a good option for everyone, even with our 3 bedroom house, we don't utilize all of our space as well as we could. If rooms sit empty for months at a time or only exist to store things you don't use, it might be worthwhile to think about downsizing.
Start a Saving Account
If you find you have any "extra" money at the end of the month, open a saving account so that when something does come up, you'll be prepared. When we had to pay unexpected hospital bills because of an emergency surgery, we were able to pay them out of pocket so that we didn't have to pay interest by putting them on a credit card because we had been saving up a bit each month.
Find a Hobby
Staying at home with kids after working will probably be a huge shock to your system. In fact, I actually got depressed because I was no longer getting the validation I craved from a work environment. What helped pull me out of my funk was blogging. I love being productive and being good at something. I like having a creative outlet, problem solving, and helping people. Whatever that might be for you – find a hobby. It will make the transition a lot easier.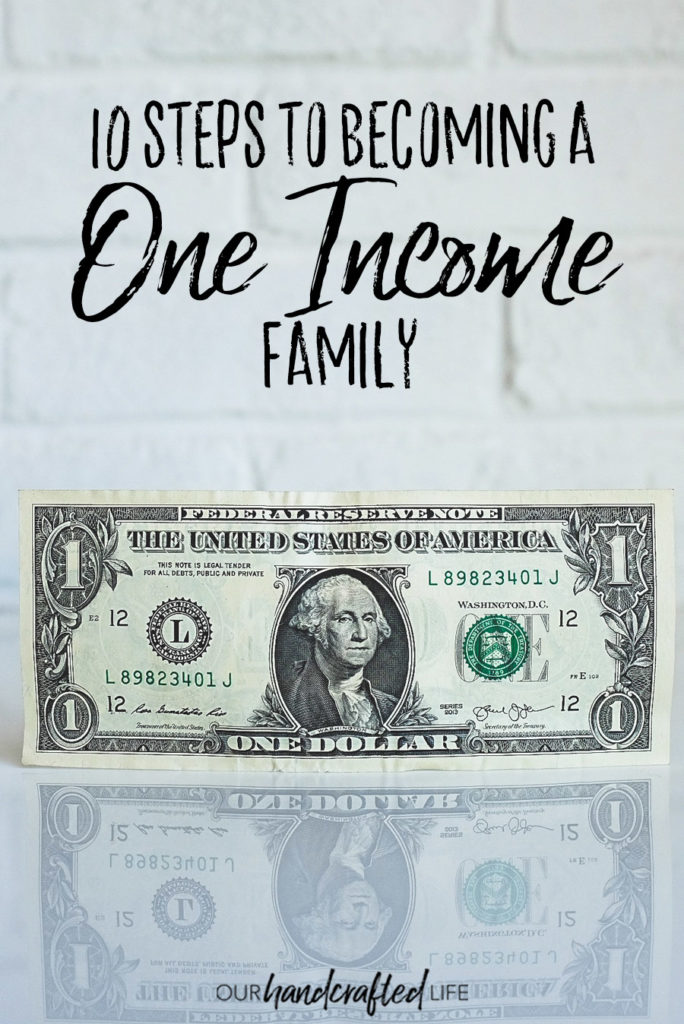 Do you have any other tips for becoming a one income family? What steps have you taken to cut costs and live simply? I'd love it if you'd share them with us in the comments below!
SaveSave
Subscribe to the Newsletter for Free Updates
Subscribe to get DIY projects, recipes, and tips to live simply and create beautiful things delivered right to your inbox.