Christmas shopping doesn't have to be stressful! Decrease overwhelm by putting fewer, but more purposeful gifts under the Christmas tree this year.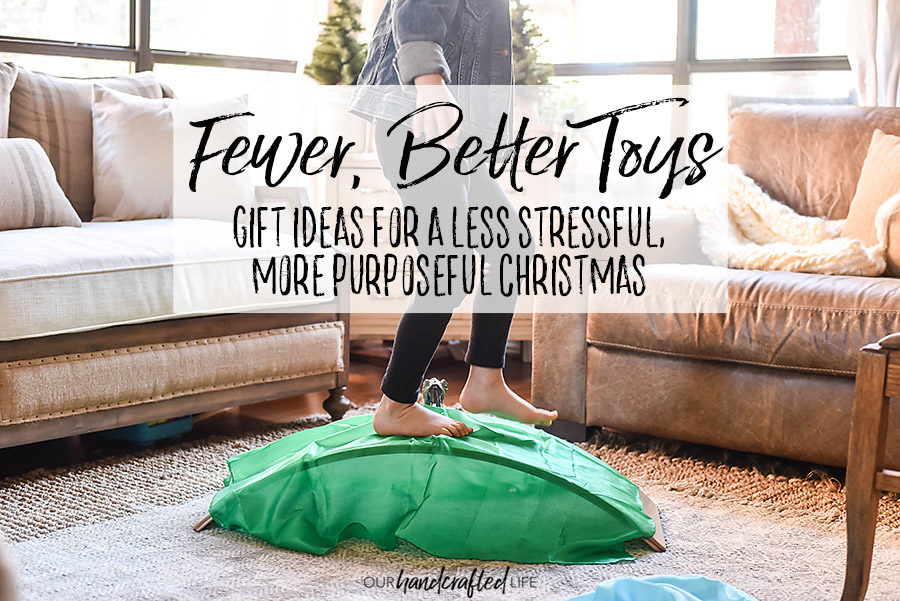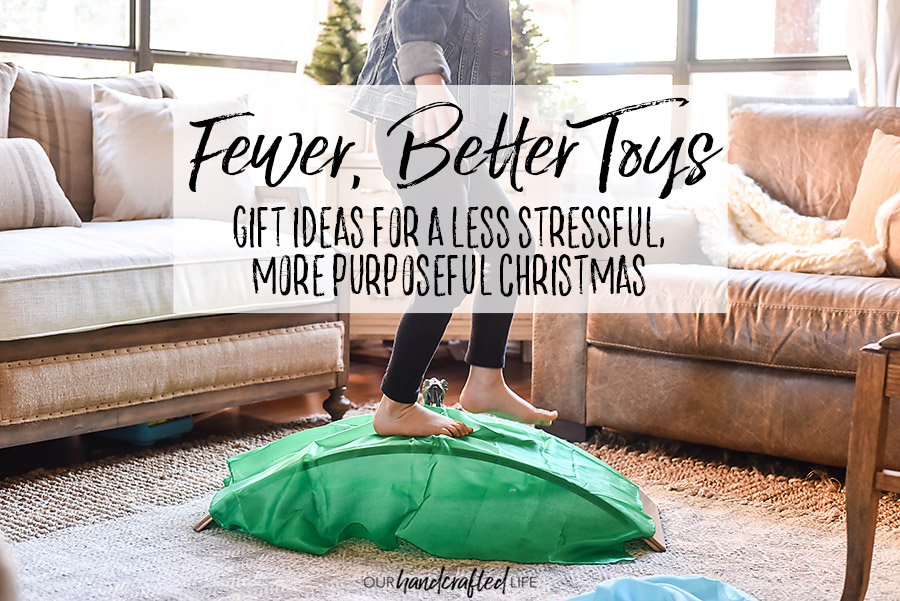 Have you ever gotten done with the Holidays and felt so overwhelmed by all the piles of stuff that have accumulated around your house? I'm not talking about dirty dishes and laundry (although those do tend to pile in our house, too!), I'm talking about ALL THE TOYS.
The piles of toys in the corner that the kids have already forgotten about. The toys that are probably already running out of batteries, so their songs are playing just enough off key to make you feel like you're in a bad dream.
That is so stressful. I get stressed out when I have to go shopping for all the toys, stressed out when I have to pick them up one million times a day, and stressed out when I have to inevitably take them to a thrift store (praying that the kids won't notice).
Enough is enough! This year I decided to skip the overwhelm and focus on a few really great gifts instead of giving in to the hustle and bustle of the shopping season. I have partnered with several companies to show you gifts that you AND your kids will love.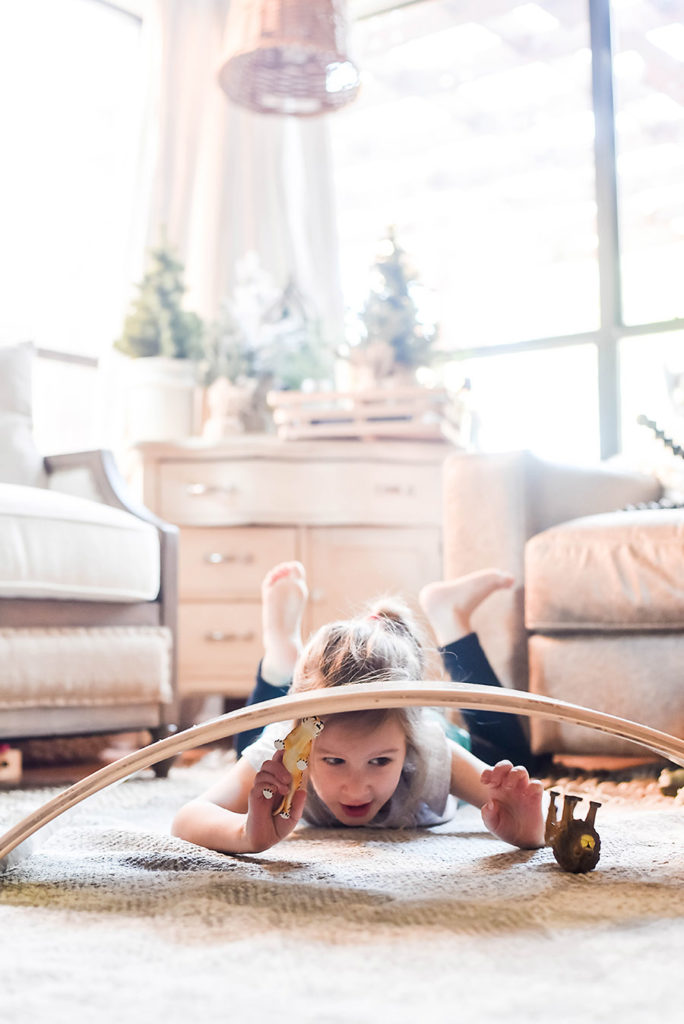 (If you want to see these toys in more detail – check out our Instagram stories! I have already posted a few of the gift ideas, which you can find in my highlights. More will be posted in the coming weeks.)
---
Fewer, Better Toys Gift Guide
Gift Ideas for a Less Stressful, More Purposeful Christmas
These toys and gifts promote skills I want to encourage in my kids like creativity through pretend play or open ended play, gross motor skills, fine motor skills, and STEAM (science, technology, engineering, art, and math). They are beautiful and practical and they will last for generations to come.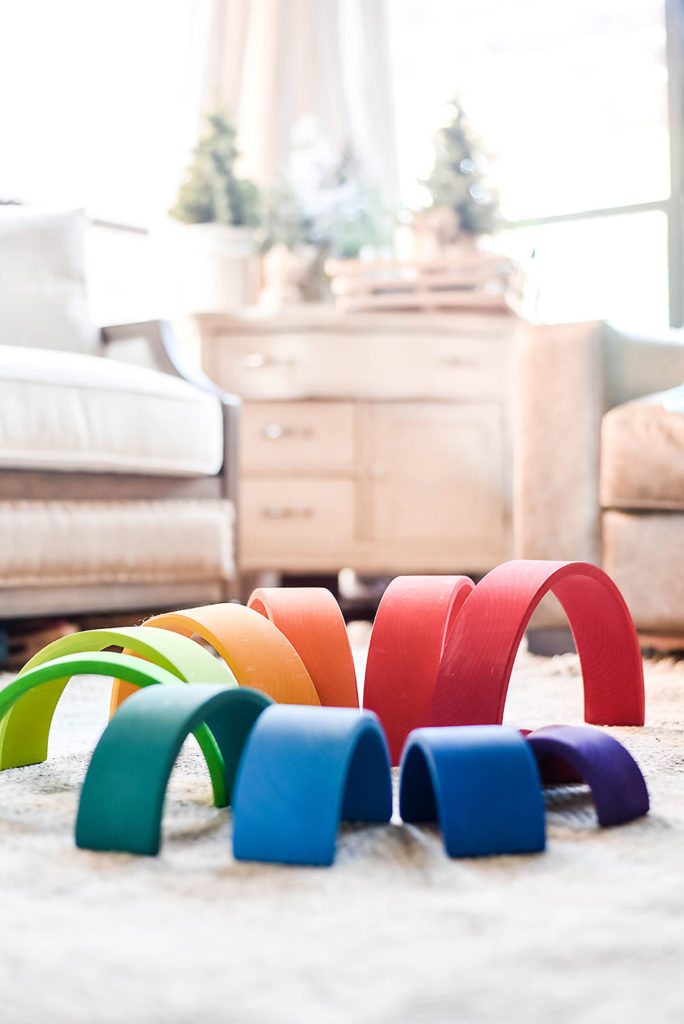 This gorgeous versatile, open-ended toy will inspire hours of joy filled imaginative play. The Grimm's Wooden Rainbow was perfectly engineered to be stackable in hundreds of different combinations, encouraging budding engineers to think about balance and proportion. It will help develop fine motor skills as they carefully stack. Young kids can use the rainbow to count and sort counting bears, M&Ms, or peg dolls.
I found this Grimm's Wooden Rainbow (and the Waldorf Wooden Rocker below) at Bella Luna Toys. They carry an incredible number of natural, open-ended toys for kids. If you visit their shop, you will absolutely fall in love with their selection.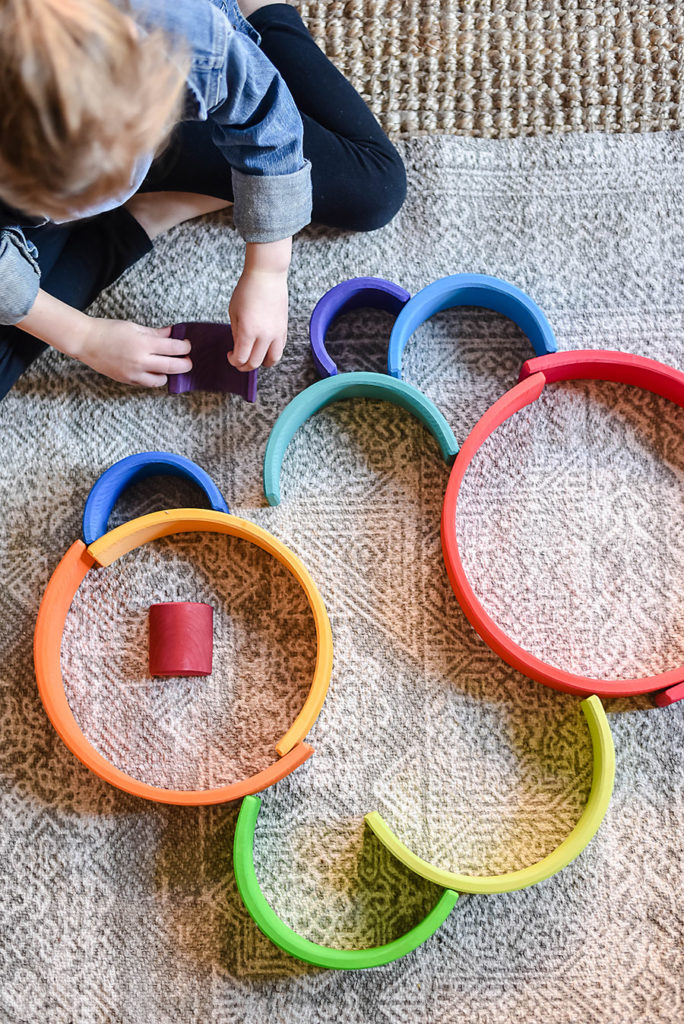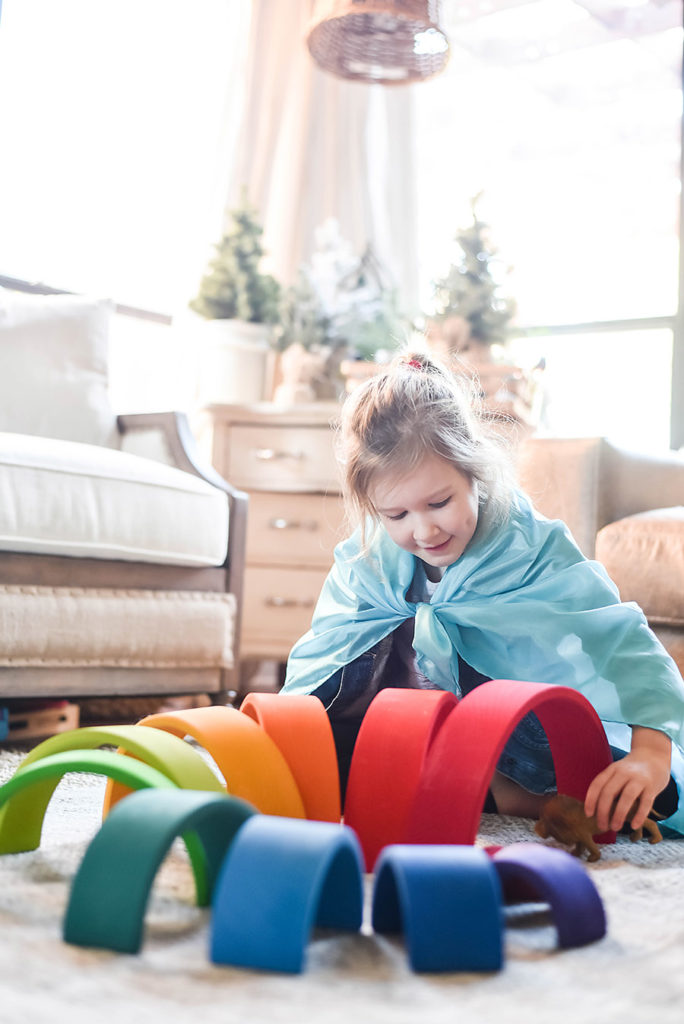 Play silks are beautiful, encouraging both open-ended play and pretend play. These silks may become capes, soup, a fort, a parachute, grass, a river, and a flag – and that's all before lunch time! Sarah's Silks creates high quality play silks that are hand dyed and vibrant. You can add a basket of play silks to any activity and you will be amazed at what your child creates.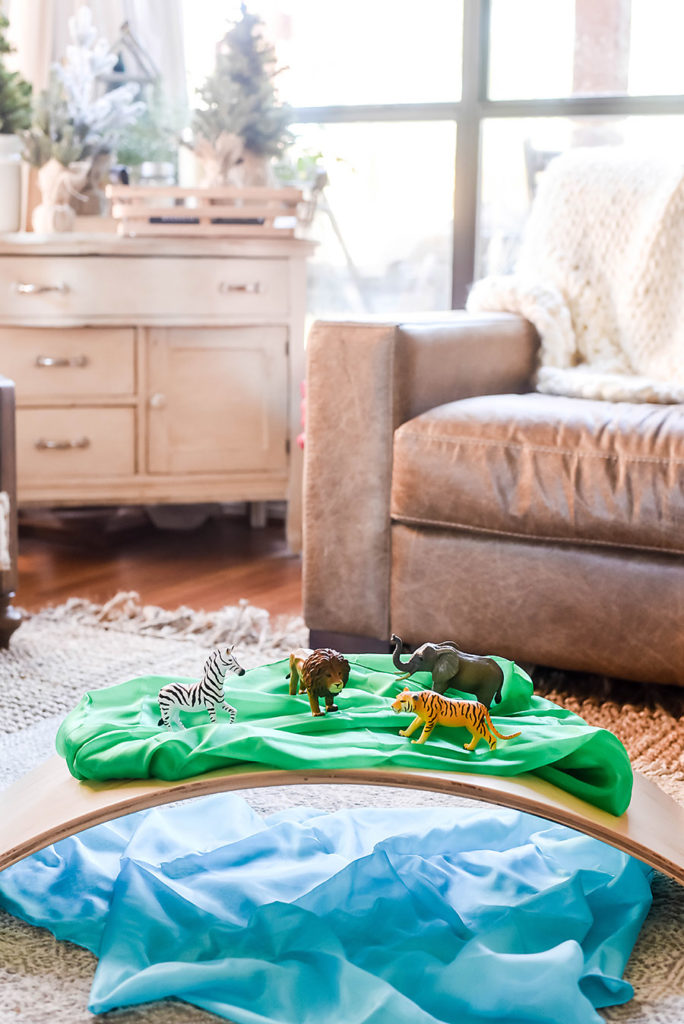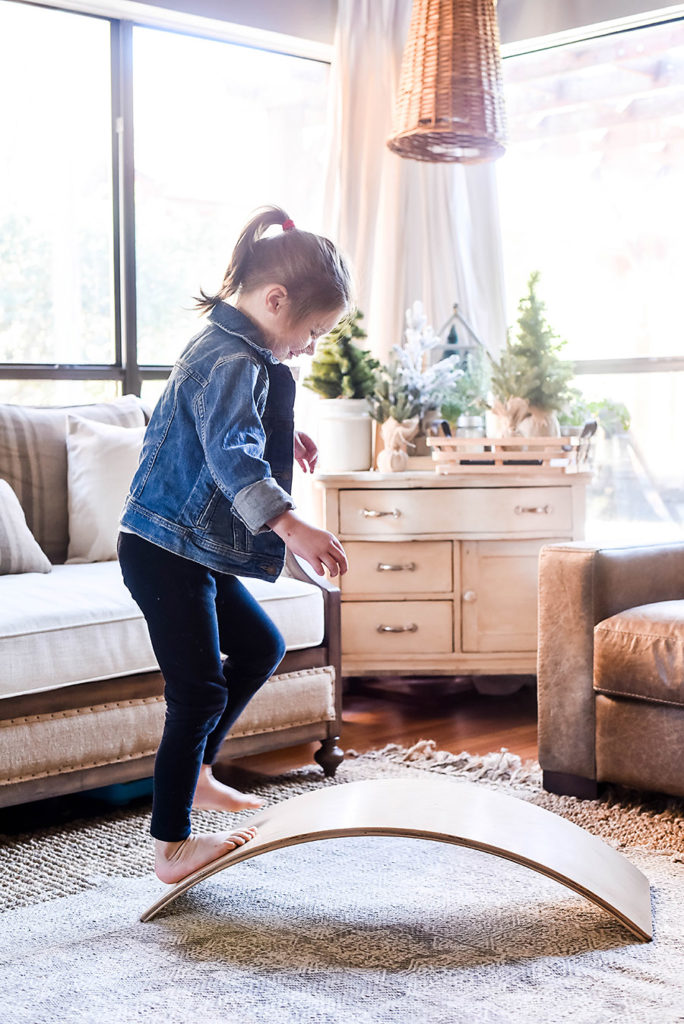 This Waldorf-inspired wooden rocker board encourages kids to test their balance and build an awareness of how their body moves. But they won't notice that while they are busy using it as a seesaw, a bridge, a tunnel, a boat, a balance beam, a doll bed, or an elephant's back. They will just know that it can be anything they want it to be. And you will love how beautifully it fits into your home.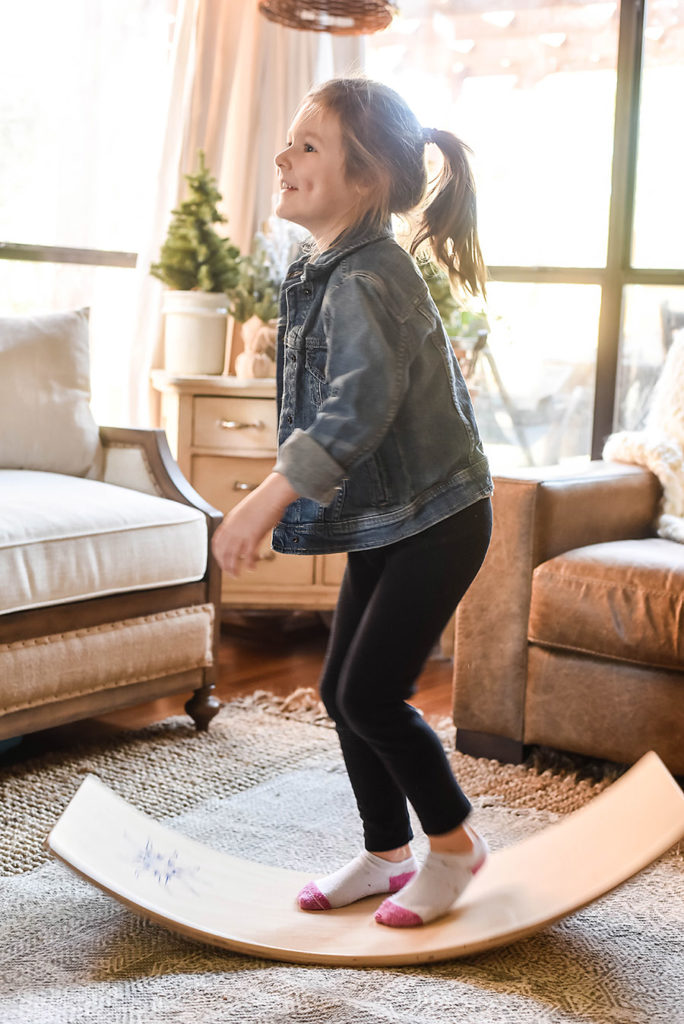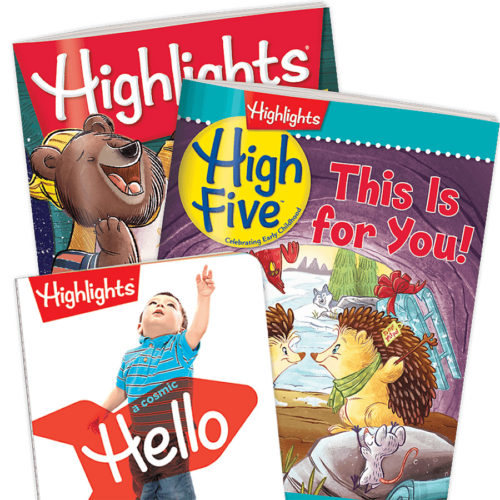 Instead of a toy that will be tossed to the side, why not choose a gift that will come throughout the year? Highlights Magazine features brain teasers, puzzles, crafts, stories, and more. They will love getting mail and you will appreciate that the carefully curated content stimulates their creativity, curiosity, and critical thinking skills. They have the classic Highlights magazine with HIDDEN PICTURES®, stories, and brain-teasing puzzles for ages 6-12. If you have a younger child, check out the High Five magazine with MY FIRST HIDDEN PICTURES®, stories to build reading skills, and simple activities specially designed for kids ages 2-6. They also offer a Hello magazine for ages 0-2 with special features just for little ones like wipeable pages, stitched binding, and rounded corners. (So thoughtful!)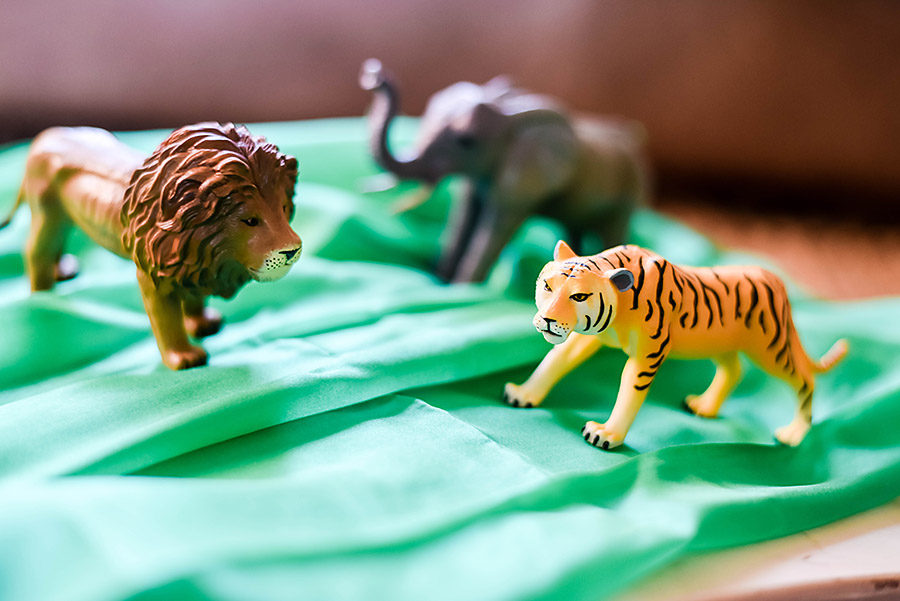 Kids are fascinated with animals. My son is never just crawling across the room, he is pretending to be a lion or a bear. My daughter and I don't just play house, I am a mama cat and she is my baby kitten.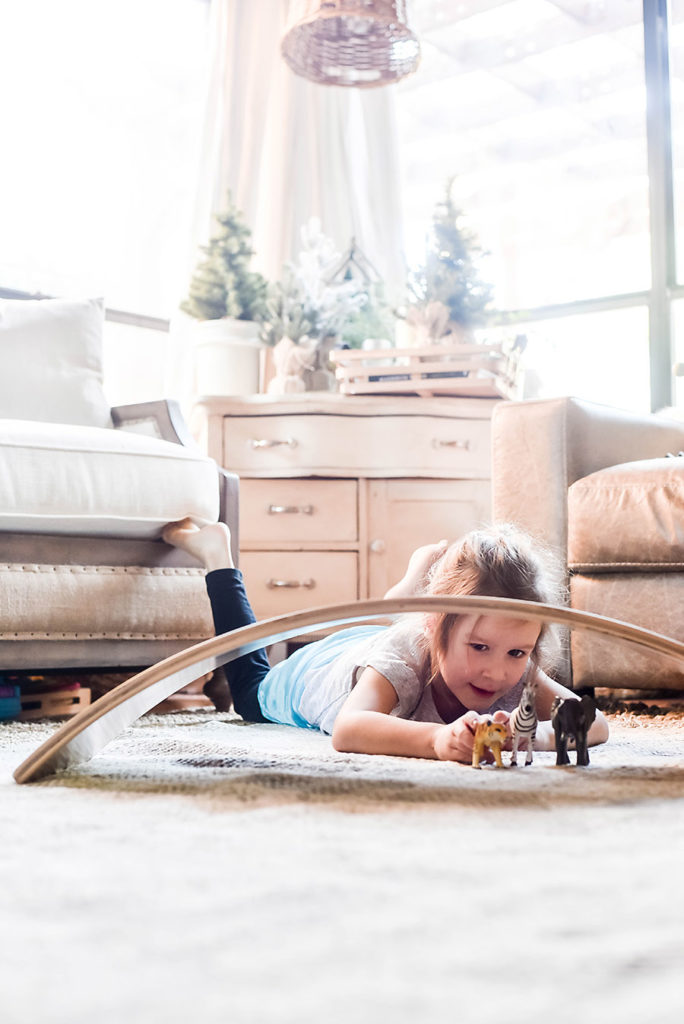 Toy animals are a natural choice when it comes to encouraging pretend playing and teaching kids about the natural world. With Terra Animals by Battat, they might create an African safari or a big city zoo. They will roar and growl and snort as they dive into play. These realistic animals are well-made and they will withstand years of creative play.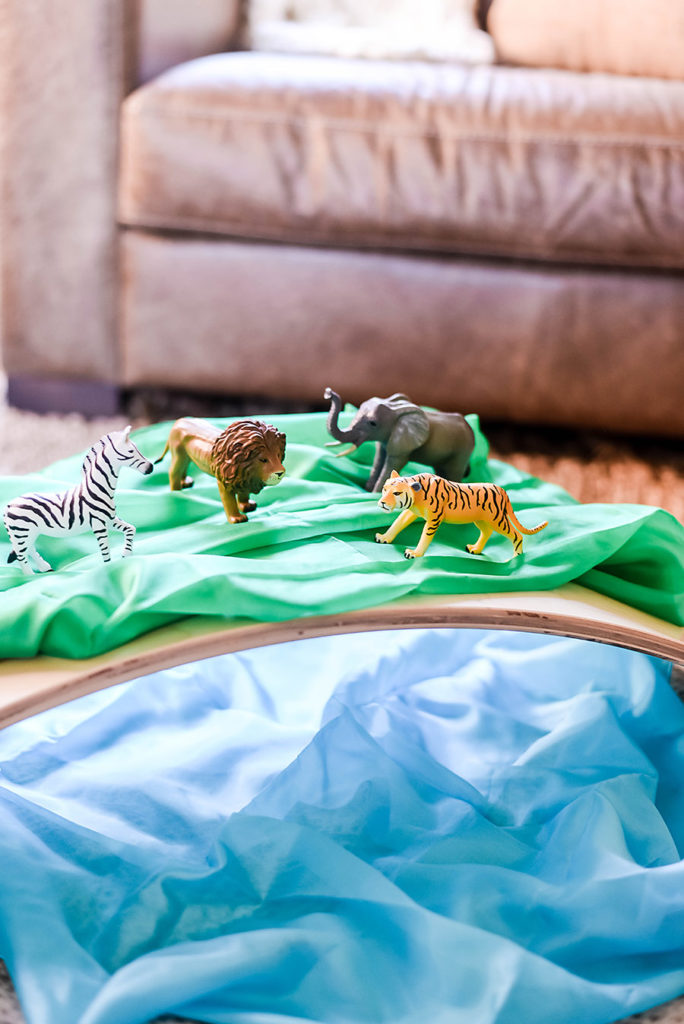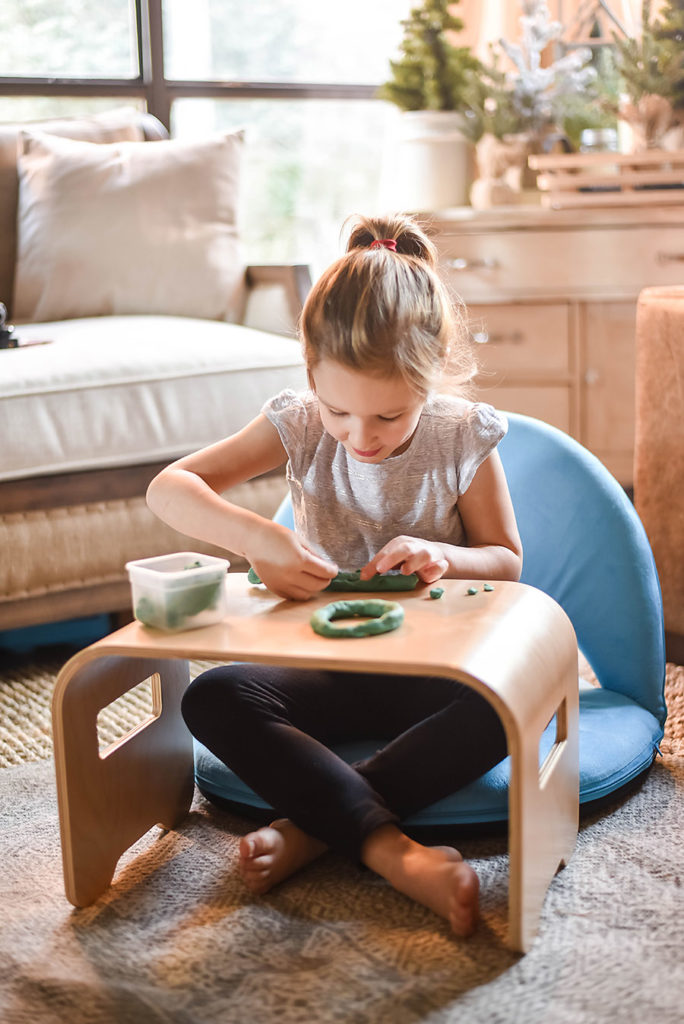 If you aren't a teacher or in a classroom, you may not realize that flex seating is all the rage in education. No longer confined to hard plastic chairs to learn all day, teachers are giving their students options for more comfortable, inviting seating. Students feel empowered to choose, more comfortable and able to learn, and collaborating in positive ways with other students. Lakeshore Learning is making it possible to implement flex seating in your home, as well.
This Flex Space Comfy Seat and Student Lap Desk means that kids aren't stuck in one place for homework – they can set up their own work station in the living room, in their bedroom, or in the kitchen while you cook dinner. Younger kids will love to have their own place to do crafts, play with play doh, and eat a snack. The seat will fold flat for easy storage and the lap desk can double as a chair for a kid's table. I love this gift idea because it's both fun and practical.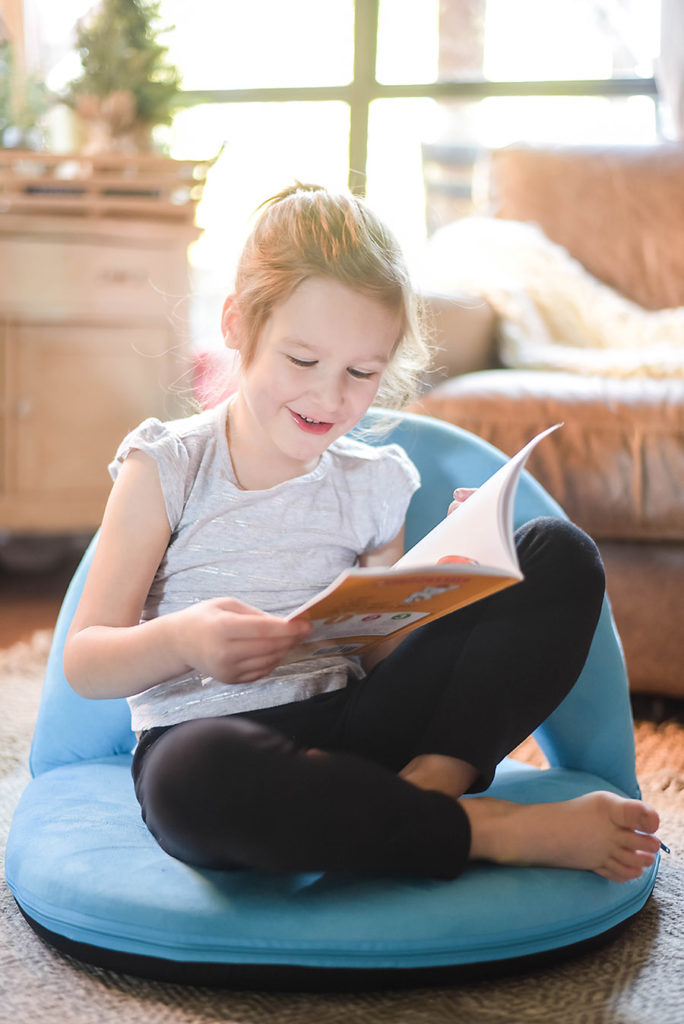 You know when you come across a product that you can tell was created by a mom? There's just something thoughtful about the way it was designed and the purpose behind it? The We Craft Box is that kind of gift. Designed by a mom who wanted to connect with her kids through creativity, the We Craft Box is a subscription craft kit.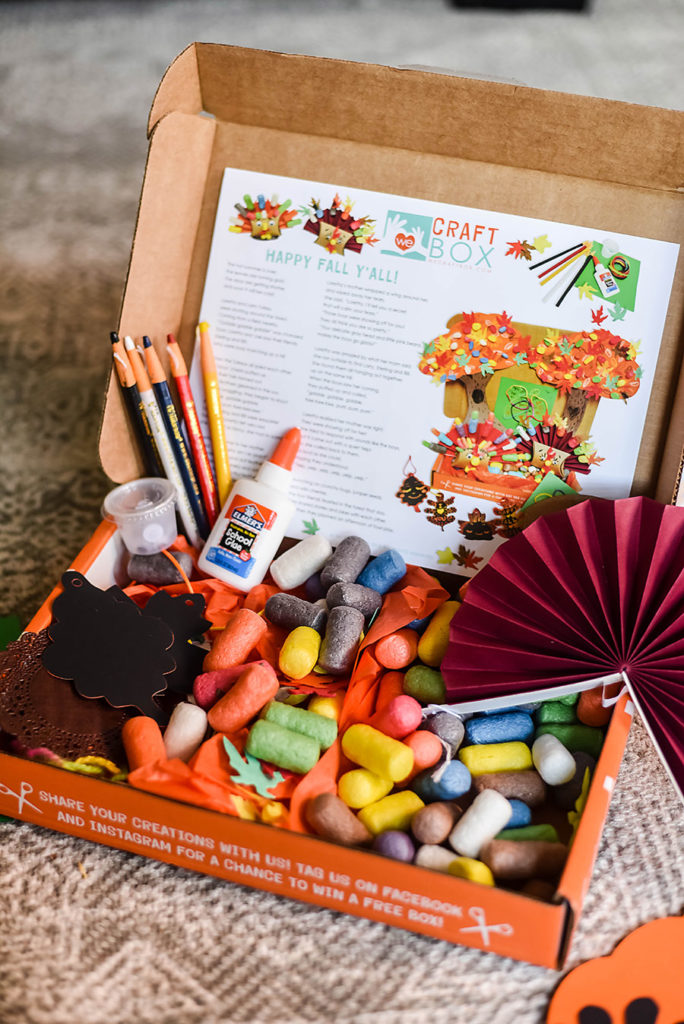 Each month, it will feature a creative theme and all the materials to create crafts around a subject like Fall, outer space, or polar bears. They include a story and everything you need to complete the craft (including photo instructions) that can be shared between two children. You don't have to spend time collecting supplies or coming up with clever ideas, that time can be spent connecting with your child, which is the real gift.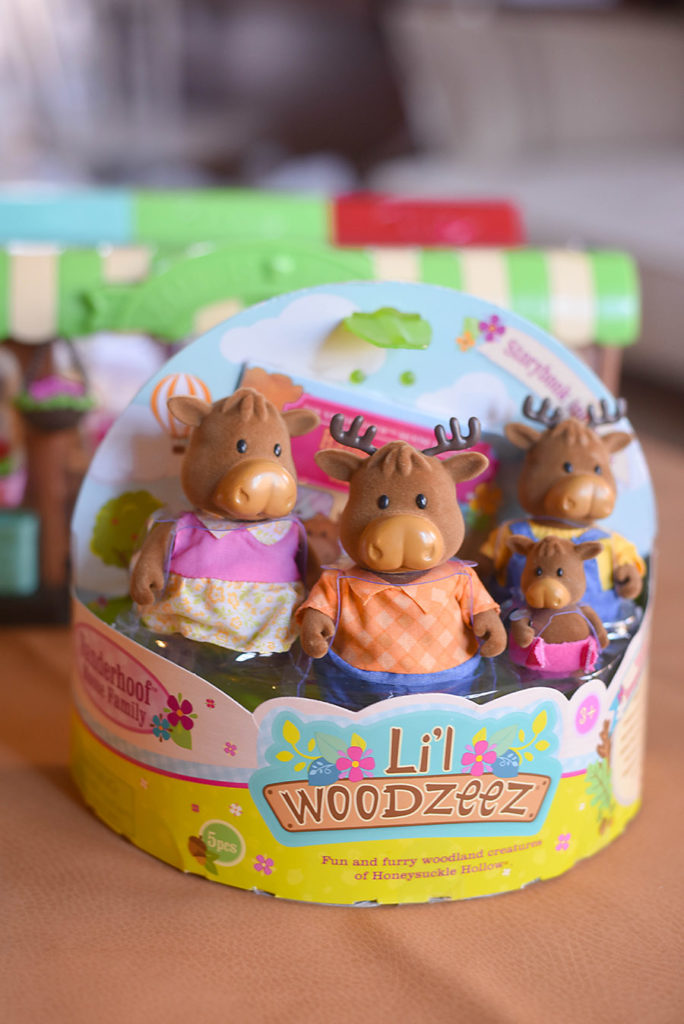 Lil' Woodzeez characters look like they hopped right out of a classic children's storybook. These adorable figures and beautifully designed play sets will inspire hours of imaginative play. While you can play with the characters with any number of block creations or doll houses, their playsets evoke a simpler time like perhaps they're set on the English countryside or a cottage in the woods. These aren't typical playsets, instead you'll find a farmer's market, bakery, cottage, and tree house. Lil' Woodzeez are thoughtfully designed toys that are perfect for pretend play.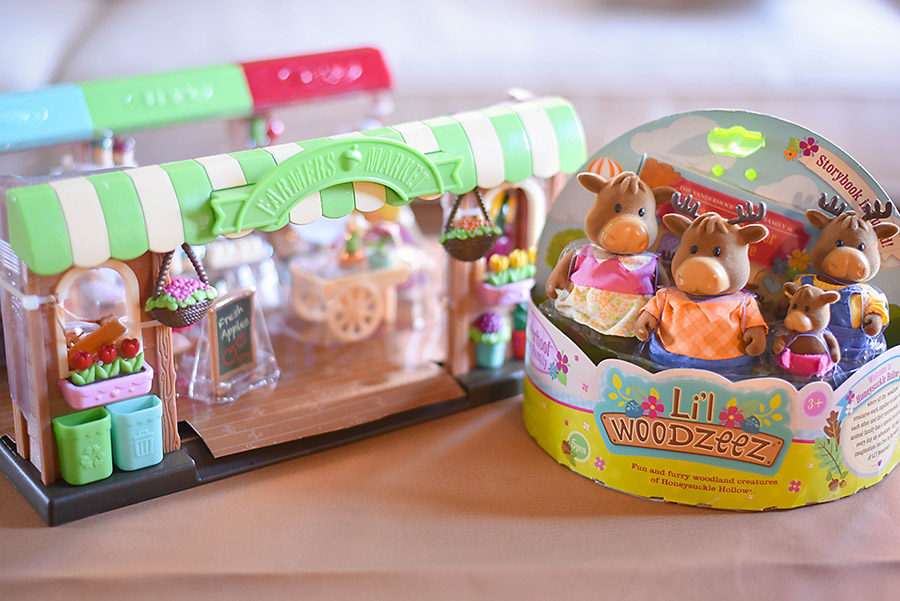 Green Kid Crafts was created by a mom who was also an environmental scientist. She wanted to encourage discovery and creativity in her kids, so she created a subscription box that encourages STEAM skills (science, technology, engineering, art, and mathematics). With this combination of experiments and crafts, each box is unique. One month you'll be painting tote bags and the next month you'll experiment with blubber. The best part is, each month doesn't feature just one activity. There are 4-8 activities in each Discovery Box designed to foster creativity and confidence.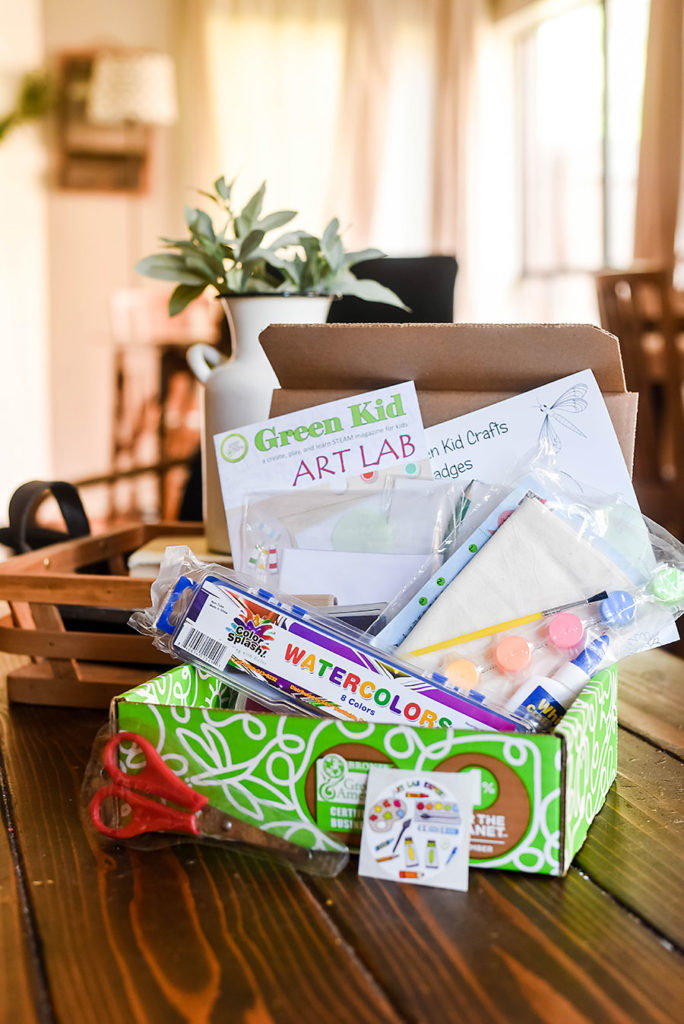 Subscription boxes are a unique gift because they don't end the moment they're opened under the tree, kids will enjoy receiving them throughout the year. I love suggesting subscription boxes to grandparents who live far away because it is a treasure to think of them every time they get a box in the mail ("Look what grandma and grandpa just sent you!").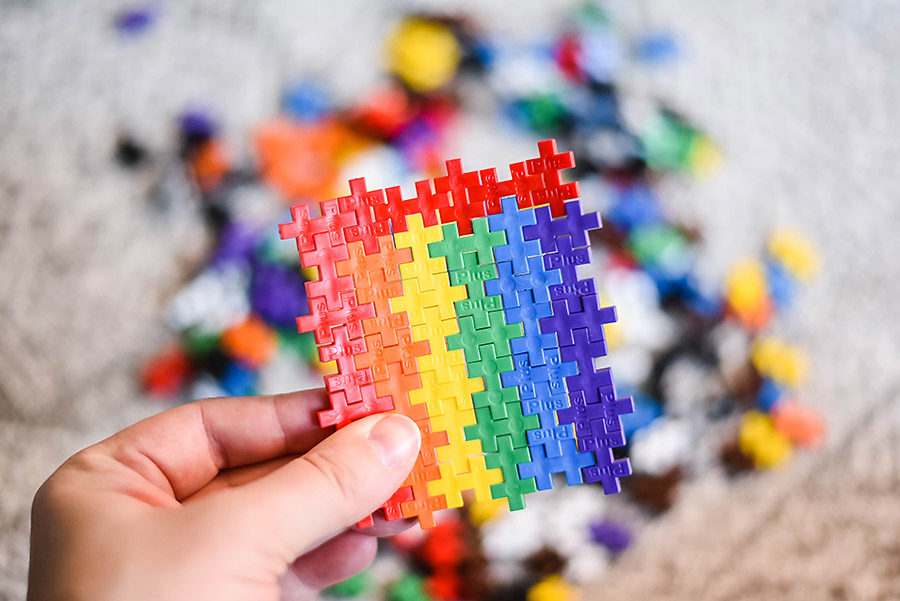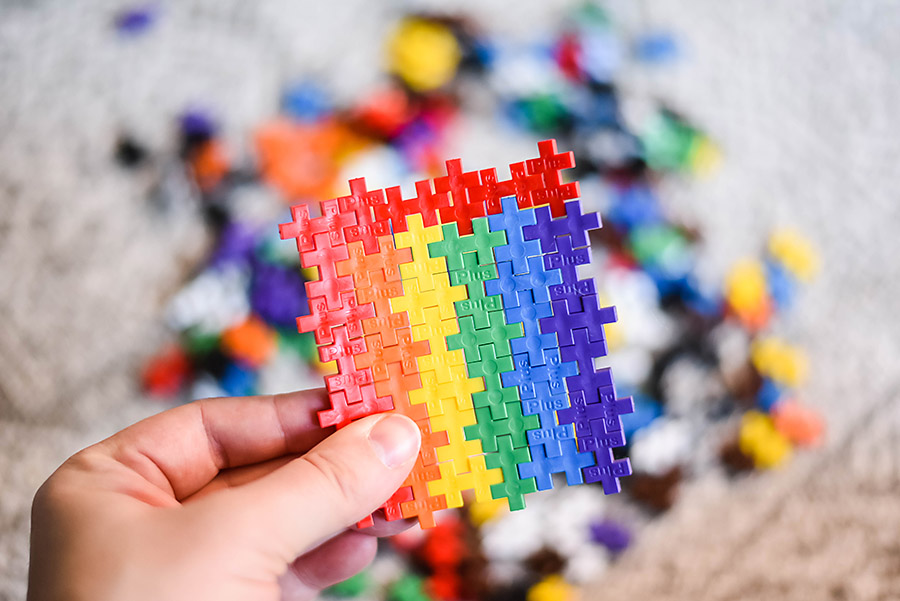 Plus Plus is a stocking stuffer with a punch! With a relatively simple design, these building blocks are carefully engineers to fit snugly together. That makes them the perfect platform for all kinds of 2D and 3D creations. We love taking these to restaurants or anywhere the kids are expected to wait patiently. But, fair warning, adults love these just as much as the kids!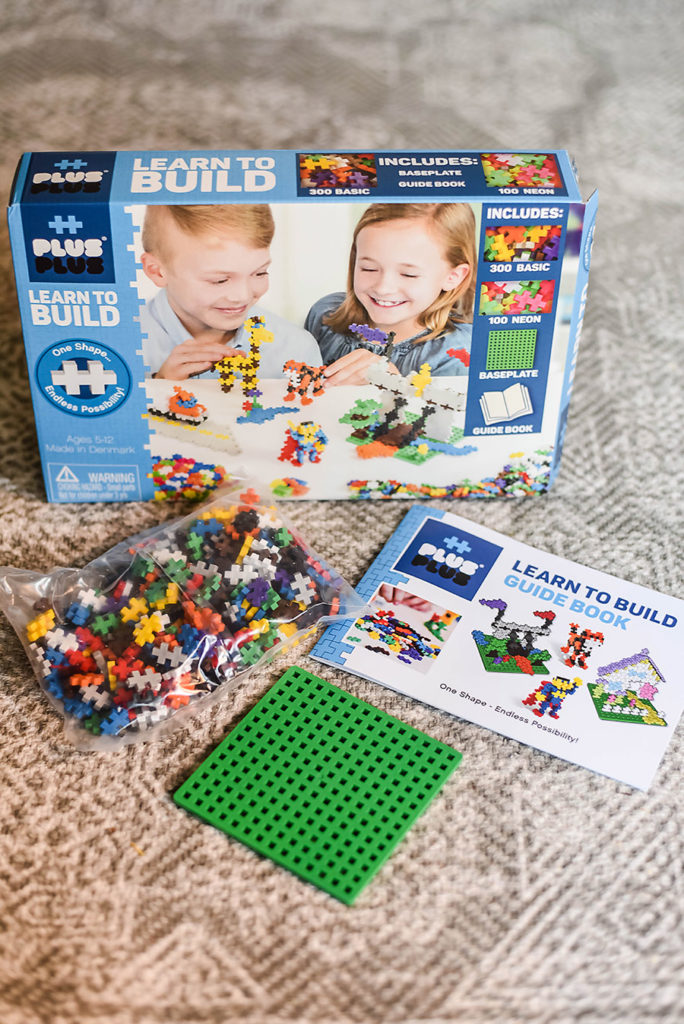 They can create playscapes like a grassy pond or a city street and they can create 3D figures like a giraffe or a boy. They are super versatile and they inspire imagination and engineering.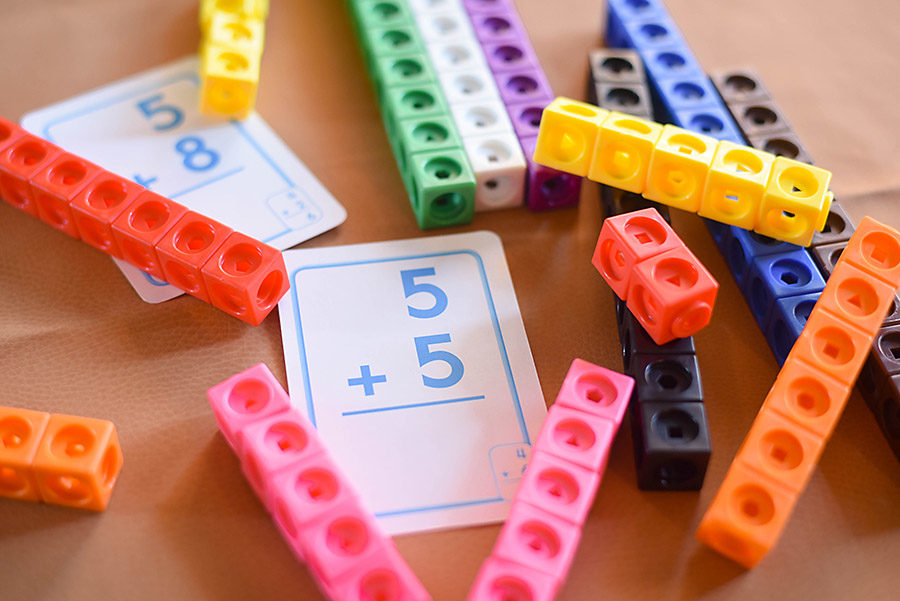 Even stocking stuffers can be purposeful and intentional! Mathlink Cubes from Learning Resources are the perfect stocking stuffer that doubles as an educational tool. Kids can learn to count, sort, add, and subtract with these colorful cubes. Best of all, it just feels like play! If you've got visual or kinesthetic learners, you will definitely want to have these little cubes waiting in their stocking on Christmas morning!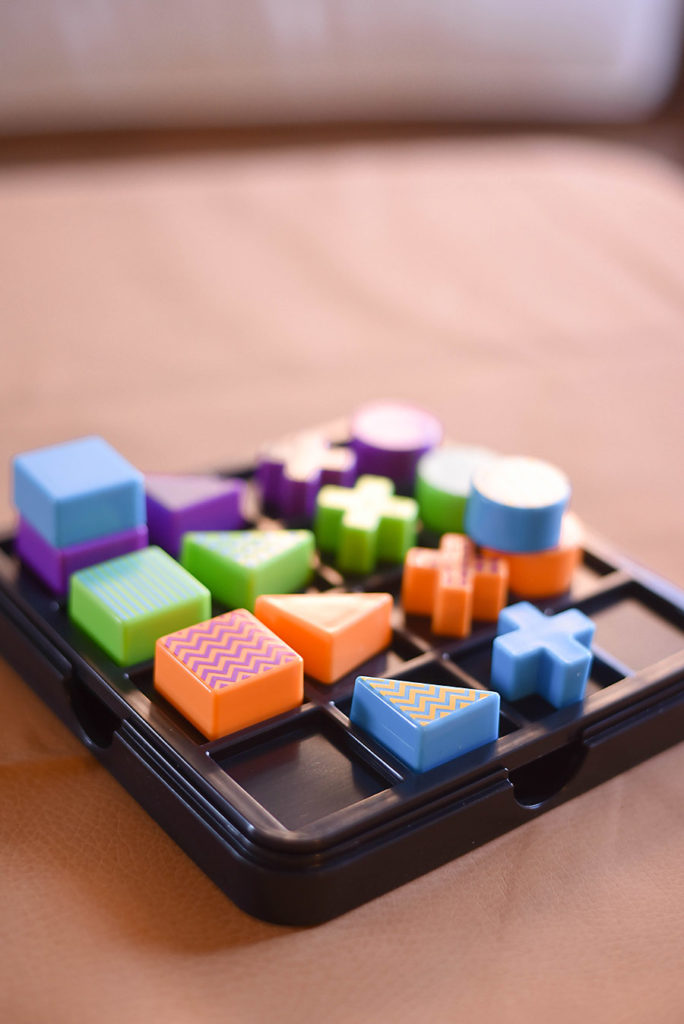 Are you a board game family? We sure are. We adore game nights with friends and family game nights. I love finding games that are simple enough for our kids to play with us, but strategic enough to keep the parent's interest. This set of Mental Blox™ – On The Go definitely fits the bill. It includes a booklet with 10 different activities, featuring games for one player or multiple players. It will keep bored minds occupied in the car or on the plane, and provide a great activity once you reach the hotel room or the campsite.
---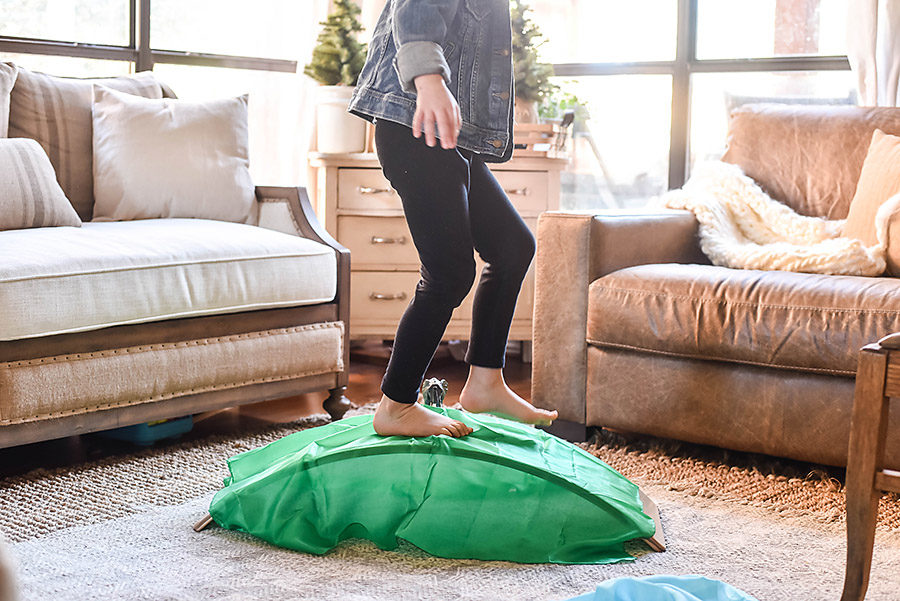 I would love to know how you're feeling about Christmas gifts this year and what you're planning to put under your Christmas tree! Let me know in the comments below or by hopping over to Instagram to join in the conversation!