At last it's time to share our completed Belgian Country Living Room! This room makeover is part of the One Room Challenge, where we completely transformed our living room in only 6 weeks. If you aren't caught up with our One Room Challenge, check out all the weeks so far here:
Belgian Country Living Room Reveal
Though I had a plan from the start, I really wasn't sure if I was going to be in love with the end result of this living room. I had a vision in my head, but would I be able to make it happen?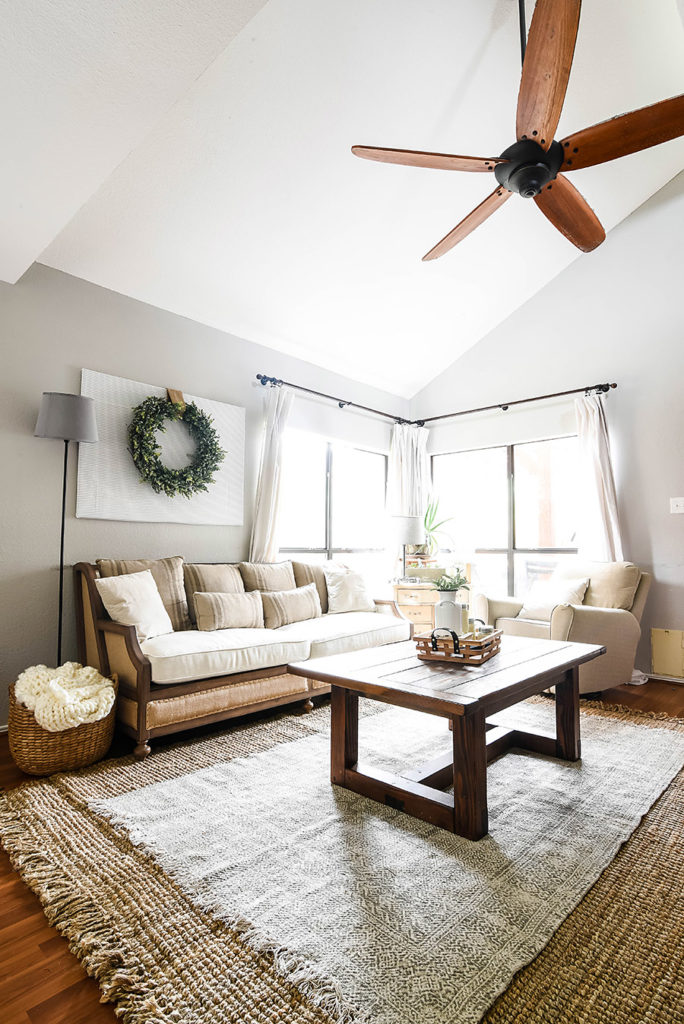 Well, I really didn't have to worry. It's perfect for us.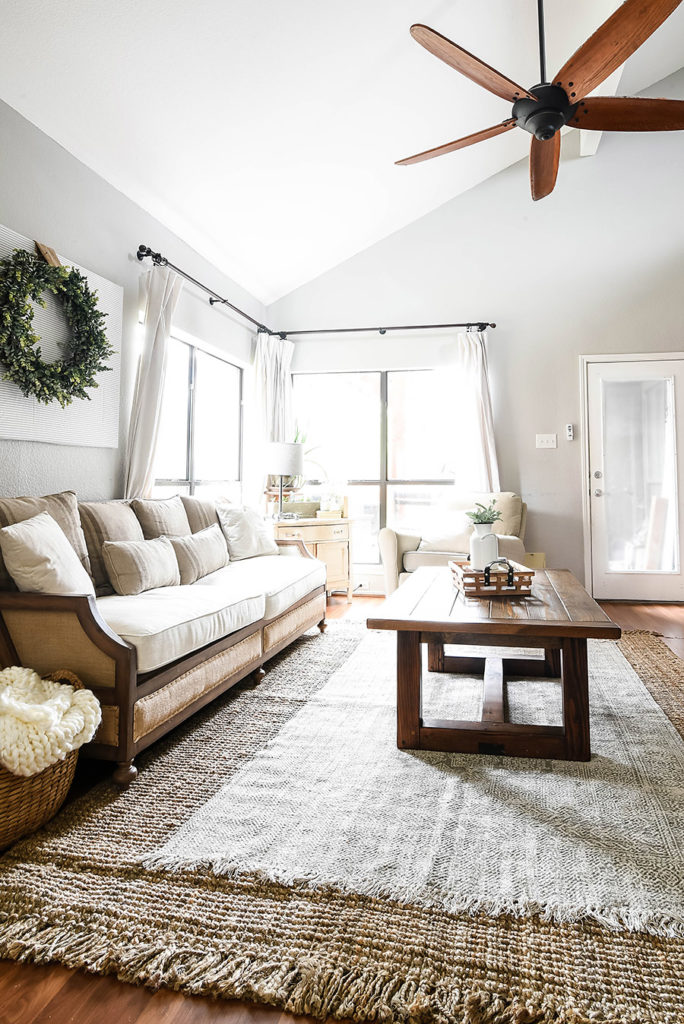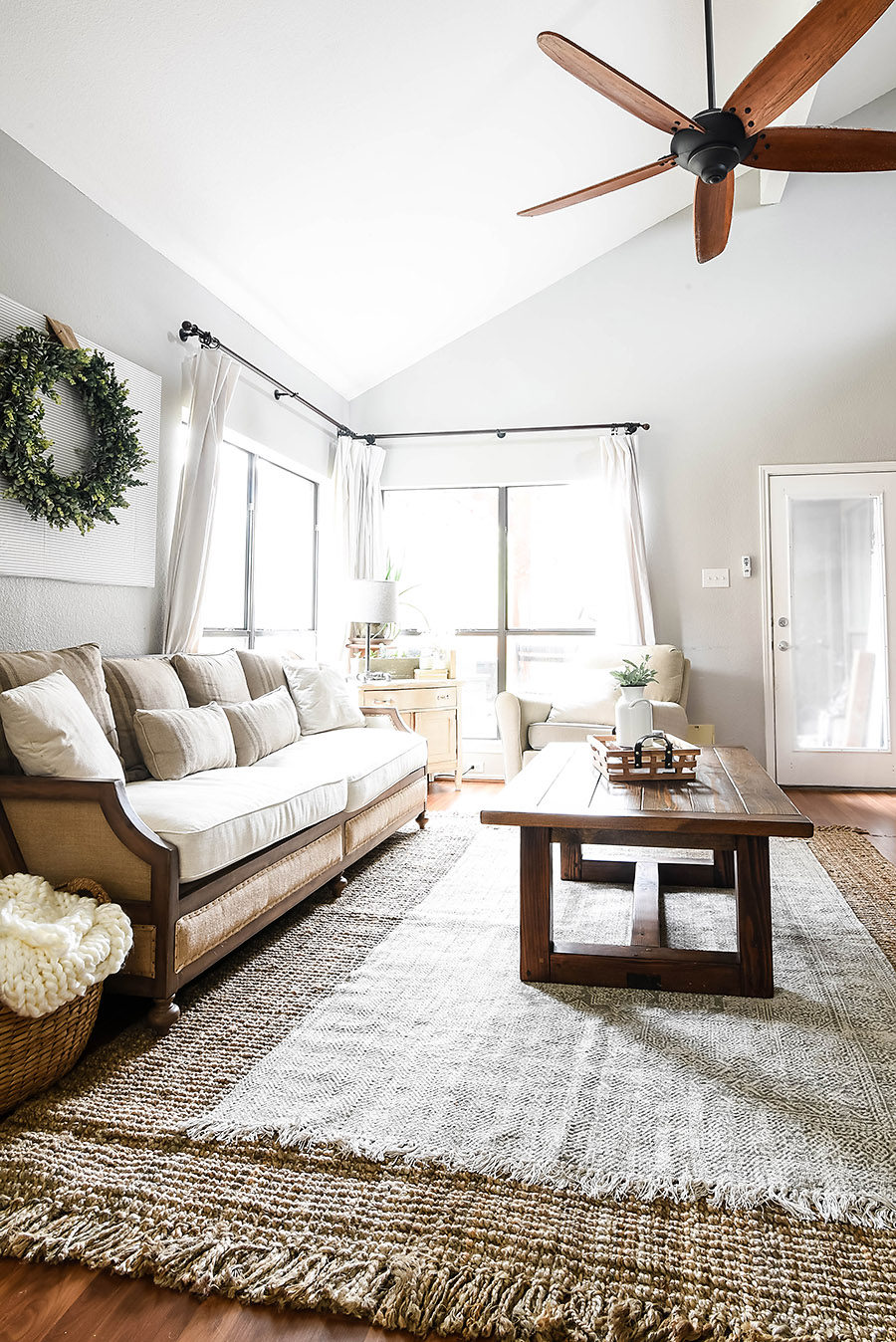 When we come in after a long day to the cozy, neutral tones and the ambient lighting, it feels so relaxing. I don't know if this will make sense, but it feels like a place to nest instead of a place to crash.
Here's a picture of our 'Before':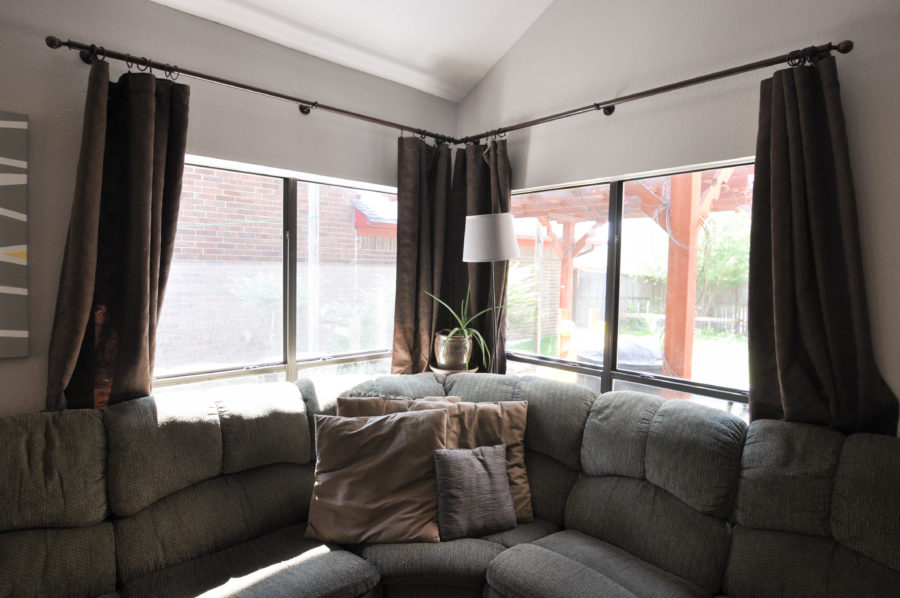 And here's the updated view with our new couch and bleached drop cloth curtains. Our leather chair-and-a-half still isn't in yet (I'm told sometime next week!), but I still love the dramatic difference that our couch makes to lighten up the space.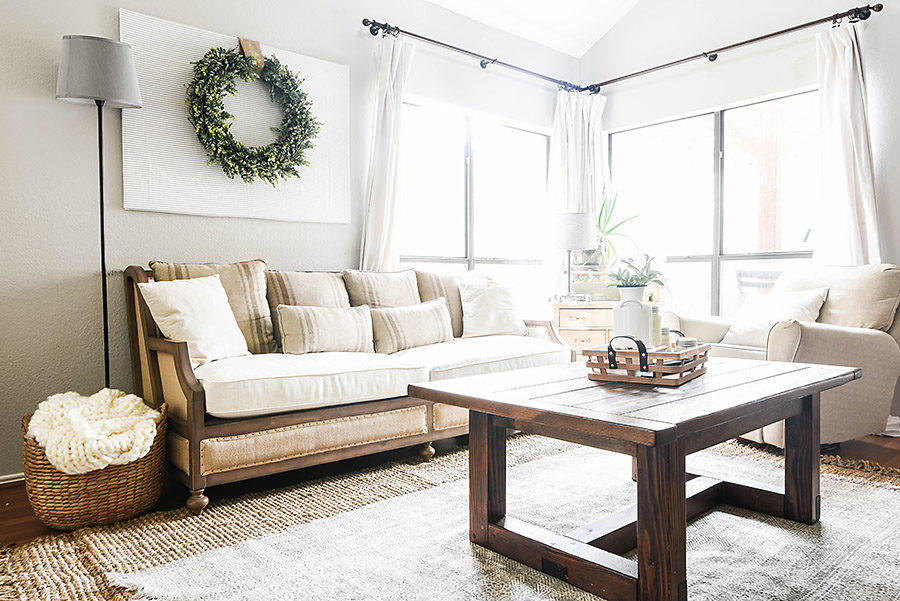 Next to the couch, we had a large blank wall. Here's what it looked like after we brought in the piano.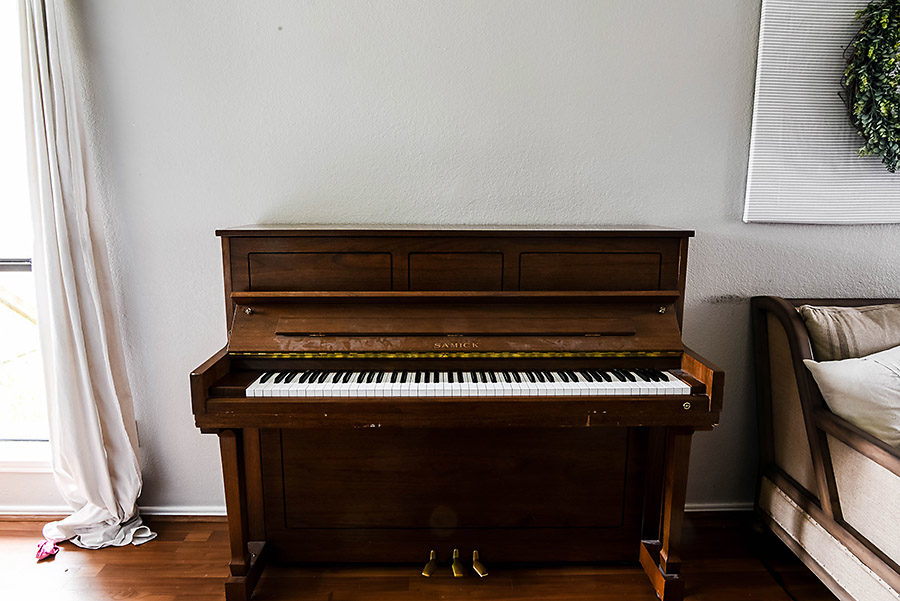 And now that we've added the hymnal art instillation. So much more texture and warmth!
On the other side of the couch, we created a little space featuring our new large hanging pendant light (created from a laundry basket, but shhh! don't tell!).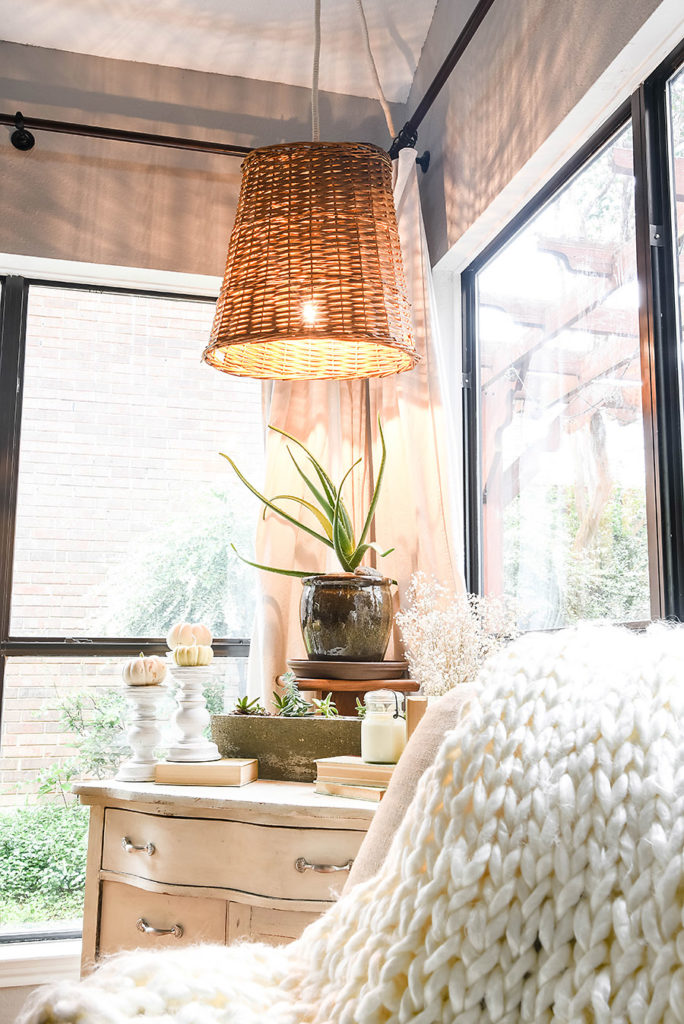 Here's a look at our entertainment center – the 'before' is a dresser we found on the side of the road:
And after – we painted a dresser and added a brand new wood top for a light and natural look for our dresser entertainment center.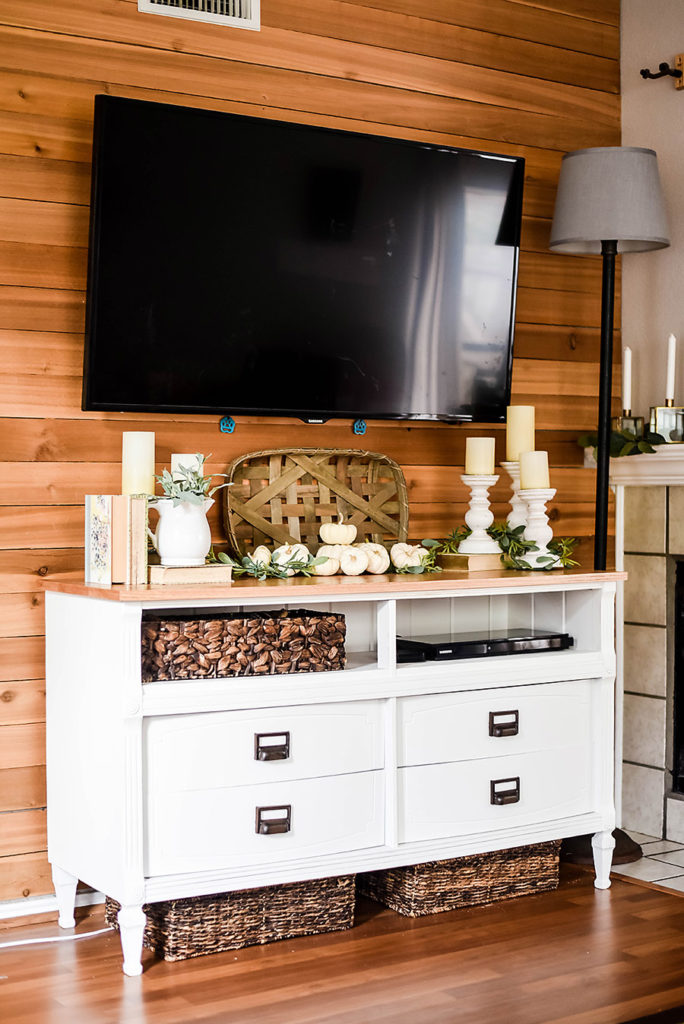 I'm so glad you joined me on this One Room Challenge journey. I would love to know what you think in the comments below! And if you want, leave a vote on the room we should tackle for the Spring. Right now it's between our master bedroom and our daughter's bedroom, but I could be persuaded into tackling our master bath.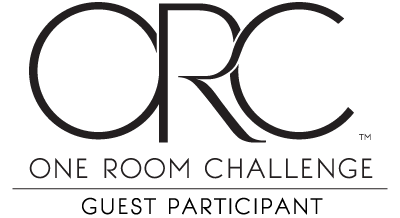 Check out other rooms for the One Room Challenge here!
Greenery: Hobby Lobby
Jute Rug: Similar
Sofa: Foundation Sofa