We got a new (to us!) piano and added a hymnal art instillation above the piano. I can't wait to show you how we made it! This tutorial is part of the transformation of our living room for the One Room Challenge. If you aren't caught up with our One Room Challenge, check out all the weeks so far here: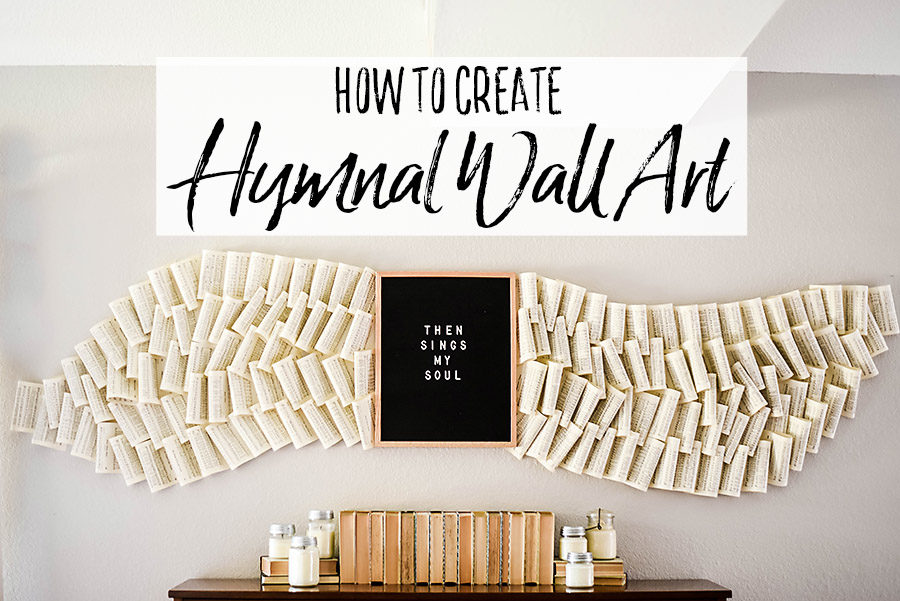 I have Pinterest boards full of inspiration from professional art galleries, window shops around the world (I'm looking at you, Anthropologie and Magnolia Market!), and three dimensional art projects.
After months of deliberation and sketches, planning and re-planning, we decided to bring a piano home and I envisioned a design based around this Hymnal we found. It wasn't in great condition, so it was the perfect candidate for an art project!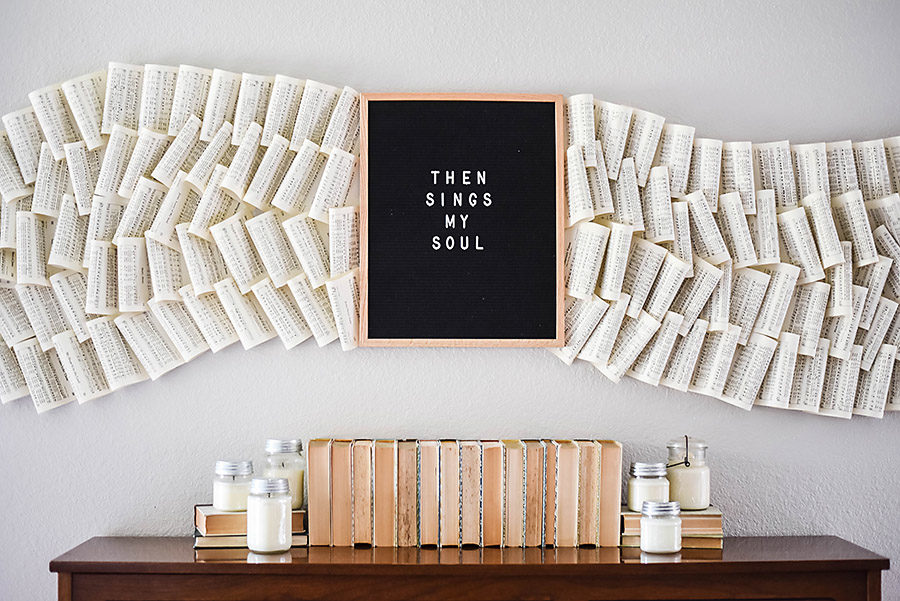 How to Create a Hymnal Wall Art Instillation for Your Home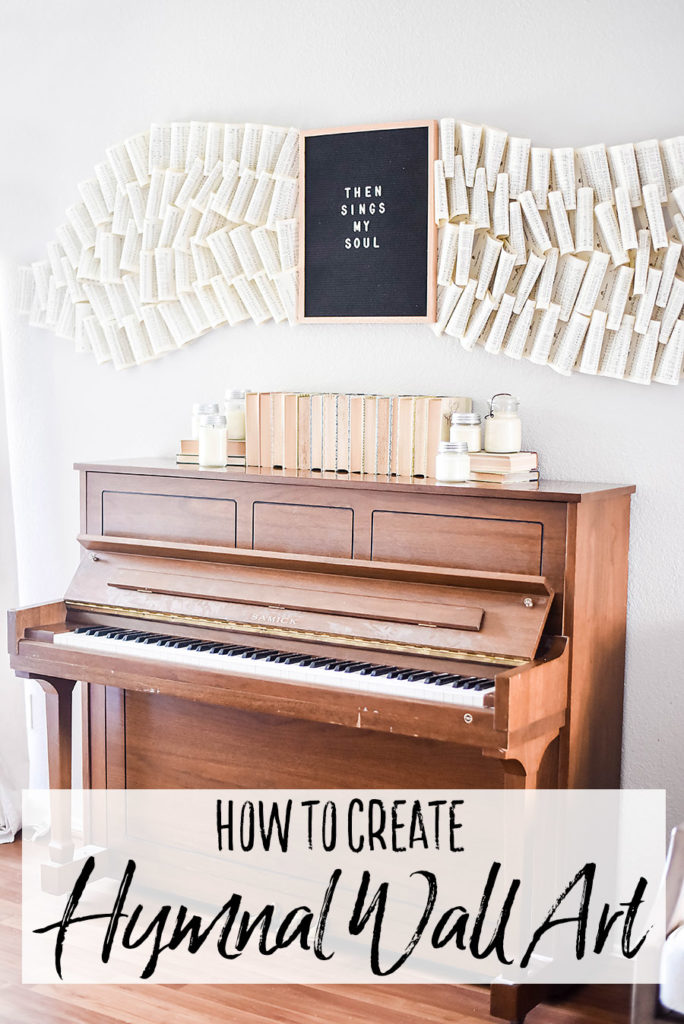 I don't have a full tutorial for you to create this exact project, because everyone's space is so different. But I thought I would walk you through the thought process behind creating this design.
Find a Basic Shape
Before even thinking about installing, I sketched out several different shapes that could work in our space. I had a blank canvas because our house has soaring open rooms with lots of wall space. Then we added the piano and I could see that I needed more texture high on the wall.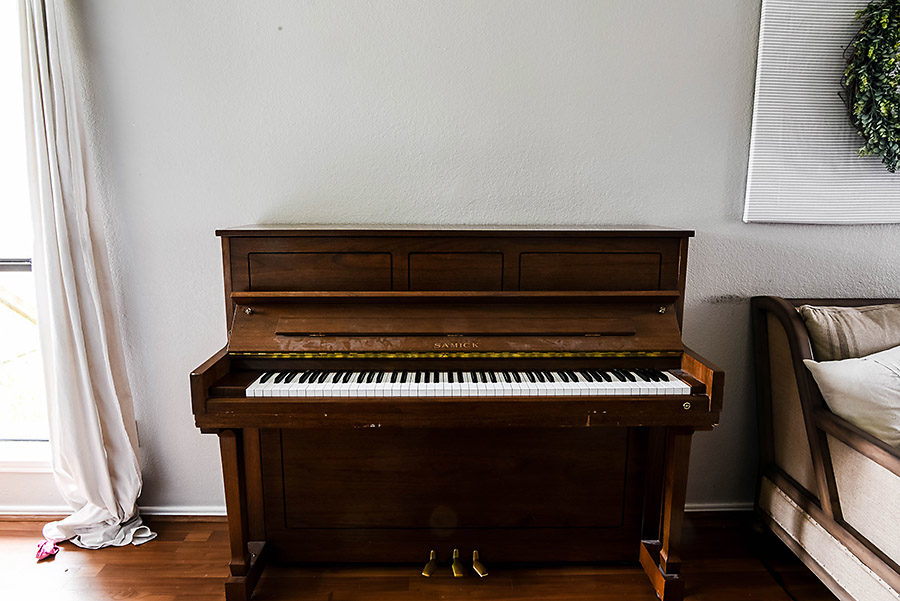 From there, I just chose the shape that appealed to me the most.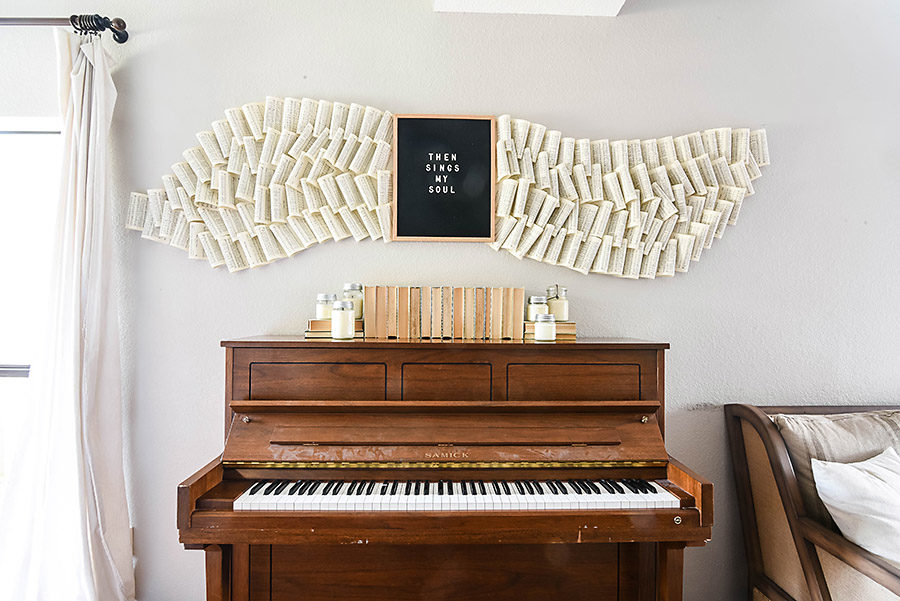 Decide on a Theme
Maybe you like reading, gardening, painting, sewing, or biking. Find something that's meaningful to you or your family and begin to build your project off of that theme. We love music – our days are full of ukuleles, drums, and bells. My husband is a worship minister who can play any instrument he picks up and our kids have already taken after their dad.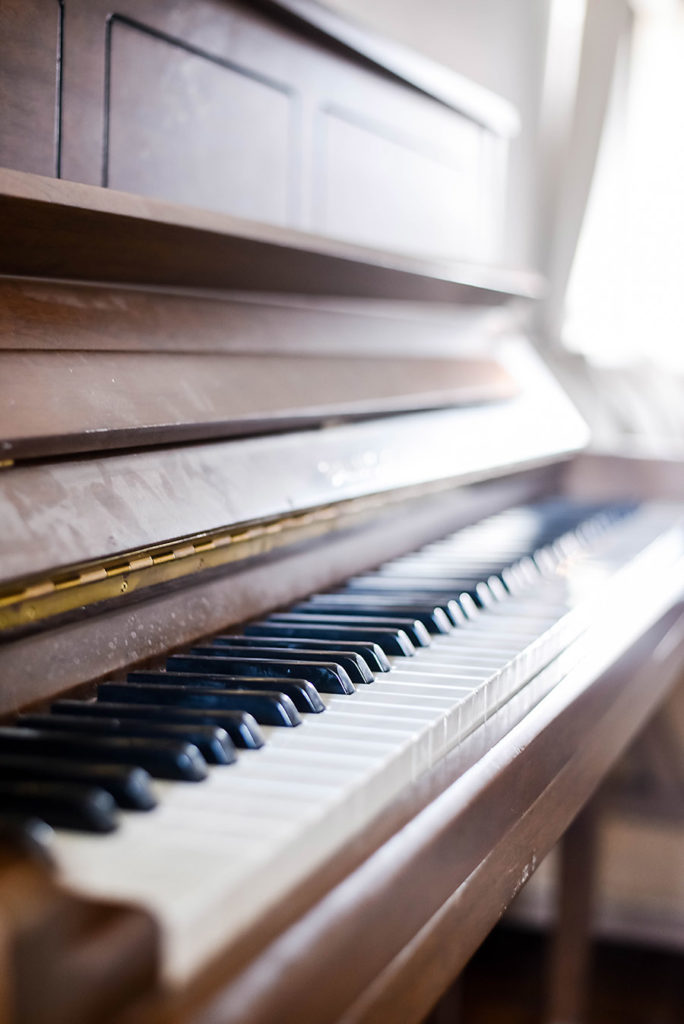 A theme centered around the truth and beauty of hymns was perfect for our family.
Borrow Inspiration
Search Pinterest, read blogs, or go to an art museum. I used the phrase "borrow inspiration" very purposefully. The idea here isn't to steal anyone's complete idea, but to gather ideas from lots of sources to create your own unique piece of art.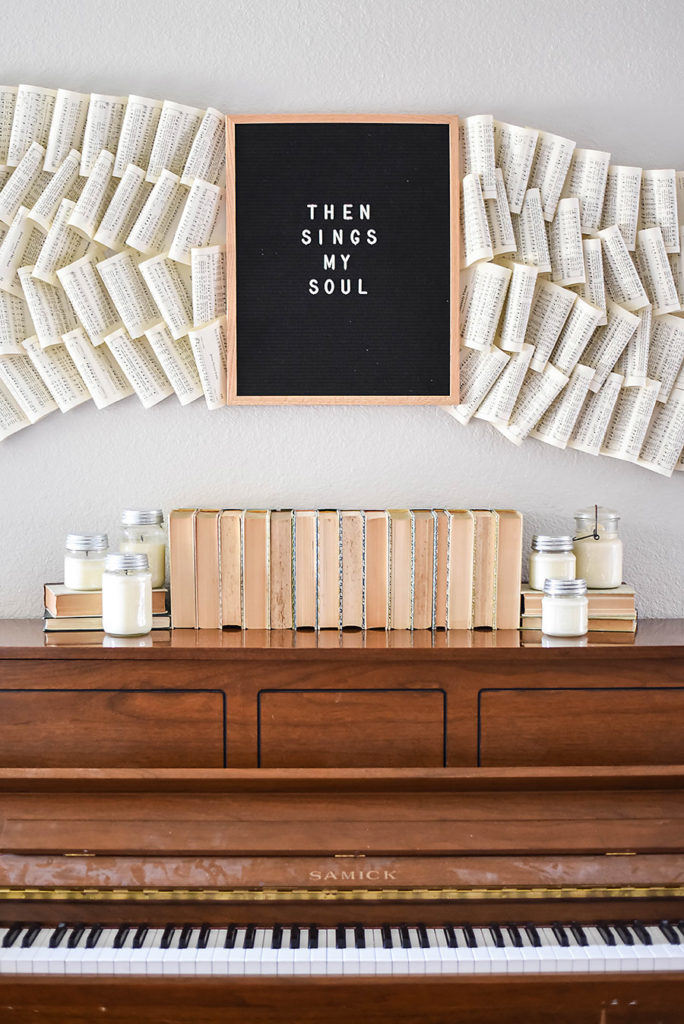 Gather Materials
For this project, we used a letter board, a thrifted Hymnal, and some thumbtacks.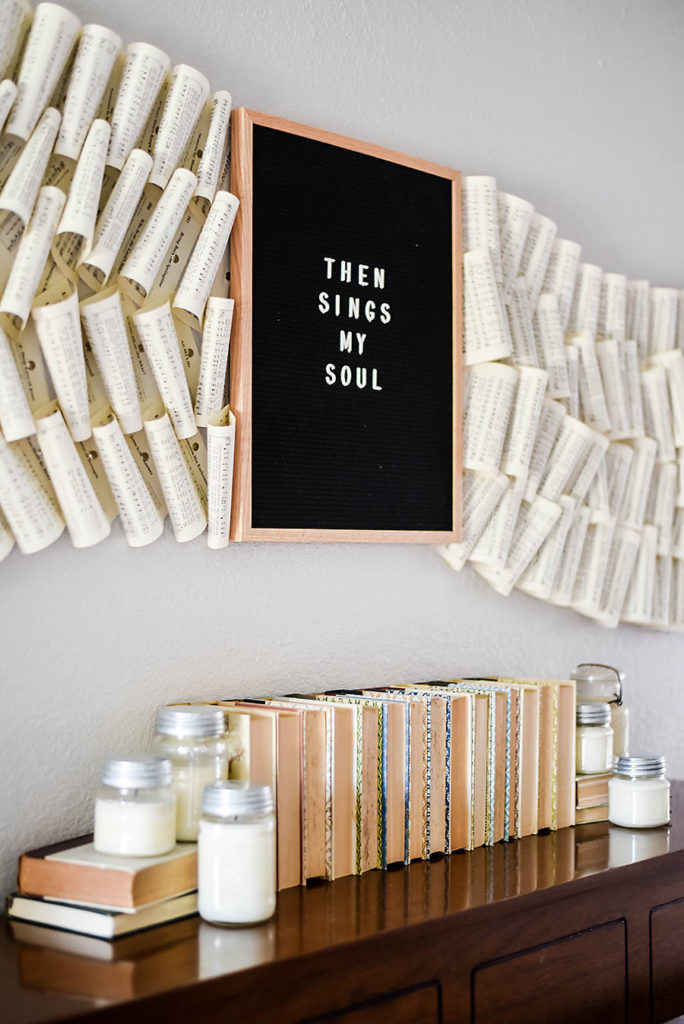 Test Instillation Techniques
We tried tape and large push pins, but ultimately we decided to attach the hymnal pages with plain, silver thumbtacks. They are understated, flat, and not obnoxious if they're seen from the side.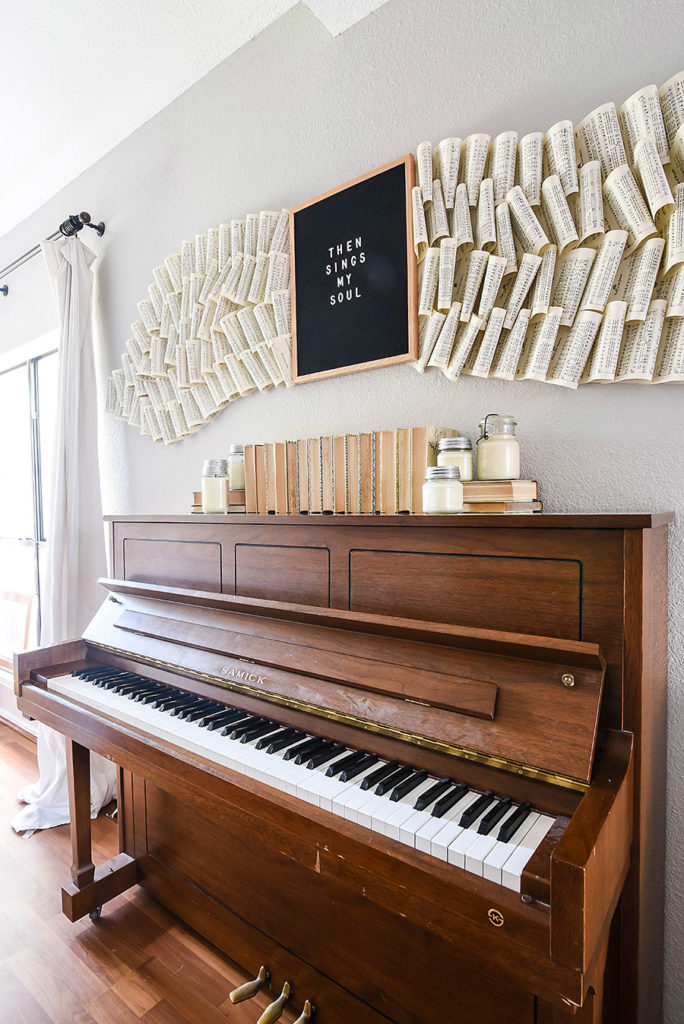 Create Art!
For our project, I cut the pages from the hymnal using a utility knife. I loosely folded the hymnal pages and tacked them into the wall, keeping my basic shape in mind.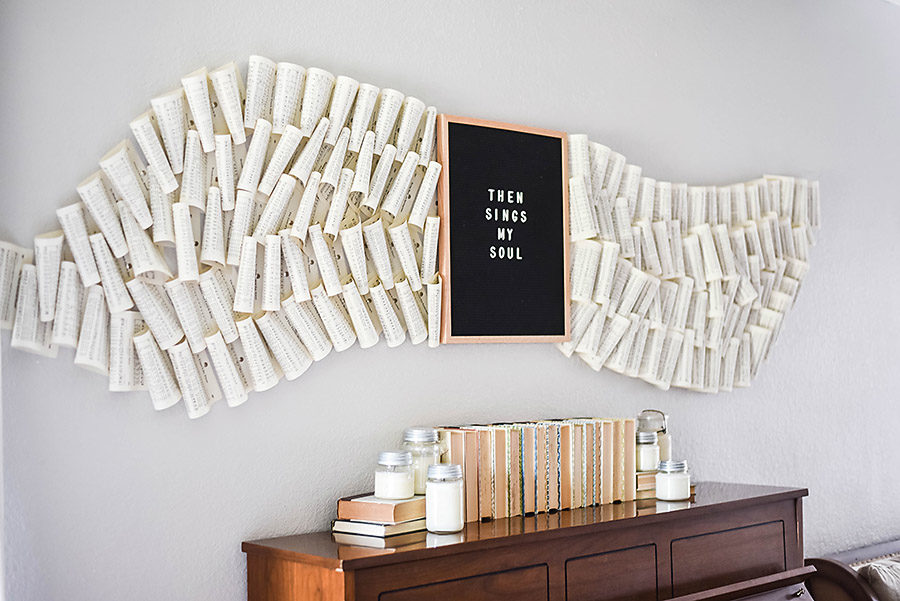 The most important part of art projects is just getting started! It might not turn out exactly like you think. You might even have to scrap the project and start over, but that's the beauty of creating DIY wall art. It will be unique and individual to your home.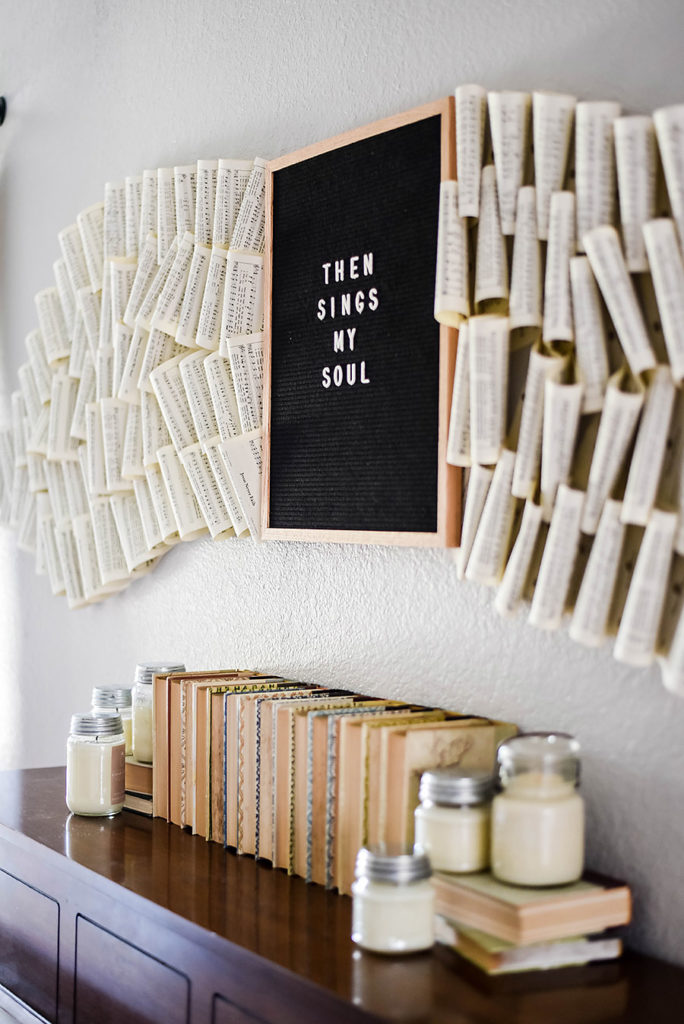 And listen, not everyone is comfortable with people "ripping off" their design (in fact, it makes some people really angry!). But if this art instillation inspires you to create something in your home, go for it! That's why I'm silly enough to post my home all over the internet! In fact, tag me in your post on Instagram and I would LOVE to share what you create!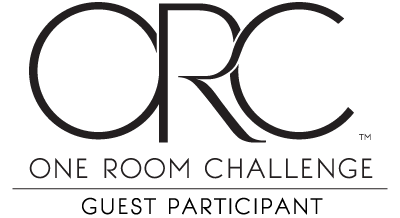 Check out other rooms for the One Room Challenge here!
Greenery: Hobby Lobby
Jute Rug: Similar
Sofa: Foundation Sofa