How to Make No-Sew Bleached Drop Cloth Curtains (plus how to bleach drop cloth without the whole house smelling like a pool!)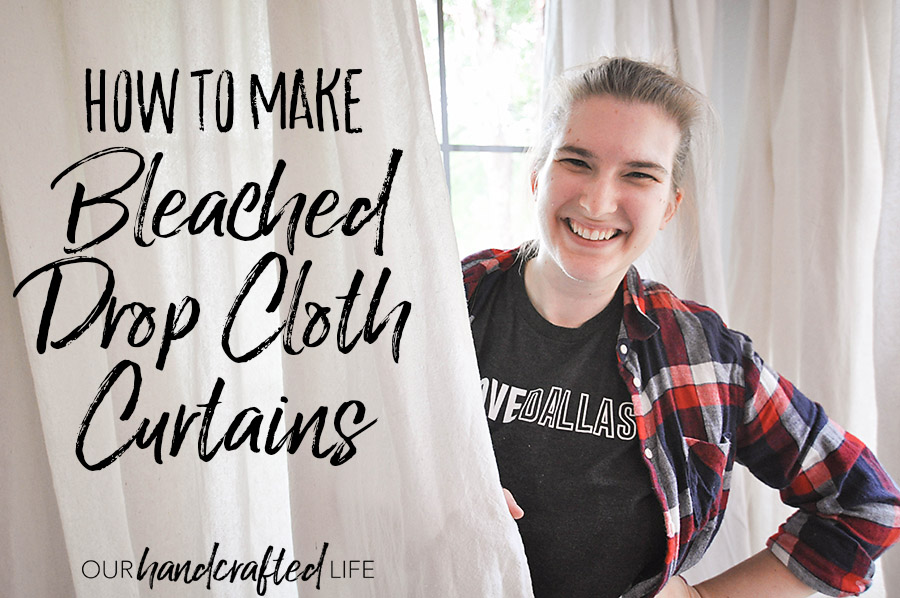 You guys…I am so excited to share this project with you! When we moved into our house, the one thing I hated was the heavy brown curtains.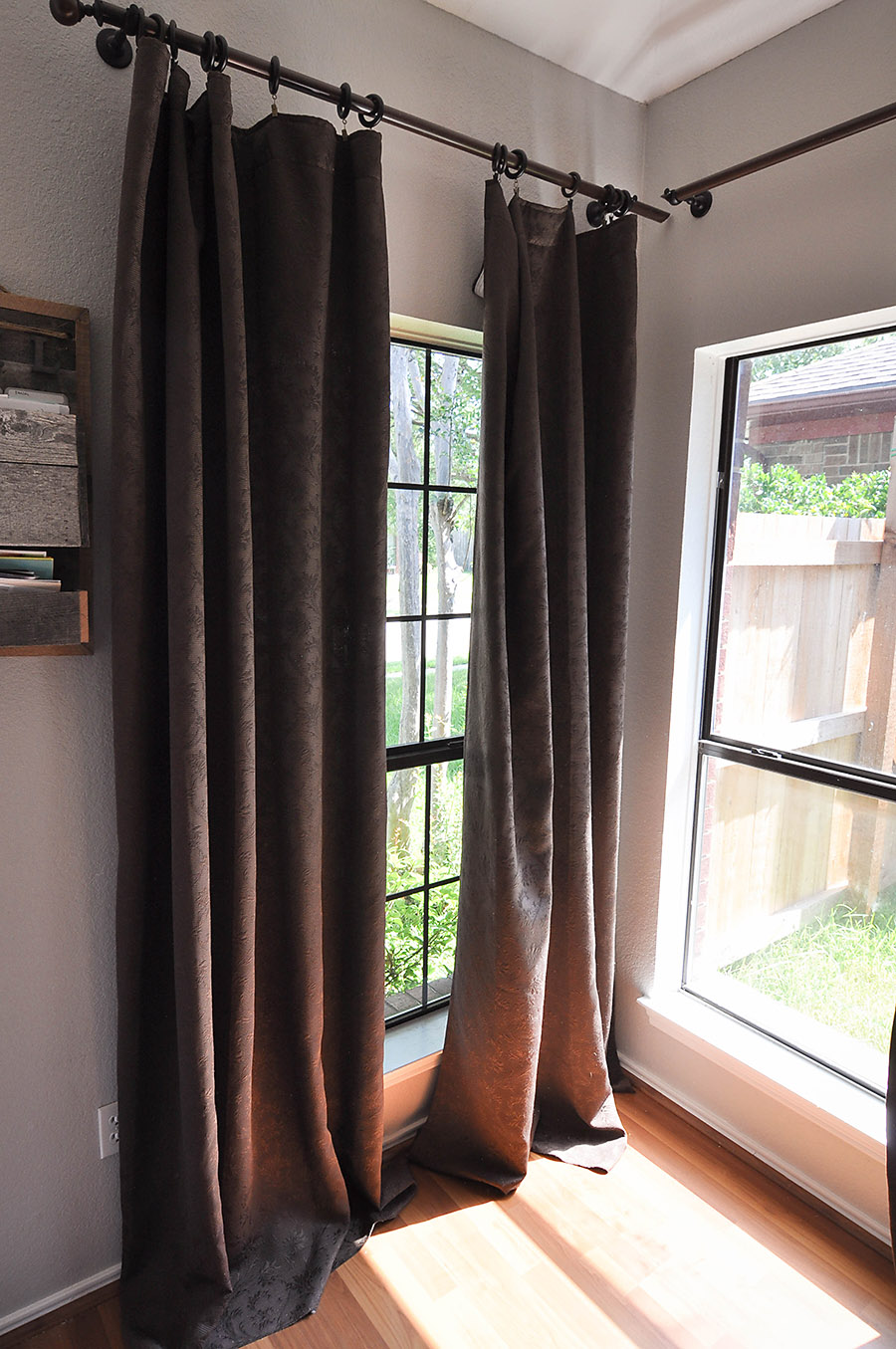 Well, five years later they still hang on the curtain rods, taunting me. No more! I have exchanged them for soft, textured, gorgeous drop cloth curtains that would be at home in any farmhouse or cottage.
We searched everywhere for affordable curtain solutions, but our options were either insanely expensive or not quite our style. When my husband came home with a pack of drop cloths for a project, I knew I had found the solution to my curtain dilemma. We could have honestly just taken the drop cloths out of the package and hung them up, but I wanted them to be a little softer and more neutral, so we decided to bleach them first.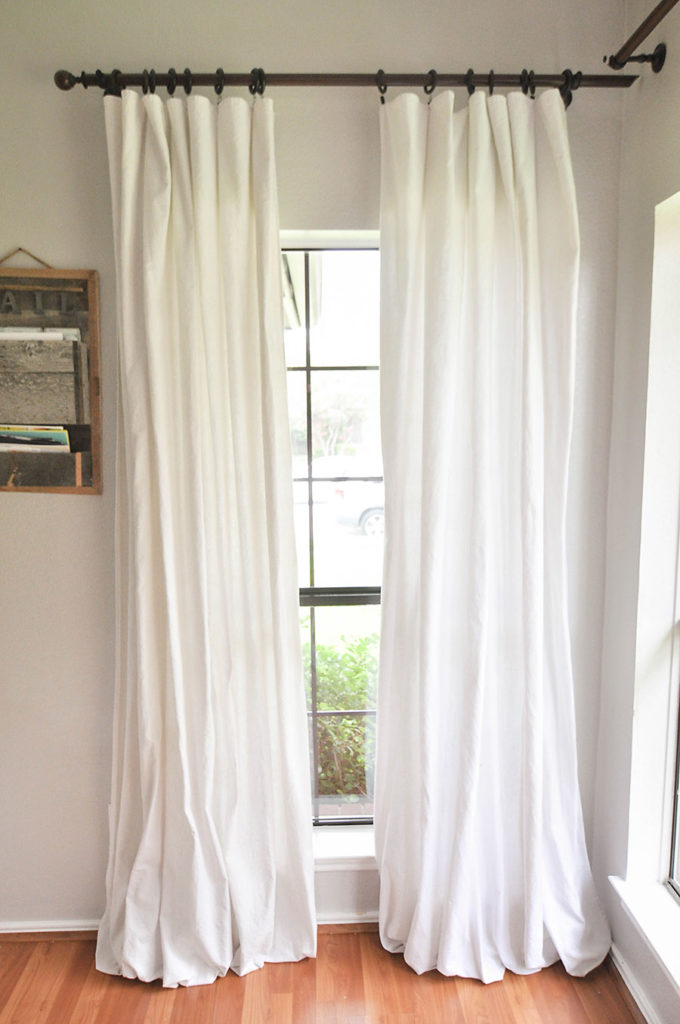 All the bleaching tutorials I found used a washing machine to soak the curtains, but with two kiddos in the house all day I didn't want us to be inhaling chemicals for days. So, we took it outside. Here's how we bleached drop cloths:

Choosing the Right Drop Cloths
We have several large windows in our house, so we are bleaching 8 drop cloths to have a total of 4 window treatments. The first drop cloths we bought from Lowe's had a large seam running horizontal through the middle of the drop cloth. That obviously wouldn't work, so we tried the drop cloths at Home Depot and none of them have that seam.
Here's a link to the drop cloths we used:
If that says the product is unavailable (it seems to keep changing), you can click here and search "5 ft. 9 in. x 8 ft. 9 in. 8 oz. Canvas Drop Cloth". It should be the 'Everbilt' brand in the blue packaging.
We purchased 6×9 drop cloths. We could have saved a few dollars by using the larger 9×12 drop cloths and cutting them in half, but I am no seamstress and I would have added several sewing hours to my project to save about $10…not worth it!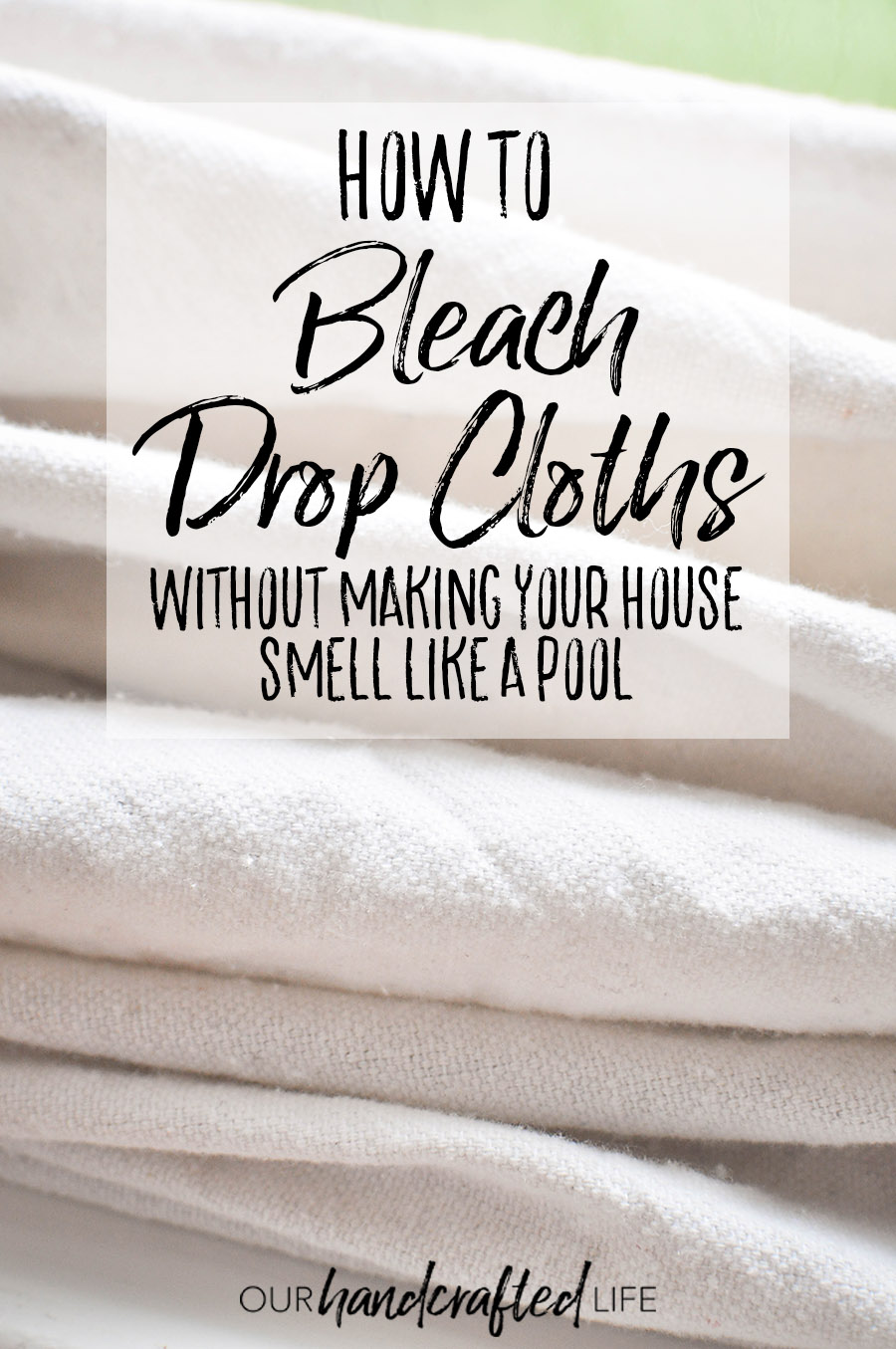 How to Bleach Drop Cloths Outside
To prep, I cleaned out 2 large plastic tubs and filled them halfway with water. I added 8 cups of bleach (1/2 gallon) to each tub and stirred.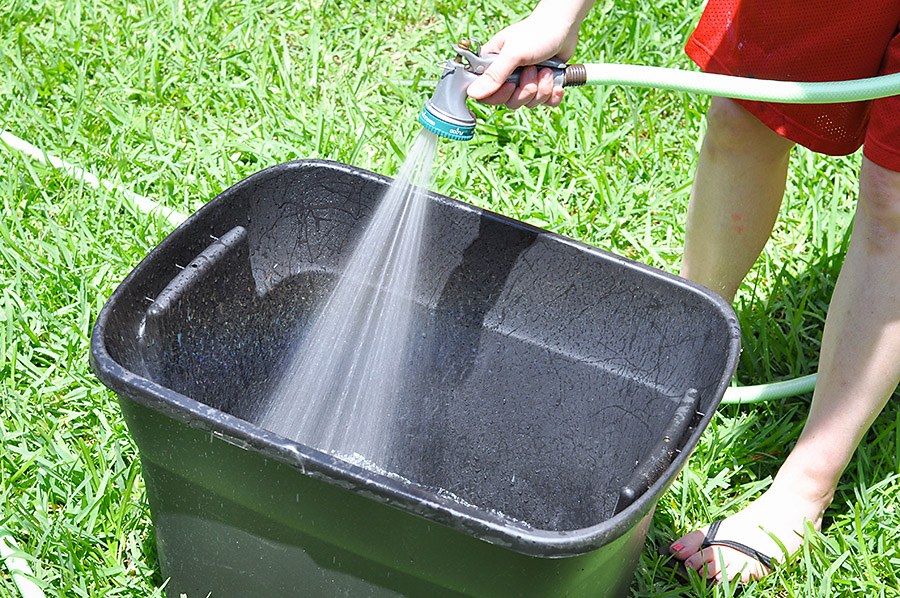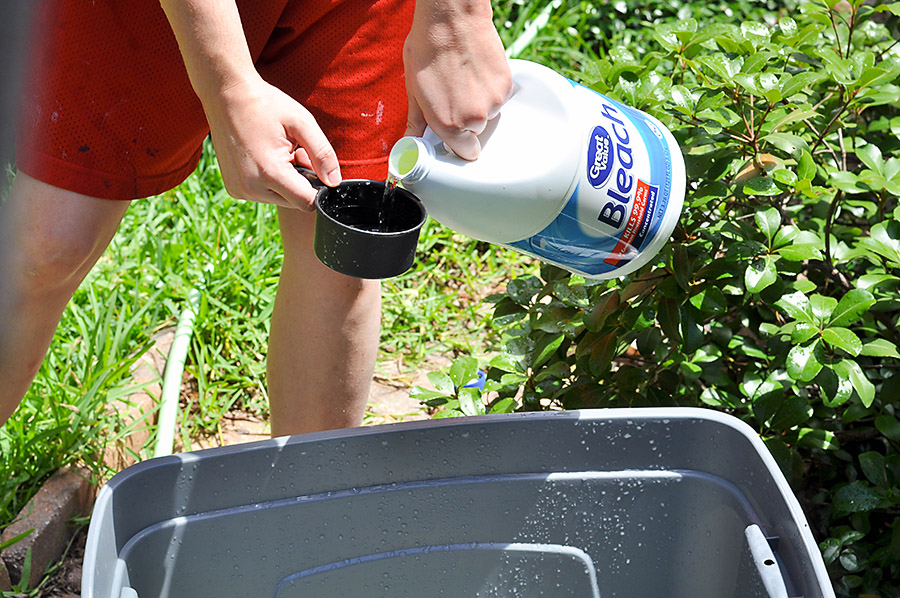 Then I added two drop cloths to each tub, making sure they were both completely covered and saturated. I used a stick to stir to keep the bleach from irritating my skin.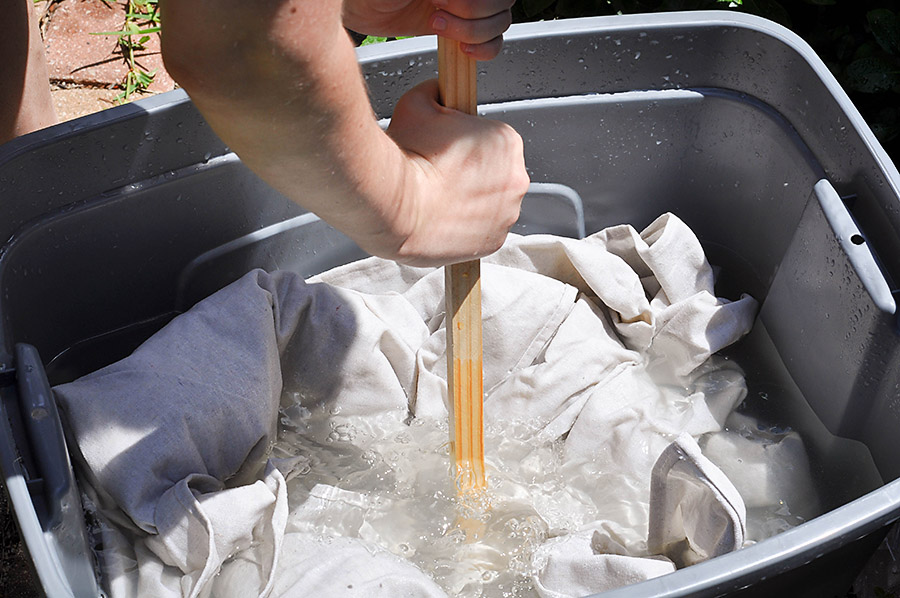 Once the drop cloths are completely covered in the bleach mixture, allow them to sit for at least 3 hours. I let our drop cloths sit for about 7 hours because of timing and they were perfectly fine.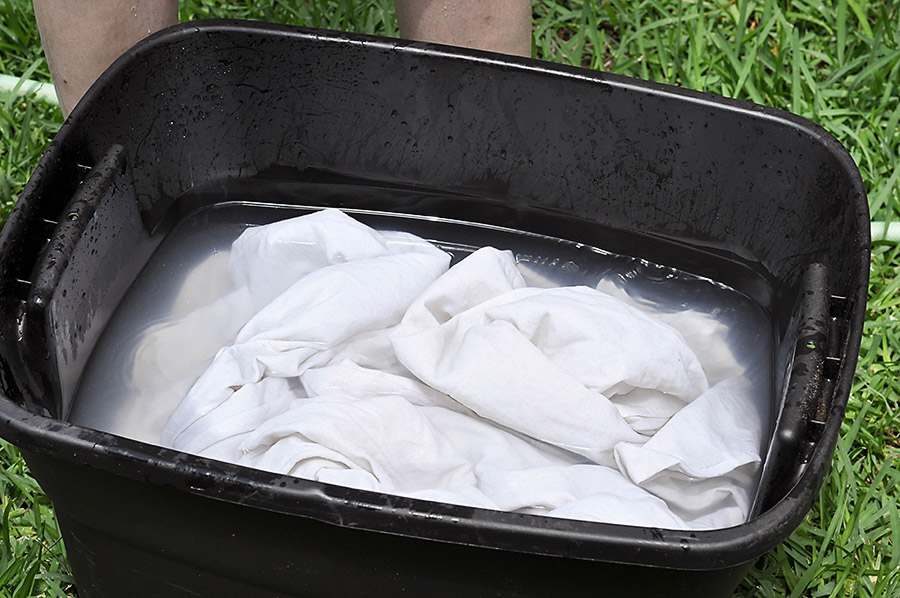 We strung a line across our back yard (you know, because we're fancy) to wash out the cloths. Since houses are often power washed with bleach, we decided this very diluted mixture wouldn't be too bad for our lawn.
We hung each drop cloth on the line, making sure there were no wrinkles. Then we sprayed them to remove the bleach.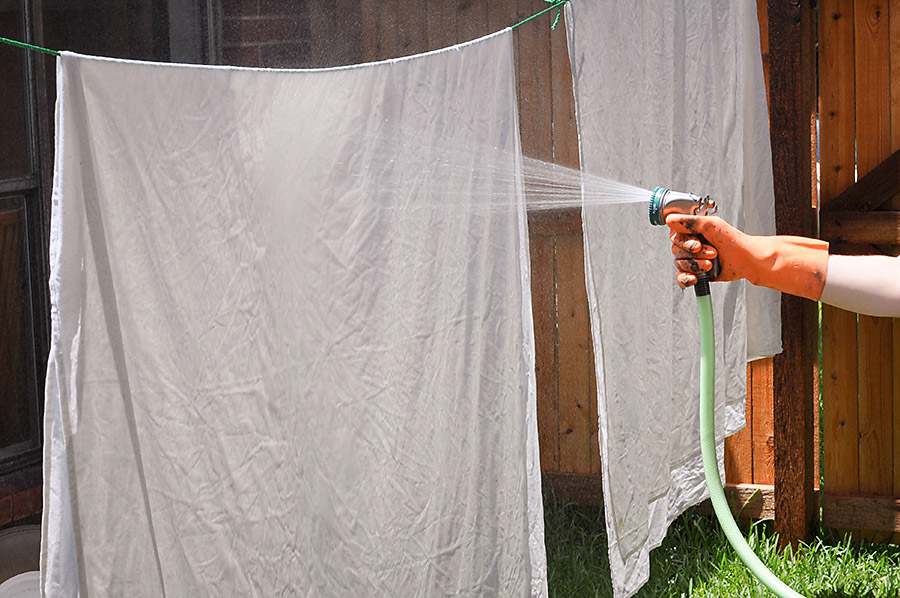 (If you happen to have a little helper who watches you through the window, stop here and think about how stinkin' cute they are)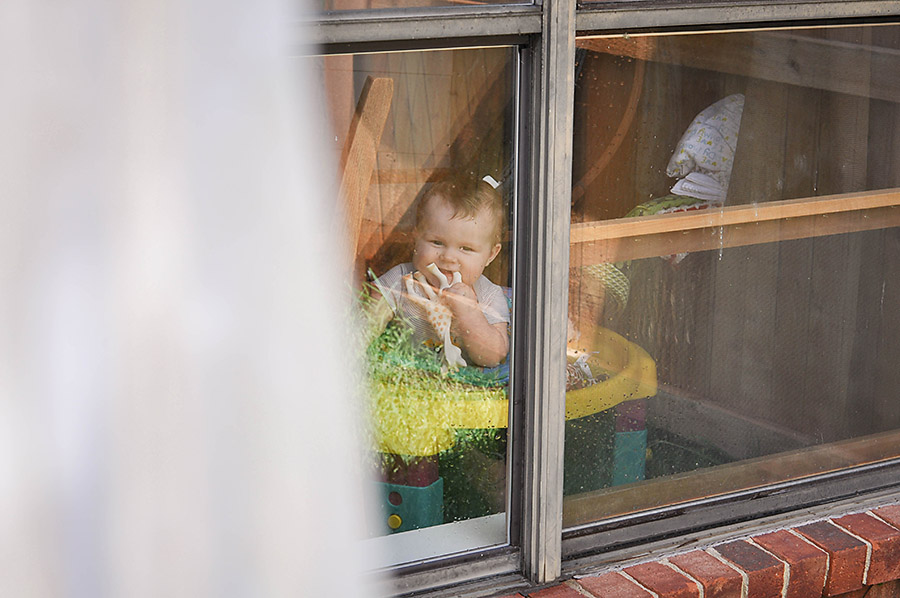 Then I cleaned out a third plastic tub, filled it halfway with water, and added some vinegar. I submerged the rinsed out drop cloths in the vinegar mixture to neutralize the bleach. If you skip this step, the bleach may keep working and deteriorate your fabric over time.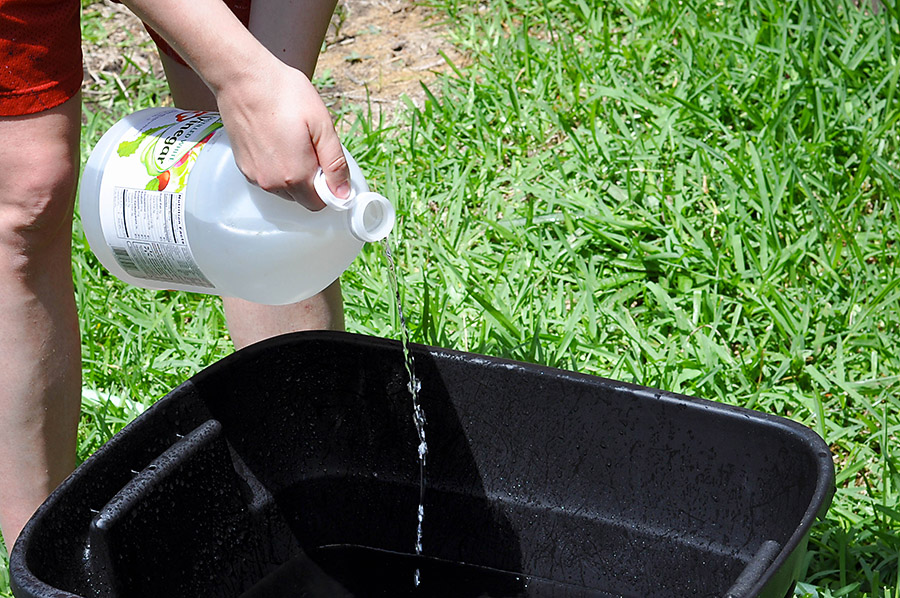 After letting it soak in the vinegar mixture, I rung the curtains out and took them to the washing machine. I washed each curtain in a cycle with no detergent, then a cycle with detergent. Then I threw them in the dryer with a dryer sheet.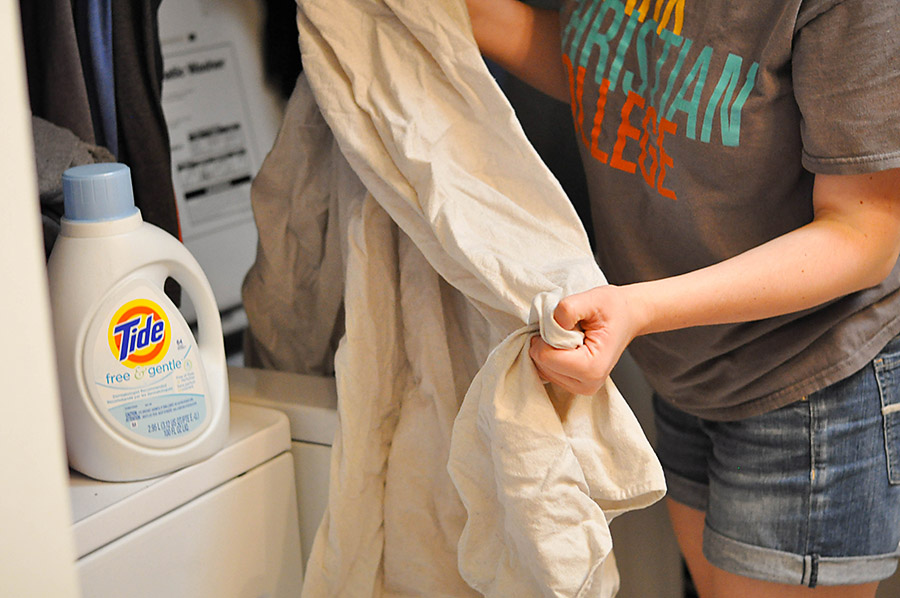 DIY No-Sew Bleached Drop Cloth Curtains
Oh my…when they came out of the dryer I could not contain my excitement! They are so soft and gorgeous. Their texture and dreamy color look like linen, but with a slightly worn, vintage feel. The drop cloth curtains would certainly fit in any Joanna Gaines design plan.
Here's a video of the whole process:
It is so much brighter throughout our house. I am thrilled!
Coming soon – I'll share how my hubby updated our curtain rods with pipe and distressed wood corbels. You won't want to miss it – subscribe below to get our monthly newsletter with all the latest posts!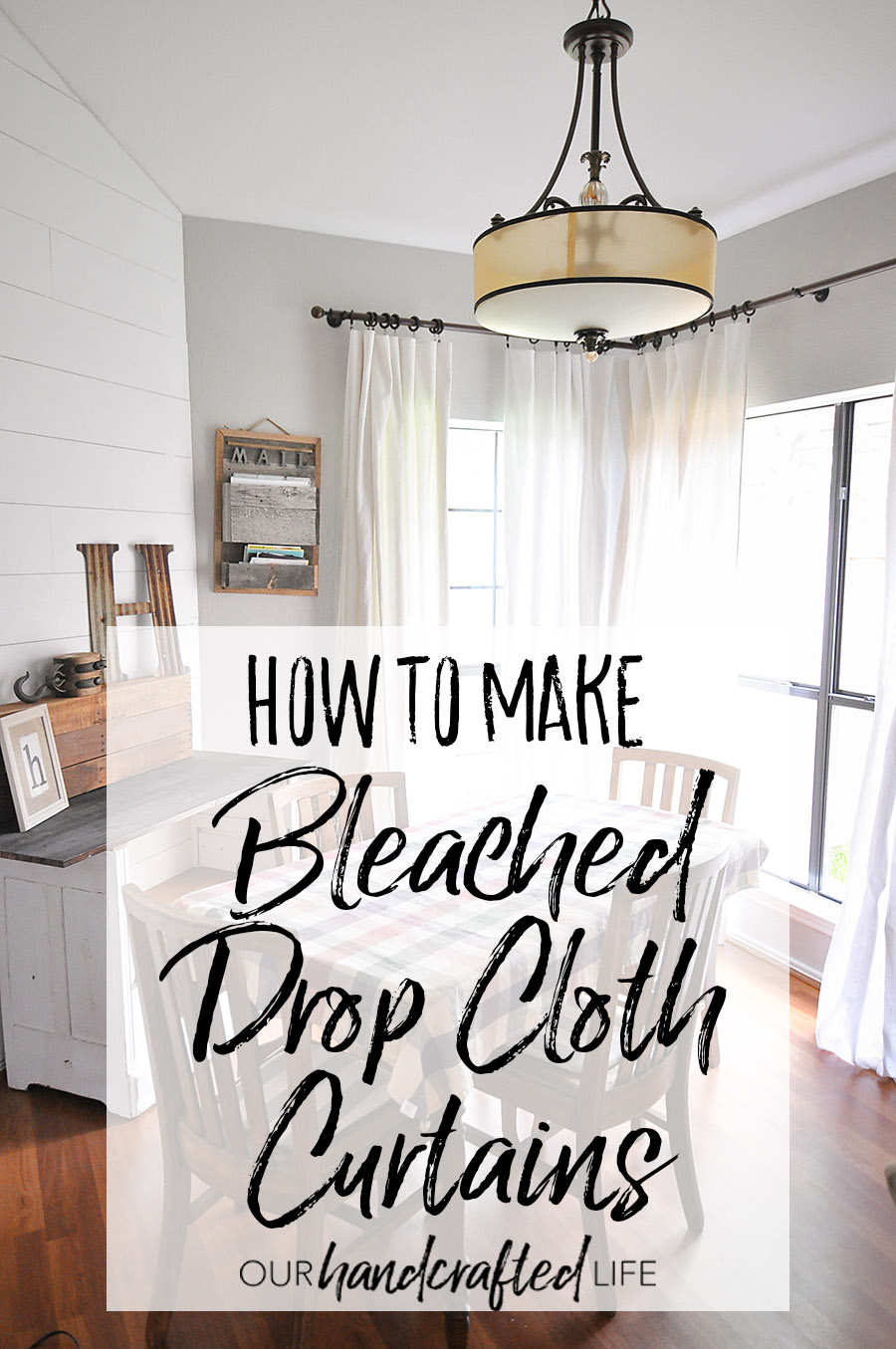 SaveSave
SaveSaveSaveSave
SaveSave
SaveSave
SaveSave
Subscribe to the Newsletter for Free Updates
Subscribe to get DIY projects, recipes, and tips to live simply and create beautiful things delivered right to your inbox.