One of my most popular posts ever is Top 10 Must Haves for a Baby 6-12 Months Old and I can understand why! Trying to figure out exactly what a baby needs is overwhelming. You'll find dozens of lists on Pinterest chock full of tons of (very expensive) must haves. But a wipe warmer? Diaper pail? What does a baby really need and what's going to go on Facebook marketplace unused in 3 months?
Well, I'm about one month away from having my third child and I'll tell you what's going on my registry this time – only the most useful things! These things are what's on my registry or what has lasted through the last two babies (and Marie Kondo cleaning!) that I'm still using with my third.
This is the tried and true baby gear you will come back to over and over again.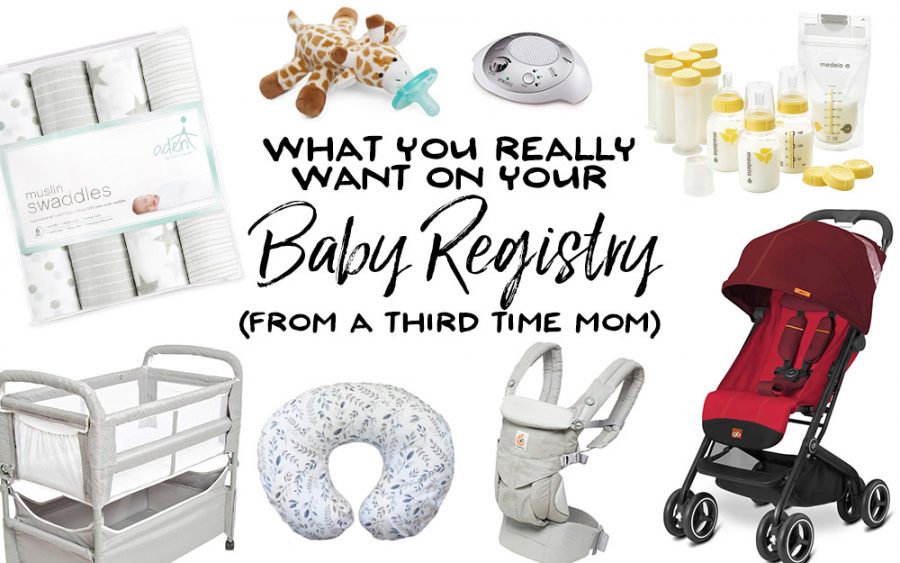 What a Third Time Mom Puts on a Baby Registry (The REAL Must Haves!)
If you're only going to spend good money on one thing, please make it a high quality baby carrier! The Ergobaby carrier will absolutely save your back as your kiddo gets older.
Even if you didn't use a carrier much with your first, you will definitely want one for your second (and beyond). You can just carry the car seat when you only have one, but you're going to need both hands to wrangle your other kids.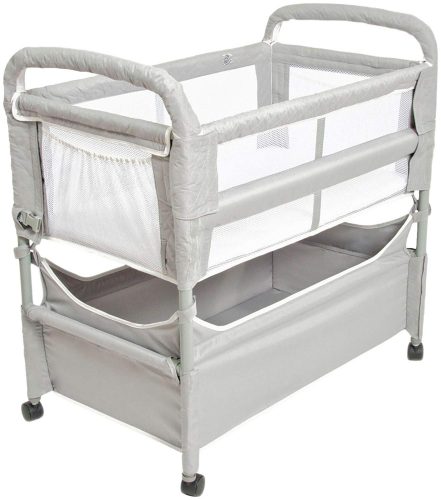 Every mom-to-be knows that safe sleep is one of the most important things to think about. Everyone is endlessly debating back-to-sleep, co-sleeping, and inclined sleeping. But you know what no one talks about? Space for all of this stuff!
Our babies sleep in our bedroom for at least the first 6 months. They say it's safer, but really I'm just not willing to trek upstairs 3-5 times a night to get to her nursery to feed her during those first few months! I've got two other kids at home, so I need some sleep! Also, there is no way we have room in our bedroom for a full-sized crib.
We have found the perfect solution in the Arm's Reach Co-Sleeper. It's the same size as a bassinet, but it attaches to your bedside. The side rail lowers so that you can easily reach in and get baby without even getting out of bed. I can quickly feed her at night and then put her back to sleep on her own sleep surface.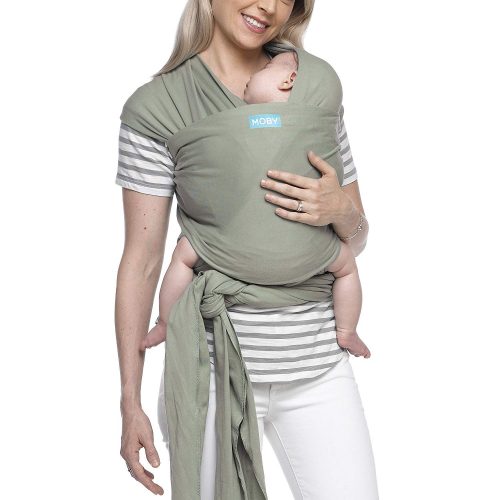 For the first couple of months, when the baby is really tiny, I have found the Moby Wrap to be my constant companion. It works so much better than any infant insert I've found at keeping baby close and feeling secure. There's a definite learning curve to putting on the Moby Wrap, but it will only take a few tries before it becomes second nature.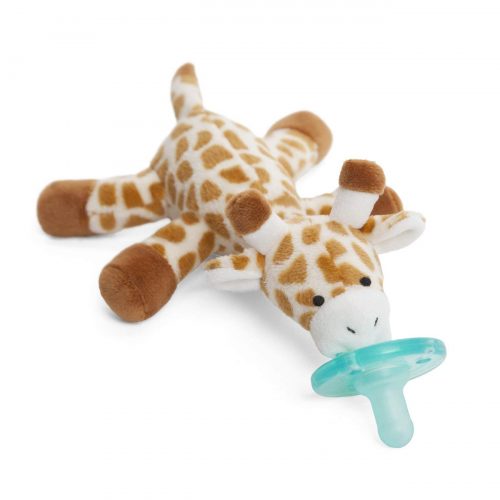 As much as I didn't want these little pacifiers to work ($14 for a paci!? Are you kidding me!?), the Wubbanub pacifiers really are the best. The little stuffed animal makes it harder for the pacifier to fall out at night and easier for babies to find themselves if it does fall out. My daughter didn't use her paci much (she was a thumb sucker), but my son couldn't sleep without one.
I stocked up on several for this baby when they were on clearance just in case – so don't judge me if you see my baby with a Christmas pacifier around the 4th of July!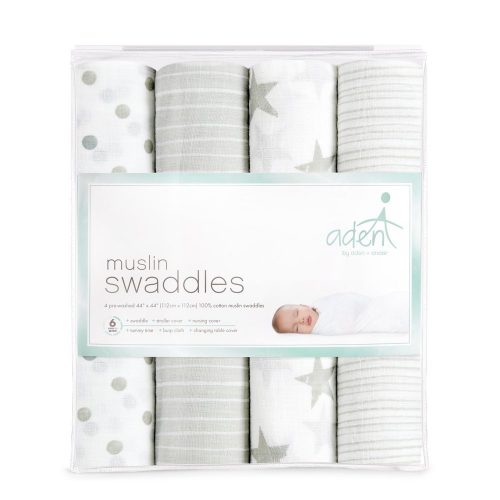 I know there are so many swaddle blankets on the market, but Aden and Anias blankets are the ones that last. These lightweight muslin blankets are the perfect size for swaddling. In our house, they function as blankets, car seat covers, nursing covers, and even changing pads in a pinch.
They are large enough that my toddler still used them as a lightweight blanket last summer.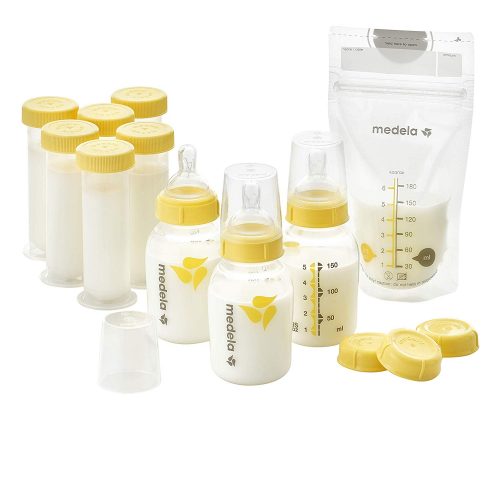 You can spend hundreds of dollars on the speciality bottles with a million parts to clean if you want, but my kids have both been perfectly fine with the Medela bottles that attach directly to my breast pump. I grab a new variety pack of Madela bottles with some extra nipples in slow flow and medium flow for each new baby and call it a day!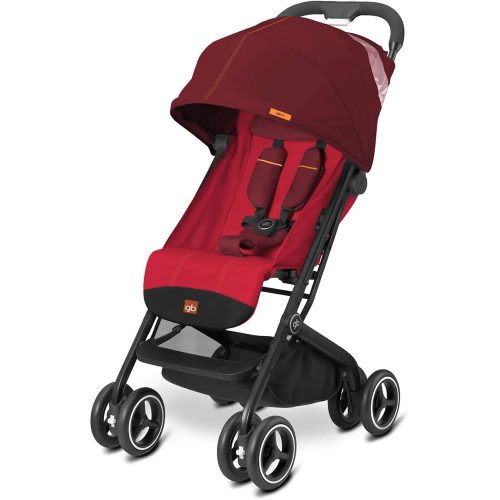 Not just any stroller! If you're wrangling kids, you want a stroller that is easy to use, compact, and lightweight. The perfect solution for us has been the QBit +.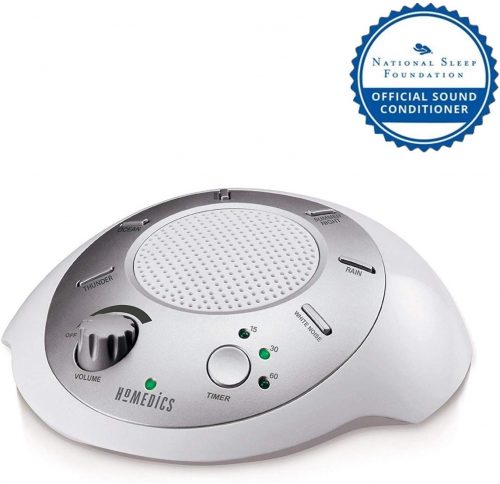 Our sound machine is another product that we use at birth and still use with our 6-year-old!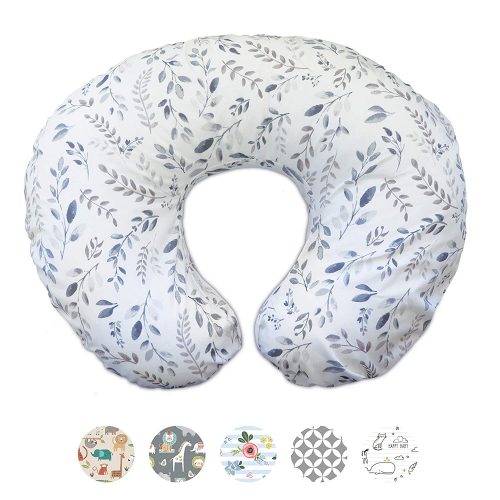 A breastfeeding pillow will make your life so much easier if you plan to nurse. I love my Boppy nursing pillow, but I've also heard great things about My Breast Friend, especially for taller women or women who need a little more support after a c-section.
Board Books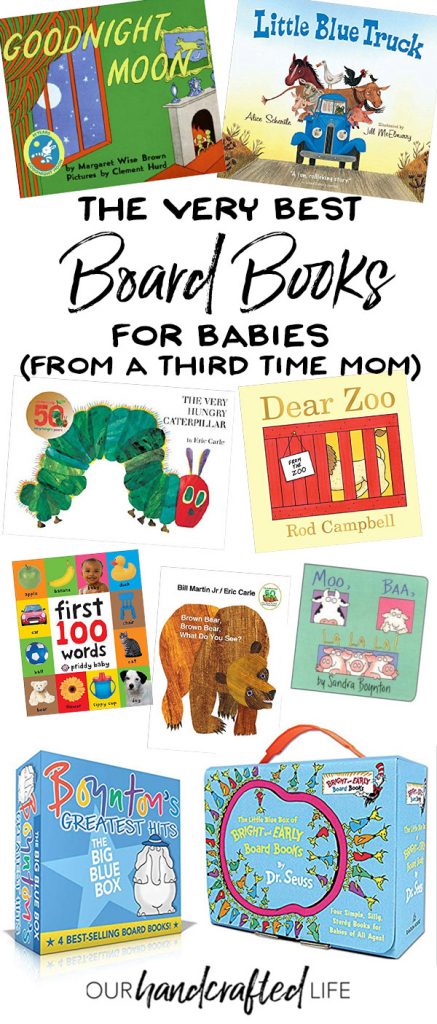 In case you didn't know, kids are really destructive – especially toddlers who are avoiding a nap. For that reason, I usually try to get some fresh board books for a new baby. Books are one thing my whole family loves, so I can start reading a book to one child and the other one will come running over and plop down to listen. My daughter is almost able to read books to the new baby on her own, so I'm getting a few special ones for them to share together. Here are some of our favorites (and ones that should be on every baby's bookshelf!):
What clothes do I really need for a new baby?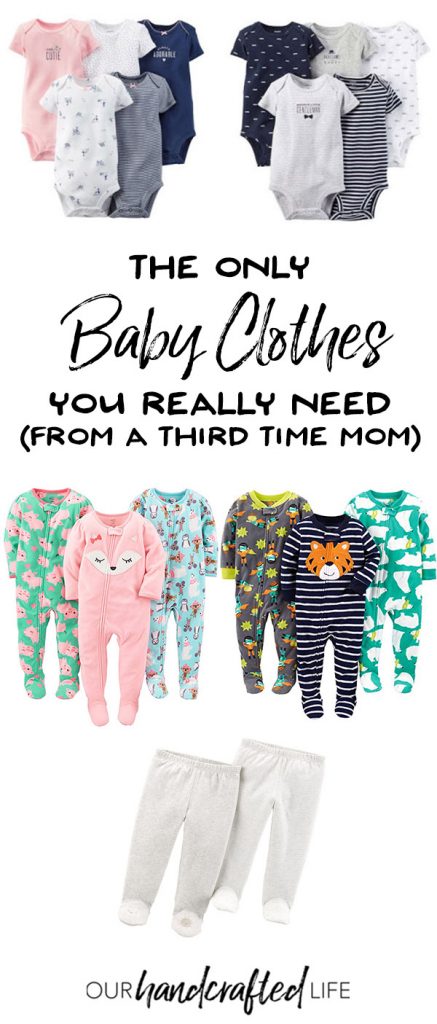 I didn't really want to include clothes because I've never really registered for them, but I do have pretty strong opinions about baby clothes. Cute clothes are nice and everything, but with three kids I don't have the space to store dozens of specialty outfits in every size.
There are three main clothes categories I buy when babies are little:
Onesies – I get lots of onesies because we go through them like crazy. They are worn under just about everything. If you go for the Carter's packs of onesies, they will wash up better and you can save them for multiple kids.
Sleep-and-Plays – Sometimes called sleepers or pajamas, my kids wear these for 80% of their first few months. I really like the ones that have snaps all the way up (instead of zippers), so they don't have to be completely undressed for every diaper change.
Footie Pants – Want to know what I hate more than anything? Baby socks. I couldn't keep track of baby socks when I only had one child, so there is no way I can manage it with three! My solution is these pants that have the feet attached to the bottom. They're adorable and I don't have to worry about socks or shoes for the baby.
If you want a great checklist for buying clothes to use for a baby and even into a toddler and big kid, I shared my Baby Clothes Checklist. You can download it for free!
What new baby gear am I trying in 2020?
Of course, it has been a long time since I had my first kiddo and lots of new baby gear has been released since then. There are a few things I'm trying with this one just to see if they're as good as their marketing suggests!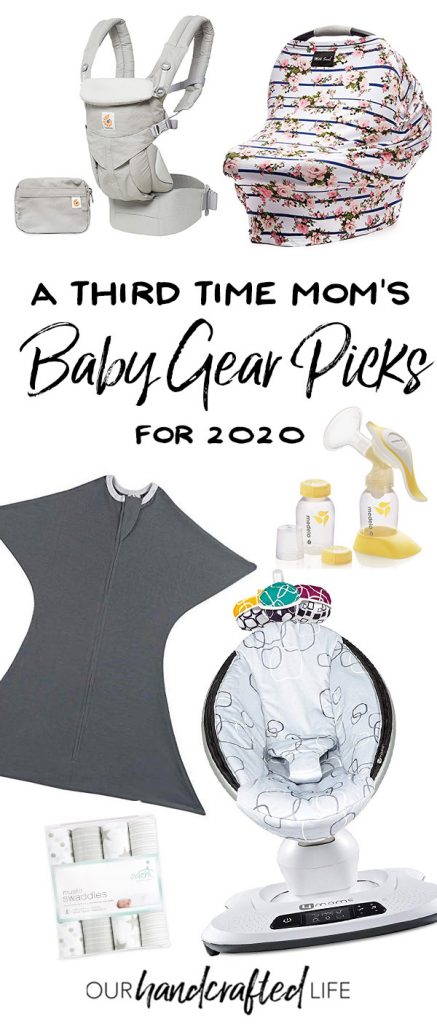 Things I Don't Need for a Baby
Wondering what didn't make this list? These are the things other people say you need that are not on my list of must-haves.
Expensive diaper bag – We just use a nice backpack.
Diaper Pail – It's called a trash can.
Wipe Warmer – Cold bottoms for us!
Swaddles with velcro – Baby needs a diaper change in the middle of the night? Let's wake them up even more with the terrifying sound of velcro at 3am!
Bumbo – My OT friends tell me it's not a good idea for baby to be sitting up before they're ready developmentally. Mostly it's just that my kid's mega thunder thighs would never fit into the seat.
Bottle warmer – I don't have the counter space.
Dedicated baby food maker – I still don't have the counter space.
Changing Table – we've got a floor, but we do use a changing pad like this one.
Tummy time mat – While my first loved this, we never even got it out for my second and wound up selling it. We just put a blanket on the floor and there is no better entertainment than two older siblings.
Baby socks! – (see above)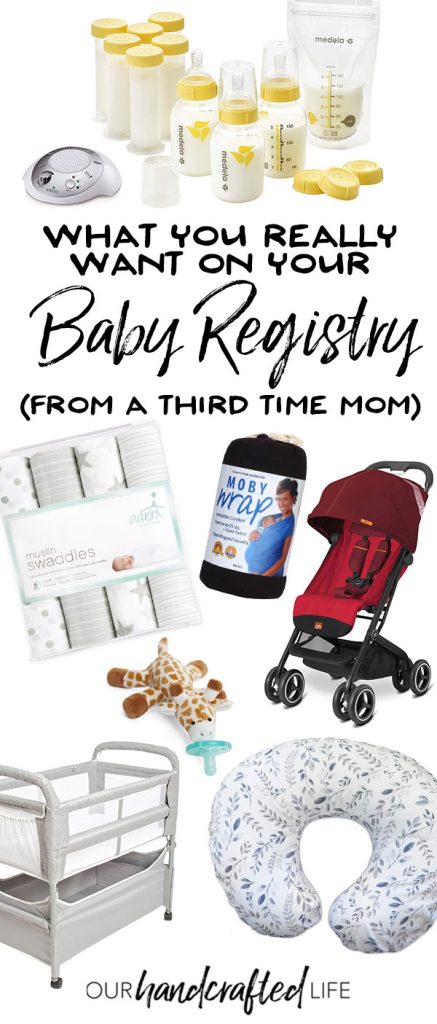 I hope this post was helpful if you have a little one coming soon!
Subscribe to the Newsletter for Free Updates
Subscribe to get DIY projects, recipes, and tips to live simply and create beautiful things delivered right to your inbox.