These are my Top 10 Favorite Baby Toys and Gear for a 6-12 Month Baby. Disclosure: This post contains affiliate links, which help me keep this blog running and you can read more about here. Of course I would NEVER share anything I don't absolutely love and opinions are always 100% my own.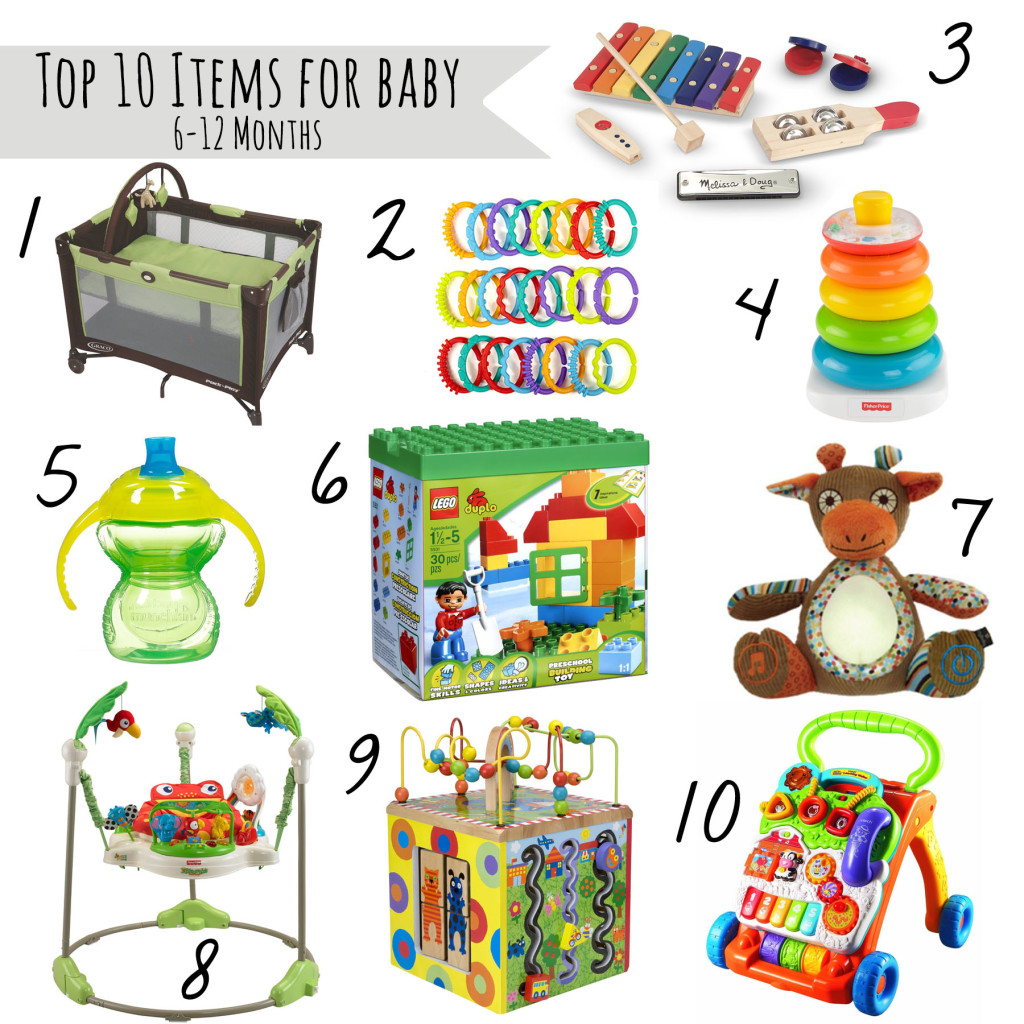 Because I am now the proud mom of a one-year-old, I have LOTS of opinions about baby items and baby gear! Some I am not so fond of (I'm looking at you fussy dresses that button up the back!), but I have lots of favorite products as well. When I made a list of my Top Ten Items for Babies 0-6 Months, I was focused mainly on things that baby could enjoy while being held or lying down.
Whether I like it or not, sometime after six months, my little newborn daughter became a big mobile baby! It seemed like overnight, she suddenly wanted to crawl, play, and explore. No corner of our house was safe and we needed to get some baby friendly toys right away or the state of our house (and my sanity) would be in shambles. So, now that I've had time to figure out what works for our family (and put some of the most annoying toys in the very back of our closet), here is a list of my Top Ten Must Have Items for Babies 6-12 Months Old.
Also, be sure to check out The Ultimate Gift Guide for Toddlers with over 35 gift ideas for 2-3 year olds!
Moms typically think of Pack n' Plays for sleeping infants while they travel, but I love my Pack n' Play for our one year old. I can set her down with a couple of toys in her play yard and go to the bathroom or take a shower and know that she is safe and contained. We have it set up in our bedroom, so it's also a second area for her to sleep safely in when we have guests who need to stay in her room. One other way we loved using our Pack n' Play when she was a little younger is by taking it outside – you can put a sheet over it for some shade and enjoy a bit of safe fun in the sun.
This is the only toy that made my Top Ten list twice! They are still the most versatile toy on the planet – I always have some in the car, in the playpen, in the diaper bag, and probably attached to my wallet. Bright Starts Lots of Links are fun to play with on their own or they can attach toys, blankets, or sippy cups to anything! I said it at 6 months and I'll say it again at one year – they are baby gold.
Our family is very musical – my husband can can sing, play piano, and play guitar. Actually, he can play just about any stringed instrument if you give him ten minutes alone with it! When his family gets together, all the guys whistle in four part harmony. Even his 7-year-old sister can play several chords on a ukulele. While I won't be giving Mariah or Beyonce a run for their money anytime soon, I do love belting Taylor Swift in the shower and dancing around the kitchen singing "Part of Your World". All that to say – we like music in our family.
The Melissa & Doug Beginner Band Set is a fun and easy way to introduce a little one to a love of music. Our daughter loves trying to figure out what each instrument does and stares amazed as we show her how they work. My favorite memory from her first Christmas is singing Jingle Bells as a family while our sweet girl played the bells. Plus, they somehow made these instruments a little softer, so the noise music won't drive you nuts!
This classic toy is a favorite for a reason. The rings of the Rock-a-Stack are easy for little ones to grab and they love pulling them off once mommy or daddy has stacked them. Though they probably won't understand how to stack the rings until they're older, they will love to shake the rattle in the top tier and teethe on all the bright, plastic rings. I have also used these rings to start talking to our daughter about colors. Of course, she has no idea what I'm talking about yet, but a mom can dream!
They may not be very glamorous, but sippy cups have been our saving grace several times throughout the 6-12 month age range. Our little girl didn't understand how to use them at first, but it only took her about a week to understand that she had to lift the cup and sip the drink out. Now I never leave the house without a full sippy cup (and a bib…she is a pretty sloppy drinker!). These little cups have helped us avoid meltdowns in the car, at the doctor's office, and at restaurants.
LEGO Duplos are basically Legos that are bigger to fit in a toddler's little hands! We got a big box of Duplos for our daughter at Christmas (when she was about 10 months old) and they were an instant hit. She doesn't know how to build anything yet, but she loves knocking down the towers that her daddy builds and pulling every single stack of Duplos apart.
I love that my husband likes to get down on the floor and build with her. I also love that these toys can grow with her. As she grows, she will be able to build, sort, and identify colors. They foster imagination, problem solving, and fine motor skills.
They have dozens of sets, so whether our daughter starts liking pirates, animals, or Disney Princesses, we can easily add on to our collection. Because they are high quality, my in-laws still have tubs of Duplos in their basement from when my husband was little that they can get out for the grandkids. If you're looking for a good place to start, we have the Giant Tower, Number Train, and Construction Set. My next purchase will be My First Zoo. Some of the pieces will be too small for little ones, but we have just removed things like the flowers and shovels and we will add them back in as she gets older. (Update: This is still one of our favorites at two years old – Duplos are great investment since they are right at the top of my Ultimate Gift Guide for Toddlers!)
Our daughter had trouble transitioning from our room into our crib, so we got this little stuffed animal to see if it would make a difference. It is made by the same company that makes our favorite sound machine, so she was already familiar with the sounds. The glow on the giraffe's belly produces a soft light that is very comforting. Overall, it is one of my favorite baby purchases, although I will warn you – it eats through batteries like crazy!
Once your little one becomes mobile and moves out of their swing or bouncing seat, you will long for the days when you could lay them on a blanket in the living room knowing they couldn't even roll away. The jumper has been my best friend on days when I need a couple of minutes to do the dishes or flip a load of laundry. My daughter loves this Rainforest Jumper from Fisher Price.
We don't actually have an activity cube at home (Update: We got this one and we LOVE it!), but it is our daughter's favorite thing to play with on the go. She knows exactly where the activity cubes are at the library and at church. She loves manipulating the beads and spinning the cogs or alphabet blocks on the side. I love that she can play with it standing up or sitting down and that multiple kids can play with it at once.
This toy hits every point on my mommy checklist. The Sit-to-Stand Learning Walker is brilliantly designed and one of my daughter's favorites. One of my favorite things about this little wonder is that it has two traction levels, so that when a baby is learning to walk they don't immediately fall on their face because the wheels spin too fast.
The other thing that sets this toy apart is the ability to remove the whole play panel. You can take it to a friend's house for a play date or even on a long trip in the car – brilliant! When she's a little older, this toy will teach shapes, animals, colors, and numbers, but for now she loves to rattle the phone, remove the shapes, and push all the buttons.
Those are top ten favorite items for babies 6-12 months! Did I leave any out? What is the one item you and your little one loved most at this age?
Pin This for Later: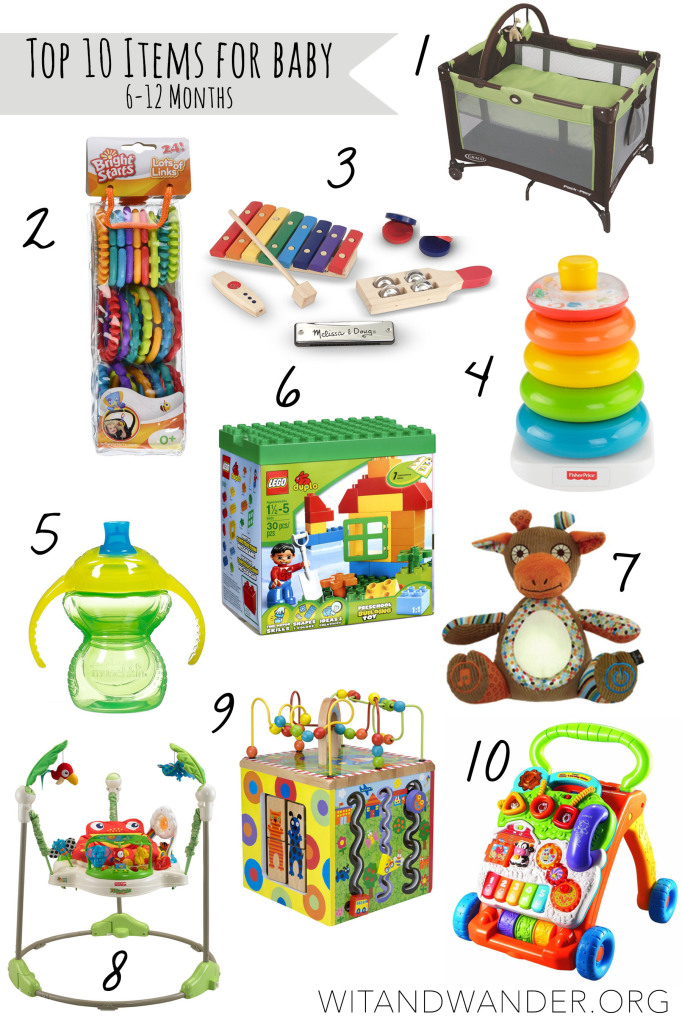 –
Like what you see on our blog? Join our mailing list to receive emails with freebies, projects, coupons and decor ideas to help you live a creative and joy-filled life. You can also follow us on Facebook, Twitter and Pinterest.