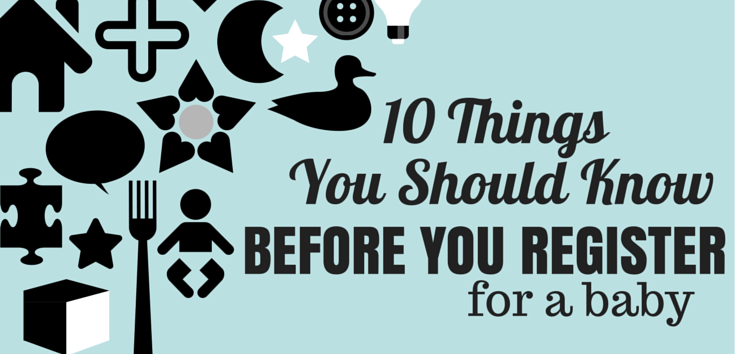 When you walk into a store to register for your first baby or purchase a gift for a friend's baby shower, you immediately walk through at least 15 'must-have' items for babies. Now there are lots of things that babies do need – I talked about our favorite things for 0-6 Months and 6-12 Months, but most of the things big box stores thing you need to have in your house should come with some advance warning. I'm not saying all of these items are completely bad – there are just a few things parents should know before they add these items to their wish list or baby registry.
1. Not all musical toys have 'off' buttons.
I feel like by 2015, toy companies should have realized that the one thing a parent looks for on a toy that makes noise is an 'off' button, but they have not. So, one night around 1:00am when my hubby was finally coming to bed, he walked through our dark and empty living room to hear one of her little toys say (in the creepiest little kid voice you can imagine) "Come play with me!" Needless to say that toy went to the dumpster the next morning and now we always make sure her toys have off buttons!
2. Board Books can be ruined, too.
Children's book marketers seem to think that board books are these super-natural, indestructible beings, but like most other things in my house, our daughter has managed to destroy them. Never underestimate the power of a teething baby! Let's just say Brown Bear, Brown Bear is missing an ear. We love books, so I am not suggesting you sacrifice books until your baby knows how to handle her teeth. I would just recommend looking for board books at used book stores, garage sales, and consignment sales. They can be cleaned with a solution of water and white vinegar or a disinfecting wipe.
3. Humidifiers are supposed to be cleaned daily and weekly.
The one thing I do not need more of in my life is cleaning. We live in Texas, so the hot and dry climate means we can not afford to skip the humidifier; however, I would toss it in a heart beat if I knew I could get away without one. We have the Crane Humidifier, which I have been pleased with overall. The instructions say to daily empty the water, wipe, and dry the basin and weekly disinfect it with a warm water and vinegar solution. That's a lot of maintenance for one little machine!
4. Sophie the Giraffe is expensive.
This glorified chew toy was actually one of my favorite baby items, but I also had to recognize that it was expensive. At almost $20 for a teething toy, it was important that this one lasted. I purchased another (much cheaper) teething toy to take with us on trips and in the stroller that would be easier to replace if it got lost or damaged. That being said, we still used her enough that I would definitely still put Sophie the Giraffe on my next registry.
5. Diaper Pails require replacement bags.
We are a 'small trashcan and Walmart sacks' kind of family for one important reason: replacement bags. A Diaper Genie sounds great in the store until you get home and realize you will be paying money every month for  specialized replacement trash bags. Word on the street is that their 'odor protection' also has a pretty short shelf life, so you will likely also be purchasing diaper pail deodorizers. We decided it was just as easy to take out the trash when it got stinky. My husband is a genius, though, so he devised a plan to layer several plastic sacks into our little trash can so he doesn't even have to get new bags when he takes out the trash – DIY Diaper Pail!
6. You have to be able to lift the car seat plus the baby.
There is so much to consider when choosing a car seat, one thing we didn't think to check was the weight. It is one of my biggest registry regrets. With current car seat regulations, your little one might be in that infant car seat until they are 30+ pounds. Consider carrying that weight plus a 10 pound car seat and you are looking at carrying about 40 pounds in one arm with baby alone. We had to move our daughter up to the convertible car seat earlier than we would have liked because it just got too heavy to carry her in the infant car seat.
7. Anything with lights and sounds requires batteries.
This seems like it should be a no-brainer, but I could not even begin to comprehend the number of batteries we have gone through in our daughter's first year. It's insane! Little pianos, crib soothers, play tables, swings, bouncers, and more – it seems like our house is filled with battery eating monsters. We have tried to combat this by having lots of non-battery-powered toys like puzzles, books, Fisher Price Little People, and LEGO Duplos, then adding in a few of her battery powered goodies at a time.
8. Swings, bouncers, high chars, and play pens take up a lot of floor space.
Unless you live in a mansion or enjoy stepping over mountains of baby items, it's important to think about floor space when choosing baby items. Some things like swings and high chairs can have a pretty big footprint. We choose a smaller swing and a high chair that secures onto a regular chair to help save space, but we now have a quarter of our bedroom filled with a play pen. Also, don't forget that when your baby outgrows that item in about 6 months, you have to find a place to store it!
9. Babies will grow faster than you think.
I know this has been said over and over again, but it's important to remember when shopping for your little one. When our sweet girl was about 3 months old, she suddenly decided she liked the toys that were hanging from her toy bar. I had finally found something she enjoyed, so I went crazy. I researched everything I could find and bought several different kinds of the best hanging toys on the market. By the time I had finally found the 'perfect' ones, she had already moved on to her next phase. Now I am a little more savvy – when purchasing a toy, I never put too much stock in her daily 'likes' because they will probably change tomorrow. I buy classic, well-made toys and I tend to purchase slightly above her current age range so she can enjoy it a little longer.
10. Not all strollers can be collapsed with one hand.
It may not seem like a big deal when you're pregnant in the store, but when you have a baby in one arm and a diaper bag in the other you will want to be able to collapse your stroller with one hand. We have the Graco LiteRider, which I can collapse and get into the trunk of the car with one hand – it has been a lifesaver!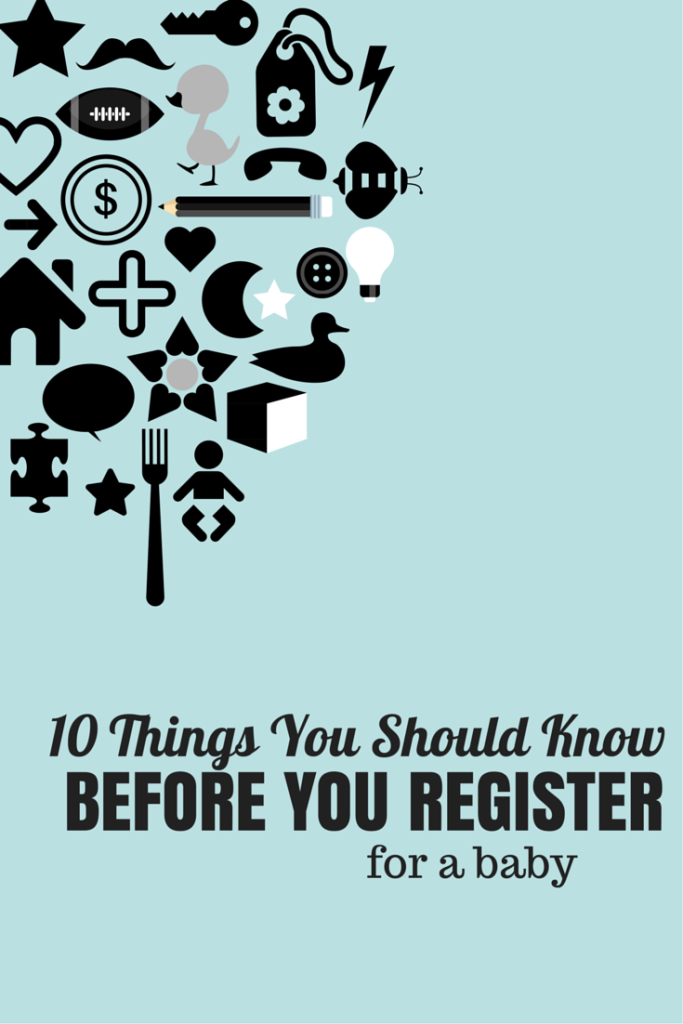 There you have it – 10 Things You Should Know Before You Register for Baby. Share in the comments what you wish you would have known before you registered for your first baby shower!