The Ultimate Gift Guide for Toddlers. This ultimate gift guide is packed full of 25+ amazing gift ideas for every toddler. This post may contain affiliate links, which means if you purchase from one of these links your cost is the same but it helps support this site and the free content we share. See our full disclosures here.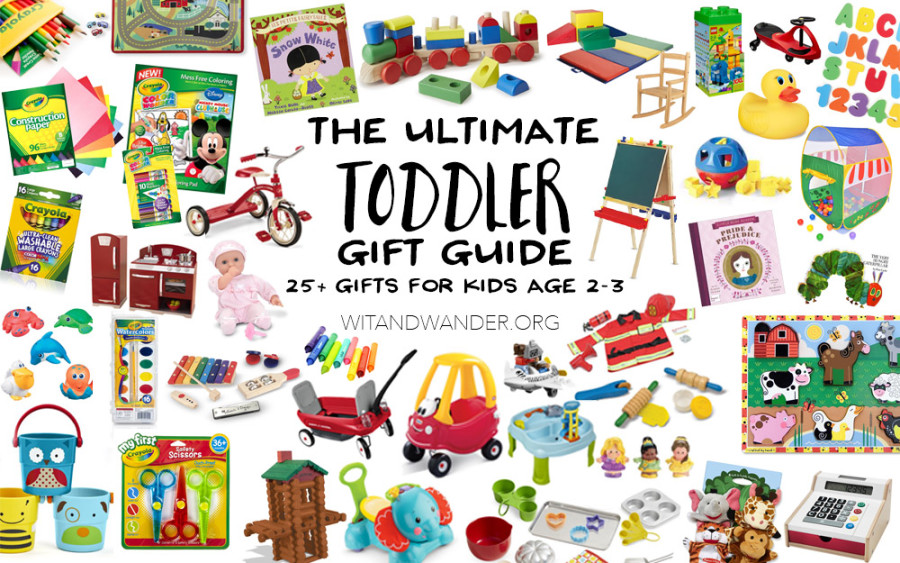 It's officially November, which means I'm allowed to start thinking about Christmas! (alright, alright, I've been thinking about it since July…) I'm a mama, which means I love thinking about Christmas with my little girl, so here is The Ultimate Gift Guide for Toddlers with 25+ unique, creative, and practical gift ideas for kids age 2-3!
Click here to pin this gift guide to Pinterest!
The Big One
Play Kitchen and Food – There are so many different kinds of play kitchens, and they are all wonderful for encouraging pretend play. My personal favorite is this Red Retro Kitchen and Refrigerator because it comes in two parts to easily fit into different spaces. Toddlers don't need too many accessories to go with their play kitchen. A few great pieces to start with are play food you can cut or a box of fruit to put in their cabinets, some pots and pans, and a set of dishes.
Doll House – Just like kitchens, there are dozens of doll houses to choose from and it really comes down to personal preference. I have my eye on this vintage Little Tikes Play House, but I also love this Hi-Rise Dollhouse that comes complete with furniture (and an elevator!) and a lot of room for imagination.
Sand/Water Table – My almost two-year-old asks to go "owside" every. single. day. The main reason is because of her standing sand and water table. Yes, sometimes it's a total mess, but we usually choose to play right before bath time so I don't have to worry.
Learning Cube – There's a reason these bead maze cubes are in every library and play space. Toddlers love them! With five different activities, they can come back to each side for a totally different play experience. We have this one and my toddler loves to play peek-a-boo with the animals on the side.
Wood Blocks – Wood Blocks are the perfect toy. They encourage imagination and the possibilities are endless. For now toddlers will likely build towers and knock them down, but eventually they can create whole worlds with these little blocks.
Tricycle – Of course, a classic gift for several generations has been the Radio Flyer Tricycle. There's a reason it's a classic, this trike is well-made and will last forever!
Easel and Art Supplies – Encouraging creativity in toddlers is so important and getting them an easel and some art supplies would definitely spark their creativity!
Radio Flyer Wagon – This wagon is the best! Your toddler will love riding around the neighborhood (and you will love taking it to the flea market…it can haul your kiddos and your treasures!)
Tumbling Mat and Soft Climbing Blocks – This is one of the only gifts on the list that encourages gross motor skills or large, whole body movements. It's so important for toddlers to be active, but it can be hard during the winter months. If you have the space, setting up a little climbing/tumbling area will definitely allow them to be more active while they're stuck inside.
$35 – $50
Lego Duplos – This is definitely the first on my list! Duplos are Lego's younger brother. They have bigger pieces that are easy for little hands to fit together (and pull apart). We have the Giant Tower (a big box of basic pieces), the Number Train, and the Photo Safari.
Magna-Tiles – This is a building set that is created for open-ended play. Little ones can create cubes, pyramids, and other geometric shapes with these colorful tiles.
Ride On Toys – My toddler spends most of her day on this Bounce, Stride, and Ride Elephant. It has cute songs and she can easily move it across the room. Another excellent ride on option is the Plasmacar, which has no gears, batteries, or pedals. You move the toy simply by steering it.
Rocking Chair – Whether they're rocking a baby doll to sleep or reading a book in their own special chair, toddlers will love having a chair that's just their size.
Lincoln Logs – Another classic building toy that will spur a toddler's imagination and challenge their hand-eye coordination. A classic like Lincoln Logs will always be in style.
Little Tikes Cozy Coupe – This is another toy that was probably in your driveway growing up, and it's still one of the best ride on toys available. You can't go wrong with a classic like this! (You can even pimp their ride like this or this!)
$20 – $35
Little People – Fisher Price Little People are by far one of my favorite toddler toys. They are the perfect size and they can go with any other set you have. That means you don't actually have to buy the giant plastic Little People play sets, you can just buy the little figurines and they can go into buildings built with blocks, legos, or anything else your toddler can imagine. Of course, our favorite sets of Little People are the Disney Princess Figures and DC Super Heroes.
Musical Instruments – I love this beginner band set. The xylophone is my favorite – the wood makes a nice dull noise so that it actually sounds like music when a toddler starts banging!
Baking Set – This baking set is perfect. It's food grade and dishwasher safe, so it will stand up to whatever a toddler can throw at it! I love that it can be used in a toddler's play kitchen, for real sugar cookies, or with Play Doh!
Baby Doll – This year for Christmas, our daughter will be getting her first baby doll and I can't wait! Also…how are you supposed to avoid buying all of the clothes and accessories? I can't handle the cuteness!
Dress Up Clothes – Toddlers are just starting to play pretend and a great way to foster their imagination is through dress up clothes. Mom Approved Costumes has by far the highest rated princess costumes (just look at this Anna dress – adorable!) and we are huge fans of the Melissa and Doug Fireman, Doctor, and Construction Worker sets.
Around the Town Rug – For some undeniable reason, toddlers love cars. Truthfully, they can turn anything into a town, but if you have the room for a rug, this is a great addition to a toddler's play space.
Play Doh and Shape, Model, And Mold Set – Toddlers love the colors and texture of Play Doh. They might not be making anything recognizable yet, but they will definitely have fun!
Less Than $20
Books – My favorite gifts to find are always books. I love finding new books to add to our little library. A few of our favorites right now are: The Very Hungry Caterpillar, We're Going on a Bear Hunt, and First 100 Animals. This Star Wars Scanimation book isn't actually for toddlers, but it's one of my daughter's favorites right now. Also, if you haven't seen the series Les Petits Fairytales or BabyLit, you must check them out! They are reimagined classics that are perfect for gifts. (Can you tell we love books?)
Play Tent – This play tent is perfect for pretend play and easy to store when it's not in use.
Chunky Puzzles – Our first puzzle was this chunky animal puzzle. She loved to use the animals as dolls before she grasped the concept of the puzzle. Another fun option is this Farm Animals Cube Puzzle. If your little one is recognizing shapes and colors, a tangrams set would be a good investment and they could use it for several years.
Cash Register – As they are starting to learn about numbers, a cash register is a great way to teach number recognition before they can count money. My favorite is this simple cash register from Ikea.
Train Set – For toddlers, a chunky classic wooden train set is perfect for their little hands. This train set from Ikea comes with wooden trains that connect with magnets and a simple track. The Melissa & Doug Stacking Train is another set that parents and toddlers love.
Puppets – Toddlers will go crazy over these sweet animal puppets. They are perfect for encouraging pretend play and storytelling!
Tupperware Shape O Ball – The Tupperware Shape Sorter is a classic. You might have had one at your grandma's house and it's the perfect gift for a toddler. This is the perfect toy to help them learn shapes and hand-eye coordination.
Stocking Stuffers
School Supplies – I stocked up on school supplies during the Back to School sales this year, but you can still find some pretty fabulous deals online. Jumbo crayons, watercolors, colored pencils, washable markers, construction paper, and kid-friendly scissors are all wonderful stocking stuffers!
Bath Toys – If there is one thing most toddlers love, it's bath time! My little one loves these squirt toys, letters and numbers, Skip Hop stacking buckets, or even bath tub crayons to make bath time a little more exciting.
Glow Sticks – Glow Sticks would be so much fun for going out at night to look at Christmas lights to throw in a bathtub for a special glow-in-the-dark bath. You could even get special glow toys like Princess bracelets or a Star Wars Lightsaber.
Color Wonder – These markers will only color on the sheets, making them perfect for traveling or to have around the house. A little set of 10 Mini Markers and a Mickey Mouse or Avengers Color Wonder Book would make a perfect stocking stuffer.
Rubber Ducks – One more bath time toy that would make a sweet stocking stuffer is a rubber duck. Show them this cute video while they're in the tub and they'll fall in love.

What did I miss? Share your best gift ideas for toddlers in the comments below!
—
Like what you see on our blog? Join our mailing list to receive emails with freebies, projects, coupons and decor ideas to help you live a creative and joy-filled life. You can also follow us on Facebook, Twitter and Pinterest.
Subscribe to the Newsletter for Free Updates
Subscribe to get DIY projects, recipes, and tips to live simply and create beautiful things delivered right to your inbox.