How to Plank an Accent Wall – creating a DIY Shiplap accent wall for Less Than $50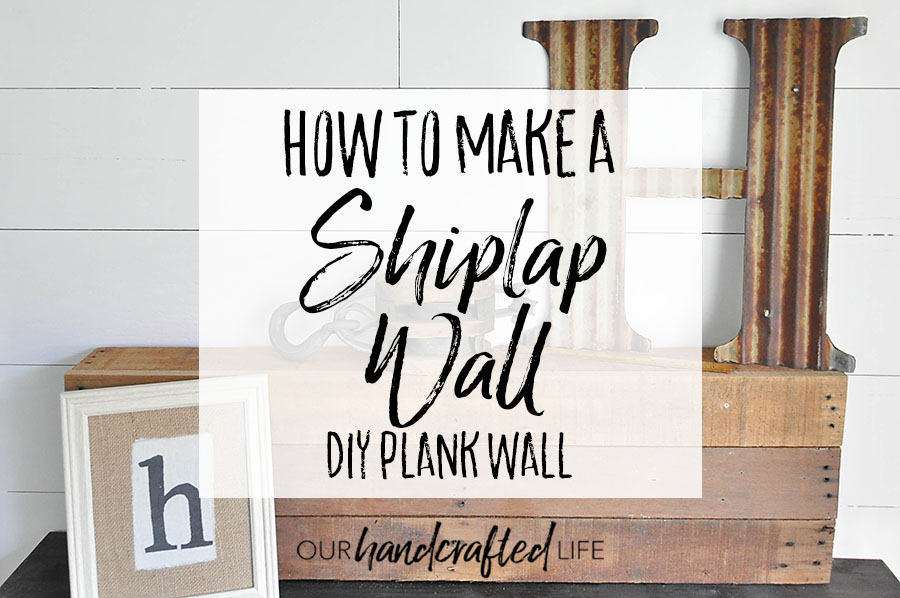 These days everyone knows about Shiplap from my 93 year old grandma to my 3 year old daughter. Joanna Gains has catapulted this humble wood wall paneling material into stardom.
I am not immune to the shiplap disease – in fact I caught the infection right away. I was ready to cover our entire house in shiplap. Thankfully, my husband is able to keep his head when it comes to trends. He convinced me that we should start small in case shiplap goes the way of the popcorn ceiling (who thought that was a good idea!?), so we are starting with an accent wall.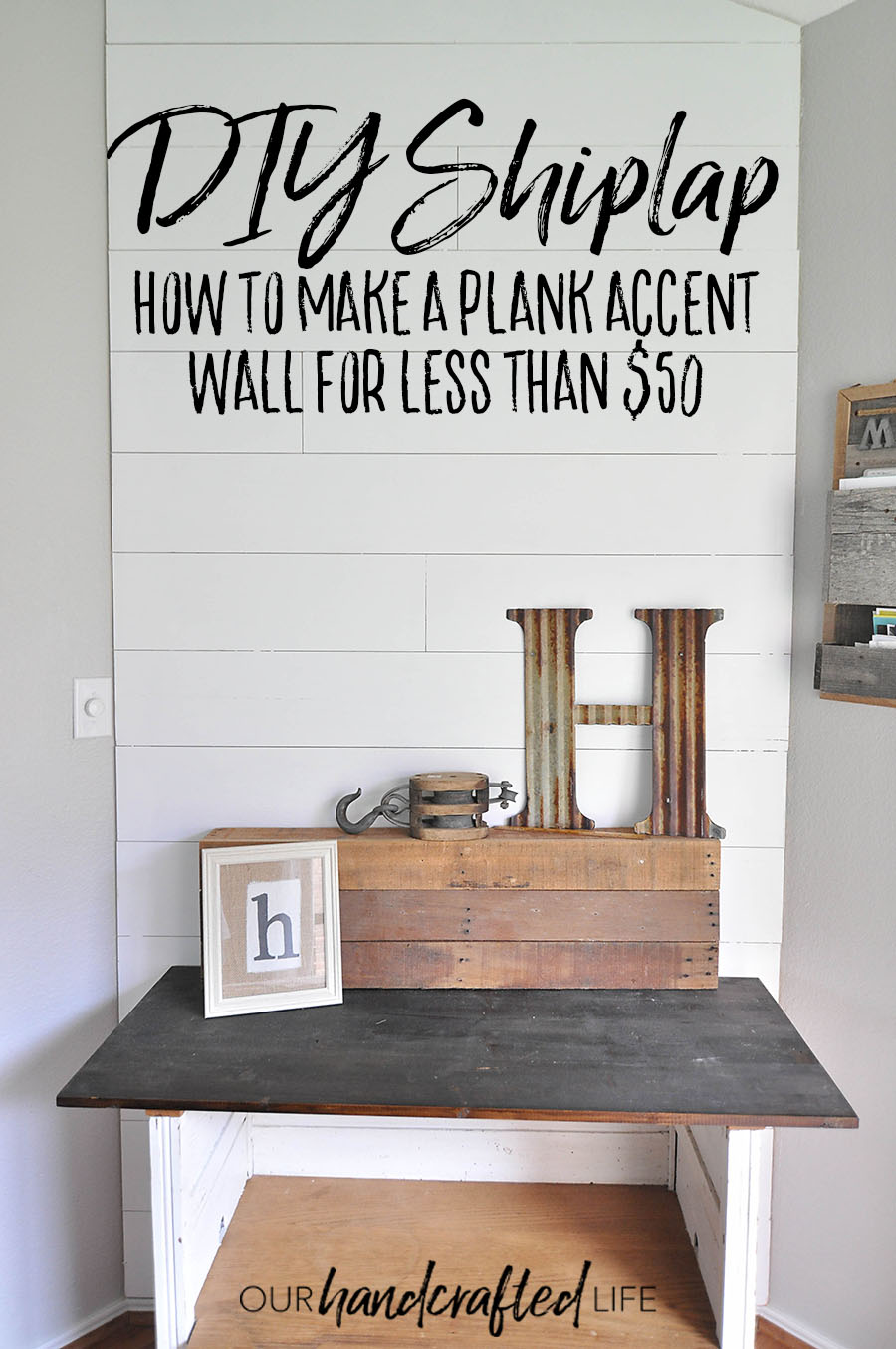 What's the end result? I LOVE it! I'm so glad we didn't shiplap the whole house, but I love the character the little accent wall provides. I'm pretty sure I'm going to let the infection spread to my kitchen (after all, it would go perfectly with my turn of the century Hoosier Cabinet), but we'll take it slow.
Do you have an accent wall that would be perfect with a little DIY shiplap love? Here's how we planked our accent wall to make an easy shiplap wall for less than $50.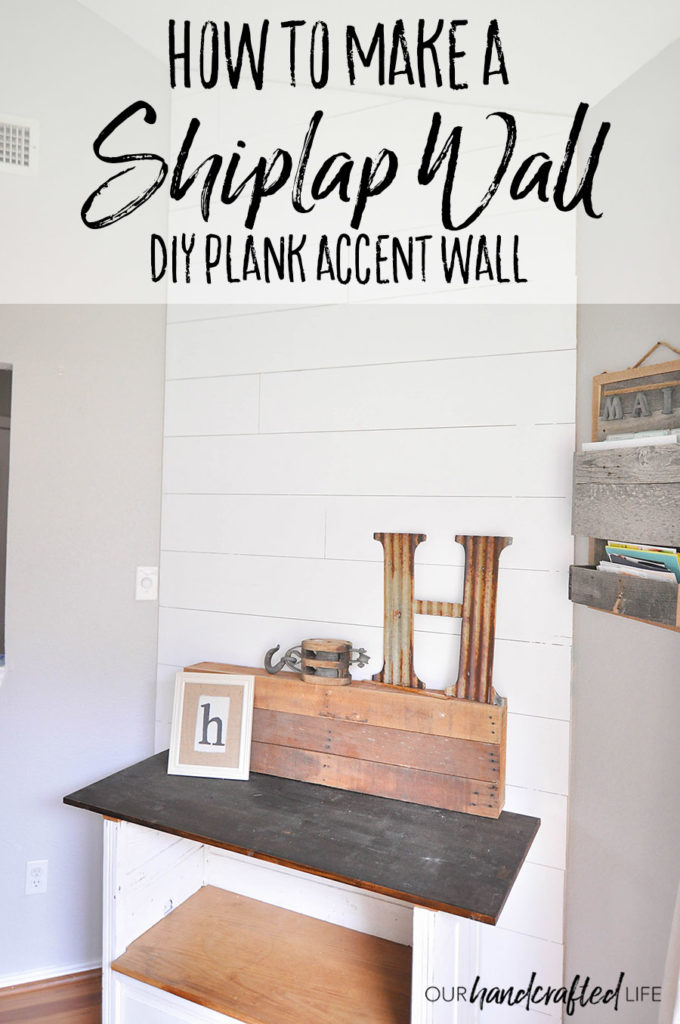 Shiplap vs. Plywood Planks
I wanted to start by explaining why we chose to use plywood planks instead of authentic reclaimed shiplap. I am all about using high quality products, but for this project the choice between using real shiplap and 'faking it' with plywood planks came down to cost.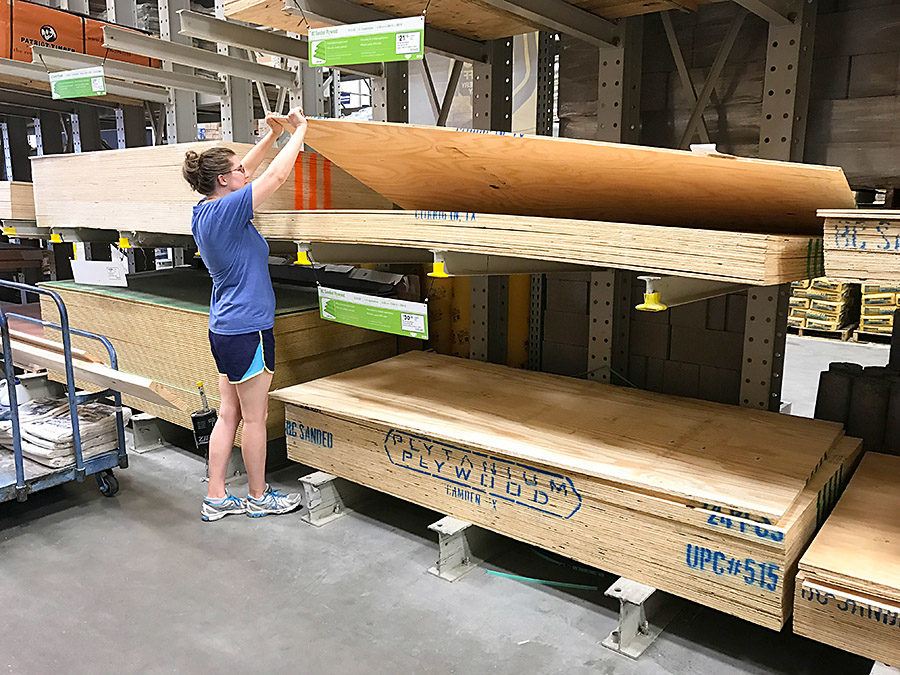 Buying authentic reclaimed shiplap from a salvage company can cost more than $3.50 per square foot. Pine wood planks from a home improvement store will run about $1.75 per square foot. Our DIY Plywood Planks wound up costing about $0.66 per square foot. Honestly, you can't tell the difference once it's been painted. This means we paid less than a quarter of the price for the same look!
Making Plywood Planks into DIY Shiplap
Because our accent wall was so narrow. Our first step was cutting the plywood to fit the width of our wall. If you had a wider area to cover, you would just skip this step.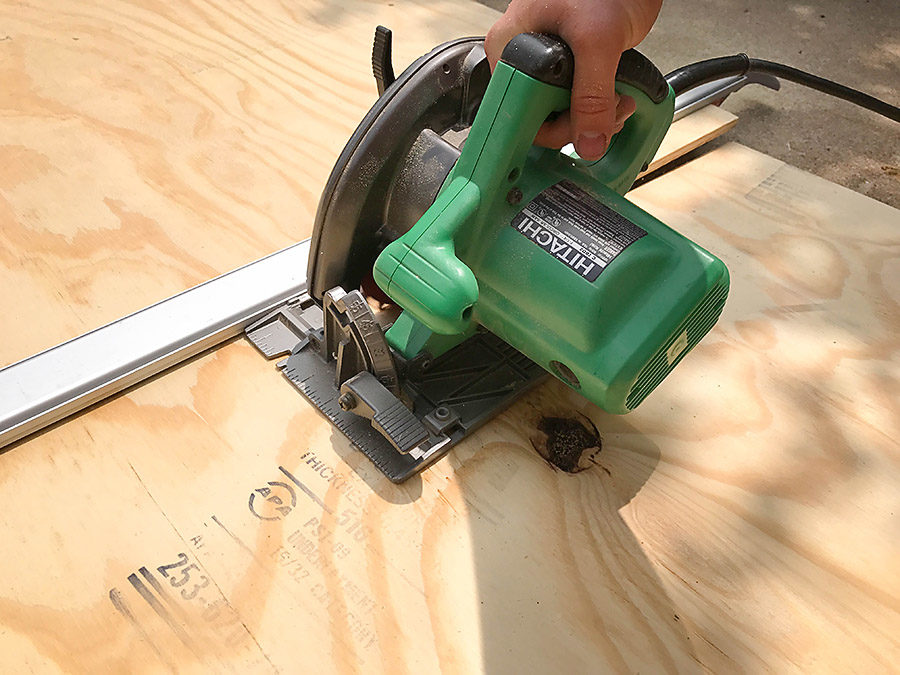 Then we ripped the plywood, meaning we cut it along the grain or lengthwise. We wanted the widest planks possible, but we also wanted to get as many planks as we could out of one sheet of plywood. Our plywood sheets were 48″ and we decided to make 8″ planks. You would think this would make 6 planks easily, but we had to compensate for the kerf (the thickness of the saw blade), so each plank wound up being approximately 7 7/8″.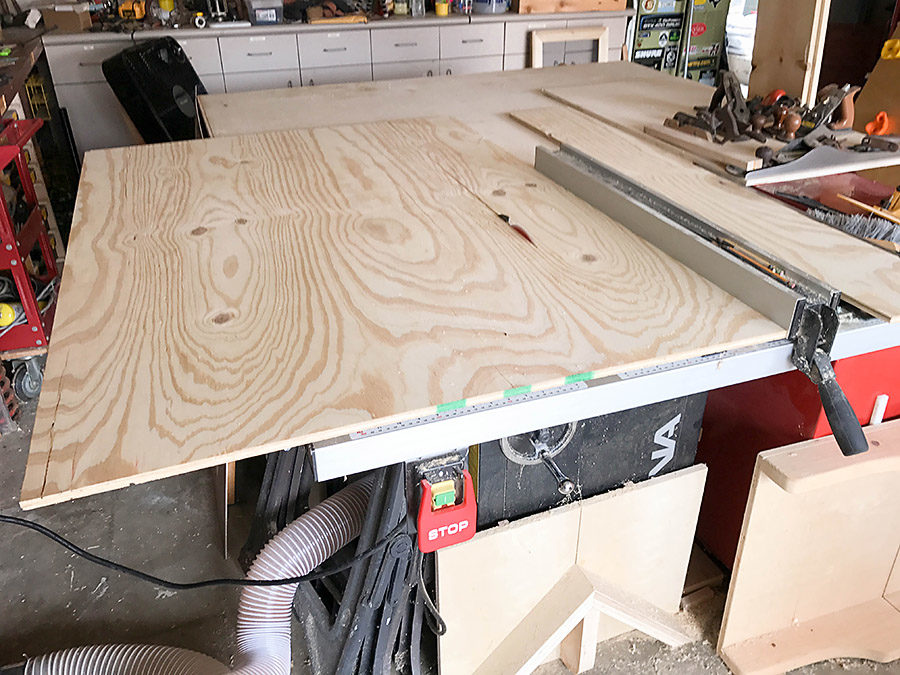 Planking the Wall
If you are adding DIY Shiplap to a whole wall, you might want to start at the top with a full piece. Because we have an angle at the top of our accent wall, it didn't matter so we started at the bottom.
Before we started hanging the boards, we had to decide which "pattern" we wanted our boards to follow. We decided we wanted to have seams so we planned out approximately where the seams would be.
We found the studs and marked them with tape on the ground so that it would be easy to measure throughout the project. We started with a full length board, made sure it was level, and nailed it into the studs using 1 3/4″ nails in our nail gun. We wanted the nails to be pretty long to be able to get through the plank and into the stud.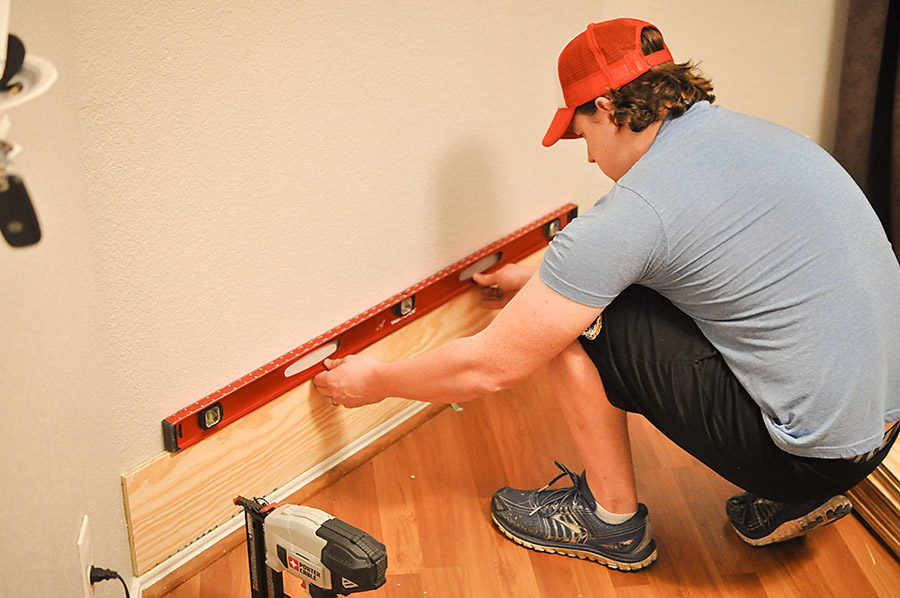 To evenly space the planks, we placed two coins between the rows as we nailed up the next board.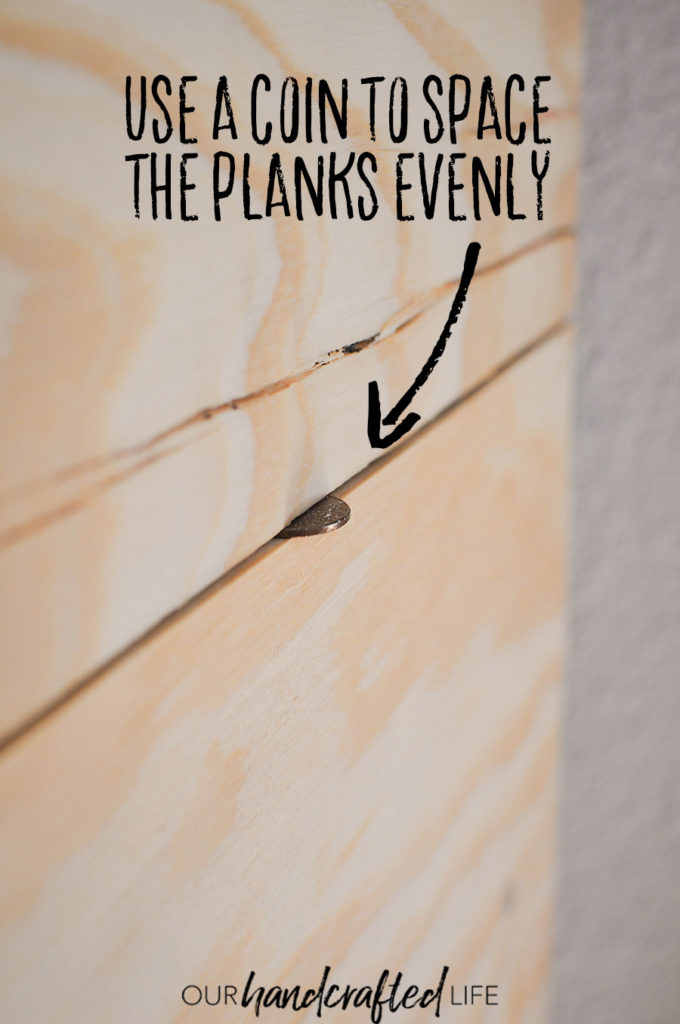 The next board up would have a seam, so we estimated where we wanted the seam to be and cut the plank. Then we measured from that board to the end of the first board (not all the way to the wall just in case the wall wasn't even).
We continued this process all the way up the wall, checking every few planks to make sure we were staying level.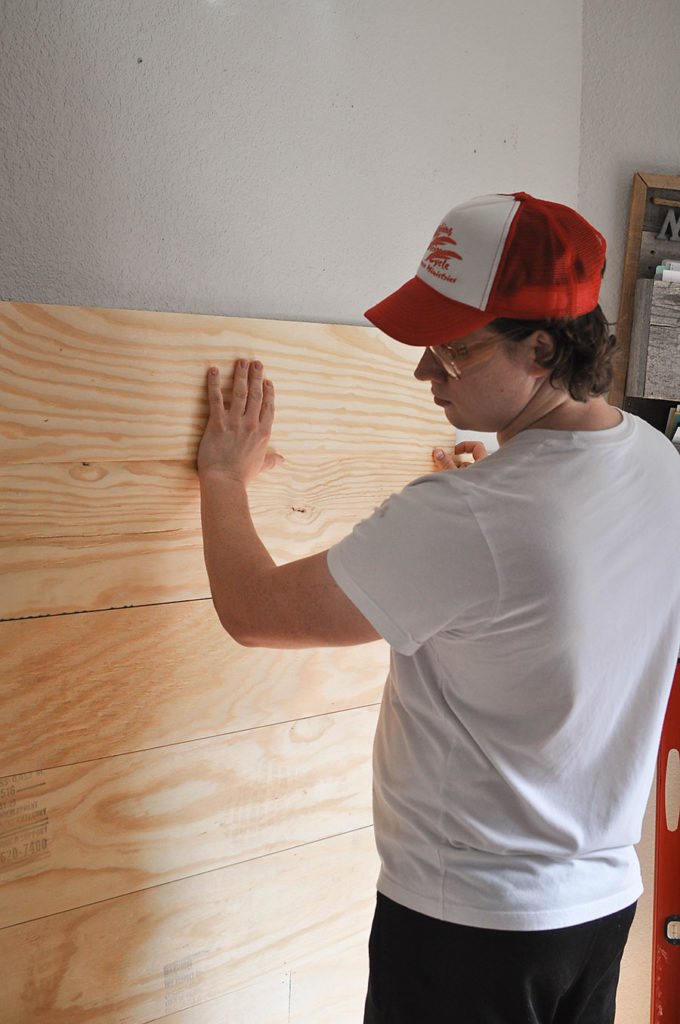 At the top, we had to cut the angles. The easiest way we found to do this was to measure the height at the start of the angle, measure the height at the end of the angle and draw a line. Then we clamped it down on our work surface and cut it with a circular saw.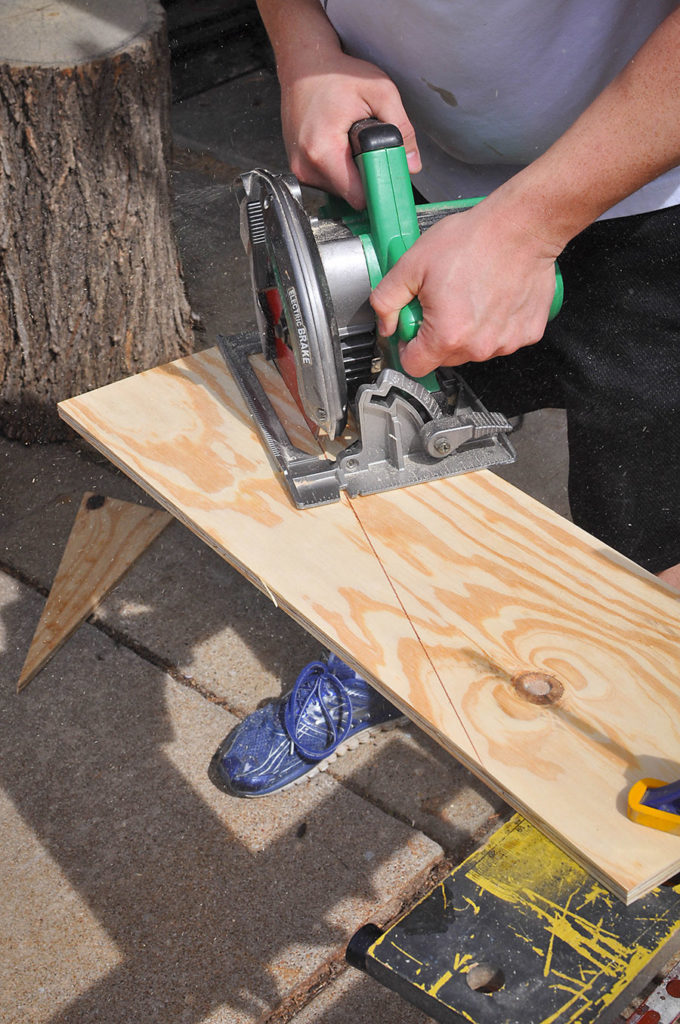 Once all the planks have been hung, we filled in the nail holes and knots with wood putty. Our favorite wood putty is plastic wood, but be careful because it's not water-based, so it's not easy to wash off your hands or other surfaces.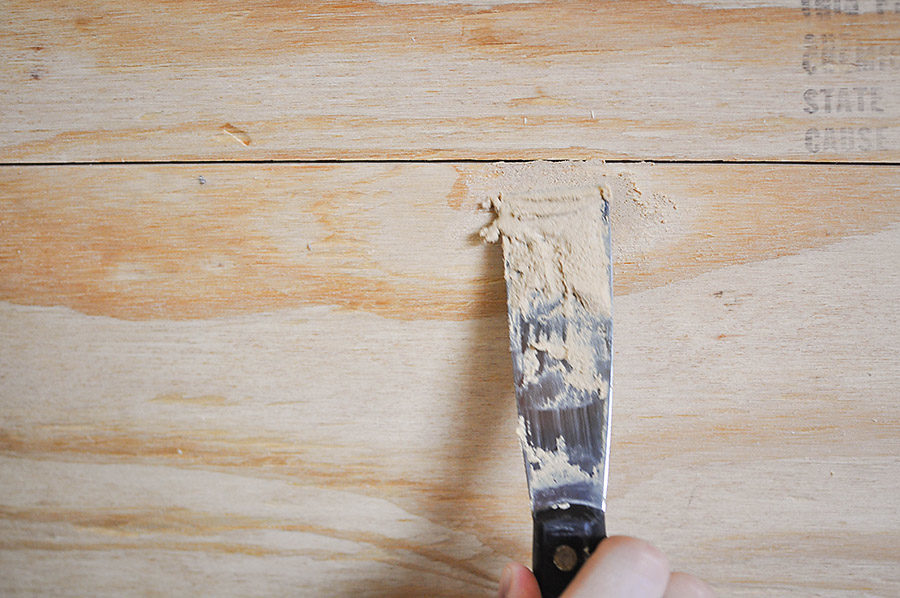 Then we sanded the entire wall using our random orbital sander and 120 grit sandpaper. We vacuumed the sawdust off with a brush attachment.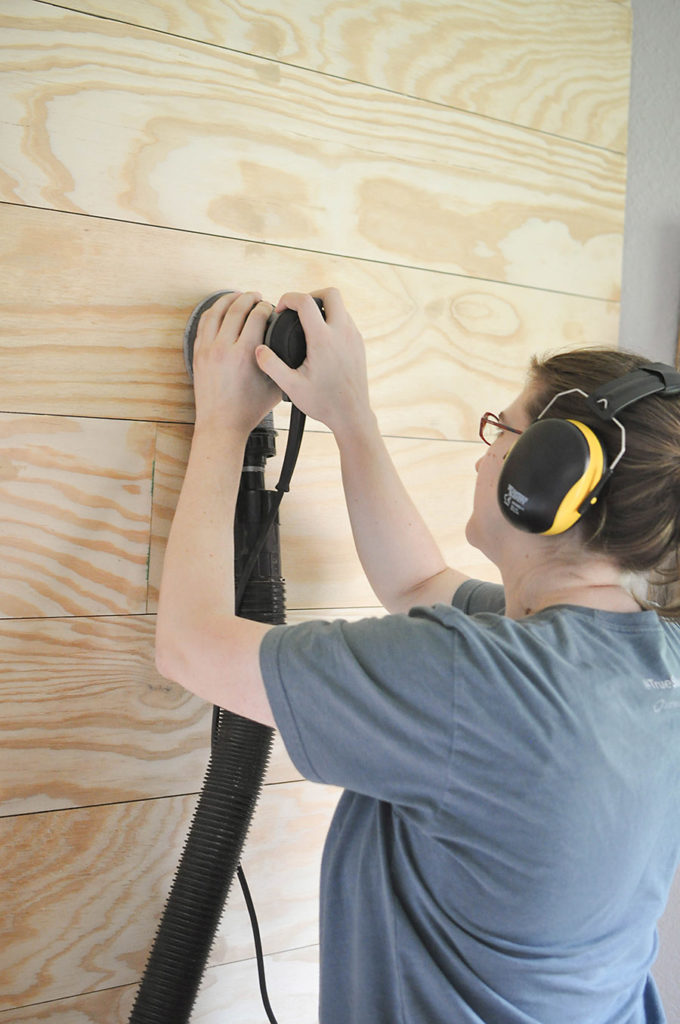 Then my favorite part – painting! Painting the plank wall is pretty standard, but we tried not to get too much paint in the crevices between the wood planks. We didn't want to close the gaps we so meticulously spaced.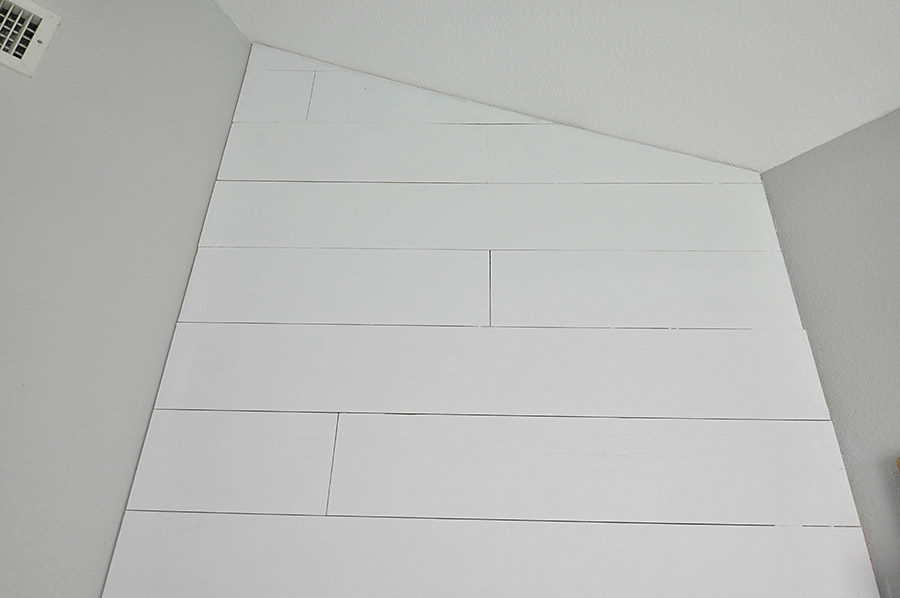 That's it! We love our DIY Shiplap plank wall – it adds a little country cottage flair to our house in the city.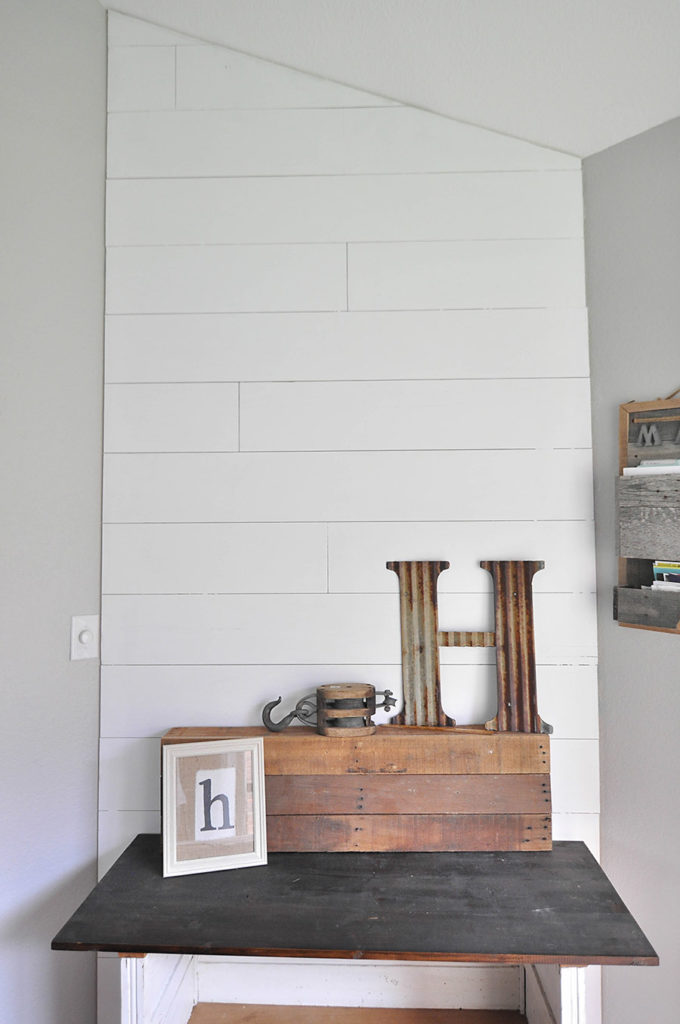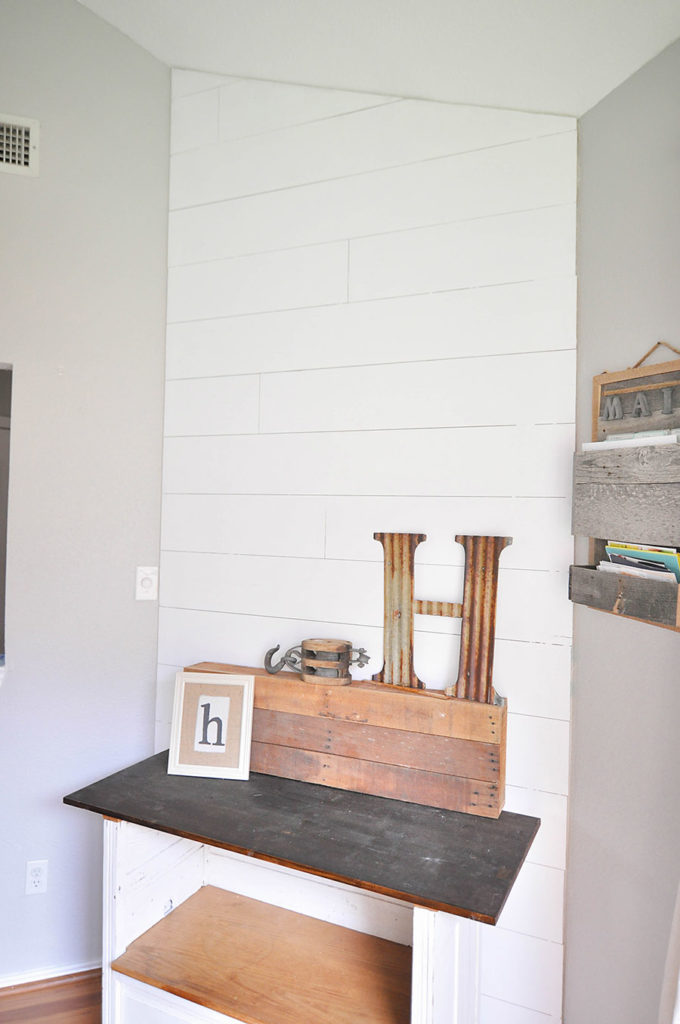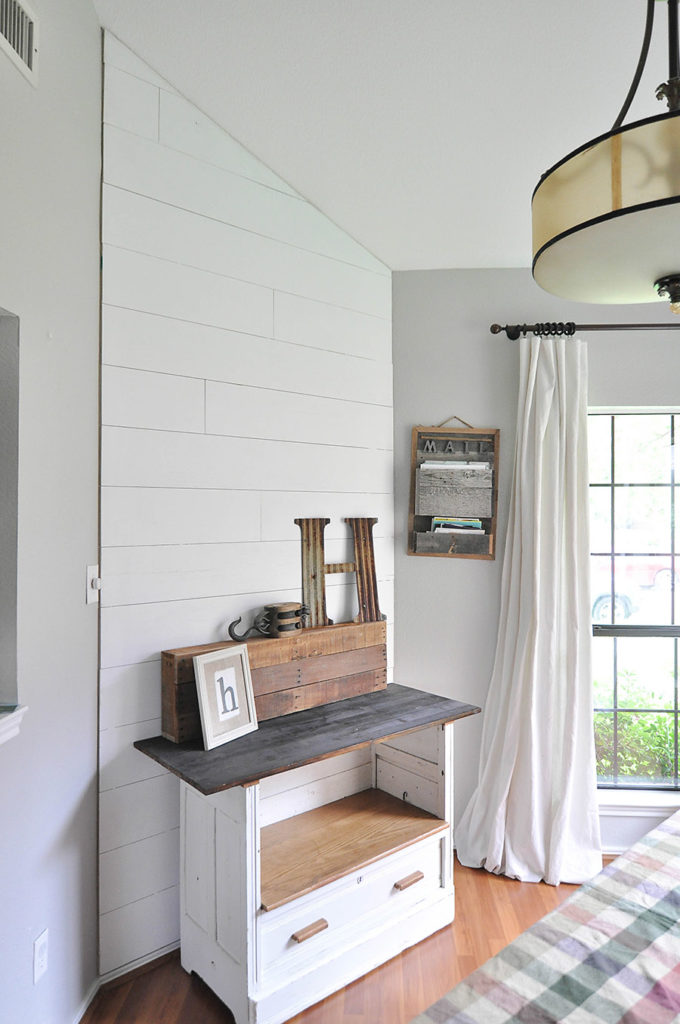 I would love this wood plank accent wall look as living room decor or bedroom decor, but we have it here in our dining room with our buffet (transformed from a reclaimed dresser). What do you think? Would you ever shiplap or plank your walls? Share in the comments below!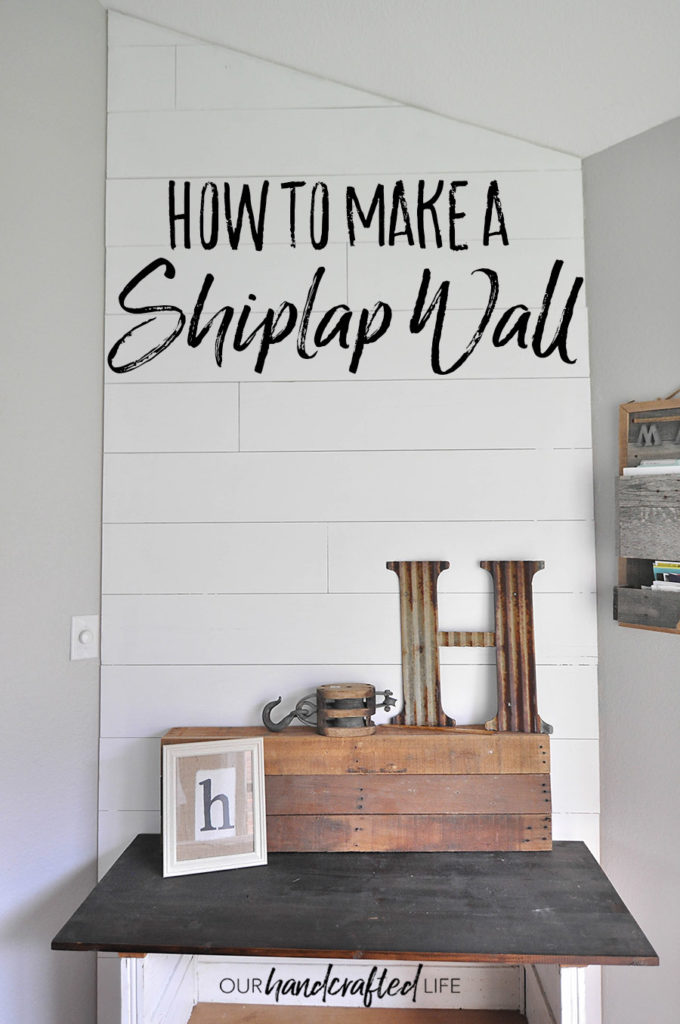 SaveSave