How to put together a bright and cheerful floral Spring table setting. Whether you're planning for Easter, a bridal shower, or a Spring brunch, this tablescape featuring Spring flower buds, moss, and rich place settings will be a complement to any meal.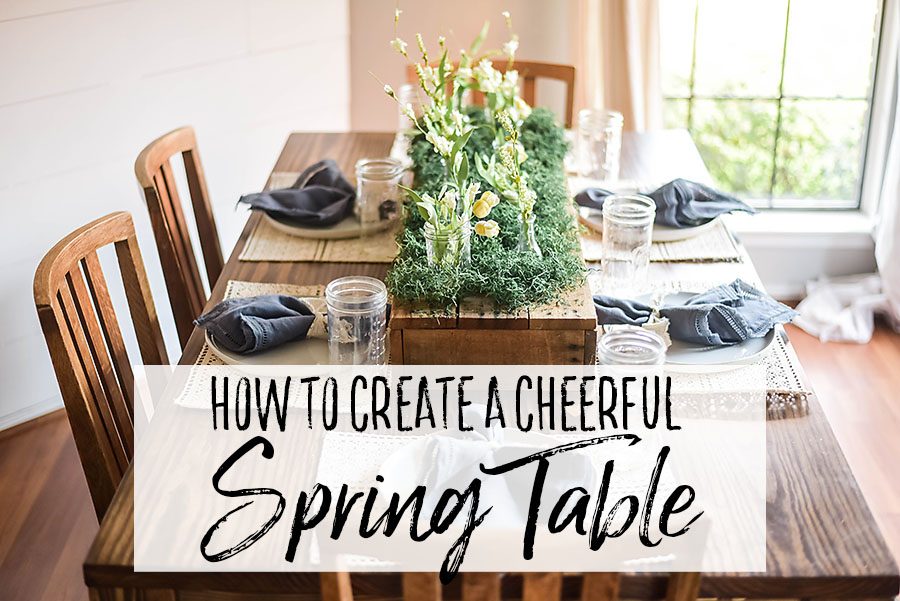 Creating simple, versatile spaces in my home is a passion of mine. Sometimes when you walk into someone's home for the first time, you immediately get the sense that they planned for you to be there. Spaces were designed intentionally. Thoughtful care was put into each area. It feels welcoming.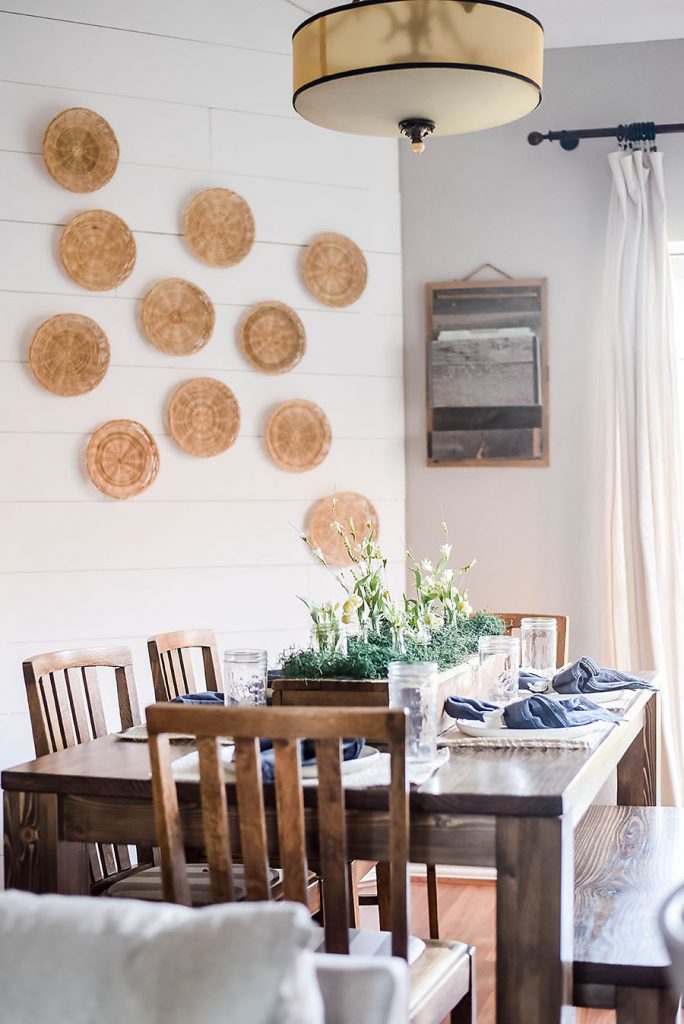 That's the feeling I wanted to evoke in this table setting – that a place has been prepared for you at my dining room table. You are welcomed here and expected.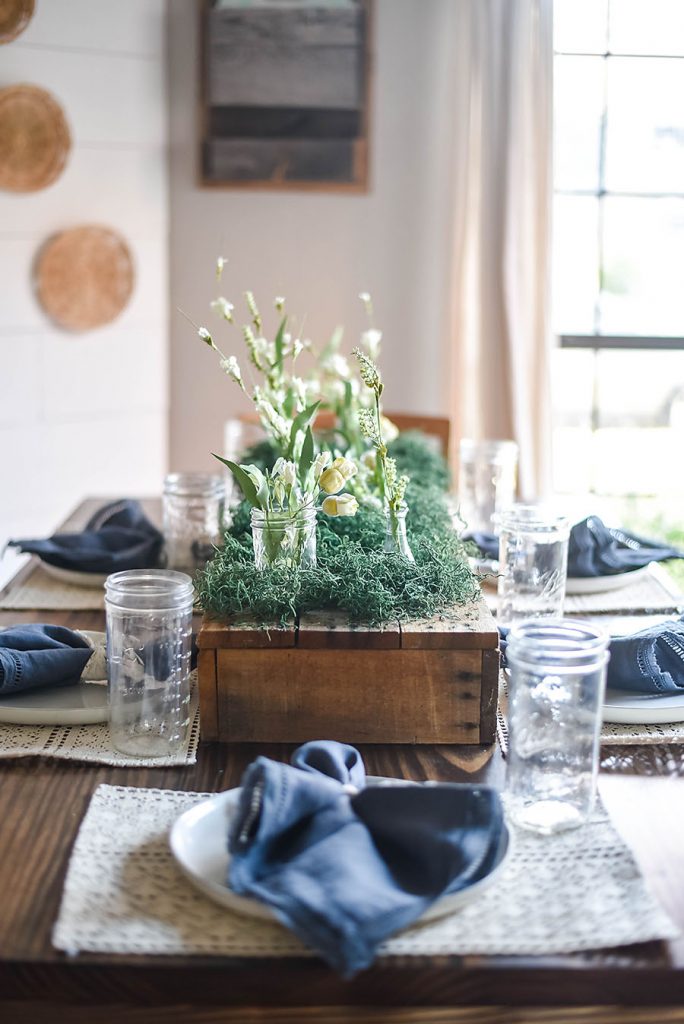 That means it doesn't have to be overly fancy, but I do want it to look intentional.
How to Create an Inviting Spring Table Setting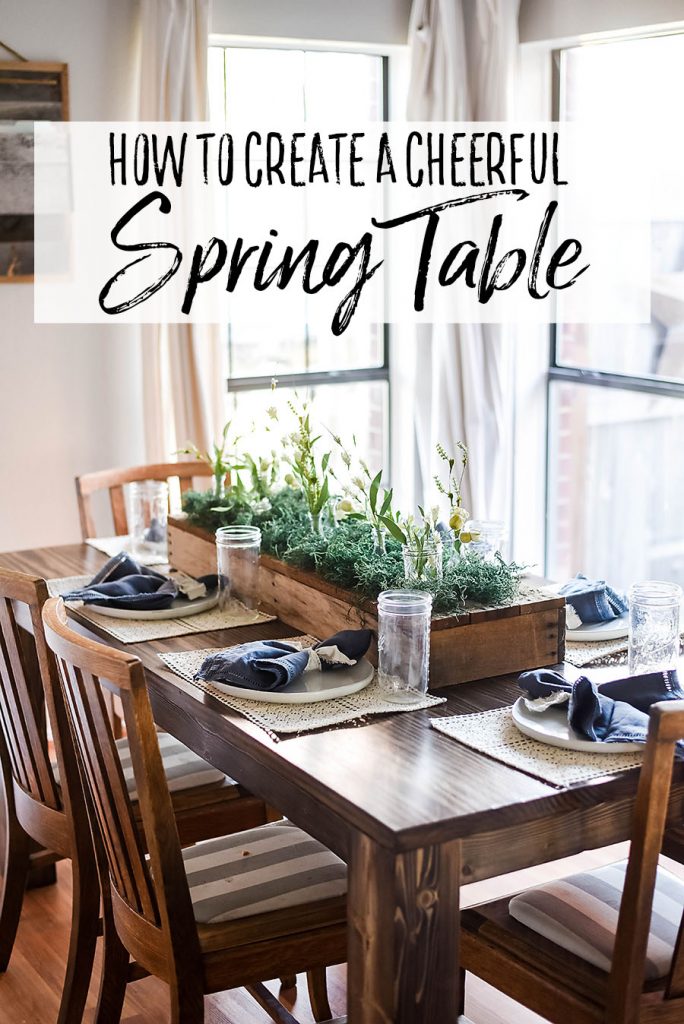 To begin, I used a wood box that my husband put together years ago. I covered the box with moss.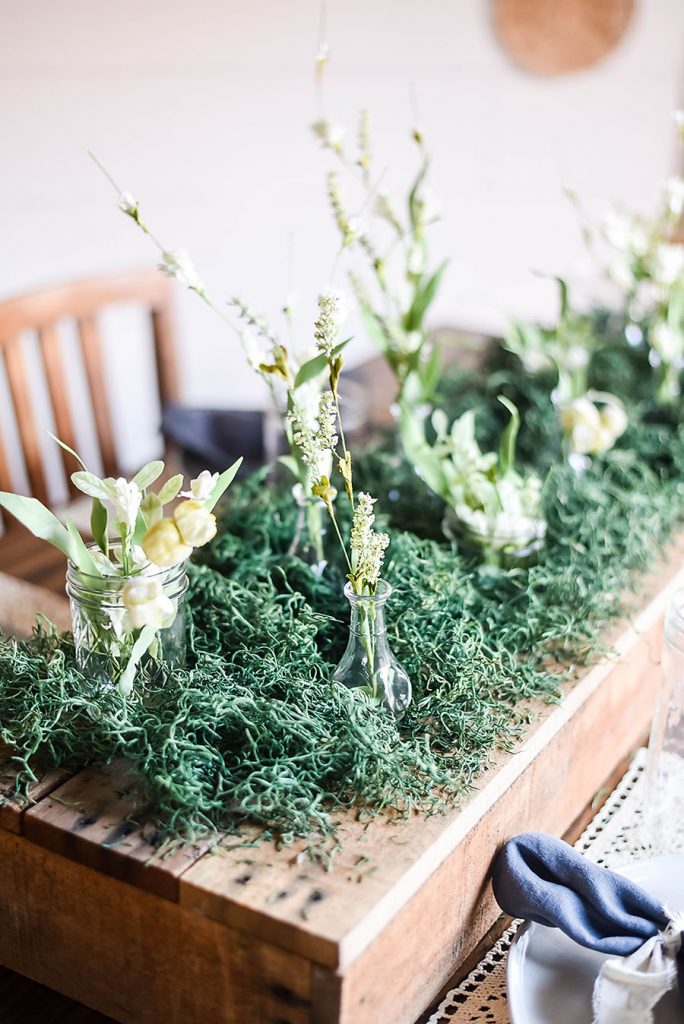 Most of the decor elements are from Hobby Lobby – the bud vases I found on clearance and I mixed them with a few other jars and vases to give them a "found" look.
The flowers are a combination of two stems that I found at Hobby Lobby (because flowers aren't quite springing up around us yet). I cut the stems down with a wire cutter and placed them in the bud vases.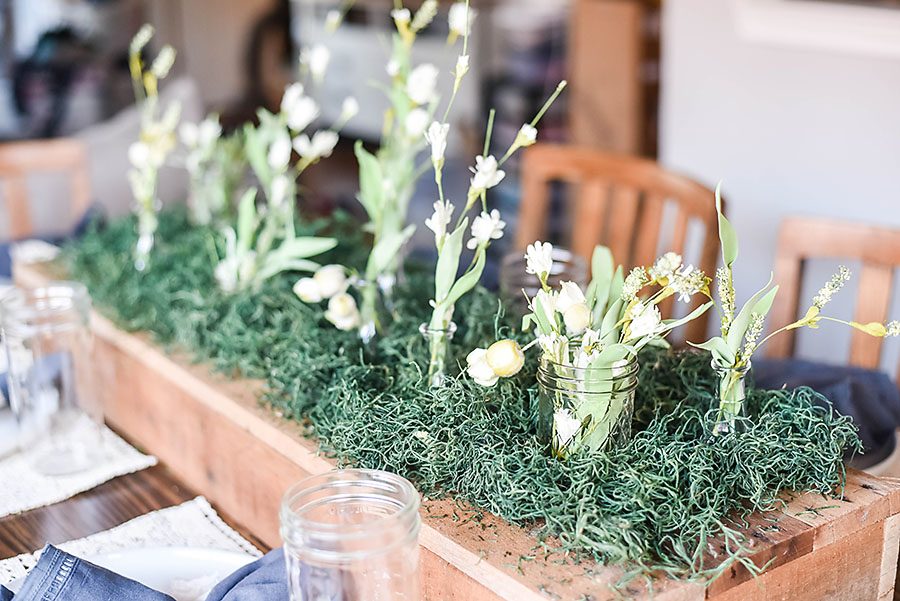 For the place setting, I swooned over these lace placemats and navy blue linen napkins, also from Hobby Lobby. I was shocked to find that they have several different styles of 100% linen napkins and table runners this season.
And wouldn't these napkins transition so well through the seasons? I think they would look so sweet tied up with white flowers this summer or paired with a hint of maroon this Fall. Those are the kinds of pieces I am always looking for.
I tied the napkins with strips of fabric that I tore from a scrap. It has a very similar texture to the drop cloth curtains. I cut the fabric to length, cut a little snip with my scissors and then tore the fabric the rest of the way. I pulled a few threads out to create a frayed edge.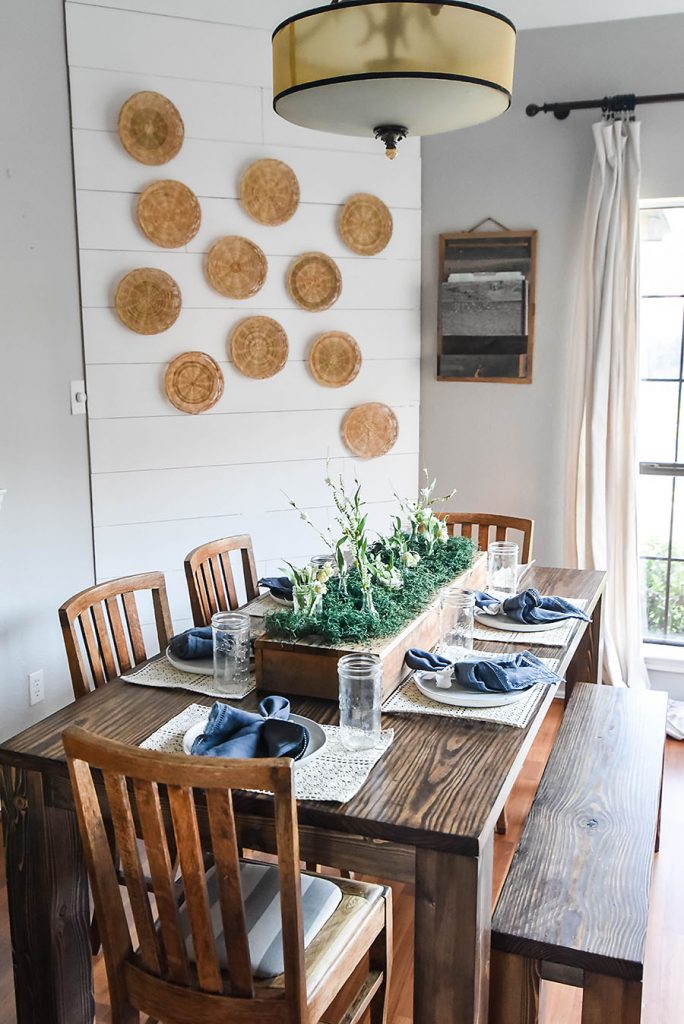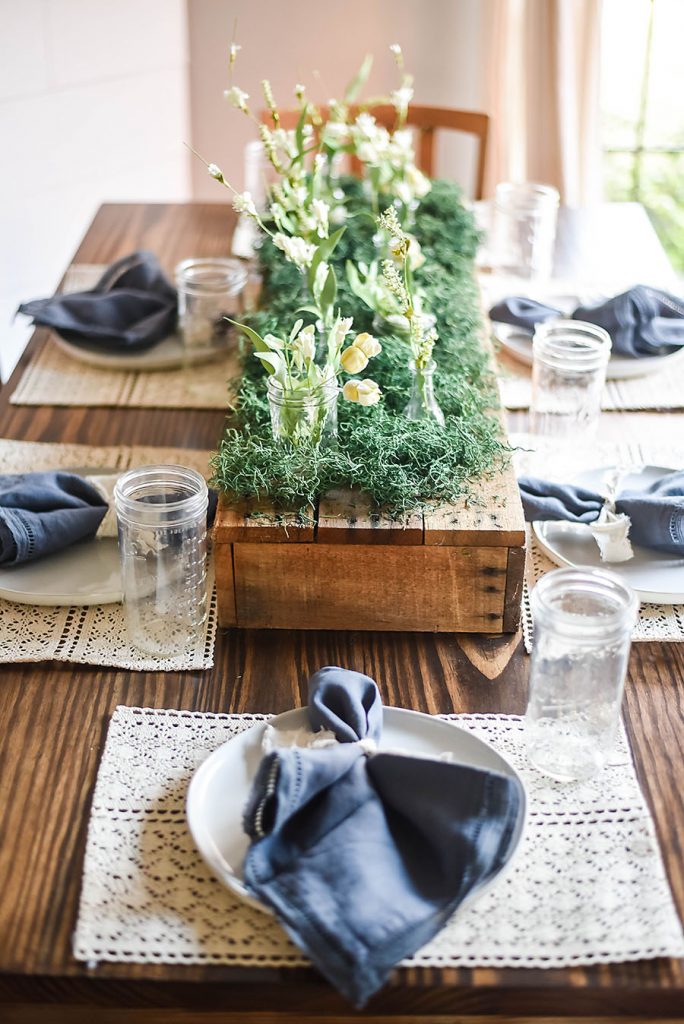 I hung some wicker chargers on the wall to give it some texture. I actually shared a video of hanging these chargers over on Instagram in stories. I found these at a thrift store and I have used them on several occasions.
I love the way this table came together.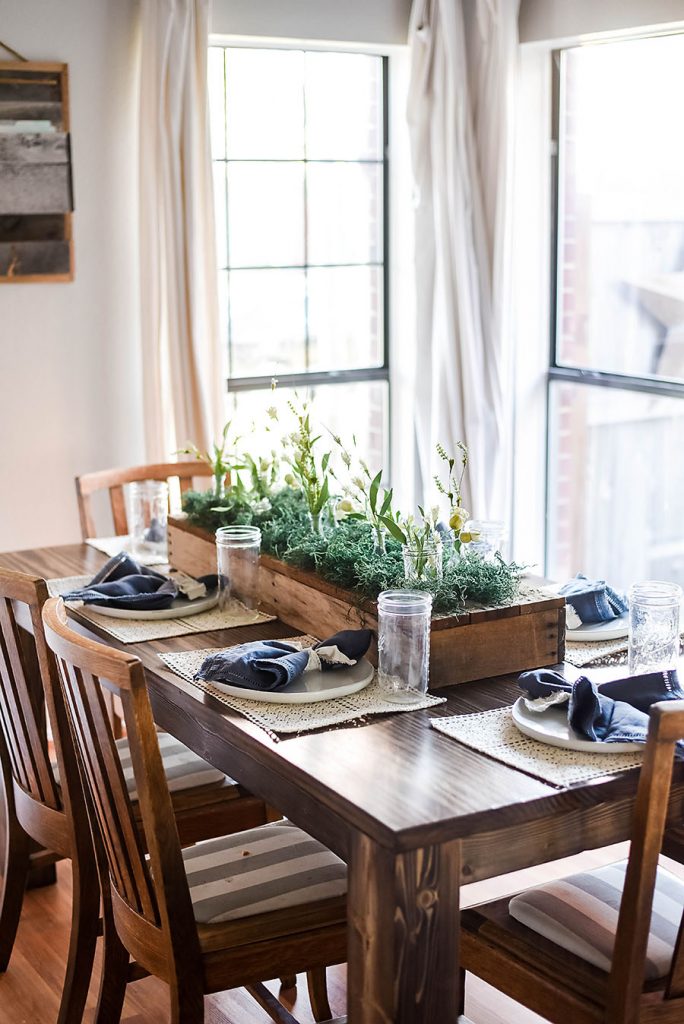 Now I just have to figure out what's for dinner!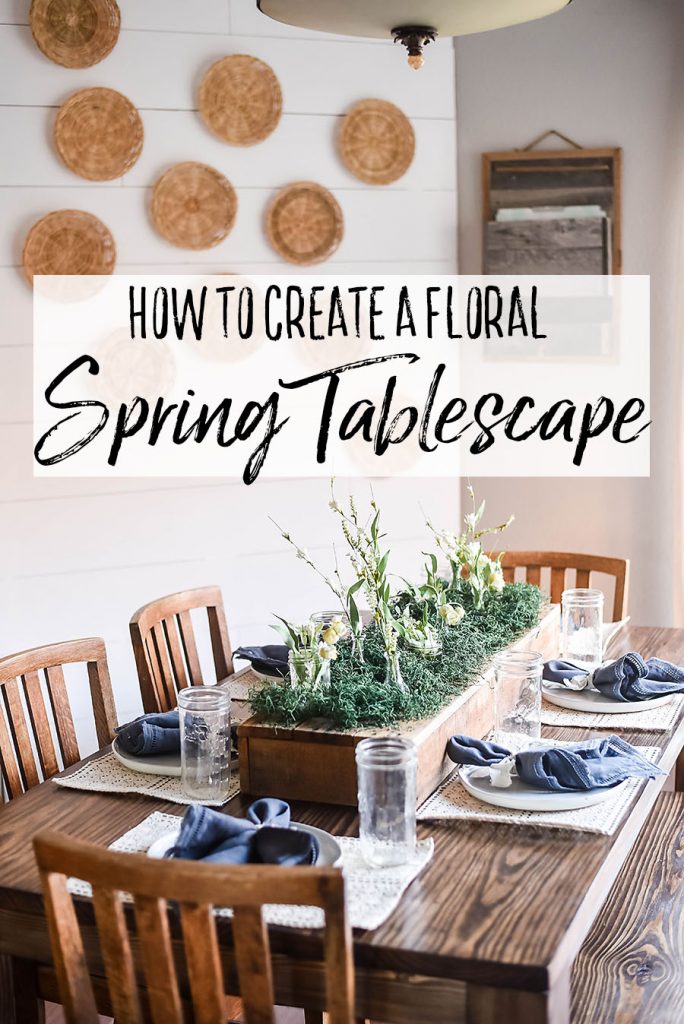 Subscribe to the Newsletter for Free Updates
Subscribe to get DIY projects, recipes, and tips to live simply and create beautiful things delivered right to your inbox.