Put together a cozy, casual table setting for Thanksgiving featuring hymnal pages, vintage books, candles, and mini grapevine wreaths.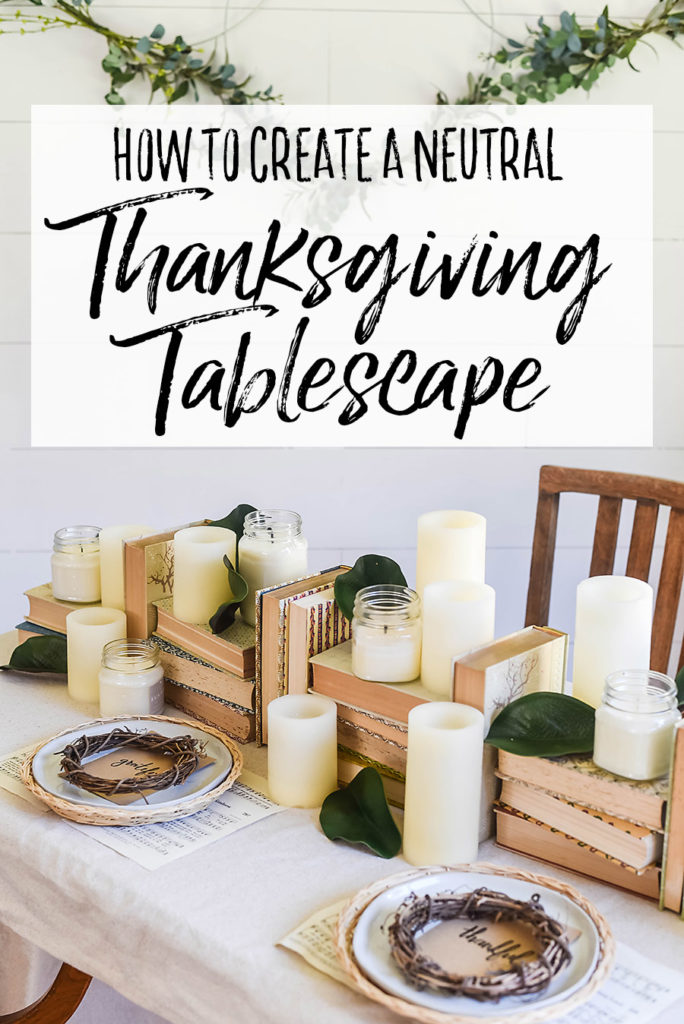 I love simple and cozy home decor. I buy pieces that can be mixed and matched to create different looks through any season. If you want to see another great option for a Thanksgiving table, you can go see our Neutral Fall Table Style using a few different versatile pieces.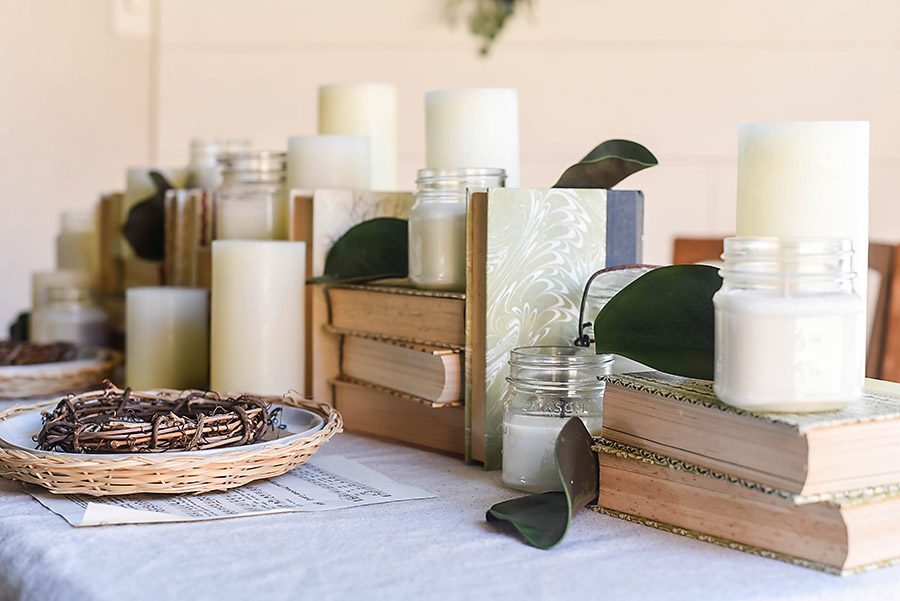 This Thanksgiving table came together pretty quickly using a lot of decor pieces I already had.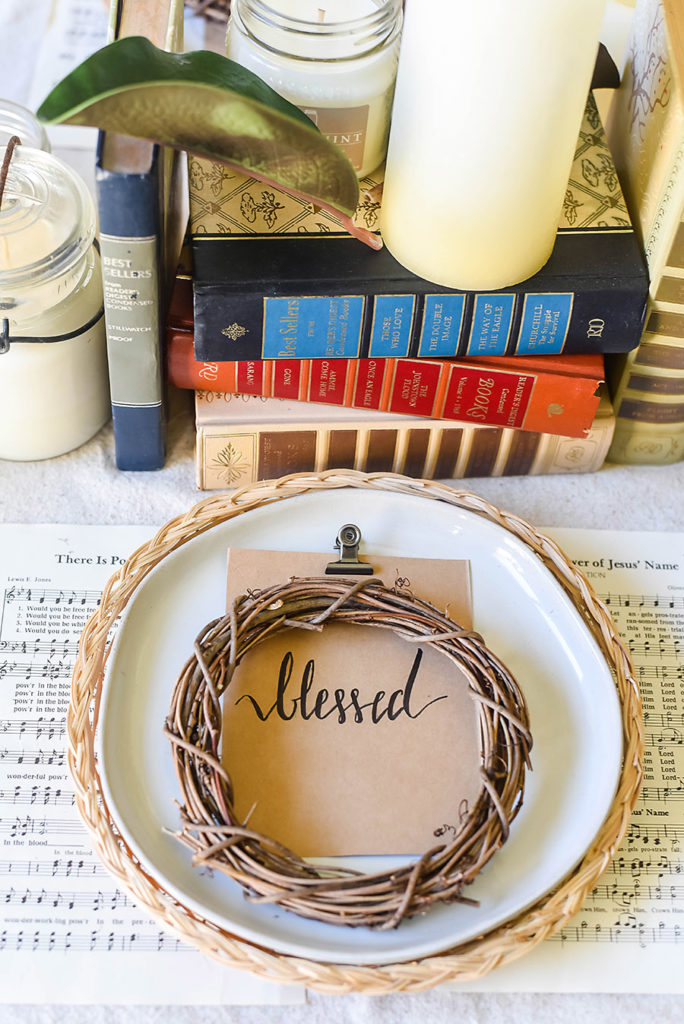 Even though it's super simple, I thought I'd walk you through how I put together this tablescape.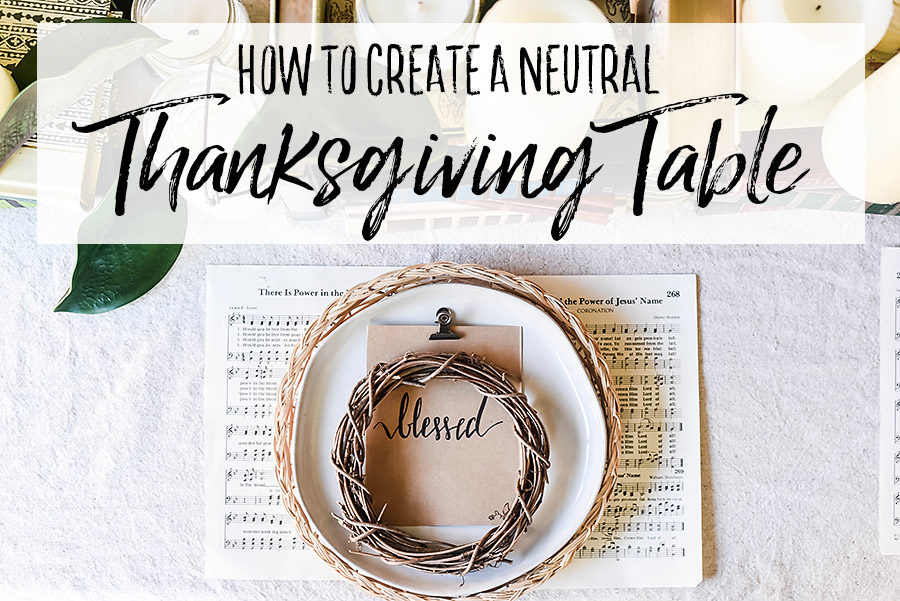 One of the things I always look for at thrift stores and antique stores is vintage books. I especially love Reader's Digest books because they're typically inexpensive and I love the size and color. I always snatch up ones with neutral covers and I grab a few vibrant colors for Holidays.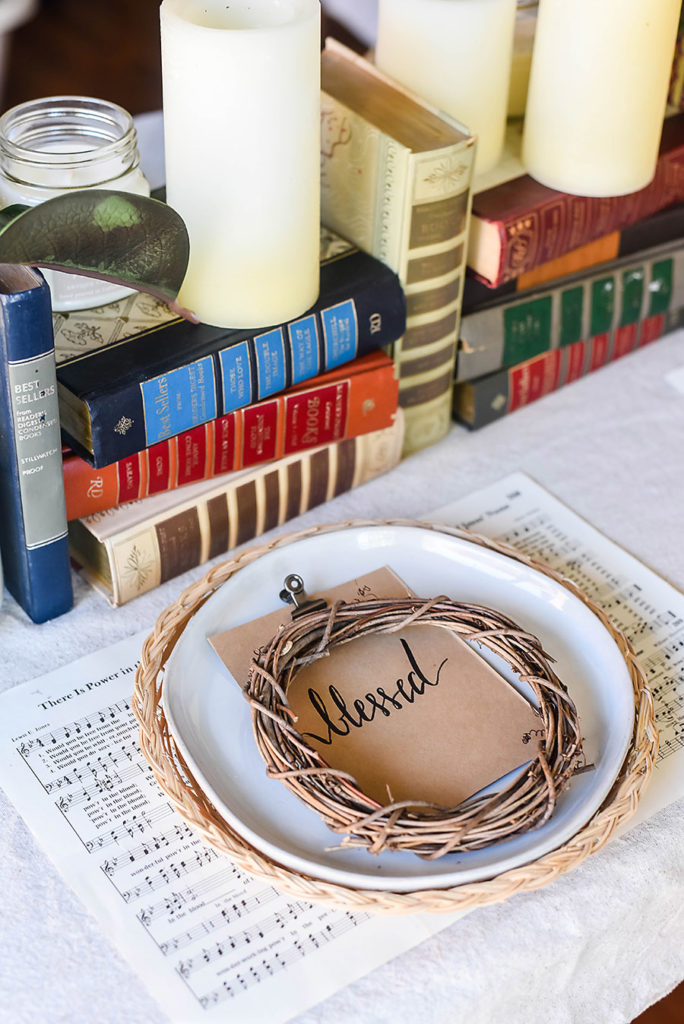 At this point, I have a pretty extensive collection of vintage books, so I thought they would make a unique "table runner". I starting playing around with height and placement until it felt balanced without matching.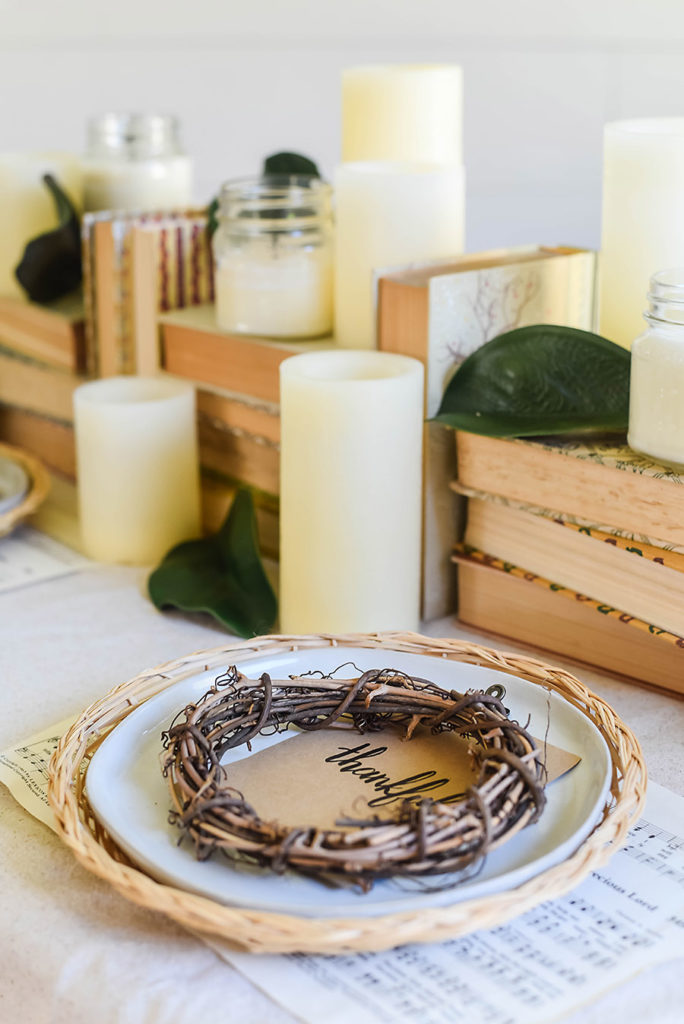 Then I grabbed some white candles and LED pillars to mix and match on top of the piles. I pulled a few of the magnolia leaves from the wreath on our front porch (I'm telling you – multipurpose decor is the way to go!) to complete the centerpiece.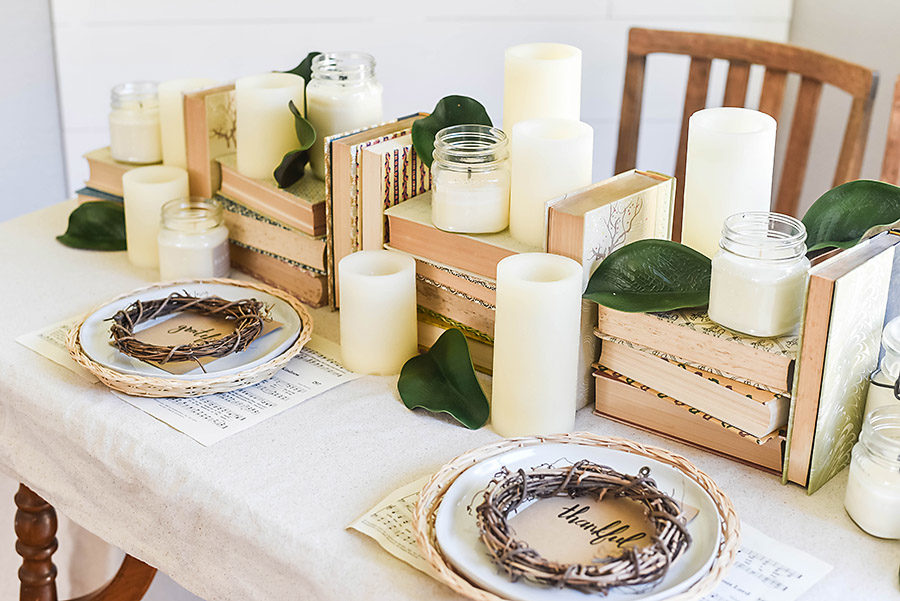 We had some hymnal pages left over from our Hymnal Art Instillation, so I laid them out as a placemat. I added my thrifted wicker chargers and Hearth and Hand plates from Target.
I got the mini grapevine wreaths at Hobby Lobby. I'm sure you could add some florals or greenery to these little wreaths, but I loved their simplicity. They could even serve double duty as a candle ring.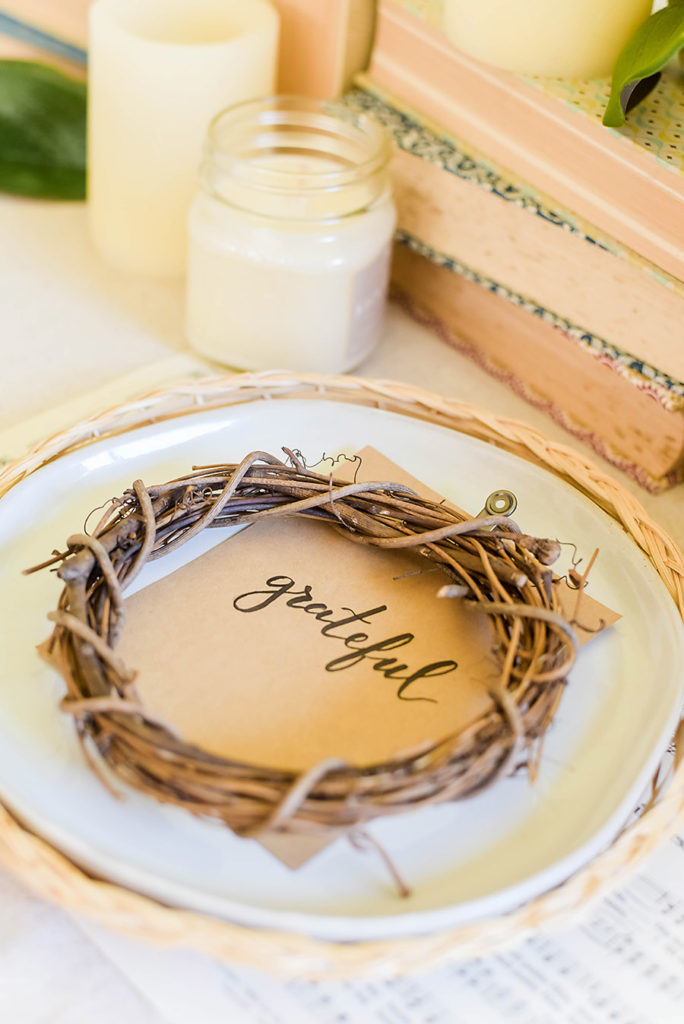 I grabbed some sweet antiqued clips from Hobby Lobby and attached them to my craft paper Thanksgiving words.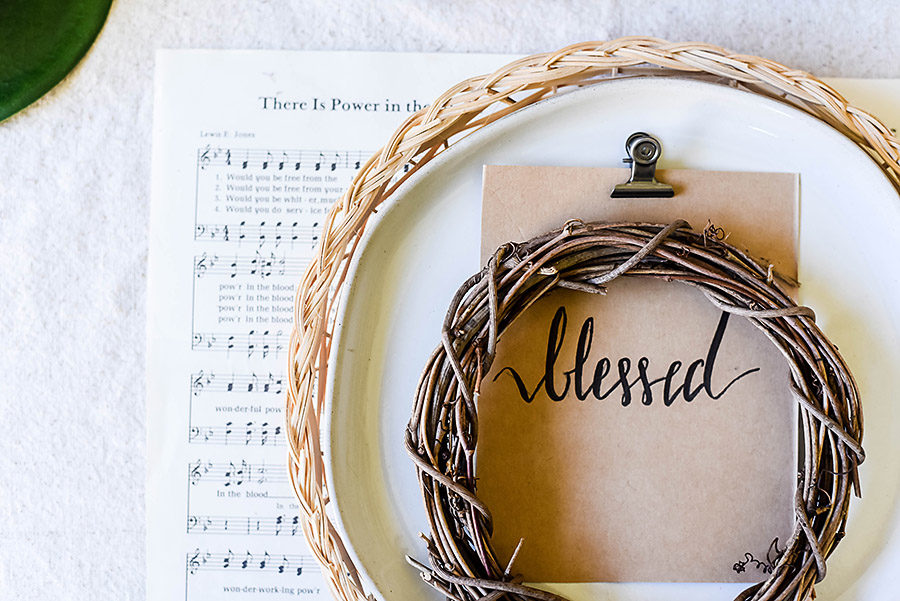 I just hand lettered these words, but I thought I'd include a printable to make it super easy for you to replicate. Here's where I found the craft paper.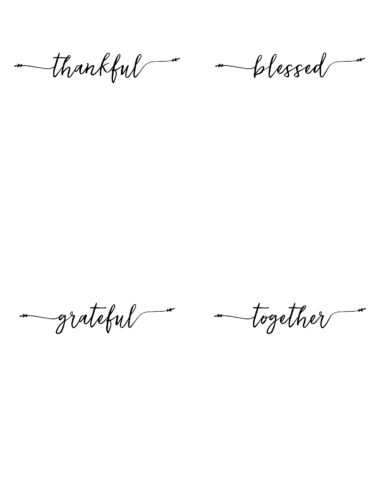 I also made a 'menu' printable if you want to get fancy and write out the menu for your Thanksgiving meal!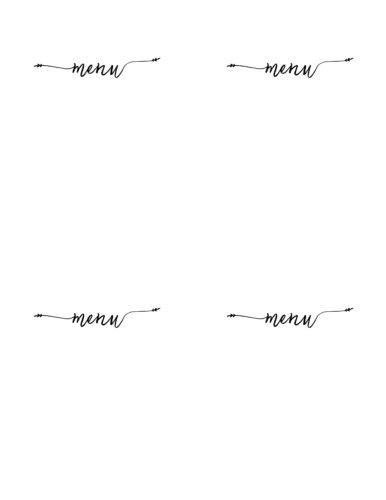 I love how it all came together – very cozy and comfortable.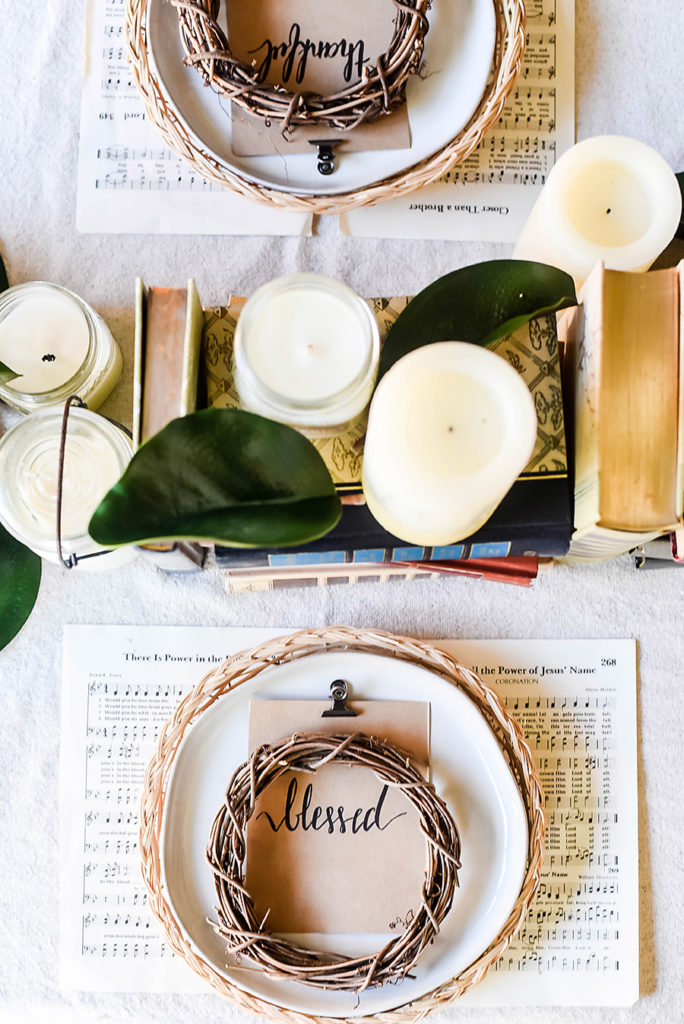 Once all the candles are lit, I would love to sit around this table talking until the sun goes down (or until you have to go out for Black Friday shopping, I suppose!).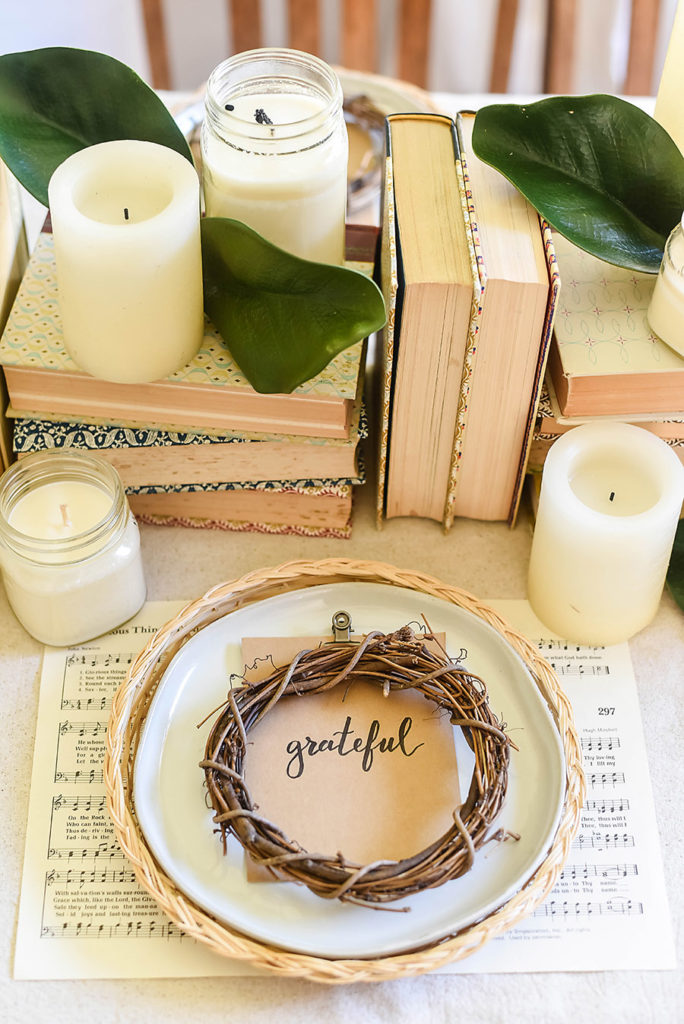 I hope you all have a wonderful Thanksgiving enjoying your families and friends. When we come back, it will be all about Christmas!