DIY Framed Shiplap SignHow to decorate a front porch with a simple, farmhouse style for Fall. Use pumpkins, lanterns, rugs, and DIY projects to create a cozy Fall Front Porch design.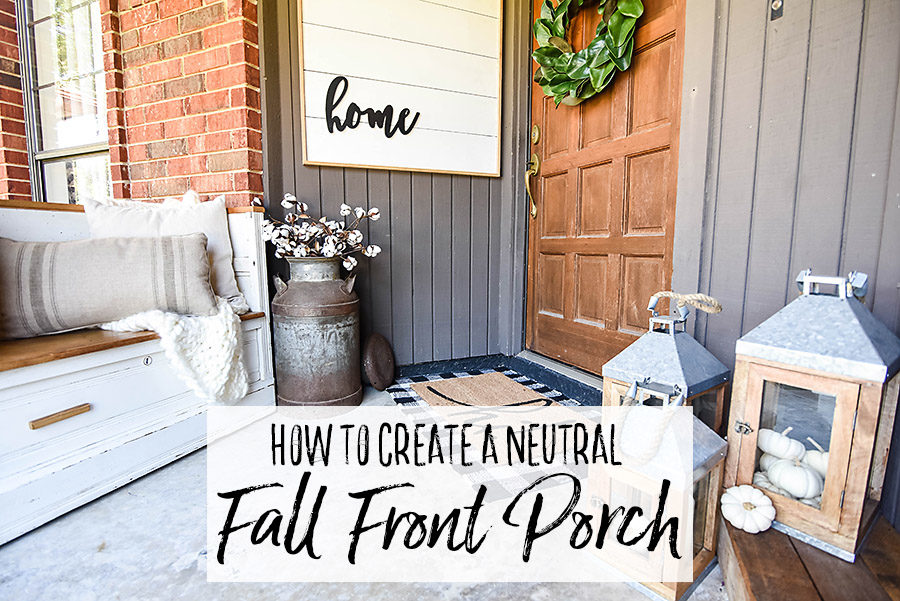 Our front porch is an odd shape. (Which really goes with a lot of spaces in the rest of our house – we have an odd fire place and an odd living room ledge)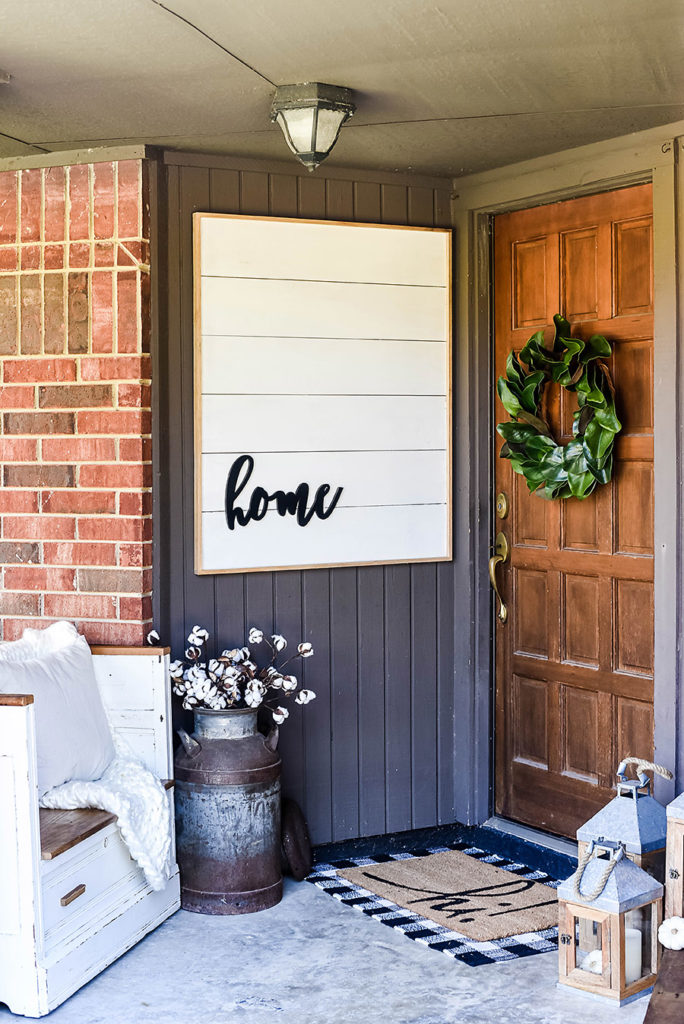 I don't mind the oddity, in fact I think it tends to add character to our house. But it makes decorating a dilemma. Symmetry is out for our corner entrance. If you use a piece that comes out too far on either side, you'll block entry to the door.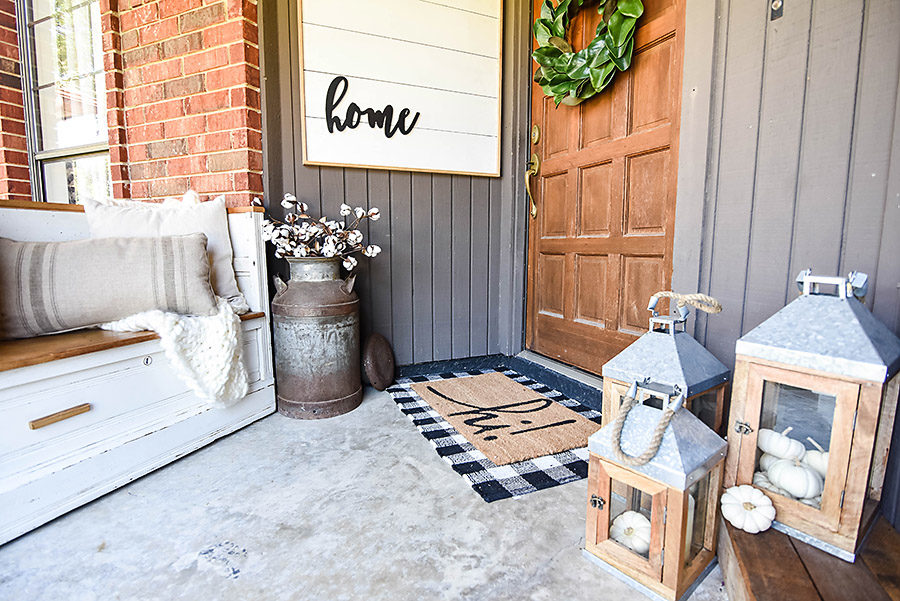 But this season, I decided to tackle what I had been avoiding and decorate our front porch. (It helped that I found a very handsome design assistant!)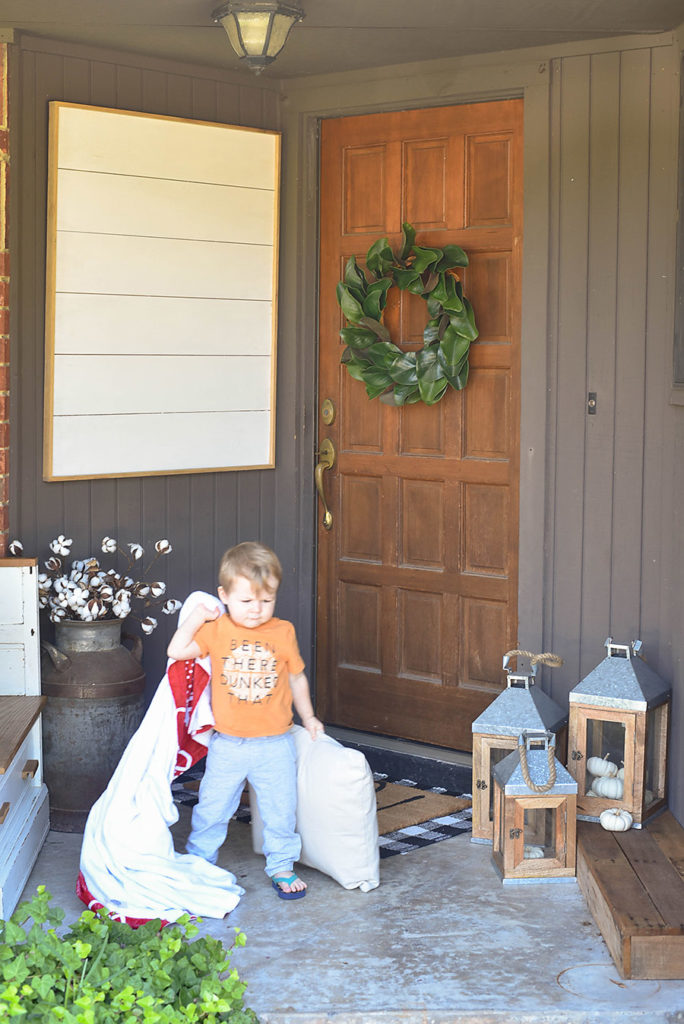 My first task, of course, was finding a gorgeous magnolia wreath. I found mine at Hobby Lobby – with a coupon of course!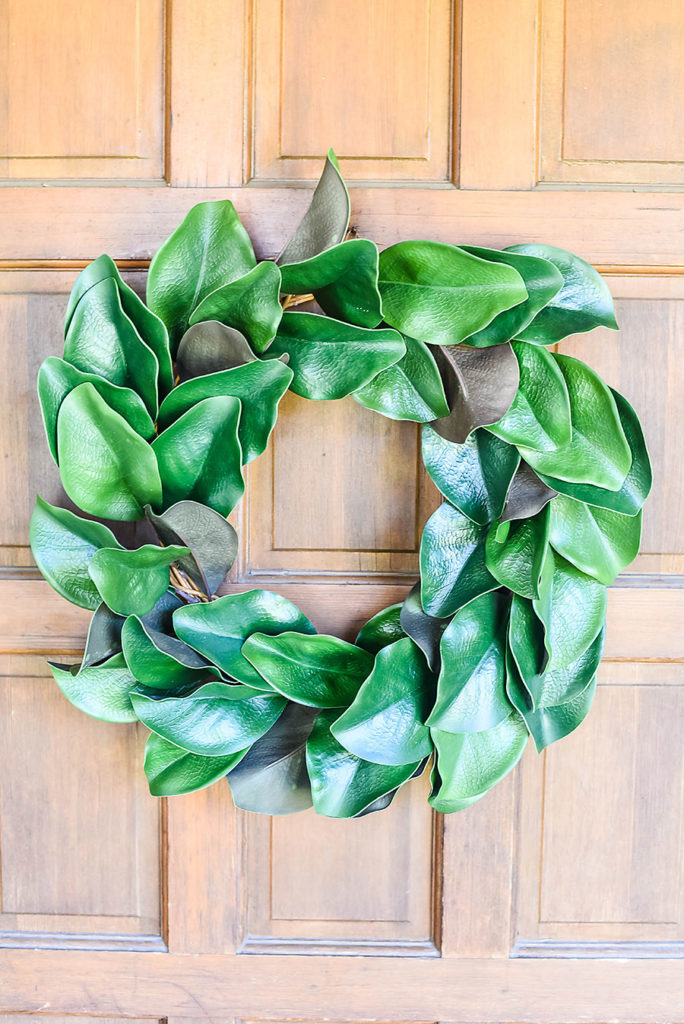 I found a buffalo check rug that would perfectly fit under my door mat at an antique store ages age, unfortunately it was out of my price range. Since then I had been furiously looking to achieve the look for less and I finally found it at Hobby Lobby!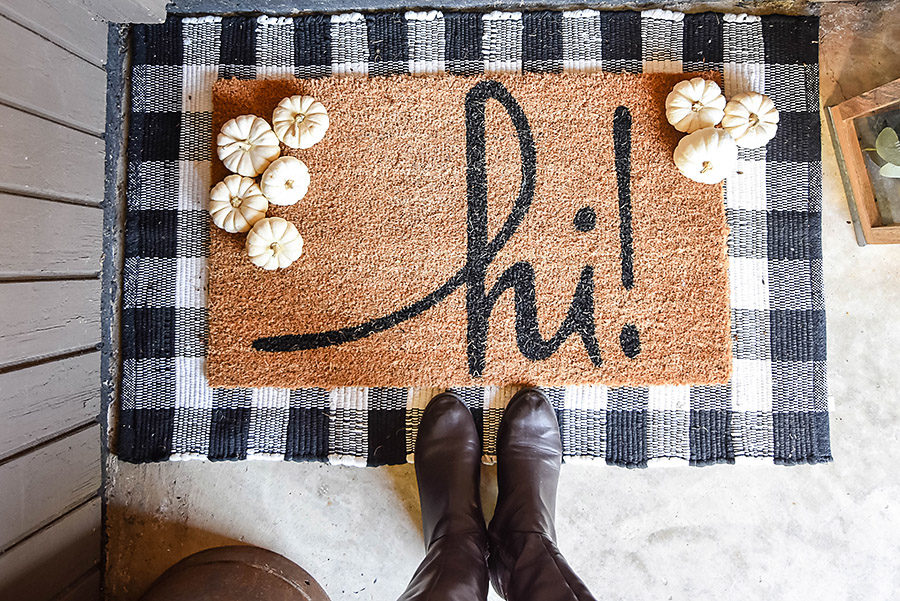 I was going to make my own door mat (and I will in the future), but I found this sweet little 'Hi!" mat that I loved for this season.
We found this antique milk jug on Craigslist and we were able to get it for $15 – a total steal! For this season, we filled it with some cotton stems I was able to find at Michaels. You could also fill a similar jug with wheat, berries, or pampas grass.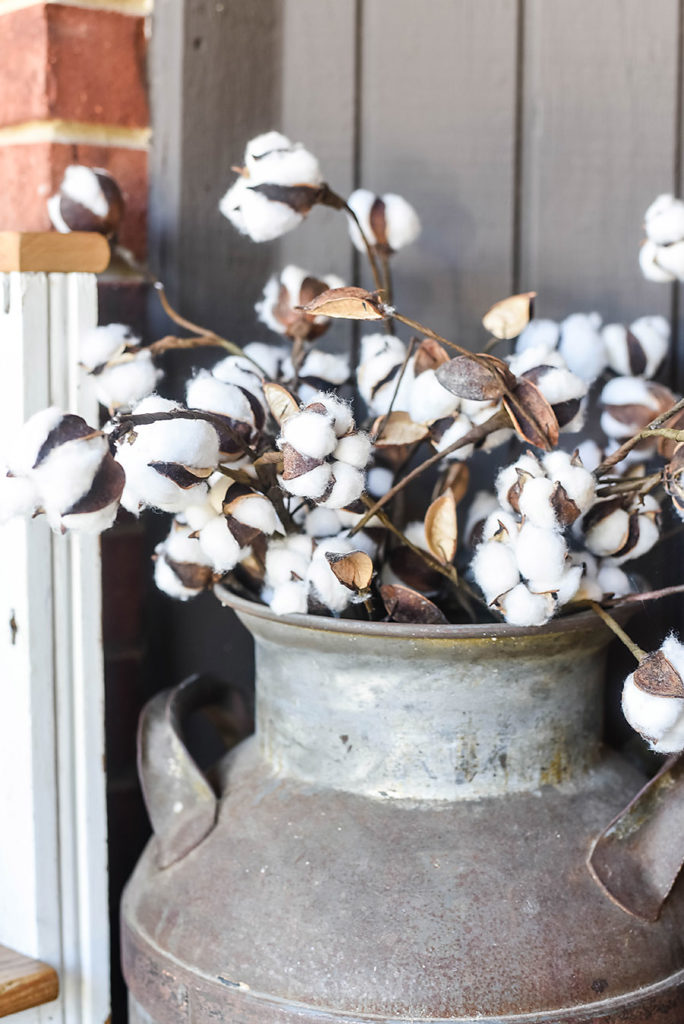 My husband actually found these lantern on clearance at Lowe's (I love getting those text messages!). I really like shopping for outdoor summer decor like lanterns, cushions, pillows, and furniture at the end of the summer in Texas. We still have months of pleasant outdoor weather before it really gets too cold to be outside, so we will get a ton of use out of these things before they have to hibernate for the winter.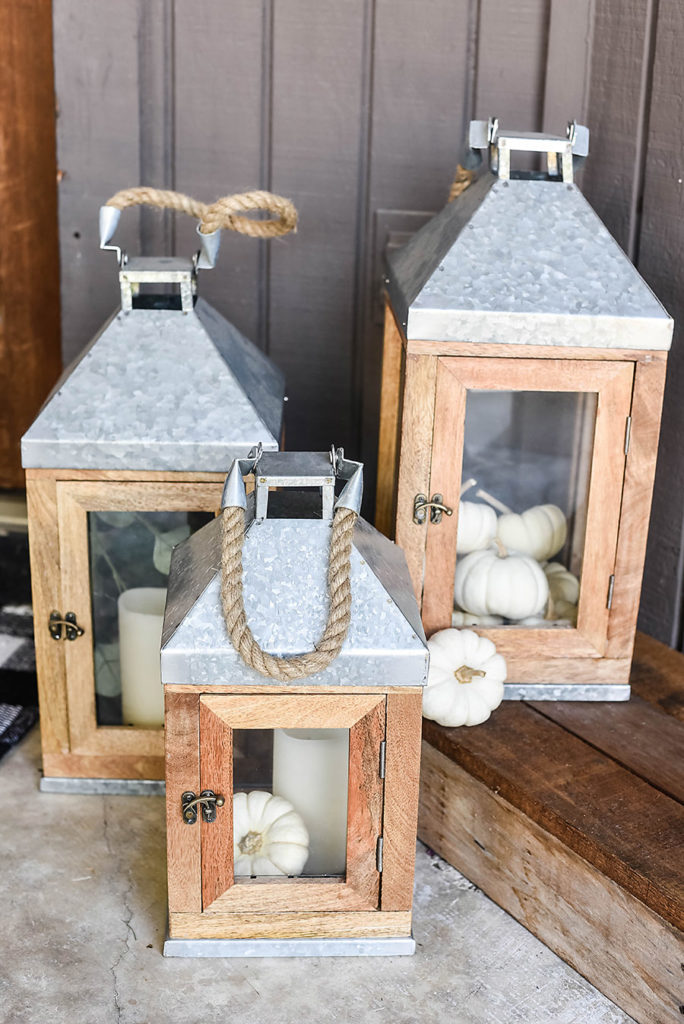 We made this DIY Framed Shiplap Sign to lighten up the space without painting our whole house white (Although I wish for whitewashed brick! Dumb city regulations…). You can click on the photo below to see the full tutorial.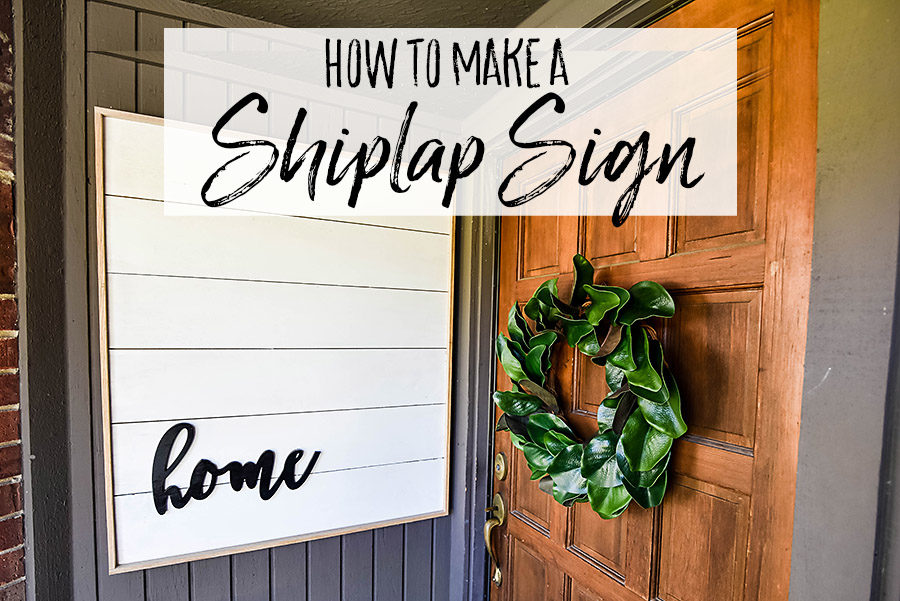 It was a really simple project made with leftover plywood and it took under an hour.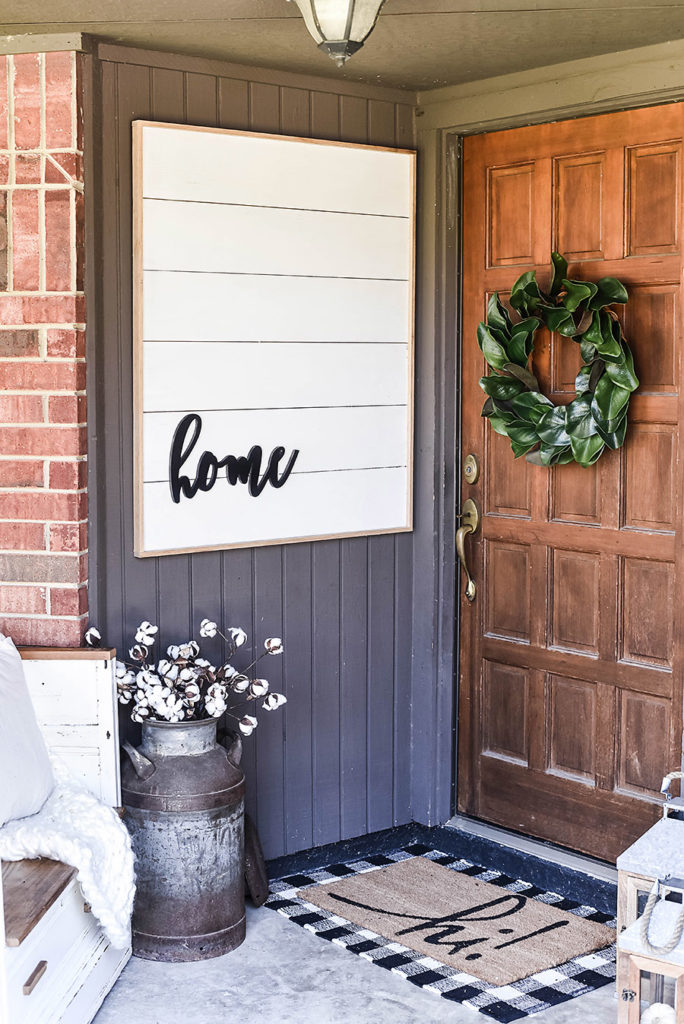 I pulled out this bench that my husband made for my birthday a few years ago. I have always wanted a vintage church pew, so he made me a stand-in out of a dresser he found on the side of the road. Of course I added a couple of pillows and a chunky blanket to give the front porch a cozy, welcoming feel.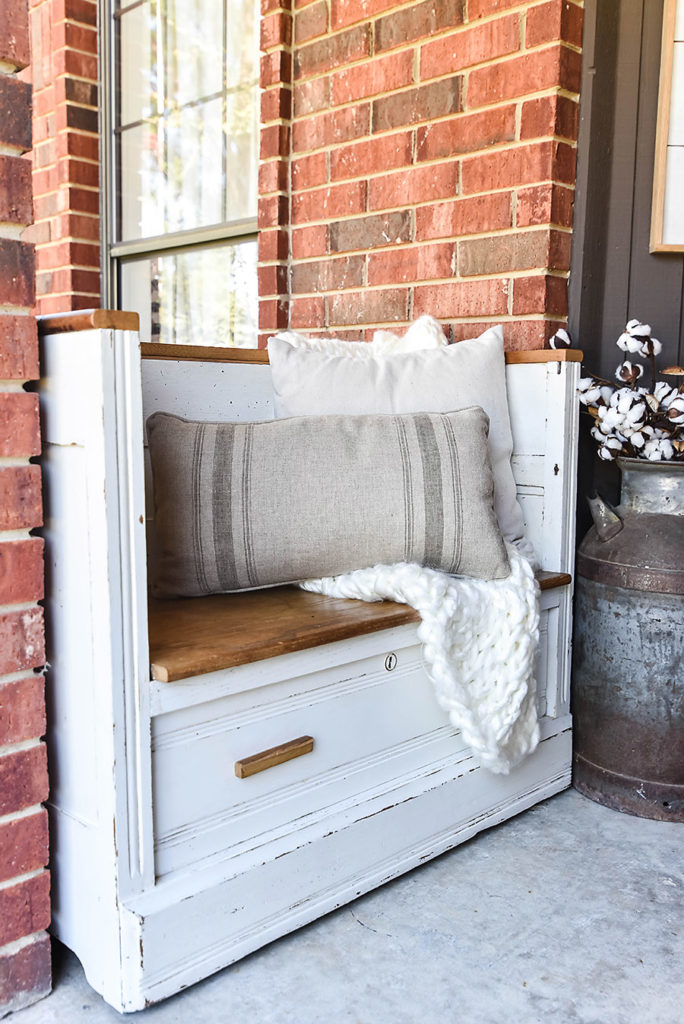 I love my Fall front porch.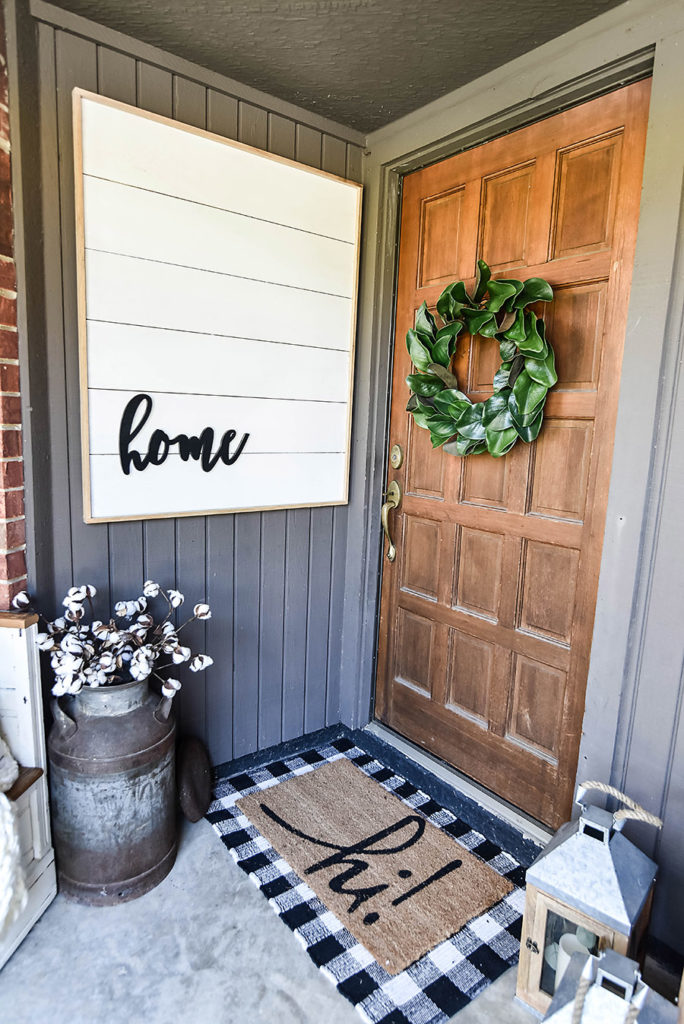 It feels so inviting with a bit of cozy charm. Have y'all decorated your front porch for Fall? I would love to see your photos over in The Handcrafted Collective!