Resetting your year doesn't have to start in January. You can set intentions for your family and your life anytime. These printable guides will help you set intentions with actionable steps, and then help you reach those goals with practical printables.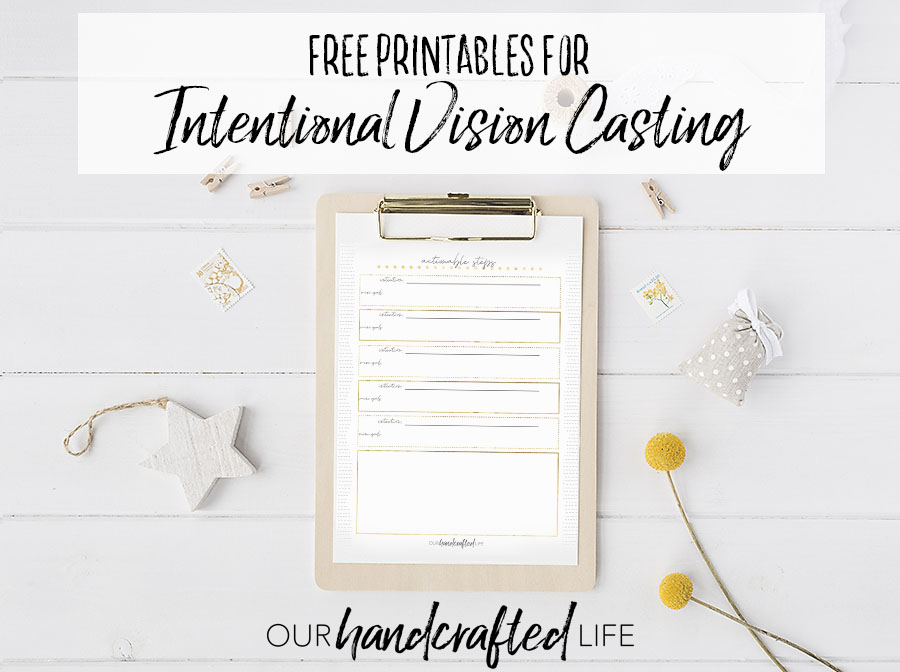 Are you already feeling overwhelmed with the New Year? It's usually about this time that I feel like I've already failed. My resolutions are out the window (Why do Christmas treats last so long after Christmas!? Why is January SO cold!? I'm not going for a run in this weather!) and my year hasn't started at all like I've planned.
I put so much pressure on January to be my big fresh start for the whole year. But why? It's right after the most stressful season and I'm never in a good place to hit the ground running.
This year, I decided to give myself a little more grace. I wanted to try to start the year with a little more peace and a little more rest in order to give myself time to recover.
So, I didn't make any resolutions – not a single one! I didn't make any plans for the new year. I let January 1st come and go and made no changes.
But January does feel fresh, so even without trying I've made a few small changes in our lives naturally in the last couple of weeks. There was no (self-imposed) pressure on myself to make them happen, they just happened.
Now that I've recovered from my Holiday hangover (that's really the only way to describe it), I'm ready to put a few things to paper for my own personal 'New Year – Fresh Start' in February.
How to Set Stress-Free Goals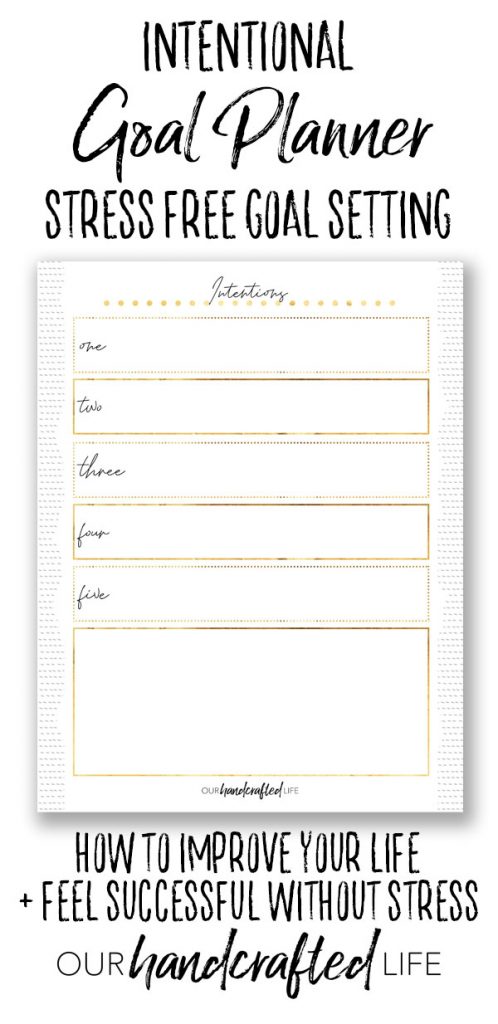 Set Intentions
Step One is to write out what I want my year to look like. I actually don't want them to be measurable goals. Instead, I want them to be intentions – big, overarching goals about the way I want each aspect of my life to look and progress during the year. Then I'm going to come back to these intentions throughout the year and see what small adjustments I can make to make them a reality.
I tried this last year and I actually felt successful when looking at the goals I set out for myself. Instead of "work out every day", which I would have failed at miserably, I set out to be healthy. January – March, that meant preparing my body to give birth, then it meant prioritizing rest and nutrition to nurse well, and finally it meant starting to walk and participate in yoga. At different points in the year, it also meant giving myself grace to realize that I had a lot going on and adjust my expectations for myself. My actionable steps changed, but my intention stayed the same.
Instead of "never get angry during a homeschool day" or "read 20 books aloud", I set out to create a beautiful homeschool year for our family. And the actionable steps changed throughout the year. At different points in the year, we added in more time for open-ended creativity, added read-aloud chapter books, added a mid-morning break (just as much for mom as for the kids), and added workbook pages for my preschooler who wants to be part of everything. Those were all of my steps to work towards the intention.
And yes, sometimes it meant saying tearful "I'm sorry"s when I lost my temper, but that didn't mean I failed. Because our year of learning at home really has been beautiful.
Of course, to help with setting intentions and actionable steps, I made a printable for myself and I thought I'd share it with you in case any of this rambling resonates with you. (Just right click on the picture and save to your computer)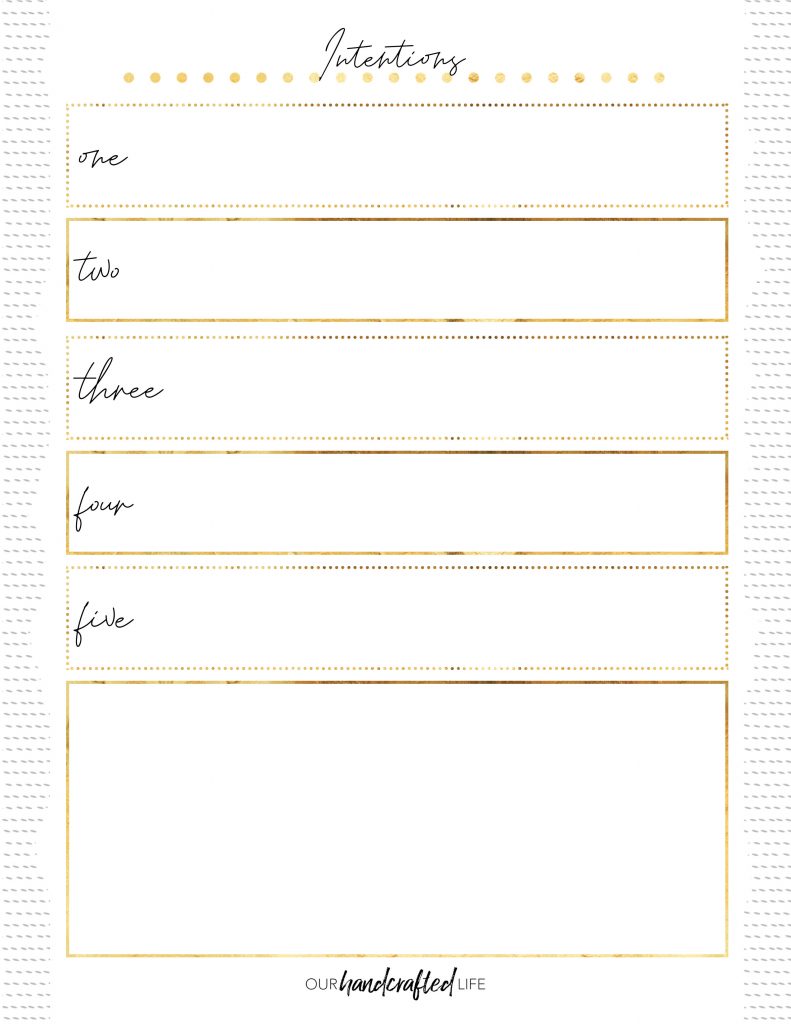 Create Actionable Steps
Don't forget that your actionable steps aren't "set it and forget it", they may change and shift throughout the year.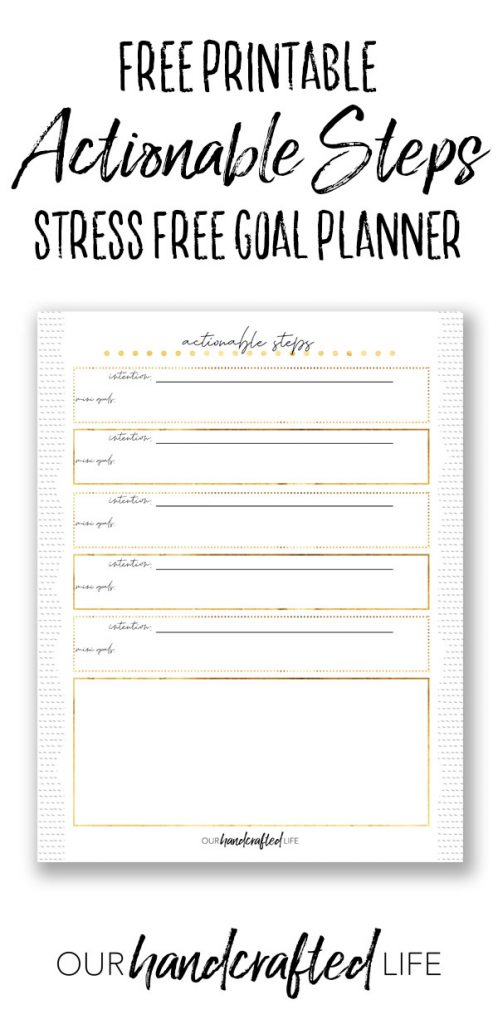 Print out a few extra copies and stick them somewhere you'll find them in 3 months, 6 months, and 9 months so that you can think through your intentions at different seasons of life.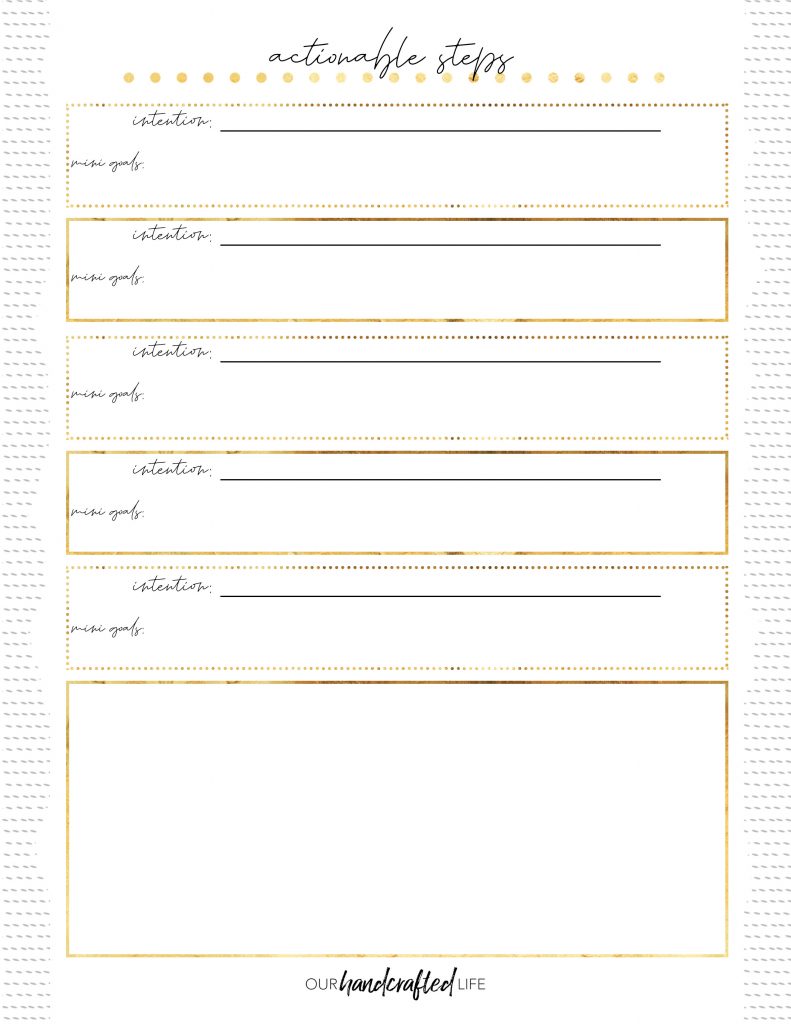 Make Your Yearly Bucket List
Here's the fun part! Get together with your family and brainstorm. Let everyone dream big about the things they'd like to do. Nothing is too big or too small. It can be really fun to see what your family comes up with.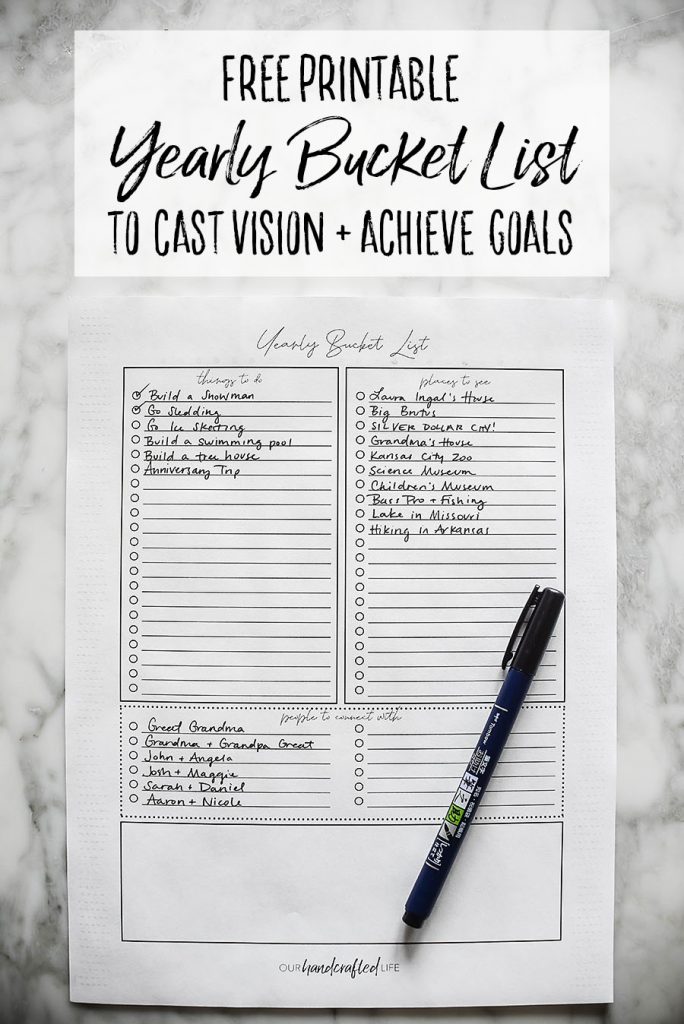 You might not get through everything this year, but maybe you can find some fun new things to do to make memories as a family and start planning some of the bigger dreams for the future. Below, I've included a yearly bucket list and a blank bucket list. Print them out as many times as you need!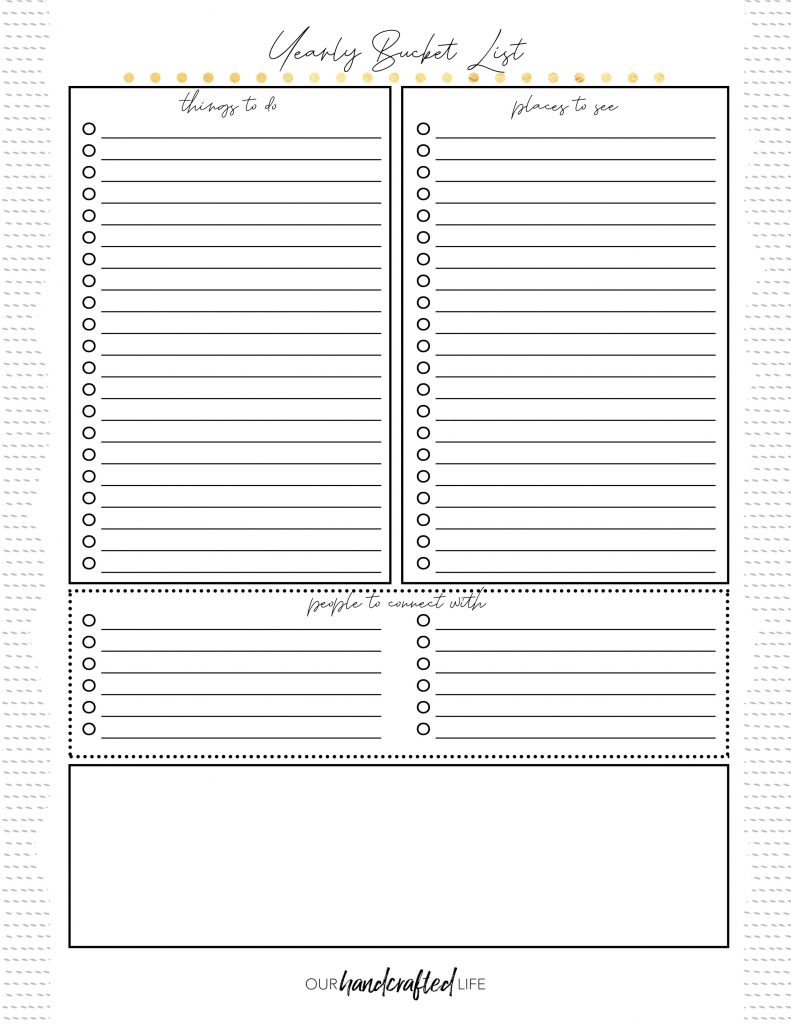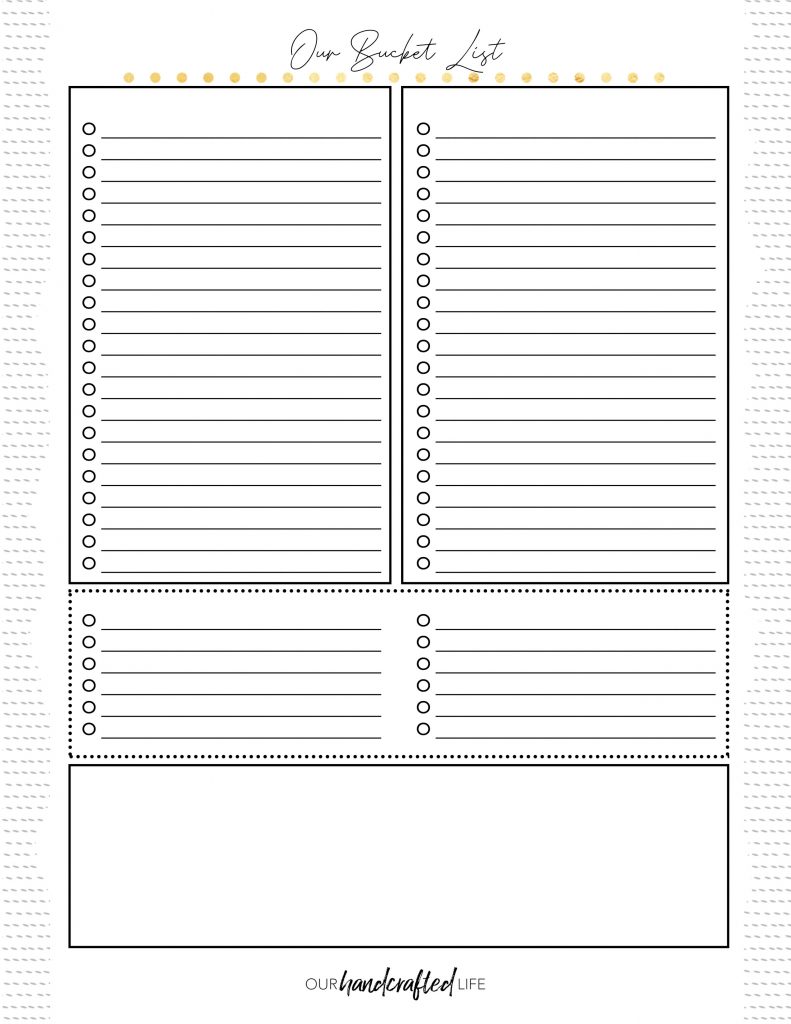 I'm going to be sharing a few more printables throughout the next couple of months that should help with some of the most common goals – I really hope they are helpful! I have some printables to help with meal planning, budget tracking, intentional journaling, and more. Make sure you're subscribed if those sound helpful so that you'll know when they're released. (Of course, they will all be free to subscribers!)
Please let me know if there's something else that would make it easier for you to be more intentional in your life.
Start in February – start in May – start December 22 for all I care! Whenever you feel like you need a gentle reset, that's a great time to start marking out some intentions for yourself.
So, HAPPY NEW YEAR! Whenever that new year may be.