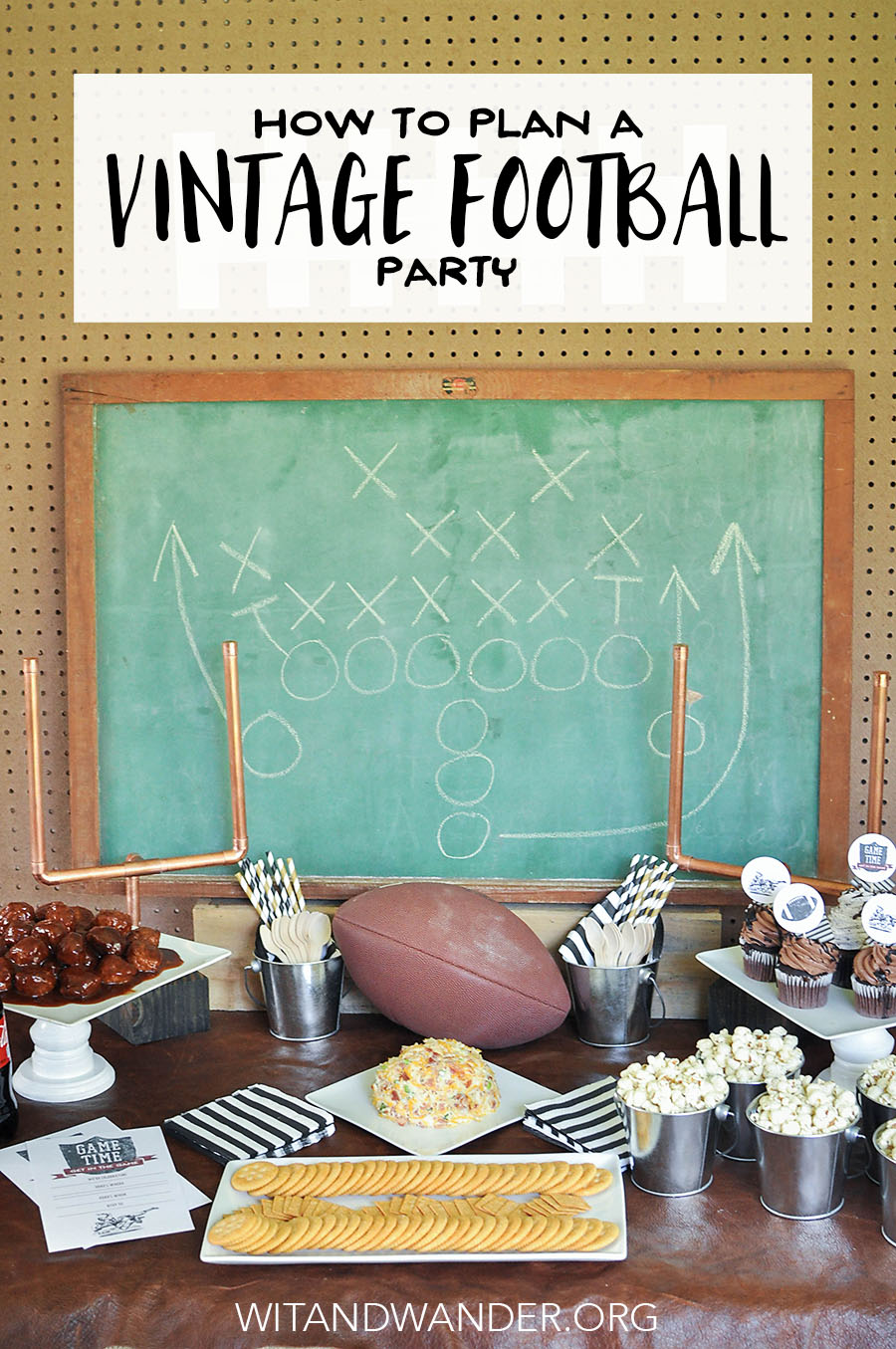 Football in Texas is not just a sport, it's a way of life. During football season, you can bet our family will be out every weekend under the Friday night lights and there will be a game on in the background Thursday through Sunday.
It's no wonder that one of my favorite ways to bring family and friends together in the Fall is through a great tailgate party at home. Home tailgating parties are full of delicious food and fun, football-themed party decorations. Watch parties are the perfect way to create lifelong memories. This year, I decided to put a twist on the classic football party with this unique Vintage Football Party.
Vintage Football Party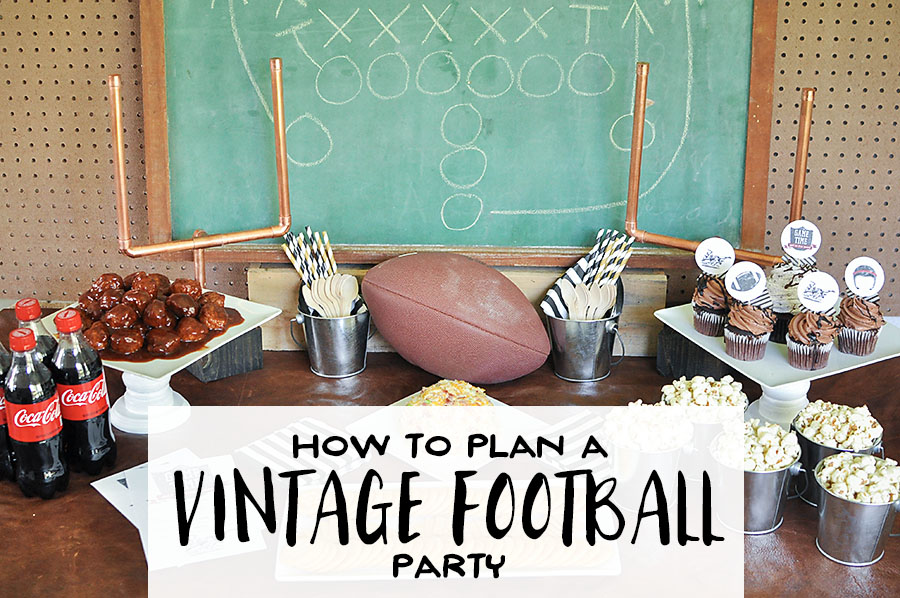 One of my favorite decorations in this party was the DIY Football Backdrop. We picked up a brown pegboard at our local hardware store and added some white tape to create a vintage football look.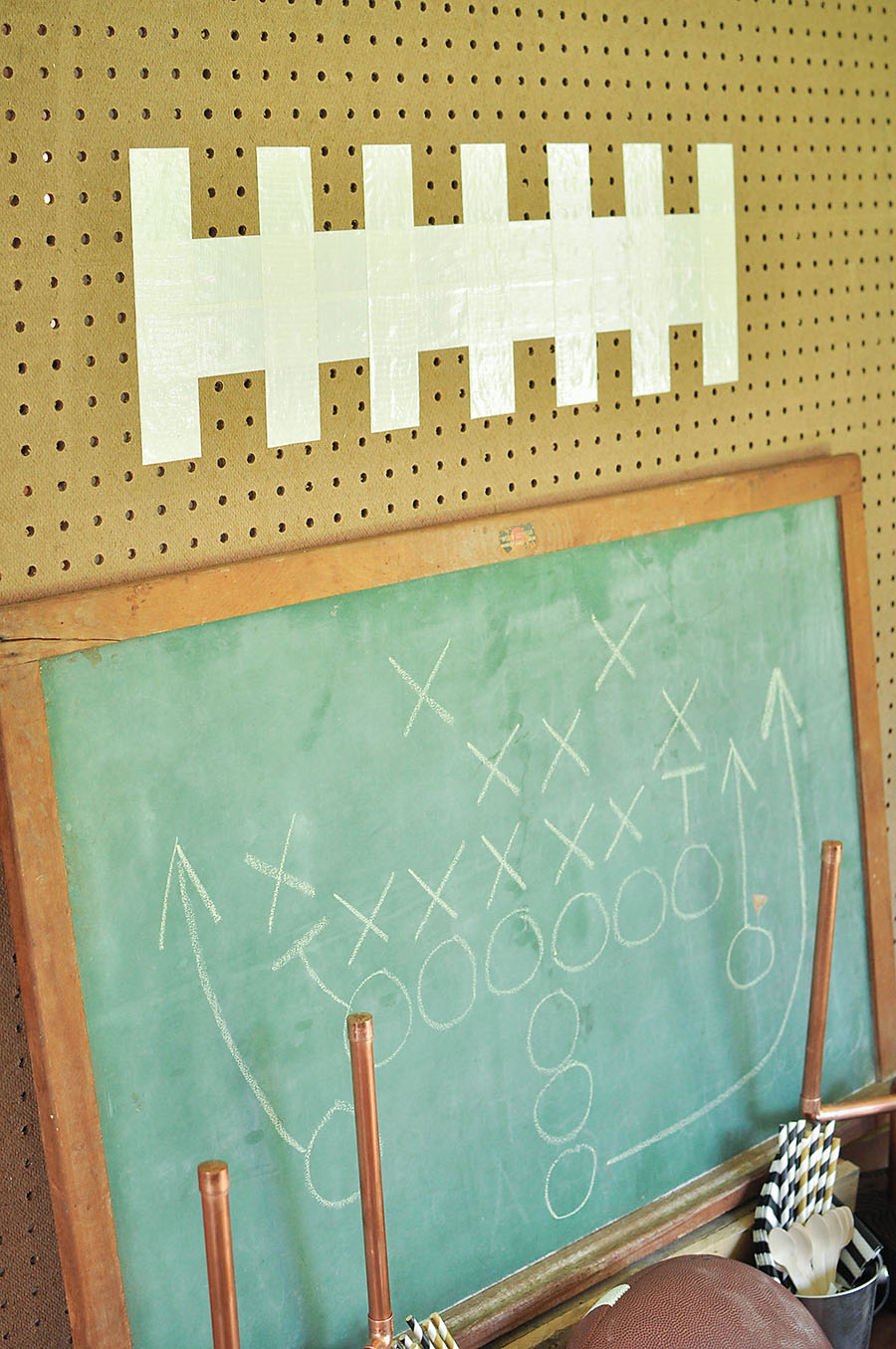 Then we found this vintage green chalkboard to create a giant DIY football play board with a strategy I'm sure would win the game. We also had some leather that we layered over burlap sacks for a unique alternative to a traditional table cloth.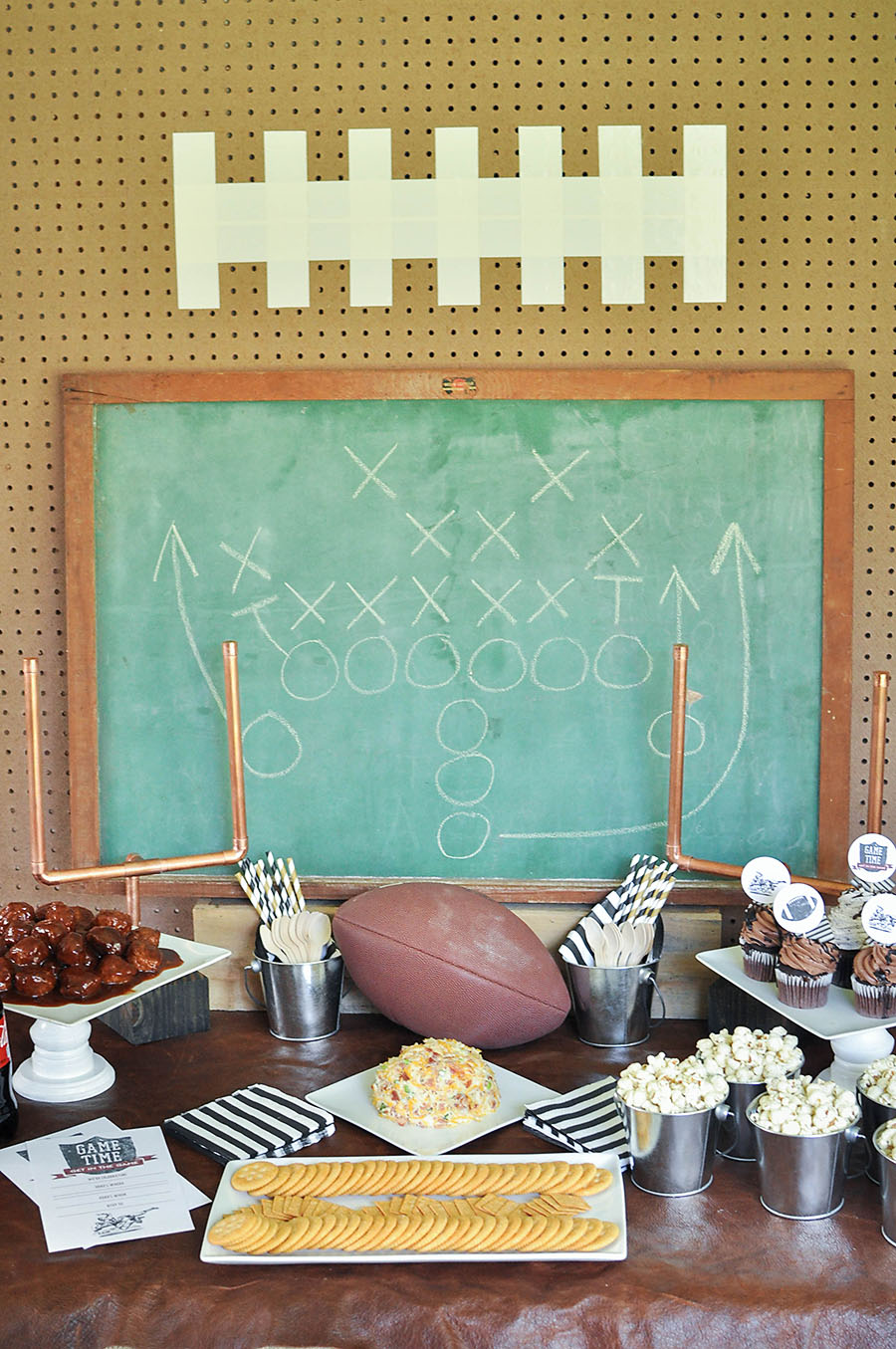 To go with the theme, I designed free printable Vintage Football Party Invitations and Cupcake Toppers with Vintage Football icons. You can download the freebies by clicking the pink box below these photos.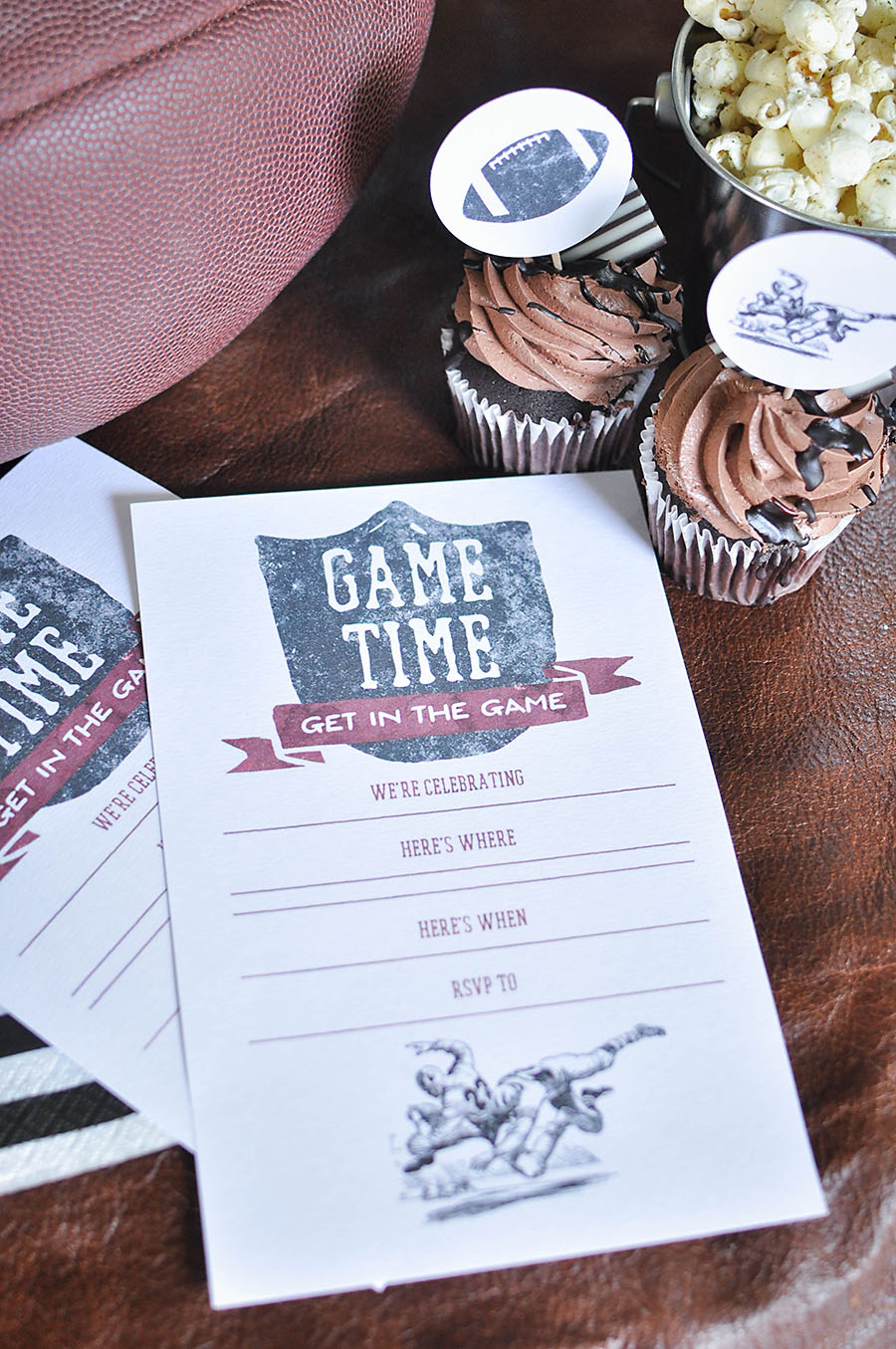 Click Here to Download the Vintage Football Party Free Printables
Of course, the best part of any party is the food! The first recipe is a classic party favorite with a twist.
Coca-Cola Meatballs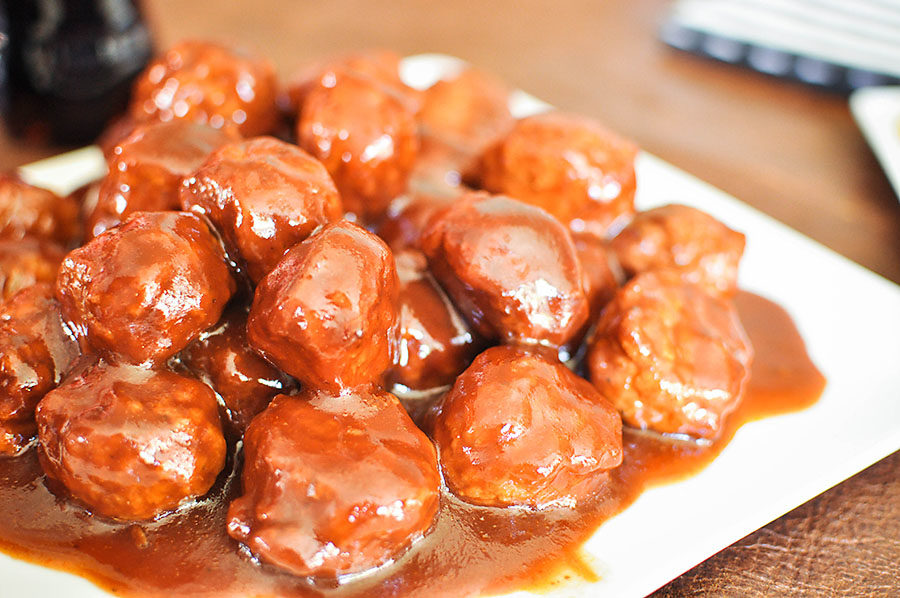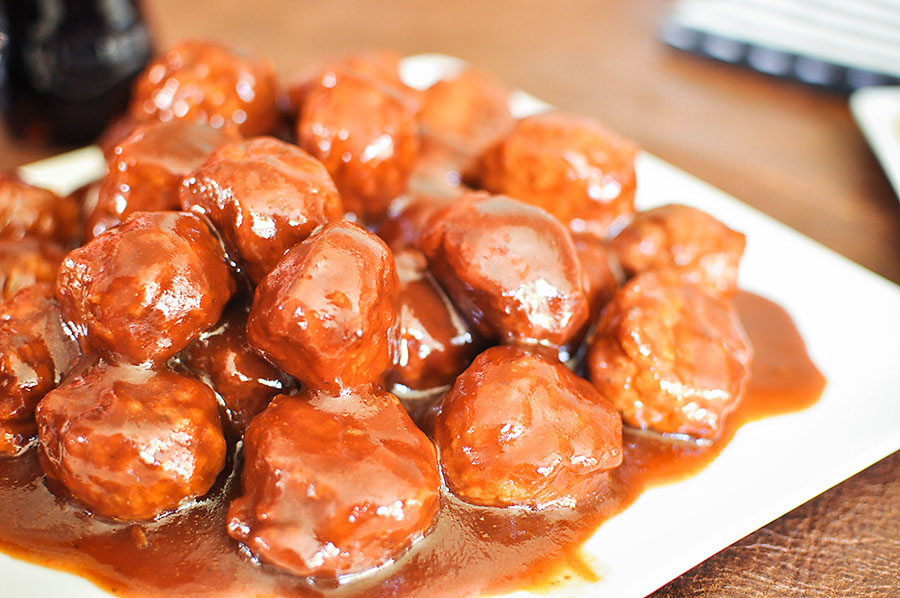 These Coca-Cola Meatballs are so easy with just 3 ingredients and 5 minutes of prep time. They are made in a slow cooker, so they are hands-off and perfect for Game Day.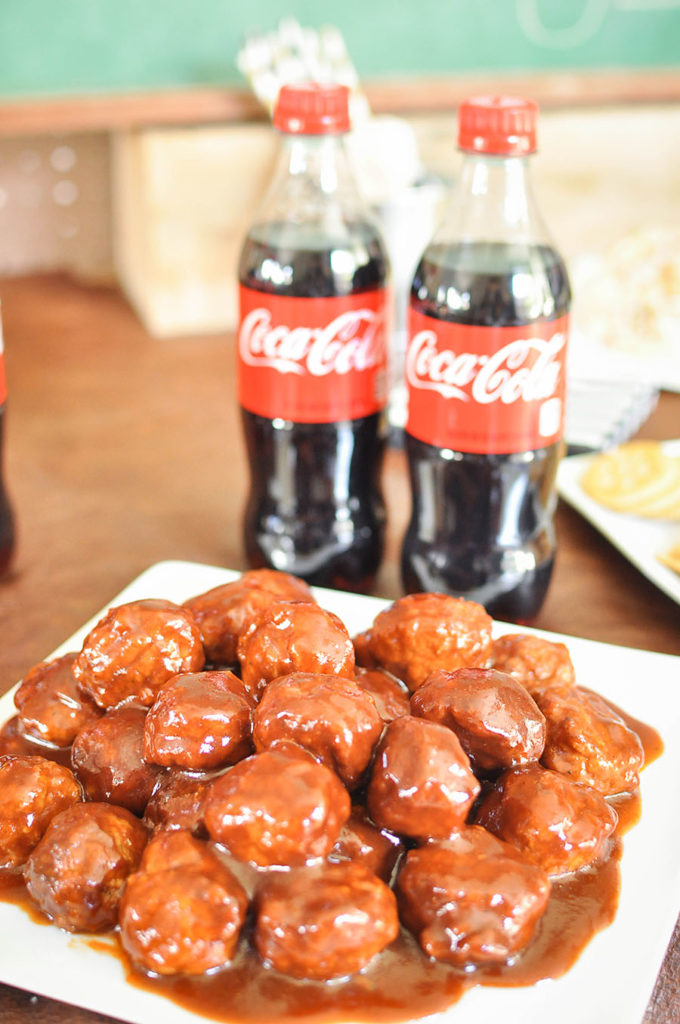 Just combine a can of classic Coca-Cola and your favorite bottle of BBQ sauce in a slow cooker. Then add in a bag of frozen meatballs and cook on high for about 3 hours.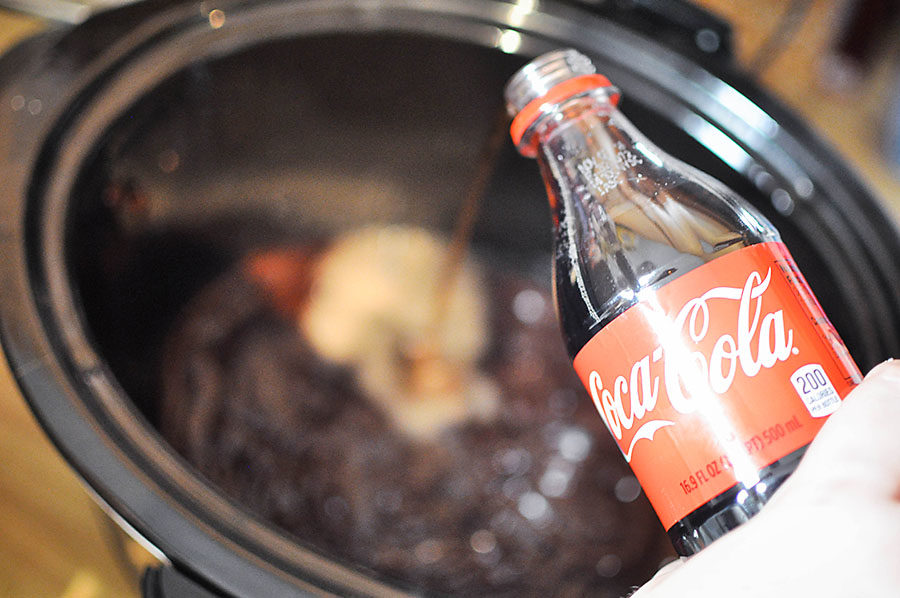 Here's the full recipe:
Coca-Cola Meatballs
Ingredients:
1 can of classic Coca-Cola
1 bottle of BBQ sauce
1 bag of frozen meatballs (about 50 meatballs)
Directions:
Mix together the Coca-Cola and BBQ sauce in the slow cooker. Add the frozen meatballs. Cook on HIGH for 3 hours, or until meatballs are cooked through. Serve warm.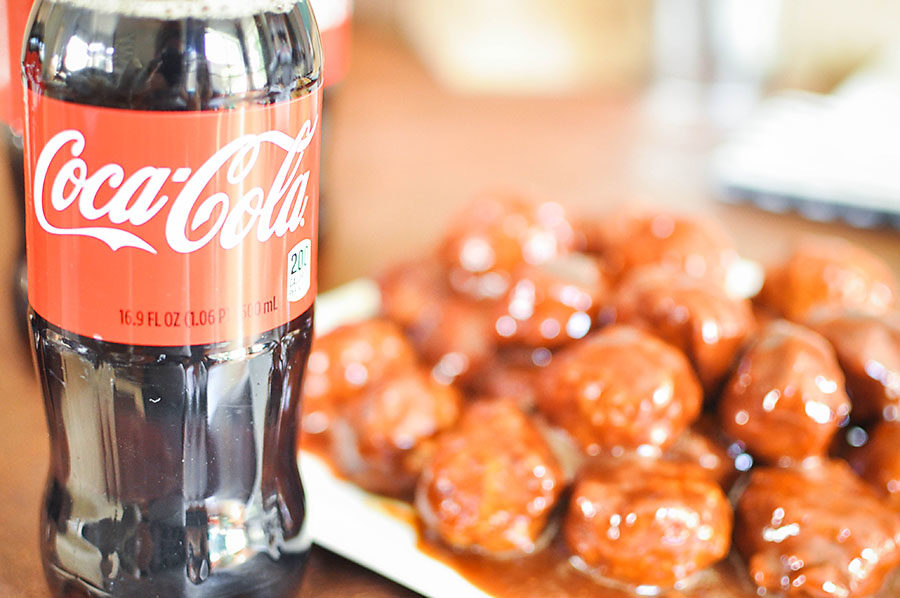 Cheesy Bacon Dip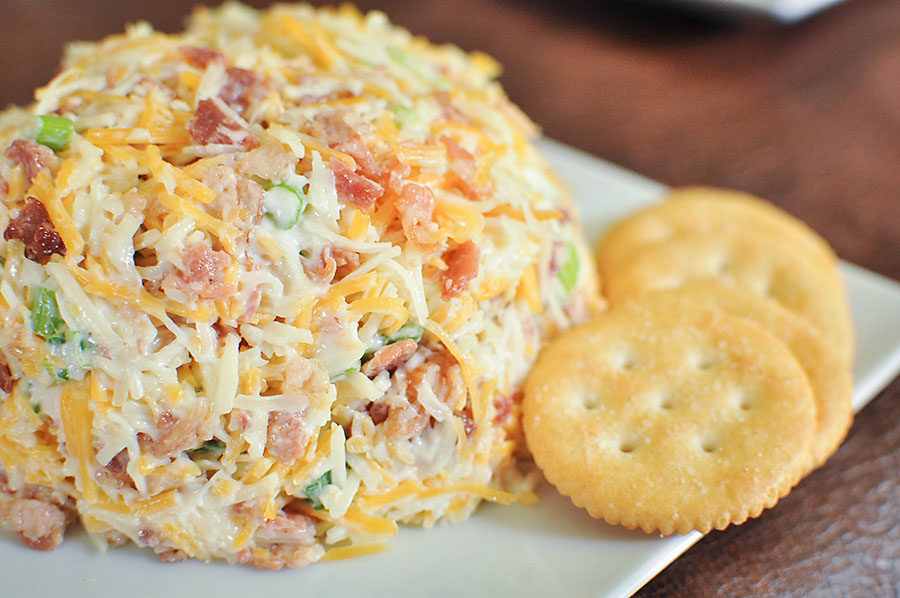 I also love a great cheese dip, so I created this savory Cheesy Bacon Dip. It's packed with flavor and it pairs perfectly with your favorite crackers.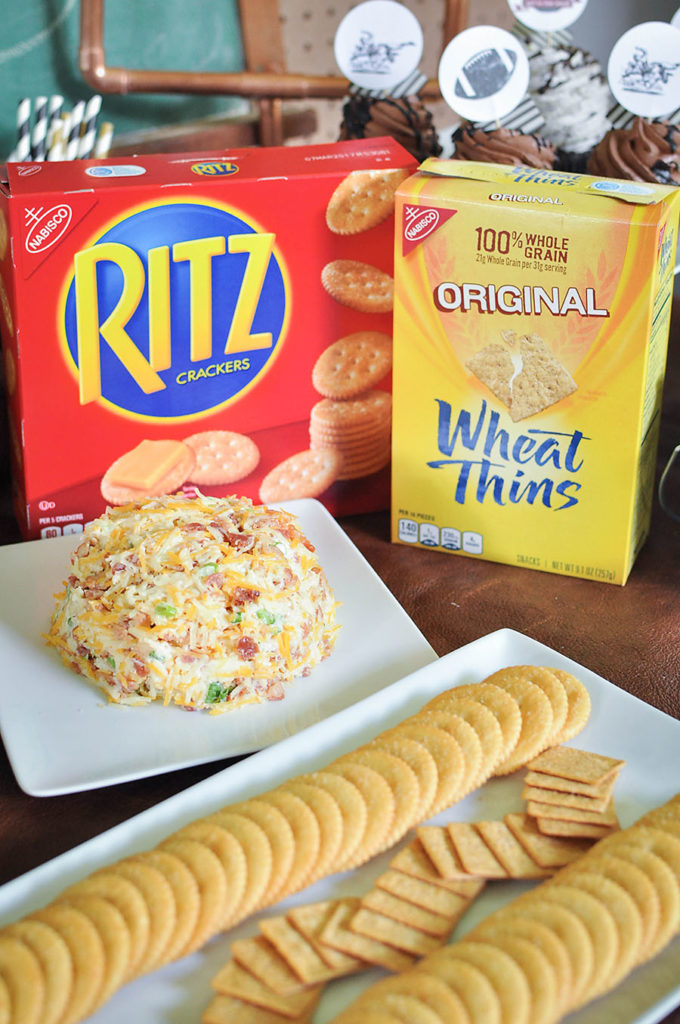 Once again, it's a super simple recipe with only 4 ingredients and you don't even have to turn on the oven! Here's the recipe: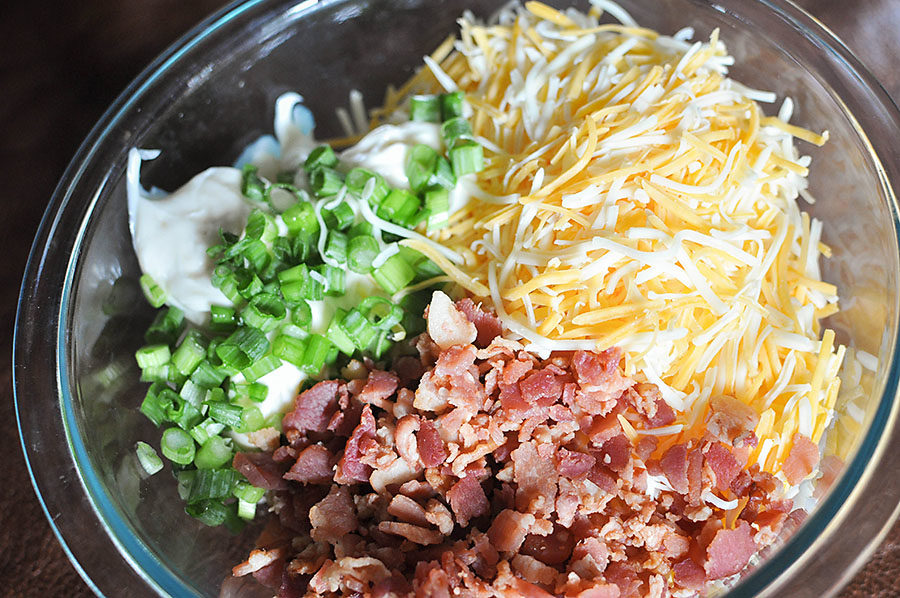 Cheesy Bacon Dip
Ingredients:
2 cups shredded colby jack cheese
3/4 cups of whipped salad dressing
1/4 cup diced green onions
1 package bacon pieces
Directions:
Combine the ingredients and chill in the fridge for at least an hour. Serve chilled with your favorite crackers.
DIY Copper Pipe Mini Goalposts
One detail from this party that I absolutely love is the DIY Copper Pipe Mini Goalposts. They only take about an hour to make and they add such a pop to this Vintage Football Party.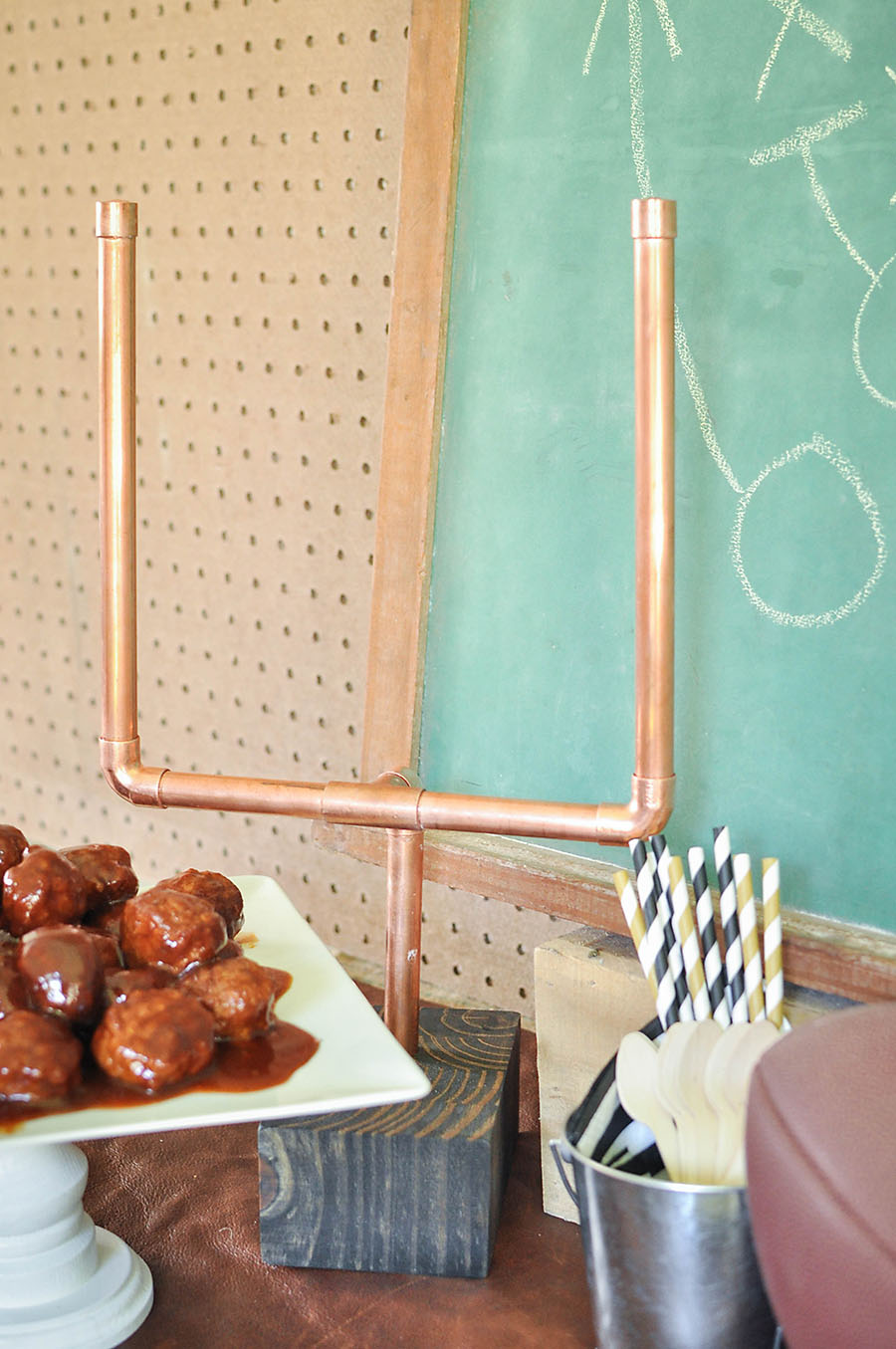 Here's what you'll need: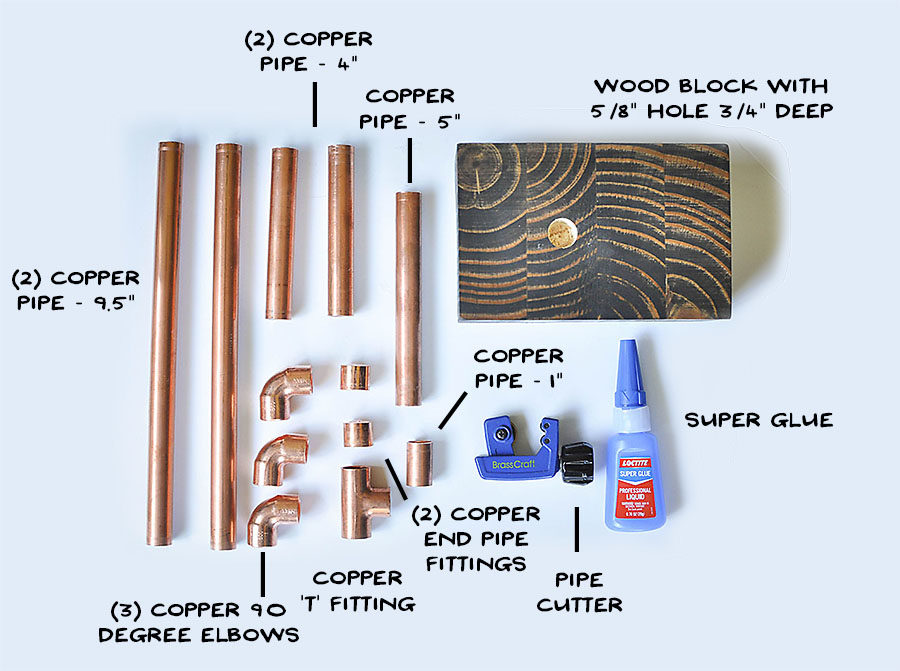 33″ of 1/2 inch Copper Pipe cut into the following measurements:

(2) 9.5 inch pieces
(2) 4 inch pieces
(1) 5 inch piece
(1) 1 inch piece

(3) Copper 90 degree elbow fittings
(1) Copper 'T' Fitting
(2) Copper end cap fittings
*Note: If you'd like to make two goalposts – like we did for this post, simply double all the pipe and fittings.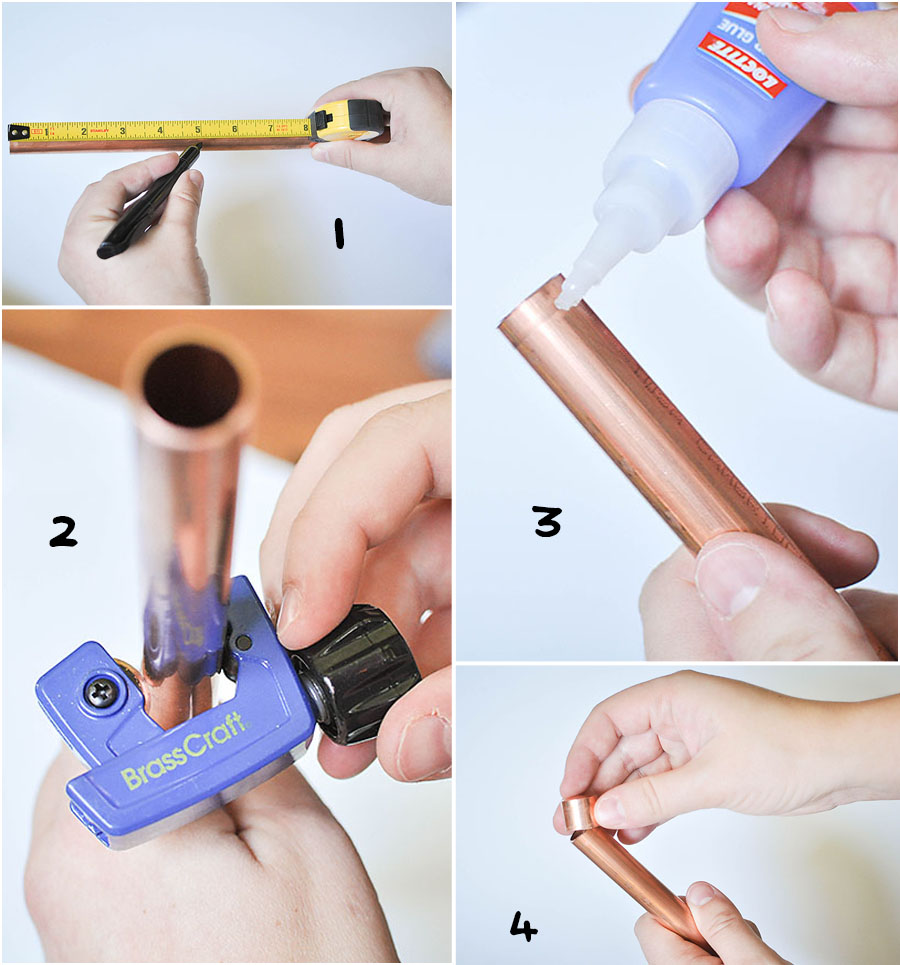 Experienced DIY-ers will know you can cut the pipe using a number of methods, but we found a compact pipe cutter for about $10 at our local hardware store that made this project pretty simple.
Once you have cut your pipe into the correct measurements, you will use the superglue to secure your pieces together. Be careful because the glue will set up very quickly.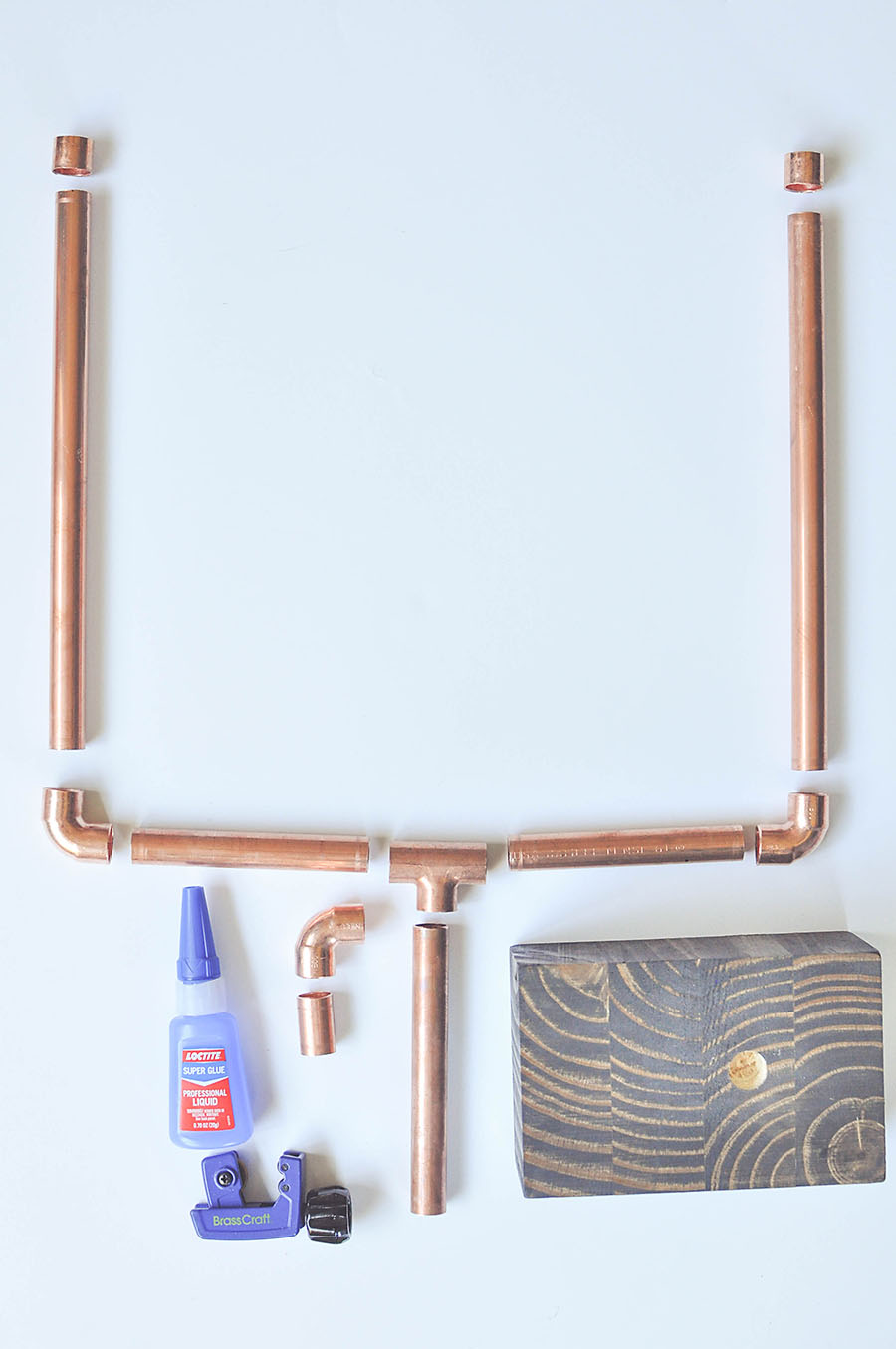 Begin making your DIY Mini Goalposts by making the bottom portion of the goalpost. Insert the 5″ piece into a 90 degree elbow. Add the 1″ piece to the other end of the elbow. Then add the 'T' fitting to the other end of the 1″ piece and make sure the 'T' is perpendicular to the 5″ piece.
Then add the 4″ pieces to the open ends of the 'T'. Set that section aside while you assemble the two vertical arms of the field goal posts. Glue an end cap to one end of the 9.5″ piece and a 90 degree elbow to the other end. Repeat with the second arm of the goal post.
When both arms are assembled, attach the open end of the 90 degree elbows to the end of the 4″ pieces, making sure that your vertical arms are parallel to each other and the 5″ piece.
Use a block of wood to make the base, making sure that it has enough leverage to support your goal post. Use a 5/8″ drill bit to drill a hole about 3/4″ deep. That should provide a snug fit for the 1/2″ copper pipe.
Here are a few other details from the party: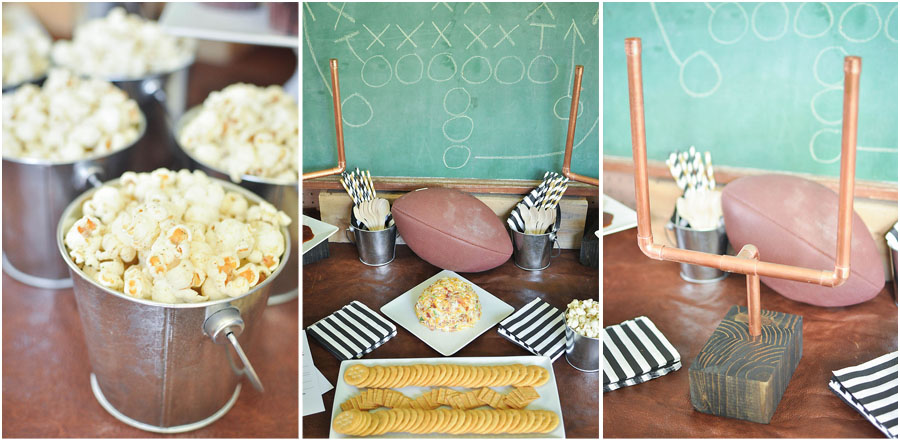 I hope you like this Vintage Football Party as much as I do!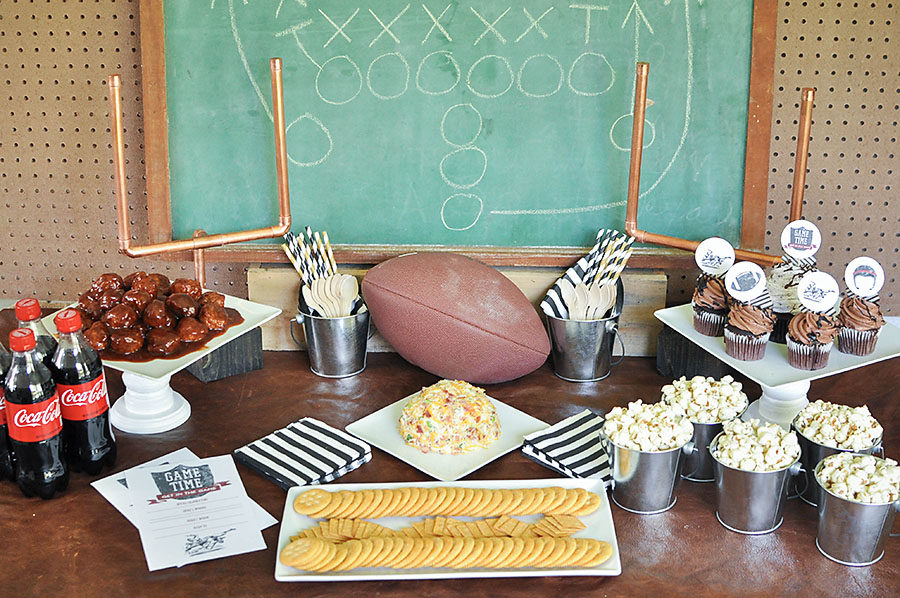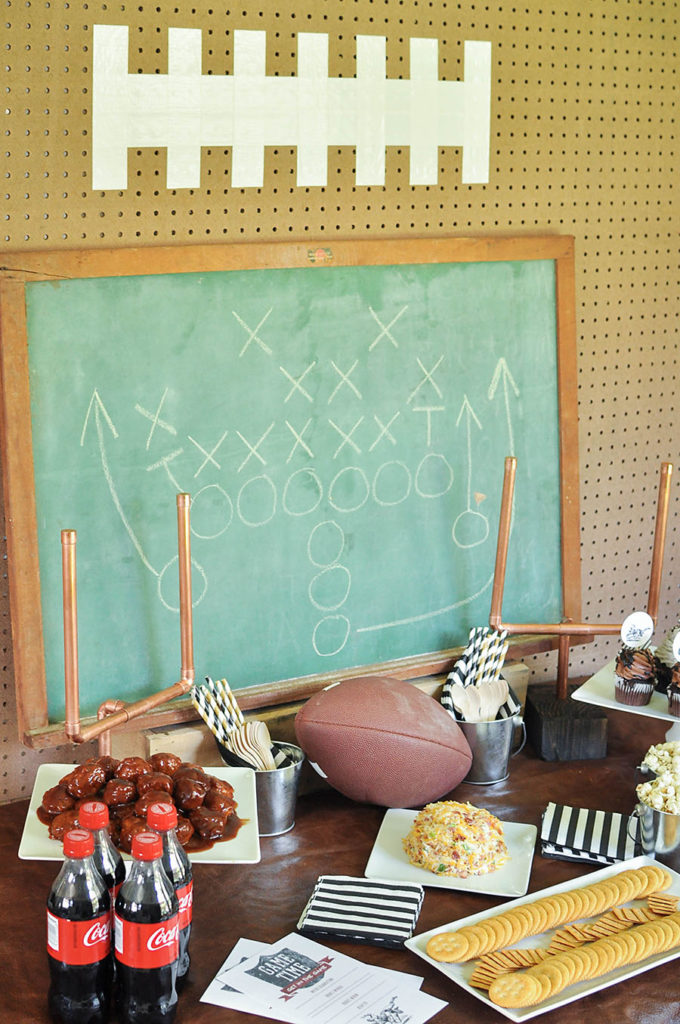 If you like it, be sure to share it with your friends on Facebook or Pinterest! Football has a way of bringing people together like nothing else – how do you celebrate football season? Share with us in the comments below!

—
Like what you see on our blog? Join our mailing list to receive emails with freebies, projects, coupons and decor ideas to help you live a creative and joy-filled life. You can also follow us on Facebook, Twitter and Pinterest.
Subscribe to the Newsletter for Free Updates
Subscribe to get DIY projects, recipes, and tips to live simply and create beautiful things delivered right to your inbox.