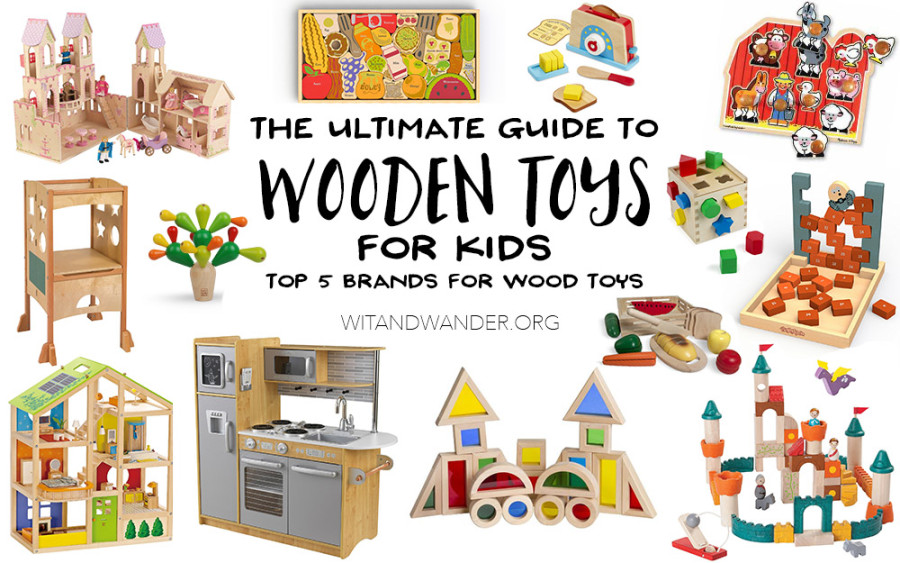 Wooden toys are durable, practical, and they inspire imagination. When a toy doesn't have all the bells and whistles, kids have to imagine those bells and make their own whistles, which allows their creativity to flourish.
Whether your looking for food to fill your child's play kitchen, a game for the whole family, or your kiddo's first building blocks, these brands of wood toys for kids will last for generations to come.
The Best Brands of Wood Toys for Kids
Probably the most well-known brand on the market today, Melissa and Doug is bringing wooden toys into the mainstream by making "classics with a twist". I love their dedication to quality and simplicity. When I noticed at Christmas that 80% of my daughter's gifts were Melissa and Doug toys, I realized they are definitely near the top of my "favorite brands" list. A few of my favorite wood toys from their brand are the chunky puzzles and wooden cutting food.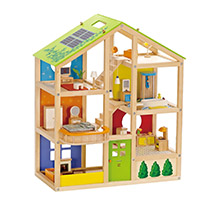 Hape makes wood toys that are ideal for pretend play. Some standouts in their line include their play kitchen accessories like the Pop Up Toaster and Mighty Mixer, as well as their adorable All Seasons Dollhouse.
Plan Toys are sustainably produced toys specifically designed to encourage a child's imagination. They have basic toys, but they are made well and are incredibly fun. I have fallen in love with the Fantasy Blocks set.
KidKraft is known for their well-made play kitchens and doll houses and there's a reason. KidKraft has thought about every detail, including style and function, and it shows in the quality of the product. Their Uptown Natural Kitchen is nicer than mine and the Princess Castle Dollhouse or Pastel Swivel Deluxe Dollhouse would be any preschooler's dream.
Their motto is "toys that teach, challenge, and let kids explore". That is exactly what I'm looking for in a toy! They create hundreds of toys, but my favorites have to be the family games like Don't Dump Dumpity and puzzles like Alphabites A to Z Wooden Puzzle.
Guidecraft creates toys and furniture for a variety of ages. One of their most popular items is their gorgeous and practical Kitchen Helper, which is the perfect way to let your preschooler safely help out in the kitchen. Plus is folds up to be put away – a major plus because our kitchen has limited space. They are also known for their set of Rainbow Blocks, which are great for learning colors, developing motor skills, and encouraging pretend play.

Those are my Top 5 Brands of Wooden Toys for Kids – do you have any wood toys that your little ones love? Share them with other moms in the comments below!
Subscribe to the Newsletter for Free Updates
Subscribe to get DIY projects, recipes, and tips to live simply and create beautiful things delivered right to your inbox.