Take the guesswork out of decluttering and simplifying after baby with this comprehensive guide to Storing, Selling, and Donating Your Baby's Stuff.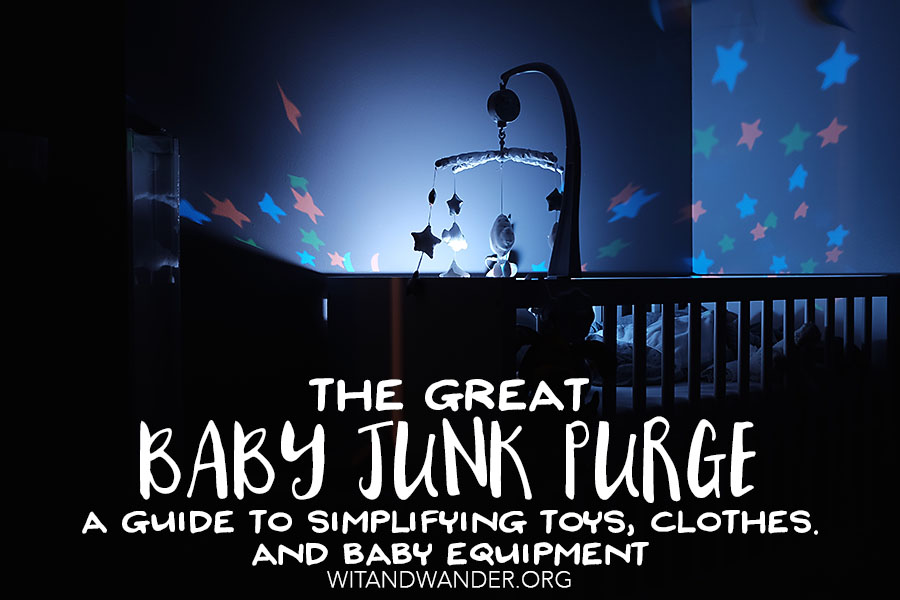 Babies change a lot of things, but one of the biggest changes? The amount of STUFF we have in our house!
Babies come with a lot of stuff. We try to keep things simple and only get the essentials, but even those essentials pile up quickly. After all that stuff accumulates, we have to go through what I like to call 'The Great Baby Junk Purge' to simplify our lives once our babies are grown up.
We live in a 1400 square foot house with no basement and very little storage. It's not a tiny house, but there's not enough extra space to keep everything my babies ever touched. I am also not a fan of clutter, so I live for the day month when I get to purge all the stuff that has filled my closets. After going through this simplifying process twice, I have a few tips on how we managed to clear the clutter.
The Great Baby Junk Purge – Simplifying After Baby
The most important thing I did was set aside time for this task. Right before Christmas or during Spring cleaning are some of my favorite times to mentally prepare myself for simplifying our. I also like to know my options – if I figure them out ahead of time, it won't be as difficult to part with the stuff. Here are some ways we sell and donate our baby stuff.
Sell
Consignment Sales – Giant sales that happen twice a year in the Spring and Fall. I get to shop for new clothes, toys, and equipment while earning about 70% of everything I sell.
Consignment Shops – These permanent businesses are open year round. I take in my kid's stuff and they will give me a quote. They only accept the best quality clothes and their payout is generally a bit lower than the other options.
Facebook Garage Sale Groups – These groups are focused on your neighborhood or city. I photograph my items, post them for sale, then arrange pickup with whoever comments that they want to purchase my goods.
Garage Sale – Of course, there's nothing wrong with a good old-fashioned garage sale. Know that buyers are looking for VERY good deals on baby clothes and equipment at garage sales.
Donate
Goodwill, CCA, etc. – The gold standard in donating used goods, these businesses will take anything I bring and hand me a tax deductible receipt.
Women and Children Shelters – These shelters especially for women and children (often coming from abusive situations) would love to bless the mamas who come with lightly used gear.
Local Ministries – Our church has a ministry for teen parents. Twice a year they ask for donations so that the young moms can go "shopping" at the church for their little ones. Other ministries in our area help homeless families that come in for assistance and help women escape from trafficking and prostitution. Often these families come in with very little for their kids. Check with local churches and non-profits to see if they could use your baby clothes and equipment.
Now that we know our options, it's time to start sorting! I tend to take everything out of a closet or dresser and sort it into one of three categories – Store, Sell, or Donate. Here's what I put in each category:
Clothes
I keep a very small box (think plastic shoebox size) of things I want to give to my kids when they get older. This includes the onesie they wore home from the hospital, their first hat, and their hospital tags.
Store
Since we plan on having more kids, I think it's wise to keep some of my baby's outgrown clothes. I only kept pieces that were in excellent condition and that would not go out of style. Sleepers and onesies from when they were babies and rompers and dresses from when they were a bit older. I always ask myself, "Would I be excited if I pulled this out in 5 years?" If the answer is yes, then it might be worth keeping.
Sell
I sell any clothes that are in excellent condition but that don't fit my style. For example, I live in Texas so seersucker is HUGE. Unfortunately, I think it's ugly so I never put my kids in it. I sold every seersucker dress I received. I also sold anything that may not age well. T-shirts featuring Anna & Elsa are huge now but they may not stand the test of time, so they're perfect to sell.
Donate/Trash
Anything that doesn't sell at a consignment sale is likely not worth holding on to. I donate it (if it's in good condition) or trash it. I don't try to sell things that have stains or holes. If I would be disappointed if I got home and found the clothes in that condition, I don't try to sell it to someone else.
Toys
Store
I tend to keep vintage toys, wooden toys, and toys without batteries. Things like LEGO Duplos, wooden blocks, train tracks, and Little Tykes dollhouses will be just as good 10 years from now as they are today. My parents have boxes of simple toys that I had when I was a kid (and even before) that they pull out whenever we come to their house. These are the toys worth keeping.
If I do keep toys with batteries, I make sure the batteries are removed before I put them in storage so they don't explode in the toy. (Not that I learned this the hard way…)
Sell
If a toy makes noise and has lights, chances are it won't stay in great condition long enough for multiple kids to use it. I like to sell them while they're still in great condition to get the most out of the toys. I also sell anything that your kid's don't play with anymore. If it doesn't bring me or my kiddos joy, there's no need to keep it!
Donate
Toys are ideal to donate to children's hospitals, schools, and churches. I make sure they are in great condition (nobody else wants to play with the Barbie dolls with half her hair chopped off either) and call ahead before I bring in the toys to make sure they're accepting donations.
Books
Store
Books are the hardest thing for me to part with. I very rarely cull my children's book collections, but I know that day is coming. I kept a few keepsake books in each kid's baby box that were special to them when they were little so they can read them to their kids. I also like to keep books I would love to read to my grandkids one day and some books that will stand the test of time. Here are some of my favorite series and authors to keep:
Little Golden Books
Clifford the Big Red Dog
Dr. Seuss
Curious George
Little House on the Prairie
Berenstain Bears
Eric Carle
Sandra Boynton
Sell
I tend to sell books that are in good condition, but too young for my kids or drive me nuts. For example, I just can't read most of the princess books. Some of them are well thought out, but most read like they were written by a 3 year old. I have also sold a lot of the baby books that don't have a story line.
Donate
I can safely donate any books that are still in good condition, but aren't worth selling. Books from kid's meals, some early reader paperbacks, and small unused coloring books fall in this category. I also like to donate great books to libraries – most will have an annual booksale to raise money for the library.
Unless I make it clear at a garage sale and sell them at a steep discount for craft projects, I always trash books that are torn, colored on, or chewed up.
Baby Equipment
Store
Because we don't have a lot of space, I tend to store things that are compact. I also keep things that I would be disappointed if I couldn't find again for the next kid. Otherwise, I tend to buy used so that I can sell it for around the same price and buy used again for the next kid. We just don't have the space to store all the exersaucers, swings, and high chairs that come with a baby.
A few things I have been thankful to store – portable bouncer seat (they don't make them anymore and they are a lifesaver on vacation), space-saver high chair, Rock-n-Play, Pack-n-Play, and my beloved Ergo carrier.
Sell
I pretty much sell everything else – bassinet? swing? stroller? I sold them all! I found out what I liked while my first was a baby and bought a used version I liked better for my second kid. For example, we hated how big our stroller was so we sold it after our daughter grew out of it and bought a much more compact one for our son.
Donate
Someone can always use gently-used baby equipment. I like to check with friends or donate because having a new baby is expensive! Friends with kids a little older than mine gave us some of their equipment when they were simplifying their lives and it was a huge blessing.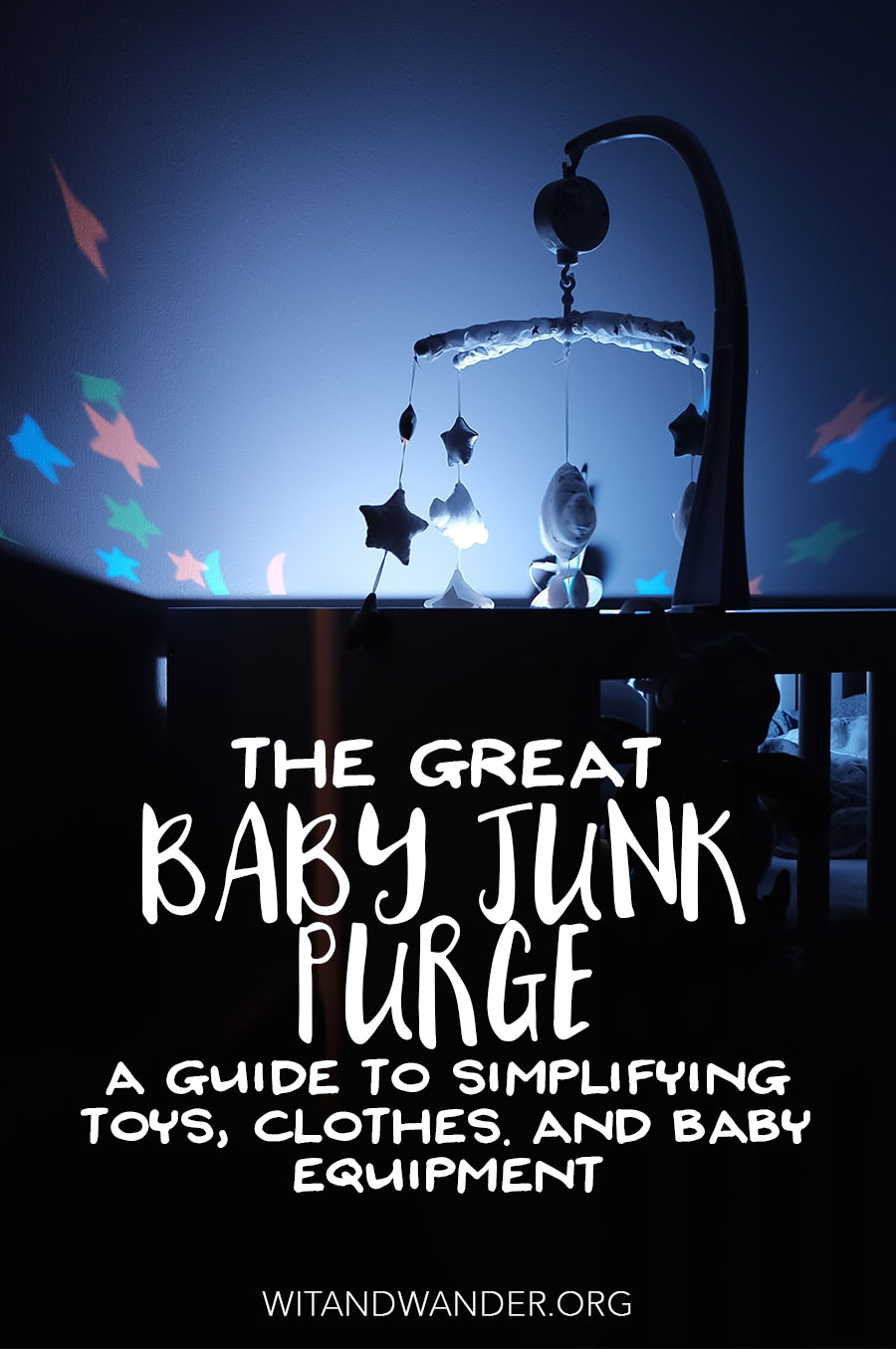 Let me know in the comments if you'd like any more advice on what to keep and what to get rid of after your baby grows up. Simplifying baby stuff is not always easy, but it will make your whole life feel lighter. Share in the comments below what you've been thankful to keep and happy to throw away!
Subscribe to the Newsletter for Free Updates
Subscribe to get DIY projects, recipes, and tips to live simply and create beautiful things delivered right to your inbox.