Celebrate with a Scoops & Sprinkles Ice Cream Party!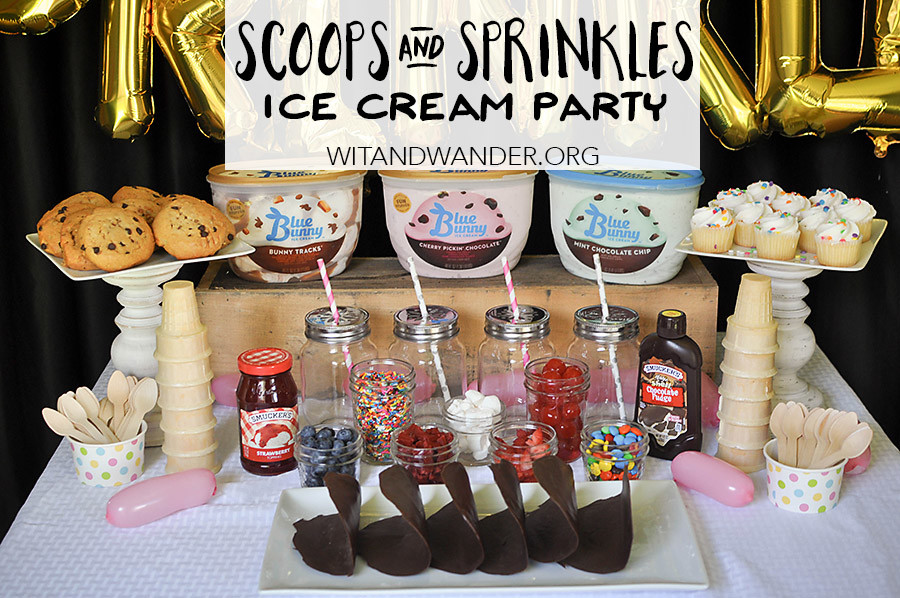 Our family loves summer because it means spending sweet time together as a family and getting together with friends. Summer is all about cooking out, late nights around the fire, catching fireflies, and eating ice cream! When we decided to get a group of friends together to celebrate the summer, I created this fun Scoops & Sprinkles Ice Cream Taco Party to beat the heat.
Scoops & Sprinkles Ice Cream Taco Party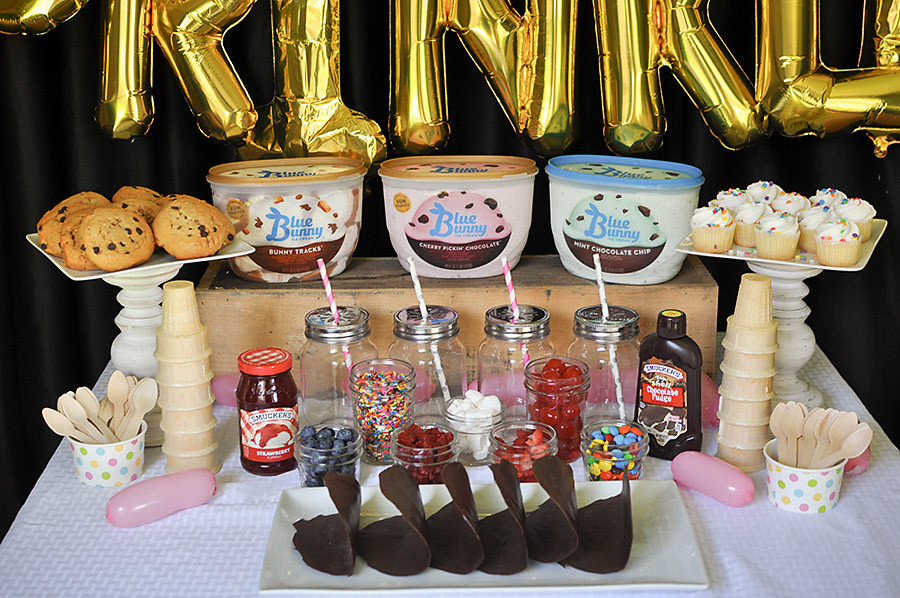 One of my favorite decorations in this party was the amazing Scoops & Sprinkles gold balloons. There is just something so fun and flirty about gold balloons, don't you think?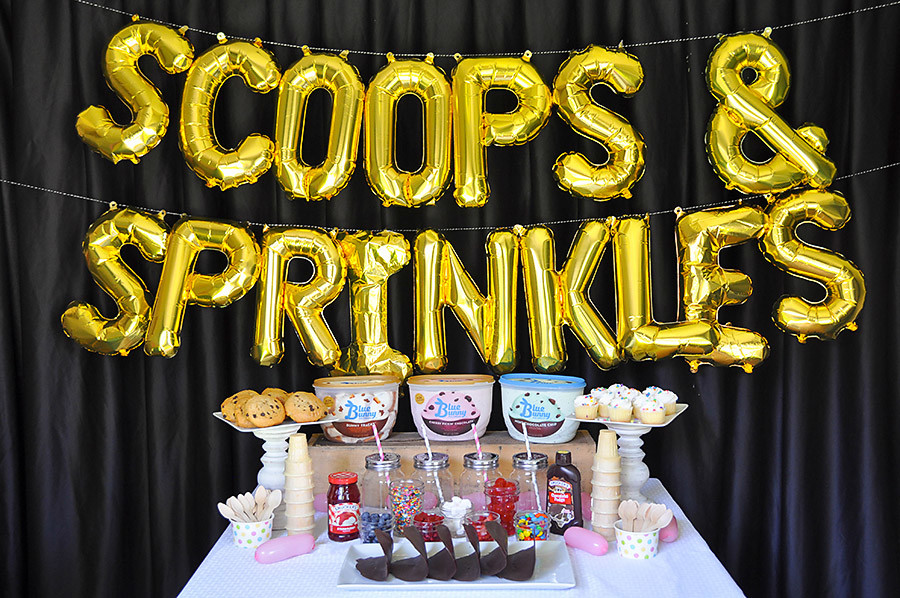 Another fun touch was the DIY Giant Sprinkles Balloons. I got some long narrow balloons (the kind you make balloon animals with), tied them off into about five 2″ sections and blew up one section at a time. Then I taped the tied ends to the back and decorated the table with the little sprinkles.
Free Printable Party Invitations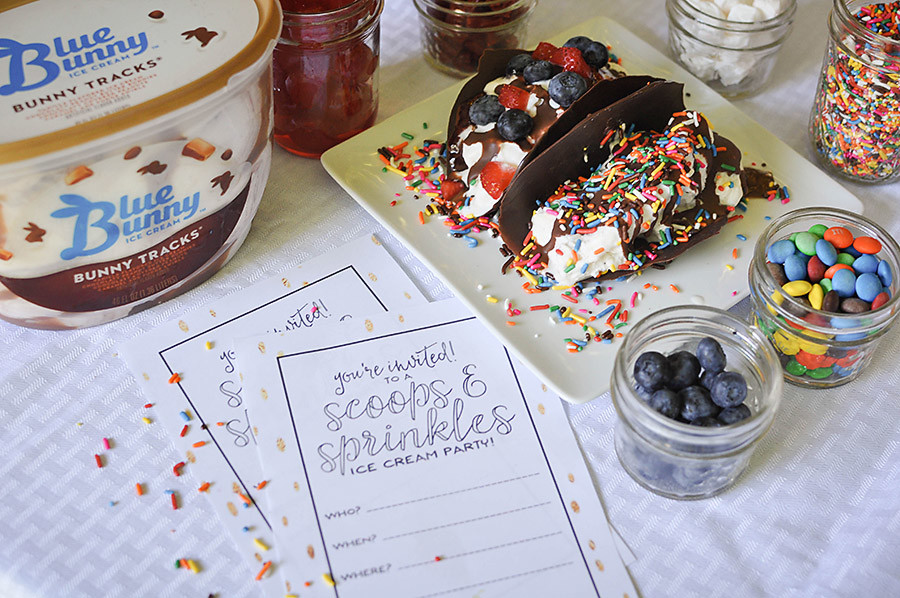 I also designed some printable invitations to go with the theme, which you can download by clicking the pink box below this photo.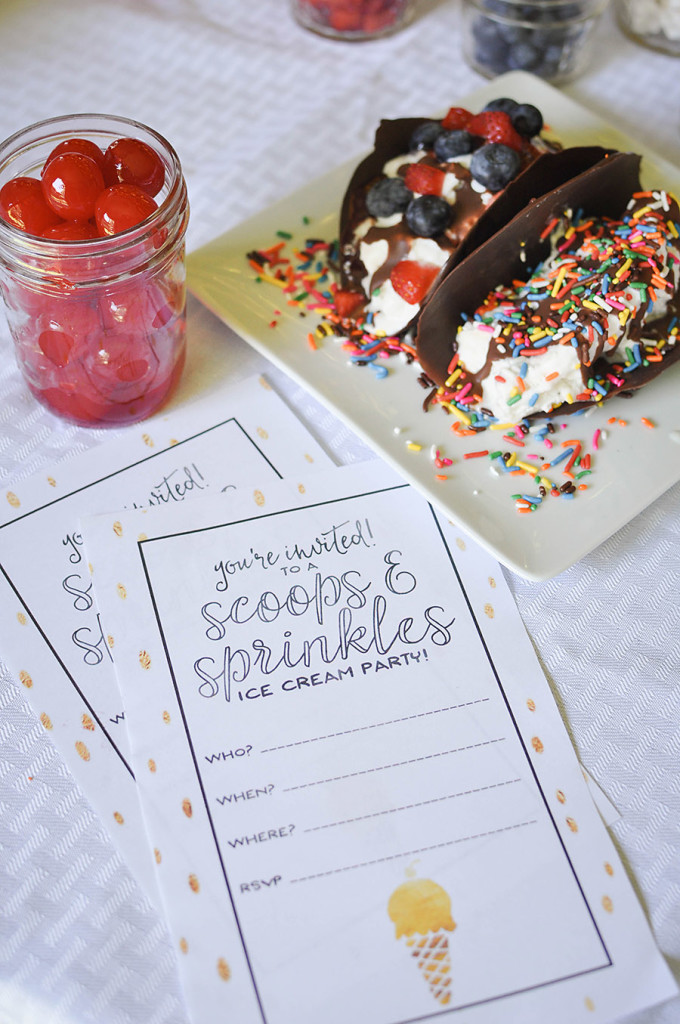 Click Here to Download the Free Printable Party Invitations
This is definitely a sweet tooth's party – food included delicious cupcakes and giant cookies.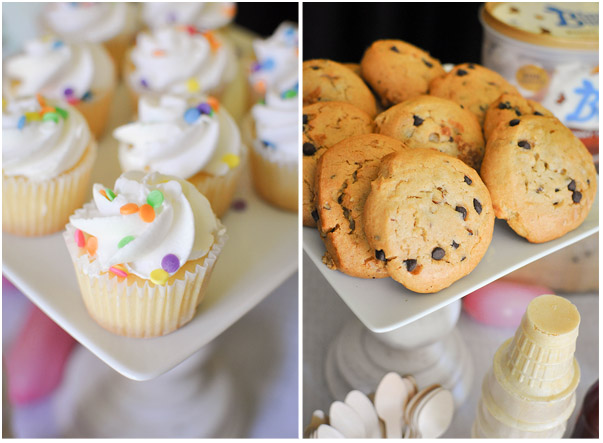 But the highlight of the night was the Make Your Own Ice Cream Taco Bar.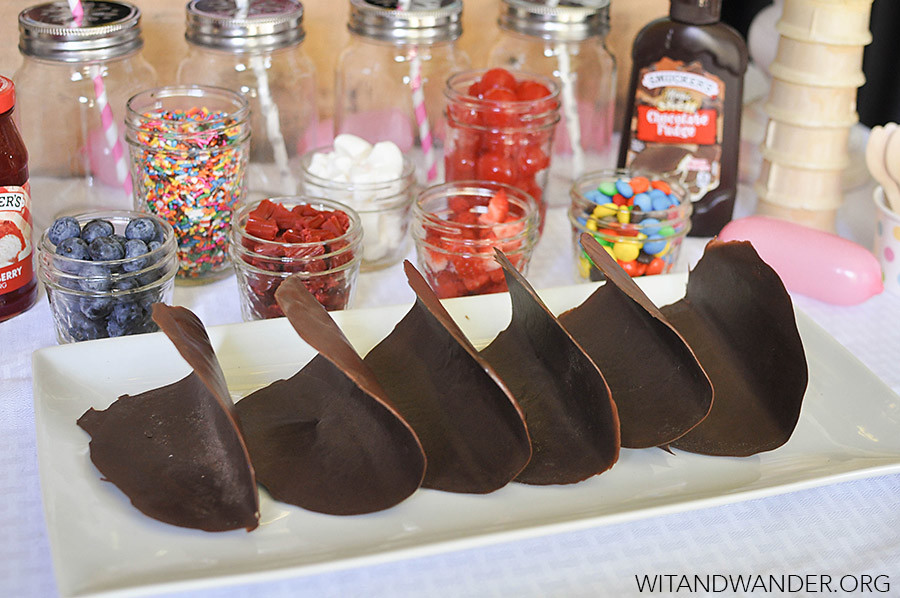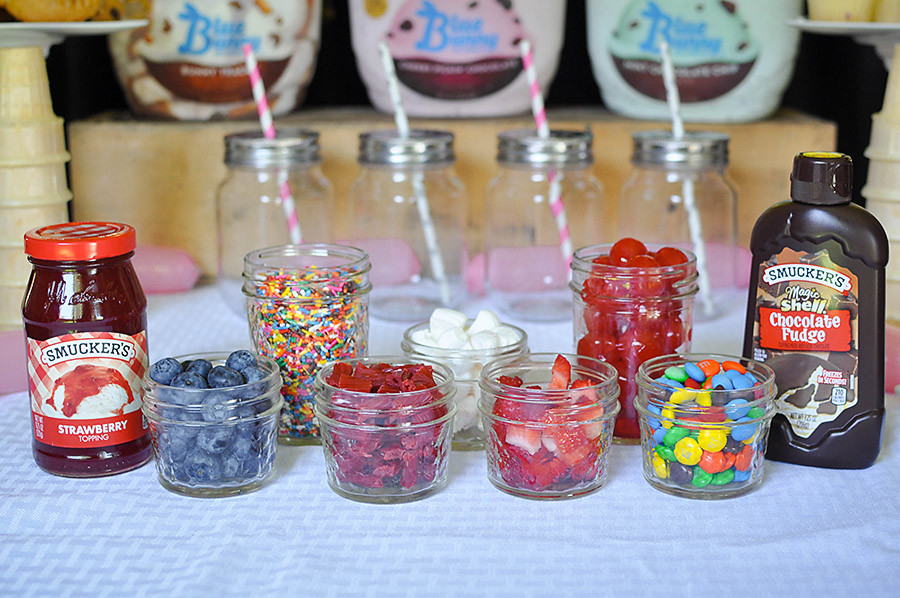 Frozen Ice Cream Tacos
To make these Ice Cream Tacos, you start by making the taco shells. I used a small plate to trace a circle on some parchment paper, then cut out the circles.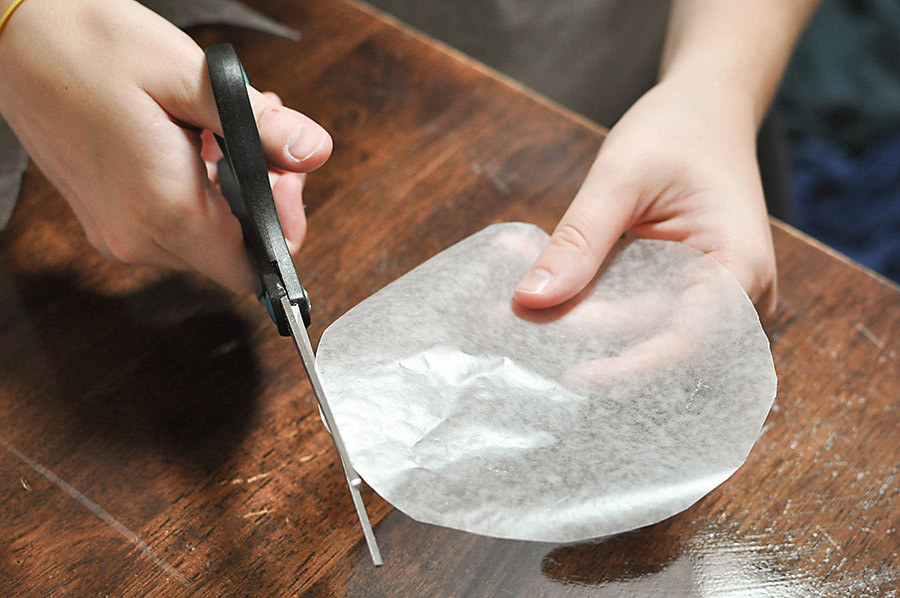 Then I melted some chocolate almond bark according to the instructions on the package and spread a thin layer on the parchment paper.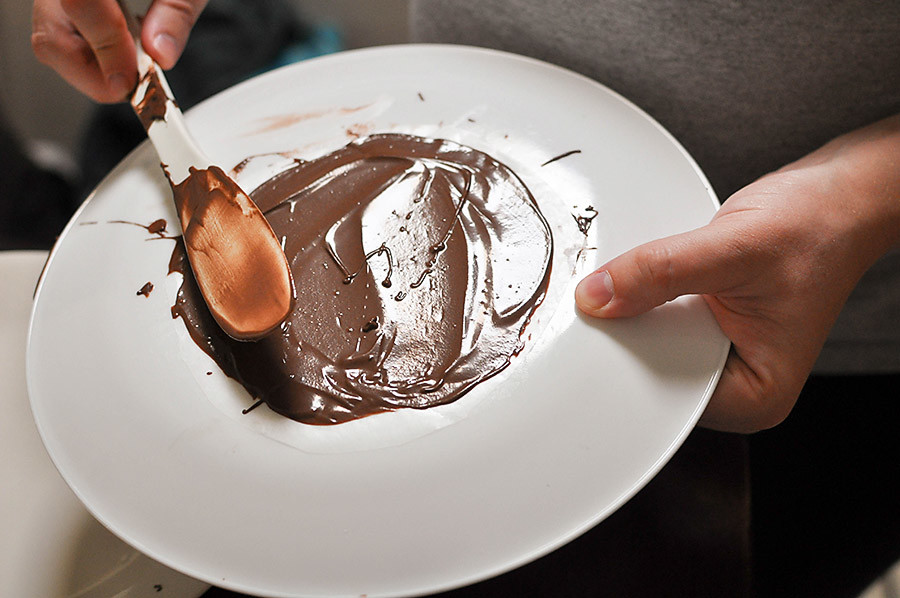 Let the chocolate cool for about five seconds, then carefully pick up the parchment paper and lay it over the handle of a thick wooden spoon. Let the chocolate harden completely and transfer the taco shells to a pan to cool in the fridge overnight. Once they are cool, you are ready for your party! Guests can scoop their ice cream into the taco shells and finish their Ice Cream Tacos with their favorite toppings.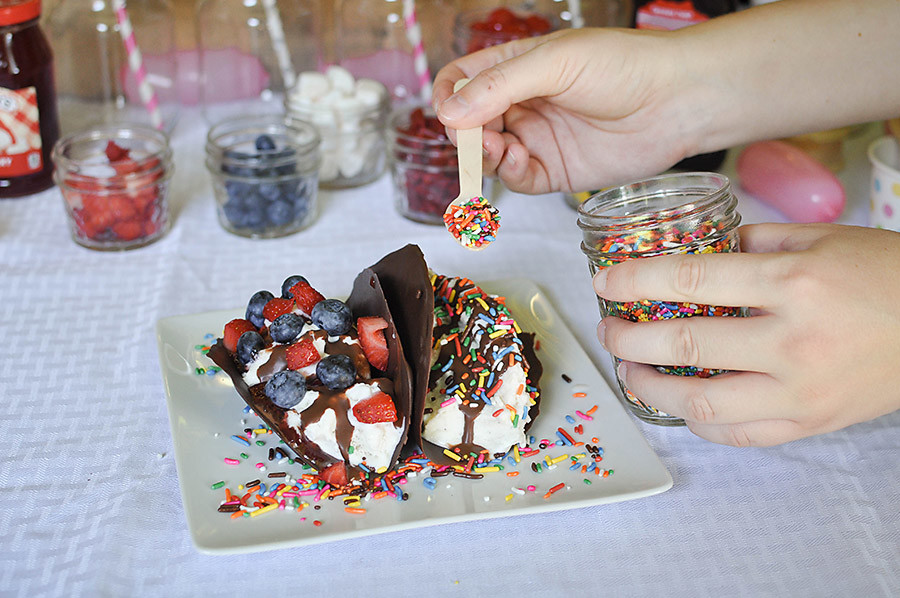 Guests design their own Ice Cream Tacos, so I love that no two tacos look the same!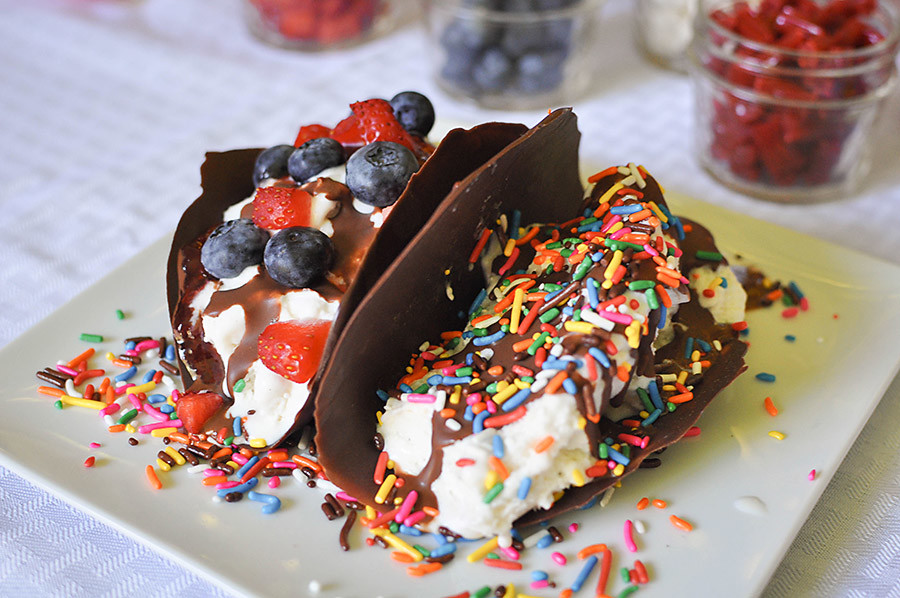 Here's a handy printable recipe:
Frozen Ice Cream Tacos
2016-08-03 00:13:32
These Frozen Ice Cream Tacos are a delicious summer treat! Guests can make each taco their own by adding their favorite toppings!
Ingredients
1 package chocolate almond bark
Blue Bunny® Ice Cream
Toppings (suggestions include Smucker's Magic Shell Chocolate Flavored Topping, berries, chocolate candies, marshmallows, chopped nuts, fruit candy, and cherries)
Instructions
Cut approximately 6 inch circles out of wax paper.
Melt your chocolate almond bark using a fondue pot or by placing it in a glass bowl over a pot of boiling water.
Spread a thin layer of chocolate almond bark on the wax paper circles, not quite reaching the edge of the circle.
Let cool for about 5 seconds.
Carefully drape the wax paper and chocolate over the handle of a wooden spoon and allow to harden completely.
Move to a pan and chill in the fridge or freezer overnight.
Just before the party, carefully remove the wax paper from the taco shells.
Scoop ice cream into the shells and top as desired.
Our Handcrafted Life http://ourhandcraftedlife.com/
Here are a few other details from the party:
I hope you like this Scoops & Sprinkles Ice Cream Taco Party as much as I did!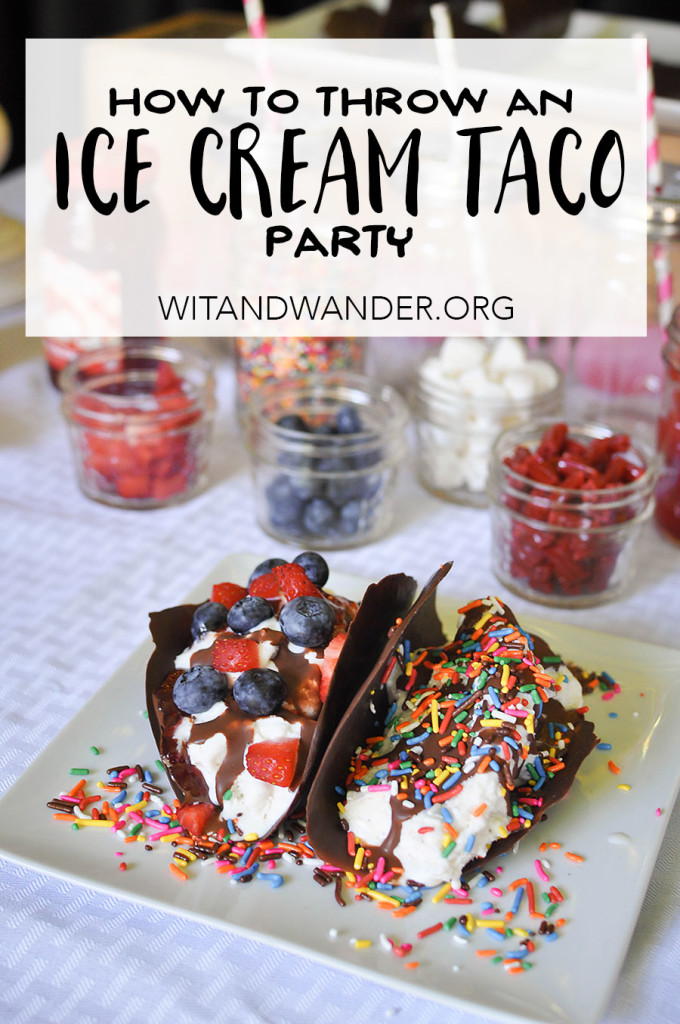 If you like this party, share it with your friends on Facebook or save it on Pinterest! Do you have any great ideas for a summer ice cream party? Share your favorites in the comments below!
—
Like what you see on our blog? Join our mailing list to receive emails with freebies, projects, coupons and decor ideas to help you live a creative and joy-filled life. You can also follow us on Facebook, Twitter and Pinterest.