I partnered with Ozarka® Brand Natural Spring Water to share some of my favorite things about Texas including this Texas Farm-to-Table Backyard Party. All opinions are mine alone. #FromHereForHere
When our family picked up our lives and moved to Texas five years ago, I had no idea I would fall in love. The culture, the people, the bluebonnets, the Friday night lights…there is something special about living in The Lonestar State.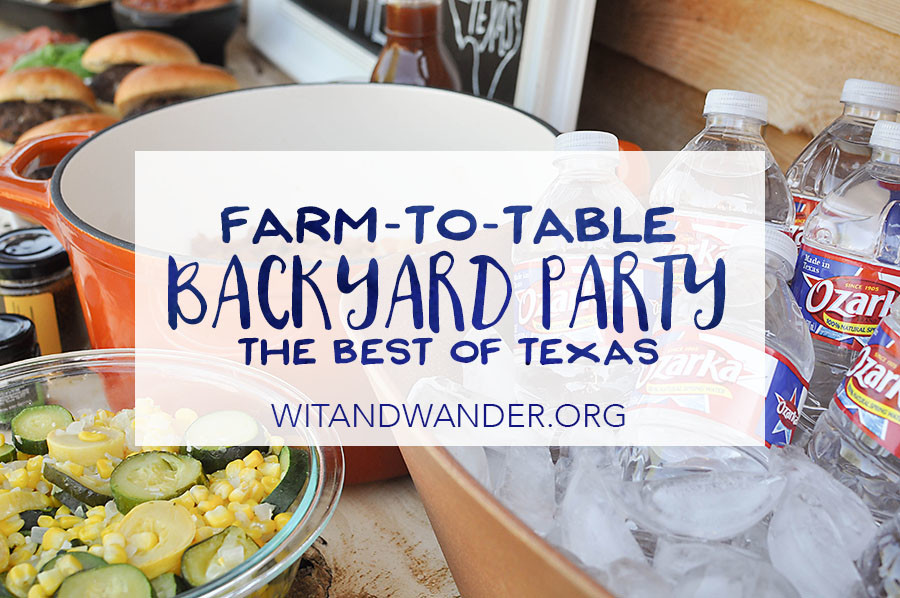 Ozarka water is Texan through and through – sourced from 3 Texas springs and featuring a uniquely Texan fresh taste. Ozarka is all about bringing people together, whether getting Ozarka direct to your home, at a baseball game, a day at the park, or at a backyard party! They are asking people across Texas to share why they love where they live with their #FromHereForHere campaign.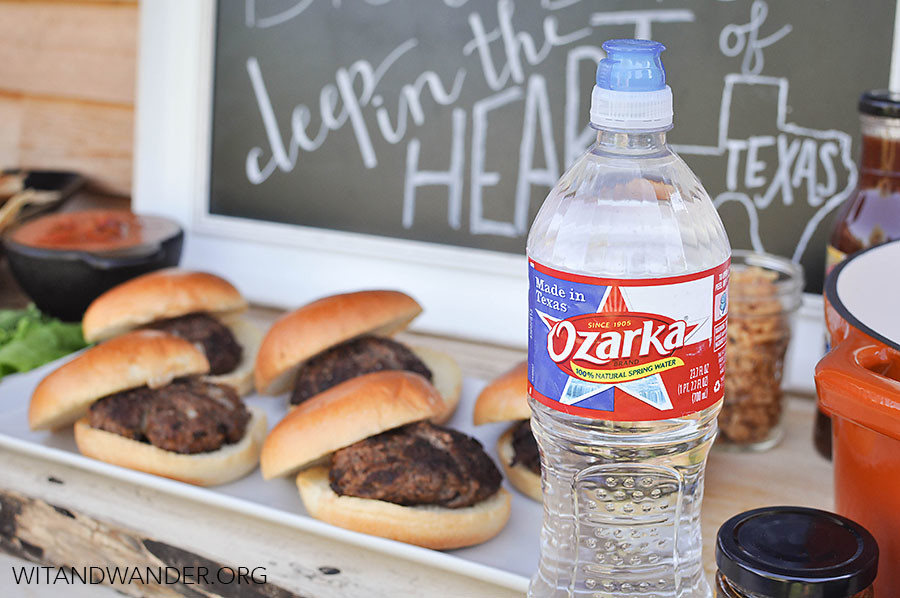 One of my favorite things about living in Texas is the incredible variety of local produce and products. We love going to the farmer's market on the weekend, sampling local produce, and trying something new.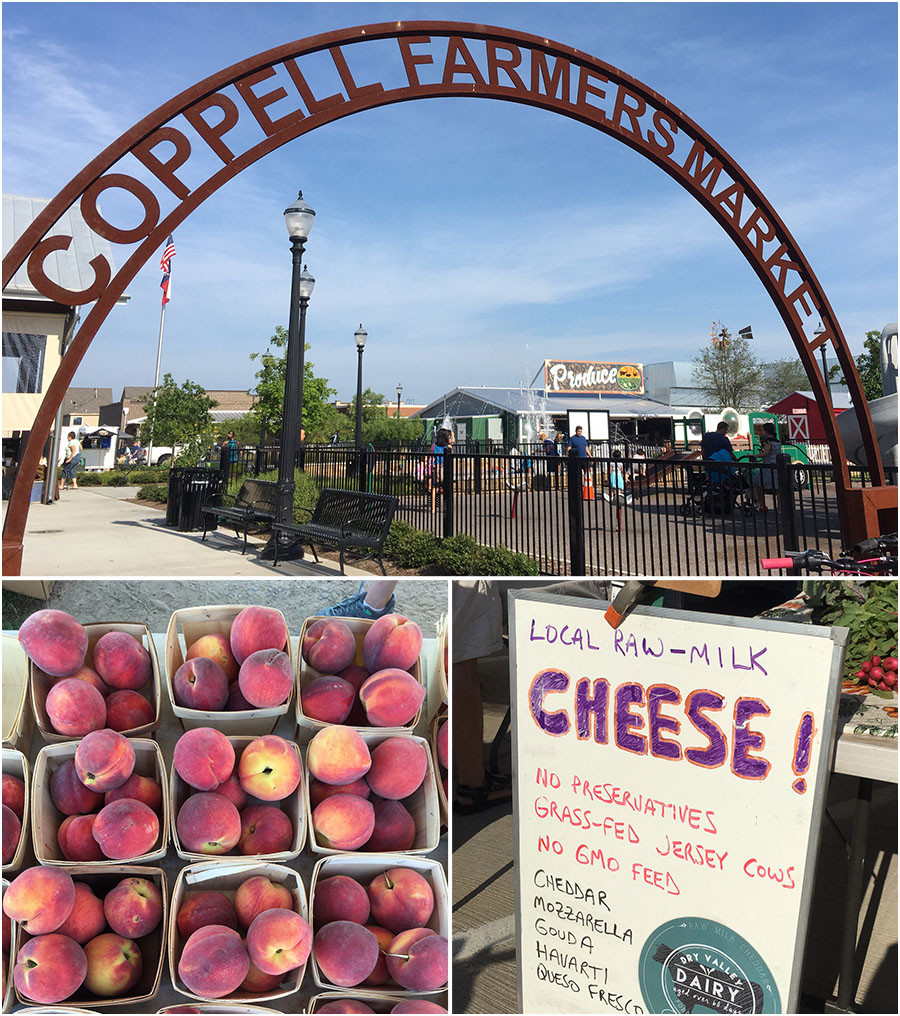 Today I want to share some of my favorite Texas-made #FromHereForHere products and how you can turn those into ingredients into a fantastic Farm-To-Table Backyard Party.
How to Host a Texas Farm-to-Table Backyard Party
Texas cuisine is this incredible meld of flavors, so this party is the perfect marriage between good old fashioned cowboy food and the best flavors from South of the Border. It's hard to throw a Farm-to-Table Backyard Party while living in the middle of a big city, but we have really enjoyed discovering the local Farmer's Markets and buying some of our products directly from local farmers and artisans.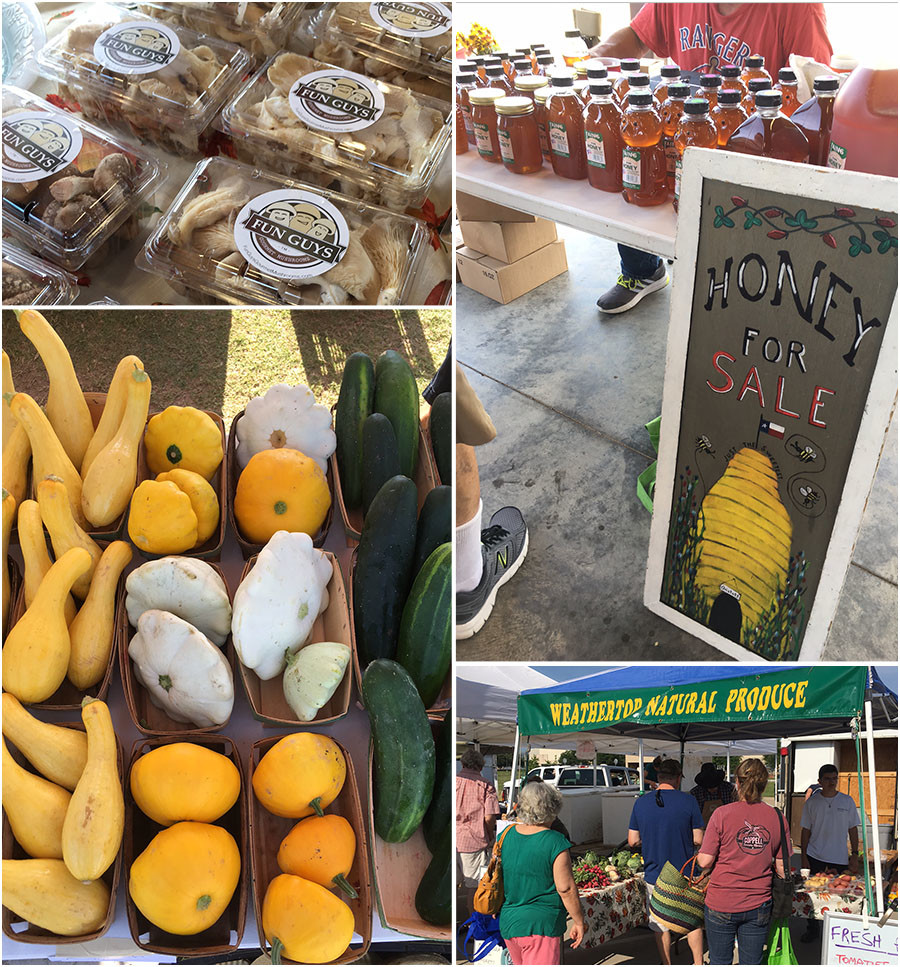 We brought these ideas and flavors together to create a Texas Farm-to-Table Backyard Party.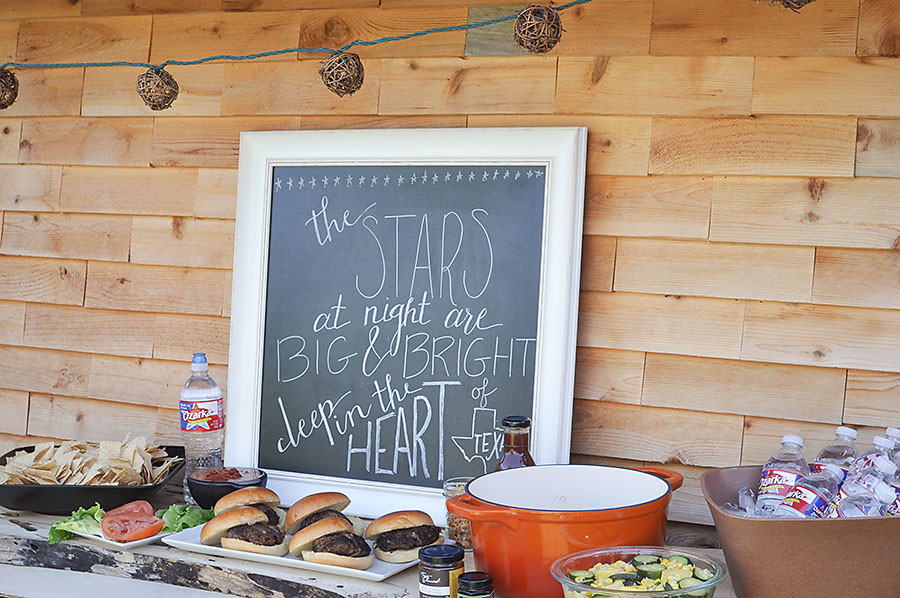 The best part about a backyard party is that most of the decorations are done for you. You don't need to add much when mother nature provides stars and fireflies! To keep things simple, I opted to add some string lights and this handmade 'Deep in the Heart of Texas' sign.
Of course, the whole point of a Farm-to-Table Party is the delicious food! It's not a party without chips and salsa, so I included Texas' own Paqui's Tortilla Chips. Paqui makes "better-for-you" tortilla chips and tortillas fresh from Austin, Texas. With exciting flavors like Grilled Habanero, Very Verde Good and Nacho Cheese Especial, Paqui is certainly living up to their name – which is an Aztec word that means "to be happy."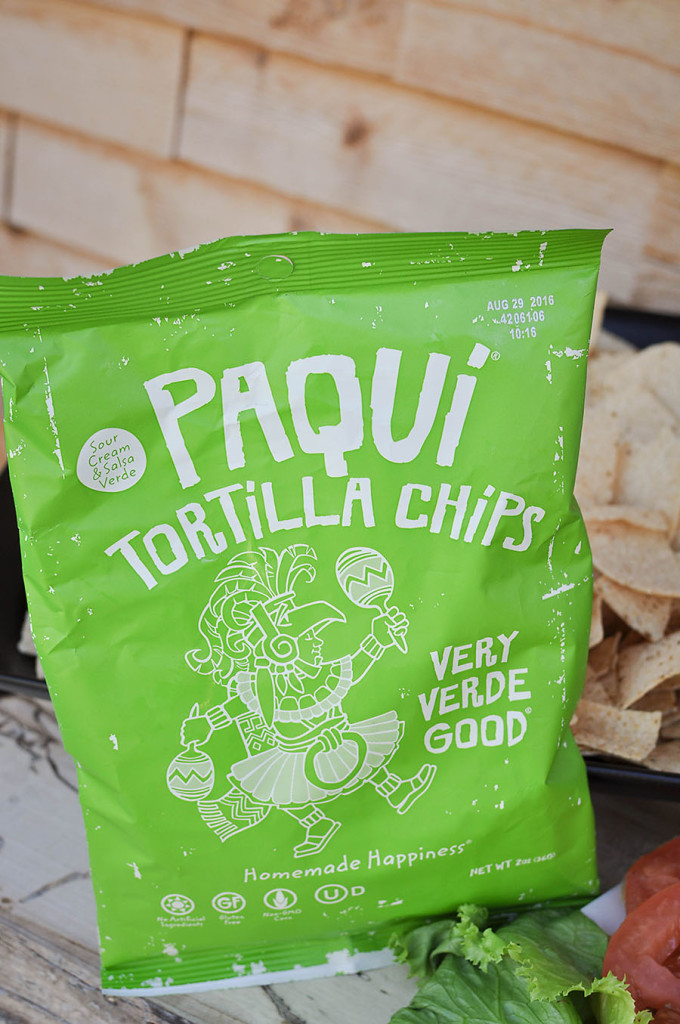 This Calabacitas dish comes from my Mother-in-law and it's a staple in our house every summer. I can't get enough of the fresh flavors of the zucchini and squash.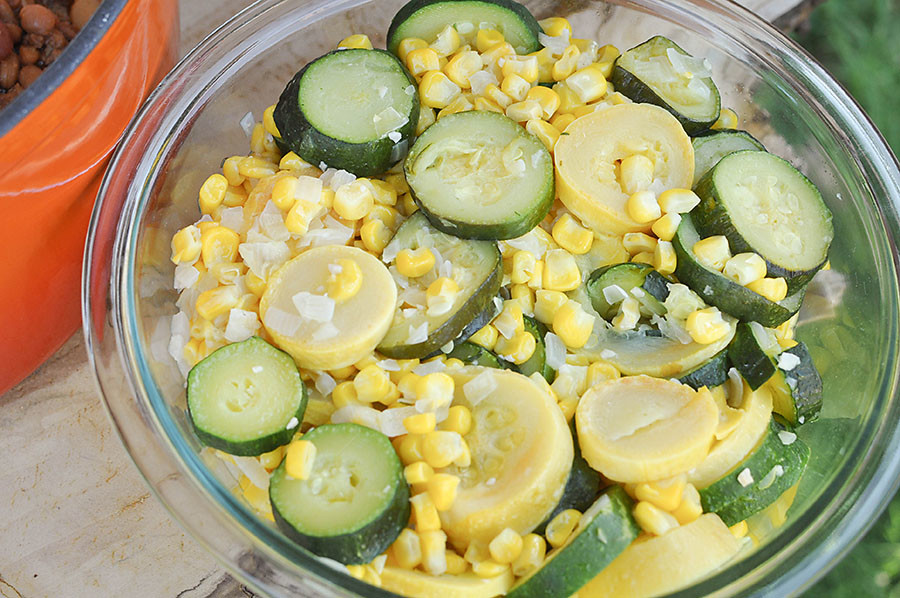 A dish that I remember my grandma and mom making alongside burgers each summer – Cowboy Beans. These hearty beans a filled with ground beef and bacon, making them a perfect companion to the Cowboy Burgers.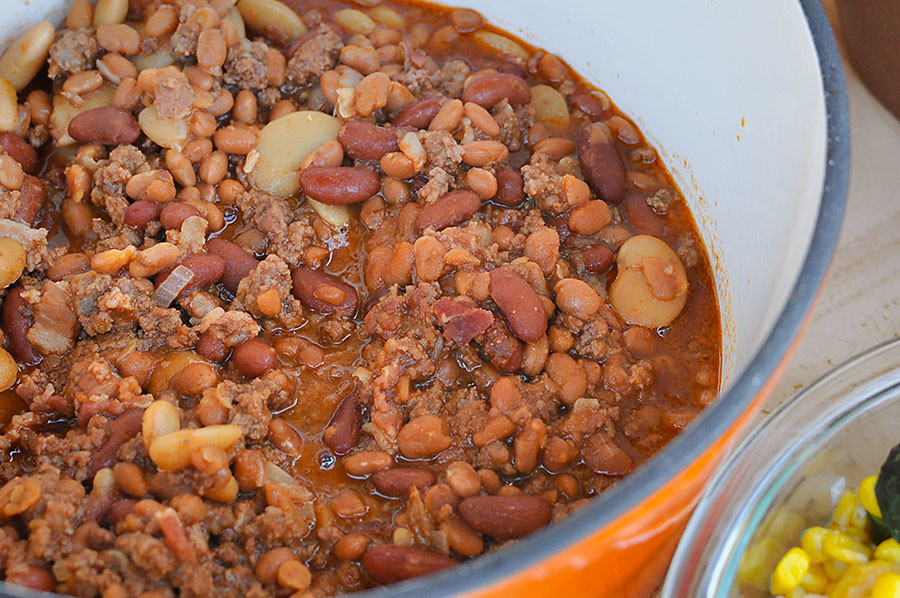 To complete the local Texas theme with drinks, I filled this locally made bucket with Ozarka® Brand Natural Spring Water.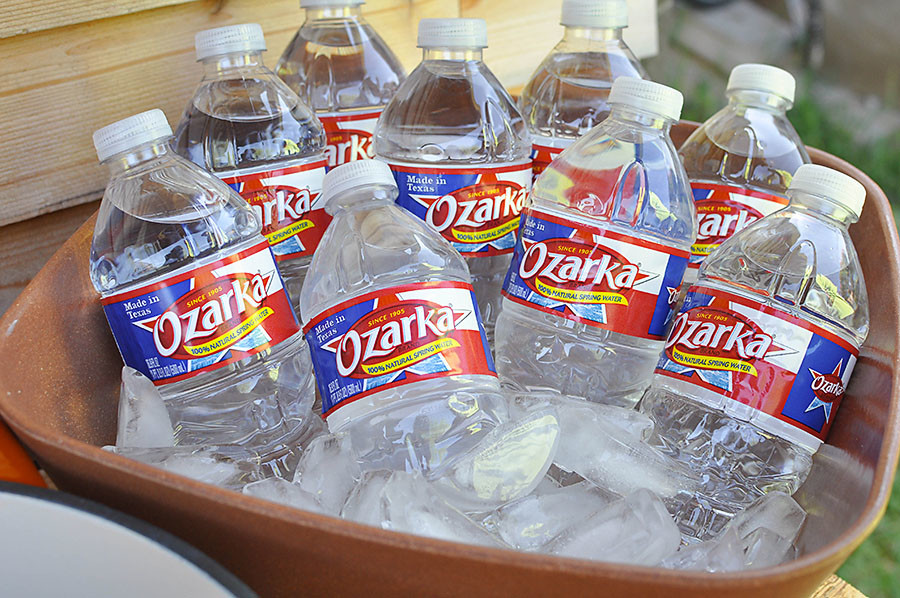 The star of the evening were these incredible Cowboy Burgers complete with a locally inspired toppings bar.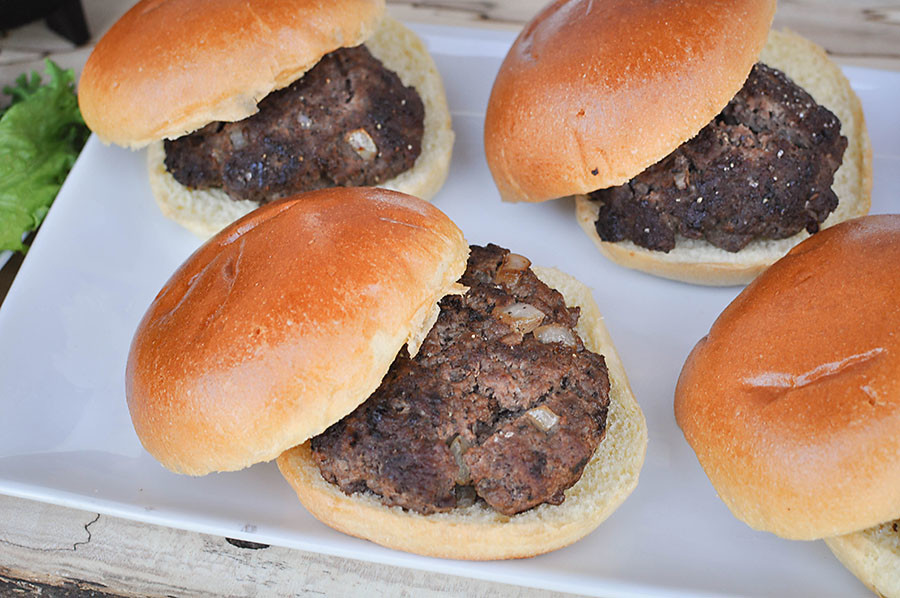 Each of the burgers has been flavored with The Spice King's Juicy Steak Beef Rub using my husband's special burger recipe. He said I could share the recipe with you all if you promised not to tell. 😉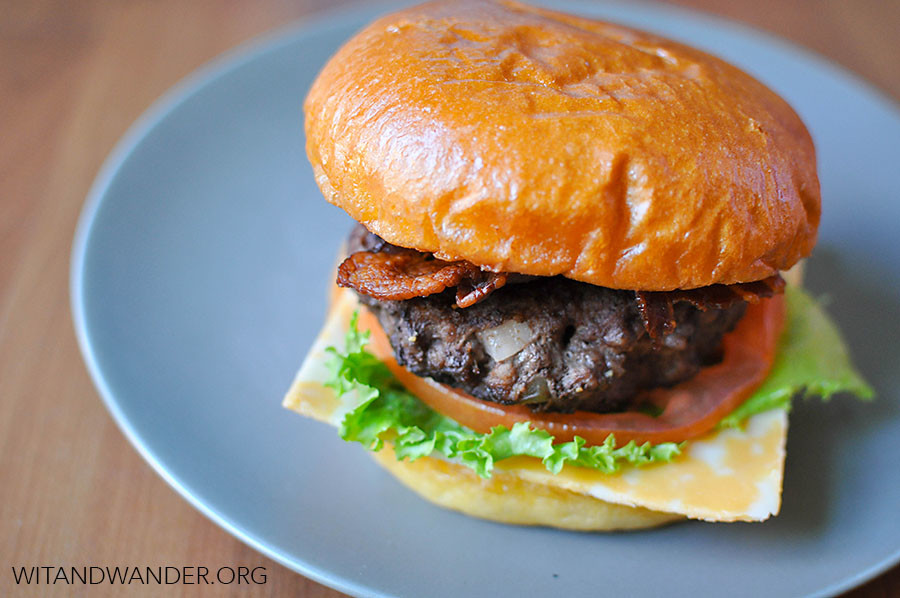 To make the burgers, you mix 1 1/2 pounds of ground beef with 2 teaspoons of Juicy Steak Beef Rub and 1/2 of a very finely chopped onion. (don't be afraid to get a little messy – these are Cowboy Burgers, after all!)
Mold the patties with your hands or using a burger shaping tool.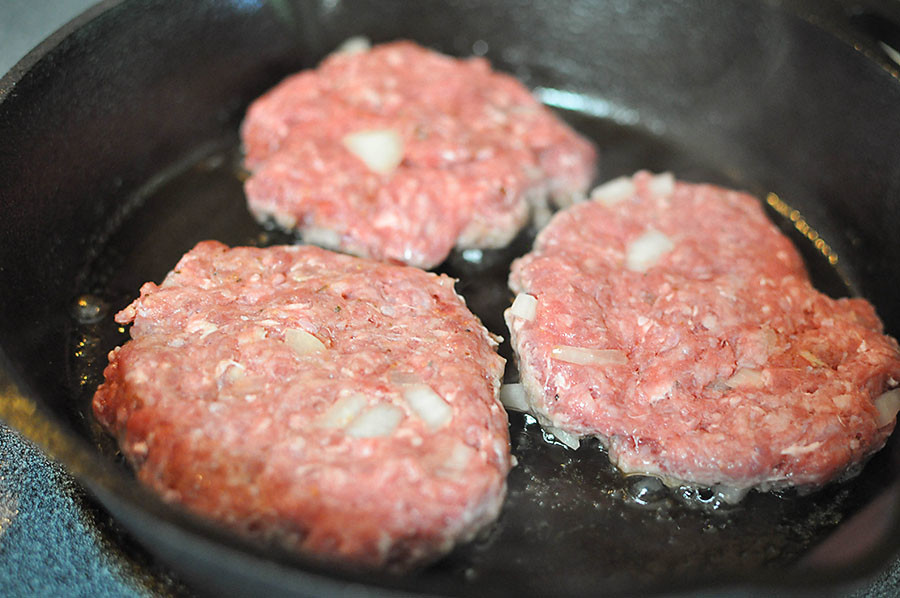 After toasting your buns, cook the burgers in a medium-high heat skillet for about 4-5 minutes on each side, until the burger is cooked just the way you like it.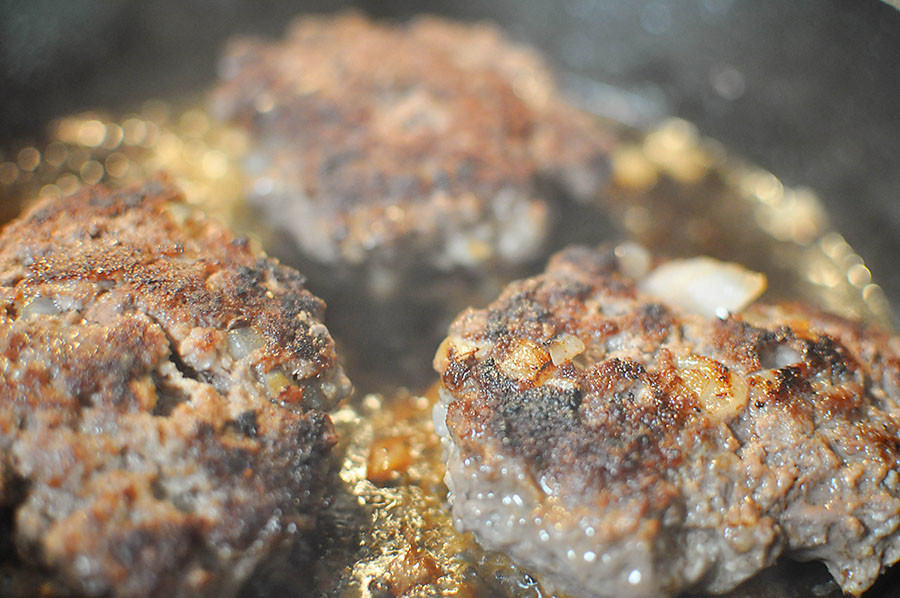 Did you notice any local ingredients on the toppings bar? I included Snow's BBQ Sauce, which was named by Texas Monthly magazine as the best in Texas. You can use this complex combination of Texas flavors as a dipping sauce, marinade, or brush-on sauce during the last minutes of grilling, but I love using it as a topping for these delicious Cowboy Burgers!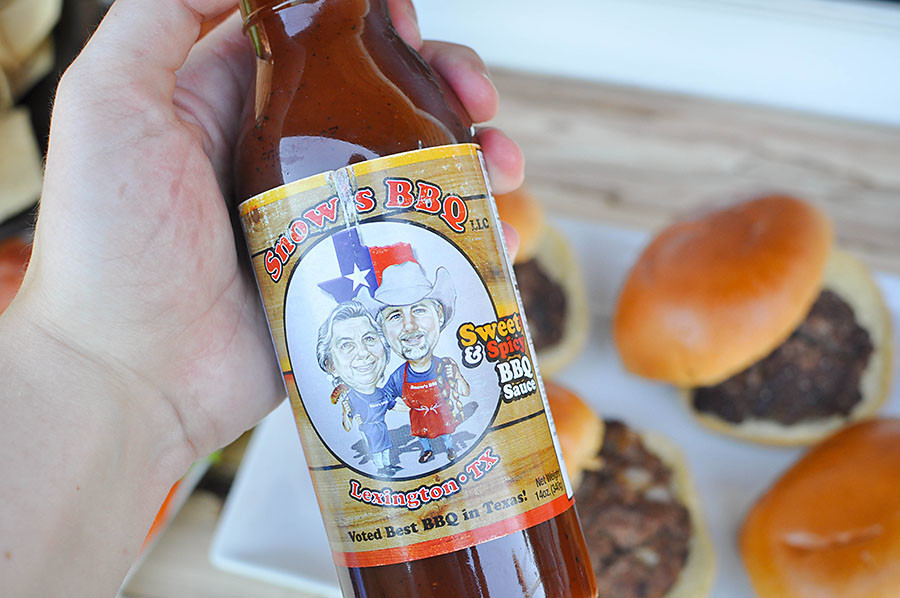 Also on the toppings bar is The Jelly Queens Black Garlic and Rosemary Sauce. The Jelly Queens are based in Dallas and Austin, they hand-make each product in small batches using organic and, whenever possible, locally grown Texas ingredients.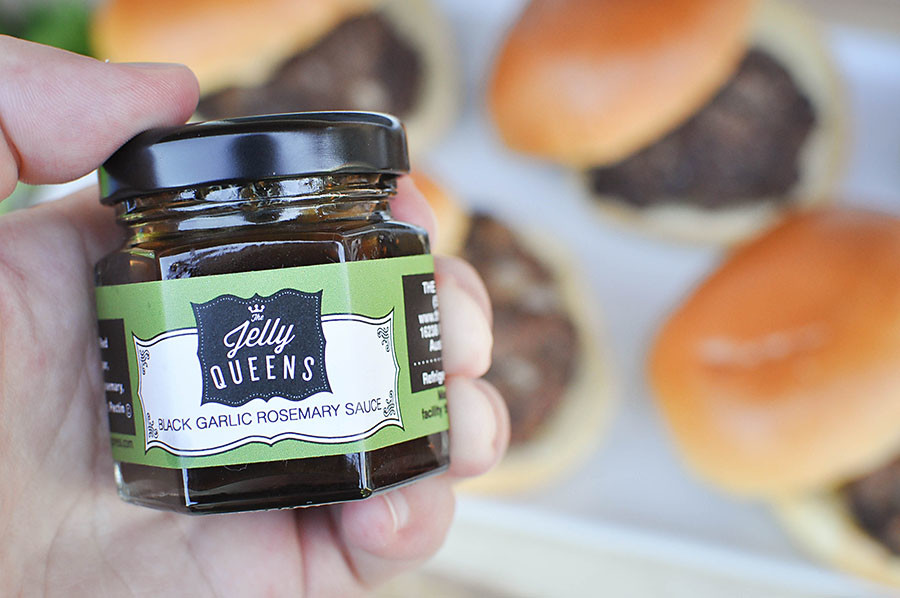 You also won't believe the flavor packed into these addicting Taste Elevated Sweet & Spicy Mustard Seeds. They burst in your mouth with a little sweet and a little heat. You can use them any place you use mustard for a surprising treat.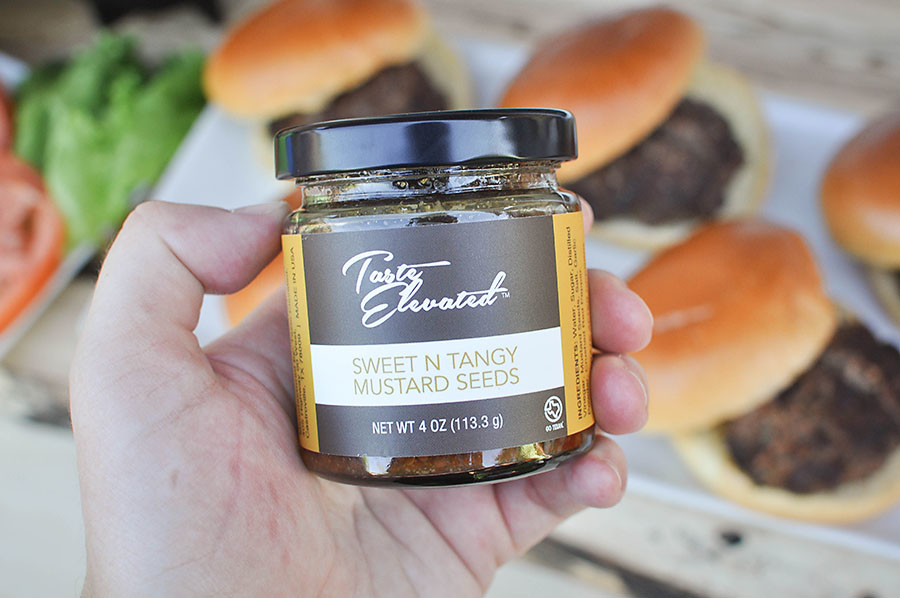 I also included some fresh produce like lettuce and tomato from the local farmer's market. Yep, guests are going to love sinking their teeth into their customized burgers!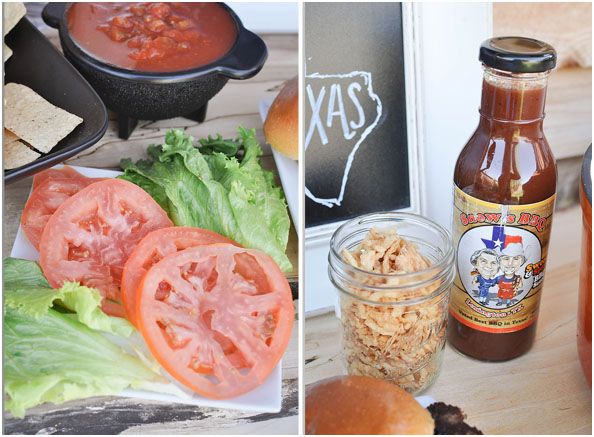 Here are a few other details from the party: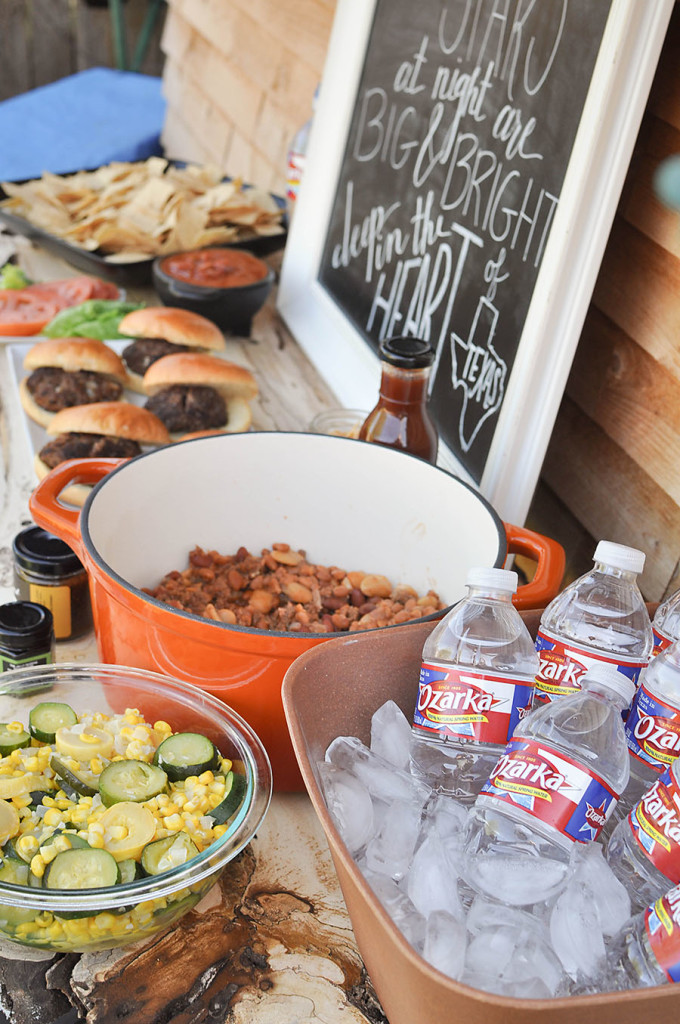 I hope you love this Texas Farm-to-Table Backyard Party as much as I do!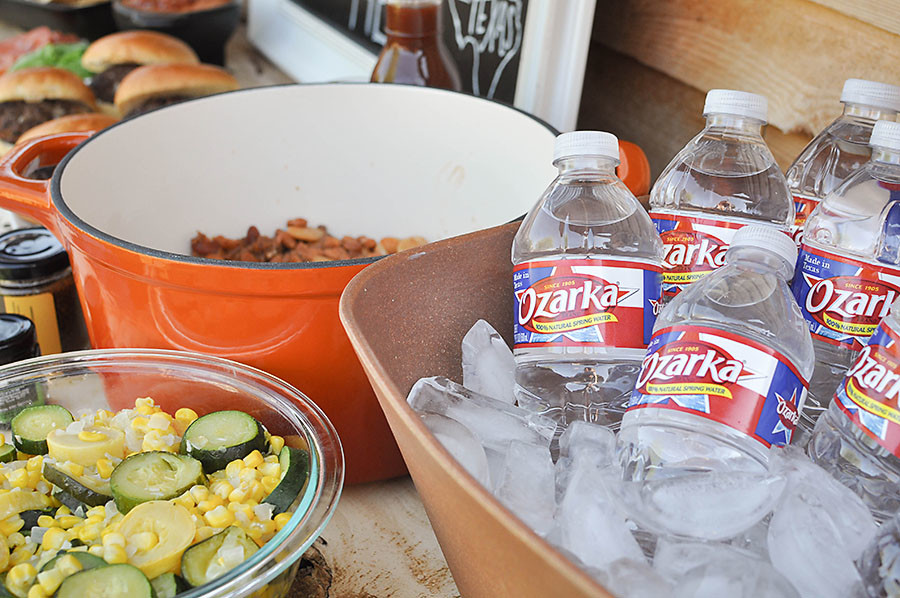 If you like it, be sure to share it with your friends on Facebook or Pinterest. Connect with Ozarka® Brand Natural Spring Water through their website. Do you have a favorite Farm-to-Table recipe? Share your favorite in the comments below!

Cowboy Burgers
2016-07-07 00:19:30
Delicious Texas-style burgers built for cowboys!
Ingredients
1 1/2 pounds ground beef
2 teaspoons Juicy Steak Beef Rub
1/2 finely chopped onion
2 Tablespoons butter
Instructions
Mix together the ground beef, steak rub, and chopped onion in a mixing bowl.
Mold 6 patties.
In a medium-high skillet, melt 1 Tbsp. of butter and toast the buns for about one minute, set aside.
Melt the second Tablespoon of butter and cook the patties for 4-5 minutes on each side, or until done to your preference.
Notes
The bun makes all the difference - a brioche or pretzel bun will really elevate your burger.
Don't skimp on the toppings! Try topping your burger with cheese, lettuce, tomato, onion, bacon, fried onions, and local, artisanal ingredients like Snow's BBQ Sauce, The Jelly Queens Black Garlic and Rosemary Sauce, and Taste Elevated Sweet & Spicy Mustard Seeds.
Our Handcrafted Life http://ourhandcraftedlife.com/
Subscribe to the Newsletter for Free Updates
Subscribe to get DIY projects, recipes, and tips to live simply and create beautiful things delivered right to your inbox.