Tile can be intimidating and time consuming, which is why we decided to renovate our guest bathroom without tiles to make a completely tile-less bathroom. Here are our Guest Bathroom Design Plans.
We've installed tile plenty of times. I've posted before about the subway tile in our kitchen and the tiled walk in shower in our master bathroom. I love the look of tile, but honestly installing it is one of the worst home improvement projects.
It's so time consuming, tedious, finicky, and really just a pain. So when we decided to renovate our guest bathroom before selling our house, I asked (begged) Daniel to find a non-tile option. I was surprised to find out that there are several great options for renovating a bathroom without tile. Here are the products we decided to use.
Our No Tile Guest Bathroom Design Plan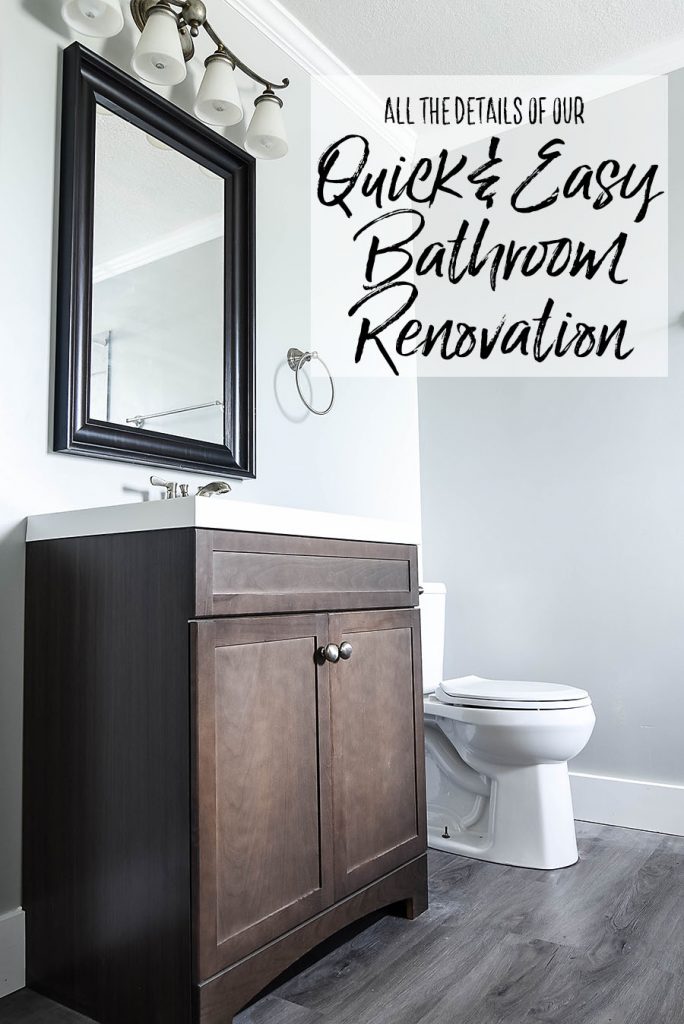 Non-Tile Flooring
There are probably the most options when it comes to flooring without tile. Of course, we considered classic hardwood, but we thought that it would be too expensive for this project and would not hold up well to the moisture of a bathroom.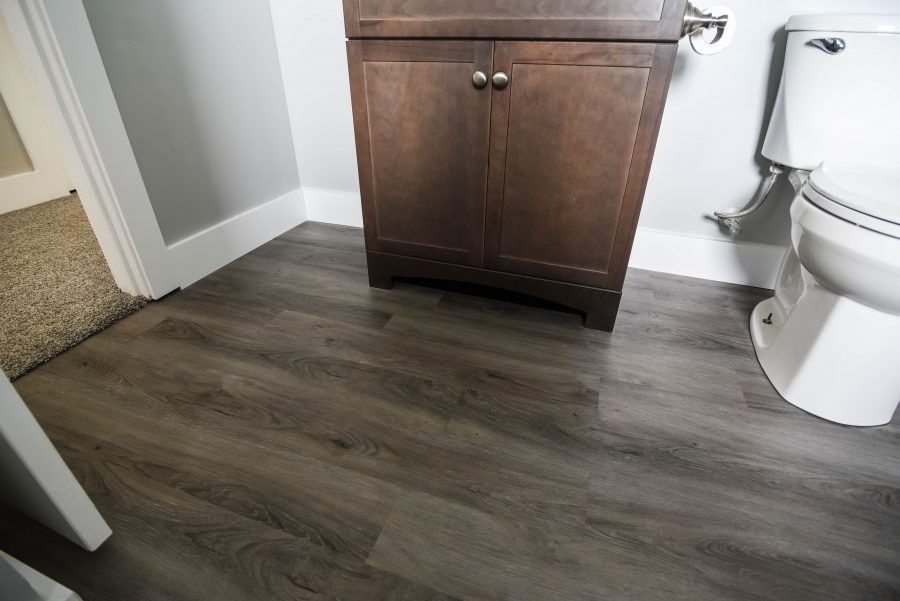 So, we chose Luxury Vinyl Plank flooring. These little beauties have been popping up everywhere in home design lately. If you can't splurge on hardwood flooring, this is a very good option. They are durable – especially for families with kids or pets. They are waterproof and stain resistant. And best of all, they are affordable.
We chose this Luxury Vinyl Plank from Home Depot.
Non-Tile Bathroom Wall Covering
One great option for bathroom walls and even inside the shower stall is DumaWall.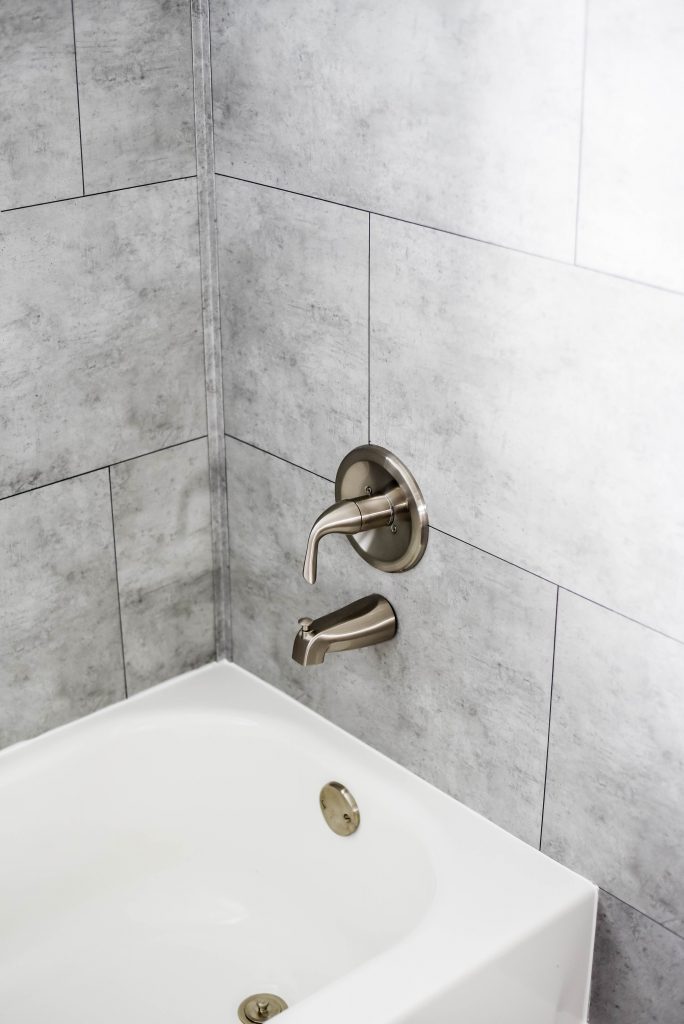 DumaWall is very easy to install compared to tile. It is lightweight and easy to cut. You install it with an adhesive called Loctite® PowerGrab® Ultimate construction adhesive. Technically, you don't have to, but we put in moisture resistant drywall and added a layer of RedGard, which is a elastomeric waterproofing membrane.
You can purchase a matching trim kit from DumaWall that includes inside corner trims, j-trims, and l-trims for finishing your corners and edges.
Because it's made of PVC, it's water repellant and resistant to mold and mildew. It can be easily wiped down with a cloth.
Other Guest Bathroom Details
We chose this shower head and faucet combo in brushed nickel because it had good reviews and the color would look good with the wall.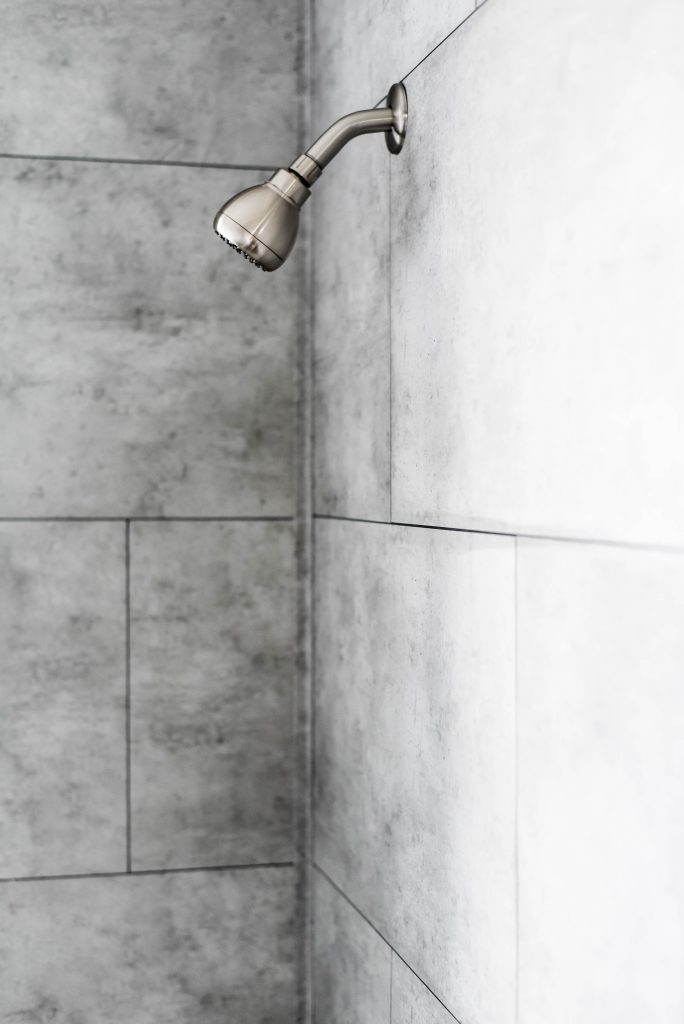 Our vanity isn't the most glamorous thing in the world, but it fit perfectly and the design fit the space.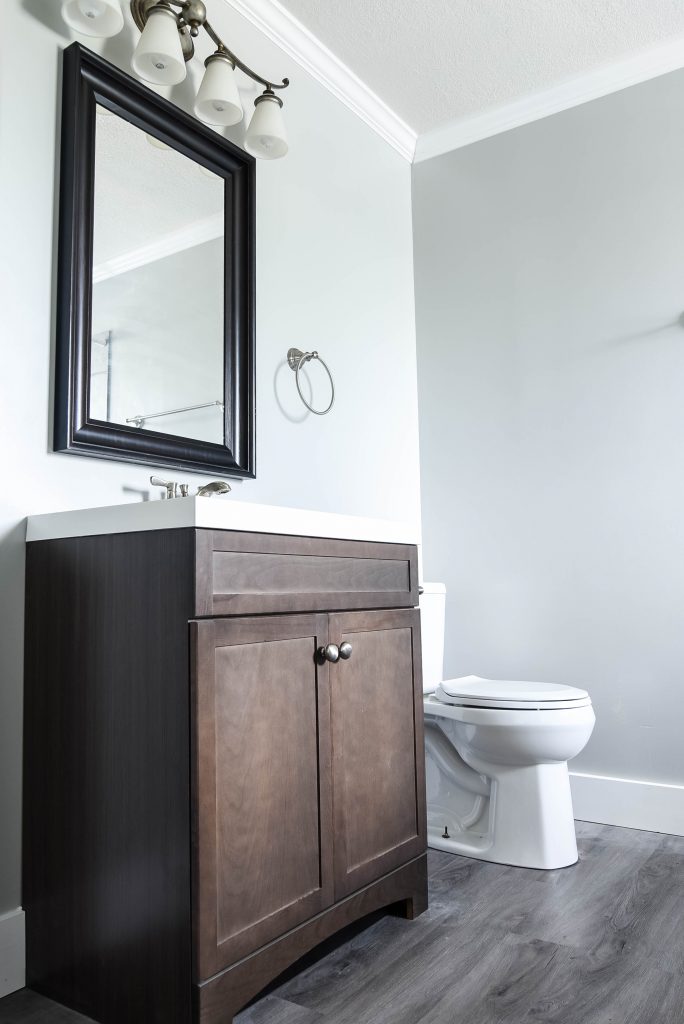 Commode
Nobody wants to talk about it, but every bathroom needs one! This is the toilet we chose because it was inexpensive, we liked the height, and the design wasn't offensive.
No Tile Bathroom Renovation FAQs
Can you have a bathroom without tiles?
Yes! Traditionally, tiles are at least used in the "wet" areas of the bathroom like the floor and the shower wall, but they can be replaced with options that are affordable and easy to use.
What can be used instead of tile in a bathroom for shower walls?
PVC Panels
Acrylic Panels
Water Resistant Wood
Stainless Steel
Fiberglass Reinforced Plastic (FRP)
How can I decorate my bathroom floors without tile?
There are some really great options for flooring without tile. Some are classic like hardwood floors, which have been used for decades. Some options are more modern – like Luxury Vinyl Planks, which are affordable and durable and truly gorgeous. I'm promise you're not limited to the linoleum flooring from your grandmother's kitchen (although some of those were pretty cute!).
How much does a no-tile bathroom renovation cost?
It cost about $1500 for this bathroom renovation including DumaWall, Luxury Vinyl Plank flooring, and a new bathtub, toilet, and vanity.
Are shower panels cheaper than tile?
It depends! The planks we used cost more than tile per square foot (depending on the tile), but we were able to install them ourselves in less than half of the time. If you're using the most inexpensive subway tile and installing it yourself, that would definitely be the cheapest option. But if you're choosing a more expensive tile and hiring someone else to install it, that would definitely be more expensive than the PVC panels.
So, these are all of the details of our quick and easy tileless bathroom. It took a fraction of the time and effort of a traditional bathroom renovation and it looks clean and modern. This option is perfect for a guest bathroom or a transitional bathroom.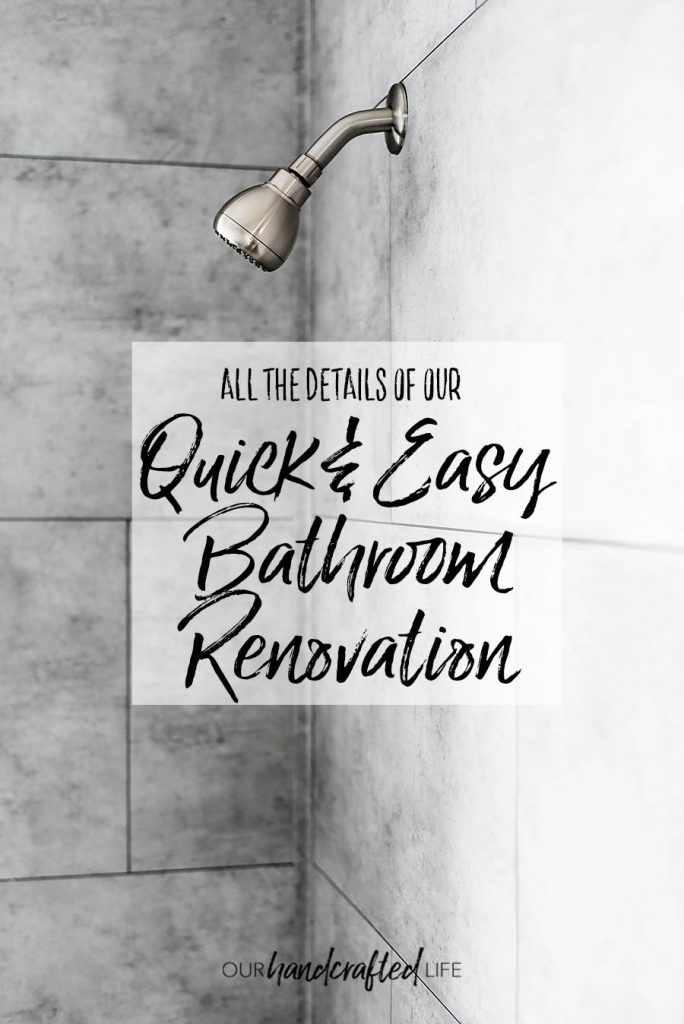 Do you have any other questions about the design or installation? We are happy to help!