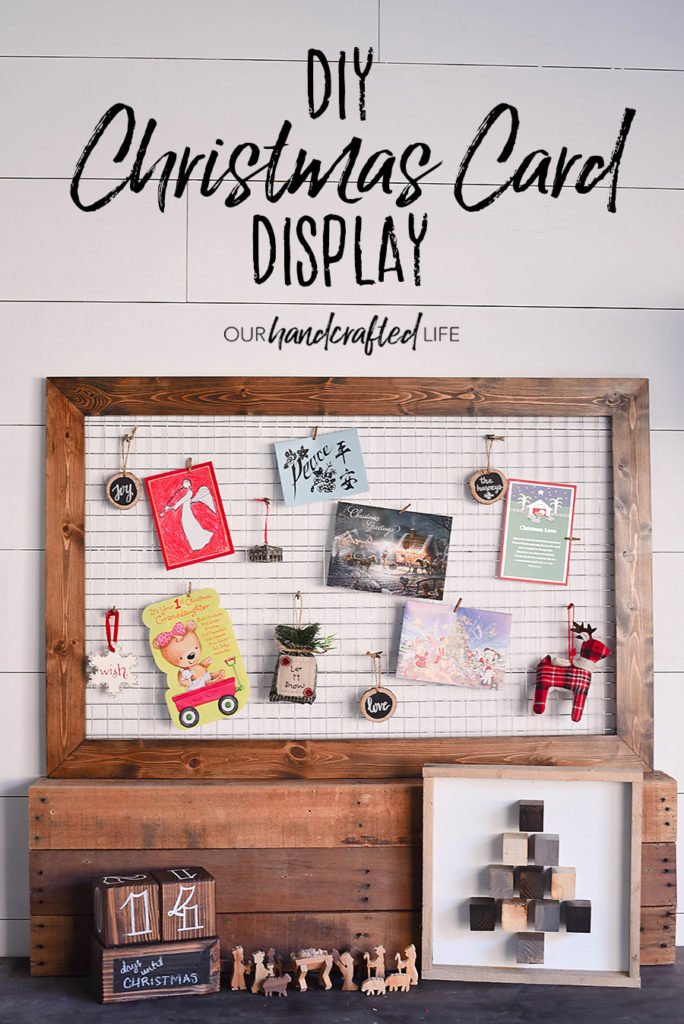 It's the most wonderful time of the year!
I am so excited to start posting about Christmas! I have been ready for months, but my husband told me that I had to wait until AT LEAST after Halloween. (Bah humbug!)
Well, I can tell you the moment the candy was collected and my characters were snug in their beds, I pulled out my notebook and began dreaming of Christmas projects. I'll be sharing lots of those projects in the coming weeks, but today I thought we'd start with a super versatile DIY project that could be really used throughout the year – a DIY Chicken Wire Christmas Card Holder.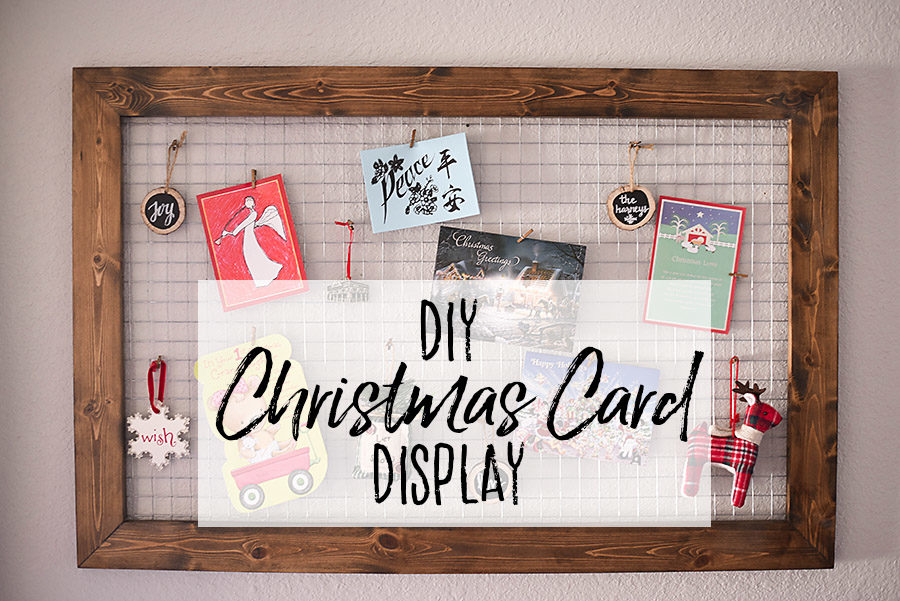 DIY Chicken Wire Christmas Card Holder
Supplies
10 feet of 1″ x 3″ board
48″ of 1″ x 1″ Galvanized Wire Mesh (Square Chicken Wire)*
Stain
How to Build the Chicken Wire Christmas Card Holder
We started by building the frame for the Christmas card holder. We cut the 1″ x 3″ board to (2) 3′ pieces and (2) 2′ pieces. Of course, you can make this as big or as small as you'd like. These measurements are for a 2′ x 3′ piece. We cut them at an angle using a 45 degree miter sled. You can make your own using this tutorial or purchase this one online. You can also just use straight cuts and use a Kreg Jig to screw the pieces together.
We glued together the frame and clamped it overnight. To make the frame stronger, we added splines to the corners with a spline jig on the table saw. Splines are not essential, but they are a strong and good looking way to reinforce a corner. The basic idea is that a 1/8″ slot is cut at a 45 degree angle to the sides of the frame using the table saw blade. Then another piece 1/8″ thick is cut to fit snuggly in the slot created on the corner. Why cut a slot in the wood just to fill it up with more wood? The strength comes because the new piece has the grain oriented in a different direction and
*Chicken wire comes in several varieties. What you're looking for is sometimes called rolled fencing, steel mesh, or poultry netting. It can be found out in the garden section of home supply stores. It comes in big rolls – with the length of the roll and the thickness of the wire determining the price. You can use the traditional hexagonal shape, but I chose the square holes to make the end project a little more modern. I also knew that I wanted to make a few wire baskets out of the chicken wire, which is much easier with squares.
To cut the chicken wire to size, I made sure to wear gloves (That stuff is SHARP) and I used wire cutters to snip as close to the last row as I could. We sized it to make sure that at least one row of squares was overlapping the back of the frame so it would give us a place to attach it.
To attach the steel mesh to the frame, we used 5/16″ staples to straddle each wire where it met the wood frame and fasten it to the back of the frame.
I absolutely love it. It would look at home in any farmhouse or cottage style home and it has so many practical uses for decoration and organization – it could even be used for a bit of storage if you added a little hanging basket.
Now if you (or your significant other) are more of a Scrooge than a Buddy the Elf, insisting that we celebrate Thanksgiving before Christmas, you could totally use this as a 'Wall of Thankfulness'.
Just fill out cards with what you're thankful for and pin them to the chicken wire to create an entire wall of blessings. I just added a chalkboard tag at the top to change the theme.
Would you make this as a gift or keep it for yourself?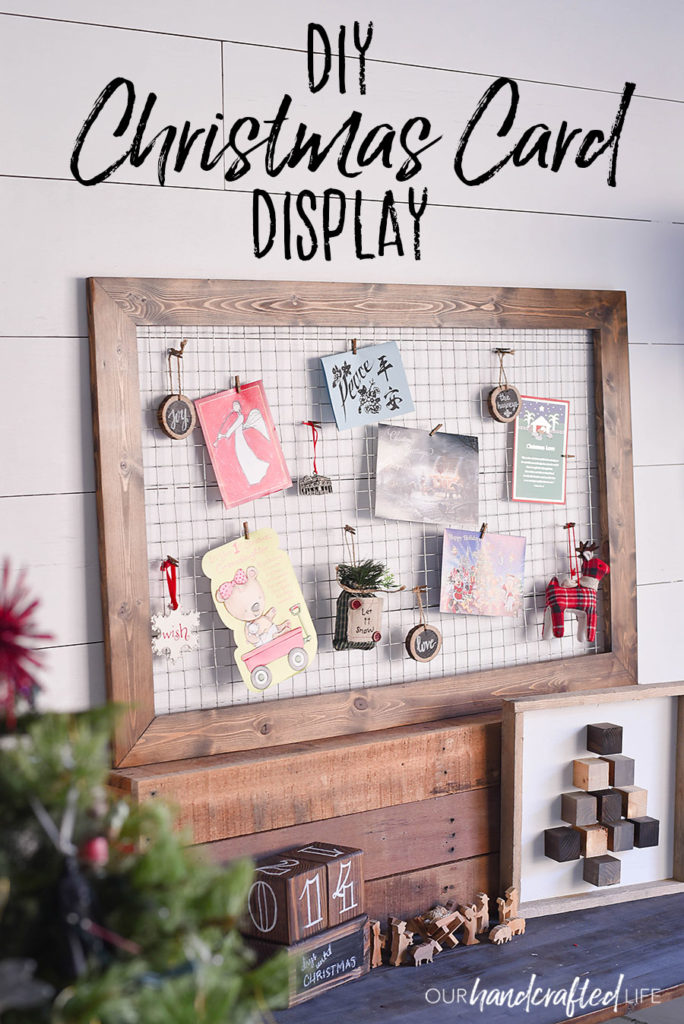 SaveSave
SaveSave
SaveSaveSaveSave