It's no secret that I love Walt Disney World. We are in the middle of planning our big Walt Disney World trip for next summer. Disney's Social Media Moms Celebration might just be the biggest event for Disney-loving bloggers in the world, so I was so excited to be invited to one of their On the Road events. It was a Celebration of all things Disney right here in Texas!
We made our way down to Austin from the Big D and made a mini family vacation out of our trip. I was invited to attend this event with about 75 other bloggers and influencers. We were pampered by the amazing Intercontinental Stephen F. Austin Hotel in downtown Austin. They served a fabulous breakfast, gave away some Mickey-themed prizes, and caught us up to date on everything Walt Disney World. There were even a few magical treats like surprise pin trading, famous Disney World Krispie Treats, and a visit from Mickey Mouse, himself!
Originally, I had planned to write one post about the things I learned from this half-day workshop – but there were just too many great things to share! So next week, I will share the best tips for bloggers and social media influencers, but today I am sharing the Top 5 Things I Learned at Disney Social Media Moms Celebration for Disney Moms:
Top 5 Takeaways from #DisneySMMC for Disney Moms
1. Disney Cruise Line
Great news for Disney fans across the south – Disney Cruise Line is coming back to Texas! Starting this November, Disney will be sailing out of Galveston for the Holiday season. Skipping a flight means that cruising with Disney just became a lot more affordable!
2. Disney Loves Preschoolers and Grandparents
Everyone knows that the perfect age for a Disney vacation is when your kids are in elementary school, but why wait? Walt Disney World is full of fun things to do for even the littlest travelers. Unlike other parks, a lot of rides either don't have height restrictions or are appropriate for preschoolers (over 80 attractions including Dumbo the Flying Elephant, Kilimanjaro Safaris, and The Sea with Nemo and Friends) and there are always shows to entertain little ones (like Disney Junior Live on Stage and Beauty and the Beast Live). My one and a half year old and I have been watching some of the parades on YouTube to get ready for our big trip next year and she loves them! Check out disneyworld.com/preschool to discover how Disney World can be serious fun for little ones!
If you're looking for some adult fun while traveling with little ones, you can take advantage of rider swap, childcare at the resorts, or my personal favorite – bring the grandparents! My parents are coming on our big family vacation next year and they are excited to spend some quality time with our daughter for an evening so that we can go on a date (Hello, Le Cellier!). Disney definitely has a soft spot for grandparents. In fact, right now they are running a contest for the World's Best Grandparent. You can submit your grandparent and they could win a trip for six to Walt Disney World!
3. Disney Springs
You might have heard that Disney is completely reimagining Downtown Disney into Disney Springs. Progress is well underway and one thing they showed us at the event was the Ampihicars at The BOATHOUSE restaurant. This restaurant features 20 minute rides in Ampihicars, which can travel on both land and water. Disney Springs is expanding to over 150 retail and dining venues, so this certainly won't be the only new thing to see and do at Disney Springs, but it's bound to make a splash! (I'm so punny…)
4. Show Your Disney Side App
One fun experience before you visit the parks is the Show Your Disney Side App. You can transform yourself (and your kids) into your favorite Disney characters. I look cute as Princess Anna and everything, but I really love this X-Wing Pilot look!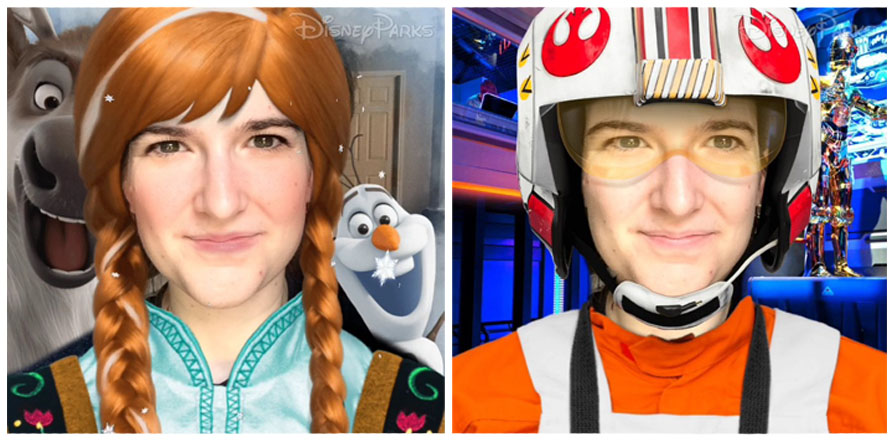 5. Disney Moms Panel
I almost don't want to share this with you, but it's just too exciting! If you've ever taken a trip to Disney, chances are you've come across the Disney Moms Panel. This group of moms (and dads and a even few grandparents!) answers questions about Walt Disney World and Disneyland vacations throughout the year. If you consider yourself a Disney World expert, they are accepting applications for the 2016 Disney Moms Panel on September 8 – 16, 2015. Click here to find out more!
What are you most excited about? Don't forget to come back next week to discover what I learned for bloggers!
—
Like what you see on our blog? Join our mailing list to receive emails with freebies, projects, coupons and decor ideas to help you live a creative and joy-filled life. You can also follow us on Facebook, Twitter and Pinterest.
SaveSave
GET INSTANT ACCESS TO MY LIBRARY OF FREE DISNEY WORLD PRINTABLES!
Sign up to receive FREE Walt Disney World printables, available exclusively to subscribers!
For more Disney fun, join the 'Pre-Launch' of our Facebook Group where you can join in a community of Disney planners to ask questions, win prizes, and talk about all things Disney! https://www.facebook.com/groups/1161520683953860/