Flash Cards don't have to be boring! Check out more than 100 ways to make flash cards more fun.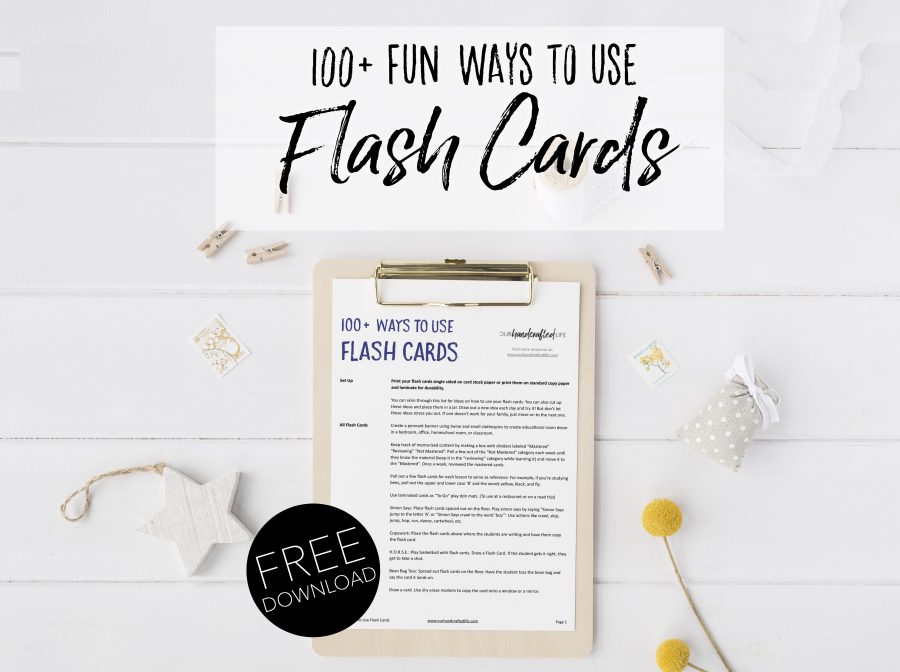 Last week, I shared my Free Printable Flash Cards for Kids. There are hundreds of flash cards for preschool through First Grade. But today I've got a ton of games and activities for any flash cards! Whether you've got a kindergartener learning letter sounds or a 5th grader working on advanced sight words, any kid will enjoy these flash card activities. Here are my 9 favorite ways to use flash cards. There's a link below to download the entire list.
The Best Ways to Use Flash Cards
"To Go" Play Doh mats – If you laminate the flash cards, you can use them in the car or at a restaurant. You can create letters and numbers using snakes made out of dough, use the dough to play Play Doh Pictionary, or push a finger into the dough to segment, spell, or find the syllables of words.
Simon Says – Space the flash cards out on the floor. Play Simon Says by saying "Simon says jump to the letter 'A'" or "Simon says crawl to the word 'boy'". Use actions like crawl, skip, jump, hop, run, dance, and cartwheel to keep things interesting.
H.O.R.S.E. – Play basketball with flash cards! Draw a flash card. If the student gets it correct, they get to take a shot.
Bean Bag Toss – Spread out the flash cards on the floor or tape them to a wall. Call out a card and the student tries to toss a bean bag to hit the correct card.
Say It Funny – For each card you draw, tell you student how to "say it" (Say it fast, say it slow, say it high, say it low, say it jumping, say it singing)
Write the Room – Hide the cards (or just spread them throughout the room or house). Have the student walk around to find the letters, numbers, or shapes to write on their dry erase board, chalkboard, or Boogie Board.
Hangman – Draw a card and have the student play hangman on the board. (Or a less gruesome version with a house, person, tree, etc.)
Water Paint – Use a piece of construction paper, paint brush, and water. Have the student draw a card and write what they find using water on the construction paper. (Painting with less mess!)
Build-Your-Own Board Game – Set out a game board made of cards (like Candy Land). Roll the dice and move a game piece the correct number of cards. Say the card they land on. (Alternate version: Make some numbers 'backwards'. For example, you have to move backwards every time you roll a 2.)
Those are just 9 ways we love to use flash cards. If you want to grab the whole list of 100+ ways to make flash cards more fun, just click here: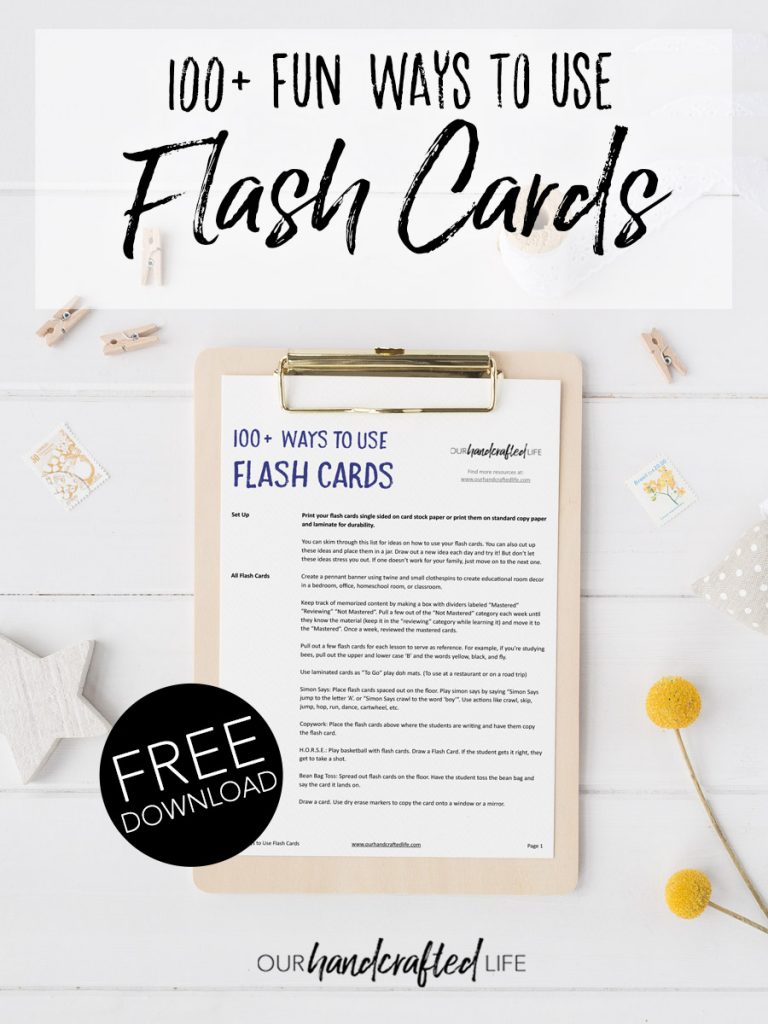 We cut our favorite ideas into strips that we keep in a mason jar. When it's time to review flash cards, we will pick out a strip from the jar. It certainly keeps things interesting!
Let me know in the comments below if you have any fun ideas for reviewing flash cards!