Strawberry Lemonade No-Bake Mini Cheesecakes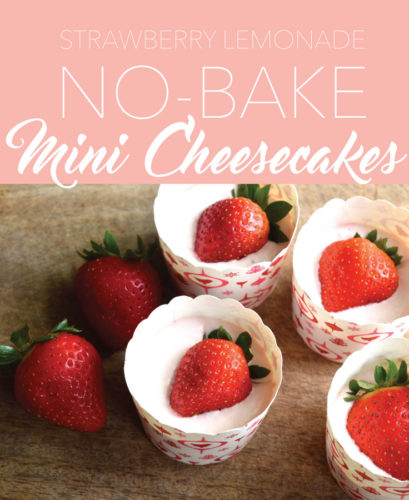 Summer is on it's way out, but it's still too hot to touch the oven. I made these cute little no-bake cheesecakes for a baby shower, and they were a big hit! Individual, mini-cheesecakes make an easy and adorable party dessert. Or you can make one large cheesecake and have it as a weeknight treat. No-bake cheesecake is a fast and easy classic and I put my own spin on it with another summertime favorite, strawberry lemonade. I wanted something pink and fresh and pretty. The strawberry lemonade shines though subtly in color and flavor. Hooray for an easy no-bake dessert!
If you've never made a no-bake cheesecake, let me be the first to recommend you try it. It's an easy dessert (And no cook? Sold.) with a short ingredient list. Let me walk you through the steps and I'll show you some additional short cuts along the way.
This no-bake cheesecake is an easy classic with a short-ingredient list; and the strawberry-lemonade flavor makes it super summery.
In your mixer, toss in the following: cream cheese, Cool Whip, vanilla extract, sugar and pinch of salt. Mix until smooth. In a pan on the stove, add your strawberries, sugar, lemon juice and just a splash (like a tablespoon) of water. Bring to a rolling boil and cook the strawberries down. You will want them to thicken. Think: runny jam. Let this cool, room temperature is fine. Run this mixture though a sieve, you should have a slightly thick, sticky syrup. Discard solids. (Shortcut: You can skip this step, if you want. Straining just ensures a smoother cheesecake.)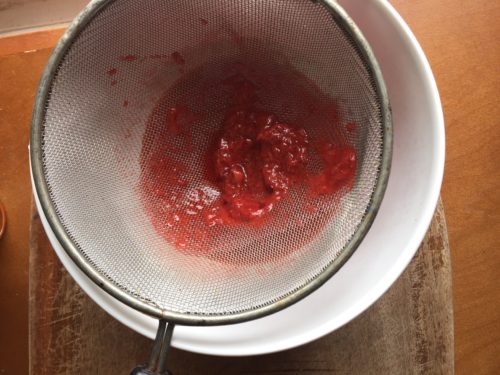 Mix this syrup into your cream cheese mix. Mix well and you will have a light, pretty pink cheesecake 'batter'. Boom, half way there.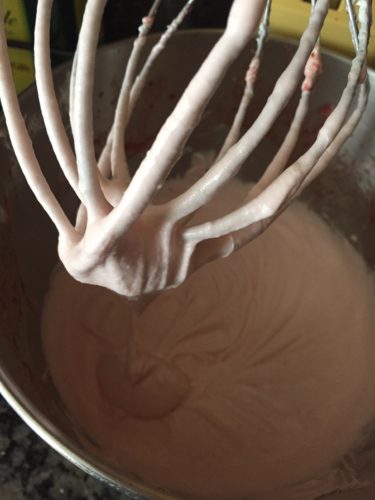 How cute are these cupcake cups (below)? You can use the standard cupcake liners in a muffin tin, that's just fine. I love these because they stand up on their own and are so much more decorative. (Like I said these were for a baby shower, but they are Christmas patterned. Don't tell! They were pink– my choice was these or green ones for St. Patrick's day.)
Once you make the crust, spoon it into each cup. Enough to cover the bottom; for me it was about a teaspoon. Press the crumbs down– see the picture below for the before and after. You can use your fingers, but the back of a spoon or the bottom of a spice jar works really well.
(Shortcut: If you're making one large cheesecake, you can buy a ready-made crust.)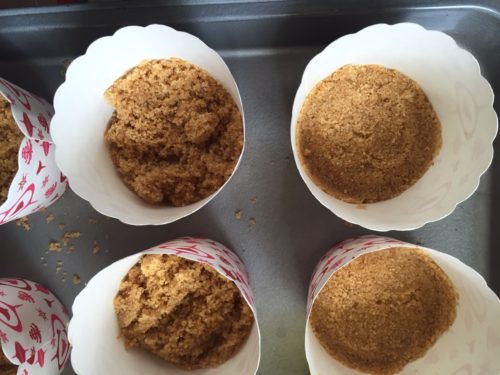 Let everything chill in the fridge, the batter and the crust, if you have the time. This will just make them easier to work with when you assemble. Prep your strawberries by slicing them in half.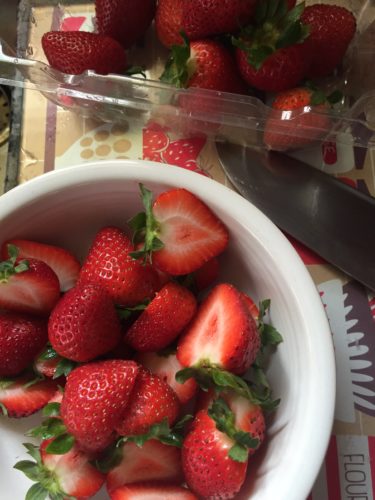 I used a large piping bag and piped the cheesecake into each cup and topped with a half of a strawberry. Shortcut? Use a spoon.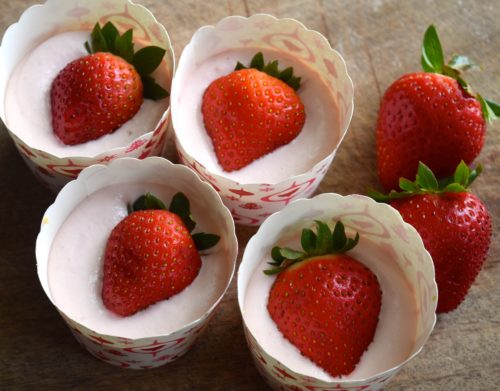 Let these set up in the fridge, and they are ready to go! Add your own spin with your family's favorite flavors.
No-Bake Strawberry Lemonade Cheesecake
2016-08-20 19:51:03
An easy no-bake dessert in a classic summer flavor!
For the Cheesecake
8oz cream cheese
8oz Cool Whip
1/4 cup sugar; 3 tbs sugar
1 pint strawberries
Juice of one lemon
1 tsp vanilla extract
pinch of salt
Grahm Cracker Crust
1 sleeve graham crackers
1/3 cup brown sugar
1/4 cup butter, melted
Instructions
Mix together cream cheese, Cool Whip, vanilla, 1/4 cup sugar and salt; mix until smooth and fluffy. Chill.
In a pan, stir together 1 cup strawberries (roughly chopped) with 3 tablespoons of sugar, juice of one lemon and dash of water. Cook until the strawberries breakdown into a thick jammy mixture. Cool until room temperature.
Strain the strawberry lemonade mixture through a fine sieve, discarding solids. Mix the remaining syrup into the cheesecake mixture. Pour into a piping bag and chill.
For the crust: In a food processor, add roughly crumbled graham crackers and sugar. Pulse while adding butter. Mix should begin to bind together slightly. It should be moist and hold it's shape. Spoon into the bottom of cupcake liners and press flat using a spoon or your fingers. Chill.
To assemble: Pipe cheesecake filling into liners with the crust, filling each half way. Top with strawberry and chill until ready to serve.
Notes
Your final yield will depend on the size of your cupcake liners and how much you fill them. A standard cupcake sized liner will yield 15-20 mini cheesecakes, depending on your fill level.
Our Handcrafted Life http://ourhandcraftedlife.com/
Subscribe to the Newsletter for Free Updates
Subscribe to get DIY projects, recipes, and tips to live simply and create beautiful things delivered right to your inbox.