On dozens of blogs and hundreds of websites, people are posting their Christmas Bucket Lists – maybe it's their 25 Days of Christmas list or 10 Things to Do for the Holidays. While I love decorating cookies and watching classic movies as much as the next girl, I can't help but think that there is more to this season than twinkling lights and dazzling parades. With this in mind, I thought I'd try to come up with a 'flipped' Christmas Bucket List focusing on the things that really matter this Holiday.
1. Don't just 'Wrap Presents', BE PRESENT.
It's my first Christmas as a mom, and I have already been tempted by the shiny toy aisles and glittering Pinterest projects that promise to make me the "Best Mom Ever". But you know what? We haven't even decorated our house yet. Part of that is because I know our little girl is going to try to eat the lights, ornament, and the tree, but the other part is that I have just been enjoying time as our little family. We have been to the Christmas Tree Farm, we saw the lights and rode the rides at Silver Dollar City, we have played with mini pianos, taken walks, and read dozens of books. Though my decorating will be a little rushed this year, I wouldn't trade those moments for the world.
2. Don't just 'Send Gifts', SEND HOPE.
There are so many ways to offer hope to the world. There are so many wonderful ideas to spread hope in your neighborhood, in your city, or around the world. One way to send hope is to invest in gifts that matter. Instead of walking into Walmart and choosing the hottest toy, donate a goat and two chickens in their name (seriously!), purchase a scarf that was made by a rescued victim of trafficking, or buy a necklace made by a woman receiving fair wages, vocational training, and Bible study. I have found that these gifts are a lot more meaningful to the recipient, as well.
3. Don't just 'Make Food', DONATE FOOD.
Because of the cold weather, shelters are packed during this time of the year, so one easy way to donate food is by giving to a canned food drive or calling a local shelter and asking about their needs. This year, our church was able to partner with an organization called Stop Hunger Now to send over 30,000 meals to people in impoverished countries. Earlier in the year, we got to bake cookies and hand them out at the fire station and nursing homes. It doesn't have to be an elaborate home cooked meal to make a difference, one mom decided to make 'Blessing Bags' that she could give to someone she met in need.
4. Don't just 'Make Cookies', MAKE MEMORIES.
So often we get so caught up in trying to make everything perfect that we forget to just soak in the moment. Just step out of the kitchen and play a board game with your family. Or while you're making cookies this year, invite your kids to help you! They may not be frosted perfectly and you may have more of a mess to clean up, but you will cherish those memories for years.
5. Don't just 'Visit Santa', VISIT A FRIEND.
The Holidays are wonderful and joyful, but they are also really hard for a lot of people. Some people are missing loved ones who have passed away or live too far away from family for visits. Don't be so wrapped up in creating your family's perfect Christmas that you forget about those around you who might be hurting. Take neighbors treats, ask a friend to Christmas dinner, or invite a co-worker to look at the lights with your family. You don't even have to alter your family's plans, just be willing to include other people in whatever you're already planning on doing!
6. Don't just 'Hang Lights', RADIATE LIGHT.
Being a light doesn't mean you necessarily have to be happy all the time – it's more about being joyful. While happiness is sometimes a product of joy, they are not the same thing. People are happy because of what happens to them – they get a promotion, their handmade pie gets rave reviews, their husband brings home Olive Garden To-Go (Just me? Oh, ok…), but joy is being content in everything that happens because you know there's something greater to hold on to. I am not just celebrating this season because of a jolly man in a sleigh. I celebrate because God sent our Savior into this world so that we didn't have to be perfect, but we could be made perfect through His sacrifice. Because of that, my holiday is not ruined because my house doesn't get decorated or I don't get what I want under the tree. In the world we live in that is so wrapped up in getting what we want instantly and making everything Pinterest perfect, if I can share the light I have with one other person, I will have fulfilled my ultimate Christmas Bucket List.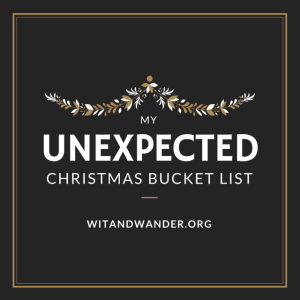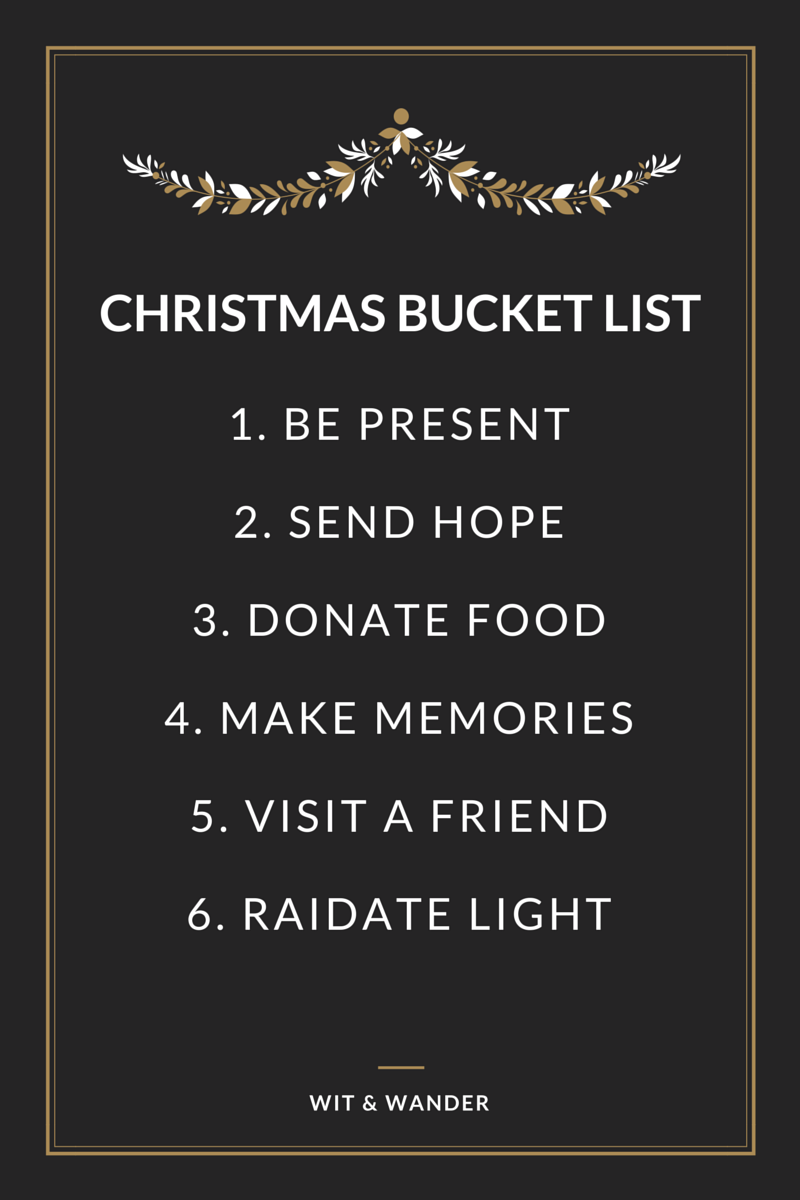 What would be on your Flipped Christmas Bucket List? Share in the comments below!
Subscribe to the Newsletter for Free Updates
Subscribe to get DIY projects, recipes, and tips to live simply and create beautiful things delivered right to your inbox.