I am so excited to introduce you to Kristal Smith, a.k.a. The ALDI Mom! She is a fantastic resource for anything that saves you money. Today, she is sharing a beginners guide to couponing with Wit & Wander readers. Welcome, Kristal!

Couponing has been around for quite awhile, but many people are still trying to figure out how to make it work for their family. Couponing is actually pretty simple, and as long as you follow some guidelines, it doesn't require too much work. Here are some great tips for getting the most out of couponing:
Why Coupon?
To save money, of course! You could potentially save hundreds of dollars off your groceries and other household items by spending a few minutes each month reading ads and clipping coupons. These savings over time really add up! A great rule to follow is to save your coupons until one of these things is also true:
The Item is also on Sale.
There is a double or triple coupon event.
I can stack the coupon with a store coupon. (Such as Target or Walgreens that I will explain further down.)
We really need the item for this week's shopping trip and it can't wait.
Simply using a coupon as soon as you get it is not the best way to save money. These rules will help you learn how to coupon in a way that benefits you the most.
Expiration Date & Store Policy
These are the two major reasons your coupon could be rejected. Each store has a "coupon policy" that you can find by searching their website or calling the store to ask about their rules and restrictions. For example, HERE is Target's policy. Lots of stores will accept all manufacturer coupons including coupons you printed at home from the internet, however others (such as Kmart) will not accept any coupons from the internet.
Be sure to check the expiration date. I have been doing this for years and even I have made the mistake of trying to use an expired coupon! To avoid this, I quickly flip through all my coupons each month and toss the expired ones. Alternately, you can send them to families that live on a military base to use in military grocery stores.
Stacking Coupons
Some stores have "store coupons" that can be combined with a manufacturer's coupon. Target is one of my favorite places to use coupons, because they will stack a store coupon, a manufacturer coupon, and a third coupon from their smart phone application, Cartwheel (which I will go into detail about later). This list of stores will allow you to stack store coupons and manufacturer's coupons for maximum savings:
Walgreens
Target
Dollar General
CVS
Rite Aid
Publix
Family Dollar
Safe Way
Whole Foods
Finding Coupons
The Sunday Newspaper (Of course!) and your daily newspaper will feature Redplum (RP), Proctor & Gamble (P&G), and SmartSource (SS) ads.
Online Resources: Target Coupons, Arm & Hammer, Coupons.com, Smart Source, Walgreens, Red Plum, Betty Crocker
Directly from the brand: visit a brand's websites to join their mailing list!
Weekly Ads: Stores (like most drugstores) will sometimes release coupons in their ads.
Must Have Couponing Apps
Checkout 51 – You receive cash back for milk, eggs, juice, and more.
Ibotta – Same concept as Checkout 51.
Cartwheel – Target's app. You can get up to 60% off things you buy every day. If you shop at Target, at least test this app! When I started couponing, I waited way too long to start using it.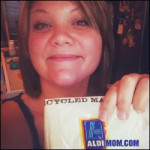 The ALDI Mom, or Kristal Smith, is a wife and mother of two from St.Louis, Missouri. Her children are ages one and seven. Kristal spends her time working at home blogging and through social media, and is also a part-time portrait photographer of children. Kristal has an associate's degree in Visual Communications, and she enjoys cooking, shopping, webdesign, writing, art, traveling, family, hosting parties, pinteresting, church, pets and cats, and doing all that fun mom stuff we do. Kristal's blog, AldiMom.com, is growing continuously and the Facebook fan page has over 7,000 likes so far. Kristal visited and learned at The Aldi Headquarters in 2012., and the Aldi Mom was featured in an Aldi radio ad Fall 2014. Kristal is excited to grow her blog and reach out to other moms like her, to make new connections and new friends.
—
Like what you see on our blog? Join our mailing list to receive emails with freebies, projects, coupons and decor ideas to help you live a creative and joy-filled life. You can also follow us on Facebook, Twitter and Pinterest.
Subscribe to the Newsletter for Free Updates
Subscribe to get DIY projects, recipes, and tips to live simply and create beautiful things delivered right to your inbox.