DIY homemade Pumpkin Spiced Iced coffee recipe you can make and customize in your own kitchen!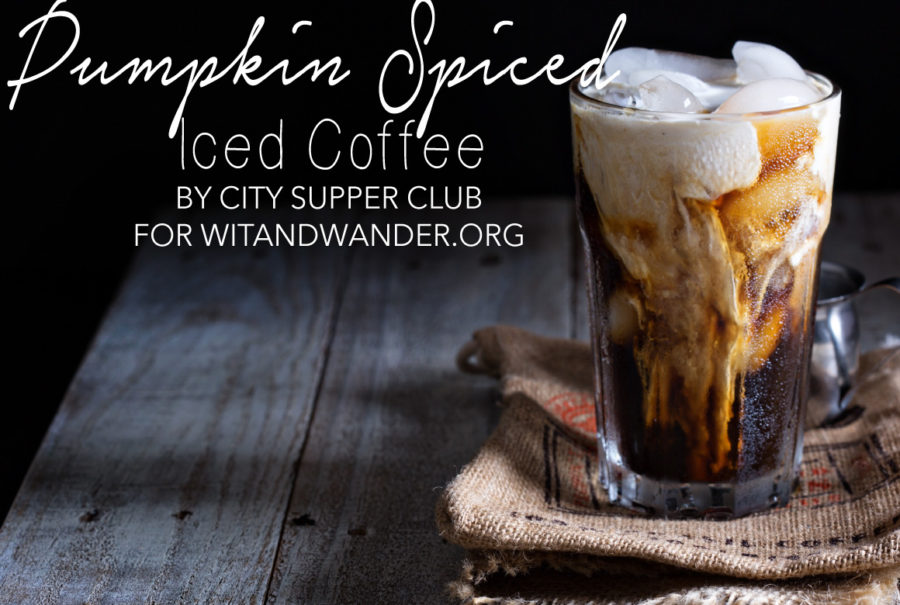 It's official, fall is Pumpkin Spice season. That's ok, everyone loves the warming, spicy, cozy flavors of fall. But some people just like their coffee cold. Maybe you live somewhere warm (like Dallas?!) or maybe you just want a cool treat in the afternoon, this seasonal Pumpkin Spiced iced coffee is for you. But hang on, I love my coffee hot; this recipe is two parts, so if that's you too, make this Pumpkin Spiced coffee creamer and save it for your morning brew!
An easy to make alternative to the store-bought stuff, you can customize this to your taste and feel better knowing that it's not full of anything artificial! My version below calls for half-and-half, but if you're watching your calories you can use the milk or plain dairy-alternative of your choosing. That's the beauty of kitchen DIY's! Adjust the pumpkin and spice to your taste as well, but these measurements are a great place to start. The creamer will keep refrigerated for about 2 weeks, stored in an airtight container.
Are you looking for more fall recipe inspiration? Check out these recipes on my blog, City Supper Club!
Spiced Pear Simple Syrup
Chicken Chili Verde
Stuffed Jalepeno Poppers
---
To make your Pumpkin Spiced Iced Coffee, recipe in two parts:
Pumpkin Spice Coffee Creamer:
Customize your choice of milk and adjust your spice as preferred.
2 cups Half-and-Half
3 tbs pumpkin puree
2 tsp maple syrup
1 tsp pumpkin spice
1 tsp vanilla extract
1 cinnamon stick
In a saucepan heat Half-and-half on low to warm. Add pumpkin and whisk to combine completely. Add maple syrup, pumpkin spice and vanilla, whisking to combine. Add cinnamon stick and remove from heat. Let cool covered with the cinnamon stick. Store when cooled in an airtight container and refrigerate.
Iced Coffee:
When making your iced coffee, adding the water to the expresso will cool it, so the ice doesn't melt too much when you add it, keeping your coffee strong.
2 shots espresso
Ice + cold water
Start with a tall glass adding in this order: espresso, 1 cup water, fill with ice. Top with creamer, give a quick stir or shake. Adjust for strength and sweetness, enjoy!