The Best Gifts for Open Ended Play is part of our series of gift guides featuring more than 50 Intentional Gift Ideas for Kids. Check out the whole series here to find great gifts that encourage open-ended play, develop imagination, promote active play, and foster creativity.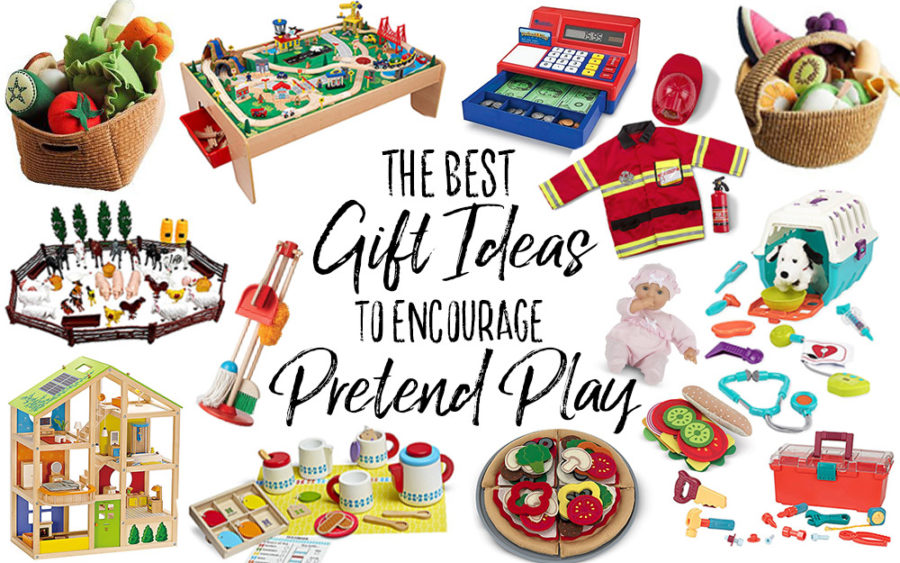 For our house, we have chosen a pretty specific 'toy style'. When we buy a toy, I go through a mental checklist to make sure it ticks at least a few of my boxes:
Encourages open-ended play
Develops imagination
Promotes active play (gross and fine motor development)
Fosters creativity
My favorite type of toy has to be Pretend Play toys. These toys generally check all my boxes and they are my favorite things to buy as birthday presents and Christmas gifts. When I'm looking for pretend play gift, I search for toys that are durable and require imaginative role-play. They can be bought for one year olds or five year olds and they will spend years creating new ways to play with these toys. Here are some of my favorites:
Best Toys for Pretend Play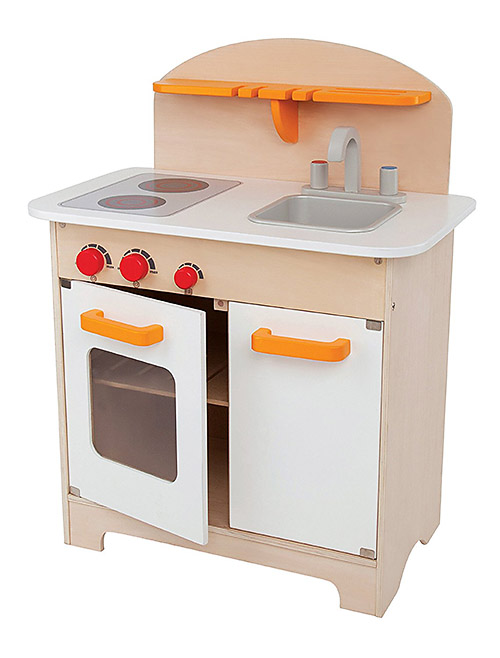 By far the most used toy in our house has to be our play kitchen. From the kitchen, my kids make food, sell their items, set the table, wash the dishes, and more. It is the hub for almost all of their pretend play. It's also the first place any friends go when they visit our house. It has been a great investment and I would buy another one in a heartbeat.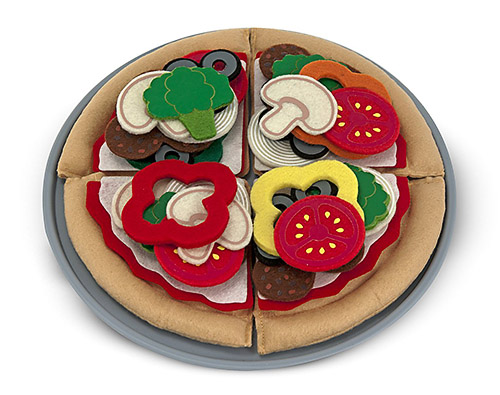 Felt Food
Of course any good kitchen needs food! We love this sandwich set and pizza set from Melissa and Doug. The fruits and vegetables from Ikea are really well made. We have two other food sets – this pantry staples set and the fridge food set, which I liked because they were wood instead of cardboard (which would get broken in 2.5 seconds at our house).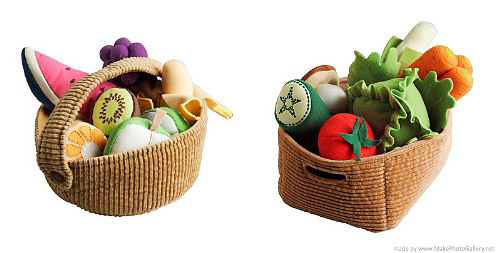 Of course, she also has spice bottles and containers from whenever I get done with them – that's just recycling, right?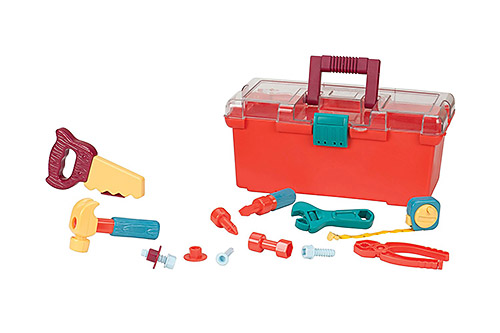 We just got my one year old son this set of play tools for his birthday and we have already fallen in love. While some of the parts are a little small for a one year old, he carries the hammer and saw around and bangs on things like it's his job. Of course, we spend a lot of time working in our little garage shop, so the kids love having play tools so they can 'work' with mommy and daddy.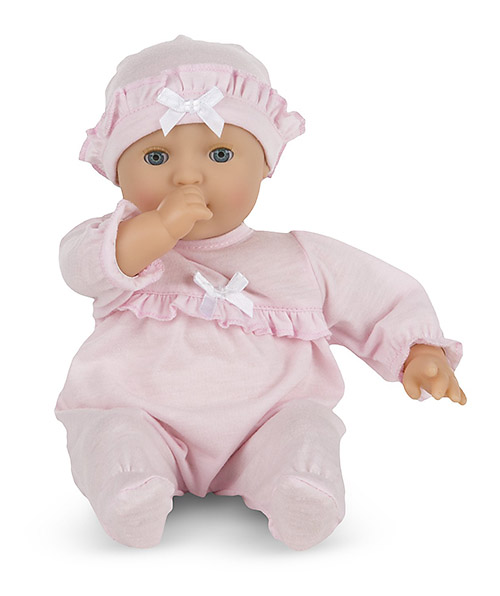 I almost forgot to include a baby doll on this list because it has been our constant companion for almost 3 years. Of course everyone knows that a baby doll is the ultimate pretend play toy because it is timeless. Generations of women have pretended to be 'mom' and 'big sister' to their own little baby dolls and that won't stop anytime soon. It's the perfect Christmas gift.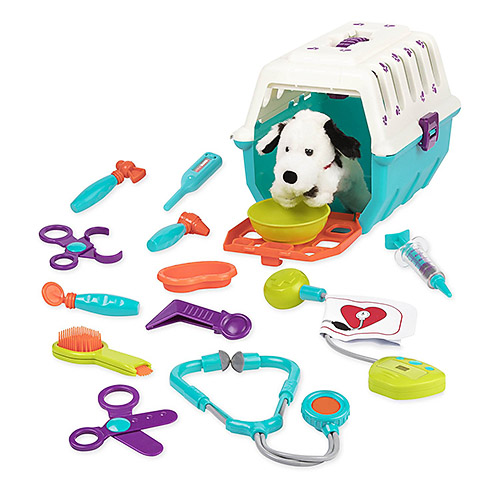 This vet kit will appeal to kids with a pet who want to act like the doctor, to Doc McStuffins lovers, to kids who live on the Farm and want to be like mom and dad taking care of real life animals. This kit is special because the tools can also work as a regular doctor's kit, meaning more bang for your buck!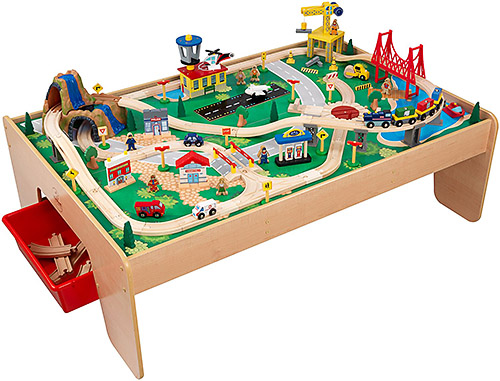 Do toys get any more classic than a train table? This table is specially constructed to keep the edges from chipping and features handy plastic buckets that are stored beneath the table to keep all the little train toys off the floor. This set also includes all the track, train, people, and vehicles so it's a great gift for a beginning conductor.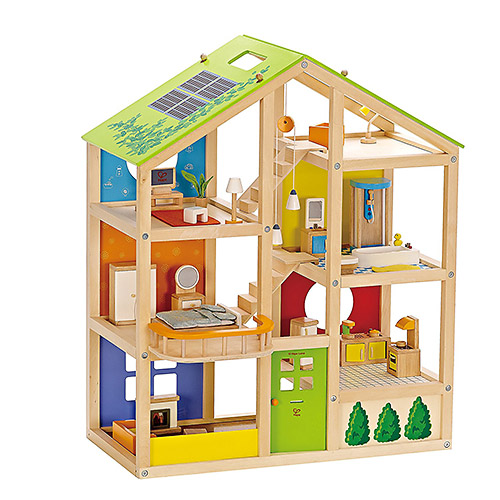 A simple wooden dollhouse that will age gracefully can be a beautiful addition to a play room. I love that this dollhouse comes with all the furniture and accessories (because they can get EXPENSIVE!) and that it requires some imagination. It's not overwhelming with sticker backdrops and it's not designed after any character that's going to be gone in a couple of years. It's just a sturdy wooden dollhouse that an active imagination can turn into a mansion, a castle, a palace, or anything else they can dream.

This may seem ridiculous, but if you have a toddler who 'likes to clean' they will go nuts over this set. The upside is that these toys actually clean really well and the little stand is great little spot to put them away. It will blow your mind, but kids will love this set.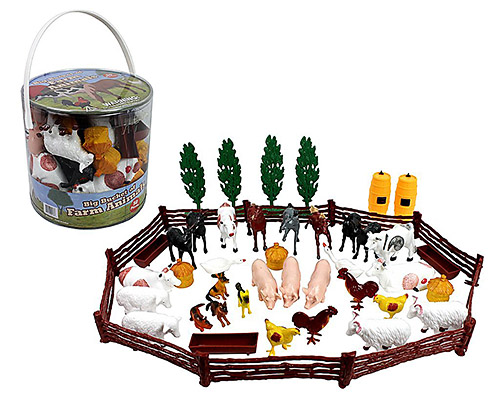 This bucket of animals comes with a ton of animals and it's own little storage bin. The animals are perfectly sized for little hands and it comes with a fence and a few trees to complete the scene. It's a cute gift for any future farmer.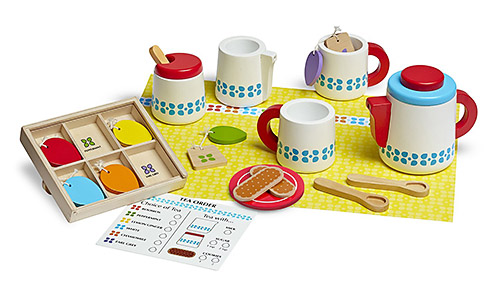 There are a lot of different tea sets available, but I like this one because it fits with the aesthetic of our kitchen and it's durable (even in the hands of a toddler). It also has a few extra features like individual tea bags, spoons, and a menu. The only downside is that you can't put real water in the kettle. Kids will love taking orders from the menu and preparing the tea.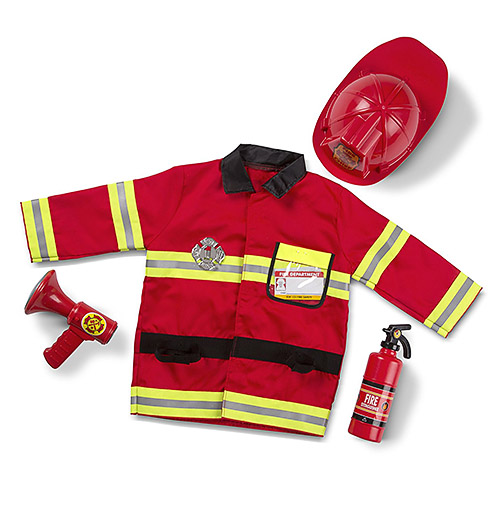 Any dress up clothes are perfect for pretend play. From mom's old prom dress to dad's old ties. Thrift shops are gold mines if you'd like to fill a dress up box. For new dress up clothes, I love these career sets from Melissa and Doug. There's a fireman, a vet, a chef, a construction worker, a police officer, and more. They work well for both boys and girls and they're machine washable – score!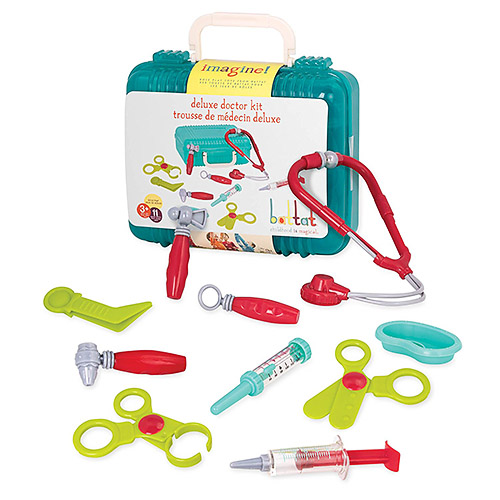 Kids go to the doctor more than 11 times in the first two years of their life – it's no wonder they want to pretend to be a doctor! This kit comes with a great carrying case and a stethoscope that can fit around their neck.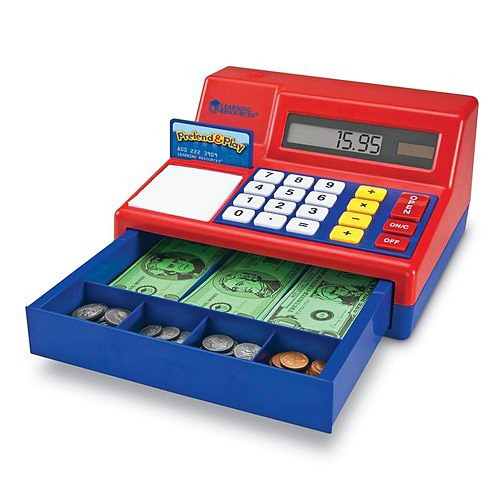 If kids are going to be taking orders and selling everything they cook in their kitchen, it makes sense that they should have a cash register! We looked for one that was a working calculator so that we could practice math as kids get older. We also wanted one that ones solar powered so that I didn't have to run through batteries like crazy. This one also comes with cash and coins so kids can learn about money.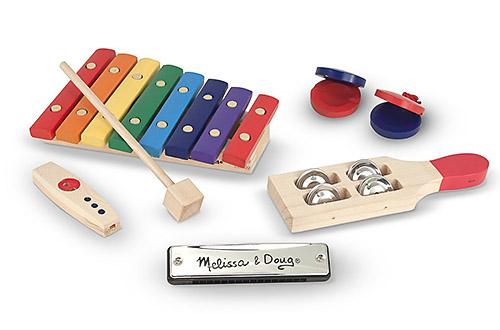 I'm not sure if musical instruments really qualify as 'pretend play', but I ultimately decided that kids will pretend they are in a band, so it counts. Also, I LOVE this set of musical instruments. They are a little more gentle than other kid's instruments (I'm looking at you, kid's maracas) making them sweet to listen to at the end of a long day. Kid's can experiment with music and sound and learn a bit about how instruments work. Our next purchase will be the Drum! Click! Clack! set.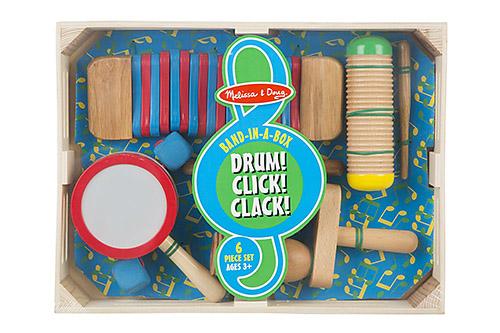 Do you have any pretend play toys that your kiddos love? Share them in the comments below!