We started homeschooling our kindergartener during the summer of 2019. When I mentioned that in a previous blog post, I got several questions and comments about what we were using and how it was going for us. I thought I'd share some of the things that worked really well for us, and a few that didn't work the way I wanted.
This post isn't sponsored, so these are my completely honest opinions. There are just SO MANY options out there for homeschooling. It's hard to weed through all the information if it's your first time homeschooling.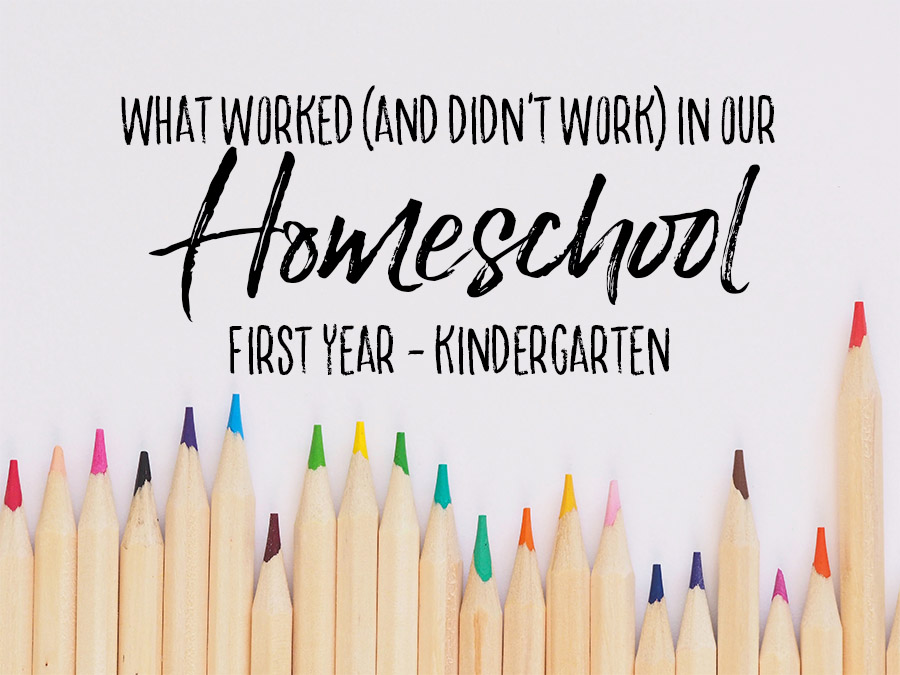 What Worked for Our First Year of Homeschooling
Homeschooling!
First of all, I was so worried that I wouldn't be a capable teacher or that my daughter would never learn what she needed to learn. I had these fears that she would fall so far behind and I would lose my mind with both of my kiddos home all day.
Well, let me just say those fears have been busted right open! We have been very relaxed in our homeschooling – typically spending about 2 hours on schoolwork 4 days per week. At this age, we are focusing on Math and Language Arts (reading and writing) and getting things like history and science mainly through books we read aloud together. This may be controversial, but I don't care that my kids are the best and brightest. Especially at this age, I care that they are kind, creative, imaginative, and critical thinkers.
That said, my daughter is excelling! About halfway through Kindergarten, she is reading with excellent comprehension and understands just about any math concept I toss at her. Her younger brother (3 years old) has picked up enough just by being around to know all his colors, shapes, and is even beginning to recognize numbers and letters. I say all this to say that if you're considering homeschool, you're not crazy! It can definitely work.
Now to the nitty gritty details of what we're using for curriculum. The very top of my list is a book that costs about $10! (For a used copy) Teach Your Child to Read in 100 Easy Lessons is an invaluable tool, especially if you've never taught children before. They lay out every step of learning to read in crystal clear steps.
The whole book is scripted, so you're never left wondering how to teach things like letter sounds (yes, apparently there is a right way!), blending letters to form words, moving from sounding out loud to reading in your head. It's not colorful or exciting, which threw my daughter off initially, but she was all in once she realized she could start to actually read words.
You will probably find Bob Books mentioned any time reading is brought up and there's a good reason! They are a very gentle introduction to reading. If you pick up a "Level 1" reader at the library, you'll find that they are way too advanced for a Kindergartner who is just learning to read.
Bob books start with CVC (consonant-vowel-consonant words like 'cat' and 'big') words and progress from there. They follow the logical flow of most phonics curriculums, so they are great to add on to whatever core curriculum you're using. My daughter loved that she could read the whole book herself. I think that really helped reading to click for her.
I put an asterisk because The Good and the Beautiful actually falls in both the "worked" and "didn't work" category.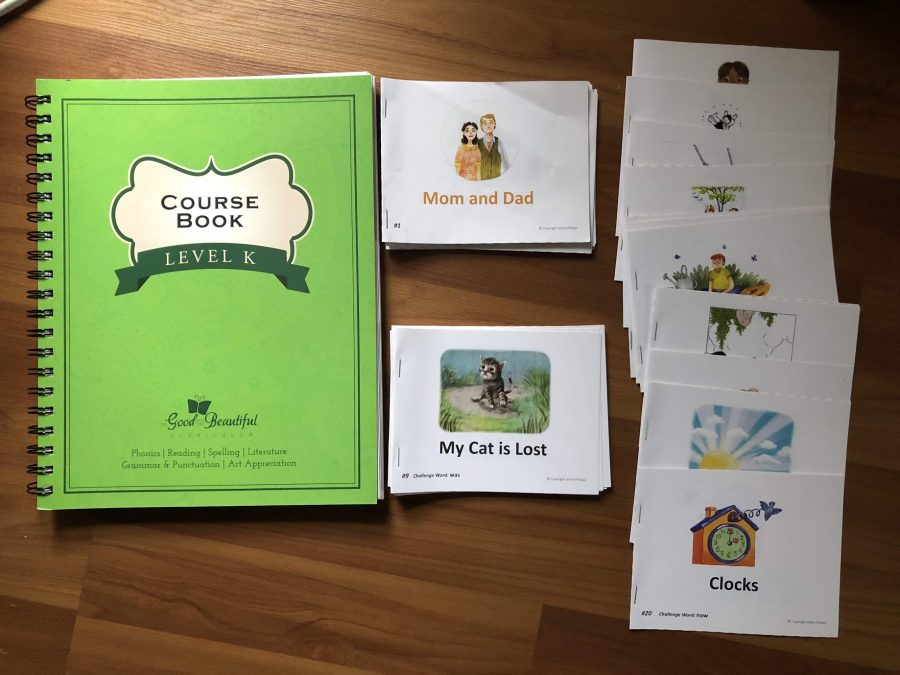 The reason I chose the curriculum in the first place was that it was truly beautiful, which is a big deal to my artistically smart daughter. They incorporate paintings right into the lesson, illustrate concepts using engaging stories, and use vintage illustrations and watercolors instead of clip art. It is a joy to look through.
It is also 'open and go', as well as completely scripted. I am a first time homeschooling mom who has never taught before. While I am probably could have muddled my way through lessons, using a program like The Good and the Beautiful meant that I wasn't missing things or skipping over important concepts. I also love that the whole subject is contained in one book. I don't have to flip through a student workbook, teacher's manual, quiz book, and test key for each subject. Everything we need for a lesson is in one book.
Now, we have loved Math from The Good and the Beautiful. It is very thorough and gives the student a solid number sense, which I think is the most important part of math in Kinder. It is incredibly hands on with various manipulatives and strategies used in each lesson. I feel like it gave my daughter a lot of 'tools' to solve problems. Of course she can use mental math, but she can also use a rekenrek, counting manipulatives, a ten frame, tally marks, and more to solve problems. She knows songs and chants to help her remember things like days of the week and skip counting. It engages all of her senses. With a few small tweaks to fit our personal preferences, this curriculum hit it out of the park.
While Language Arts (called Level K), impressed me with the beautiful nature and the price point (only $10 for a printable PDF of the course book), it left a lot to be desired in my opinion. I'll share more about that in the 'what didn't work' section.
What Didn't Work for Our First Year of Homeschooling
The Good and the Beautiful
So, we started last summer with Teach Your Child to Read in 100 Easy Lessons to give her a head start with reading. Then we stopped using that at the beginning of the school year. We went through about half the year using only The Good and the Beautiful Level K for language arts. At that point, I realized my daughter was losing a lot of the ground we had gained over the summer with Teach Your Child to Read. She was getting frustrated and got anxious every time I pulled out the school books. Once we added the Teach Your Child program back in, I saw her reading ability skyrocket.
Ultimately, while The Good and the Beautiful has some reading instruction, it doesn't actually teach a child how to read. It just says "sound out this word" or "practice these blends" without teaching a child how to blend or how to sound out.
The reading material that comes with The Good and the Beautiful is lacking. While it is beautifully illustrated, the writing is choppy and disjointed. The stories often contain phonics concepts that haven't been taught yet, frustrating the student. Halfway through the year, we replaced the mini readers with Bob Books and things went a lot more smoothly.
Honestly, they offer the course books for Level 1 through Level 5 for free, so I will probably still use this curriculum next year. But it will be heavily doctored to fit our needs.
Spelling
While spelling is technically included in The Good and the Beautiful, it is not a focus of the curriculum. The little time that was spent on spelling instruction was not working for my Kindergartner. She loves writing and was developing some bad habits. I stopped using the spelling in the book and started using All About Spelling about a month ago. It's too early for me to definitively say that it's working, but I have noticed a ton of improvement in a very short time. She has started using vowels in the words she spells. (Which makes it SO much easier when I'm trying to decipher what she's written!)
It's a really gentle curriculum and it primarily uses letter tiles, making the focus decoding words instead of handwriting. We chose to get the Letter Tiles App, so the whole thing feels like a game.
Handwriting
I didn't realize how important handwriting was in Kindergarten, so I didn't really stick with any one thing for handwriting. That was a mistake on my part. She loves writing, but when she's writing on her own, she uses capital letters almost exclusively and has several letter and number reversals. We finally got Abeka's manuscript handwriting curriculum and we have been using it daily. I think the daily instruction has been more important than a specific curriculum.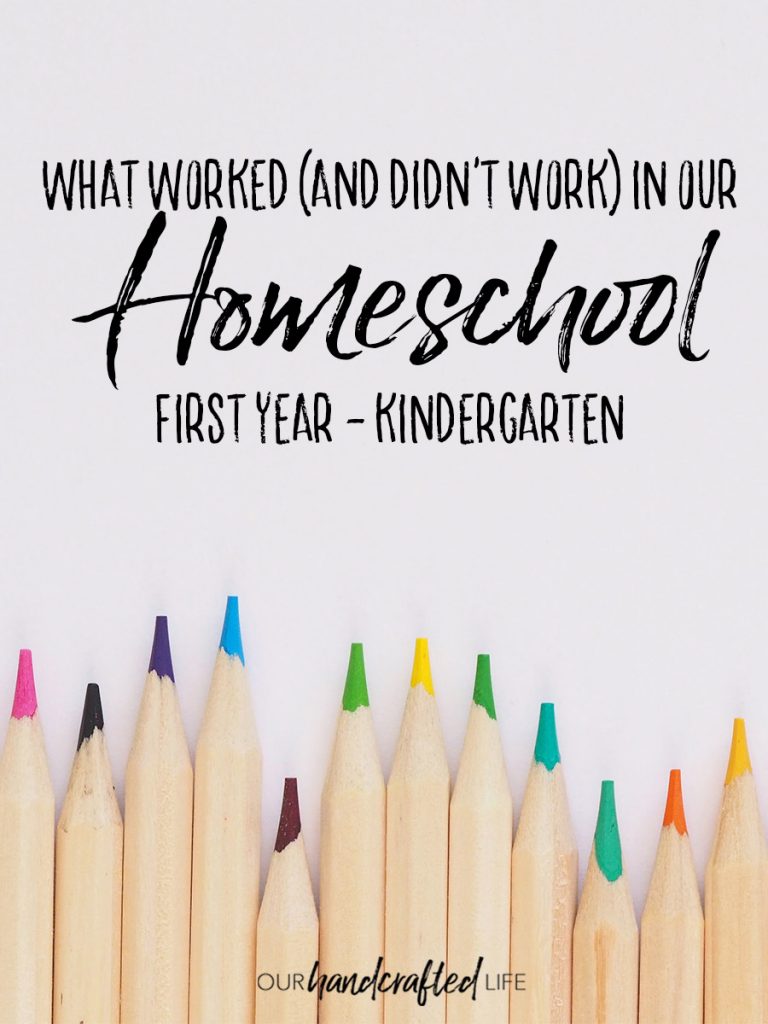 So those are some of the things that have worked (and not worked!) in our homeschool year. I am starting to plan out the next year of homeschool because we will have a little one joining our crew in the next couple of weeks. I will be sure to share our plans and let you know what's working for us in First Grade! (Oh, and pray for us – we will start next school year with a First Grader, a preschooler, and a mobile baby – quite the adventure!)
Subscribe to the Newsletter for Free Updates
Subscribe to get DIY projects, recipes, and tips to live simply and create beautiful things delivered right to your inbox.