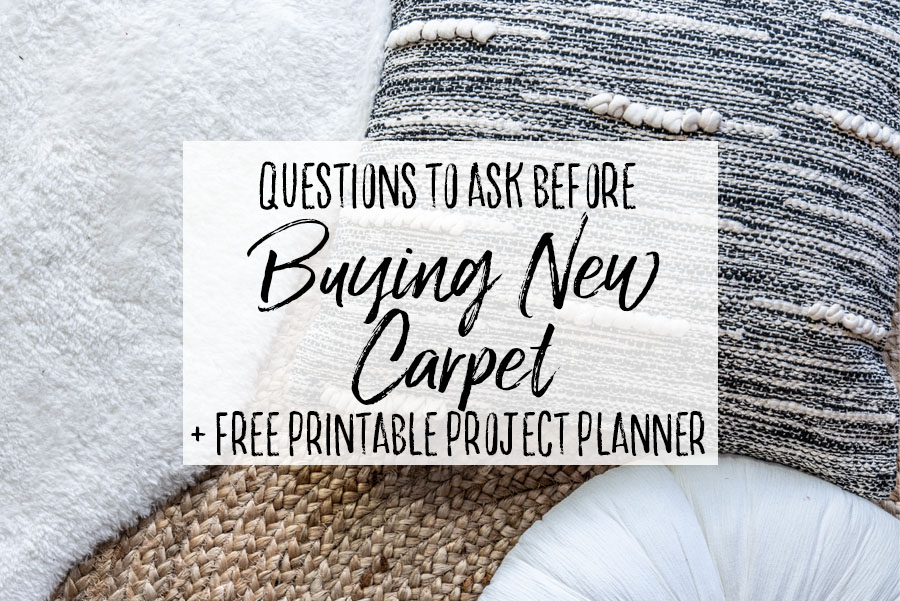 We had been tossing around the idea of installing carpet to replace our (very) cheap laminate flooring in our kid's bedrooms upstairs. Let me tell you…loud footsteps on cheap flooring right above the master bedroom does not a happy mama make!
We finally decided to take the plunge because we are having a baby this Spring. There is no way any baby – even a third child – could sleep through the elephant steps upstairs.
Of course I am a planner, so I jotted down several questions for our "family meetings" before we ever stepped foot into a carpet store. In case you're thinking about installing carpet, I thought I'd share those questions with you (along with a handy printable) to make your carpet instillation run smoothly.
Questions to Ask Before Buying New Carpet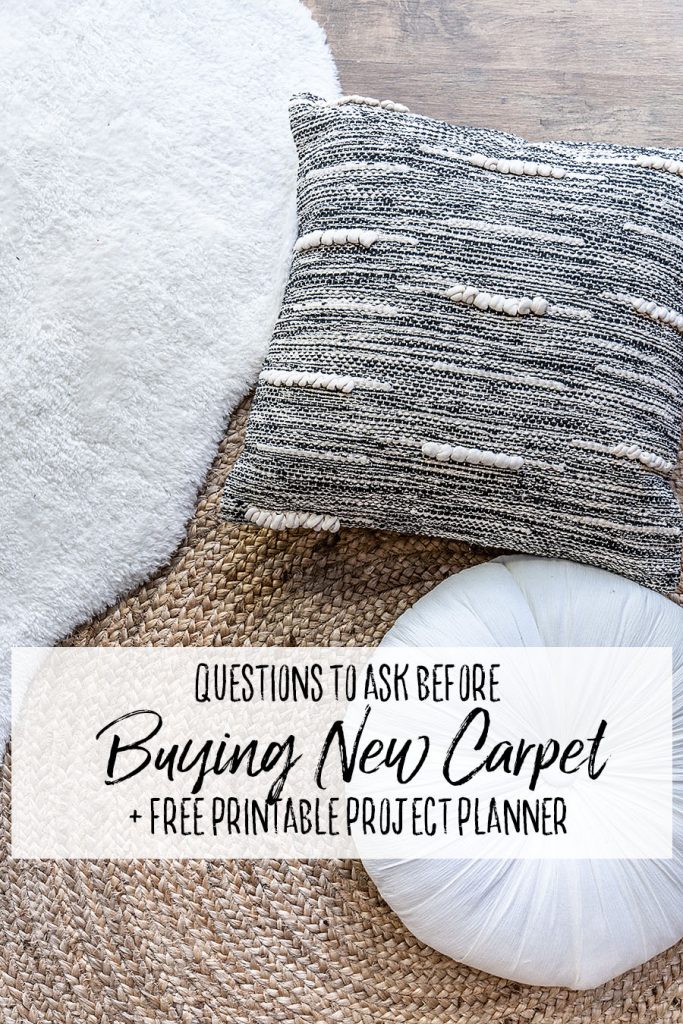 What's our budget?
Before walking into a carpet store, you'll want to have a general idea of your budget for the project. With carpet, there will be a 15-25% over your ideal budget for overage and off-cuts. Carpet prices can vary from less than $1.00/square foot to almost $10.00/square foot or even more.
You also need to purchase a carpet pad to go underneath the carpet and you may need to plan for expenses like instillation and furniture removal.
How will the space be used?
Is the carpet being installed in a high traffic area like on the stairs or in a hallway, living room, or child's bedroom?
Do you have children or pets?
Will the carpet lead directly outside or is it away from entrances?
Will the carpet see direct sunlight?
Thinking about how your carpet will be used can make a big difference in the type and color of carpet you choose.
What design, style, and color palette will work in our home?
Think about the colors in your home – do they have warm or cool undertones? If your house is painted grey, you will want to make sure the carpet you choose doesn't read brown in your lighting.
A big choice to make will be if you'd prefer a solid carpet or a flecked carpet. Flecked carpet is typically a lighter color with darker colored strands.
If you're thinking about keeping the carpet clean, you may have the most luck with a flecked carpet in midtones. (But if you really want the white carpet – go for it! You only live once!)
What kind of material do we need?
While there are several different kinds of fibers used in the materials for carpet (such as wool, triexta, and acrylic), the most common types of household carpet are Nylon and Polyester.
Nylon is typically more expensive. It holds up well in high traffic areas and won't absorb liquids, making it easier to clean. Polyester is generally cheaper, but it can lose its height and fade after time.
How thick does the carpet need to be?
It's very difficult to tell the thickness of a carpet in the store, but it will make a big difference in comfort when it is in your home. If you are planning to add carpet to stairs, try bending a sample of the carpet in the store to determine if you can see the backing underneath.
Can I take home a sample?
No matter what the lighting situation is in the store (even if they have one of those fancy lighting simulations), it will never look the same as it does in your home. Ask if you can bring home a sample – look at it next to your furnishings and your paint colors. Leave it in the space and check it at different times of day to see how the colors look with different lighting.
Is carpet instillation included?
Some stores, especially big box retailers, will offer free carpet instillation with the purchase of carpet. This can be a huge budget buster. When we checked with a local store, they had a minimum instillation cost of $400 no matter the size of the job because they had to make it worth the time of their workers.
When can I find a good sale?
Around holidays like President's Day, Memorial Day, Labor Day, Columbus Day, and Black Friday, there are often sales in stores. You might also have luck after Christmas and into January or in May and early June because stores aren't selling a lot of carpet. It's always a good idea to scout sales if you're on a tighter budget.
Free Printable Carpet Instillation Planner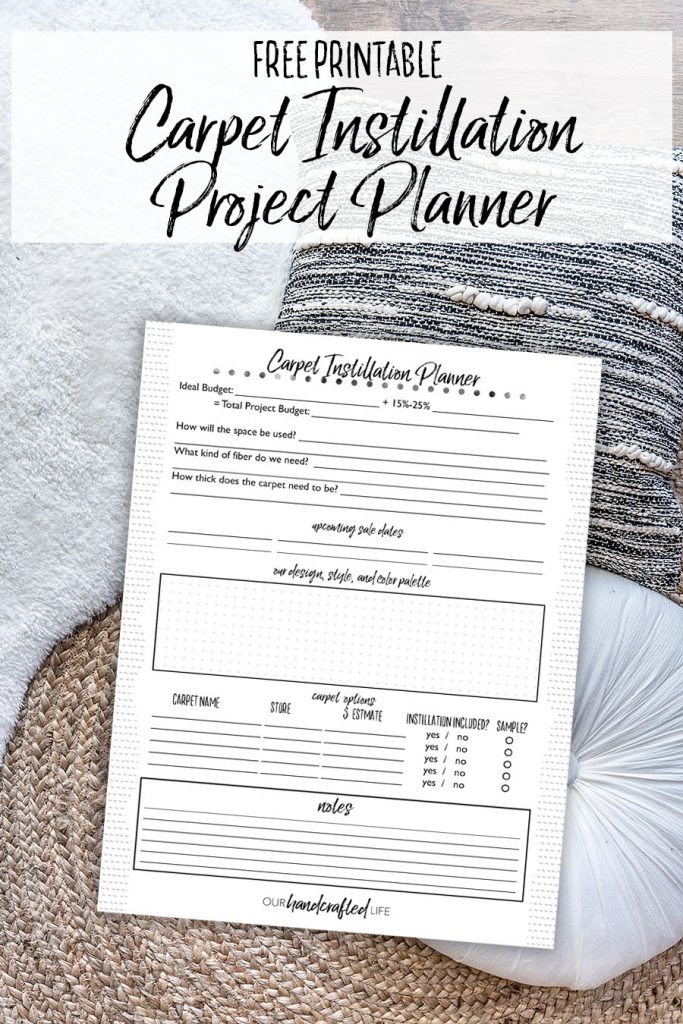 This free printable carpet instillation planner is the perfect spot to answer all of these questions and more. You can carry it with you to the stores to keep track of important information and compare prices. You can download it below!