Celebrate a brand new little muggle-to-be with this Harry Potter Baby Shower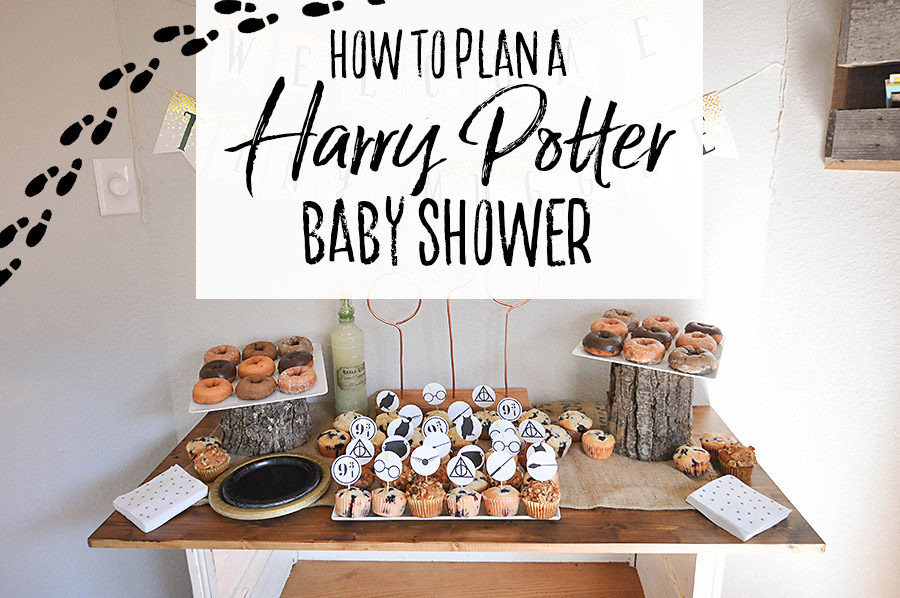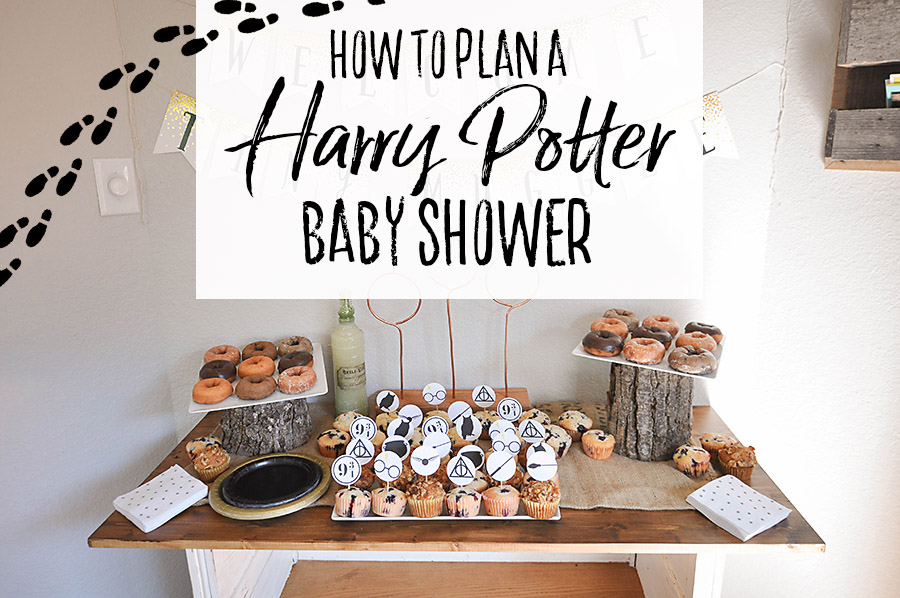 Whenever a friend gets pregnant, my first thought is always what extravagant fun I get to plan to celebrate their new little one. I may be weird, but I LOVE planning parties – especially for friends. Well, when one of my closest friends announced that they were expecting, I knew immediately what shower I would throw for her – a fabulous, modern, classy Harry Potter Baby Shower.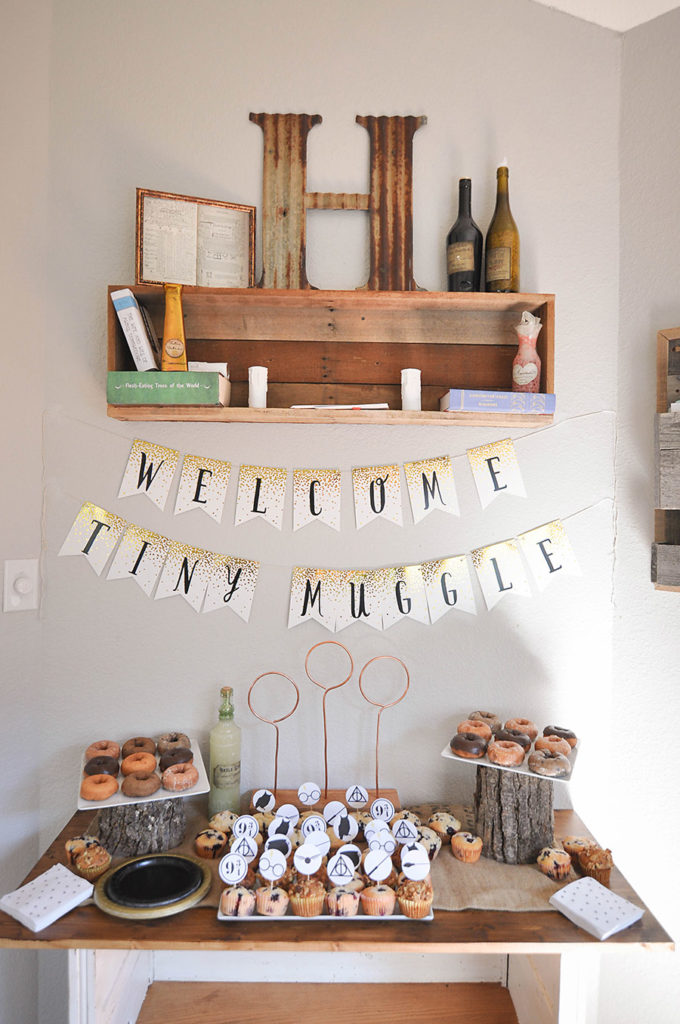 Of course I had to share all the fun printables and creative ideas with you all just in case you have a friend who loves the the adventures of the boy wizard as much as we do!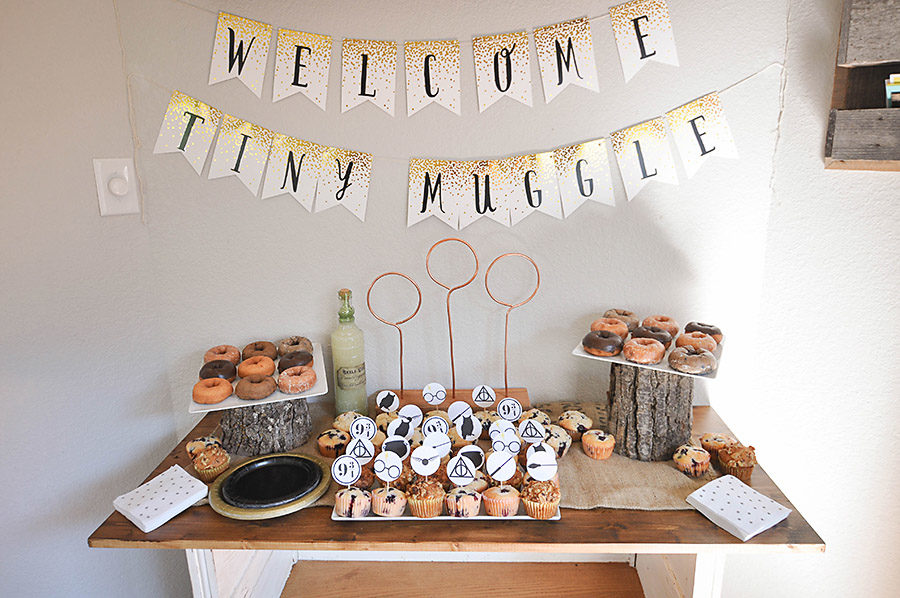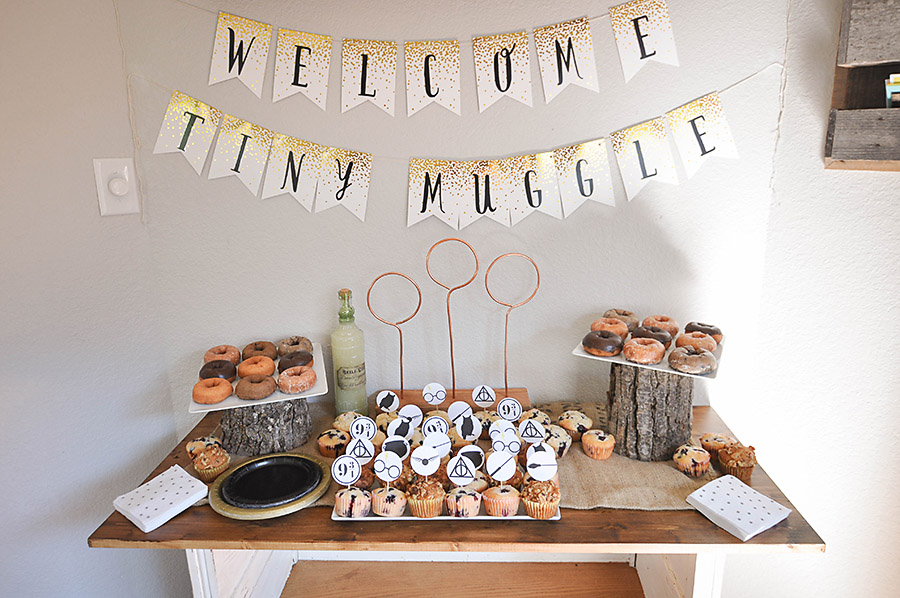 Harry Potter Baby Shower Decorations
This party is perfect for moms (and dads) who don't want a whole theme of frilly pink or baby blue. It was even fun for the ladies who don't have kids yet. I heard several times that this was the first baby shower they had actually enjoyed!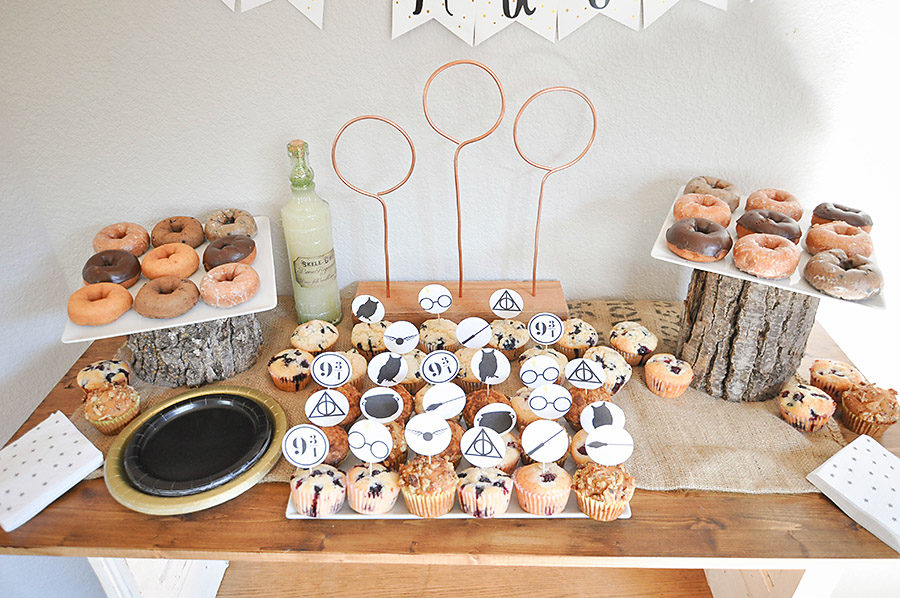 I found this banner set my local craft store, but I made a similar one you can download below. You could also purchase a chalkboard banner or this gold and white banner for a similar effect.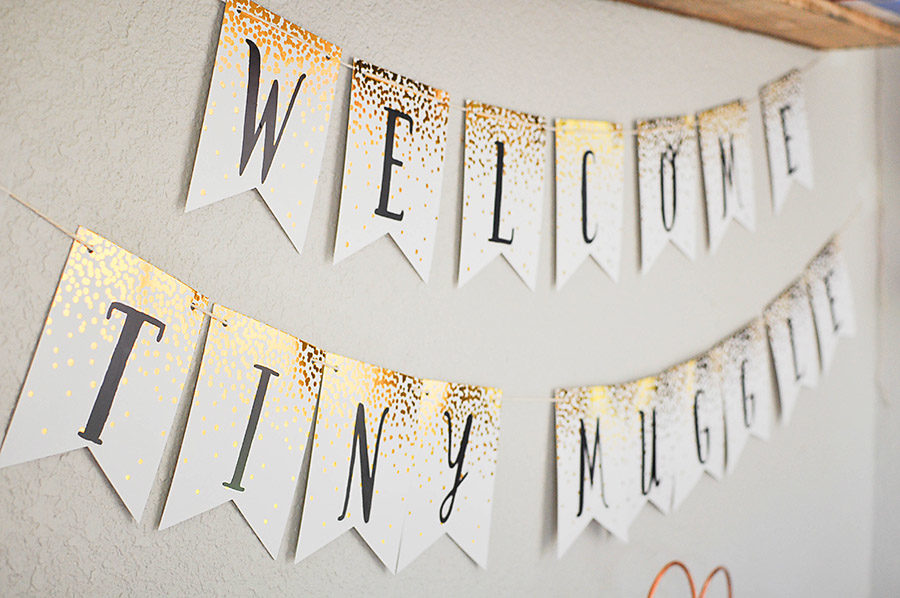 Download Free Printable Harry Potter Baby Shower Banner – 'Welcome Tiny Muggle'
A few more of my favorite decorations for this party included the flying letters from Hogwarts and the Quidditch rings.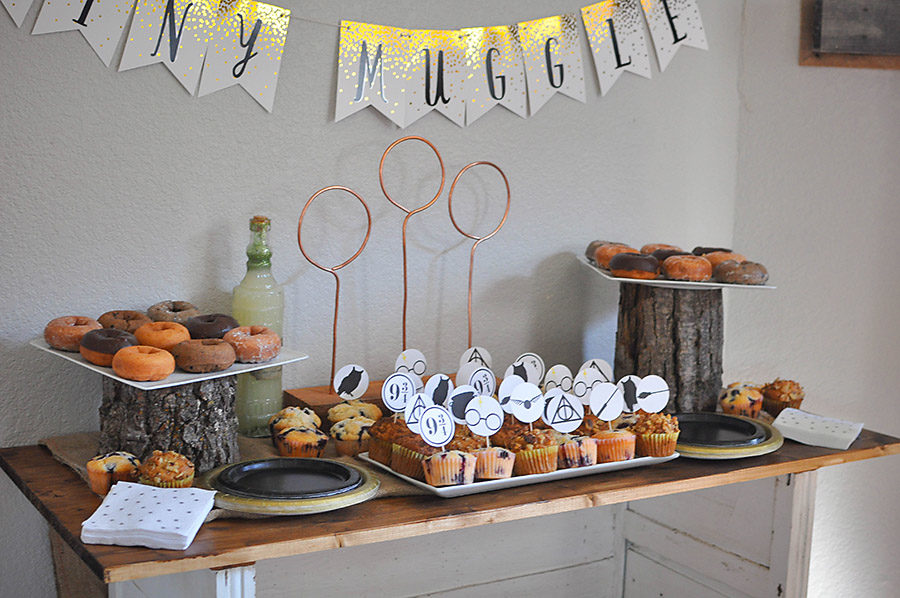 The letters from Hogwarts are meant to represent the scene in the first book when the Dursley family is trying to stop Harry from getting his letter to Hogwarts. Eventually, the letters start pouring in from the fireplace.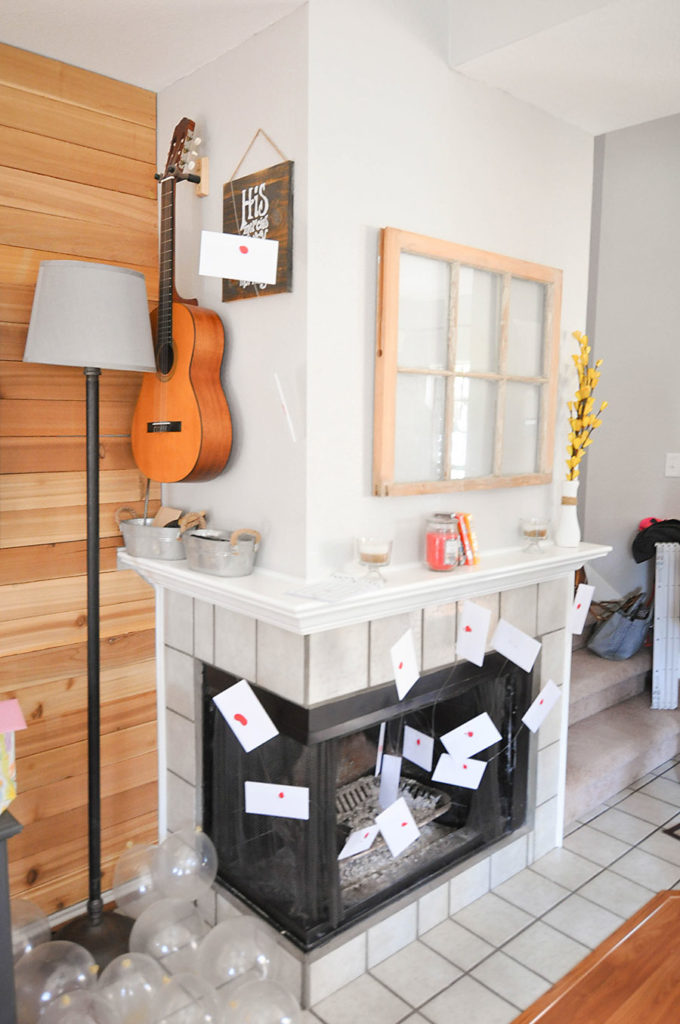 To make the letters, I bought a red candle and melted the candle until a puddle of wax formed. Then I carefully poured a bit of wax in the center of each envelope. I had to keep relighting the candle to melt more wax as I created the letters. Then I hung fishing line from our fireplace to points on the ceiling and attached the letters to the fishing line with hot glue.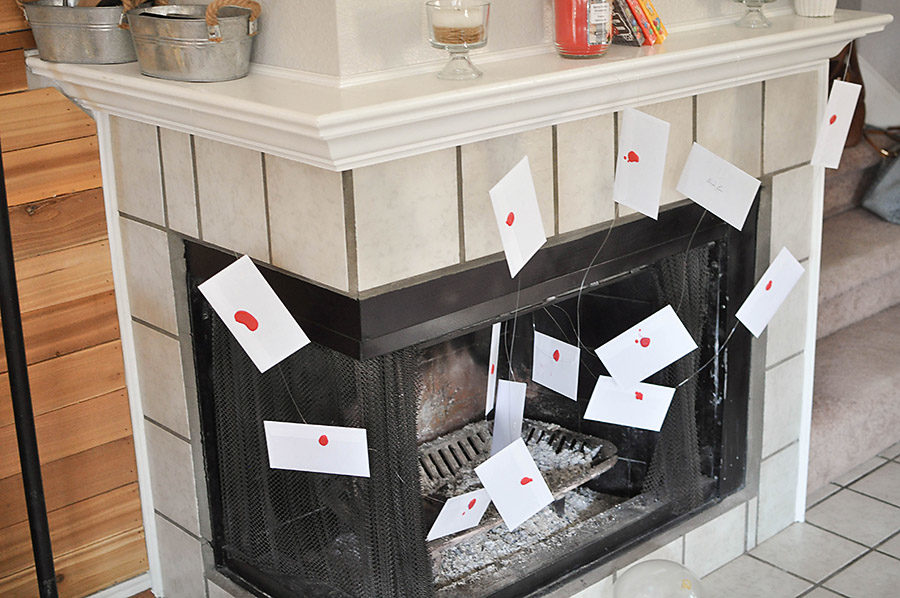 To make this set of miniature Quidditch rings, we drilled three holes into a block of wood. Then we used 10 gauge copper wire to form the hoops around cans of different sizes before using hot glue to attach them into the pre-drilled holes.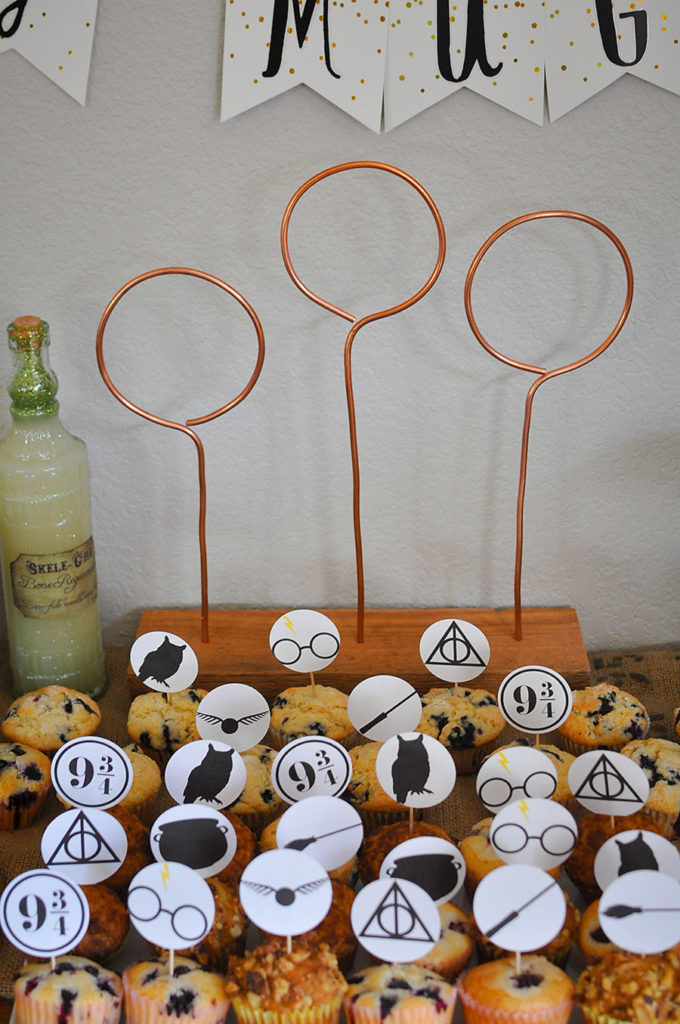 For food, we decided on a having brunch for the baby shower, so we had donuts, breakfast casseroles, and fruit. We also had some muffins, so I decided to make these cupcake toppers.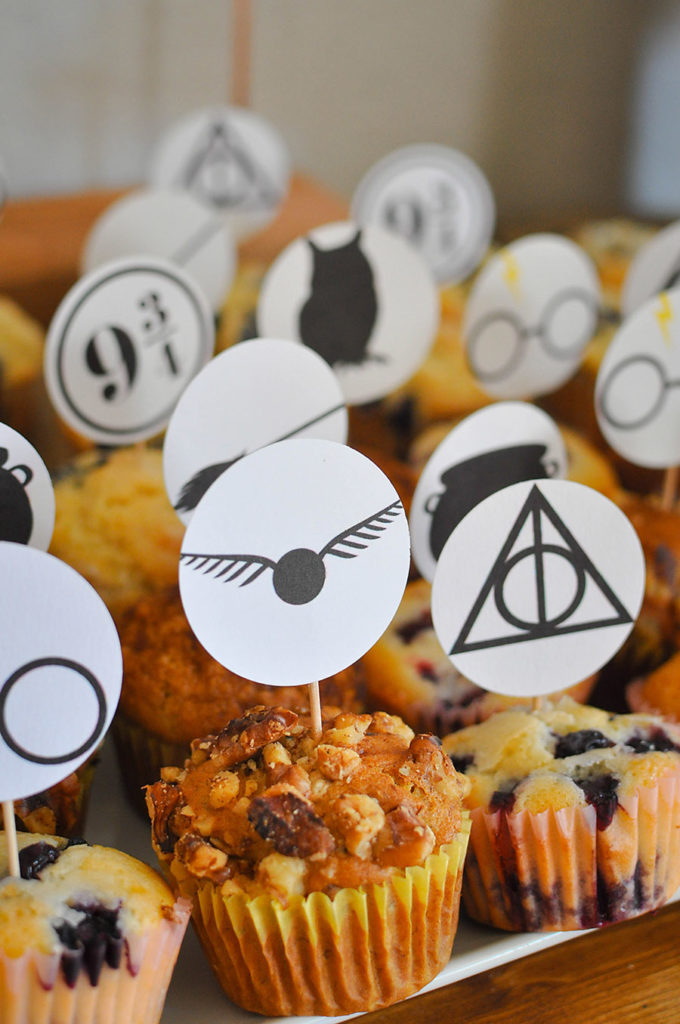 I just printed out the free printable Harry Potter cupcake toppers and cut them out with this 2″ circle squeeze punch that I use for just about every party I plan.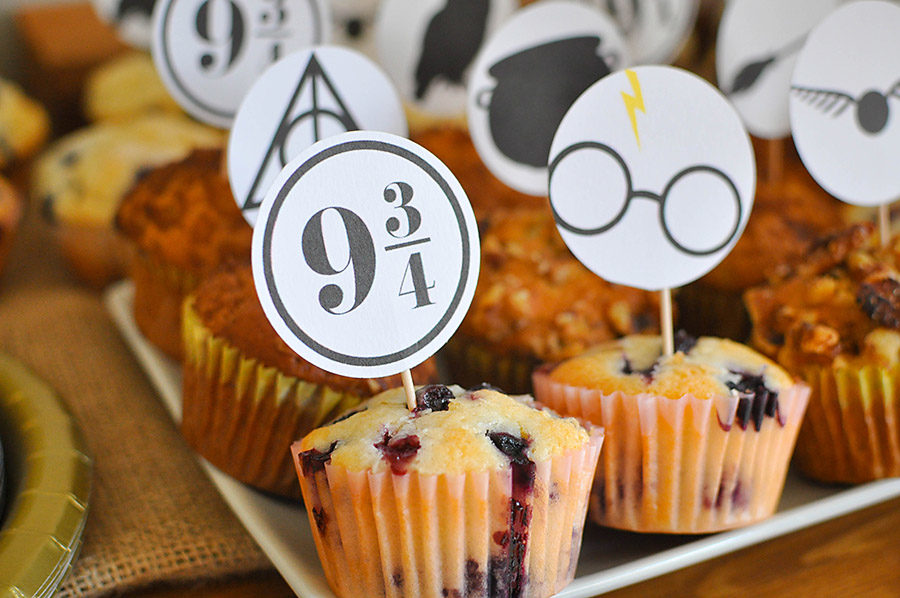 Click Here to Download the Harry Potter Baby Shower Cupcake Toppers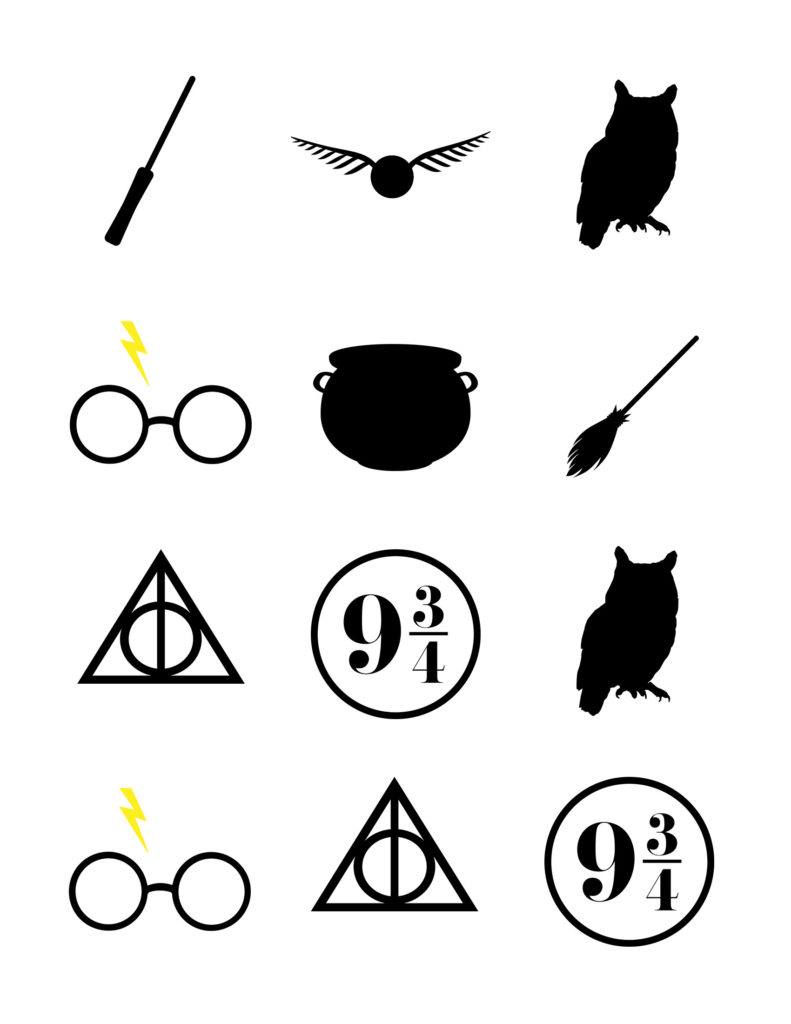 My absolute favorite part of the Harry Potter Baby Shower was the guestbook. We used Harry Potter and the Sorcerers Stone: The Illustrated Edition and I wish I could explain to you how lovely this book is.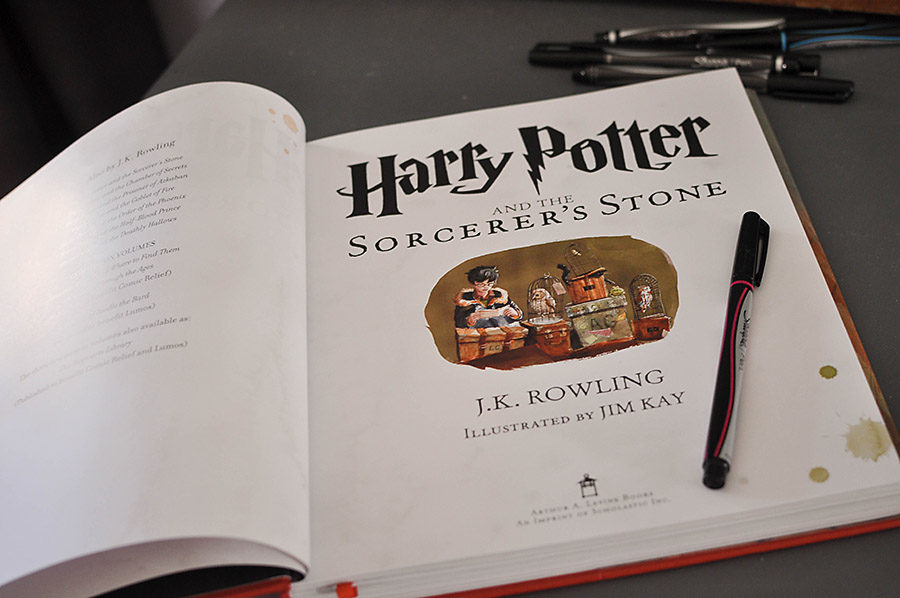 There are gorgeous illustrations throughout the book and it's the whole text of the Sorcerers Stone – the perfect addition to their little muggle's library. Guests signed the front and back pages of the book and I know it's something the mama-to-be will actually use and cherish for years to come.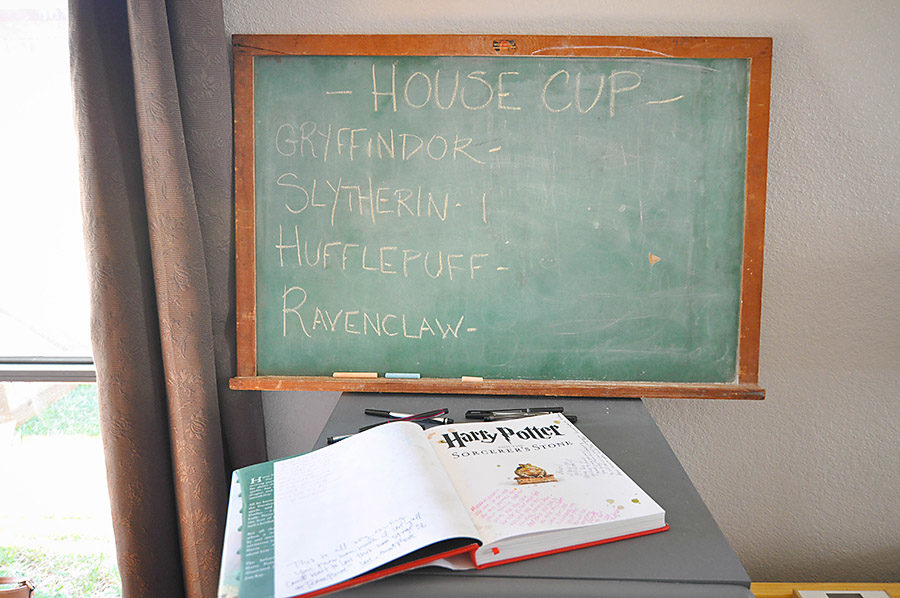 Harry Potter Baby Shower Free Printables
I never like going to a baby shower where there is nothing to do except watch the mom-to-be. It's also annoying when there are too many obnoxious baby shower games. I think with this baby shower we hit a sweet spot right in the middle. We played two games – Finish Mom's Phrase and Baby Shower Bingo.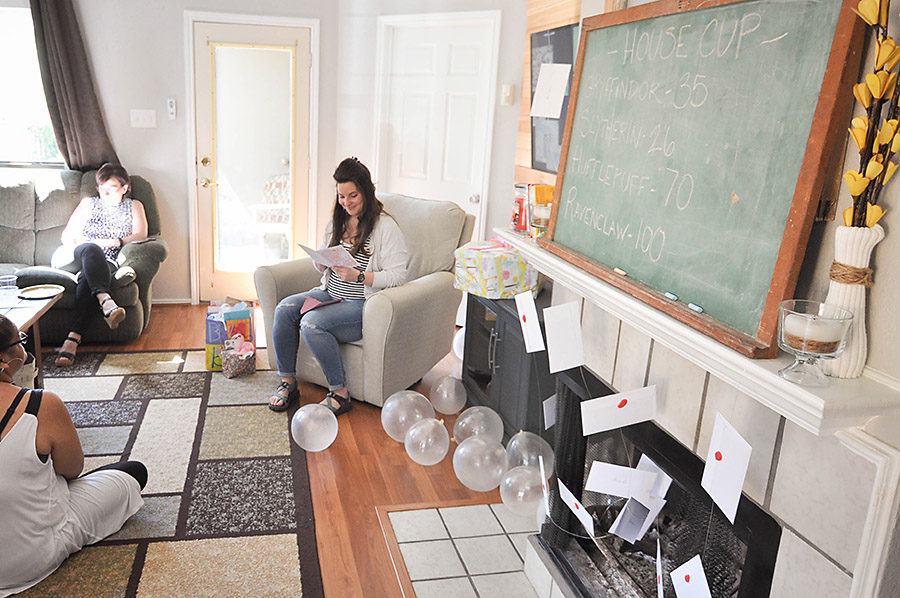 Because this baby shower was Harry Potter themed, we didn't play for individual prizes, we played for the house cup. I put each house – Gryffindor, Ravenclaw, Hufflepuff, and Slytherin on clothespins matching the number of people at the party (so we had 16 people at the party, so there were 4 of each house). The mom to be got to pick her house, but everyone else chose their clothespin from the sorting hat as they arrived. Throughout the shower, they earned points for their house by playing games.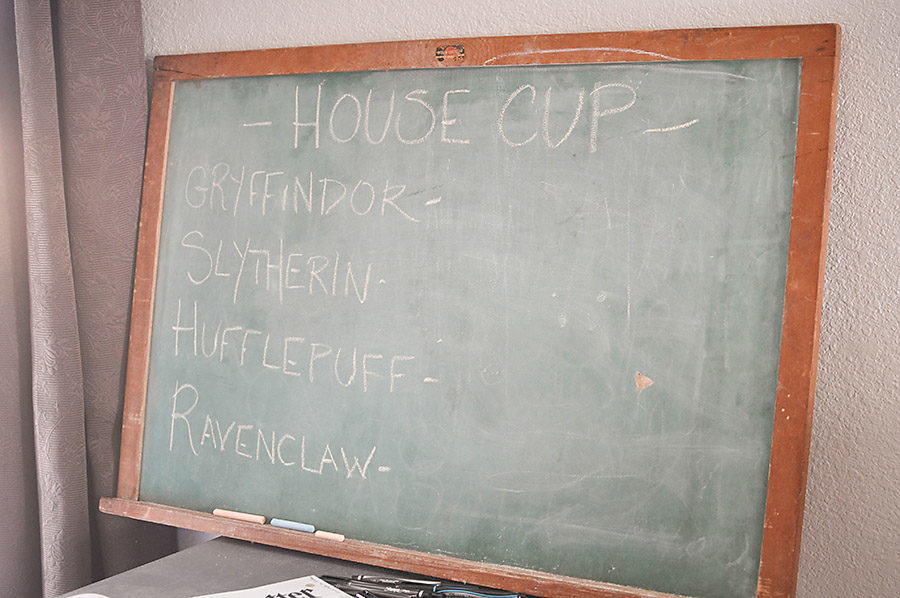 Baby shower bingo is actually played while the mom-to-be opens presents. As people arrive at the shower, have them fill out guesses for what will be opened. (Make sure they guess their own present!) Then they can mark off their answers as mom opens presents.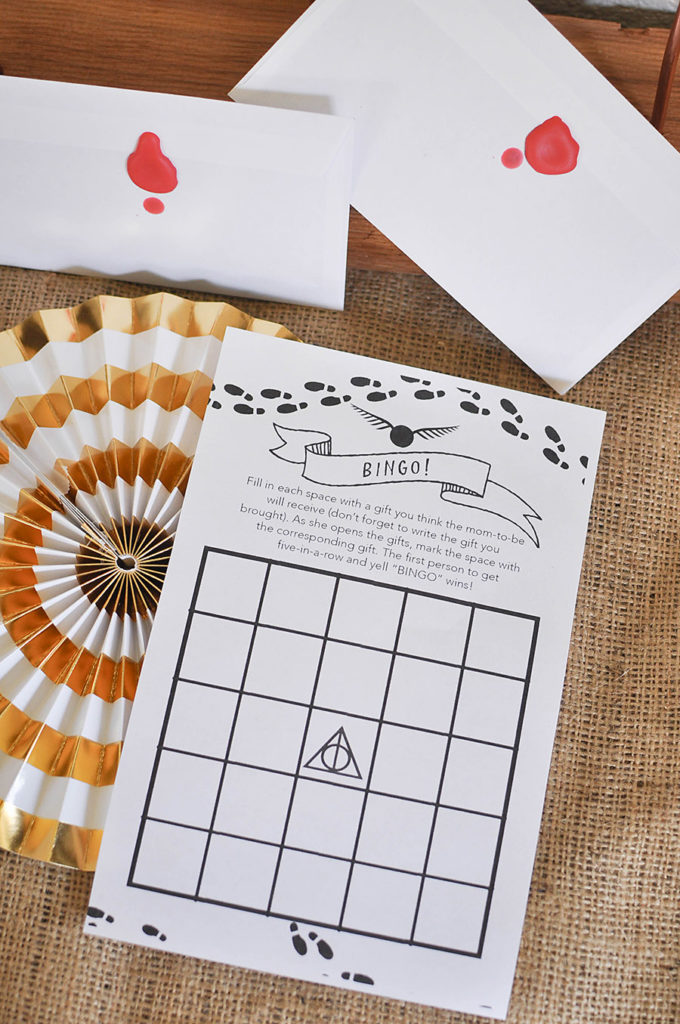 The second game we played was 'Finish Mom's Phrase', where guests guess how the mom-to-be will finish the baby centered phrase. It's a simple game, but it makes everyone laugh!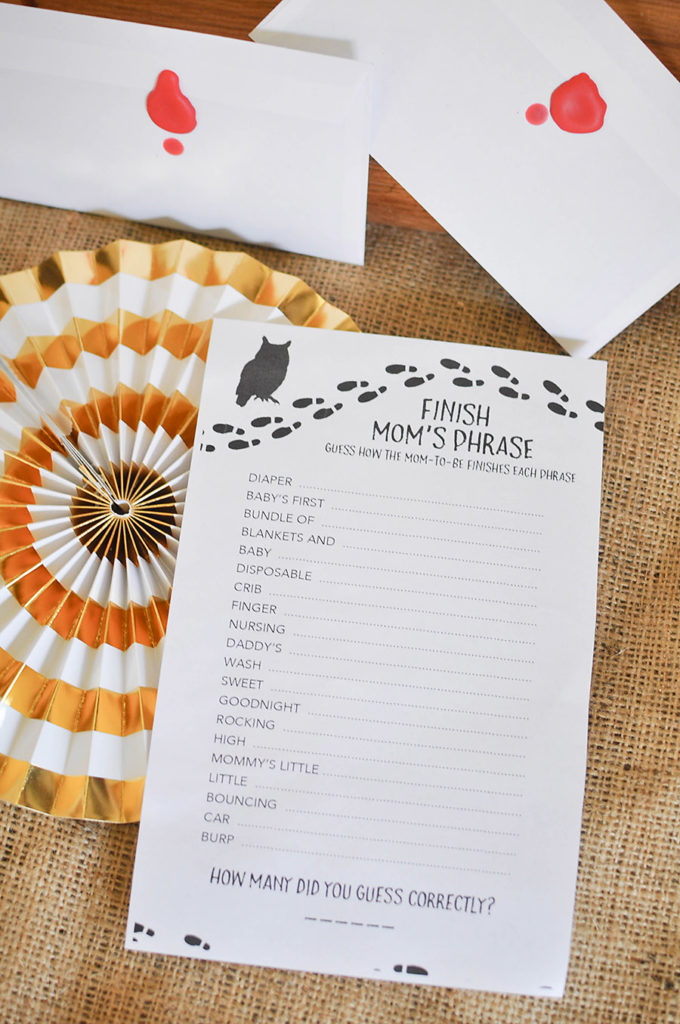 Click Here to Download the Harry Potter Baby Shower Party Games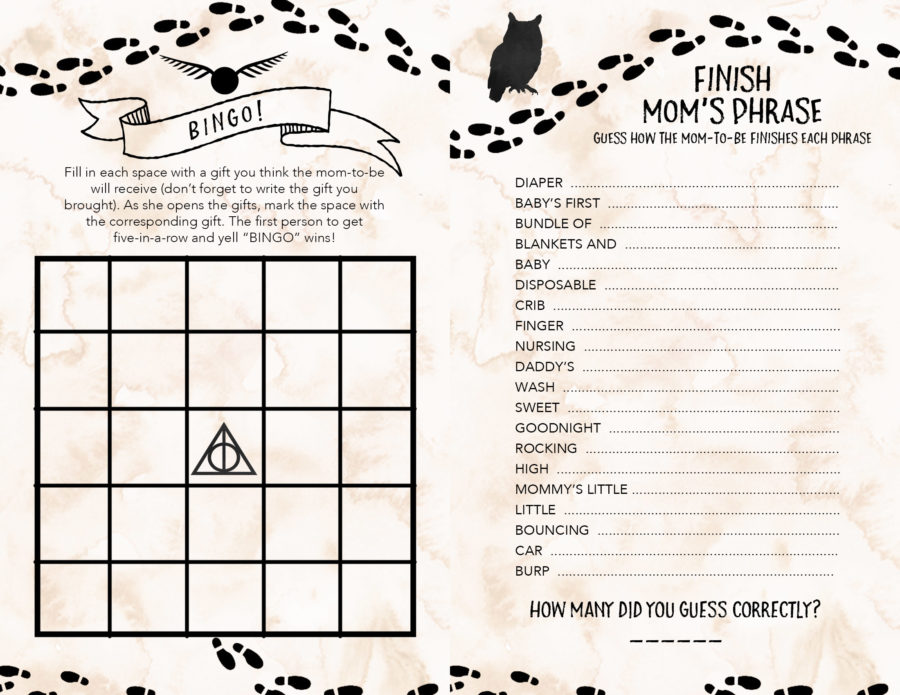 The final activity was 'Late Night Diapers' – as guests were finishing their food, they had the chance to write something funny or encouraging on diapers for the new parents. I love that it's cute and quirky, but it's also really practical (because all parents know how necessary diapers are, but how terrible they are late at night!).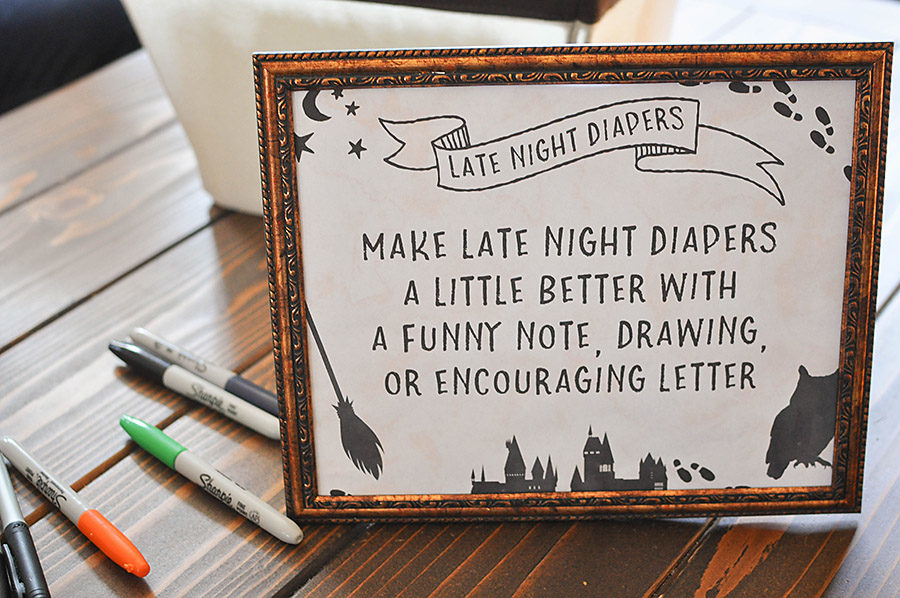 Click Here to Download the Harry Potter Baby Shower Late Night Diapers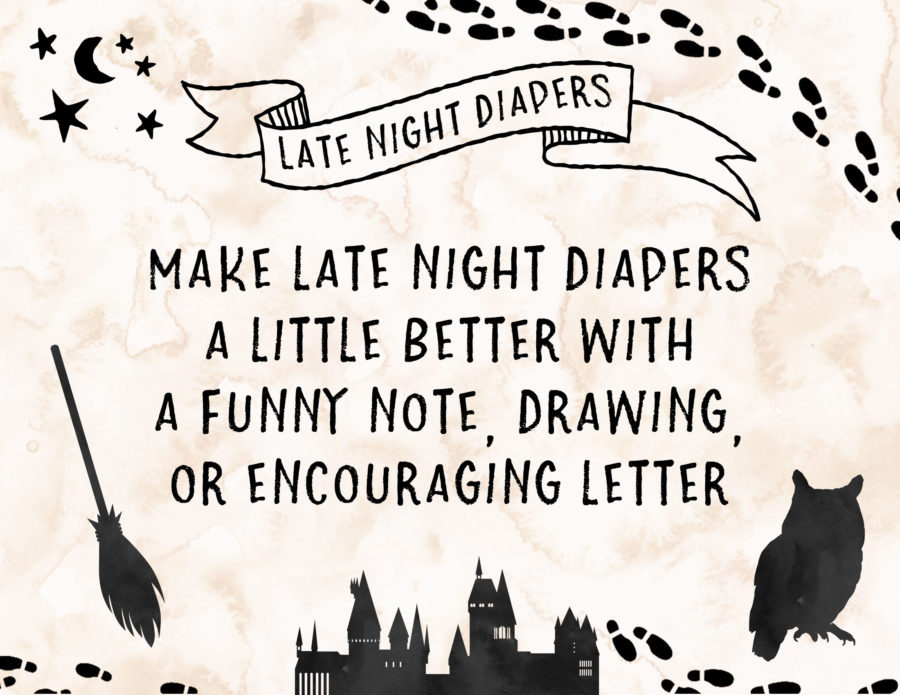 I also made some Free Printable Harry Potter Baby Shower Invitations to fit the theme:
Click Here to Download the Free Printable Harry Potter Baby Shower Invitations
Harry Potter Baby Shower Details
Here are a few other details from the party: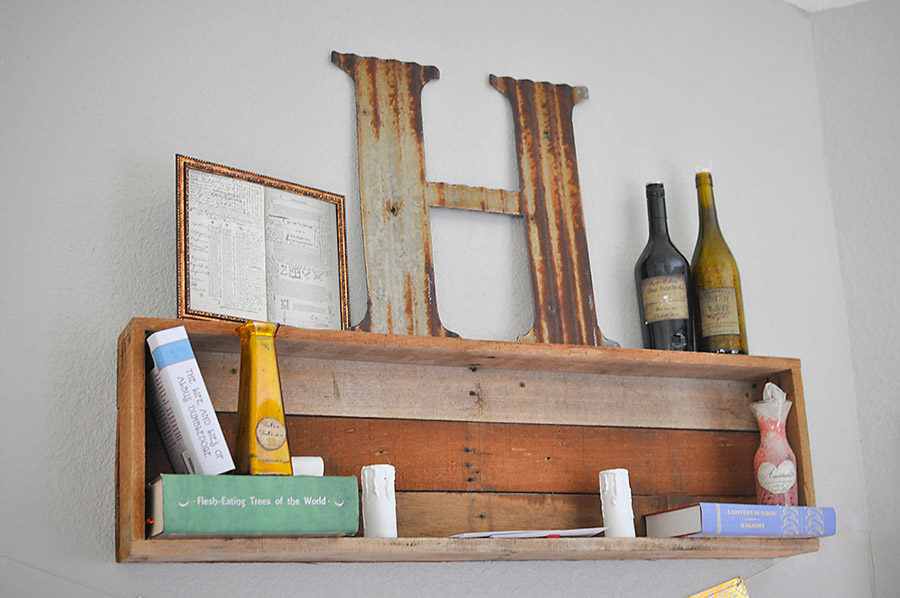 I hope you like this Harry Potter Baby Shower as much as I do!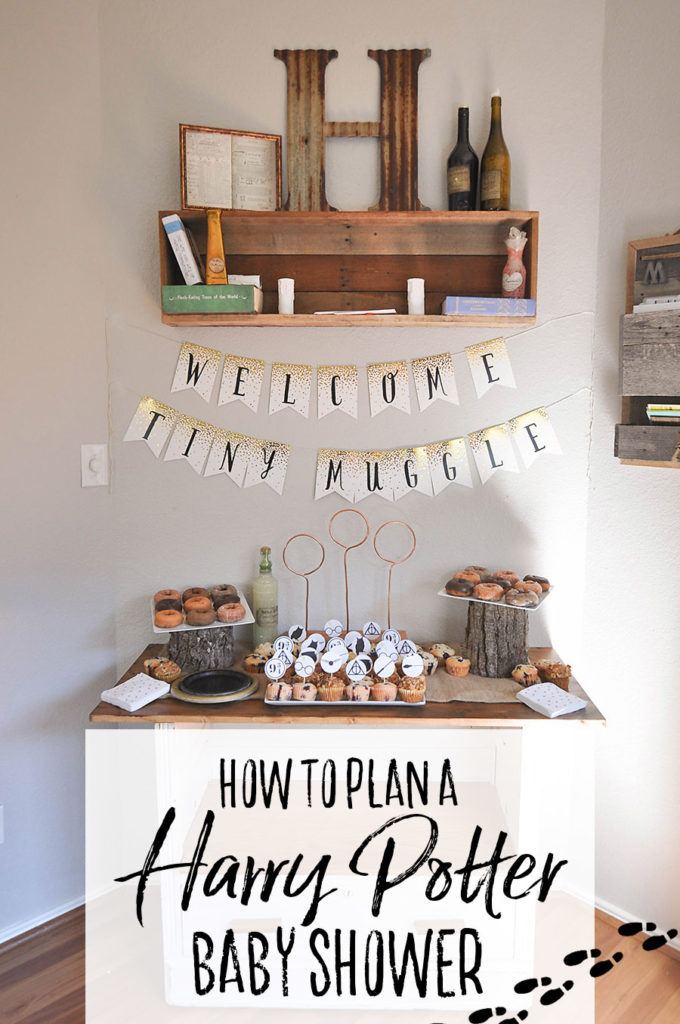 If you like it, be sure to share it with your friends on Facebook or Pinterest! Let me know in the comments how you plan to celebrate your little muggles and wizards!
SaveSaveSaveSave
SaveSave