How to Play Kubb (+ Make Your Own!) – A Giant Backyard Game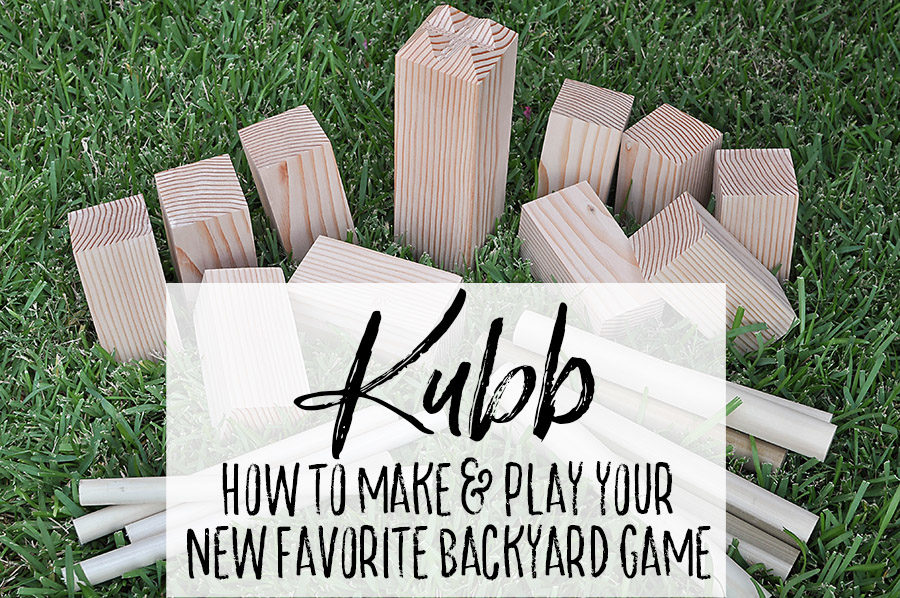 One of the surprising stars of our backyard parties last year is the fabulous game, Kubb.
Kubb, also called Viking Chess or Skulls and Femurs (just in case you needed a reason to convince your husband you needed a set…what is more manly than VIKING CHESS!?), is a game that is simple to make, a little complicated to learn, and endlessly fun to play. Legend has it the ancient Norsemen would play this game using the skulls and femurs of their conquered foes. Our version is slightly less gory, but no less fun!
Make Your Own DIY Kubb
Your Kubb set will contain:
6 Throwing Sticks (femurs)
10 Short Blocks (skulls)
1 King Block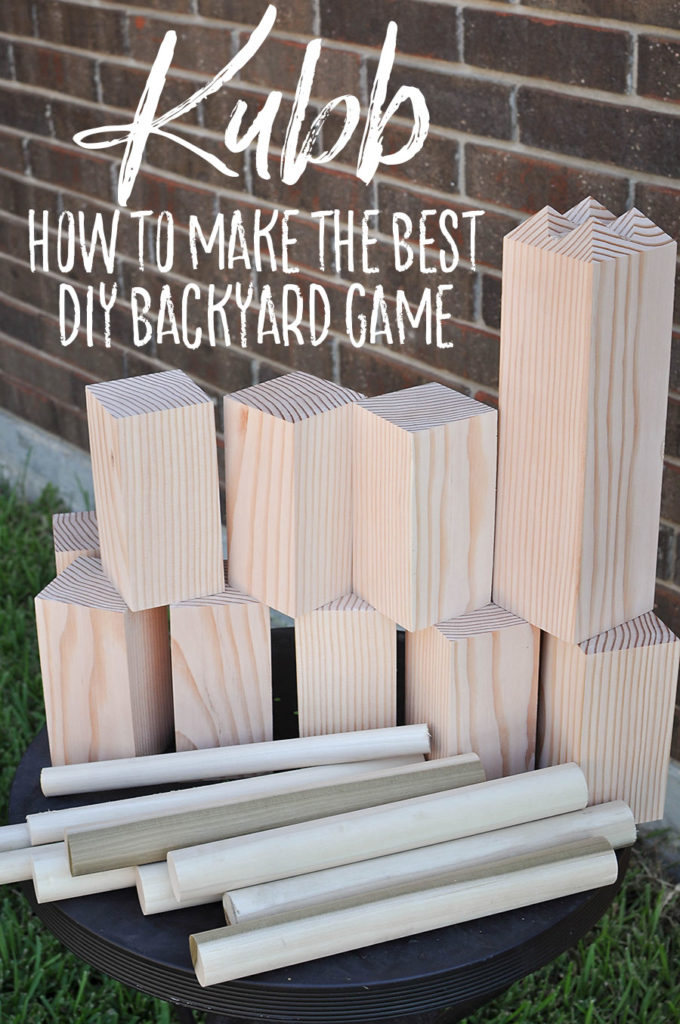 To make your own Kubb, you will need:
(1) 8 ft. 4×4 board
6 ft. of 1 inch dowel
(Optional) 4 ft. of 1/2 inch dowel (cut into 12″ lengths to use as stakes to mark the corners/boundaries of the playing field)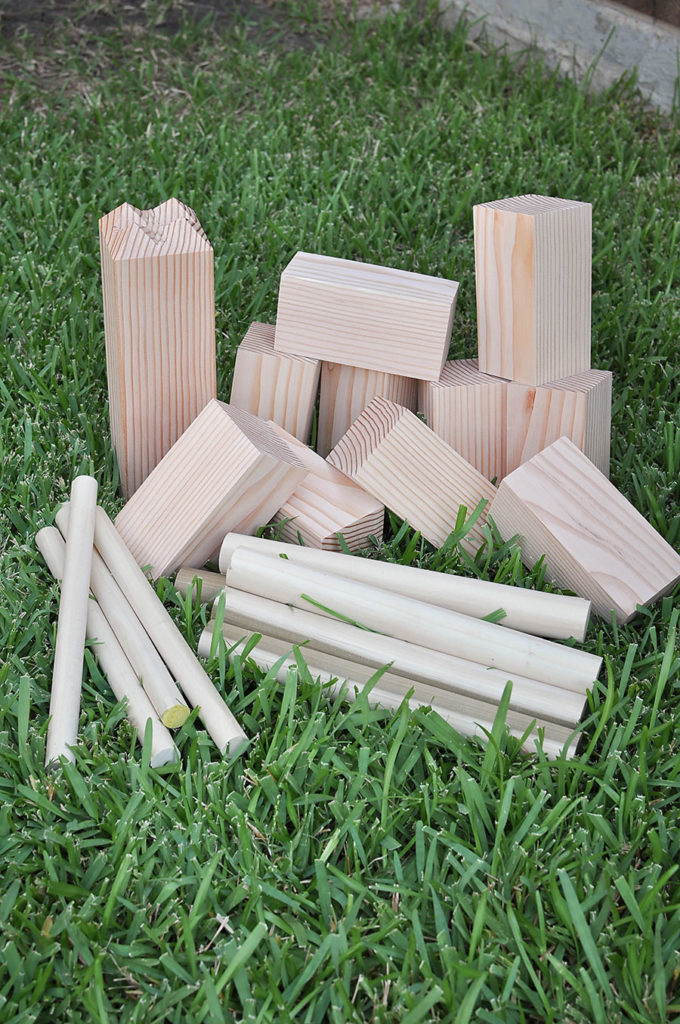 Cut your dowel rod into six 12 inch throwing sticks. Then cut your 4×4" boards into ten 8 inch tall blocks and one 14 inch block (the King block).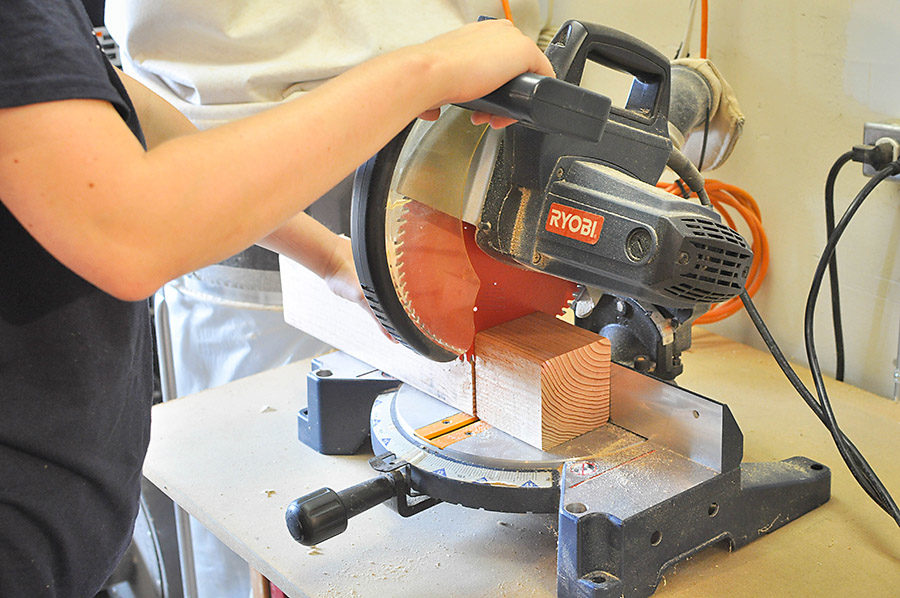 That's really all there is to it! You can decorate your blocks if you want to. Some people decorate their king to look like he's wearing a crown. I'm pretty tempted to try dipping mine in paint, but I also love the more natural look. Once you have your set, it's time to play!
How to Play Kubb
Ideally your playing space (known as a "pitch") would be about 25 x 30 feet, but our yard is smaller than that and we have still enjoyed the game. No matter the size of your playing field, you should have a rectangle. Line up 5 short blocks (called kubbs) evenly spaced on each short side of the rectangular playing field (baseline).
Place your King block (the tallest block) in the center of the playing field.
Split into two teams – Kubb is ideal for 2-6 players, but each game is quick. We love rotating players in an out of the game if we have more than 6 people who would like to play. Give one team all of the throwing sticks (batons).
One person from each team tosses their baton towards the king. Whoever gets closest to the king without touching it or knocking it over earns the right to throw first.
The goal of the game is to knock over all of the other team's kubbs and win the game by knocking over the king block. If you accidentally knock over the king block before all of the other team's blocks have been knocked over, you automatically lose.
Throw the batons underhand (end over end – no side arm or helicopter throwing) to attempt to knock over the other team's kubbs. Each team gets six throws per turn.
At the end of your team's turn, the opposing team will toss the knocked over kubbs back onto your side of the playing field. The tossed kubbs must cross the center line and must not hit the king block. Stand them up wherever they land.
When the other team starts their turn, they must try to knock down "field" kubbs before knocking down the "baseline" kubbs. If they knock down any field kubbs, they are tossed to the side (those pieces are no longer in play).
If any of the field kubbs remain standing after all six batons have been thrown, your team gets to advance to throw from the field kubb closest to the center of the field on your next turn. This is a huge advantage!
Once a team has knocked down all their opponents kubbs, they must finally knock down the king block to win the game.
Clear as mud? I always feel like that when I'm learning to play a new game. It makes so much more sense once you actually start playing it. Once you play a few games, you'll love that this game is simple, portable, and perfect for a group.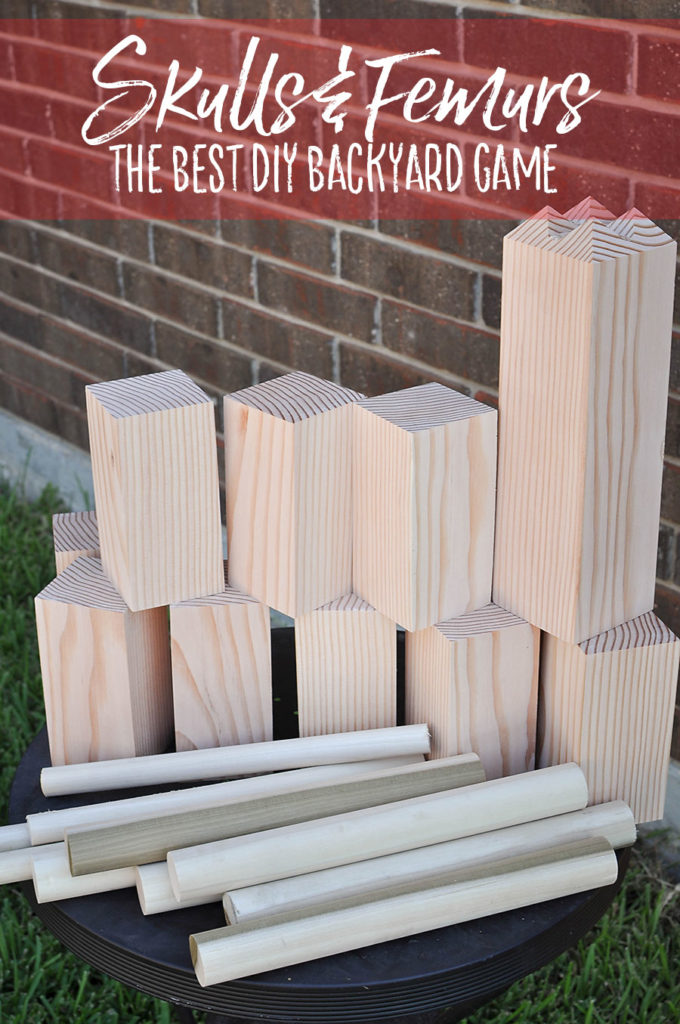 Are there any backyard games you'd love to make? Let us know in the comments below and we'll do our best to make it happen!
SaveSave
SaveSave
SaveSaveSaveSave