Celebrate with a simple and delicious party – 'How Sweet It Is to Have Pie with You!' Pie Bar Party.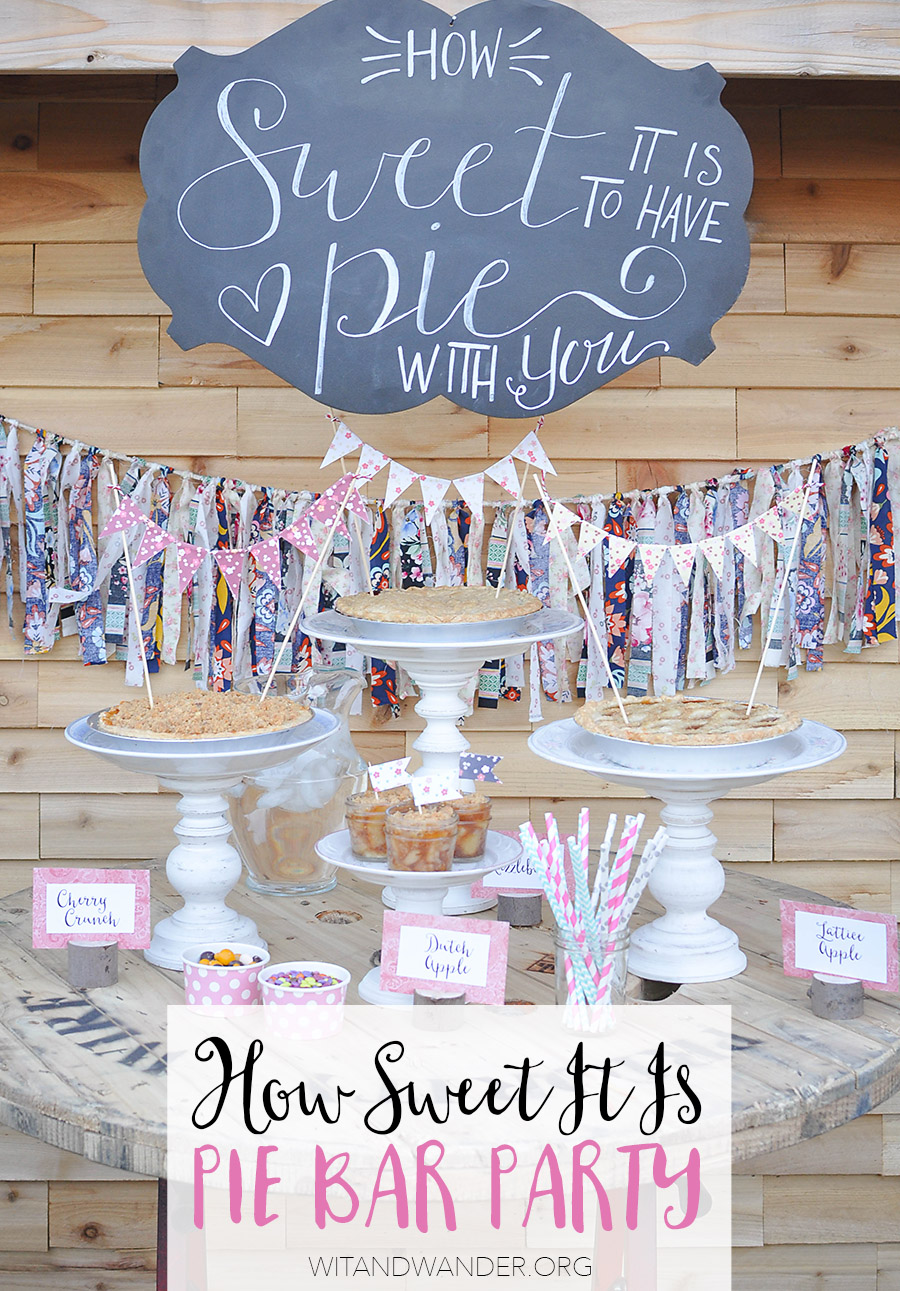 Pie is such a happy dessert. I think it might be almost impossible to frown while eating a piece of pie. (Feel free to test me on that – if you are able to frown, at least you got a piece of pie out of the deal!)
I am so excited to share this How Sweet It Is Pie Bar Party! We vintage floral fabrics to create a lovely garden party.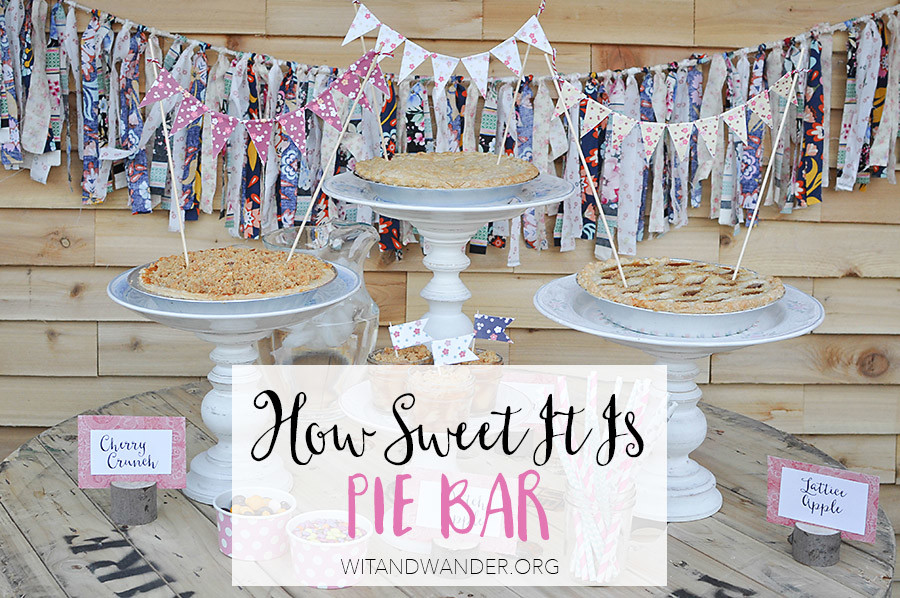 I wanted to really show off the pies for this party, so I decorated with a simple DIY Fabric Banner. I used fabrics in soft colors that looked vintage and coordinated with each other (but didn't match).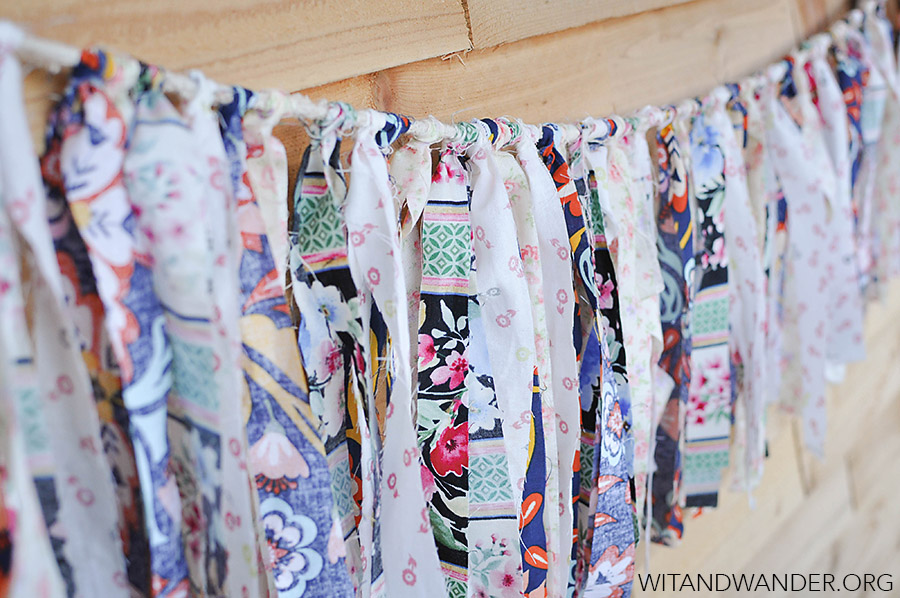 Of course, I love a great hand lettered chalkboard sign, so I created a simple sign with the theme of the party "How Sweet It Is to Have Pie with You". I based the lettering off the design for the invitations.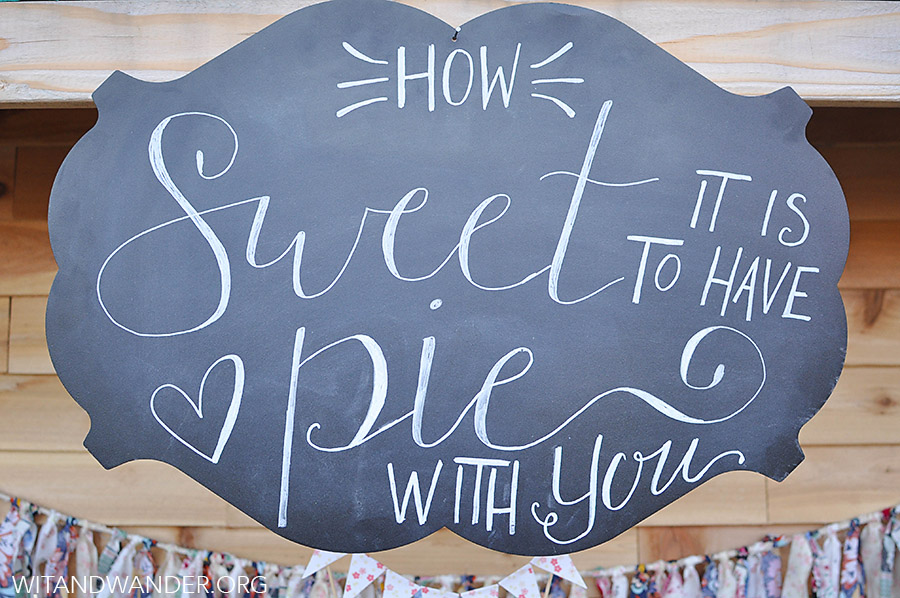 I also created some printable pie tags, which I attached to scrapbook paper, and toothpick flags to coordinate with the soft fabrics. You can click here to download the Pie Bar Free Printables (and leave a comment letting me know if you like them!)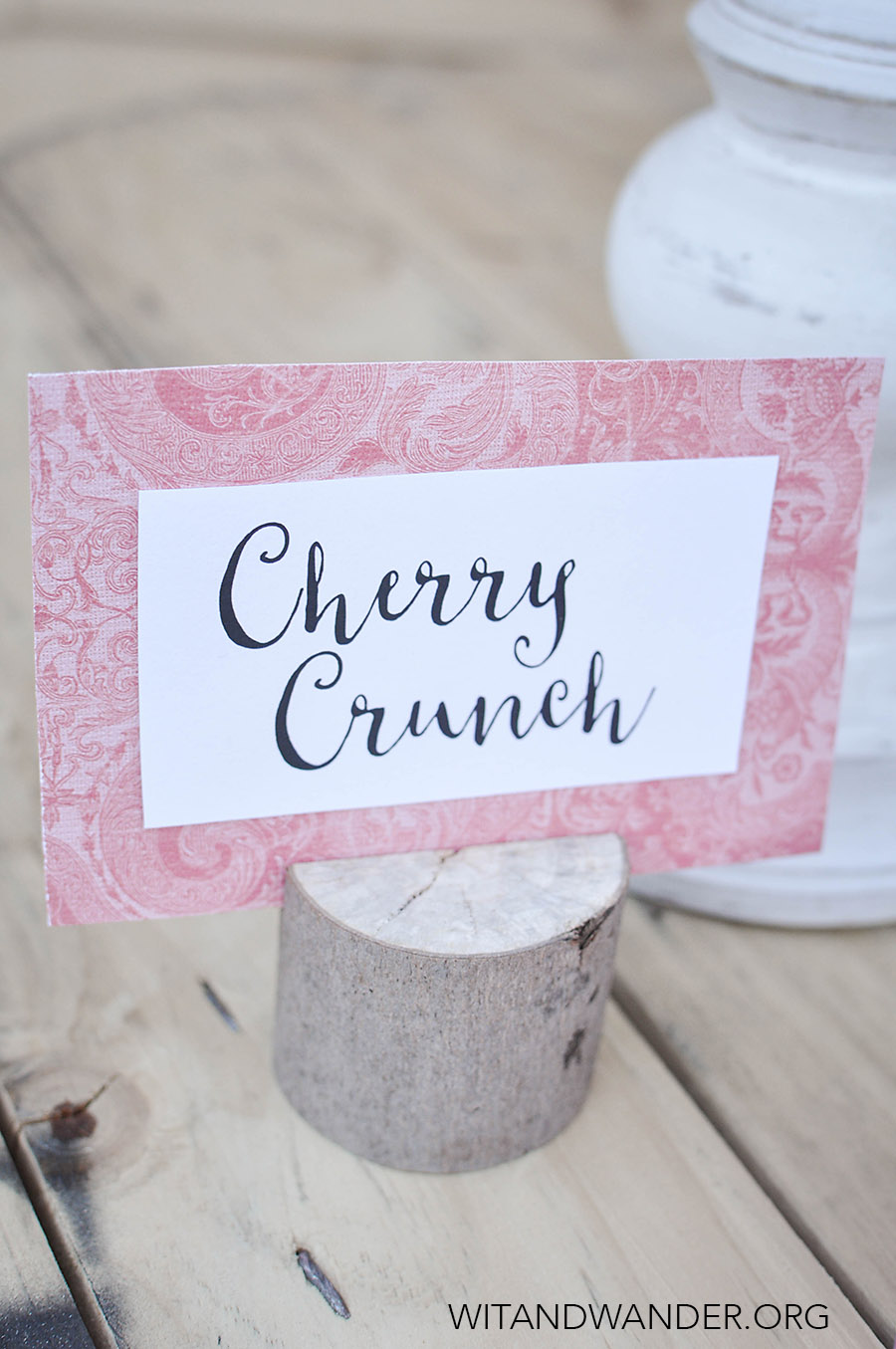 Of course, I also had to design some sweet invitations to go with the theme. After all, what's a party if no one shows up!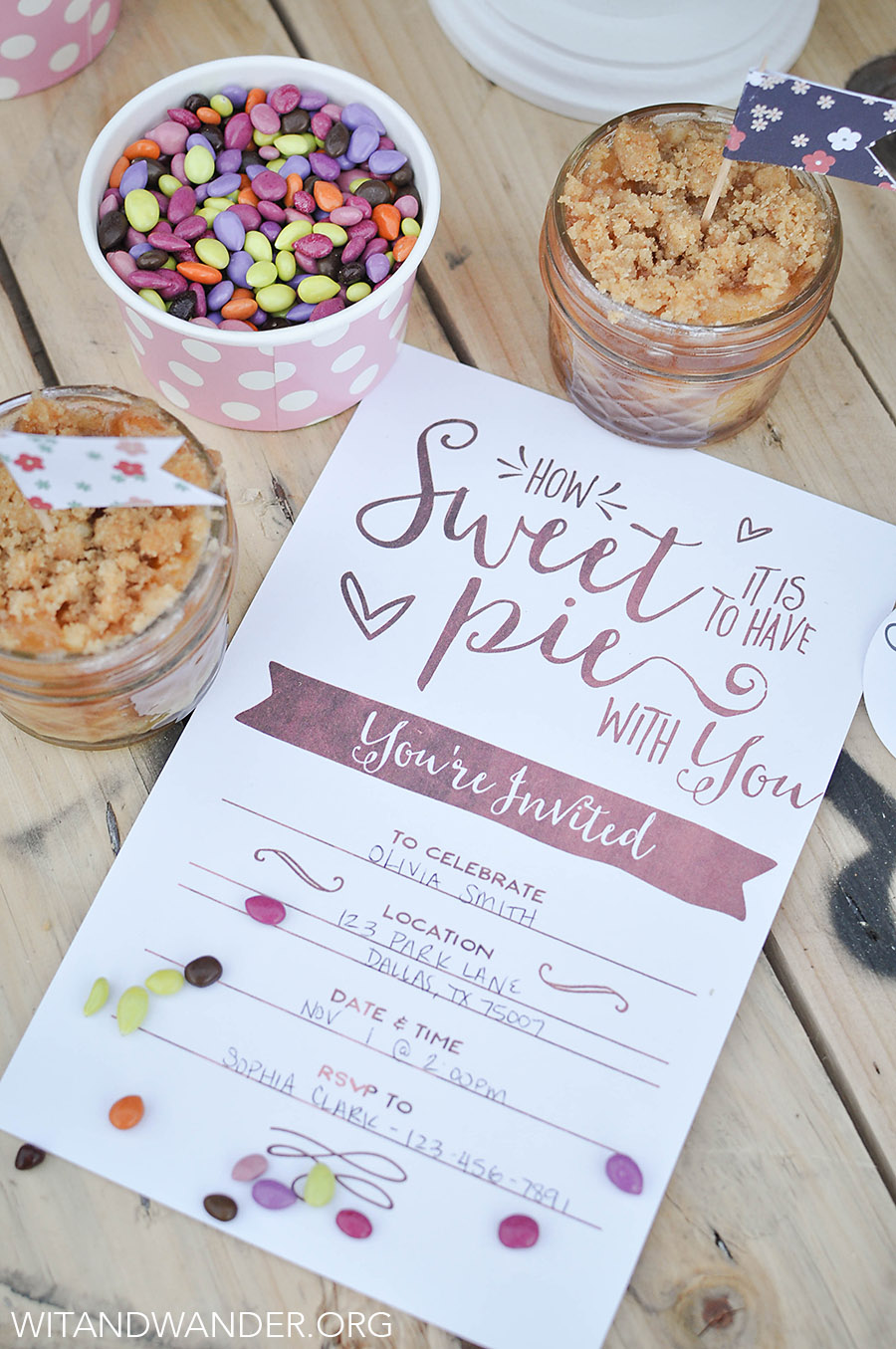 One of my favorite parts of this party were the mini bunting banners on the pies themselves. I used bamboo skewers, which you can find in the grilling section. I tied baker's twine between two skewers. Then I cut out the flags (they are included in the free printables), folded them over the baker's twine, and attached with hot glue. If you make a line of hot glue at the base of the triangle near the baker's twine and a dot at the tip of the triangle, your flag will stay secure.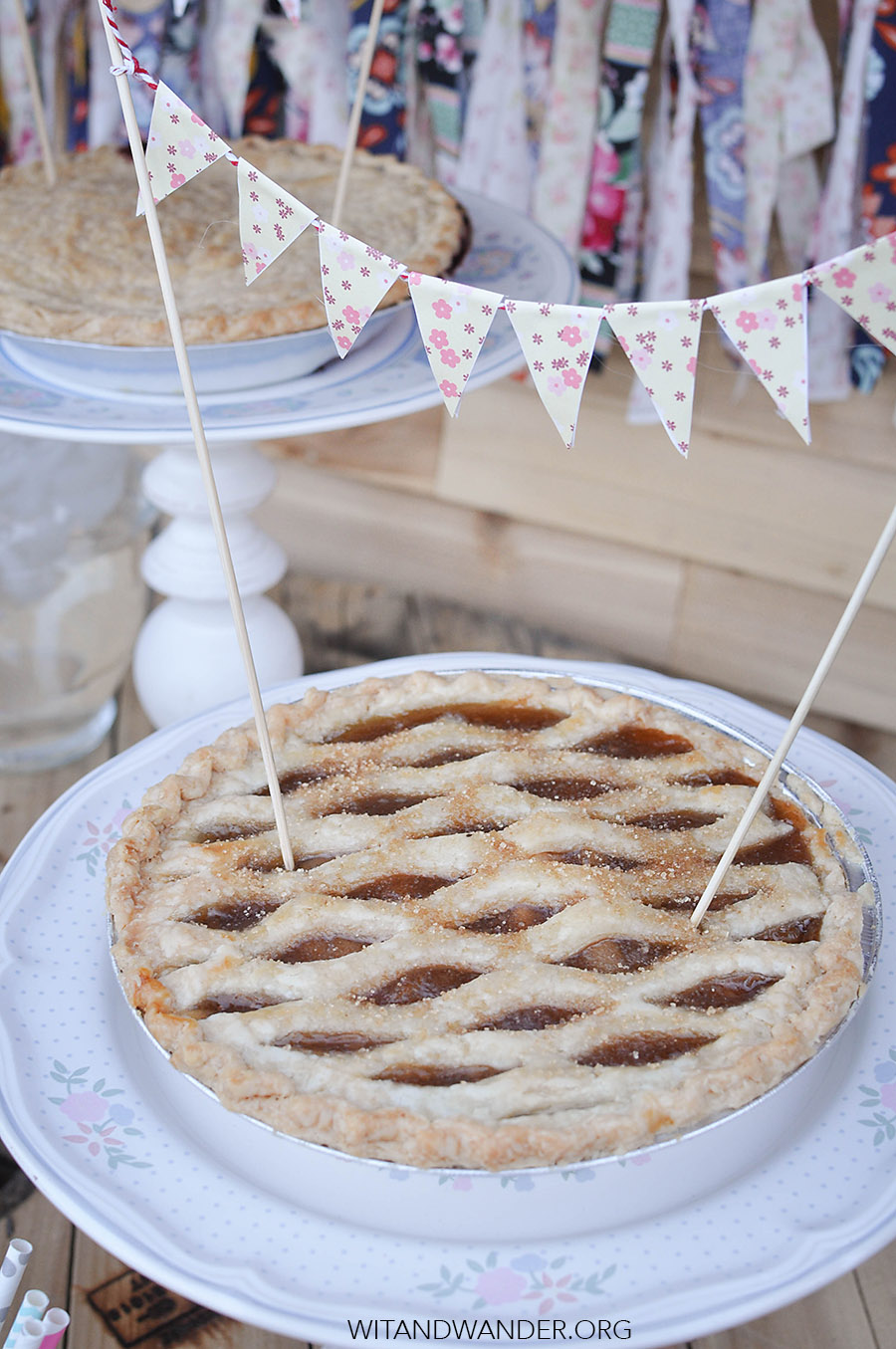 One thing that made this party so special was the DIY Cake Stands with vintage plates. To make these cake stands, I used three candle holders and one short table leg from my local hardware store. My handy man husband created two wood disks to attach to either side of the table leg and used a router bit to match the design to the candle holders. Then I found some vintage plates at a thrift store. I was looking for plates that coordinated well together, but didn't match exactly.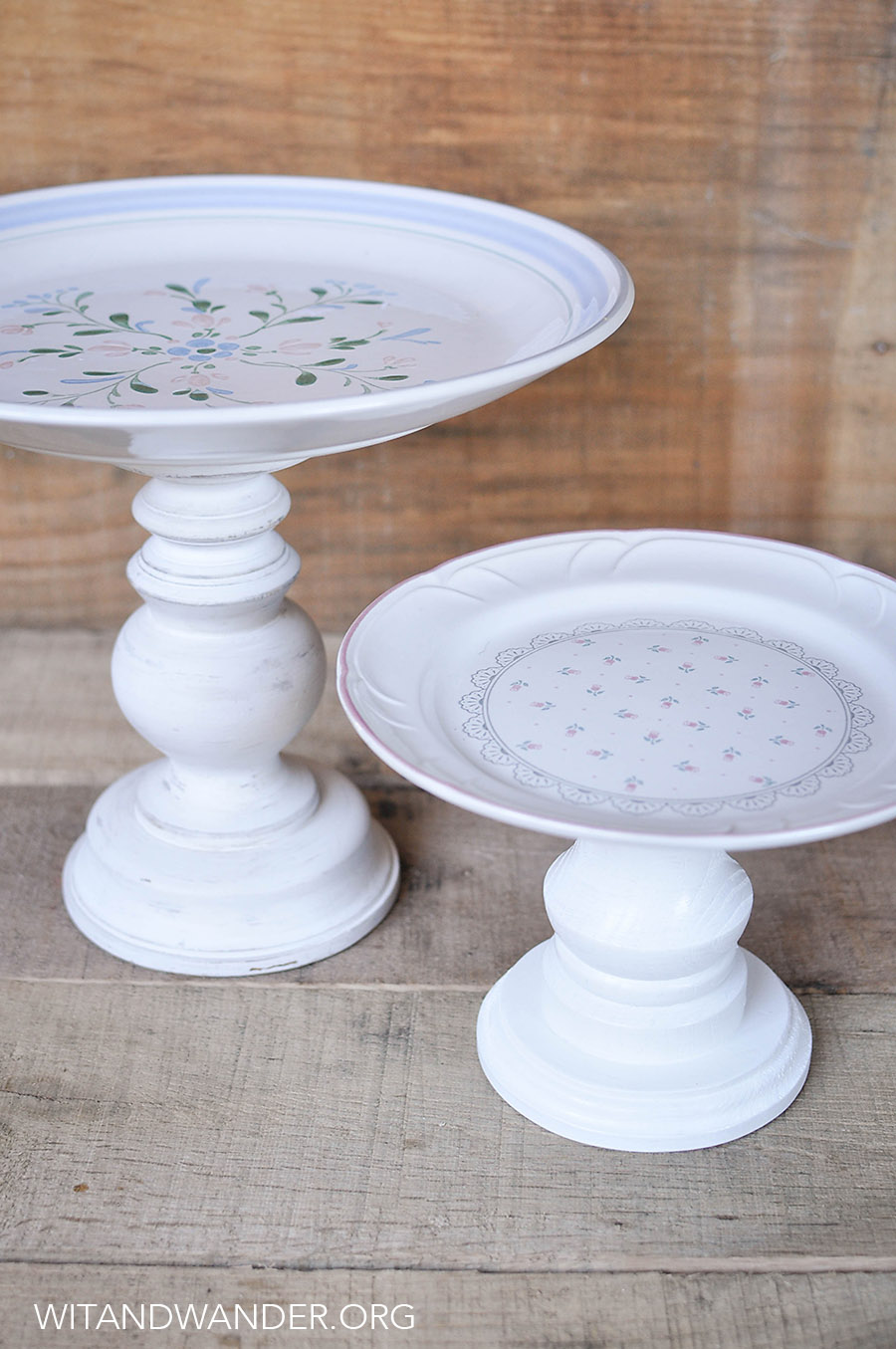 I attached rare earth magnets to the top of the candle holder and the underside of the plates with hot glue. These strong magnets will keep the plates secure, but allow me to change out the cake plate whenever the mood strikes.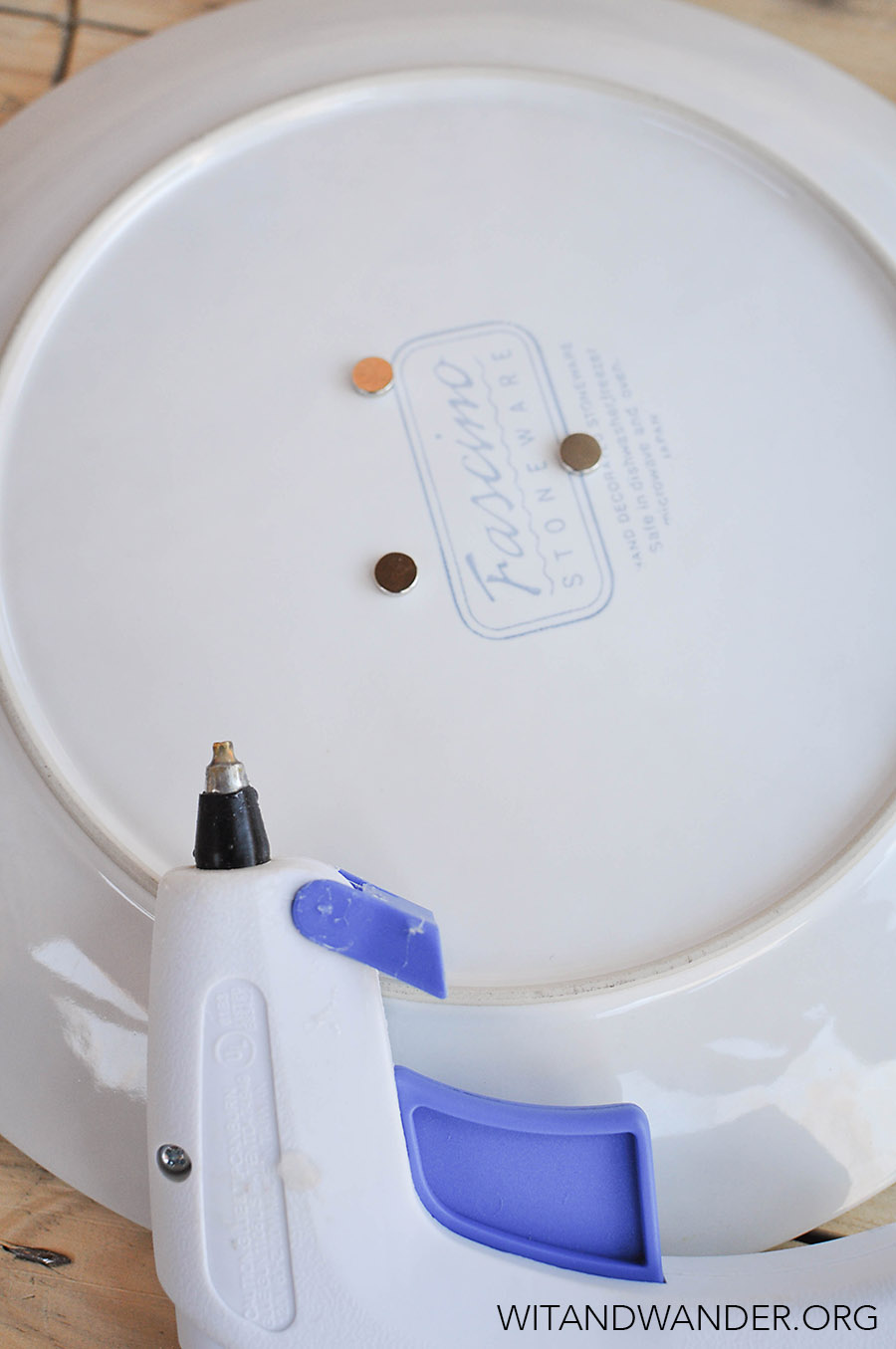 Of course, this party wouldn't be anything without the PIE!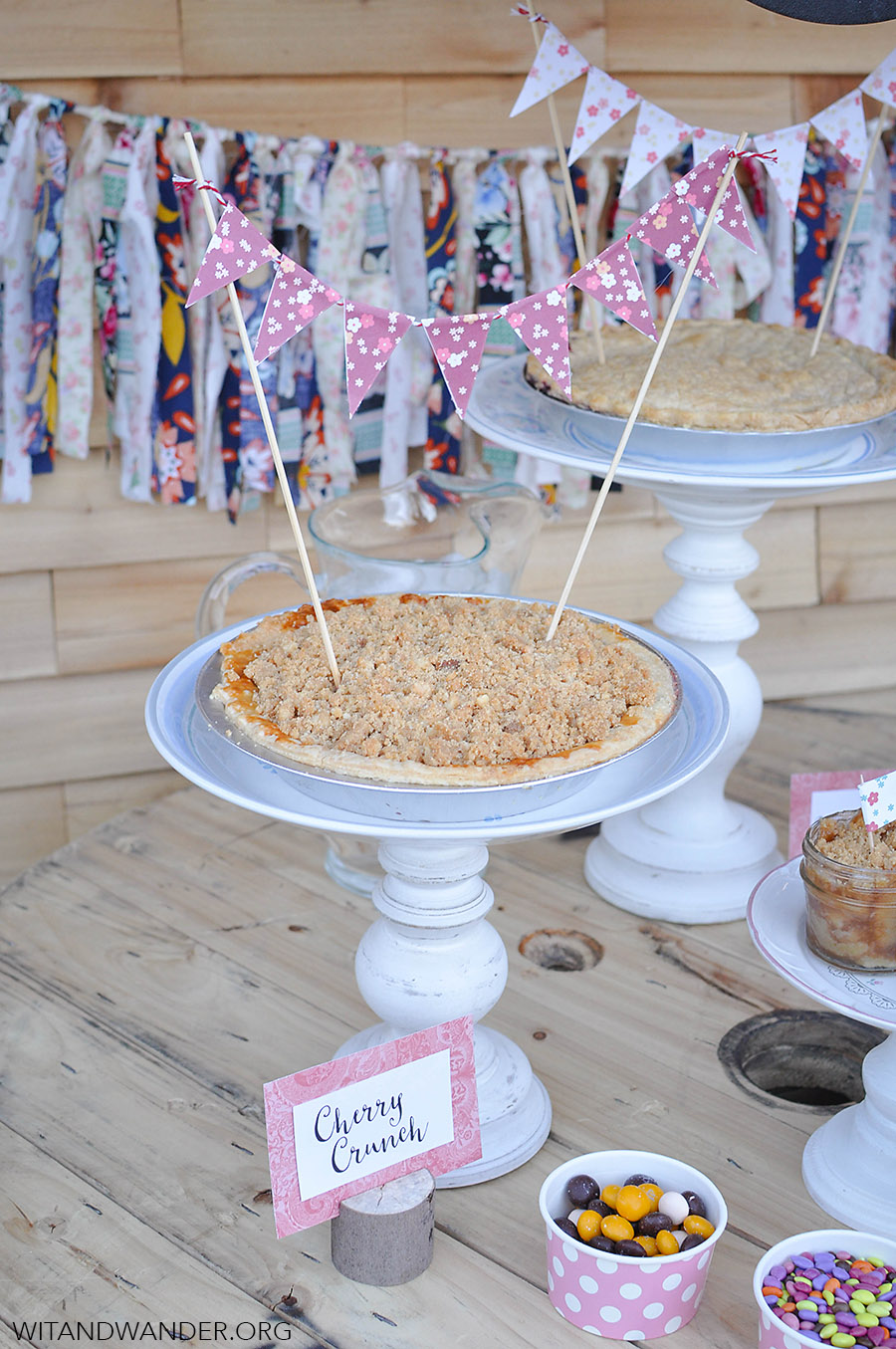 We couldn't quite finish all of the pie at the party, so I created these adorable mini Pies in a Jar so my guests could take some home after the party.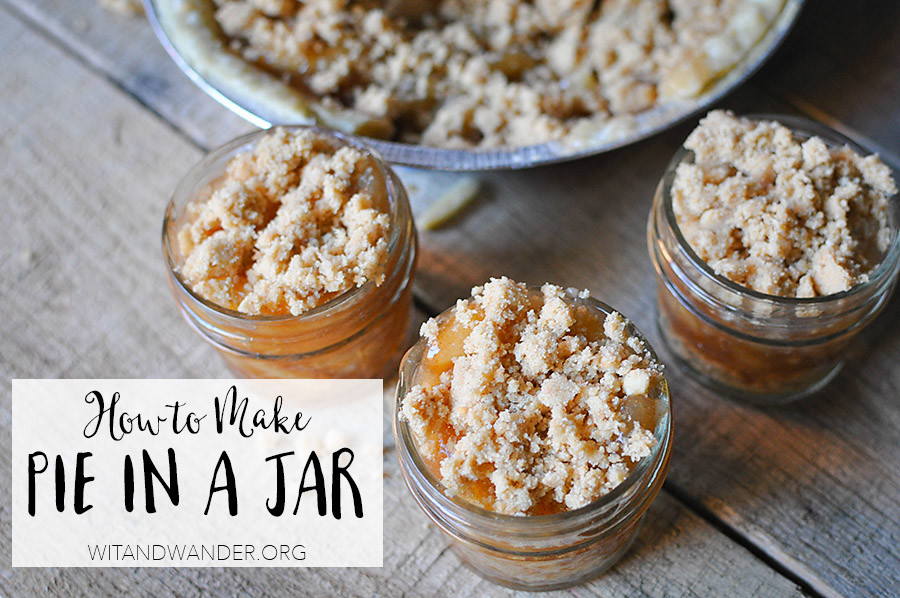 They are so simple. For these Mini Pie Jars, I used a pre-made Dutch Apple Pie. I cooked the pie according to the directions (45-55 minutes at 400 degrees) until it was time to put the topping on. Then I scooped out a portion of the pie into each jar.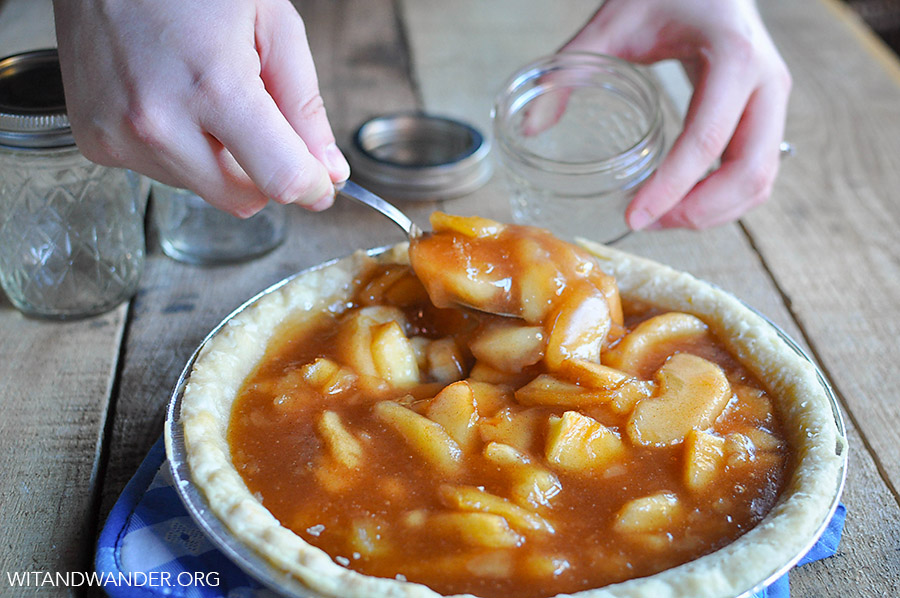 I topped each jar with the provided topping and put them back in the oven for 10 minutes.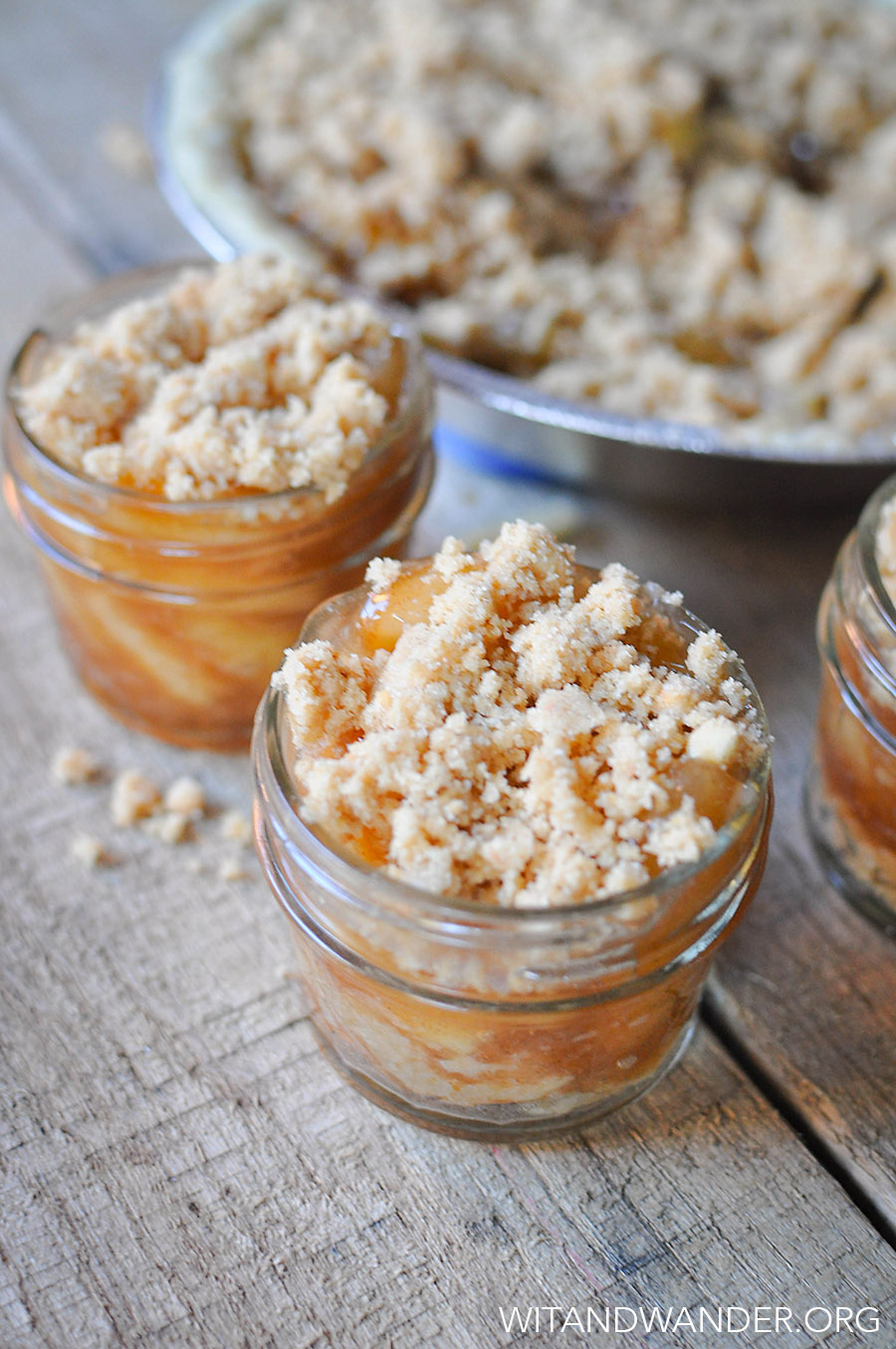 Once they were completely cooled, I put them in a clear plastic box. If you're planning to give these to a friend, you can finish the miniature gift with some baker's twine and a sweet chalkboard gift tag.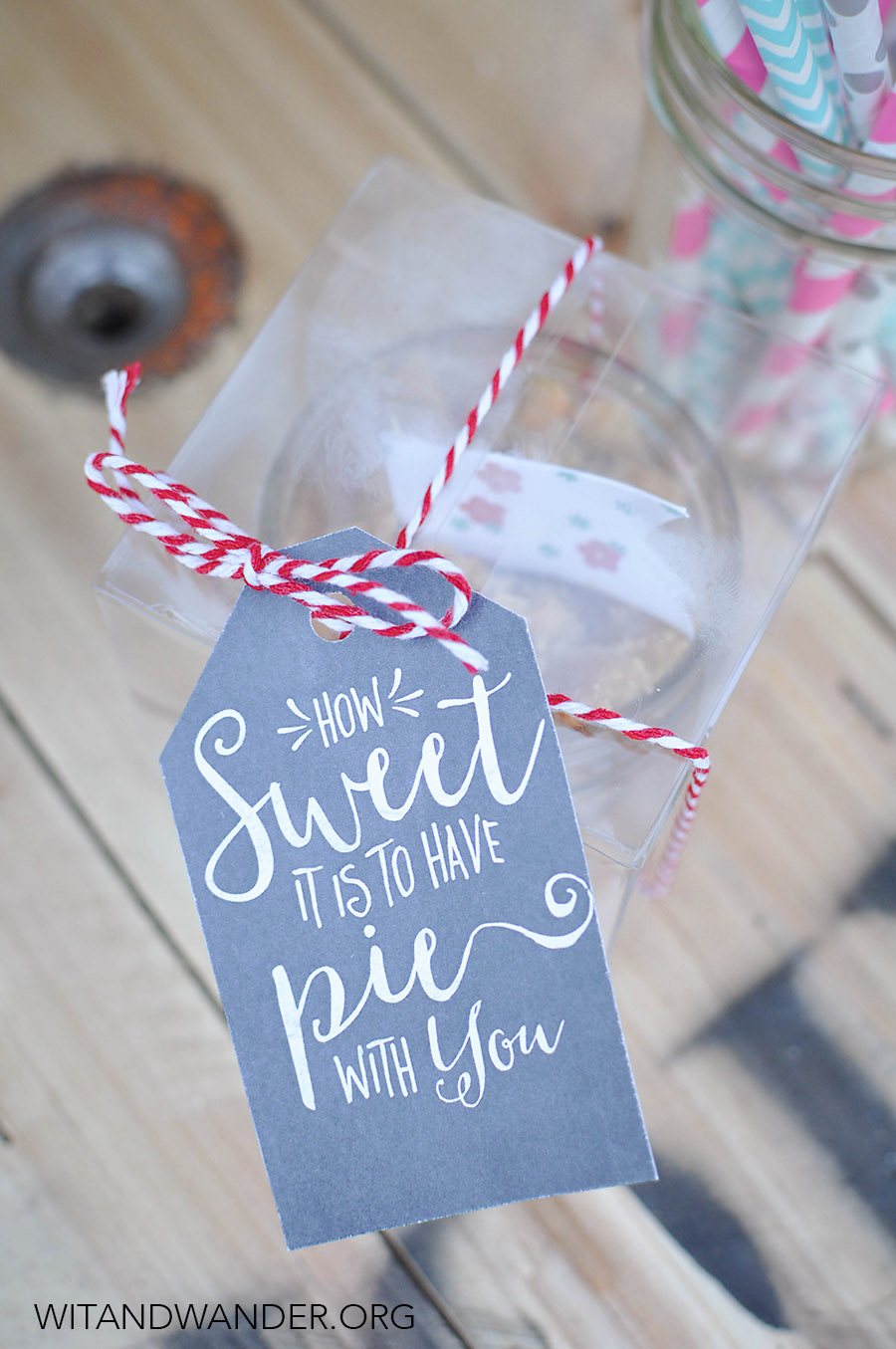 Click Here to Download the Free Printables
Here are a few other details that I just can't get over:
Another great way to use leftover pie is by making these adorable Mini Pie Cobblers.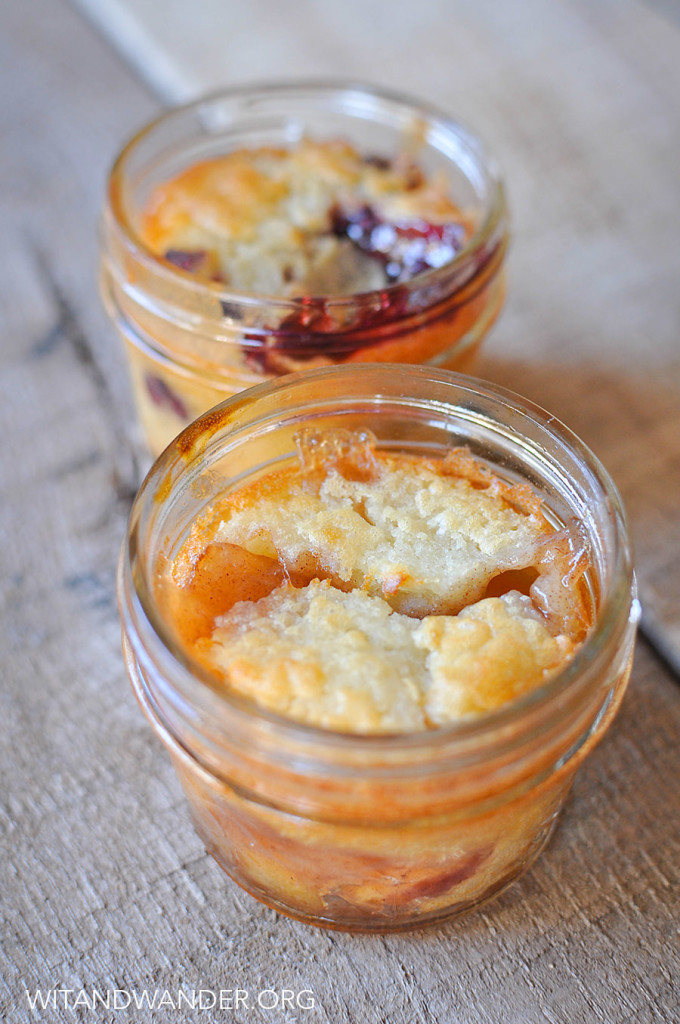 By using Marie Callender's® Pies, a simple biscuit topping, and a powdered sugar glaze, you will have gorgeous, colorful Mini Cobblers that everyone will love. Here's the recipe:
Mini Pie Cobbler
2015-11-24 11:58:35
Delicious mini cobblers made with a slice of Marie Callender's® Dessert Pies.
For the Mini Cobbler
One slice of Marie Callender's® Dutch Apple Pie or Razzleberry Pie
1 cup flour
1 1/2 teaspoons baking powder
1/2 teaspoon salt
2 1/2 tablespoon oil
1 cup milk
3 tablespoons melted butter
For the Powdered Sugar Glaze
1/3 cup powdered sugar, sifted
1 tablespoon milk
Instructions
Preheat oven to 400 degrees.
Bake the pie according to the directions on the box, until it's time to put the topping on.
While the pie is baking, mix together the flour, baking powder, salt, and oil in a small bowl.
Mix in the milk and melted butter.
Pour approximately one tablespoon of the batter into a small mason jar.
Once the pie has cooled,scoop one big spoonful of pie on top of the batter.
Pour one tablespoon of batter on top of the pie.
Bake for 30-35 minutes or until golden brown and bubbly.
While that is baking, sift the powdered sugar to remove any lumps and mix in the milk until it reaches a pourable consistency.
When the Mini Cobblers are finished baking, drizzle the Powdered Sugar Glaze while the cobbler is still warm.
Our Handcrafted Life http://ourhandcraftedlife.com/
I hope you like this How Sweet It Is Pie Bar Party as much as I do!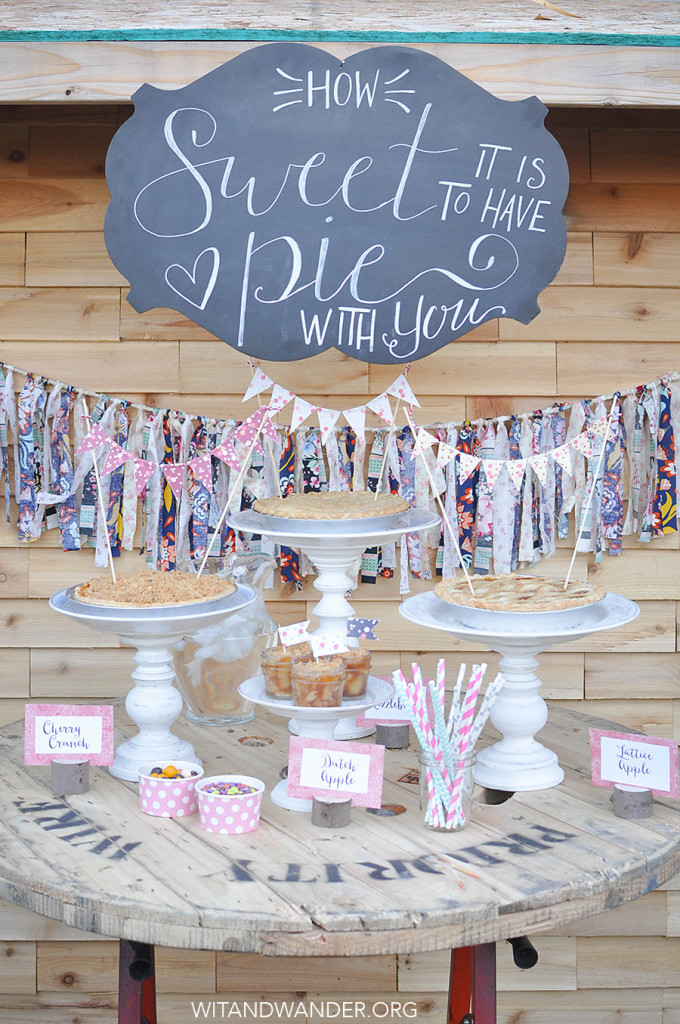 If you like it, be sure to share it with your friends on Facebook or Pinterest and don't forget to let me know your favorite kind of pie in the comments below!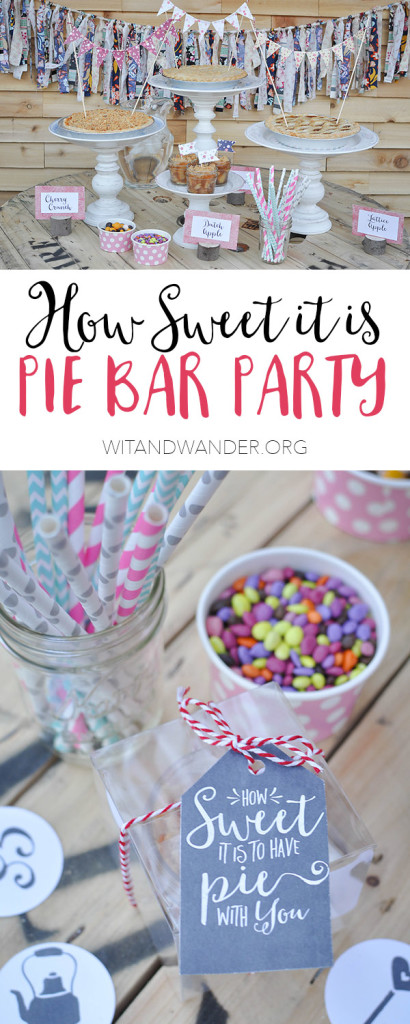 —
Like what you see on our blog? Join our mailing list to receive emails with freebies, projects, coupons and decor ideas to help you live a creative and joy-filled life. You can also follow us on Facebook, Twitter and Pinterest.
Subscribe to the Newsletter for Free Updates
Subscribe to get DIY projects, recipes, and tips to live simply and create beautiful things delivered right to your inbox.